If you've been waiting for the right moment to buy a Cubot smartphone, now is it, as AliExpress is hosting Cubot Super Brand Day from 7 to 9 June. This means, firstly, a nice discount on the popular P80 model. And secondly, we will see the launch of two state-of-the-art smartphones – X70 and KingKong 9, which will be available at special prices for the first buyers. The brand also reminds us of the 12-month warranty and the ability to return the purchase within 7 days.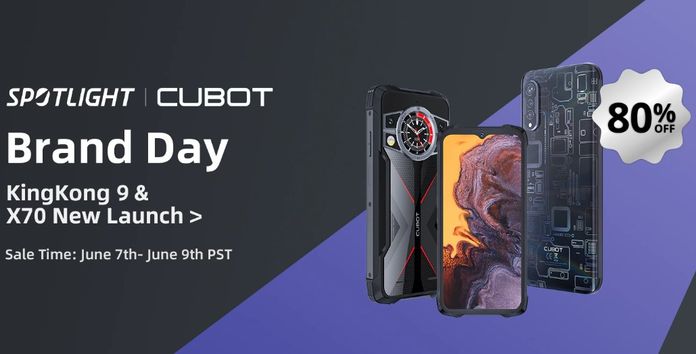 The Cubot KingKong 9 is a new smartphone powered by an 8-core MediaTek Helio G99 chipset and has 24GB of RAM (12 of which can be borrowed from the permanent memory) and 256GB of flash storage. It features an FHD+ IPS display with a 120Hz refresh rate, a capacious 10,600mAh battery with 33W fast charging support, and a triple camera setup. It includes a 100-megapixel main sensor, a 24-megapixel night vision camera and a 5-megapixel macro lens. There is a 32-megapixel selfie camera on the front.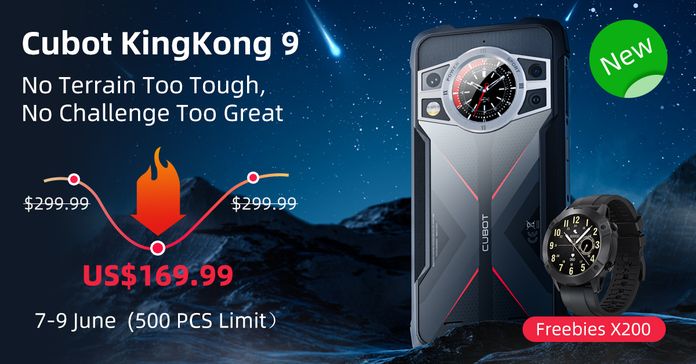 Another plus point to the smartphone's karma is the second screen mounted on the back, which can display the current time, incoming call and messages, player control buttons or a weather widget. And an additional bonus is the opportunity to purchase this powerful device for $179.99 from 7 to 9 June and receive a smartwatch as a gift. The manufacturer also announces that the first 500 buyers will receive an additional $10 discount.
At the heart of the Cubot X70 smartphone is also the MediaTek Helio G99 chipset, which is complemented by 24 GB of RAM (12 main + 12 borrowed) and 256 GB of storage with the possibility of installing a 1 TB memory card. It boasts a 6.583-inch FHD+ IPS display with a 120Hz refresh rate, a 5,200mAh battery, NFC, Bluetooth 5.2, 4G dual-SIM support and basic navigation systems. The camera unit includes a 100MP main sensor, a 5MP macro camera and a 0.3MP auxiliary lens, and a 32MP camera for selfies and video calls.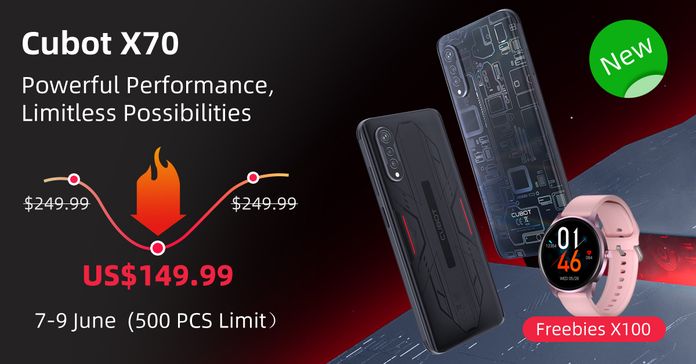 During the Cubot Super Brand Day, the X70 will be available for a special price of $159.99, and the first 100 buyers will receive a free smartwatch. An additional $10 discount will also be available during the promotion.
The third promotional offer is the P80 smartphone, which features a trendy design and an 8-core Mediatek MT8788V processor supported by 16 GB of RAM and 256 GB of storage. There is also a 5200 mAh battery under the hood. At the front, it has a 6.583-inch FHD+ display and a 24-megapixel selfie camera, while the rear features a 48-megapixel main camera, a 24-megapixel macro lens and a 0.3-megapixel lens.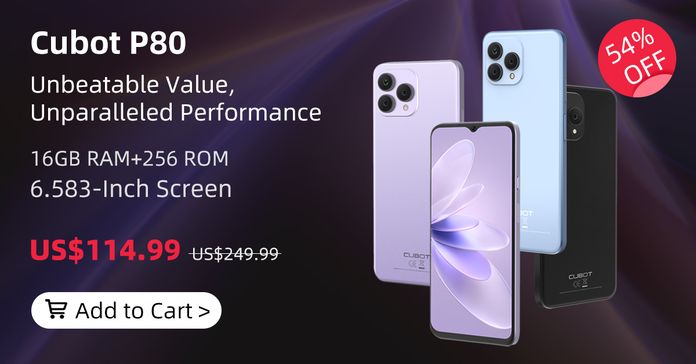 During the promotion, Cubot P80 can be purchased for only $119.99 with an additional $5 discount. Therefore, Cubot Super Brand Day from 7 to 9 June is a great opportunity to upgrade your smartphone or other gadgets. During this period, you can get up to $200 off smartphones, tablets, and smartwatches.
Read also: Cubot KingKong 7 review: Inexpensive Rugged Smartphone