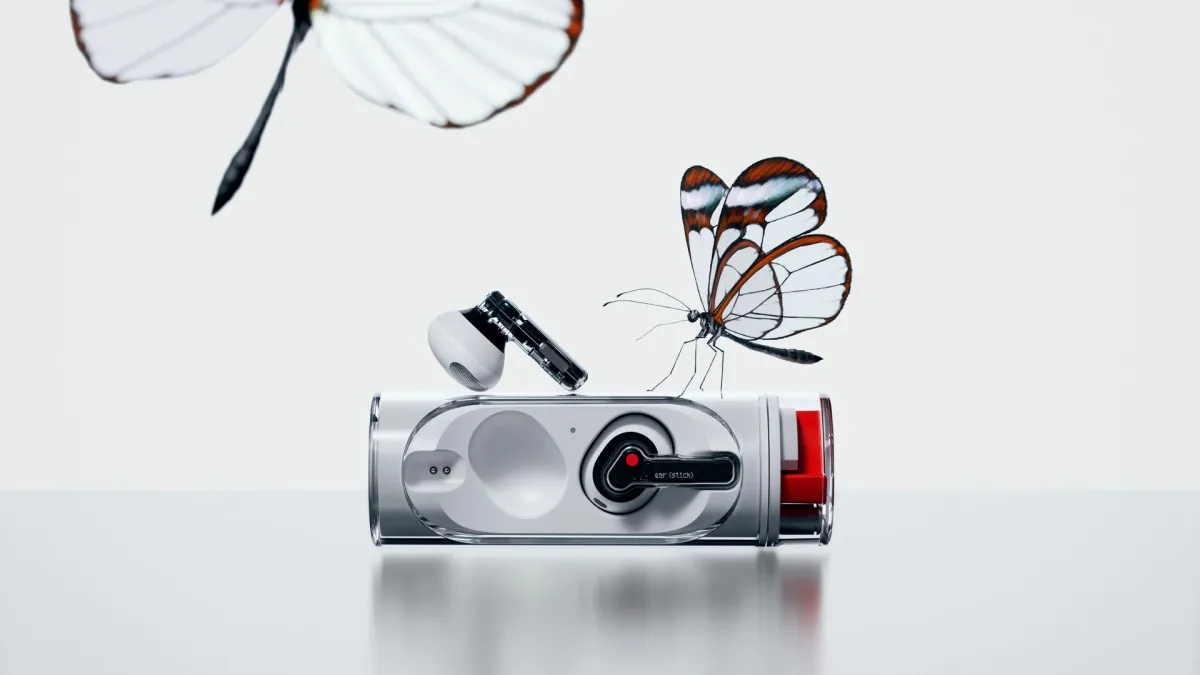 Nothing has announced its next product, Nothing Ear Stick earbuds. The new earbuds will offer improved sound at a low $99 price tag.
The company has been teasing its Ear Stick earbuds for a while now, showing off the design and other details here and there. And recently, the company finally revealed its design, during an online launch event, along with its unique casing and features.
The company looked at other manufacturers on the market and decided to move away from the pill-box-shaped case design and offer a cylindrical tube. Following the trend, instead of a cover on the casing, the Ear Stick case flips open to reveal the earbuds inside. The company notes that the new case is more ergonomic, which makes it easy to put in a pocket or bag.
So, unlike the first pair of earbuds, the Ear Stick has a classic earbud design to make it more accessible to a wider audience. While the in-ear design is nice, not everyone can enjoy these types of headphones, especially when it comes to long-term use.
The earbuds have a 12.6 mm driver for reliable sound with minimal distortion. The driver also has a special coating that will improve the sound and prevent deformation, extending the life of the device. The Ear Stick also uses software to determine how much sound is leaking out of the earpiece, making adjustments when necessary.
The Ear Stick also offers better connectivity and stability thanks to a redesigned antenna. The antenna is now located higher, making it less likely to be blocked, providing uninterrupted sound for users. In addition, a new low-latency mode has appeared, which will ensure sound synchronization in games. Clear Voice technology is another addition to the earbuds, carried over from the Ear 1. Although the new earbuds still use the same three microphones as the previous model, the algorithm has been improved to remove even more background noise during a conversation. As for battery life, they provide up to 7 hours of listening from a single charge and up to 29 hours of operation with the included case. And if you're in a hurry, you can get up to two hours of listening from a ten-minute charge.
The Ear Stick will use a new control mechanism, so you'll now be able to press down on the sticks, giving you more precise control over the sound. If you have a Nothing Phone 1, the earbuds can be fully controlled from your device, with no additional software required, but if you don't, you'll need a separate Android app.
You can also help Ukraine fight with Russian occupants via Savelife or via an official page of the National Bank of Ukraine.
Recommended reading: