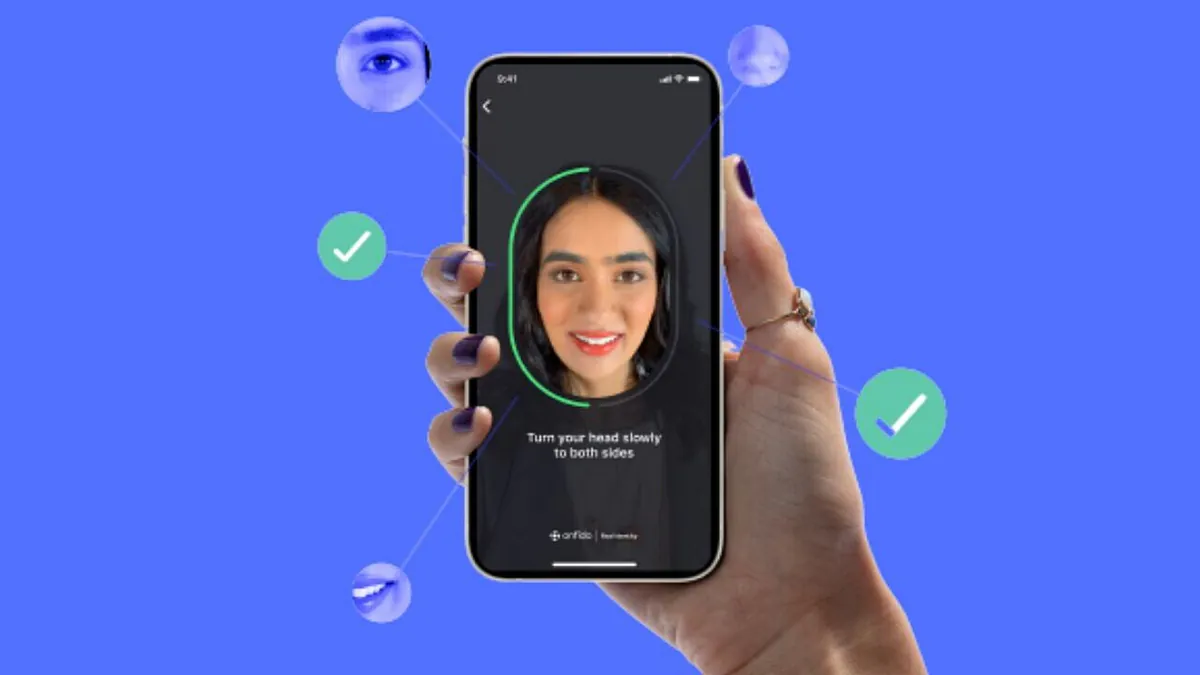 An "industry first" approach to identity verification was unveiled in the UK this week: it asks users to turn their heads. By the way, last year in December 2021, Diia had already abandoned this approach and after a short beta test switched to the updated PhotoID digital signature function, thereby saving Ukrainians from unnecessary "gymnastics for the neck". Yes, with PhotoID, the need to turn your head to confirm a digital signature has been removed. Currently, only a biometric document is required for authorization in Diya. But what about the UK?
Onfido, a subsidiary of the University of Oxford, launched the software amid rising identity fraud. Growing economic pressures, increased digitization and the upheaval caused by the pandemic have recently led politicians to warn that a "fraud epidemic" has gripped Onfido's home country of Great Britain. Onfido gave an exclusive demonstration of its latest development in the field: a head-turn capture experience dubbed Motion.
The use of biometric registration is held back by two key issues. "Active" detection methods, which ask users to perform a sequence of gestures in front of a camera, are notorious for high abandonment rates. "Passive" approaches, meanwhile, overcome this obstacle because they do not require specific user action, but this often creates uncertainty about the process.
Motion tries to solve these problems. Giulia Di Nola, Onfido's product manager, told that the company tested more than 50 prototypes before deciding that head-turn capture provided the best balance.
Onfido claims that the system's false rejections and acceptances are less than 0.1%. Verification speed, meanwhile, is 10 seconds or less for 95% of users. It's fast for new customers, but slow enough for frequent use – which may explain why Onfido doesn't yet use the service for regular authentication.
How does it work? After providing a photo ID, the user is prompted to provide facial biometrics using a smartphone. First, the user is asked to place their face in the frame, and then turn their head slightly to the right or left – the order does not matter. Sound familiar? As you move your head, the system provides feedback to ensure proper alignment. In a moment, the application issues its decision: confirmed. While the user is turning their head, artificial intelligence compares the face on the camera with the face on the ID. The video is divided into several frames, which are then divided into different sub-components. Next, a set of deep learning networks analyzes both individual parts and the video as a whole.
Networks detect patterns in the image. In facial recognition, these patterns range from nose shape to eye color. In the case of anti-spoofing, patterns can be reflections from recorded video, frames on a digital device, or sharp edges on a mask.
Motion had to work with different categories of users. Despite stereotypes about victims, fraud affects most demographic groups fairly evenly. To ensure that the system serves them well, Onfido deployed a variety of training datasets and conducted extensive testing. The company claims this has reduced algorithmic bias and false rejections across all geographies.
Overall, Onfido's head-turning technique resembles that discovered last month by Metaphysic.ai, the startup behind the viral Tom Cruise spoofs. The company's researchers found that a sideways glance can detect fake video callers. So, calling it an "industry first" is a bit presumptuous in my opinion. By the way, this is what the Diya team thinks about this technology:
You can also help Ukraine fight with Russian occupants via Savelife or via an official page of the National Bank of Ukraine.
Read also: