Ukraine has labelled Russia a terrorist state in the UN's highest court. This happened after the start of hearings in the case of Moscow's support for pro-Russian separatists accused of shooting down Malaysian Airlines flight MH17 in 2014.
This was the first meeting between the lawyers of Ukraine and Russia at the International Court of Justice, also known as the World Court, since Russia's full-scale invasion of Ukraine began on 24 February last year. Each side sent legal teams with dozens of representatives.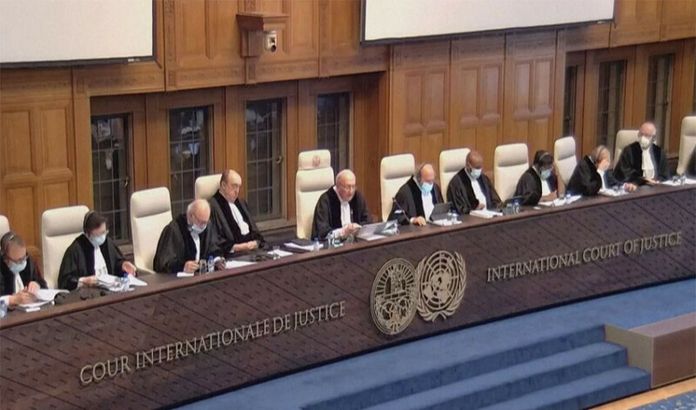 A 16-judge panel of the International Court of Justice has begun considering Ukraine's claim that Moscow violated the UN anti-terrorism treaty by equipping and funding pro-Russian forces that, according to international investigators, shot down a jetliner over Ukrainian territory in the east, killing all 298 passengers and crew. In the same lawsuit, Ukraine also asked the Hague court to order Russia to stop discriminating against the Crimean Tatar ethnic group on the Ukrainian peninsula, which was occupied by Russia in 2014.
According to Reuters, in his opening remarks, Ambassador-at-Large of the Ukrainian Foreign Ministry Anton Korynevych commented on the destruction of the Kakhovka hydroelectric power station dam in the southern Kherson region. Ukrainian authorities claim that the dam was blown up by Russia. During a meeting of the National Security and Defence Council of Ukraine, it was reported that around 2:50 a.m. the enemy carried out an internal explosion of the hydroelectric power station structures.
"Russia cannot defeat us on the battlefield, so it targets civilian infrastructure to try to force us into submission," Anton Korynevych said at the hearing. – "Only today, Russia blew up a large dam… causing the evacuation of civilians, environmental damage and threatening the safety of the Zaporizhzhia nuclear power plant.
He added that "Russia's actions are those of a terrorist state".
NATO Secretary General Jens Stoltenberg condemned the Russians' actions. "The destruction of the Kakhovka dam today puts the lives of thousands of civilians at risk and causes serious environmental damage. This is an outrageous act that once again demonstrates the brutality of Russia's war in Ukraine," he wrote on Twitter.

Evacuation measures are currently being taken in the flooded areas in Kherson Oblast, with loudspeakers being used to warn people. As of 13:00, the State Emergency Service, the National Police and volunteers have evacuated about 1,000 people. Police officers, together with rescuers from the State Emergency Service, are patrolling the area and helping people evacuate to safe places. As of 12:30 a.m., four evacuation points were set up in Kherson.
Read also: