Sometimes it seems that it is almost impossible to surprise anyone with modern routers. Their variety is truly impressive. There is network equipment on the market to suit every taste. Manufacturers try to satisfy every need of users. The choice of devices is really large. Recently, routers with Wi-Fi 6E support have appeared. Many users confuse it with regular Wi-Fi 6. But this is wrong. Let's take a look at the latest router from ASUS. Today I propose to take a look at the ASUS ROG Rapture GT-AXE16000.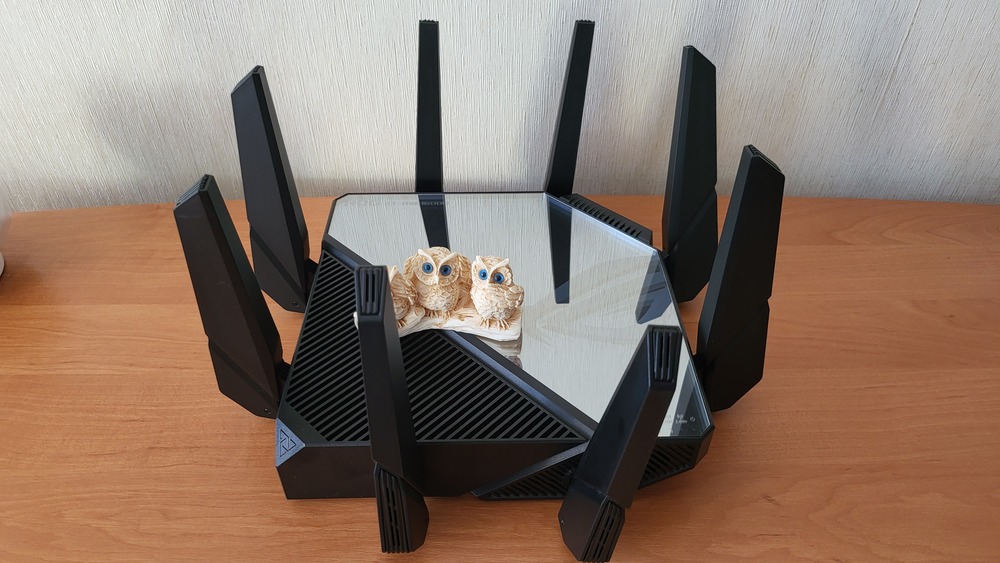 Read also: ASUS Vivobook Pro 16X OLED (N7600) review: 16-inch laptop with OLED screen
What improvements does Wi-Fi 6E bring?
In April 2020, the biggest upgrade for Wi-Fi networks since 1989 was introduced – the 6 GHz band was opened. The innovation was unanimously supported by the US Federal Communications Commission.
What does this mean for signal transmission in general? In simple terms, the signal now has much less interference on its way. This change has quadrupled the number of air waves. Judge for yourself – there are 14 additional 80 MHz channels and 7 160 MHz channels. And this happened due to the transition from 5 GHz to 6 GHz.
Now the capabilities of routers have expanded significantly. They will use many more waves to transmit the signal, which in turn will affect the quality of the connection. That's why you'll need to change your router by upgrading to Wi-Fi 6E. After all, its predecessors use Wi-Fi 6 and operate only in the 2.4 and 5 GHz bands. They do not have access to the 6 GHz waves. Using the latest device that supports Wi-Fi 6E, although it will be compatible with the outdated router, will not solve the problem.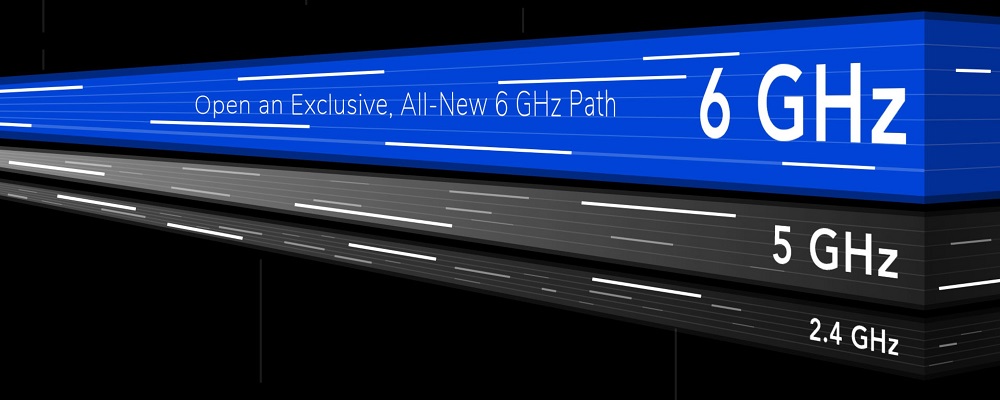 The increase in spectrum will significantly reduce Internet latency to less than 1 millisecond, and its speed will exceed 1 Gbps. It is the 6 GHz waveband that will provide such wide opportunities.
What does this mean for the average user? You will be able to play games online at the same time as your wife is holding a video conference and your children are watching cartoons on YouTube in the next room. And all this will happen without any picture or sound lag. That is, the new generation of Wi-Fi 6E-enabled networks provide high-speed Internet access without signal delays anywhere in your home, regardless of the number of users. That is, the bandwidth of your home network will increase significantly thanks to the updated Wi-Fi 6E standard. It is access to 6 GHz waves that will make this a reality.
Recently, I have been testing the latest router with Wi-Fi 6E support, so I would like to introduce you to an extremely powerful gaming router – ASUS ROG Rapture GT-AXE16000.
Read also: ASUS 4G-AX56 Review: a high-quality LTE router
What makes ASUS ROG Rapture GT-AXE16000 interesting
The ASUS ROG Rapture GT-AXE16000 is a large gaming router that supports the new 6GHz frequency known as WI-FI 6E. It is also compatible with the lower 5G AX/AC and 2.4G bands. The router has an unusual appearance, is packed with many features, and is capable of delivering superior wired and wireless performance. This quad-band router is equipped with a quad-core processor and offers quad-band connectivity.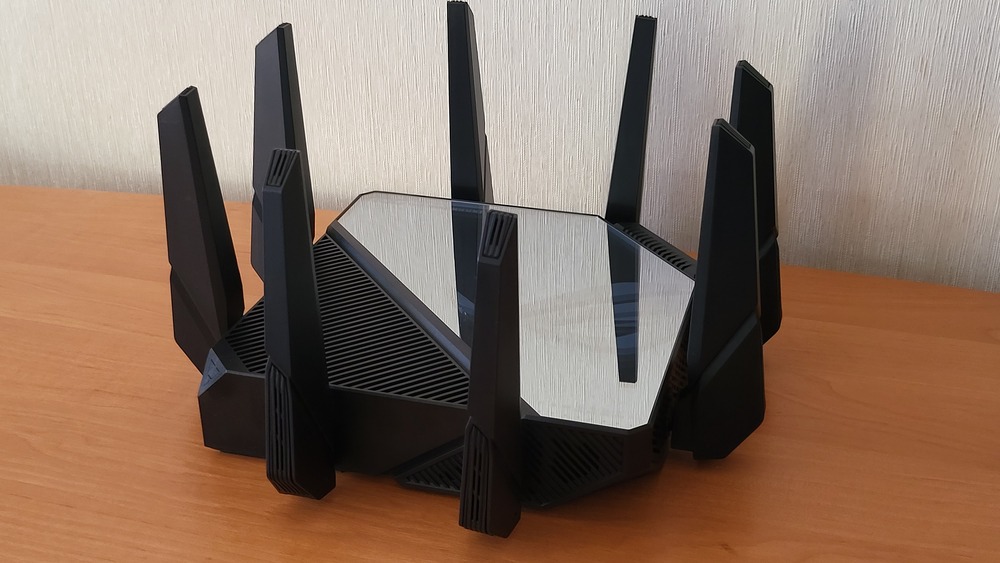 Its entire appearance and name suggest that we are looking at a purely gaming router of the ASUS ROG Rapture family. ASUS ROG Rapture GT-AXE16000 is the flagship router of the ASUS brand. This is the first network structure we've ever tested that broadcasts Wi-Fi in as many as four bands. That is, in addition to the 2.4 GHz network and two 5 GHz networks, the router covers another frequency band – 6 GHz.
The first 2.4 GHz band allows you to establish a connection with a maximum speed of 1148 Mbit/s (4×4), each connection to the 5 GHz bands increases this value to 4804 Mbit/s (4×4), and the 6 GHz band to 4804 Mbit/s.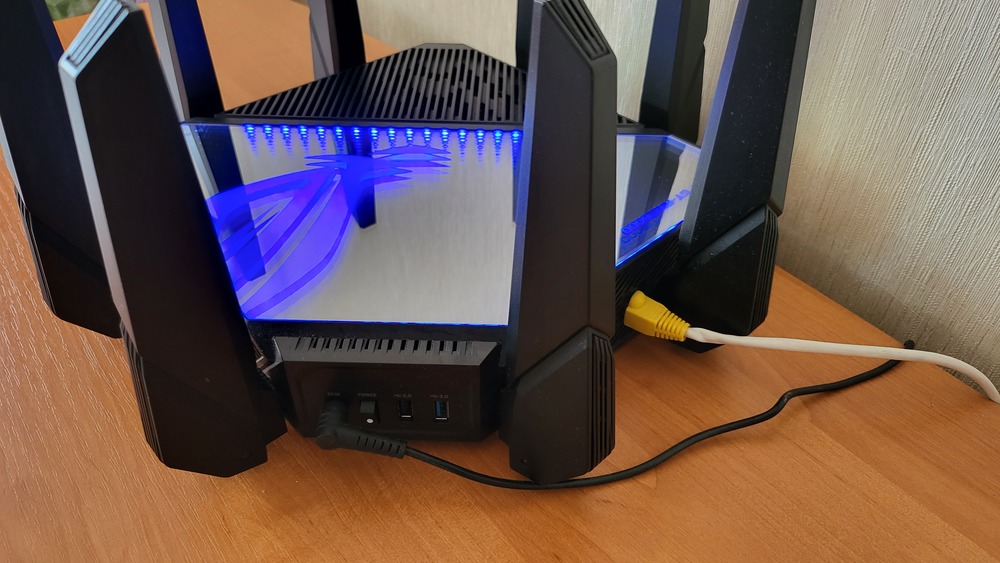 The router has eight fixed antennas, two on each side. The antennas can be tilted from the vertical by about 30 degrees. This is a kind of gaming "monster" among routers, capable of fulfilling any of your whims for receiving and transmitting a Wi-Fi signal.
Read also: ASUS ZenWiFi Pro ET12 Review: Powerful Mesh System
Of course, such a powerful gaming router cannot be cheap. In Ukrainian stores, the new ASUS ROG Rapture GT-AXE16000 costs from UAH 25,999. Yes, it's a very expensive router, but believe me, it's worth every hryvnia you spend. I was convinced of this during testing.
Technical specifications of the ROG Rapture GT-AXE16000
Let's get acquainted with the technical characteristics and functionality of ASUS ROG Rapture GT-AXE16000:
Type: Wireless router (router)
Processor: 2.0 GHz Broadcom quad-core 64bits processor
Memory: 256 MB NAND Flash, 2 GB DDR4 RAM
Power over Ethernet (PoE): No
Power supply: AC input: 110~240 V (50~60 Hz); DC output: 19 V with a maximum of 3.42 A, or 19.5 V with a maximum of 3.33 A
Standard: Wi-Fi 6 (802.11ax), WiFi 6E (802.11ax), backward compatible with 802.11a/b/g/n/ac Wi-Fi
Maximum connection speed:
2.4 GHz AX: 4×4 (Tx/Rx) 1024 QAM 20/40 MHz, up to 1148 Mbit/s
5G-1Hz AX: 4×4 (Tx/Rx) 1024 QAM 20/40/80/160 MHz, up to 4804 Mbit/s
5G-2 Hz AX: 4×4 (Tx/Rx) 1024 QAM 20/40/80/160 MHz, up to 4804 Mbit/s
6GHz AX: 4×4 (Tx/Rx) 1024 QAM 20/40/80/160 MHz, up to 4804 Mbit/s
Dual band support: Yes
Antennas: 8 external antennas (non-separable) and 4 internal antennas
Connection interface (WAN/LAN ports): 1×2.5 Gigabit WAN Port, 2×10 Gigabit WAN/LAN Ports, 4×Gigabit LAN Ports
USB ports: 1×USB 3.2 Gen 1 Port, 1×USB 2.0 Port
WAN connection type: Automatic IP, static IP, PPPoE, PPTP, L2TP
Connection: IPSec VPN, L2TP, PPTP, OpenVPN
Wireless network security: WPA3-PSK, WPA2-PSK, WPA-PSK, WPA-Enterprise, WPA2-Enterprise, WPS
Other: MU-MIMO, Beamforming, WiFi 6E, OFDMA
Weight: 2,425 kg
Dimensions: 350×350×200 mm
As you can see, we're dealing with a state-of-the-art gaming network device that has a powerful hardware and functionality. It's as if ASUS is saying to the users who bought ASUS ROG Rapture GT-AXE16000: "Don't deny yourself anything!".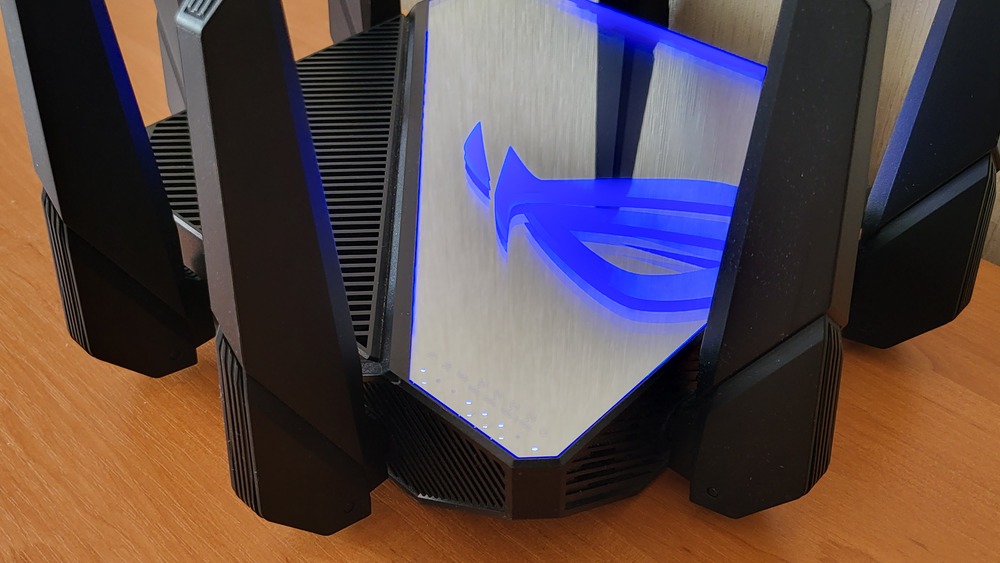 Read also: Infinix Zero Ultra smartphone review: Is it a flagship or not?
What's in the package
I was amazed at the size of the packaging of the new ASUS product. I've never seen a router packed in such a large box before. By the way, the box, although impressive in size, is standard in design. It's a beautiful stiff cardboard box with ROG silkscreen printing on the outer covers. There is an image of the ASUS ROG Rapture GT-AXE16000, as well as technical specifications and a list of the router's functionalities. It's very informative.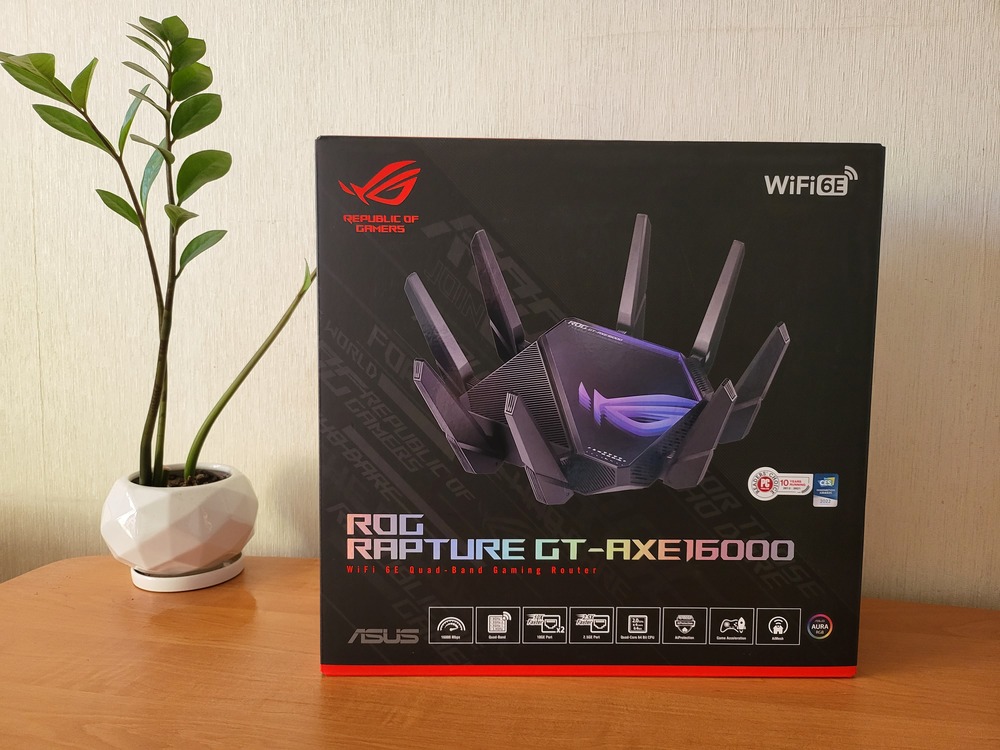 Inside is a huge, by modern standards, router and its accessories, which are securely protected by foam and cardboard. The set of included accessories is standard for ASUS gaming routers. There's an RJ45 LAN cable, two power cords, a suitable power adapter, and a setup guide. There is also a leaflet with warranty terms and other brief instructions. All eight massive antennas are attached to the router. Some people may not like it, but that's how ASUS decided.
Extreme design
Of course, the best gaming router on the market needs to look the most striking and original, so ASUS ROG Rapture GT-AXE16000 is really huge. It weighs almost 2.5 kg, the dimensions of the device without antennas are 25×25×6 cm, and with antennas, the height is a full 20 cm. Unfortunately, this can be quite problematic if you were planning to install it in a TV cabinet or in some inconspicuous place. You also won't be able to remove the antennas, but they can be folded at different angles. The router also cannot be hung on a wall, so you will have to place it on a table or shelf, but it is important to consider its height and weight.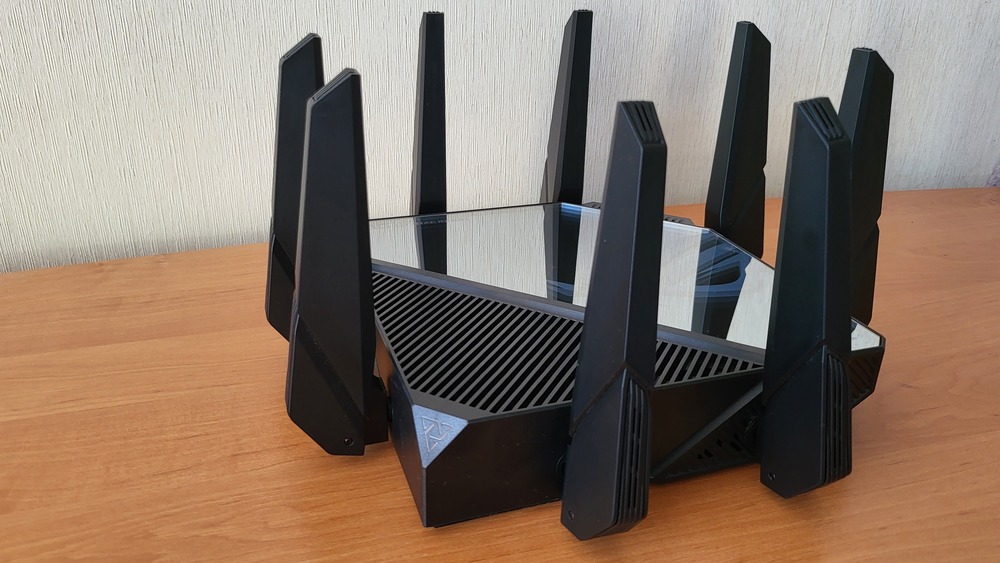 The router's body is made mainly of durable plastic of impeccable quality, with many holes on all sides and part of the top panel.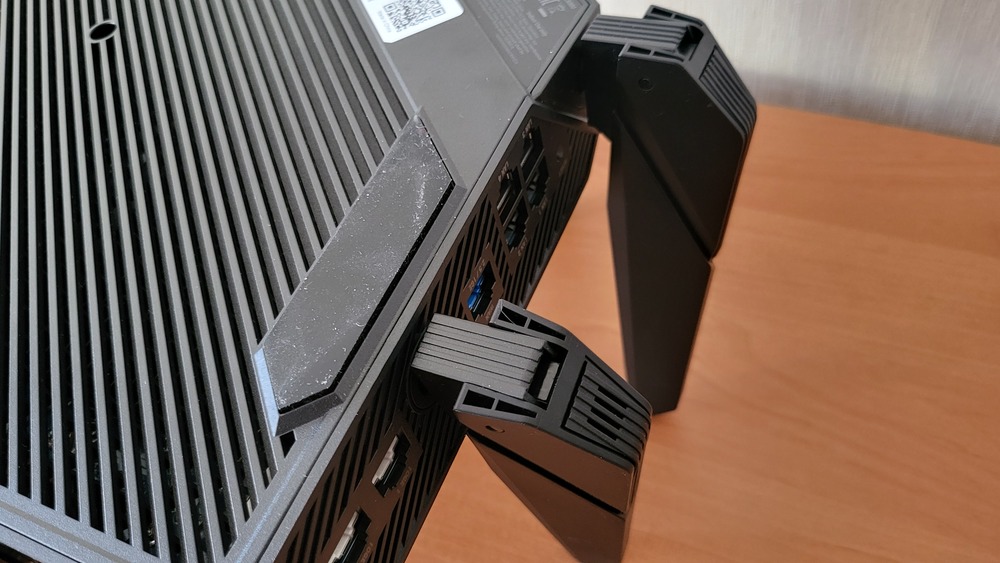 It should be noted that the router has no fans, so it will be absolutely silent.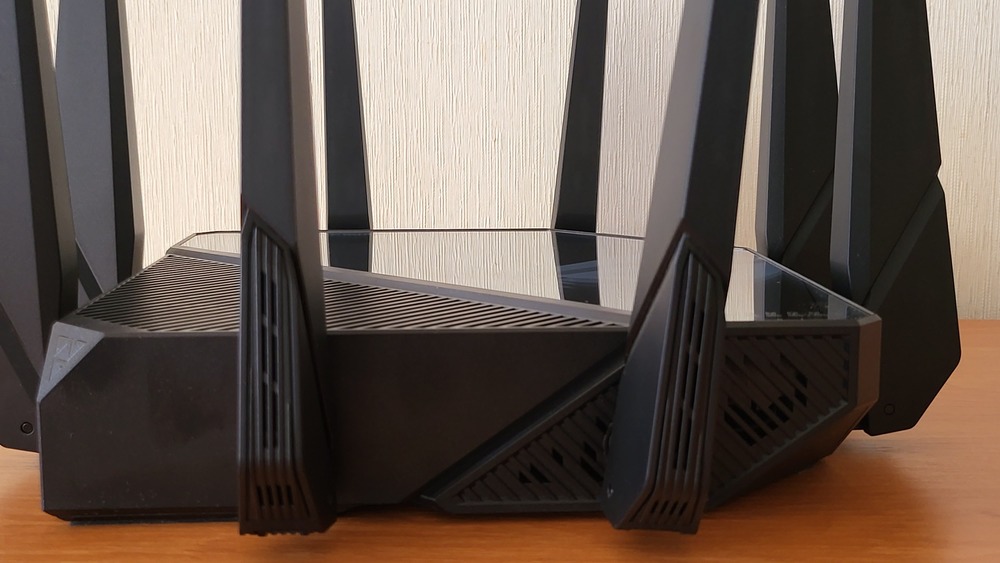 Everything looks perfect. The manufacturer focused on an interesting design, where the cherry on top is the mirrored front panel with RGB LED lighting. In combination with 8 spaced antennas, it gives a great, very futuristic look. It is immediately obvious that this is a premium high-end product.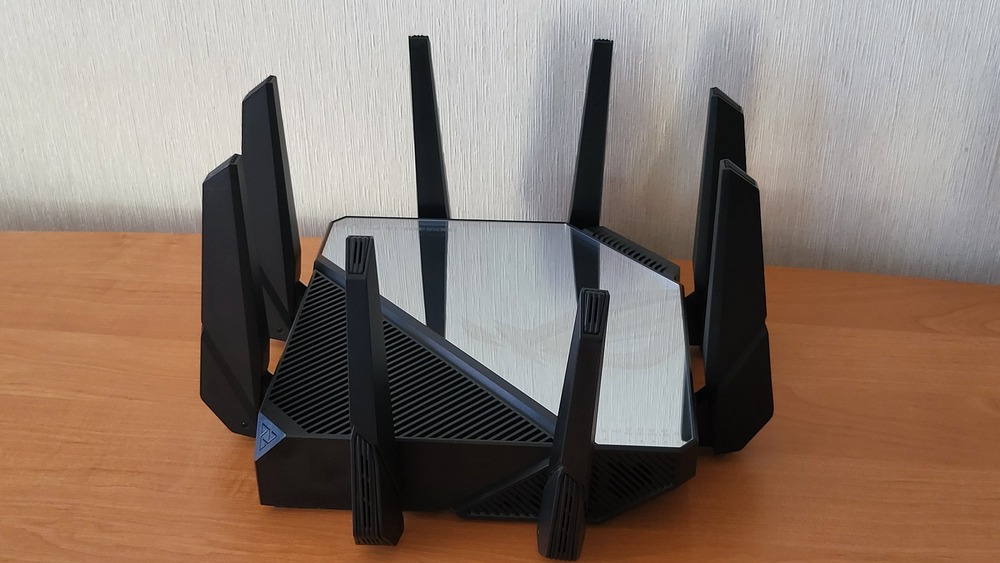 A few words about the front panel. This part is the most interesting from an aesthetic point of view, as it is decorated with a huge mirror-coated glass that combines AURA RGB backlighting along the edges with a huge logo.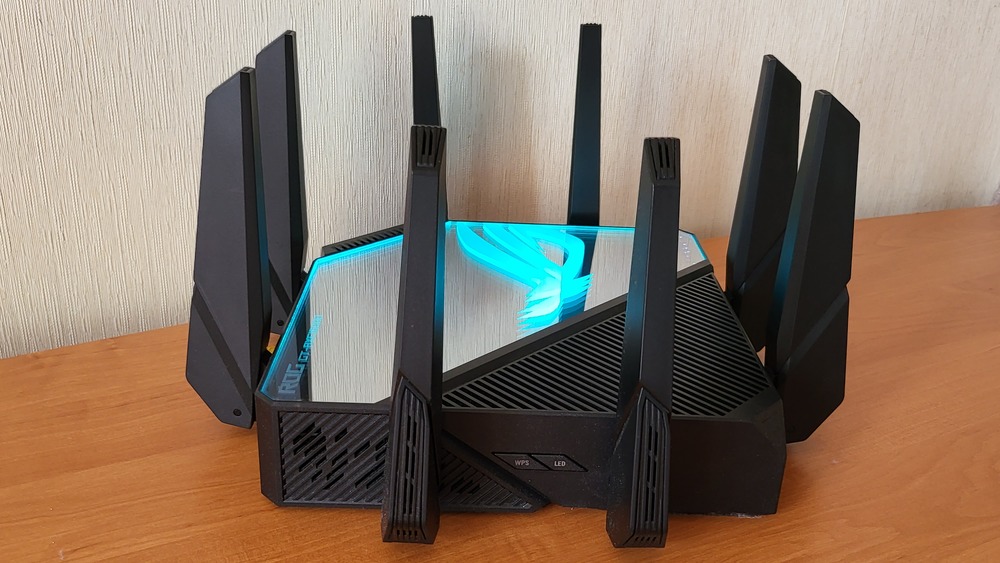 This panel gives the router an even more gaming look by allowing you to assign different lighting effects (either via the side button or the ASUS Router app).
The backlight can be switched off if you wish, so you don't have to turn your home into a nightclub when evening falls. Around the edge is a small LED indicator panel that monitors the status of your connections, just like any other ASUS router, and it's almost invisible in daylight.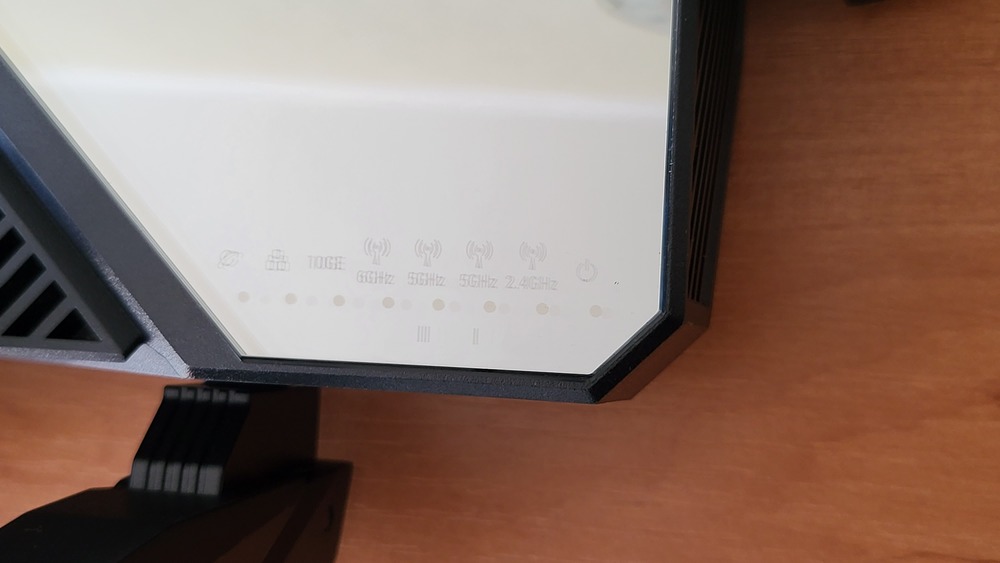 Of course, we should also talk about the huge fixed antennas. There are eight of them in total, and they are placed in pairs on all four sides.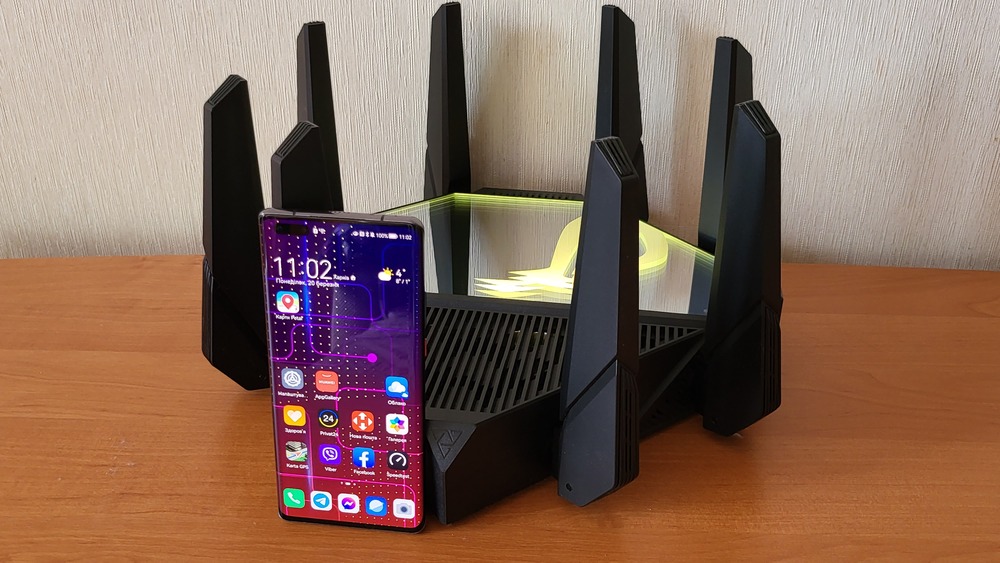 Although it should be noted that ASUS ROG Rapture GT-AXE16000 has as many as 12 antennas – in addition to the massive 8 external ones, there are 4 internal built-in antennas.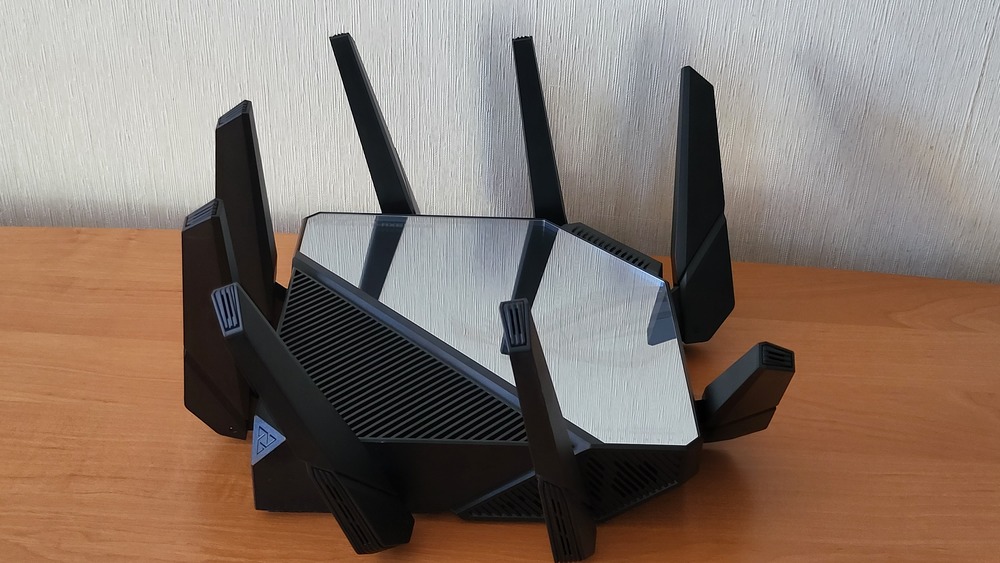 All of this makes this router one of the most powerful and efficient routers on the market. The external antennas can be tilted and rotated sideways for precise positioning. Their assembly is quite good, with almost no backlash.
Read also: ASUS ZenBook Flip S (UX371EA) review – Top-Of-The-Line Transformer
Among the mesh holes that ASUS ROG Rapture GT-AXE16000 has, we can see ports and buttons located along the sides. On the left side, the manufacturers have placed a WPS button and an interesting LED button that can be configured from the special ASUS Router mobile application.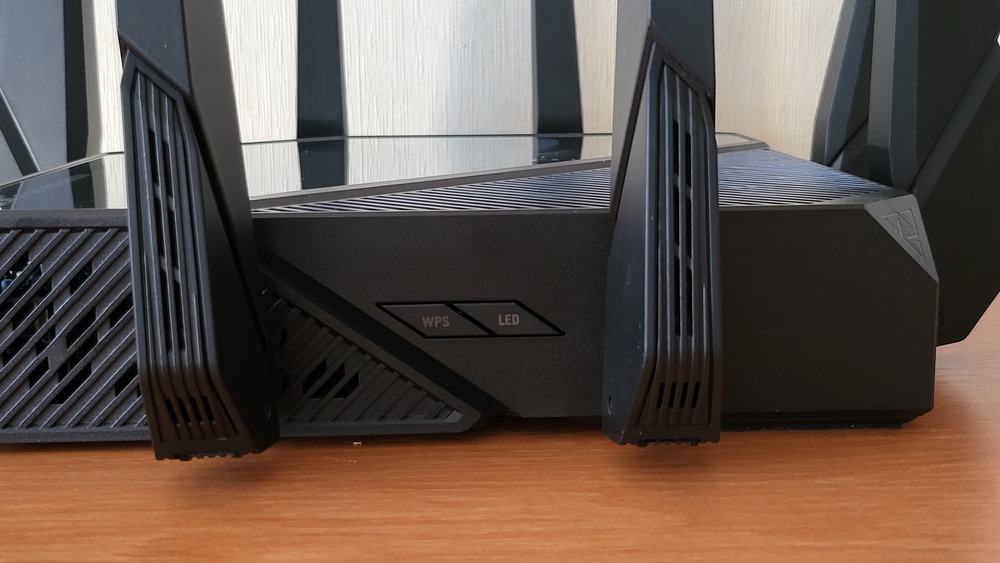 On the right side, there is a standard round DC power connector, a USB 3.2 Gen1 Type-A port and another USB2.0 port, as well as a power button.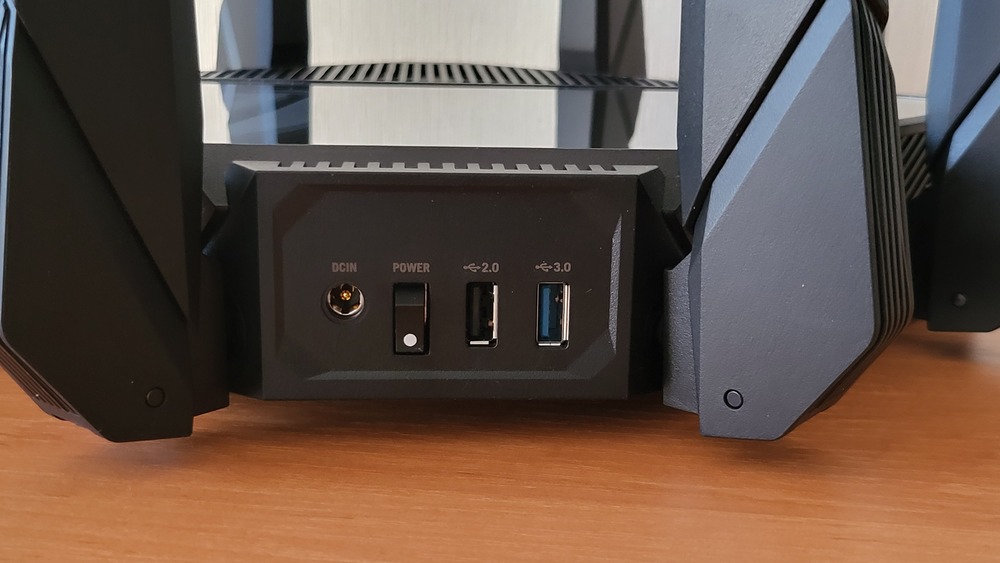 Of course, the most interesting things are on the rear panel. Here you can see the Reset button, 4 RJ45 1 Gbps ports arranged in pairs, and another RJ45 2.5 Gbps WAN port next to it. There are 2 RJ45 10 Gbps LAN/WAN ports located separately.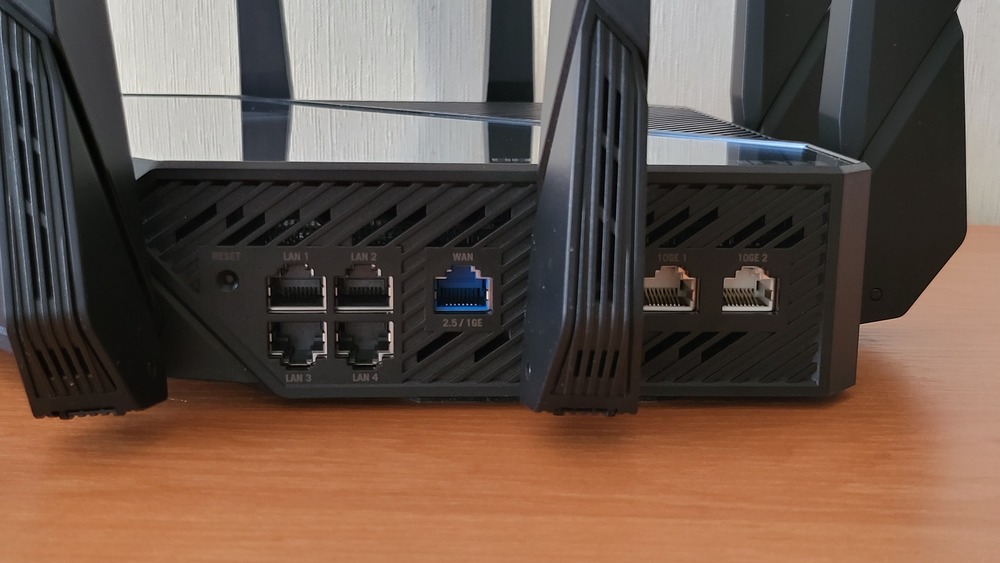 With this impressive connectivity, we have a router to create a very high-speed LAN with up to 10Gbps WAN bandwidth. Both the 1Gbps and the two 10Gbps ports support Link Aggregation, the latter also supporting WAN Aggregation, so a 20Gbps connection is viable.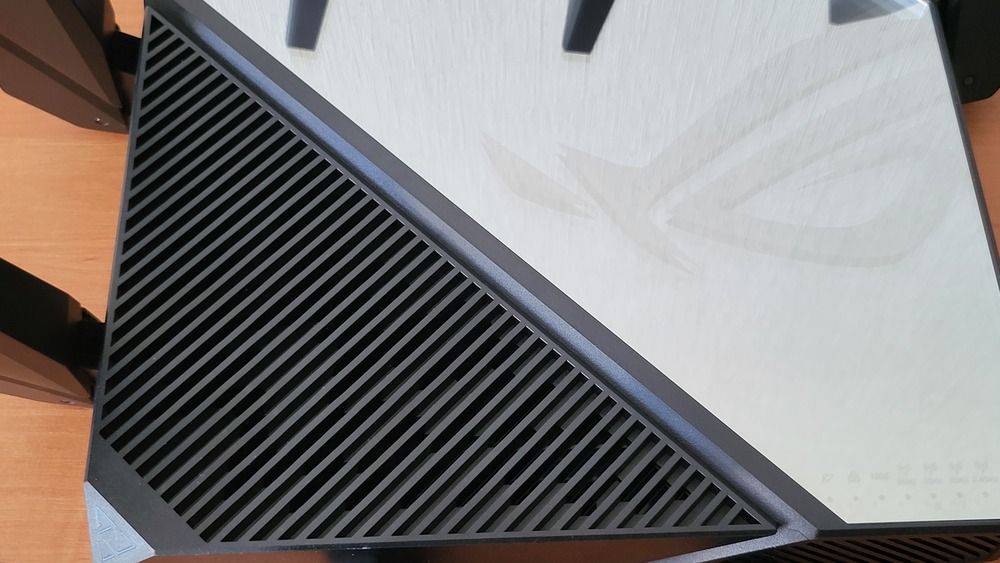 Yes, I understand that you immediately ask yourself why an ordinary user would need it. But this is a niche gaming router that you can buy for the future. I am sure that even in 10 years it will still be very relevant.
Benefits and features of the network
Of course, I'd like to talk about the functional advantages of this router against the competition, so I've highlighted this point separately.
The ASUS ROG Rapture GT-AXE16000 is equipped with a Broadcom chipset, with a 2.0 GHz quad-core Broadcom BCM4912 model and Broadcom BCM6712 processors for Wi-Fi addressing with 4T4R capability. It is accompanied by at least 2 GB of DDR4 RAM and 256 MB of flash storage.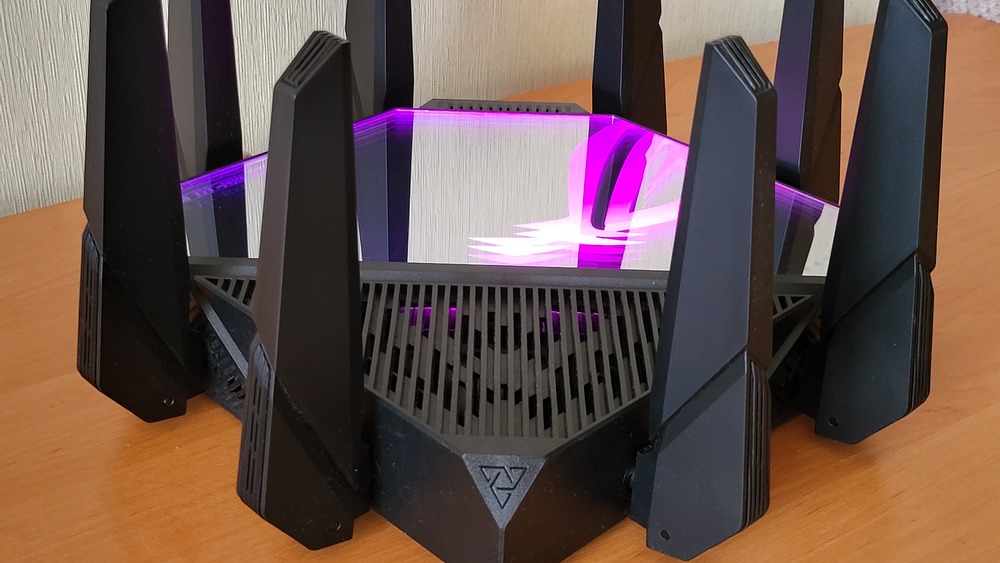 This time, however, we have not three, but four bands, available individually or in Smart Band mode, which will provide us with a total bandwidth of 16,000 Mbps. They work and are distributed as follows:
2.4 GHz band: operates on the 802.11ax standard and provides a maximum speed of 1148 Mbit/s in a 4×4 connection, i.e. 4 antennas between the client and router in the 40 MHz band at the same time. This throughput will be limited to 574 Mbps in 2×2 connections.
5 GHz-1 and 5 GHz-2 bands: support 4804 Mbps in 4×4 connections, operate at 160 MHz, and support 1024-QAM modulation. These bands can operate separately on low (less than 100) or high (more than 100) DFS channels depending on their manual or automatic configuration. Two of the bands can be used for clients, or one of them can be used for trunking in a Mesh network with more ASUS routers.
6 GHz band: its main feature is the extension of the frequency spectrum to 7.125 GHz to improve speeds and saturation at other frequencies, as well as adding additional channels. It operates at a maximum speed of 4804Mbps in 4×4 mode over a 160MHz band on either high or low channels.
Why do we need all this power? For everyday tasks, you're unlikely to use the full potential, but you'll be ready for future 4×4 Wi-Fi clients that are yet to be launched. This will allow you to receive dozens of Wi-Fi users on a single device. The 12 antennas of the ASUS ROG Rapture GT-AXE16000, 4 of which are internal, are compatible with Beamforming and the exclusive ASUS RangeBoost Plus feature to improve coverage by increasing power in customer locations.
Like the rest of the Wi-Fi 6 routers, we will have technologies related to this standard, such as: MU-MIMO, which allows data to be transmitted to multiple clients on multiple antennas at the same time, OFDMA, which improves simultaneous client connectivity, and BSS Color, which assigns different frequencies (colours) so that clients instantly identify their network without scanning the entire spectrum. With Target Wake Time, Wi-Fi clients can be suspended to optimise power consumption and free up spectrum frequencies.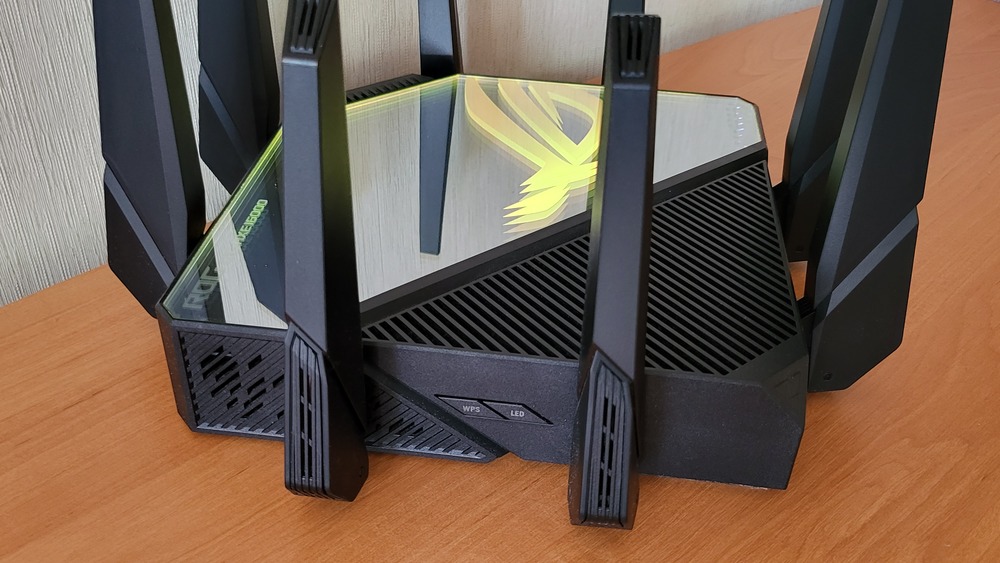 The ASUS ROG Rapture GT-AXE16000 can be a great router for setting up a Mesh network as it supports the Asus AiMesh and AiProtection Pro security system. The router has a dedicated 5 and 6 GHz backhaul network for connecting to other AiMesh routers. We will have access to all encryption methods, from WPA-Enterprise to WPA-3 Personal, for both internal users and guest networks. The router supports such configuration modes as access point, extender, bridge, AiMesh node, and, of course, a regular router.
Both VPN client and server configuration is supported in PPTP, IPSec and OpenVPN protocols. Many other technologies are included, such as adaptive QoS management, traffic analyser, guest Wi-Fi support, parental controls, as well as PPPoE, IPTV, DDNS, DHCP, DMZ, hardware NAT and UPnP.
Initial settings and impressions of the work
Getting started with your router is easy using the mobile app or web interface. Simply plug the device into a power outlet and connect your provider's cable to the WAN port. Now all you have to do is connect your smartphone or computer to the Wi-Fi network or one of the LAN ports on the back.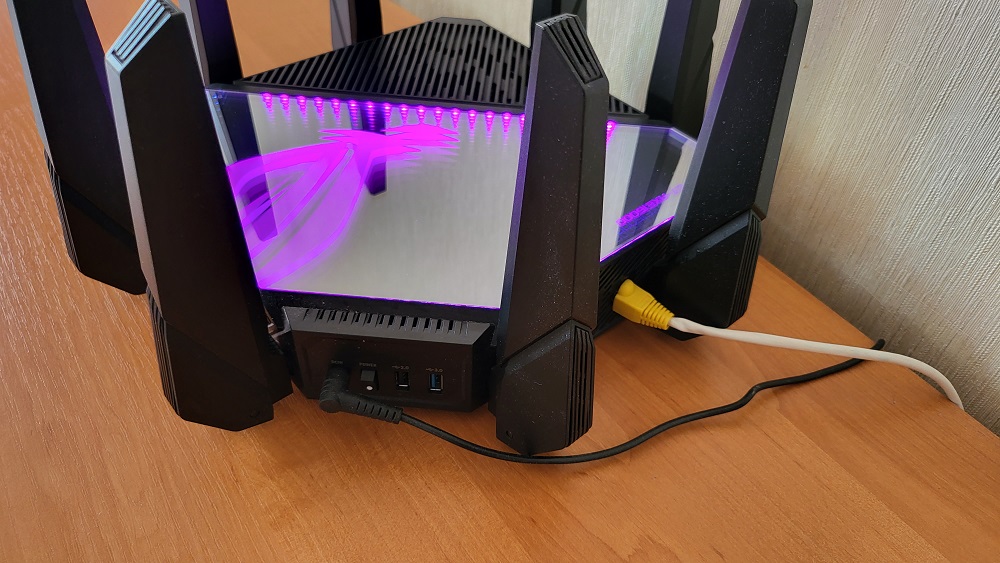 The initial setup process is very simple and will get the ASUS ROG Rapture GT-AXE16000 up and running in no time.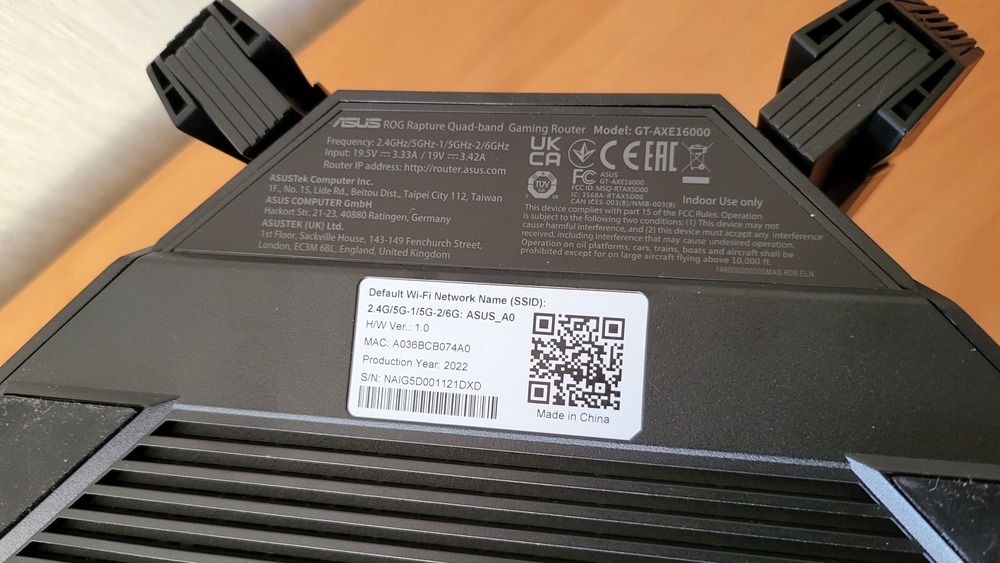 The router will automatically adapt its configuration to the parameters and features of the network to which it is connected. All you have to do is follow the instructions of the configuration manager.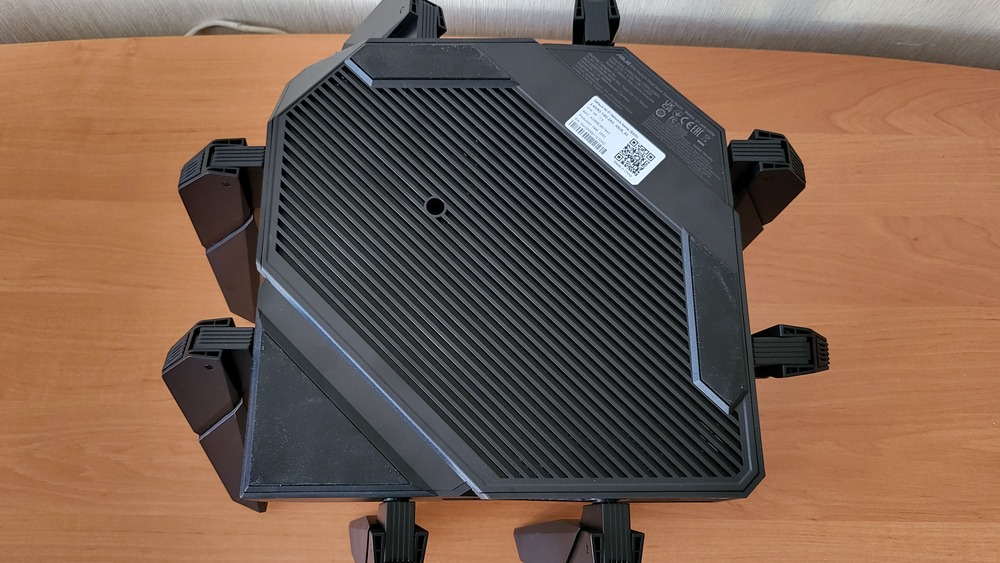 You can either split the 4 frequencies to use them as desired or combine them in Smart Band mode to have the router manage the best connection for the client. Finish the setup by setting a username and password for the administrator. Just a few minutes later, and the router is ready to go. I'm sure that even inexperienced users can handle the setup.
Read also: ASUS ROG Cetra True Wireless Review: Gaming TWS Headphones
ASUS ROG Rapture GT-AXE16000 web interface
Of course, if you want to work on the settings of this gaming router in more detail, then you need to check out the ASUS ROG Rapture GT-AXE16000 web interface.
To do this, you should use the link 192.168.50.1 or router.asus.com. After entering the name and password, you will be greeted with a summary screen of the network map, resource monitor, Wi-Fi links and connected clients. From here we access the various sections, as well as the settings for the connected USB and AURA RGB devices. The layout is set up in accordance with the impressive ROG interface, which in this case has become even more modern and easy to read than usual.
Starting from top to bottom, we have general and advanced sections divided into subsections. From the first menu, we will be able to perform many game-related settings, adding a Wi-Fi network viewer, a graph with network traffic and Ping tests adapted to the main online games for each of the servers. Here you can also configure the LED button.
The classic AiMesh panel will be the one that's the most popular, and in this case we won't be using the AiMesh Pro options that are more advanced than the regular mode, although we warn you that this will slow down your bandwidth a bit due to the additional encryption. Up to 64 parental control profiles are supported, as well as 64 content filtering rules. If you move on to the next section, you'll be able to configure the most extensive gaming experience with adaptive QoS and ROG First integration. In the other two sections, we have more game-related options, with Open NAT mode to open specific ports depending on the game you choose, and again a ping map.
ASUS ROG GT-AXE16000-web-1
You can continue with more advanced settings, such as configuring the VPN as a client or server, or the traffic analyser feature. The next section will be one of the most important, as it allows you to configure the available Wi-Fi bands, credentials, bandwidth, security, and channels in great detail. Please note that the router has a default frequency of 160 MHz, deactivated for 5 GHz, and we recommend that you set the 2.4 GHz band to 40 MHz to get the full available bandwidth.
Now let's move on to the next sections, where you can configure a guest network with a capacity for 64 MAC and WPA3-Personal filters. There are also options for configuring LAN, DHCP, IPTV, Route and Switch, and Port Server. Another relevant section would be to configure the USB ports to take advantage of the router's data server function, even over the Internet with AiDisk. It also supports 3G/4G USB modems, Samba and FTP with HFS+, NTFS, vFAT, ext2, ext3, ext4 file systems, so it will be useful for many users.
ASUS ROG GT-AXE16000-web-2
As for the firewall, the ASUS ROG Rapture GT-AXE16000 supports up to 64 keywords, 32 network service filters, 64 URL filters, 64 port forwarding rules and 32 port activation rules. There is also integration with Amazon Alexa voice assistant and, of course, IPv6 support.
To be honest, this functionality of the settings is simply impressive. You feel like you're dealing with a Formula 1 car. There are so many options, the possibilities are almost endless. In addition, it's nice that ASUS has pleased with a good, clear interface.
Read also: ASUS ROG Rapture GT-AX6000 EVA Edition Review: Powerful Gaming Router
ASUS Router mobile app
A few more words about the mobile application, which is, of course, somewhat stripped down and simplified in terms of functionality compared to the browser software, but provides everything we might need on a daily basis. In general, the app works very well, allows you to personalise the interface (by changing themes) and is a good addition to the desktop interface.
As usual, the ASUS app itself is fast and responsive, and it's the fastest way to enable game mode since the router doesn't have any hardware buttons.
Parental controls are available with easy setup thanks to user profiles and pre-built filters for different age ranges. For those who want to control their router with voice commands, there is support for the Alexa voice assistant. You have the option of setting up guest networks directly from your smartphone if you have visitors who need to use the Internet but don't have access to LAN devices.
AiMesh can also be configured from the app. AiMesh allows you to use other ASUS routers to build a custom mesh network in your home. You can also use ZenWiFi nodes in the mesh. This allows you to combine the features of a gaming router with the compact nodes of a mesh system. If you're sharing your Wi-Fi with other users, this is a great way to maintain priority access to your LAN gaming port without compromising Wi-Fi coverage in the rest of your home. With the ASUS ROG Rapture GT-AXE16000, though, you're unlikely to need an additional router or Mesh node.
You'll also benefit from Trend Micro's AiProtection Pro security feature, which helps protect your network and is free for the life of your device.
Finally, you can enable the Instant Guard feature to provide an easy VPN connection to your router at home. This is great if you want to make sure your connection is secure when using public Wi-Fi, as it creates a secure tunnel directly to your router. This feature can be configured using the Android and iOS app, although you'll need to be connected to your home Wi-Fi to set it up, so make sure you set it up before you travel.
How the ASUS ROG Rapture GT-AXE16000 works
I am sure that most of you are waiting for a story about the practical use of ROG Rapture GT-AXE16000.
I have already written more than once that I conduct all testing in my Kharkiv apartment. This is a residential area, an ordinary nine-storey panel house. Therefore, all sorts of obstacles, such as reinforced concrete floors and thick walls, cannot be avoided. Of course, for such powerful network equipment, these are definitely not obstacles. I was convinced of this from the very first minutes of using ROG Rapture GT-AXE16000.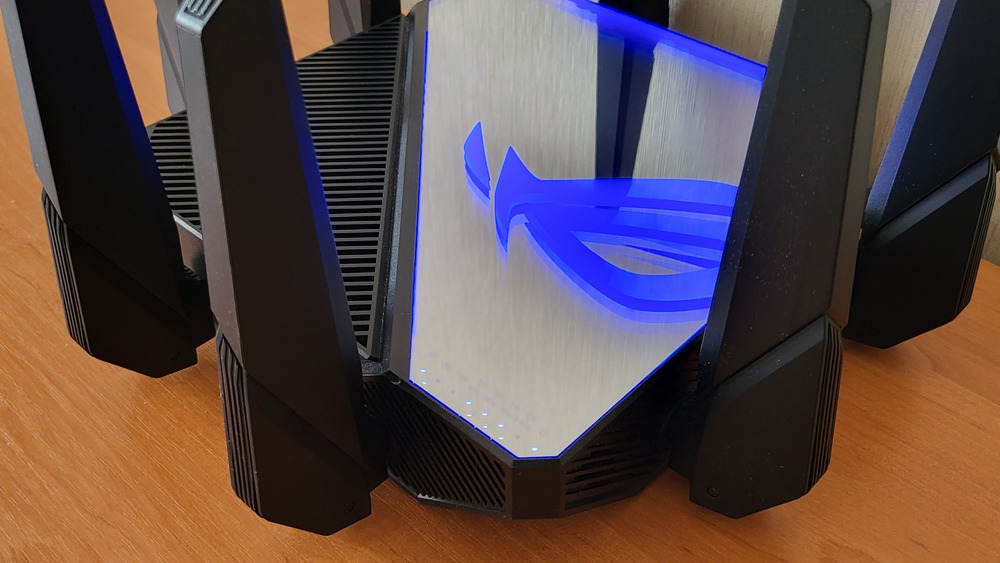 The signal was equally strong and stable in every corner of the apartment, with virtually no grey areas. I was pleasantly surprised that the router's signal could easily reach both the first and ninth floors of my house (I live on the fourth floor). And that's a lot of obstacles and thick walls. All the devices connected to it seemed to be flying: smartphones, laptops, the security system, my KIVI TV easily played 4K content. I had no problems whatsoever. Even my neighbours and I decided to experiment and tried to connect almost 30 devices to the router. Even on the ninth floor, the signal was stable, and the connection speed was also good.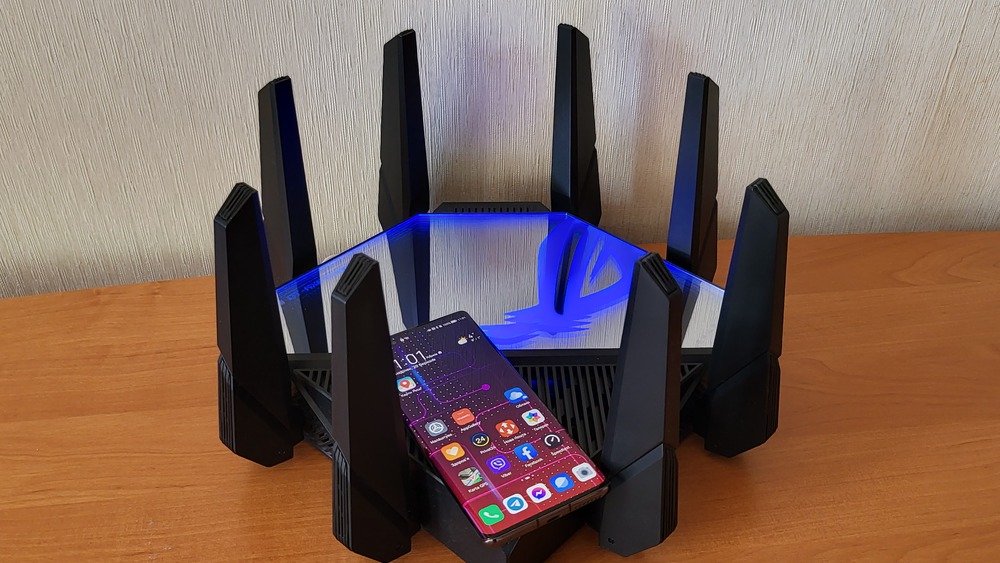 As for the wired connection, I can only say that the ROG Rapture GT-AXE16000 squeezed everything possible out of my provider, and the performance is appropriate. You will definitely not have any problems with this connection, and the modern 2.5-gigabit WAN port additionally encourages you to buy this super-powerful router. A 10-gigabit connection is still too far out of the question, but this port is there, which means that the router will be relevant for a long time to come.
Usually, I choose five test points in my apartment to test the signal and its strength, but with this router I decided to add a sixth one:
1 metre from ROG Rapture GT-AXE16000 (in one room)
3 metres from ROG Rapture GT-AXE16000 (with 2 walls in the way)
10 metres from ROG Rapture GT-AXE16000 (with 2 walls in the way)
15 metres from ROG Rapture GT-AXE16000 (with 3 walls in the way)
on the staircase 20 metres from the ROG Rapture GT-AXE16000 (with 3 walls in the way)
the ground floor of a house 35 metres from the ROG Rapture GT-AXE16000 (with 10 walls in the way).
I was very pleasantly surprised by the test results, even at the experimental sixth control point.
SpeedTest ASUS ROG GT-AXE16000-2
The signal was strong and stable everywhere, and the results were fantastic. One of my colleagues even asked me if I had achieved such results through a wire. I suggest you see for yourself. There is no need for comments here.
SpeedTest ASUS ROG GT-AXE16000-5G
Even in wartime, I got impressive results with this hardware, and what if I had a 10-gigabit WAN connection? This is truly the best gaming router I've ever tested.
A few words about USB ports. There are two of them here. Of course, they have different capabilities and speeds. Although the download speeds are also in perfect order. There can be no complaints either. Yes, there are no records here, but these results are quite enough, even to use the ROG Rapture GT-AXE16000 as a kind of NAS. For potential buyers of this router, this is a big plus.
It all depends on your specific needs, but I'm sure that even in complex applications, the router will not let you down. This modern networking equipment will delight you not only with its power and signal speed, but also with its unusual design and quiet operation.
Conclusion
This router is undoubtedly ASUS's most ambitious model to date, with impressive features on all levels. The bandwidth figures are among the highest for the standard with 2×2 clients, there may be little room for improvement here other than running 4×4 clients that utilise its capabilities.
To that we have to add its quad-band throughput, which really gives it the ultimate ability to support more clients than any other router and provide huge multi-client transmissions thanks to its 12 antennas, 6GHz, dual 5GHz and 2.4GHz. You can get even more in the future with two 10 Gigabit ports that can be added to both LAN and WAN, and a USB port for connecting our own data server.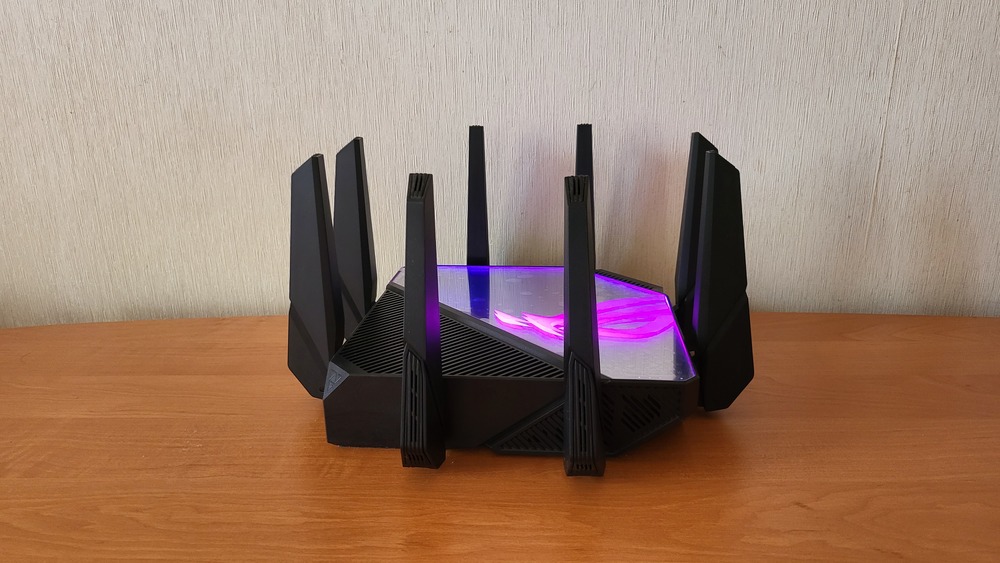 But let's be honest, this product is not for everyone. In most cases, buying this router will be a waste of money. Let's remind you that this is a really expensive piece of equipment – we'll pay about $670 for it. Does the quality justify the price? Yes, in all respects and functionalities. Is it worth buying this device? It all depends on your needs, but they have to be really big for the answer to be yes.
Specifically, ASUS ROG Rapture GT-AXE16000 has, in my opinion, only 2 drawbacks: the high price and the size, which will require a special place in the interior.
The ASUS ROG Rapture GT-AXE16000 is absolutely top-of-the-line hardware and probably the best router we can buy right now. In fact, this sentence can sum up the entire review. It's great, and there's nothing better out there.
Read also:
Advantages
interesting modern design
high quality materials and build quality
performance with support for Wi-Fi 6E standard
excellent security tools and parental controls
convenient ASUS Router mobile application
smooth operation of all communication modules
The app, and especially the web interface, is multifunctional and easy to use.
Disadvantages
non-removable antennas
high price