The powerful modern ASUS ZenWiFi Pro ET12 Mesh system has 10 internal antennas, Wi-Fi 6E support, and an interesting design. It is this amazing networking device that we will review today.
Mesh systems have proven to be an excellent solution that eliminates the problems with coverage and slow operation of Wi-Fi networks in large apartments and houses. They allow you to effectively distribute Internet access to all rooms and corners of the house. However, not every mesh system works in the same way, and some proprietary solutions offer unprecedented advantages. The hero of this review is the very fast ZenWiFi Pro ET 12, the latest solution from ASUS.
Read also: ASUS ROG Rapture GT-AX6000 EVA Edition Review: Powerful Gaming Router
Positioning and price of ASUS ZenWiFi Pro ET12
This year, I tested several Wi-Fi 6 routers that impressed me with their performance in real-world conditions. And now I also had the opportunity to test a Wi-Fi 6E Mesh network system – ASUS ZenWiFi Pro ET12 (AXE11000) – a tri-band network system with Wi-Fi 6E support. Why is this standard interesting? Simply put, Wi-Fi 6E is an extension of Wi-Fi 6 to the 6 GHz band. Wi-Fi 6E works according to the same standard as Wi-Fi 6, but with an extended spectrum. 6 GHz is a new band of frequencies in the range from 5.925 to 7.125 GHz, providing up to 1200 MHz of additional spectrum. Unlike existing bands in which channels are currently concentrated in limited spectrum, the 6 GHz band exists without overlap or interference. Access to 6 GHz enables greater bandwidth, higher speeds and lower latency, providing resources for future innovations such as AR/VR, 8K video streaming and more.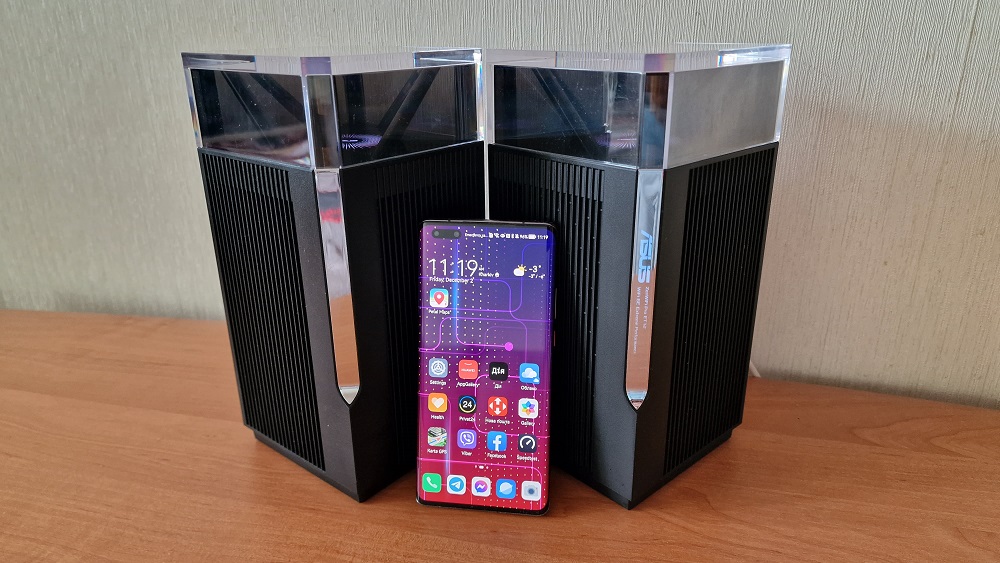 When you first look at it, you're struck by its appearance and size. When you read its specs, you're amazed at the powerful hardware inside.
Who needs such a powerful Mesh system with Wi-Fi 6E support? First of all, this router will be a great find for those who follow the latest in the world of technology and want to be in trend, and also understand that ASUS ZenWiFi Pro ET12 is a purchase for the future. This Mesh system is also suitable for those who have a large private house or a small office. Thanks to ASUS ZenWiFi Pro ET12, there will be no dead zones in your home or office, the signal will be stable and powerful.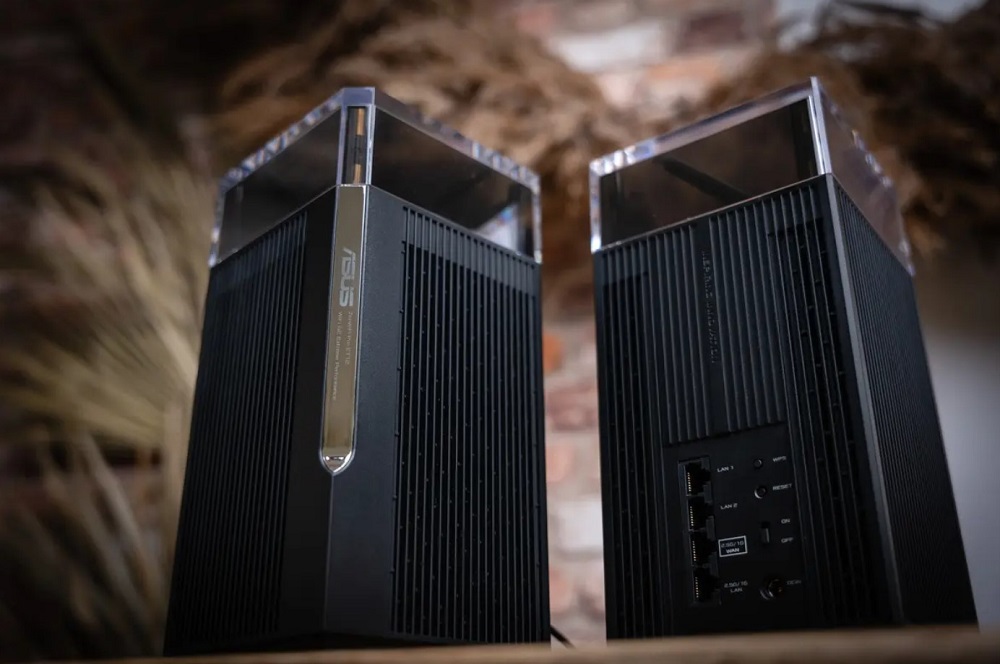 Now a few words about the price. It's clear that such a modern Mesh system cannot be cheap, and this, of course, is not necessary to explain to anyone. Let us say from the outset: yes, this is very expensive equipment. So far, we know that a set of two units will cost about $900, and a set with one station will cost about $500.
This router is not for everyone, I'll even say more – for most people, this equipment will be an overkill. I was also unable to use its full potential, but this is a good thing, because it means that even advanced users will get a product that will serve them for many years.
Read also: ASUS ROG Cetra True Wireless Review: Gaming TWS Headphones
Technical specifications of ASUS ZenWiFi Pro ET12
Type: Wireless router
 Processor: 2.0 GHz quad-core 64bits processor
Memory: 256 MB ROM, 1 GB RAM
Power over Ethernet (PoE): No
Power supply: 19V, 2.37A
Standard: Wi-Fi 802.11ax
Maximum connection speed: 1148 Mbit/s (2.4 GHz), 4804 Mbit/s (5 GHz), 4804 Mbit/s (5 GHz)
Dual band support: Yes
Mesh technology: Mesh technology is a seamless roaming experience. With modern Mesh technology, modules form a single home network with one name. Your devices will automatically switch between different network modules at high speeds wherever you go
Antenna type and power: 10 internal antennas
Connection interface (LAN port): 2 ports (1000 Mbps), 1 port (2500 Mbps)
Input (WAN port): 1 port (2500 Mbps)
WAN connection type: Automatic IP, static IP, PPPoE, PPTP, L2TP
Connection: VPN IPSec, L2TP, PPTP, OpenVPN
Wireless network security: WPA3-PSK, WPA2-PSK, WPA-PSK, WPA-Enterprise, WPA2-Enterprise, WPS
Other: MU-MIMO, Beamforming, OFDMA.
What's in the package?
The ASUS ZenWiFi Pro ET12 comes in a large, elegant cardboard box with a large image of the two stations that are included on the top lid. On the sides and back of the box, you see a lot of technical details about this mesh Wi-Fi system, including a detailed presentation of the Wi-Fi 6E standard and the dual 2.5 Gbps ports in this kit.
Everything is well packaged, except for the towers themselves, and there are side sections for accessories in the center. In the box you'll find: two ZenWiFi Pro ET12 stations and power adapters for them, one RJ-45 network cable, a quick start guide, warranty cards, and other documentation from ASUS. A nice fact is that for European markets, this kit comes with power adapters for all types of outlets used in this part of the world.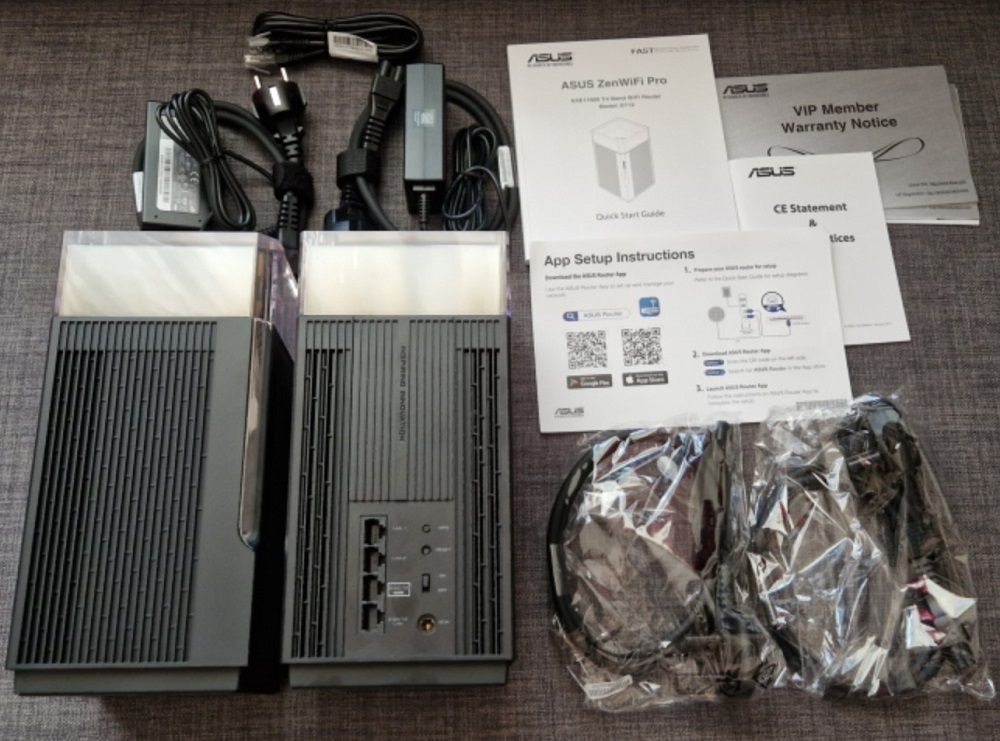 The process of unpacking the ASUS ZenWiFi Pro ET12 mesh Wi-Fi system is very pleasant, you immediately feel that you have just bought premium network equipment.
ASUS ZenWiFi Pro ET12 is not like a typical router
Usually, routers of this caliber look like spider-like monsters that have fallen on their backs and are swinging their legs. Not everyone likes this design, so you might want to hide them in a closet and never look at them (and that's a bad idea, as it suppresses the signal). With the ASUS ZenWiFi Pro ET12, everything is different.
Each of the modules has dimensions of 115×115×241 mm, and their weight is as much as 1.5 kg. These are two large enough towers to rule your home Wi-Fi like Sauron of Middle Earth. Each of them even has its own "eye" under the plexiglass at the top of the structure.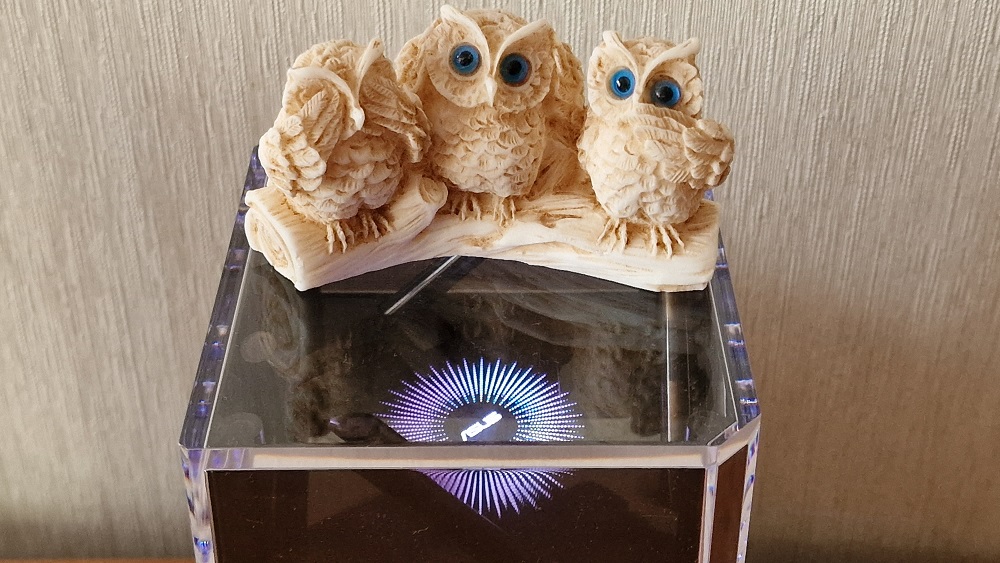 The design of the modules has a certain gaming feel to it, with multiple grilles on the side surfaces. This grille system provides good cooling, which is completely silent as there are no internal fans. The top surface is transparent, made of organic glass, which will allow us to see a total of 8 antennas, with two more hidden inside.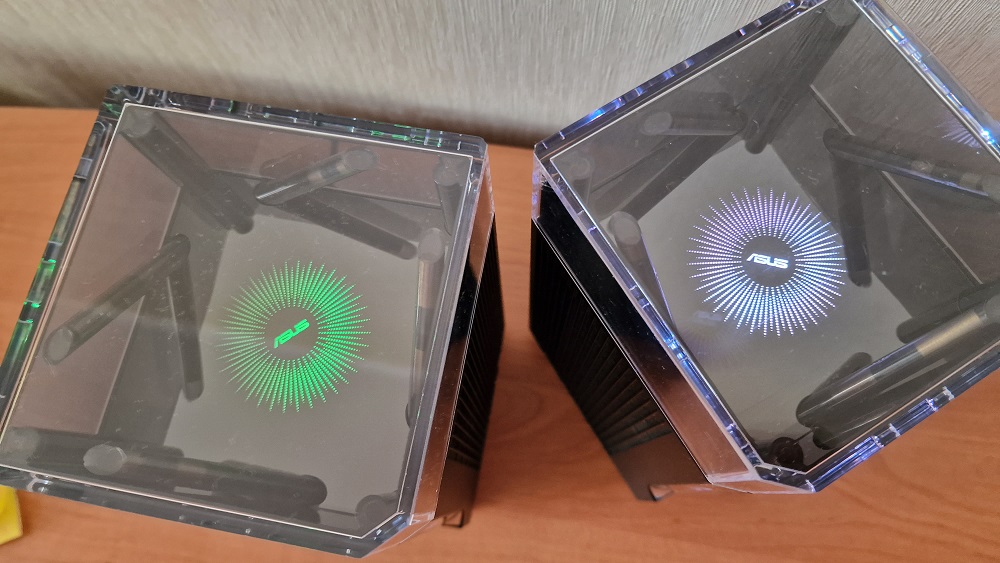 In the center is the ASUS logo with a glowing effect, the color of which changes depending on the status of the device. Here's what each color means:
green – indicates that ASUS ZenWiFi Pro ET12 is starting up
blue – the system is ready for setup
white – ASUS ZenWiFi Pro ET12 is connected to the Internet and works well
red – indicates that the Internet connection is down
light green – the mesh Wi-Fi system is performing an optimization process.
If you don't like the LEDs or they bother you, you can turn them off in the system settings or in the mobile app.
The bottom of each ASUS ZenWiFi Pro ET12 is made of rubber, which prevents slipping when placed on glass and other slippery surfaces. You can also see information about the device here.
In general, the design is very attractive and worthy of a premium device, it will fit well into any interior.
A modern set of ports and connectors, but without USB
On the back of each ASUS ZenWiFi Pro ET12 module, you'll find two 1Gbps Ethernet ports with Link Aggregation, one 2.5Gbps WAN port for connecting to superfast Internet connections, and one 2.5Gbps Ethernet port for connecting a NAS (Network Attached Storage), your PC, home server, or console that could benefit from the extra speed. You'll also find WPS and Reset buttons, an On/Off switch, and a DC power connector.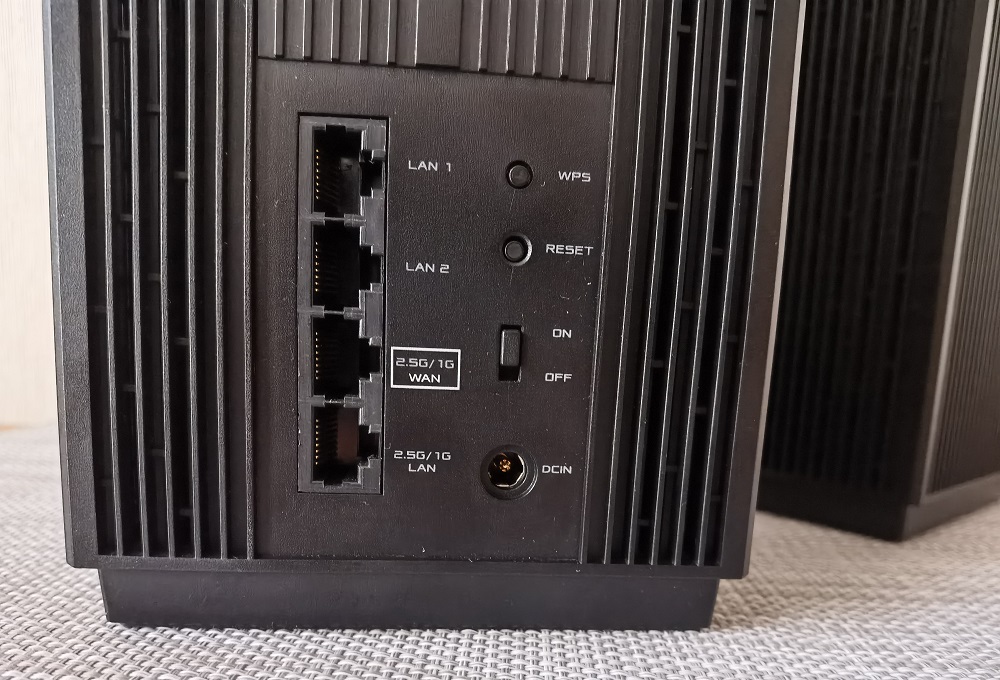 Unfortunately, ASUS ZenWiFi Pro ET12 does not have a USB port. Yes, it's a strange decision for an ultra-modern router of this type, but the developers decided to do so. Perhaps they thought that the 2.5 Gbps Ethernet port would serve as a kind of substitute, but many people may find this decision questionable.
Read also: ASUS ZenBook Flip S (UX371EA) review – Top-Of-The-Line Transformer
Features of the ASUS ZenWiFi Pro ET12 system
The core hardware of each unit consists of a 2 GHz quad-core Broadcom BCM4912 processor, which is responsible for Ethernet, hardware NAT, and the system itself. It is accompanied by 1 GB of RAM and 256 MB of flash memory for the system. Data addressing in the three wireless bands is performed by 4T4R Broadcom BCM6712 processors.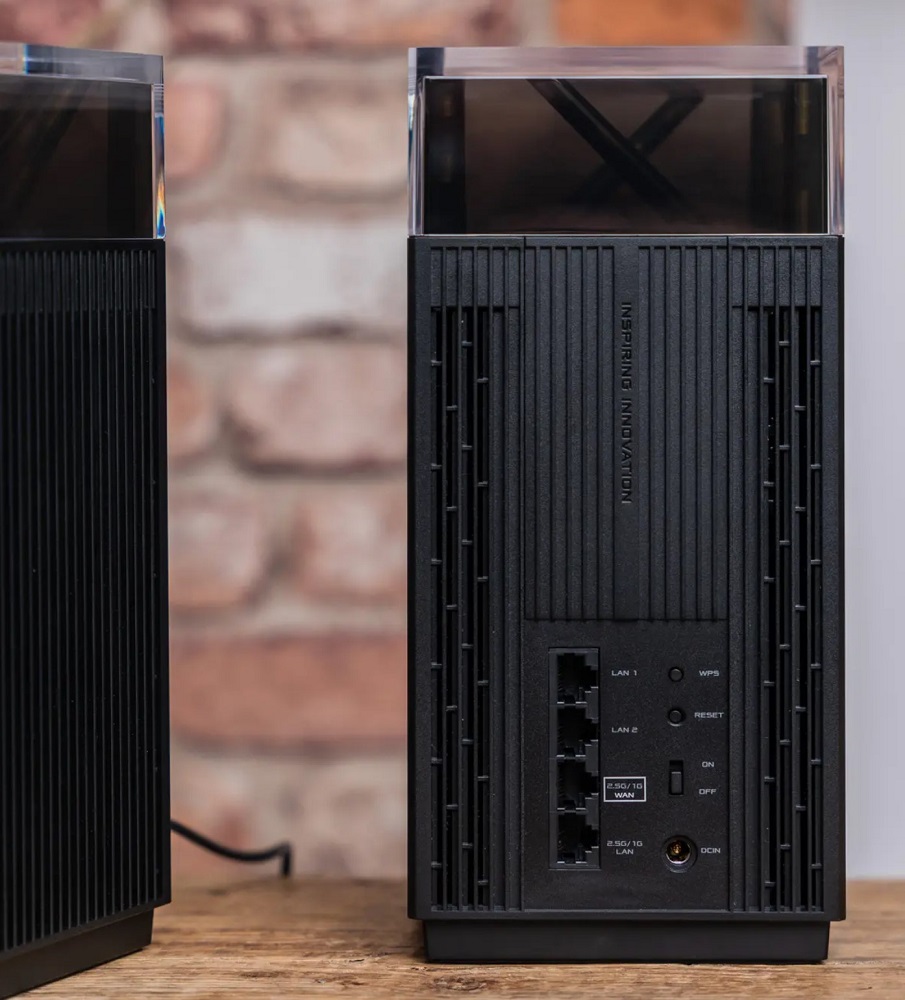 This powerful hardware has to work with many network clients, providing intensive data transfer, such as 4K movie streaming, in parallel and without any glitches.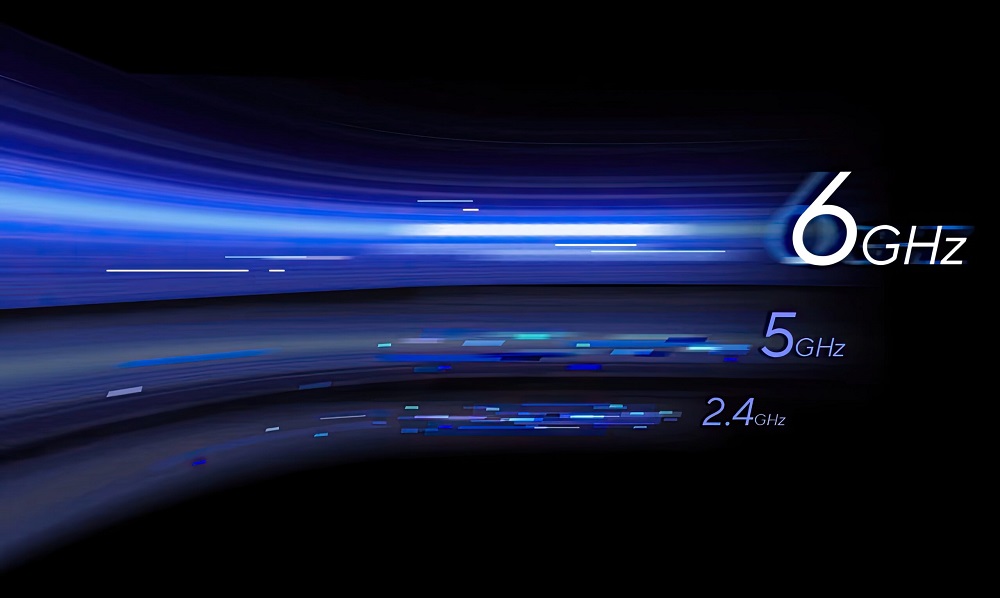 The ASUS ZenWiFi Pro ET12 is a tri-band home mesh Wi-Fi system with support for the Wi-Fi 6E standard, with its total maximum theoretical bandwidth distributed as follows:
A 2.4 GHz band with a total maximum bandwidth of 1148 Mbps. This band can operate in Wi-Fi 4 or Wi-Fi 6 standards
5 GHz band with a total maximum bandwidth of 4804 Mbit/s. It can operate in Wi-Fi 5 or Wi-Fi 6 standards
The band is 6 GHz with a total maximum bandwidth of 4804 Mbps. It operates on the Wi-Fi 6E standard and is the only band where this standard is available on the ASUS ZenWiFi Pro ET12. By default, this band is used for wireless backhaul between stations that make up a mesh Wi-Fi system. If you want to free it up for your Wi-Fi 6E devices, it is advisable to create an Ethernet backhaul link between stations using a standard network cable or configure the Wi-Fi backhaul link to use the 5 GHz band. This latter choice is not ideal, however, as it limits the speed potential of the entire system.
A great technical aspect of the ASUS ZenWiFi Pro ET12 is that it offers 4×4 MU-MIMO transmission on all three bands, not just one or two like other Wi-Fi Mesh systems.
You'll also have access to OFDMA technology, which improves simultaneous client connectivity, and BSS Coloring in WiFi 6 (802.11ax), which allows you to assign a digital signature to each data packet, meaning you can highlight them in different colors without analyzing the entire spectrum. With Target Wake Time, some Wi-Fi clients can be suspended to optimize power consumption and free up spectrum frequencies.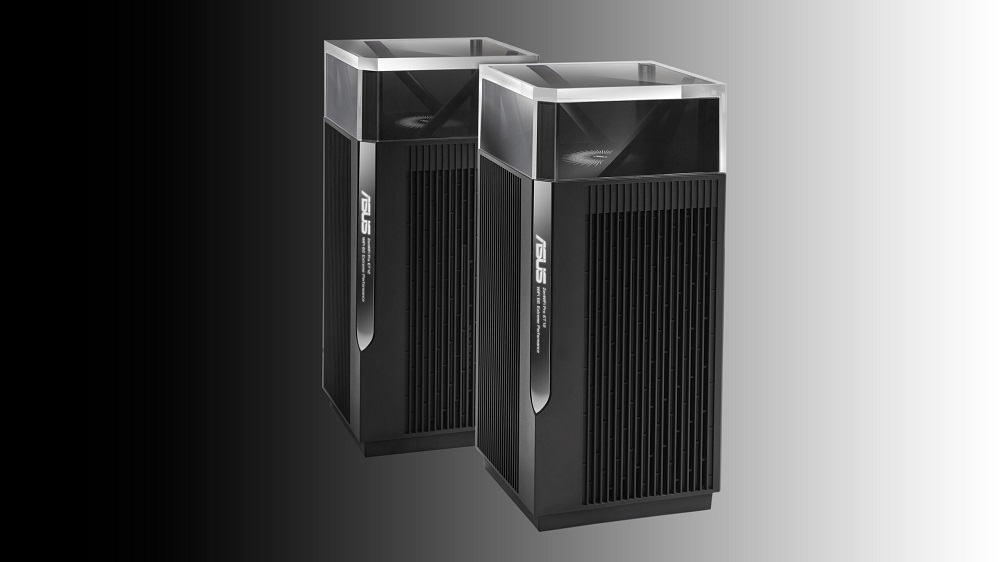 The system is powered by ASUS AiMesh 2.0 technology, which enables compatible routers to connect to create a single mesh where clients move through a single SSID, automatically moving to the best coverage point. Beamforming technology is also present to focus attention on important clients when transmitting data.
This mesh network features AiProtection intrusion prevention technology with WPA2-Personal encryption at 2.4 and 5 GHz, as well as WPA3-Personal at 6 GHz. There are other technologies such as adaptive QoS management, traffic analyzer, support for guest Wi-Fi in all three bands, parental controls, as well as IPTV, DDNS, DHCP, DMZ, hardware NAT and UPnP capabilities. As usual, it supports VPN client and server configuration in PPTP, IPSec, and OpenVPN protocols. That is, I had the most advanced networking equipment in my hands.
Read also: ASUS ZenBook 13 OLED (UX325) review: Versatile OLED Ultrabook
Easy to set up ASUS ZenWiFi Pro ET12
You can configure the ASUS ZenWiFi Pro ET12 using a computer and a web browser or the ASUS Router mobile app on your smartphone. Usually I choose the web version of the setup, but this time I chose the mobile app setup path.
After launching, you need to select the device you want to configure, grant the app the necessary permissions, and connect to the ASUS ZenWiFi Pro ET12 main unit you choose for the Internet connection.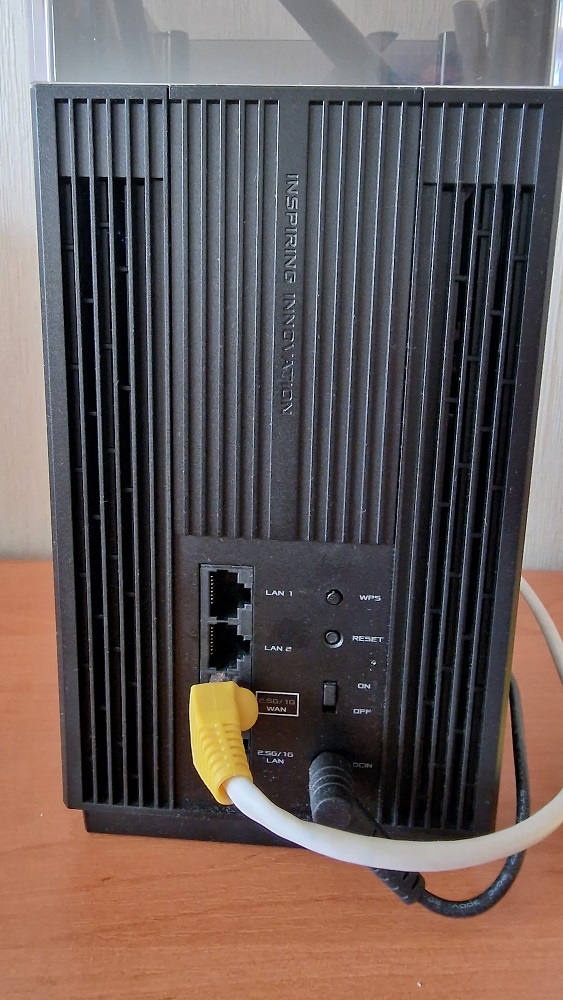 The setup process consists of entering the information required to connect to the Internet, setting a Wi-Fi name and password, configuring an administrator account for the ASUS ZenWiFi Pro ET12, and adding a second node (usually detected and added automatically). At the end of the setup process, you will see a summary of your settings and a firmware update check will be performed. If you want to take advantage of the latest fixes and improvements, you should go ahead and install the latest available firmware.
ASUS ZenWiFi_Pro_ET12-seting
The setup process itself is very simple and straightforward, and even an inexperienced user can handle it. The main thing is patience, and in a few minutes your Power Towers will be ready to go.
It is worth noting that ZenWiFi Pro ET12 can work either as a classic Mesh, in which one satellite transmits a signal to another, or in Ethernet Backhaul mode, in which both modules emit a signal with the same power. Here, too, we can solve the connection of this mode in two ways – either by connecting the modules to each other wirelessly or by connecting them to a wired network. For example, if we have RJ-45 ports distributed at home or in the office, we can connect modules in separate rooms to them and both will broadcast WiFi networks with the same name. It's worth saying that you don't need to configure them as two separate routers. Of course, as befits a decent Mesh system, we don't have to limit ourselves to just two units. If there is a need and the budget allows, there is nothing to stop you from adding more nodes to ZenWiFi Pro ET12.
What the ASUS Router mobile app can do
The ASUS Router mobile app itself is quite easy to use. You can use it to set up your Mesh system, access its management, and enable all the basic features and capabilities I listed above.
Here we find almost all the basic features, and even a little more, the program also offers the ability to monitor clients and offers parental control and QoS tools. Thus, the mobile application is a big plus, it is hard to find fault with anything here, maybe except for the graphic design itself, which could be a bit more transparent and modern, this also applies to the browser version of the software. In this respect, ASUS software is a bit different from competitors who offer more visually appealing tools.
It's worth saying that for most of the testing I used the mobile application – I turned off and on the lighting indicators, checked the status of the ASUS ZenWiFi Pro ET12 units themselves. It is much more convenient and easier, so feel free to install the application and control this "eye" of Sauron.
More detailed settings in the web interface
But after the firmware update is complete, it's worth delving deeper into all the available settings and further customizing the ASUS ZenWiFi Pro ET12. While the ASUS Router app is useful and easy to use, if you want to access all the features this mesh Wi-Fi system has to offer, I recommend accessing the admin interface on your PC using a web browser. There you will find all the advanced settings and tools ASUS has created for its ZenWiFi Pro ET12.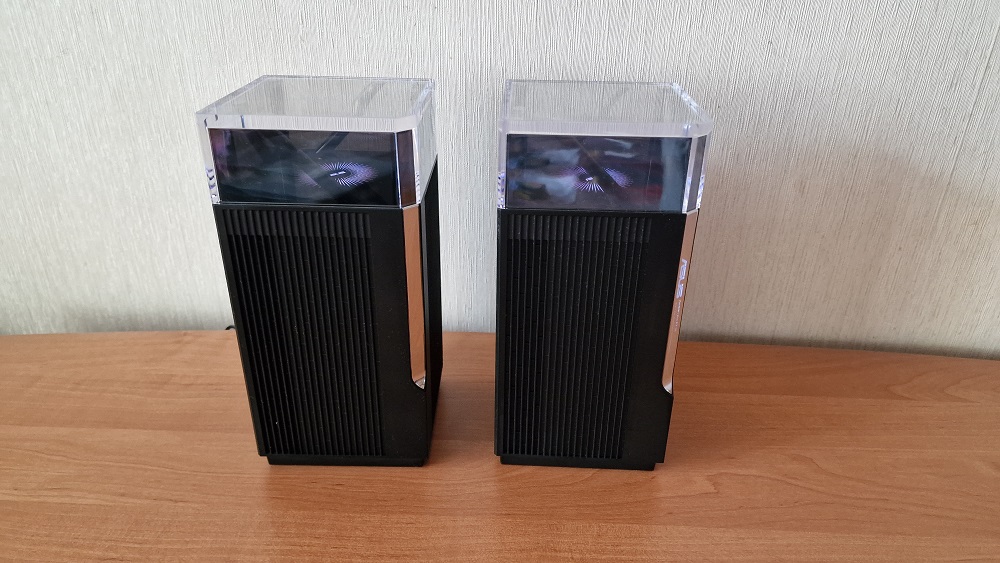 The user interface for managing this Wi-Fi Mesh system is easy to use, well organized into logical sections, and available in twenty-five languages. You can control everything you want, and both novice and advanced users will be pleased with the level of control they have. Help documentation is easily accessible: when you hover over a setting that you don't understand, a question mark appears. Click on the question mark and you will see explanatory information. Unfortunately, the documentation has not been updated to provide information on all the features ASUS has included in their latest firmware, so this method does not work for all settings. I would like to see ASUS extend this feature to all of their new settings related to Wi-Fi 6 and Wi-Fi 6E to make it easier to work with all of the new configuration options related to these standards.
Asus-ZenWiFi-Pro-ET12-web
Throughout the entire testing period of the ASUS ZenWiFi Pro ET12, I was very happy with the wireless coverage. In fact, this mesh Wi-Fi system is overkill for my apartment as it can serve much larger homes or even small offices. The Wi-Fi was fast everywhere and I didn't find any places where there was no signal or the network was slow. The only minor complaint I have is that when I was transferring data on the 2.4 GHz band, the variability in network transmission was quite high. However, when switching to the 5 GHz band, the transmissions were very stable and fast.
If you want to know more about the real-world performance of the ASUS ZenWiFi Pro ET12, please go to the next section of this review, where I will present more detailed measurements and comparisons.
What can ASUS ZenWiFi Pro ET12 do?
It doesn't brew coffee, but otherwise this networking equipment will be used in every home, apartment, office, and even a small business. With a maximum bandwidth of 11000 Mbps, we can connect many devices at the same time without worrying about losing bandwidth in one of them.
With 2.5 Gbps LAN and WAN ports, the ASUS ZenWiFi Pro ET12 even allows you to set up an environment for remote video processing using assets stored on the server.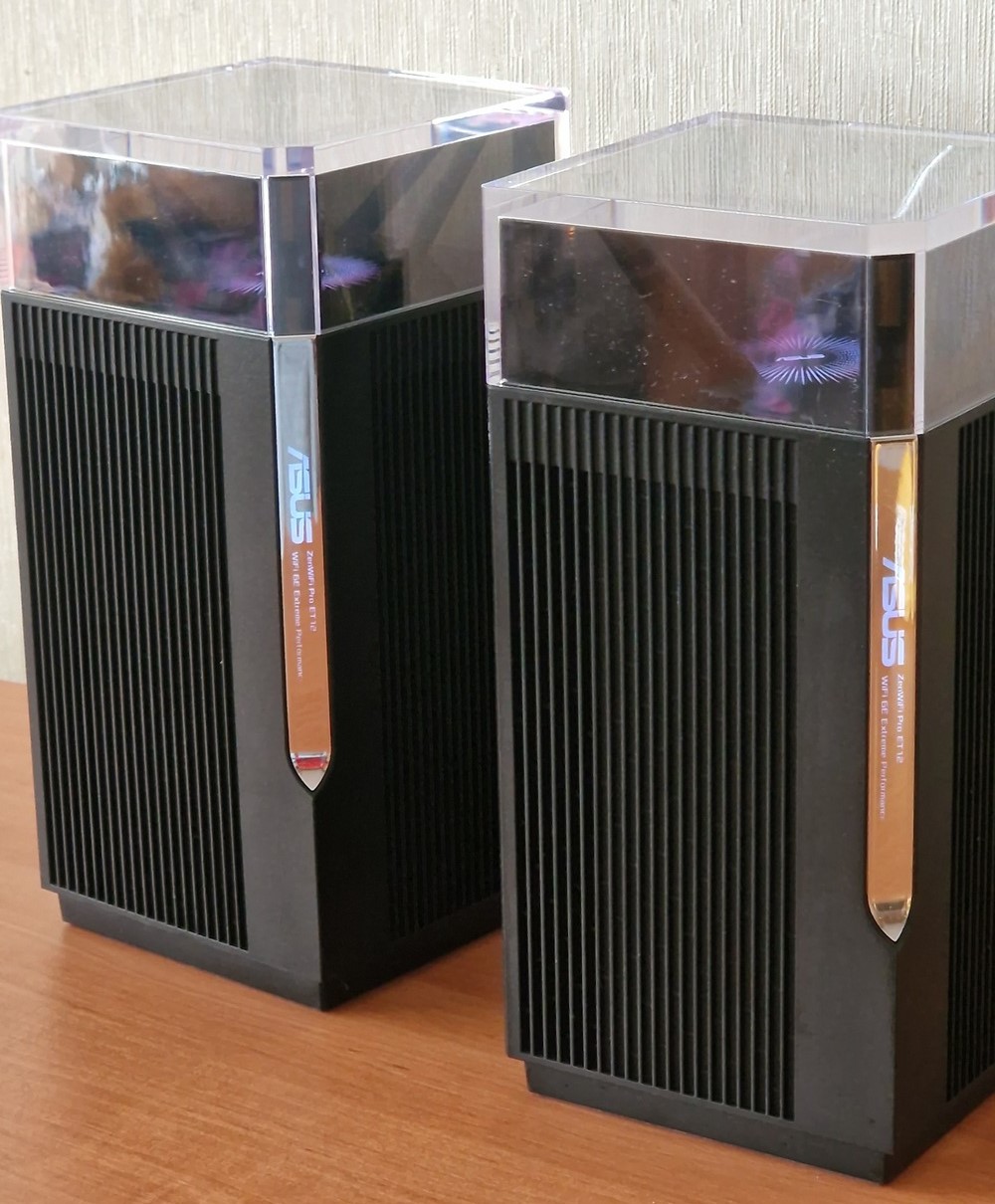 However, the biggest advantage of the ASUS ZenWiFi Pro ET12 router is the use of the new WiFi 6E network standard. WiFi 6E differs from "regular" WiFi 6 not so much by increasing speed as by a completely new separate 6 GHz band that communicates only with other devices equipped with WiFi 6E. And as I've been able to see in recent weeks, this changes everything.
I live in an apartment building with reinforced concrete partitions, where not only do the walls interfere with the signal, but the signal from the neighboring network reaches everywhere. Just at the moment, my laptop shows me 9 detected networks. And a lot of networks means a lot of interference and noise, especially in the 2.4 GHz band, although the 5 GHz band has also become quite crowded in recent years.
The use of the 6 GHz WiFi band allows you to completely cut off unwanted noise and get a faster, and most importantly, more stable connection with less latency.
How ASUS ZenWiFi Pro ET12 works in practice
Having such powerful network equipment at my disposal, I wanted to experience all its advantages and capabilities in practice. Frankly speaking, I'm sure that those who buy ASUS ZenWiFi Pro ET12 will not be disappointed. The ultra-modern design, powerful processor, the necessary set of ports and connectors, and 10 antennas do their job perfectly.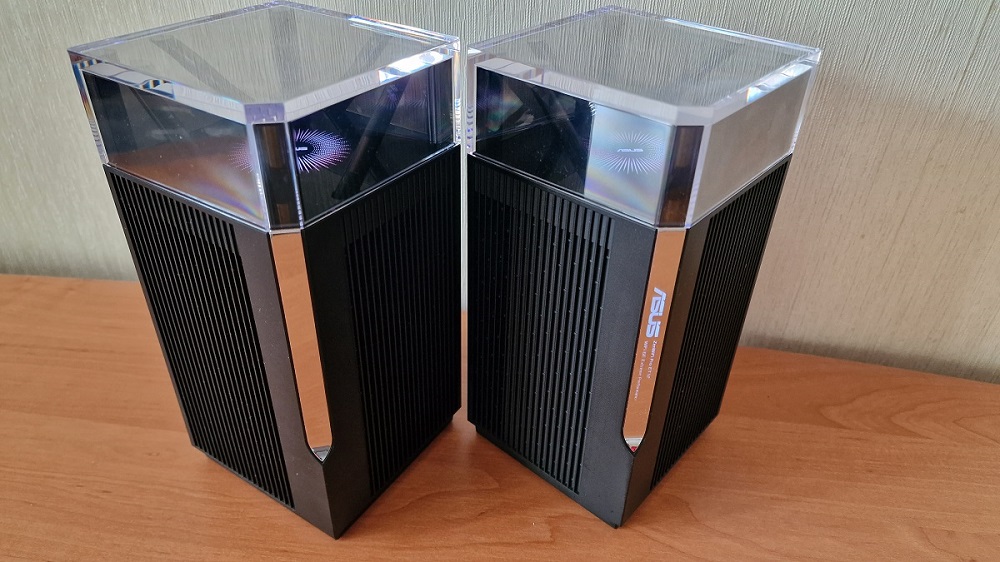 Anyone who lives in an ordinary apartment building with its thick reinforced concrete walls, various obstacles, extensions, etc. knows how often there are so-called "dead zones" at home, where the router simply cannot reach or its signal is unstable. In such cases, we buy, for example, repeaters-amplifiers or other more powerful network equipment. But Mesh systems are designed to eliminate this problem.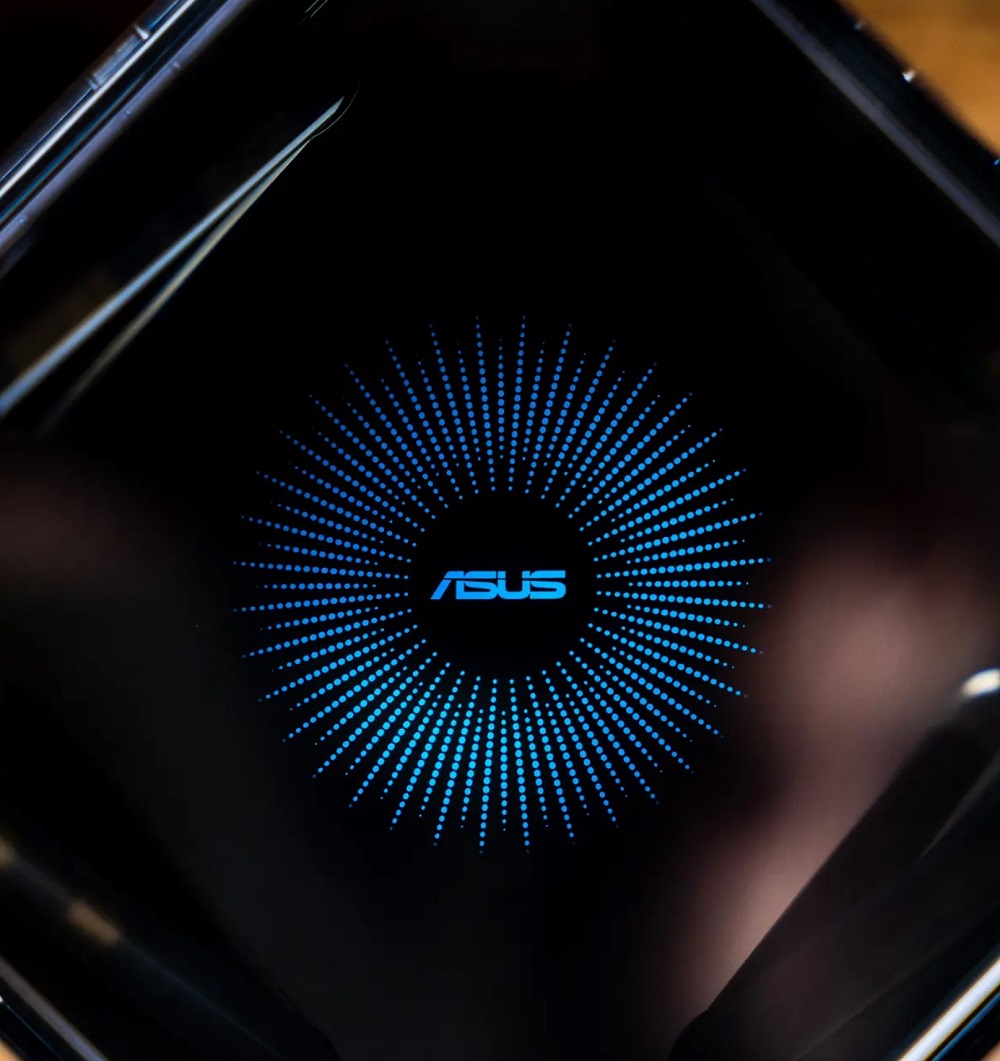 If we talk about the wired connection, then there are no special surprises. ASUS ZenWiFi Pro ET12 showed results close to those declared by my provider – 1 Gbps. This is where I first regretted that my provider can't give me 2.5 Gbps yet, because the tested Mesh system has such ports, and I'm sure they would have brought their own pleasant surprises and unsurpassed speed.
Since I had a set that included two stations, I decided to take full advantage of the ASUS ZenWiFi Pro ET12 by placing one unit in the living room and the other in the hallway.
Usually, I choose five control points in my apartment to test the signal and its strength, but with this router, I decided to choose a sixth one:
1 m from ZenWiFi Pro ET12 (in one room)
3 m from ZenWiFi Pro ET12 (with 2 walls in the way)
10 m from ZenWiFi Pro ET12 (with 2 walls in the way)
15 m from ZenWiFi Pro ET12 (with 3 walls in the way)
in the stairwell 20 m from ZenWiFi Pro ET12 (with 3 walls in the way)
the first floor of a house 35 meters from ZenWiFi Pro ET12 (with 10 walls in the way).
I was very pleasantly surprised by the test results, even at the experimental sixth control point.
Since I'm used to using the Smart Connect function, which allows me to not split the network, I don't see much point in showing the results of each range separately. I will only note that at four points, i.e. inside my apartment, the results were very similar.
Sometimes it seemed as if the devices were connected by invisible threads and smoothly transferred my smartphone or laptop while moving around the apartment. You really begin to understand the essence of the mesh system. It's a really cool feeling. It is also worth mentioning the support for a 160 Hz channel.
It is worth noting the excellent signal stability. At any point in the apartment, the ping remained almost unchanged, the signal from the Mesh system was consistently high. There were no breaks, failures, drops, not to mention dead spots in the apartment. All devices connected to it seemed to be flying: smartphones, laptops, security system, my KIVI TV easily played content in 4K. No problems arose.
I already wrote that ASUS ZenWiFi Pro ET12 has support for the new 6 GHz band. I was lucky enough to test it, because now I'm testing the Samsumg Galaxy S22 Ultra, which supports Wi-Fi 6E. It was really worth it, because only the hero of my testing worked on this band in my house. That is, no interference and noise from the neighbor's router. The connection is stable, and the speeds are also impressive. It's really cool to feel like the King of the Mountain!
I did not have the technical ability to test the Mesh system, for example, in a two-story building with reinforced concrete floors, but I assume that it will work similarly there. It should also be borne in mind that in the building where I tested the routers, at least 20 other 2.4/5 GHz Wi-Fi networks are active, so the conditions are definitely more difficult than in a single house where there is no such interference.
Read also: ASUS Vivobook Pro 16X OLED (N7600) review: 16-inch laptop with OLED screen
Energy consumption
Nowadays, this aspect is one of the most important. The manufacturer claims a maximum power consumption of 24.5 W for one device from the set, but in my tests the results were much lower and amounted to exactly half of this Mesh system, which, of course, cannot but rejoice.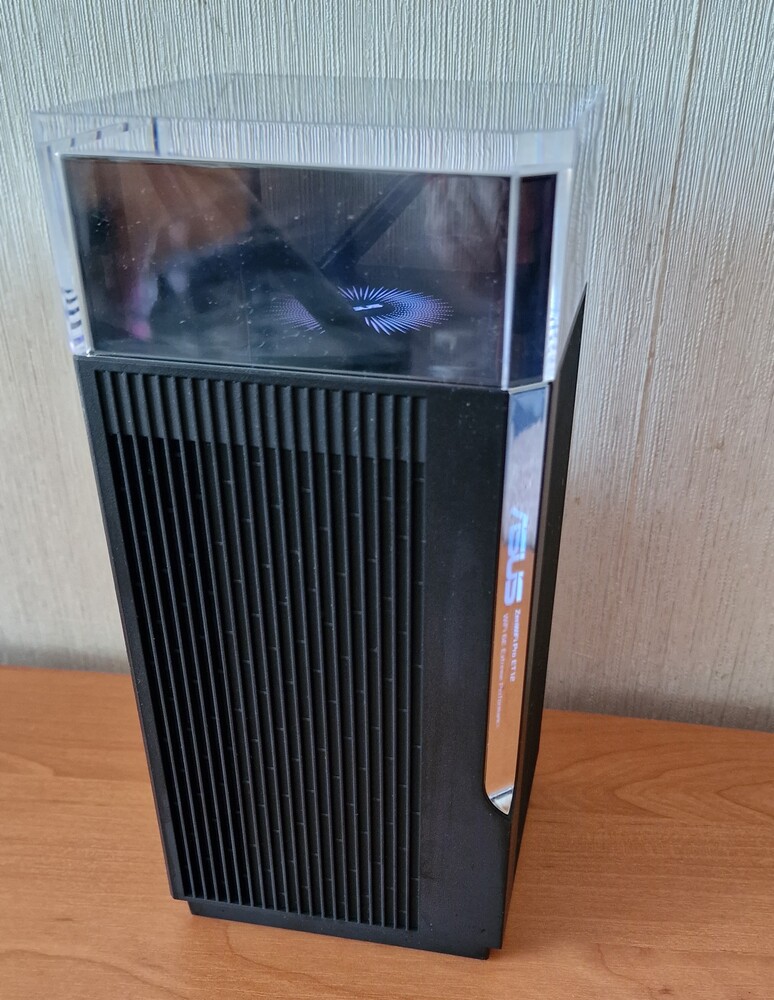 Even with the maximum load, ASUS ZenWiFi Pro ET12 did not want to pull more than 15 watts from the outlet. Of course, if you multiply this value by the number of nodes, it may seem like a rather impressive figure, but in my opinion, this is a low price for the capabilities offered by ASUS' Mesh system.
Conclusion
During testing, I asked myself only one question: "Does ASUS ZenWiFi Pro ET12 have any drawbacks?" Well, maybe there are, but I didn't find them. During the entire test period, there was not a single situation in which the equipment would work poorly or do something incompatible with the configuration. ASUS ZenWiFi Pro ET12 works as a router should: it's fast, quiet, and almost invisible. And at the same time, it provides a high-quality signal to every corner of the apartment.
The ZenWiFi Pro ET12 router is the most powerful mesh router available, with the great news that we finally saw the 6GHz band in action. This is a customer-specific band, while 5 GHz is shared by the mesh backbone, so data is excellent in all cases, as is coverage and average ping, perfect for consuming 4K streaming media without tearing or crashing.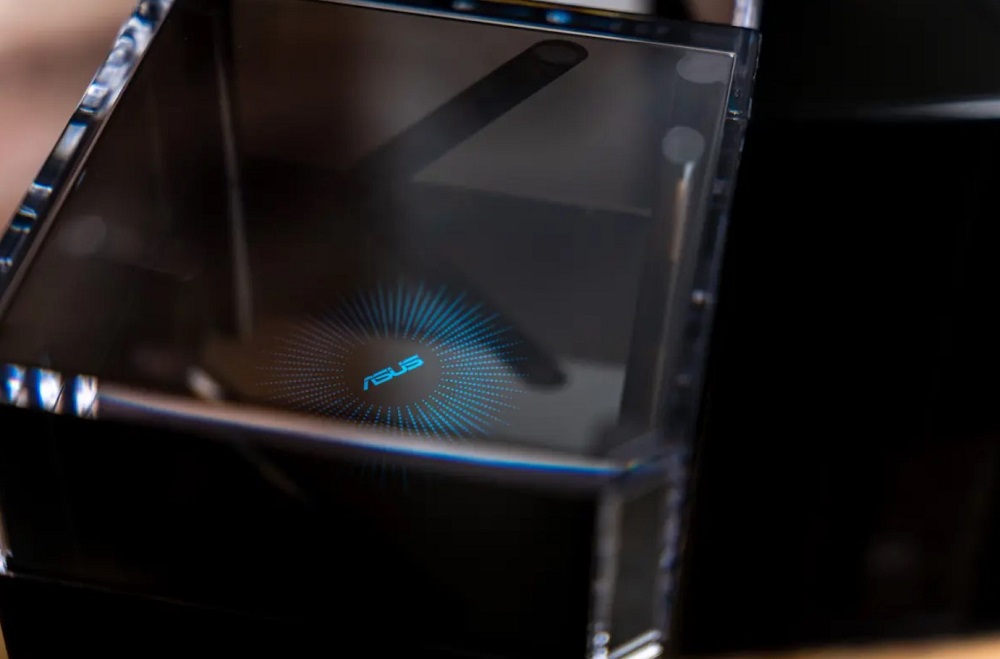 I liked that the whole ASUS Aimesh ecosystem allows you to add other routers as needed, which become part of the mesh system. This way, you can combine the router and the network without using cables between each device. It's easy to set up using the ASUS app or browser.
The ASUS ZenWiFi Pro ET12 is expensive, but it's lightning fast, very stable, and one of the most flexible systems out there. So I can't say that ET12 is not worth the money. Yes, it is expensive equipment. But it's a really modern Mesh system, and I got the best experience with networking equipment I've ever had. I should also mention the very interesting design, which is not like classic routers or other Mesh systems. If you can afford it and want to enjoy super-fast connectivity for years to come, go for it, you won't regret it.