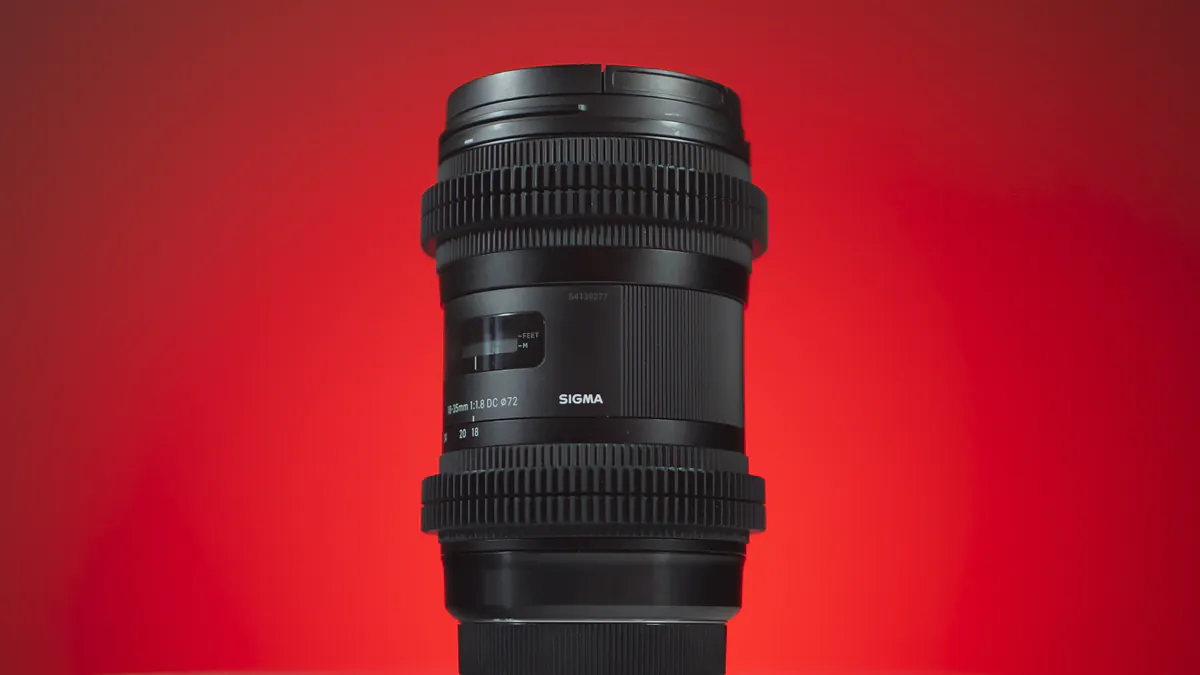 As a man who is smarter than me said…, 'When you don't know what to buy for cropping – take the Sigma 18-35mm F1.8 DC HSM Art. For example, along with the Blackmagic Pocket Cinema Camera 4K, I received a lot of stuff, including a Viltrox speedbuster that does NOT work properly. And along with it, the Sigma 18-35mm F1.8, which works very well on it.
And since I still have a Panasonic Lumix G7 camera, where the speedbooster works like a clock, I decided to find out if this long-necked handsome man is worthy of attention. Worthy it is! And then updates were brought for Viltrox, which is why the handsome man now works for the video.
Also, I express my gratitude to the DreamTech.ua store for their support in creating this material
Video review of Sigma 18-35mm F1.8 DC HSM Art
Market positioning and price
For starters, the news. This lens is not new. It's not new at all, it's from 2013. And then it cost 1000 euros. Now it is somewhere around 800 dollars. By the time of release, by the way, the lens received the EXC!TE award and became the model of the year according to the Digital Photography Review.
Read also: Ukrainian website is in recommended list of DXOMARK for the first time
And what I want to tell you is that he received the award not for the honest eyes. It was the first, absolutely the first zoom optics with F/1.8 aperture, which was a significant record, and even now it looks very good.
Of course, you can remember Zhongyi Mitakon, where F is generally closer to one, but those were different times, and these are very, very different lenses. Actually, it's not a problem to make aperture on a fix. It's hard on the zoom. Especially wide angle.
Delivery set of Sigma 18-35mm F1.8 DC HSM Art
The delivery set is good – a box with a good protective case, plus a hood in the kit. The cover is not too dense, but it is finished with polyethylene foam on top and bottom, so it can still protect against shocks.
In addition – and I have a Canon EF model – the lens easily fits in the case… with the Viltrox speedbooster installed. Yes, and with a hood installed! It also zips up with no problem.
Appearance
Regarding the sizes. To a person who never dealt with lenses, or only dealt with primes like the Lumix 25mm F/1.7, the Sigma 18-35mm F1.8 DC HSM Art will look like half a Javelin, since the thing is big and heavy. 121 mm long, 78 mm in diameter and 810 g of sweet optical mass. Inside are 17 glasses in 12 groups, including 5 low dispersion SLD and 4 aspherical lenses. The minimum focal length is 28 cm, there is no moisture protection.
Autofocus is ultrasonic ring type, two control wheels. They are quite tight, for focusing there is a distance scale window, an autofocus switch. There are no straps for the follow focus, but I got the optics with them right away. Lucky.
The control rings, as I said, are tight and I don't really like it, although for a photo it's what you need. The front ring is for focus, the back ring is for focal length. Scrolling is stepless and infinite, but with hard stops at the edges.
Sigma 18-35mm F1.8 DC HSM Art was produced for sensors up to APS-C and DX on Canon EF-S, Nikon F, or DX, Pentax KAF, Sigma SA and Sony/Minolta Alpha DT mounts. That is to say, a lot of mounts. And thanks to the speedbooster, the lens could also be mounted on the MFT. You can check which lens mounts different cameras use by running a quick camera comparison.
Read also: Boosteroid cloud gaming service: how to use it to the max
Yes, this means that I cannot fully review the optics, because I introduce an additional factor in the form of Viltrox glass between the sensor and the lens. About which I, perhaps, will tell sometime later.
User Experience
However, I have enough experience with Sigma to tell. Due to a speedbooster glitch, I almost never used the lens on Blackmagic, only recently I started, because autofocus does not work, and focus pooling through a smartphone with it. And it really matters to me. However, for a photo it's just a very good thing. And as a person who is accustomed to soft and not tight focus rings, and on Lumix there is only one smooth ring – it was not convenient for me.
In addition, there is no stabilization at all, so it is difficult to shoot in the absence of light… it would be if it were not for the 1.8 hole. Which thanks to the speedbooster becomes 1.2 in general. And a 1.2 hole is not a toy, it is already ultra-fast optics. Again, this is something incredible for a zoom.
Shooting during the day is also good, focus breathing is relatively weak, glass elements are excellent and sharp, distortion is minimal, vignetting is minimal. It's nice that, despite the magnification of the lens, the glass shifts inside, and not outside, when the focal length changes, so, let's say, the balance will not go astray when using optics on the stabilizer.
Amazing parafocality and aperture
But I won't call these optics parafocal, although the situation here is unusual. When you change the focal length from shorter to longer, the focus remains almost completely the same.
That is, set 18 mm, focus, change the distance to 35 mm, and the focus remains almost unchanged. On the contrary, going from 35 to 18 mm sets the focus to zero. Keep this in mind.
In addition, the weakest point is the minimum aperture, which is not F/22, as usual, but F/16. And this is without a speedbooster, because with it it's down to F/11. Sorry.
Therefore, in the light of day without an ND filter, at least 16 is not possible. And given the thread diameter of 72 mm, any filter can cost a pretty penny. Although, for example, Marumi ND8X costs $20. Which is very democratic.
Picture samples
Unfortunately, for obvious reasons, I am not allowed to walk around and photograph everything I see in nature – however, I think that you will understand the quality of the picture from the photos that I took at home.
Conclusions on Sigma Art 18-35 F/1.8 HSM DG
This lens is considered the gold standard for Canon EF-S for a reason, and is most often recommended for boosters on MFT cameras.
If stabilization isn't critical and you won't be shooting in places too bright without an ND filter, I would definitely recommend the Sigma 18-35mm F1.8 DC HSM Art. Especially since this zoom can enter the so-called holy trinity of optics. However, this is a completely different story.