The modern rhythm of life practically does not leave us the opportunity to maintain a balance in our life. What I mean is there is often not enough time to clean the house. That's why we are acquiring smart home helpers that simplify the cleaning process. For example, a robot vacuum cleaner. This device will do all the dirty work for you: collecting dust throughout the house, cleaning floors in every corner and under furniture. In the meantime, you can relax and do nothing.
Today we want to tell you about the Neatsvor X600 robot vacuum cleaner. It performs dry and wet cleaning, is controlled by a mobile app, and has a wide range of functions. In a word, it is ideal for quick and high-quality cleaning both in a small apartment and in a spacious private house. To find out how much this statement corresponds to reality, let's take a look at the device in more detail.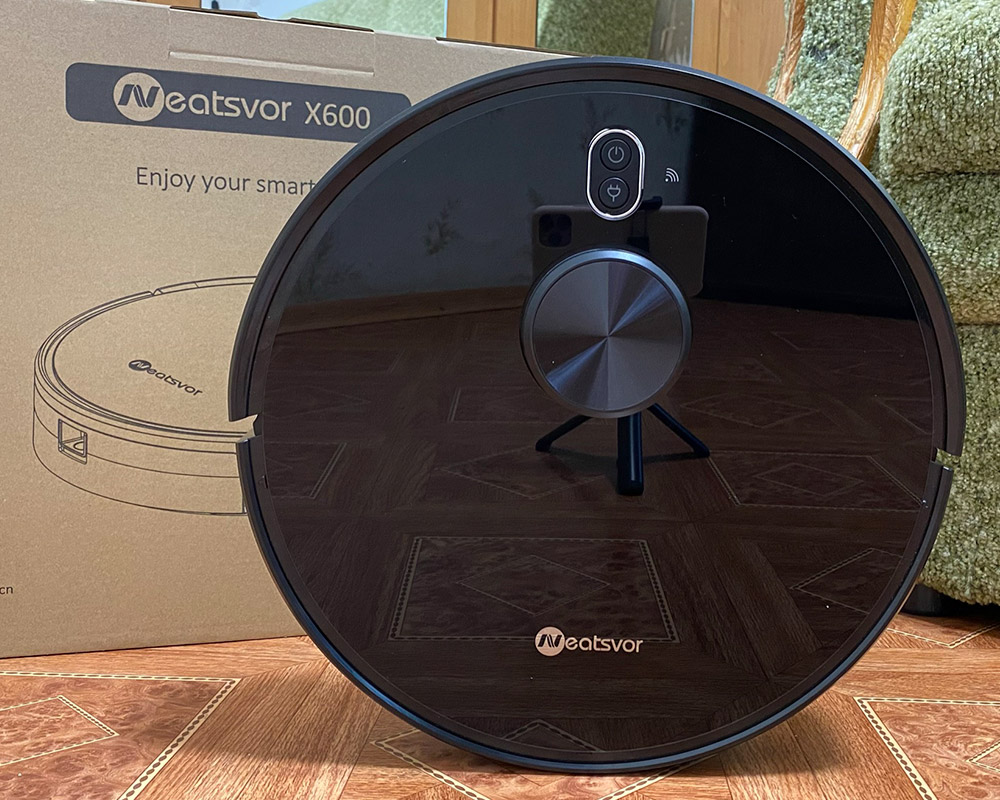 Full specifications
| | |
| --- | --- |
| Model | Neatsvor X600 |
| Input voltage | 100-240 V, 50 Hz |
| Adapter voltage | 19 V, 0.6 A |
| Battery voltage | 14.8 V |
| Battery | Li-ion |
| Power consumption | 25 W |
| Battery capacity | 2500 mAh |
| Suction power | 4000 |
| Dust collector capacity | 600 ml |
| Water container capacity | 350 ml |
| Battery life | 90-120 min |
| Vacuum cleaner charging time | 240-360 min |
| Features | route planning, real-time tracking, digital locked area, zone cleaning, manual robot control, room cleaning, Amazon Alexa and Google Assistant support |
| Additional functions | recharge and resume cleaning, automatic return to the charging base |
| Weight | 3 kg |
| Dimensions | 330×330×98 mm |
| What's in the box | robot vacuum cleaner, charging docking station, remote control, network adapter, manual, cleaning brushes, 4 side brushes, HEPA filter (2 pcs), wet cleaning container, microfiber nozzles (2 pcs) |
| Price | $220,99 |
What's in the box
The complete set with the robot vacuum cleaner contains all the necessary additional accessories. The compact but rather heavy box includes the Neatsvor X600 itself, a dust collector with a fleece pad, a spare HEPA filter with a sponge, two brushes with marked sides (left/right), a power adapter, a spare fleece cloth, a container for water, a docking station for charging and a brush for caring for the device. There is also a user manual, which describes in detail the operating modes of the vacuum cleaner, Wi-Fi settings and recommendations for cleaning the device.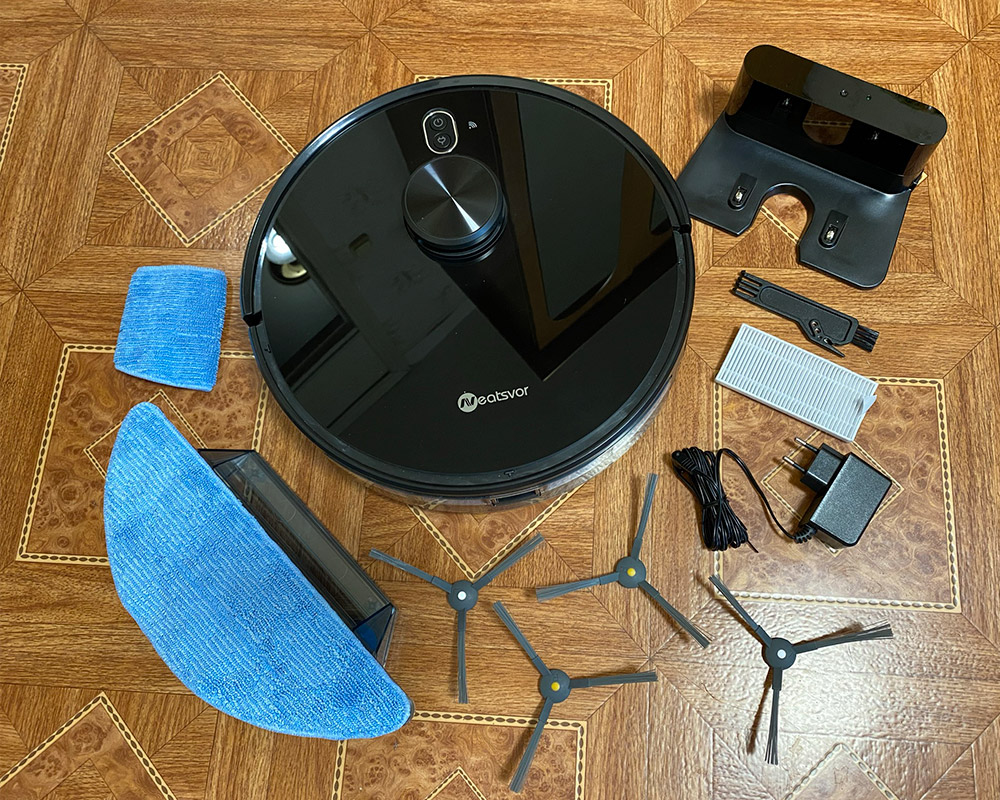 Design
This robot vacuum cleaner really looks like a premium device. It has a round body in charcoal black with a small rim and bumper. The top cover with a glossy surface reflects the surroundings like a mirror. It houses the LIDAR tower and two buttons – turning on and returning to the charging station. The case diameter is 330 mm and the overall height is 98 mm.
The obstacle sensors are hidden behind a matte panel, protected from damage by a special gasket. On the opposite side of the bumper we see a switch and an additional connector for the adapter. On the back there is a compartment for working modules, namely a dust collector and a water container.
Turning the vacuum cleaner upside down, you can see the working unit, two large wheels with a protector, mounts for two brushes, a roller wheel and terminals for charging the battery. Also, the device is equipped with fall sensors located in the same place, in the lower part of the case.
Functionality
If you are looking for a reliable home cleaning companion, then the Neatsvor X600 is a perfectly reasonable choice. It is designed for both dry and wet cleaning of medium-sized premises and will cope with any floor covering, be it carpet, parquet or linoleum. The device is equipped with a NIDEC engine, which allows you to suck in almost any debris: house dust, crumbs, cat litter, etc. The vacuum cleaner detects carpets in time and increases the suction force to the maximum in order to better collect all dust, dirt or hair. Special brushes are perfect for cleaning corners.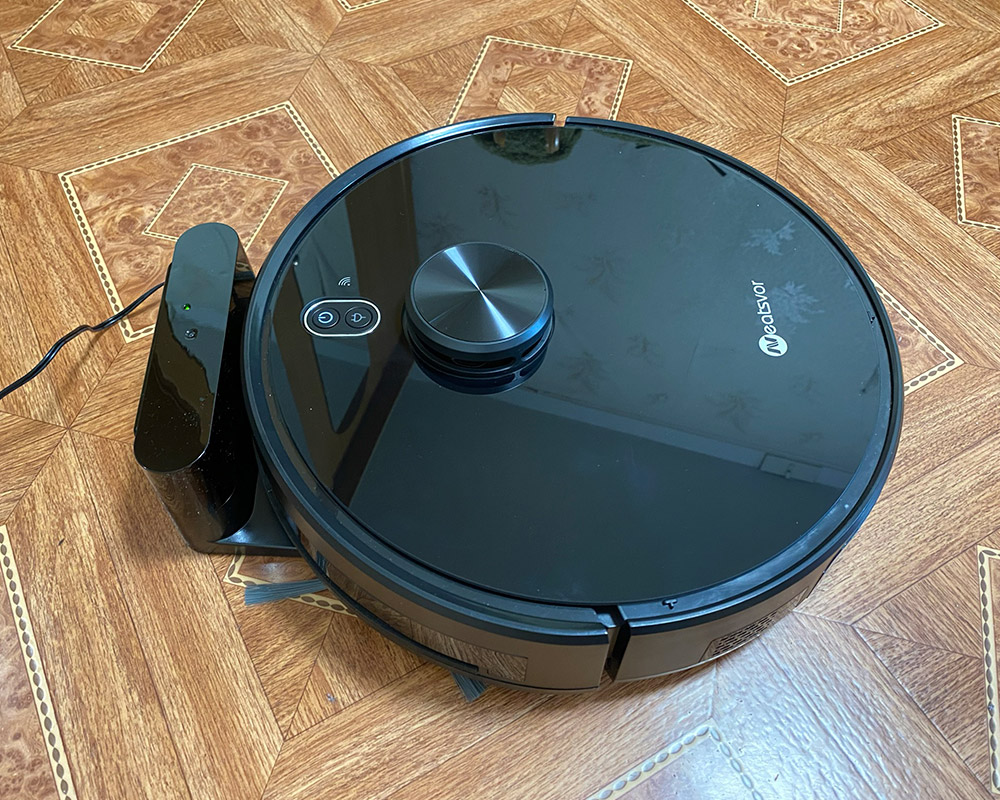 The dust collector is protected from clogging by filters. There are three of them installed at once: a mesh for large debris, a foam filter that retains dust and a special HEPA filter that prevents harmful microbes and mold from dispersing into the air. This filtration system is extremely reliable and efficient. The main thing is not to forget about regular cleaning.
After dry cleaning is completely completed, you can proceed to wet cleaning. To do this, a combined module is installed, which works as follows: water enters the napkin and tightly presses the device for cleaning the floor to the surface. When cleaning ends, the water supply will automatically stop.
The robot vacuum cleaner, working in auto mode, cleans the rooms one by one, first along the perimeter, and then moving in a zigzag fashion. If the user needs to select additional settings, then this can be easily done using the app.
Read also:
Battery life
The vacuum cleaner must be charged before using it. When you connect the adapter, the device will notify you about charging by voice message. The Neatsvor X600 clears for about two hours on a single charge in silence mode. This will be enough, say, for a quick cleaning of the apartment. If you need to clean a large room, then the device will need to be recharged, and then it will be able to continue its work from the place where it left off.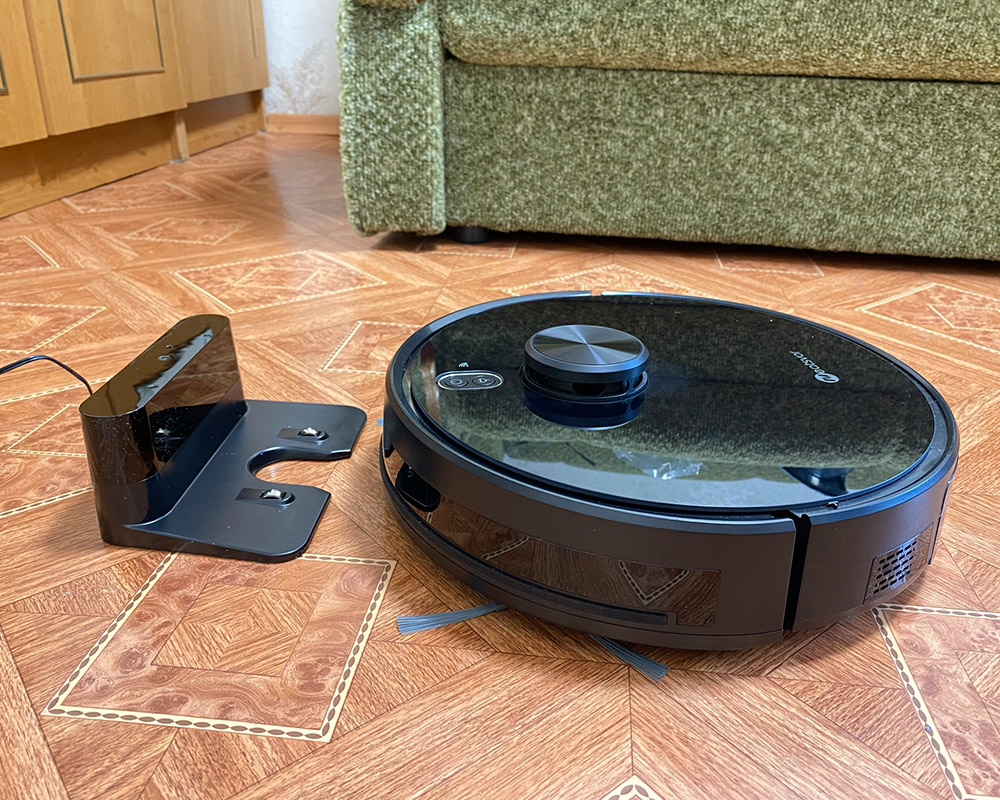 The app
For advanced settings you will need to install the Tuya smart app on iOS or Android smartphones. The following additional parameters will become available with it:
Virtual maps of your place, where you can specify rooms, highlight certain allowed and restricted areas.
Cleaning schedule for a given period.
Regulation of the force of retraction, wetting of surfaces.
Amazon Alexa and Google Assistant voice assistants
Android:
iOS:
The app is easy to setup: just connect the vacuum cleaner to Wi-Fi and synchronize it with your smartphone.
When cleaning the house, Neatsvor X600 builds a map of the room, remembers it and uses it afterwards. To do this, the device uses an environment scanner, gyroscope, infrared and tactile sensors, as well as a height difference sensor. Thus, the "smart" assistant chooses the direction, calculates the distance to obstacles etc.
Verdict
The Neatsvor X600 robot vacuum cleaner is a high-quality, functional household appliance that fully justifies its cost. Its main advantages include:
complete set that does not require additional costs
LIDAR navigation
accurate room map
excellent suction power
capacious containers for dust and water
wet cleaning with controlled water supply
Even if the battery capacity is not enough for cleaning a large area, the vacuum cleaner automatically returns to recharge and then continues on. Therefore, the gadget is more than enough for cleaning small and large rooms. You can also use wet and dry cleaning at the same time, and this is a great advantage. To do this, use a water container that has a compact compartment for collecting dust. To summarize, the Neatsvor X600 is a versatile device that will become an indispensable assistant in your daily cleaning.
Where to buy it
Read also: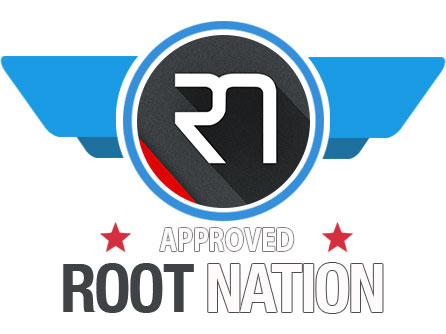 Subscribe to our accounts: