To stop cleaning from being a personal horror and a reason to quarrel, it's easy to choose a good helper. Like, for example, this cute Samsung JetBot+ robot hoover, a model that was able to almost completely relieve me of the problems of housecleaning.
Package and appearance
The Samsung JetBot+ robotic hoover comes with a large charging and cleaning dock, a spare side brush, a replacement filter and a manual with warranty card.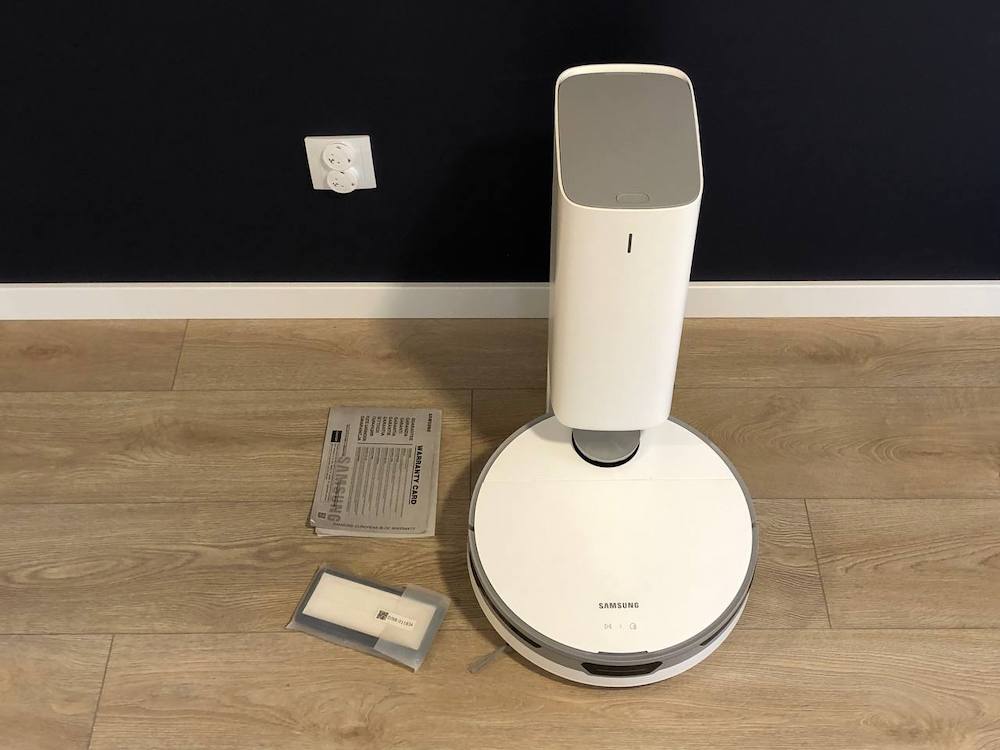 The Samsung JetBot+ itself looks fairly standard – in the form of a white "tablet" about 10 cm high from the floor. There are two mechanical buttons on the top of the device: start/pause and forced return to the charging base. A toggle switch for general switch-on is located on the side of the unit. The dust canister for dry vacuuming is located under the top cover, which can be easily lifted out to remove the filter. The filtration system is based on a mesh and HEPA filter.
Underneath, there are sensors that help the hoover to navigate in space, recognise height differences and the types of surfaces the robot hoover is currently on. There are also two wheels with independent suspension, a swivel wheel, one side brush and a central turbo brush, as well as charging contacts.
But the fun part starts when we talk not about the hoover itself, but about its docking station. Because it's not a little pedestal where the robot will go to recharge, but a tower. It's not just for the sake of it – it also has an automatic cleaning system built into it.
You can set it up to clean the hoover after each cleaning or do it on demand. Personally, I found it very convenient to press one button in the app to activate "clean after clean" and for the couple of weeks that I tested the cleaner, just forget about its maintenance. Judging by the volume of the bag in the "tower" it will last you a long time. The manufacturer says 1-3 months, but in practice I had the bag almost empty in a month of active cleaning.
| | |
| --- | --- |
| Battery | Li-Ion, max. cleaning time 90 min |
| Dust collector | 300 ml |
| Sensors | LIDAR, height sensor |
| Dimensions | 350.0×99.8×350.0 mm |
Functionality and control
The Samsung JetBot+ robotic hoover is controlled via the proprietary SmartThings app. There you can remotely switch on the device, change cleaning modes, monitor cleaning in real time, set schedules and virtual walls, and more.
Android:
iOS:
Let's start with the basics – there are several operating modes in terms of cleaning pattern and power. All of these can be dynamically changed even while you're cleaning.
I really like the fact that here I can watch the cleaning process in real time. For example, if I have gone for a walk with the baby, leaving the robot in charge of the flat, I can look at how the cleaning is going and estimate how long it will last at any given moment. If there are any problems during the cleaning process, the app will notify you straight away.
It is also good that Samsung JetBot+ is a really smart hoover, because after a few cleanings it has perfectly planned the room in its "head" with all the significant obstacles for it in the form of furniture, wall protrusions, etc., and has learned how to plan its route so that it can clean everywhere and not bump into everything around it. It's nice to be able to clean without the robot's constant "boo-boos" in the background into all the objects in the room.The presence of lidar in the Samsung JetBot+ allows you to take advantage of modern technology such as virtual walls. And we're not talking about some new term from popular psychology, but a rather concrete and pragmatic feature of the robot hoover. In any part of your flat, you can define an area that will become a "blind spot" for your robot. This can either be a place with a lot of wires, or a place near your pet's litter box, to avoid nasty surprises just in case.
Read also: Mi Robot Vacuum Cleaner-Mop 2 Pro review
I have also benefited from the opposite function – send cleaning locally. Again, speaking as someone with a small child, every meal is a mess, every active game or creative activity is a mess, every return from a walk is a mess. And it is convenient that you don't have to turn on a full-fledged cleaning service for an hour or bother with a mop yourself, but simply send the robot to clean a specific spot in the flat. He himself will get to your chosen point, quickly a couple of minutes (depending on your chosen area of local cleaning) cope with everything, and then politely leave to the base. All this without your intervention or supervision, when you may well have more important things to do. This is what I consider to be technology that improves the quality of life.
Cleaning
Now, actually, let's talk about cleaning quality. The Samsung JetBot+ has one side brush and a central rotating turbo brush. Dust and dirt are collected from the periphery as the robot moves along the right side, then directed under the bottom, where the turbo brush works.
Thanks to Intelligent Power Control, the hoover determines which surface is being cleaned and adjusts its power accordingly. This is useful, for example, if there are carpets in the flat, because they usually require considerably more vacuum power for deep cleaning. At the same time, laminate or parquet floors can be cleaned at a lower intensity, which will have a positive effect on both battery life and noise levels.
The hoover has a bag capacity of 0.3 litres, which is actually not much compared to the competition. The nice thing is that the dust canister itself is easy to keep clean – all parts are washable.
As I said before, with this hoover you won't have the need to constantly remove the dust container from the body. All cleaning of the Samsung JetBot+ goes through the tank base, which is convenient, efficient, hygienic and practical. It's all called Air Pulse and according to the manufacturer it captures 99.9% of dust. Personally, I find it easier to bother with the question of where to place the tower once, rather than constantly having to manually clean the hoover.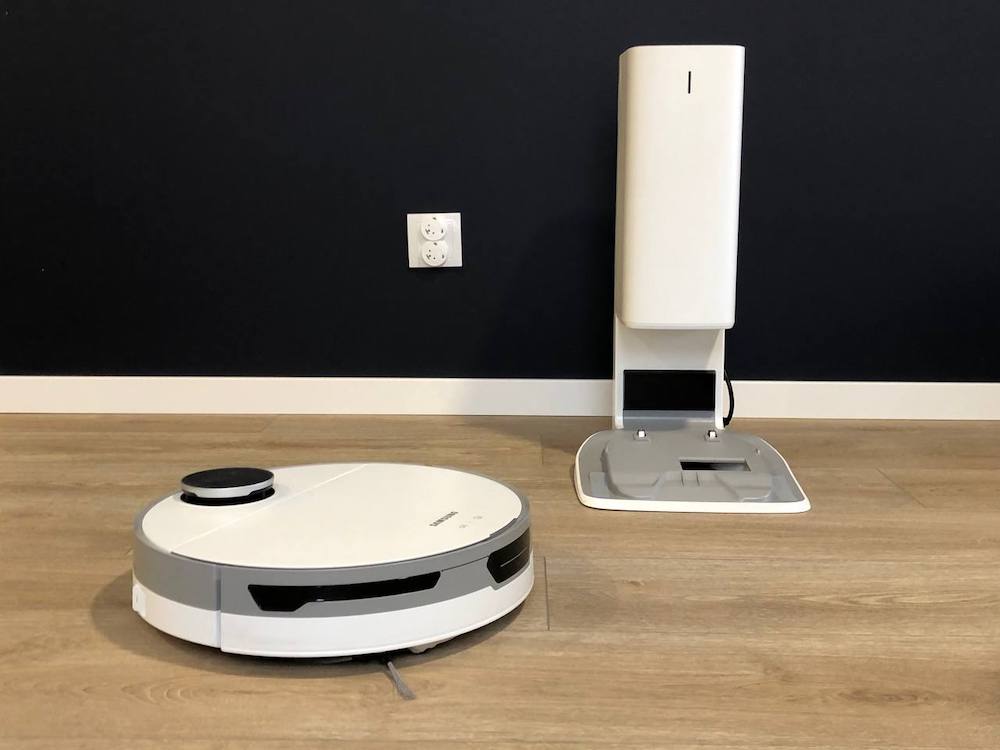 Samsung JetBot+ easily climbs carpets and takes on low thresholds between rooms. Even the presence of a lidar has not impaired the device's passability – in my case, the hoover easily climbed under the bed and under a fairly low bedside table.The Samsung JetBot+ is equipped with a lithium-ion battery with a power reserve of approximately one and a half hours. Compared to the competition, this is mediocre, but let's not forget the number of tasks the hoover performs in parallel during operation in addition to cleaning itself – this includes the work of the LIDAR system, the live data transfer to your application, and the work of intelligent surface recognition. So there are plenty of people out there who want to squeeze the battery life out of the machine, so plan your cleaning schedule around this. Speaking of schedules – the app has a separate option to set a cleaning schedule, this way you can organise and systematise things to the best of your ability to further detach yourself from involvement in the cleaning process. Although picking things up from the floor before starting the robot will still have to be done, it can't be avoided just yet.
From my own experience, my Samsung JetBot+ cleaned my flat thoroughly in about an hour, using more than half of its charge. This was enough for me, because I don't have the opportunity to clean continuously for many hours, but rather such short sprints of cleanliness, lasting up to an hour.
Read also: Samsung Bespoke Jet: Review of a vertical vacuum cleaner with a self-cleaning station
Conclusions
The Samsung JetBot+ has many advantages – high cleaning quality, low noise level during operation, the most convenient application, functions of viewing cleaning in real time, virtual walls, cleaning in a particular place, the system of automatic cleaning of the container. Everything about the execution and organisation of the work is really top-notch in this hoover.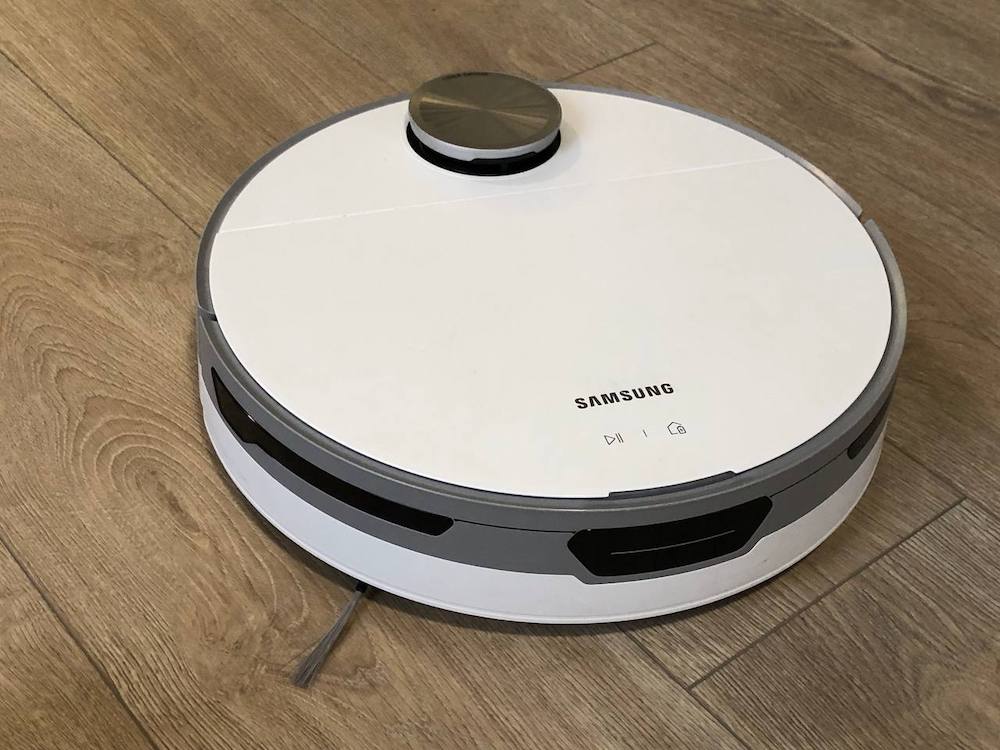 I should point out that, given the small volume of the dust canister and the average battery life, I would recommend this robot hoover to owners of no more than two-room flats, or to those who, like me, like to split cleaning into several approaches.
The only two problematic aspects I found with this hoover were its high price and the bulky 'tower' base for recharging and cleaning. However, both of these parameters are conditioned by the objective reality of functioning of this particular model, so I cannot even call them disadvantages, but rather peculiarities that should be taken into account when choosing this particular model.
Read also: