There are countless gaming headsets for any budget. Among the budget options, there are lots of great models, but there is always a higher, top-end segment. Today we test the flagship gaming headset ASUS ROG Theta 7.1. Let's find out what it's is capable of.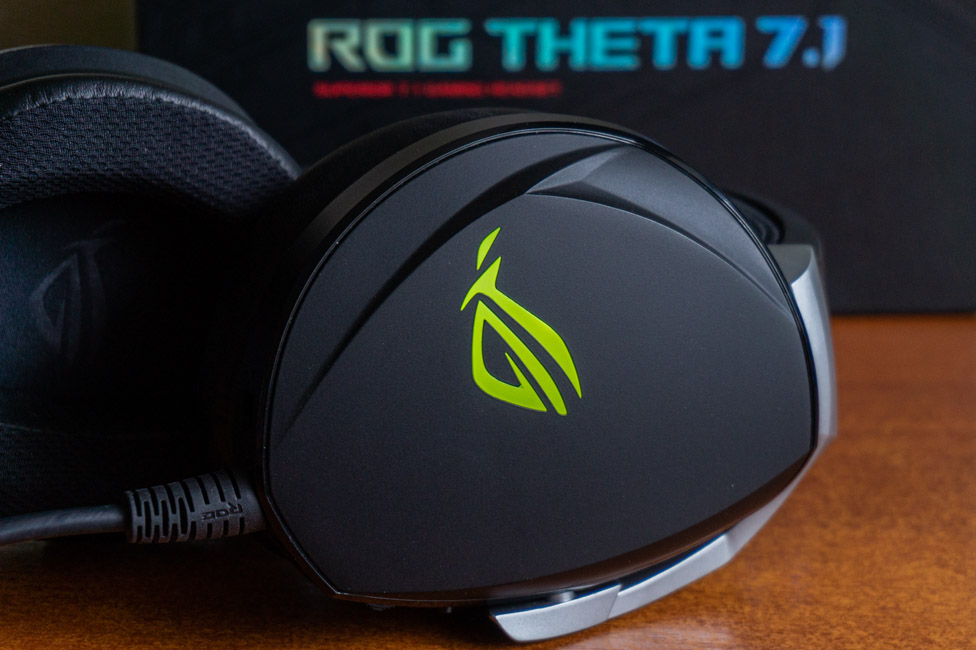 Technical specifications of ASUS ROG Theta 7.1
Model

ASUS ROG Theta 7.1

Connection Type
Wired
Connector

USB Type-C или Type-A

Cable length

Type-C — 1,2 meters;

Type-A — 1 meter

Speakers
Front: 40 mm;

Center, Side, Surround: 30 mm

Neodymium magnet

Impedance

32 ohm

Frequency range

20 ~ 40000 Hz

Weight

650 g

Microphone
Unidirectional, removable
Microphone Sensitivity

-40 dB ± 3 dB

Frequency range (microphone)

100 ~ 12000 Hz

Noise Reduction (Microphone)
Intelligent
Platforms

PC

MAC

PlayStation 4

Nintendo Switch

Mobile devices

In the box

ASUS ROG Theta 7.1

Detachable microphone

USB-C to USB-A adapter

ROG Hybrid Ear Pads

Manual

Warranty
What's in the box
Acquaintance with the gaming headset ASUS ROG Theta 7.1 begins with the packaging, which does impress. Everything is in black and red colors with high-quality printing. The packaging consists of two parts: the outer cover and the main box. The first lists all the main characteristics, all kinds of accolades and awards.
Having removed the "casing" we get access to the main box, which opens in two parts, between which on the pedestal we have the headset itself. From this moment you begin to understand that this is really a high quality product.
In addition to ASUS ROG Theta 7.1 itself, you can find a removable microphone, an extension adapter from USB-C to USB-A, an additional pair of ROG Hybrid interchangeable ear pads and documentation, which includes user manual and a warranty card.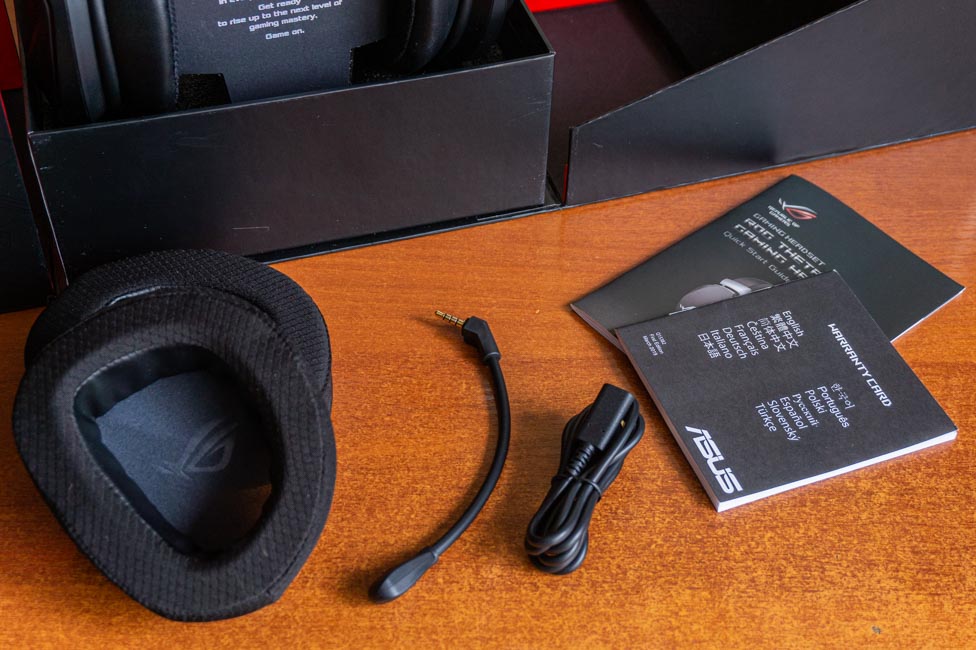 The extension cord adapter has a 1-meter long cable without a braid. Type-A plug and Type-C connector are gold-plated. And so is a 3.5 mm microphone plug. The microphone has a light indicator.
So what differentiates the additional ear cushions from those that are on the headset initially? Well, it's mostly eco-leather, and the fabric insert is only in front, in the place that is in contact with the head. Additional cushions, on the contrary, mainly consist of a fabric mesh, and leatherette is used only in the inner "ring", which is in contact with the ears.
Also, the fabric is thicker and, according to the manufacturer, is more comfortable during long gaming sessions. The standard ones are softer and thinner, they more they are suitable for use on the road. I will tell about personal feelings and impressions in the corresponding section of the review.
Design, materials and build quality
ASUS ROG Theta 7.1 headset looks mostly strict, but the sharp lines and the D-shaped shape of the bowls give it a certain focus. That's mostly thanks to the logos of the ROG series, which are located on the right and left bowls, with RGB-backlight. However, on the other hand, there are no other pronounced elements here, and the backlight can be turned off and then it will be more difficult for others to understand whether you are a gamer or just a music lover.
But we are not here to find out if the designers managed to disguise the ROG-style. Before us is a gaming headset, without a shadow of a doubt. But let's go over the design, arrangement of elements and materials.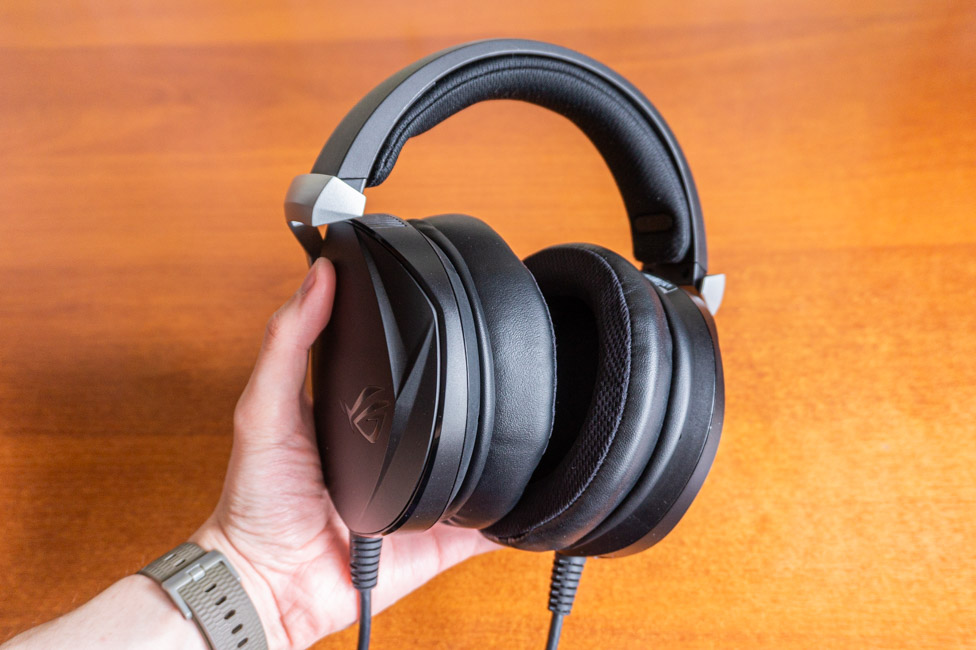 Let's start with the latter. Basically, the headset is made of plastic and metal, not counting the fabric and eco-leather. The headband is wrapped in black matte plastic from the outside, there is also glossy embossing on it with the definition of the abbreviation ROG. On the inside is a soft fabric insert fixed to a separate arc and there are L and R designations. It's great that this soft "layer" is not attached to the headband entirely and can therefore take the shape of a head.
At the ends of the headband there are cups made of gray metal. With a simple movement of the hand we can see that its base made of plastic and metal with a pattern.
The bowls themselves are held on one side only. I must say, they are very sturdy, despite the impressive size of the cups themselves. These mounts, by the way, move slightly to the side. The bowls can rotate about 90° down, and a little up. They spin only relative to the axis of attachment, not to the sides.
The outer part of the bowls is also metal, but gray with a tinted ROG logo. The rest of them are plastic, and there is a narrow glossy edging. On the inside of the cups, behind the fabric wall of the ear pads, there are four holes with speakers. Yes, with four separate ones. But hey, we'll get to them in due time.
On the top of the cups there are ventilation cutouts for cooling, because there is something to cool. On the left there are other markings. On the bottom we have cable leads with thick protection, cooling slots, and on the left there is still a 3.5 mm jack for connecting an external detachable microphone and some kind of technological hole. At the back there are again small ventilation slots and, according to tradition, on the left cup there are several additional elements.
This is a two-position toggle switch with the designation PC/NB and PHONE. What they mean, I think it's clear, but what happens when you switch I'll tell you later. Below is a wheel, which does not spin completely, and in the center there is a button.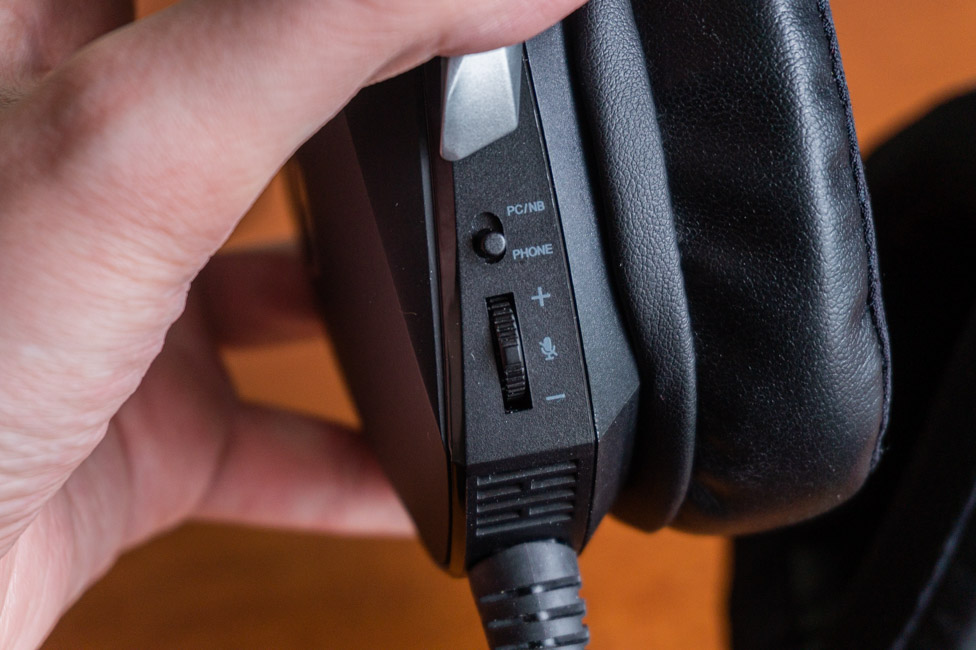 "+" and "-" are responsible for increasing and decreasing the volume. However, this is not some kind of internal regulator, but a completely systemic one. In some, especially budget headsets, this kind of wheel is responsible for the volume of the headphones themselves, and in ASUS ROG Theta 7.1 it controls for the volume of the sound source, which in my opinion is much more logical. A single press of the button turns the microphone on or off, and if you hold it longer, you can turn off the backlighting of logos on the cups. By the way, here's how it looks:
The cable leads, as you can see, are on both cups and they are connected together through a massive splitter. I can not say anything about the convenience of such a solution. But during the period of operation, I did not notice any negative aspects. Although this can cause certain inconvenience. Interestingly, these separate wires are rubberized, but the main cable is already in a fabric braid. I also note that the main cable is much thinner than separate ones leading to the bowls, and its length is 1.2 meters. And the plug is modern and relevant – USB Type-C, also in gold.
Ergonomics
However, not the appearance of ASUS ROG Theta 7.1 wowed me, but overall dimensions of the device. Certain doubts crept in immediately: how long it will be possible to stay comfortable, when the headband will begin to press, what will happen to the ears, and so on.
Headphones weigh as much as 650 grams and you feel it right away, even when you just pick them up. On the head, this weight is most felt after half an hour or an hour of play. Despite the soft tissue between the headband and the head, there is pressure on the top of the head, and it is not pleasant. In addition, a certain discomfort can be felt in the neck. It seems to me that over time you can get used to such a mass on your head, but at first it will definitely be uncomfortable. But at least there fairly wide possibilities for adjusting the height of the headband and quite reliable 11 possible positions.
Large and deep ear pads allow the ears to completely fall into them. And this is good on the one hand, because there will be no additional pressure on the ears at all. At the same time, it is not a good idea to tilt your head backward or tilt it down, because headphones can slip off your head. Again, the mass is impressive.
As for the choice of ear cushions, I settled on fabric. They are even thicker, but they seemed more comfortable and not as hot. Their shape is also very ergonomic.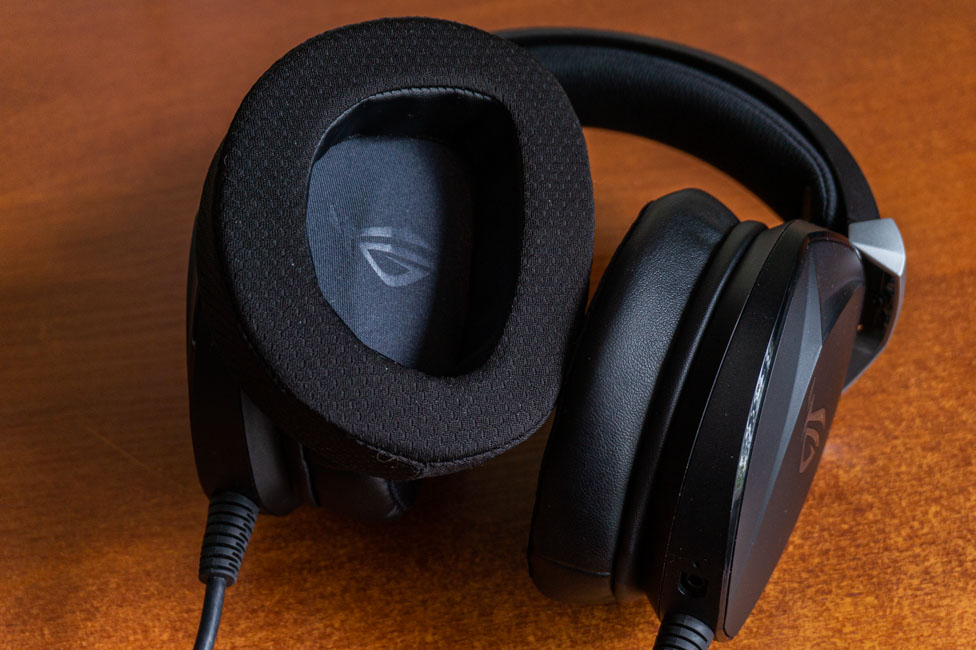 Equipment and features of ASUS ROG Theta 7.1
In total, ASUS ROG Theta 7.1 has eight Essence speakers with a neodymium magnet, four in each bowl. The first, frontal, has a diameter of 40 mm, and the remaining three (central, rear and side) has a diameter of 30 mm. There is no dedicated subwoofer here, it is virtual, and what I mean is all of the above speakers perform its role.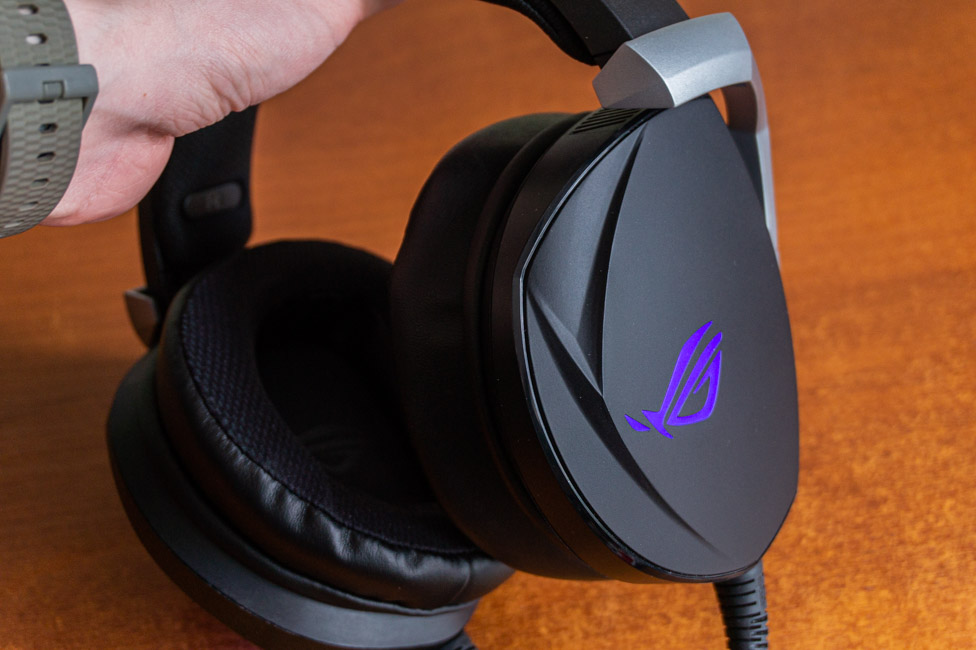 It also uses a 7.1-channel digital-to-analog converter (DAC) with the SupremeFX S1220A codec, which is essentially an advanced Realtek S1220A. This is used in some top-end motherboards from ASUS. There are as many as four ESS SABER9601 amplifiers attached to it, when most headsets only use one "amp".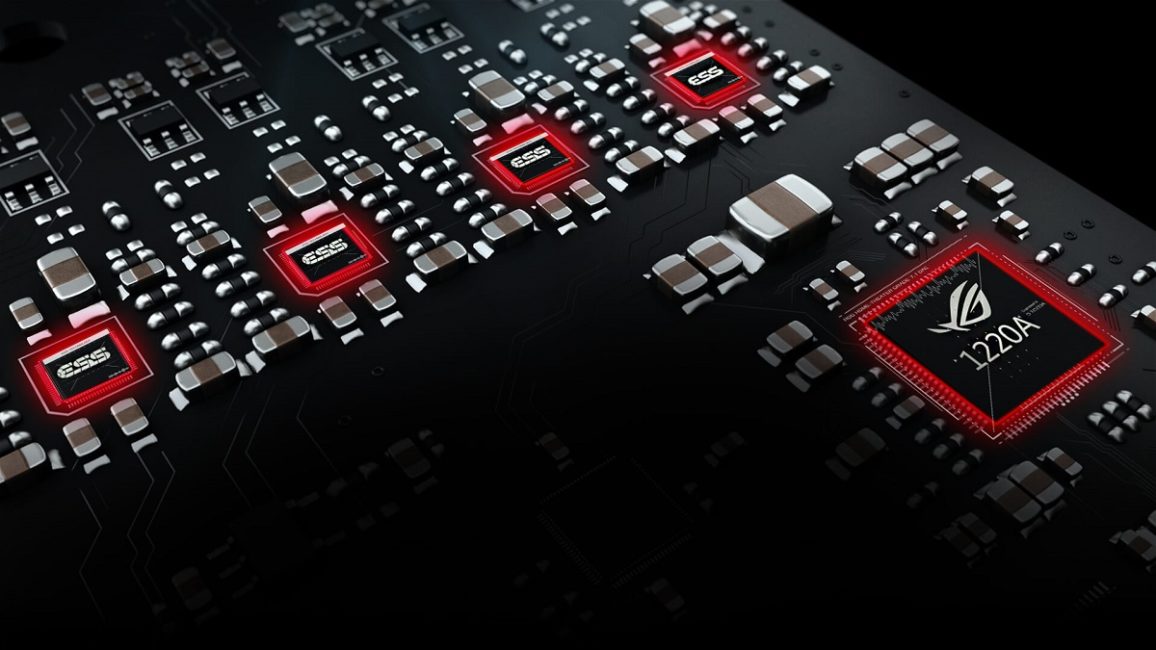 This headset doesn't require a separate sound card, because everything you need is already there. That's why during operation the bowls can slightly heat up, and that's the reason there are so much ventilation slots.
I will say a little about the type of connection. As already mentioned, the USB-C interface is used here and for a gaming headset this is a very non-standard way to connect. But the company explained this step by the fact that in this way ROG Theta 7.1 will be able to offer wide compatibility and you can connect the headset not only to a desktop computer or laptop, but also to mobile devices: a smartphone or a Nintendo Switch portable console. If your PC or laptop does not have a Type-C port, you will have to use the bundled adapter from Type-C to Type-A.
The PC/NB and PHONE switch, in fact, could be called differently – 7.1 and Stereo. It is also important to know that the desired mode must be selected before connecting the headset to the source. On the fly, while playing or listening to music, switching will not work. And of course – multi-channel sound will be available only on compatible devices.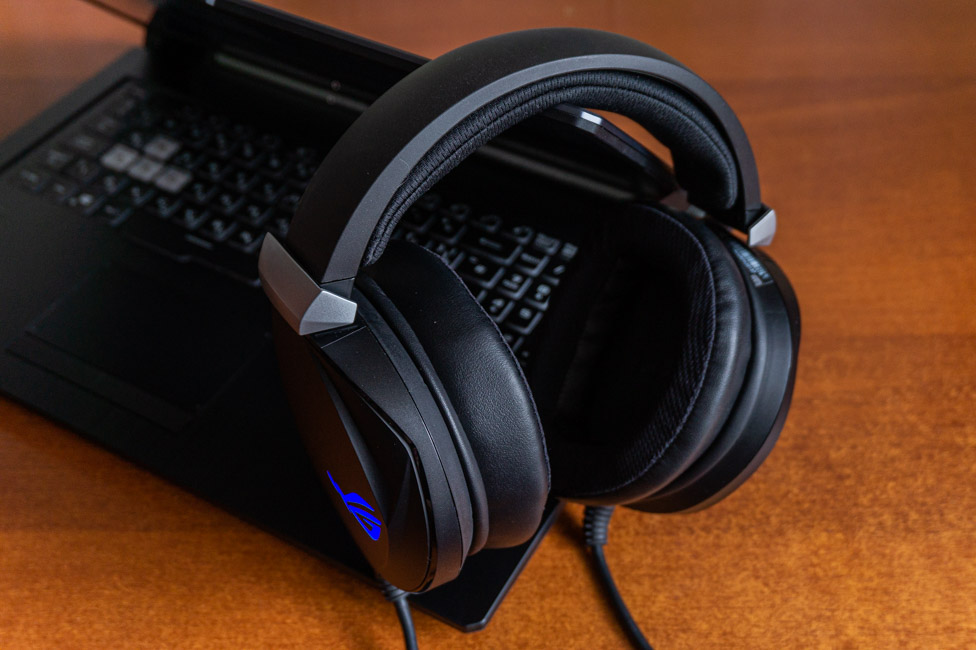 The microphone is unidirectional and flexible. It also has a red indicator light that will turn on if you disconnect the microphone using the button on the headset. The manufacturer reports that the microphone supports intelligent noise reduction technology, which can eliminate up to 95% of all unwanted sounds. Another microphone was approved by leading developers of voice communication services, including Discord and TeamSpeak.
There are three sound samples on the manufacturer's website: without noise reduction (that is, only passive), with noise reduction and with intelligent noise reduction. The second and third modes can be adjusted and turned on in special software, which I will also discuss later.
Sound, voice quality and overall experience
As I already noted, this is a gaming headset first and foremost. Despite the versatility of connection, ASUS ROG Theta 7.1 cannot be called universal in terms of sound or at least usability. And there are several reasons for this.
First, the dimensions. Walking with this headset on the street or traveling, for example, will be very inconvenient – it is huge, but you can't put it in any way. When buying it, you need to plan mainly on home use.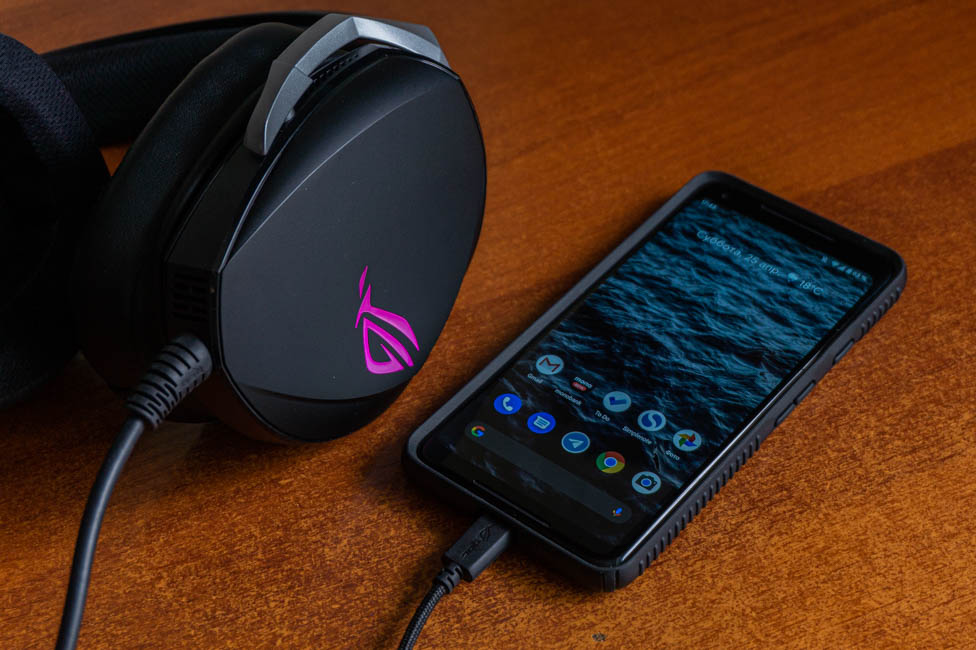 Secondly, the sound itself. It's absolutely not the best choice for music. However, if there is a need for one device, for music and for games, then it is better to look for something else, because ROG Theta 7.1 reproduces low frequencies somehow flatly, and the bass does not feel as it could. No, I'm not saying that the sound is bad, it's just not great if want to enjoy good sound quality, due to insufficient depth. But both high and mid frequencies are fune, the sound is clear and quite loud.
In games, the situation is exactly the opposite. And here multichannel sound is revealed in full. What is called 7.1 virtual sounding in other models is never virtual at all, but quite real and the difference is well felt. Whether it's an online shooter or a single-player project with a great plot and high-quality soundtrack, it doesn't matter. Full immersion in what is happening is guaranteed. I won't even tell how easy it is to determine the steps of an approaching enemy in this headset and to understand where all the action is taking place.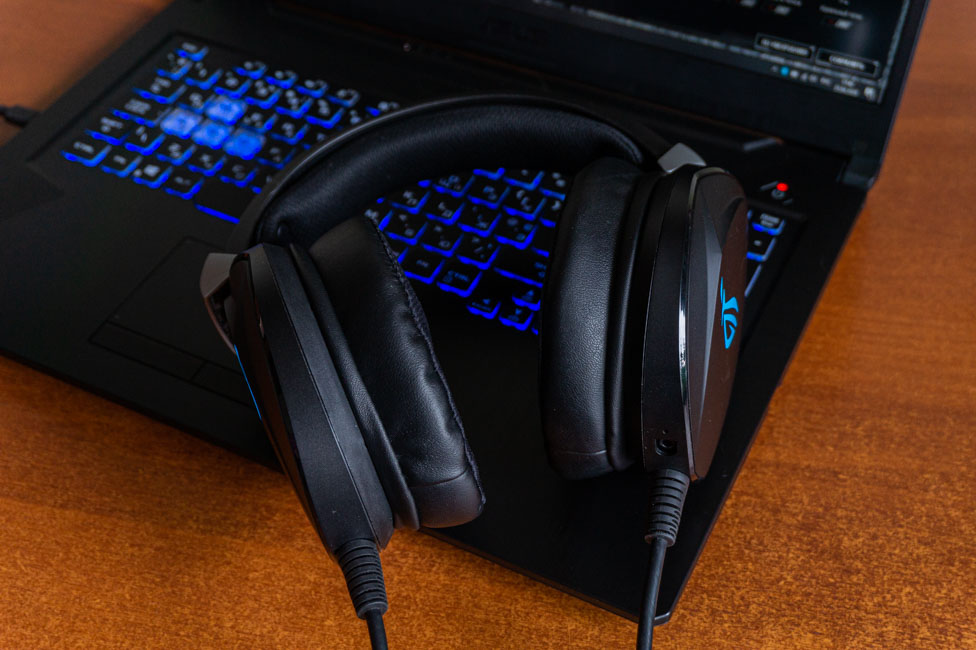 The microphone gives a good clear sound, but it's hardly outstanding. The voice reduction works well, but personally I expected more. In addition, you must understand that the function will cut off some frequencies of your voice. As a result, the timbre of speech can be slightly distorted, although most likely the partners in the game will understand everything that you say. But some external noise from the street, for example, will be cut off completely.
Proprietary software
Armory II is a utility for adjusting the sound, microphone and backlight. Since this is universal software for the entire periphery of ASUS, there are a lot of extra tabs which I will not discuss here. Let's go over only two categories: Sonic Studio and lighting.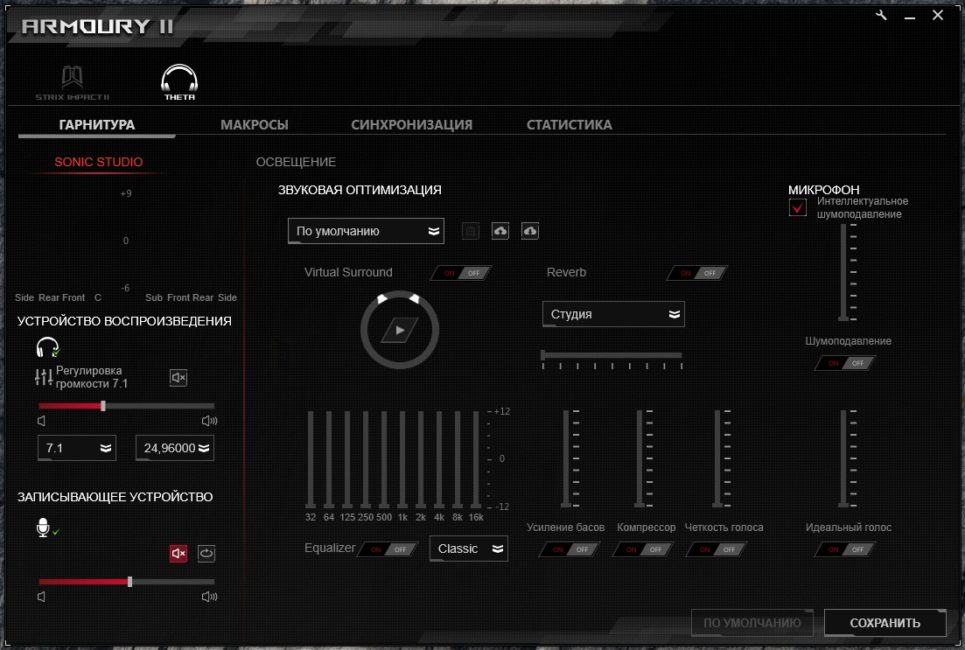 In the first one we can monitor the sound of the speakers in real time, separately adjust the volume of each channel in 7.1 format and the total volume of the headset, select the mode (7.1 or stereo), select the sampling frequency, turn the microphone on/off, regardless of the physical button, and change its sensitivity.
Next, we see the parameters of sound optimization, where there are several presets (shooters, video games, films, music, racing, RPG). If none of them suits you, then there is always the opportunity to configure each parameter yourself, and there are many of them. Namely: Virtual Surround, Reverb, equalizer (also with presets), bass boost, compressor, voice clarity. The created profile can be exported or imported. There are separately microphone parameters: noise reduction level (or auto-adjustment) and "perfect voice".
Go to the backlight control tab. There are three profiles on the left side, each can be configured in advance, so that later you can quickly switch between them depending on the situation. Among the modes there are: static, slow flashing, gating, color cycle, rainbow and music.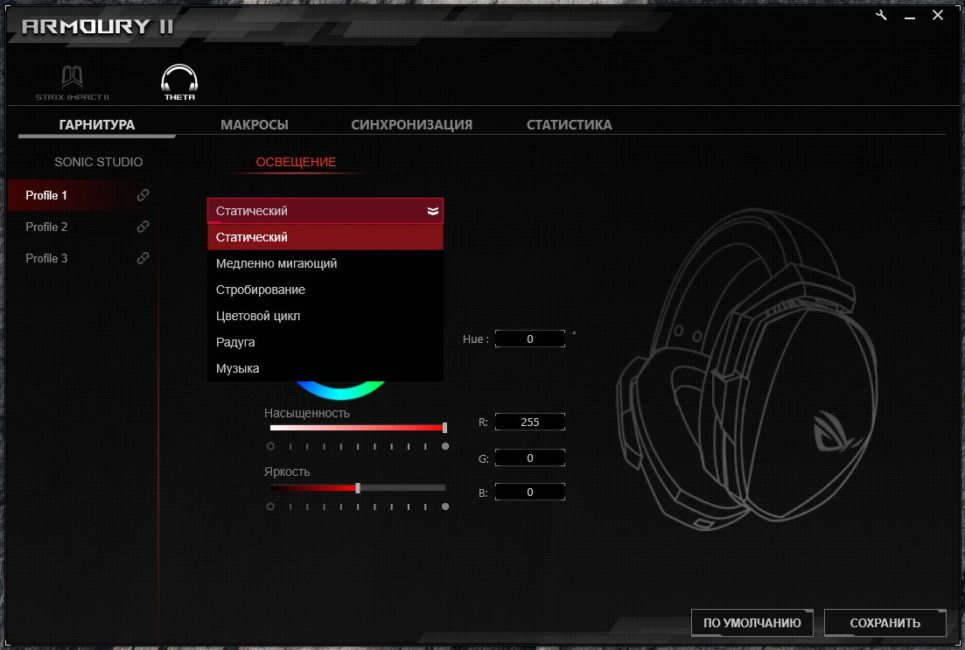 In static mode, you can choose one of 16.7 million colors (actually much less, of course), adjust its brightness and saturation. The same thing is done with slow flashing and strobe. The last three do not allow you to change the settings. The color cycle from the rainbow is essentially different in speed of color change. In the "Music" mode, colors and brightness should change depending on the musical measure, but I did not understand how it decides which color it uses.
In other words, the brightness of the backlight will change at the time of attenuation and increase of the amplitude of the sound. And in color, there is a persistent feeling that the order is the same. I doubt that this mode actually makes sense, but it's there if you want it. Of course, the backlight can be synchronized with other peripherals from ASUS, which support AURA technology.
Verdict
ASUS ROG Theta 7.1 is a headset exclusively for games, and for those players who are willing to buy a high-quality device that's not cheap. This headset will help you to completely immerse yourself in your favorite game world. Until your neck begins to tire, of course.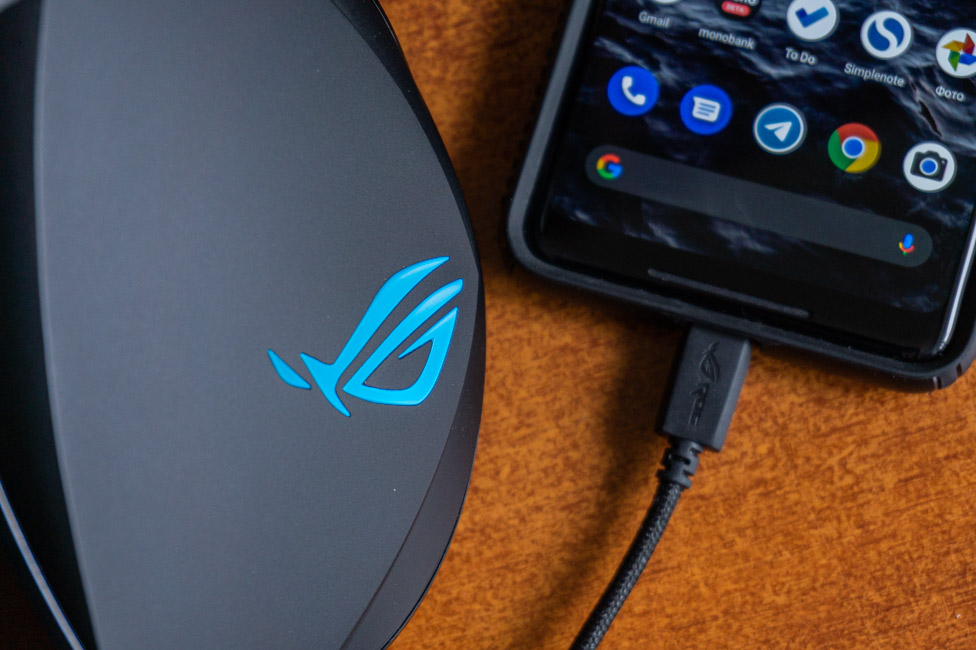 I also liked the compatibility of the headset with multiple platforms. Although you won't kill two birds with one stone if you plan on buying one headset for games and music. But ASUS ROG Theta 7.1 is undoubtedly good for gaming, for which it gets our recommendation.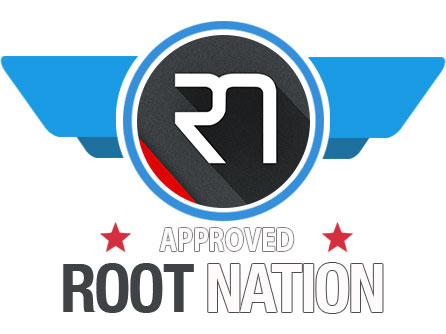 Subscribe to our accounts: