Exotics one, two and three. Recently, FSP provided me for reviews only what the average user does not need. And when they said, they say, this time you choose yourself and anything at all, with all the imagination inherited from his parents, Oleg Olegovich chose the most trivial and common solution, which is interesting to the maximum number of people. Such a unit that can be safely advised to every PC of the common people – FSP Hydro G Pro 650W.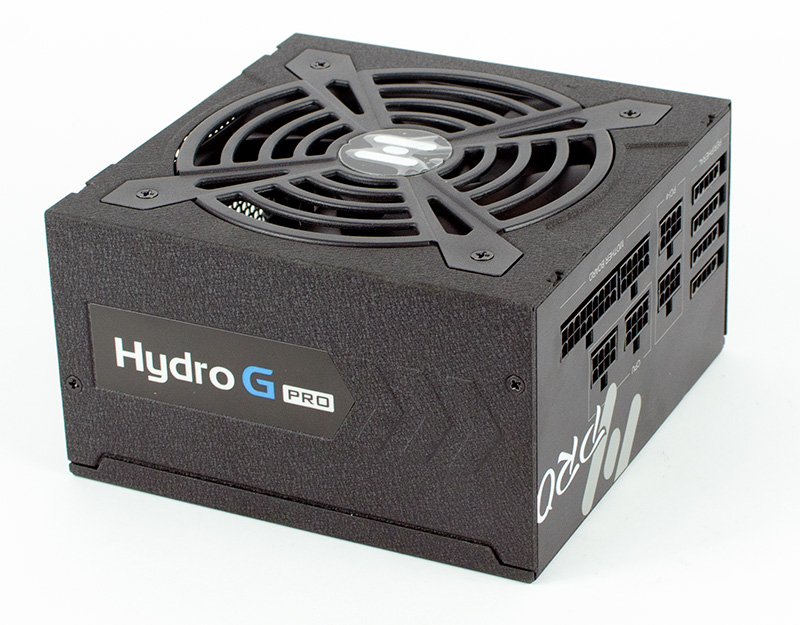 This unit is a calibrated sample of a modern power supply unit adequate in all respects. Japanese capacitors, 10 years warranty, Gold-certificate of energy efficiency (up to 92% efficiency), fully modular structure of cable connection, thick and long cables, all kinds of protections, quiet fan on a noble hydrodynamic bearing with the possibility of full stop, advanced modern "clean" topology, and, as a cherry on the cake, compact 150 mm case. And the cherry on top of the cherry is the normal competitive price tag.
According to the plain introduction, the FSP Hydro G Pro 650W (HG2-650) looks like a real "good thing". You bet, because I chose it myself. We will find out whether my hunch was right or not on the following pages of the review.
Market positioning and price
From the start let's talk about the most important thing – money. According to my ideological considerations, the "golden" power supply unit with the capacity of 650-750 W should cost no more than recommended $100. If it is more – it is an indicator of the manufacturer's greed, technically it is not always justified. If it is more than that, a decent review author must turn on the tax mode and dig to every penny.
The tested FSP Hydro G Pro 650W falls under this rule. The recommended price of the older 750-watt model is exactly $100, and the 650-watt version is $90.
Both overseas and in local retail, the price tag is interesting. The dollar one – since it does not stand out for the worse among comparable competitors (and in this segment the competition is fierce), the hryvnia one is even better, because there is a local representative office that keeps prices in check as much as possible. If we look only at Ukrainian retail, of course, FSP Hydro G Pro 650W cannot be called a unequivocal choice, but the offer is really good and strong.
Packaging, equipment, cables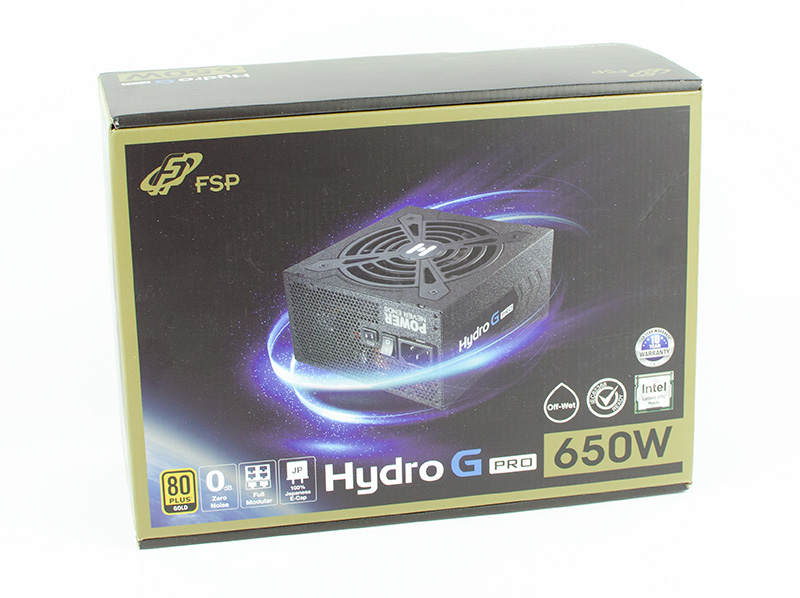 FSP Hydro G Pro 650W power supply comes in a typical box of standard dimensions. On the front side, FSP immediately starts with serious trump cards, mentioning the key "chips": energy efficiency, 0dB mode, fully modular cable connection structure, exclusively Japanese capacitors and, finally, a 10-year warranty period.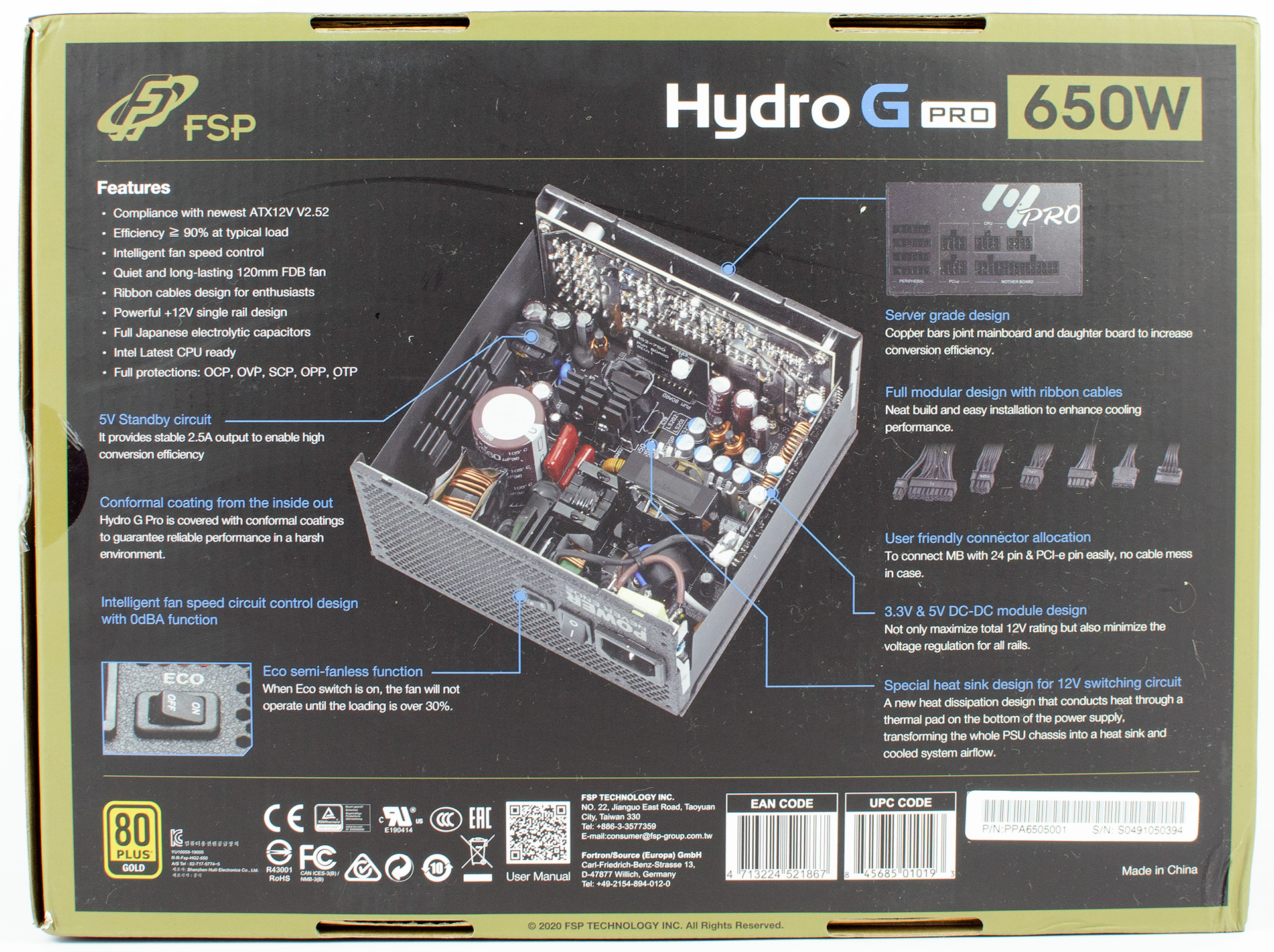 Read also:
On the reverse side, all this is described in a little more detail, there is also an image of the block without the top cover. Already at this stage I will note the "clean" topology. There are no flexible conductors on the board after input, all currents are transmitted either by busbars or through thick copper layers in textolite.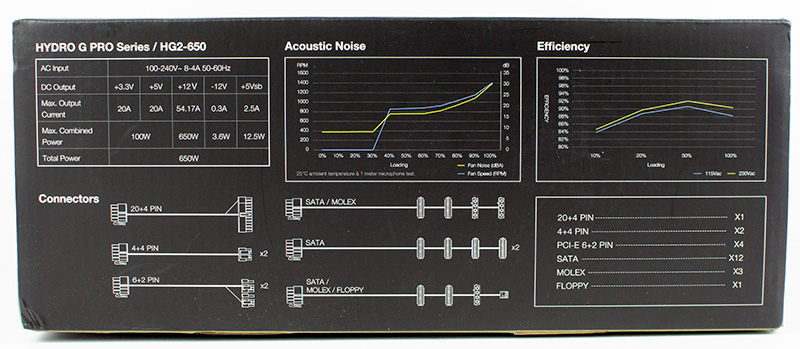 On the bottom side there is a plate with electrical characteristics, to which we will come back later, graphs of propeller speed and efficiency, the number of connectors is indicated. In general, the box is well filled with technical information.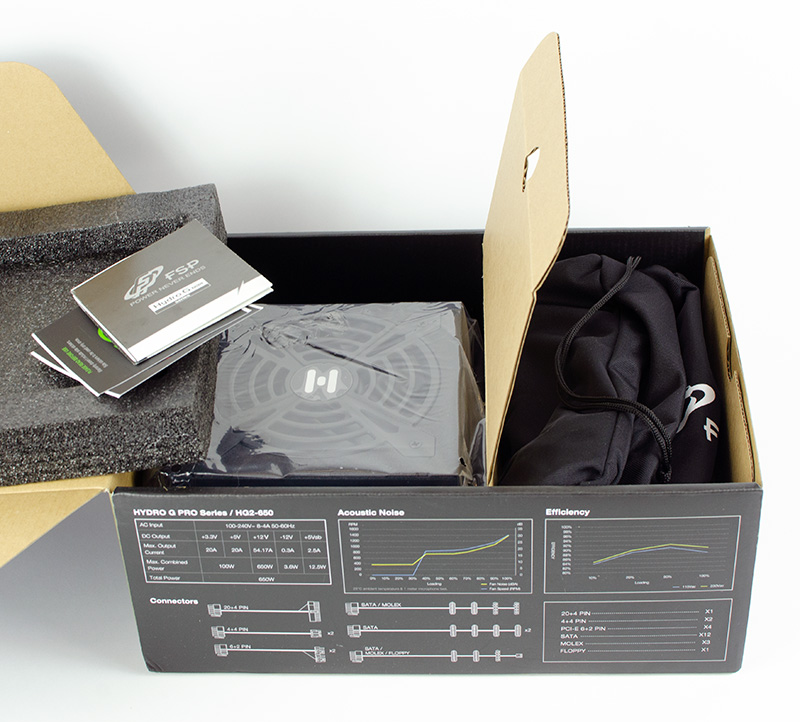 Inside the unit itself is sandwiched between a pair of dampers, the kit and cables are in a separate compartment, and even in a stylish bag!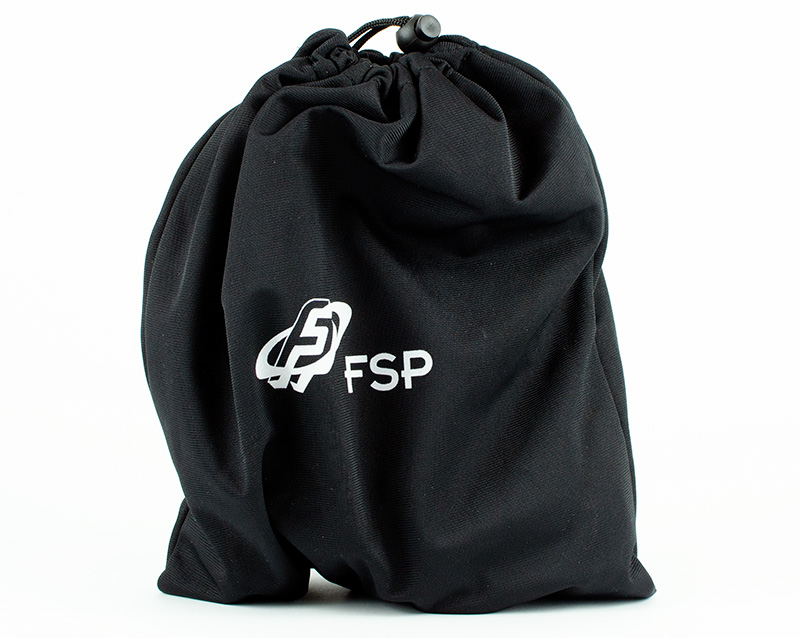 I commend the bag. It is made of durable fabric. Usually manufacturers use, although more pleasant to the touch, but less durable bags. Over time, they tear, and this one will last longer.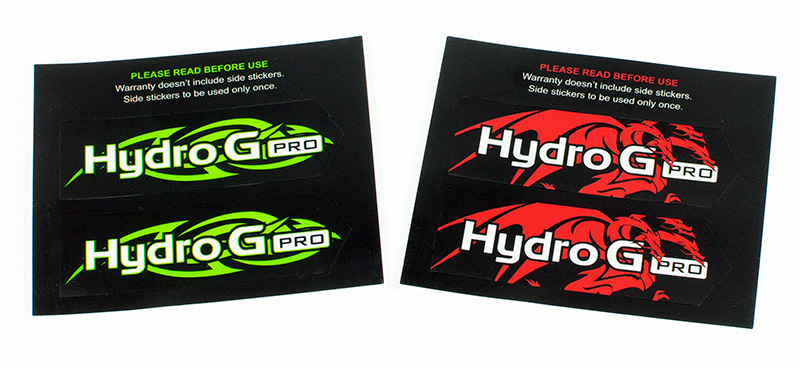 From the unusual in the set was a pair of stickers. They can be glued to the side walls of the unit if the computer is in green or red colors. However, the "native" sticker seems more universal to me .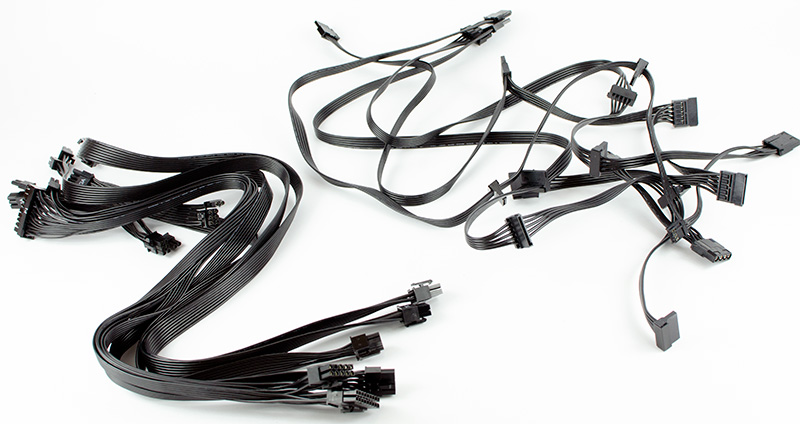 The complete set of cables/connectors FSP Hydro G Pro 650W includes:
1×ATX 20+4 pin
2×EPS/ATX12V 4+4 pin
4×PCI-E Power 6+2 pin
12×SATA
3×Molex
1×FDD
You can see it in the picture:

As for 650 W of power, the set is really heroic. I am very pleased with a pair of connectors for CPU power supply and a whole quartet for video cards. This configuration is more common in 750-850W models. By the way, FSP Hydro G Pro 750W has the same number of main connectors, but one more peripheral.
The cables are long. The main 24-pin power connector has 600 mm, EPS/ATX12V for the processor – 700 mm to the first connector, and 650 mm for PCI-E Power for video cards.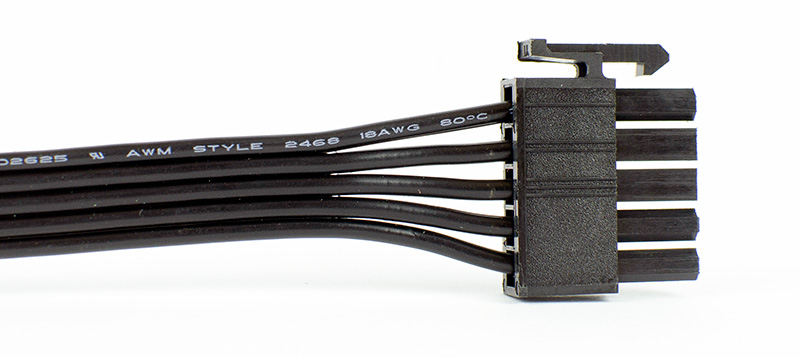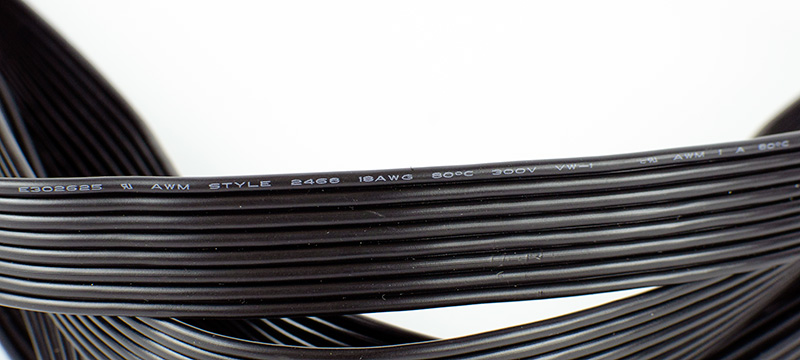 As for the cross-section, almost everywhere it is a decent 18 AWG except for a pair of signal cores in the 24-pin block.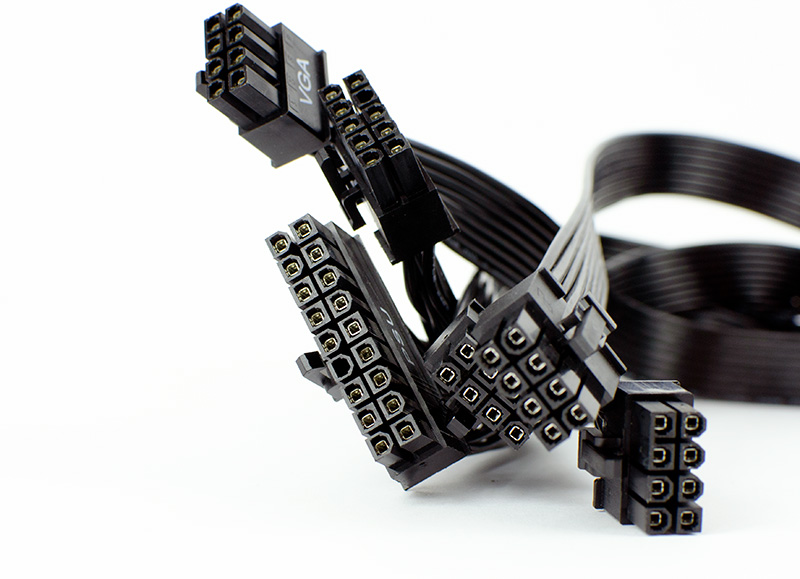 There is no gilding of contacts, as usual in FSP.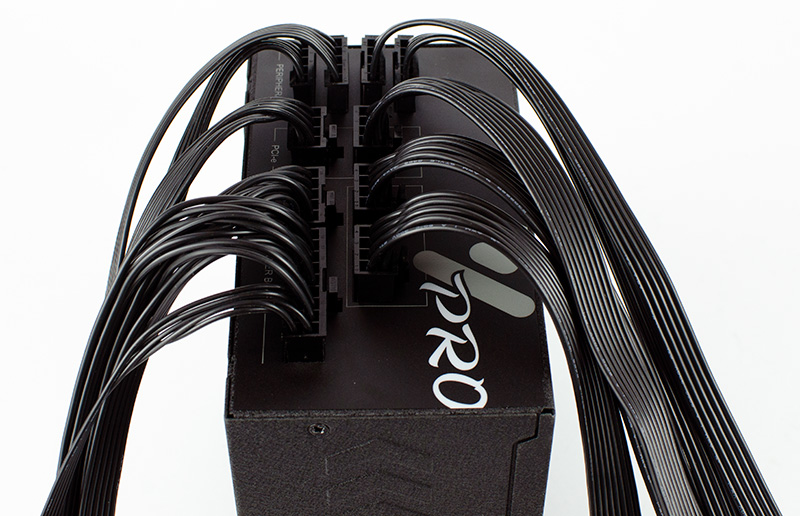 The complete set of cables allows you to occupy all the connectors on the side of the power supply, and there are no extra cables left.
FSP Hydro G Pro 650W design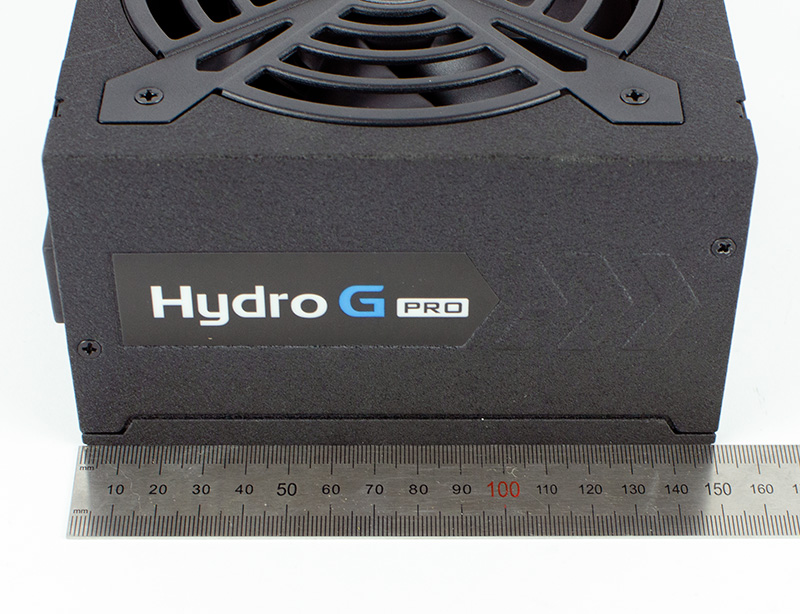 The appearance of FSP Hydro G Pro 650W is reserved, you might say universal. It has dimensions of 150×150×86 mm, and here it is worth noting the 150-mm depth. For 650W, this is not uncommon, but it is rare for older models in the series, and up to 1000W. 150-mm depth will allow to use it in compact assemblies for ATX blocks, as well as in "cuboid" cases.
Read also: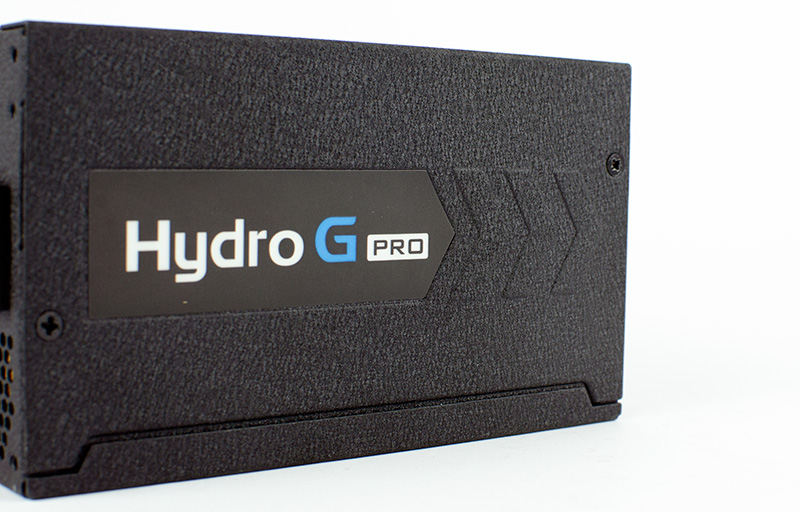 Both sides are decorated with embossed arrows and a sticker, the unit will look good in any orientation in the case. Let me remind you that the set includes additional green and red stickers.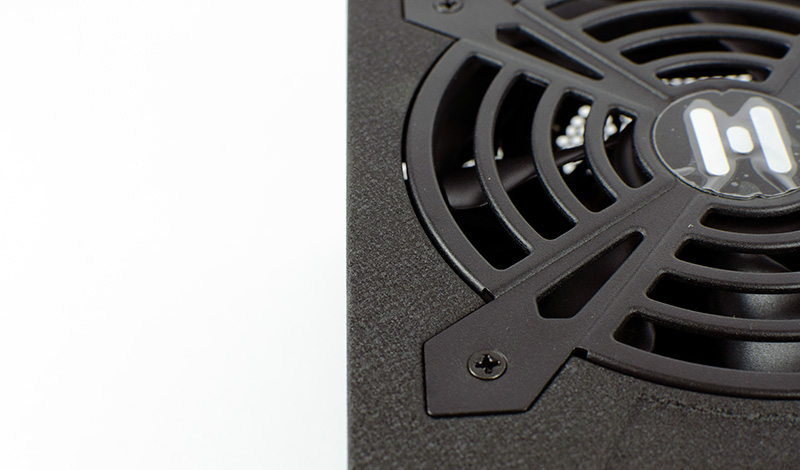 The case of FSP Hydro G Pro is interestingly painted – the surface is very rough. From experience, I can say that dust is poorly cleaned from such a coating, but it is harder to scratch.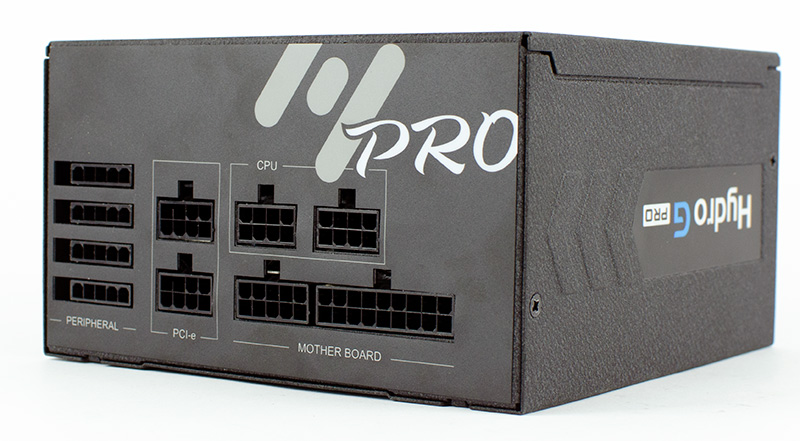 Everything is grouped on the panel with connectors. Note that the cables for powering the CPU and GPU are separated here, although usually this is a common group.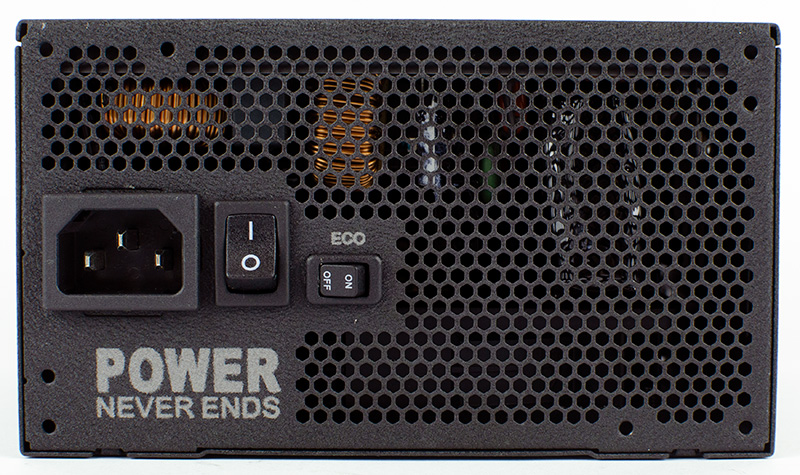 On the opposite side of the unusual is the button for activating Eco-mode (aka 0dB), in which the fan starts rotating only after 30% of the load. In the case of the 650W version, the fan is stopped at ~200W. This power is enough for undemanding games, watching videos, working in office software, even in the case of immodest hardware.
It is worth noting that in 0dB mode the fan does not start rotating instantly. Short-term bursts of consumption up to half of power without "jerking" the propeller are taken into account. An important point, which is not always implemented in such power supplies.
Specifications
The sticker with electrical characteristics, which has already become commonplace in decent computer power supplies, is located on the bottom. In this specimen it is glued frankly faulty – so be it.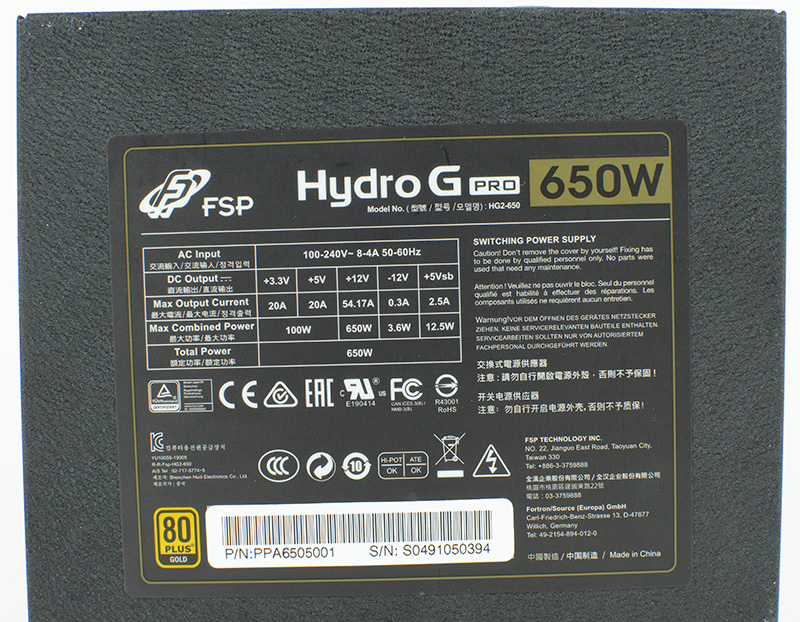 FSP Hydro G Pro 650W is a power supply with support for a wide range of input voltages, which is extremely important. And it is especially important recently in Ukraine, when the stability of the voltage in the socket has become not very good. It can operate both at constant, let's say, 140 V input, and at jumps in the declared range of 100-240 V (actually about 70-270 V).
According to the unspoken rules of good power supplies, the 12 V line is the only one, it can be allocated all 100% of the power (650 W of power, or 54+ A of current). The secondary lines of 3.3 V and 5 V are 20 A each, but not more than 100 W in total. Often, comparable units can deliver 120 W to these lines, but it does not matter. And in this case, everything is not so clear.
Finally, there is the 80 Plus Gold energy efficiency certificate logo. The corresponding certificate provides efficiency of at least 90/92/89% at 20/50/100% load. Efficiency at less than 20% load is not regulated, but usually it is around 75-85%.
In general, according to the declared electrical parameters FSP Hydro G Pro does not cause complaints.
Internal structure of FSP Hydro G Pro 650W
FSP is one of the few first-tier PSU manufacturers – those whose products, at least, are based on a platform of their own design, often manufactured at their own plants. This is also true for the reviewed FSP Hydro G Pro.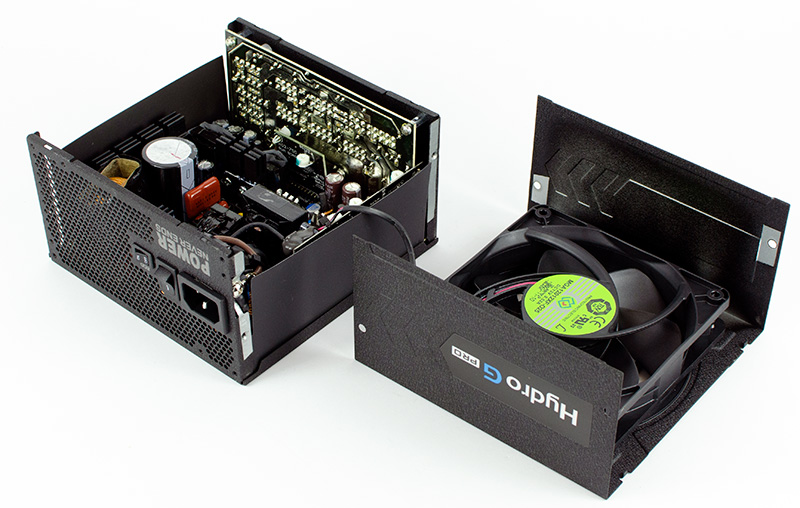 The unit is based on a modern electrical platform built on a half-bridge topology with a resonant converter in the primary part, a DC-DC converter for generating 3.3 V and 5 V voltages.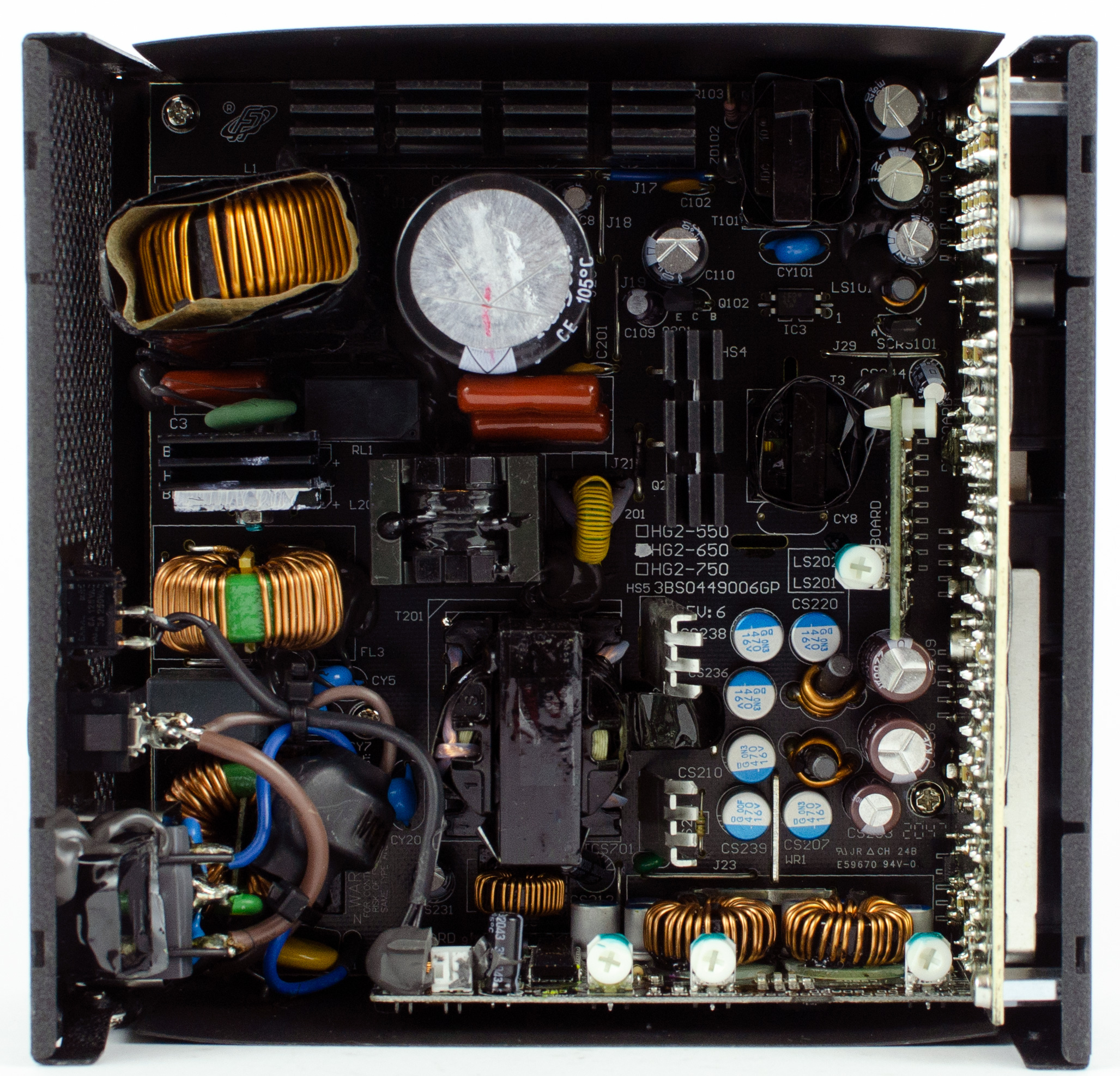 Please note the "clean" layout. After board input, flexible conductors (wires in simple terms) are not used anywhere. There is a thermal pad between the case and the board.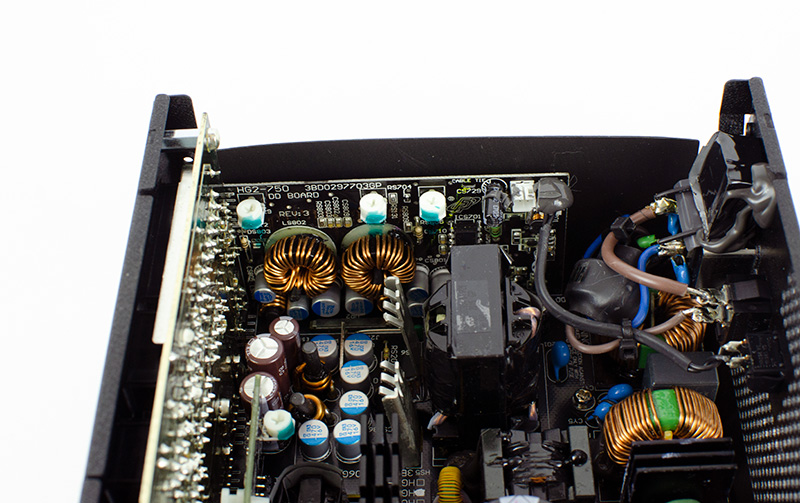 The possibility of voltage adjustment on all three lines immediately strikes the eye. It will be necessary only in case of bad factory calibration, which is just fine with this unit. By the way, especially inventive users will be able to adjust the voltage without disassembling the unit right through the ventilation grille.
Read also:
Besides, it is possible to adjust the fan speed curve. The daughter board with regulation and the inscription "PWM Board" hints at it. Frankly speaking, I see this for the first time.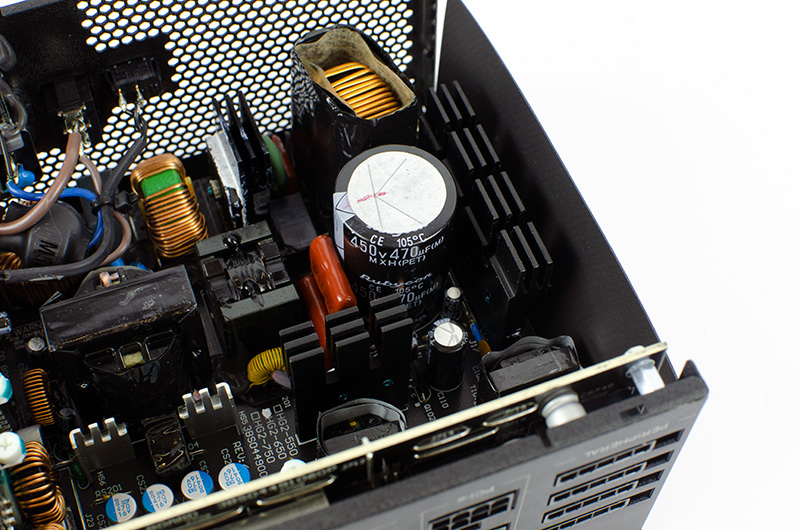 FSP promised exclusively Japanese high-temperature series capacitors, and did not lie. The main capacitor is a 105-degree 470µF/450V capacitor manufactured by Rubycon (you can also find Hitachi). The nominal capacitance is small, but it is 450-volt, not 400-420 V, as it often happens, which means that the real capacitance will be greater. In other words, it will withstand short-term "flashing" of the light, but I would like to see more in a 650-watt unit.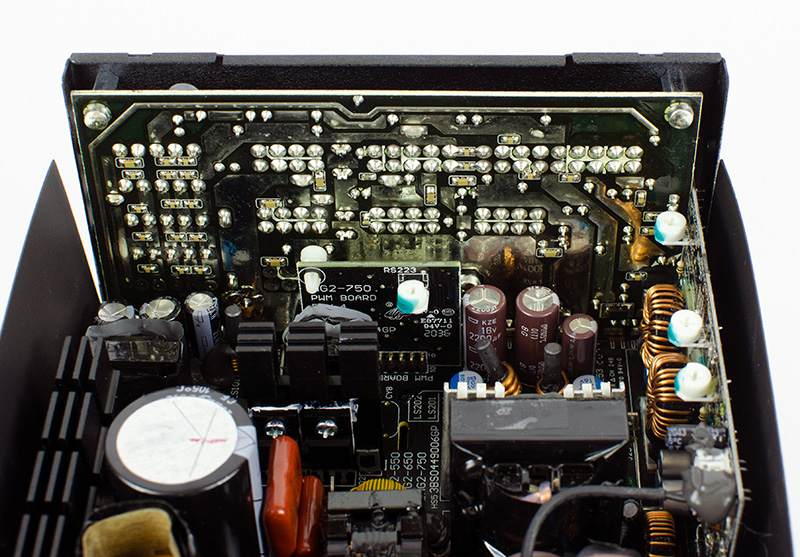 Secondary capacitors are all Japanese, all high-temperature, mainly manufactured by Nippon Chemi-con. I also note a considerable number of solid-state capacitors for leveling out pulsations.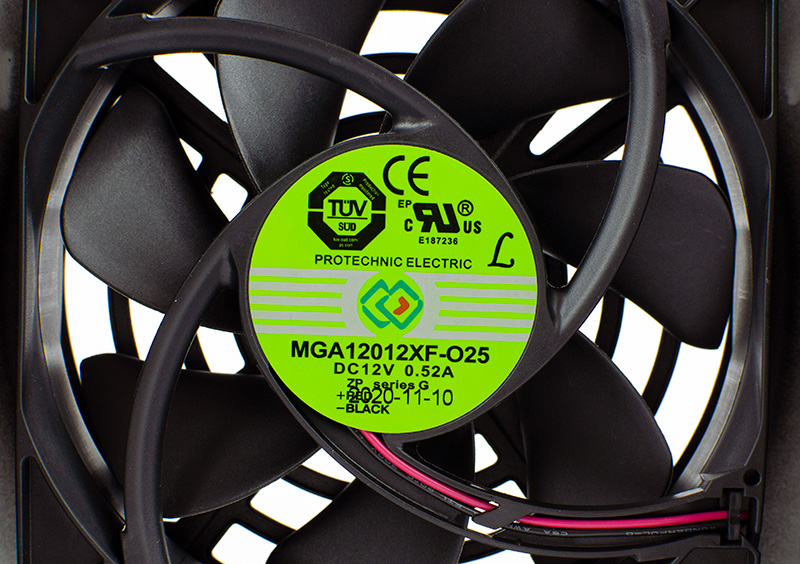 The 120-mm Power Electric MGA12012XF-O25 fan on the basis of a durable hydrodynamic bearing is responsible for active cooling. Judging by 0.52 A of current, which is a lot, it is able to spin up quite well. Similar propellers are used in the latest EVGA units with a similar 10-year warranty, less often in high-end units from other manufacturers.
To be fair, I do not see any significant obstacles to install a 135 mm propeller and make the unit even quieter.
There are no plastic flow guides in this version, but you can find a revision with a diffuser.
Testing
FSP Hydro G Pro 650W was tested as part of a test bench on field effect transistors. In fact, it is a heater that allows you to smoothly adjust the load in the range of 50-1500 W.
Efficiency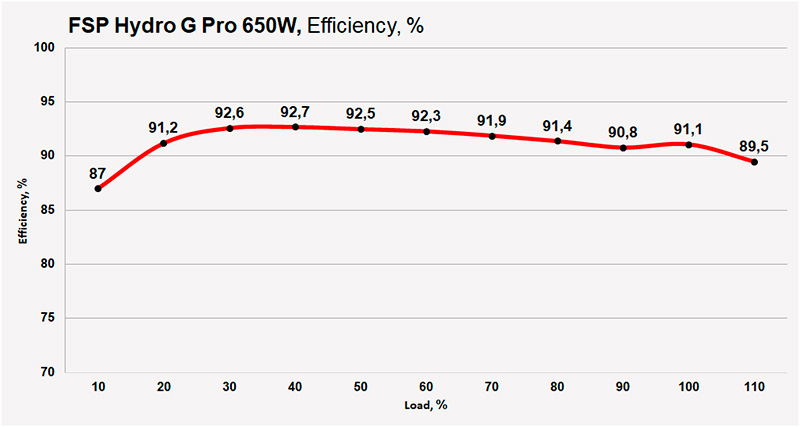 Stability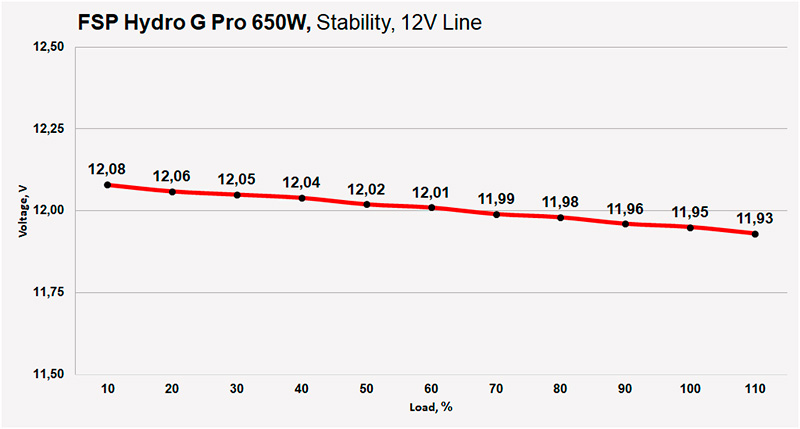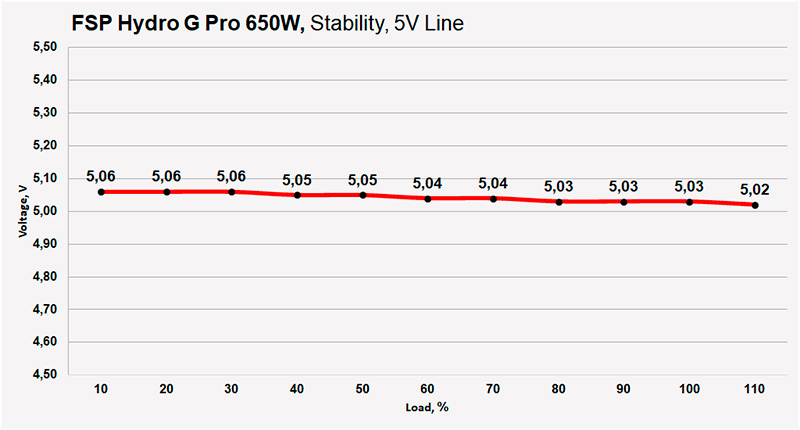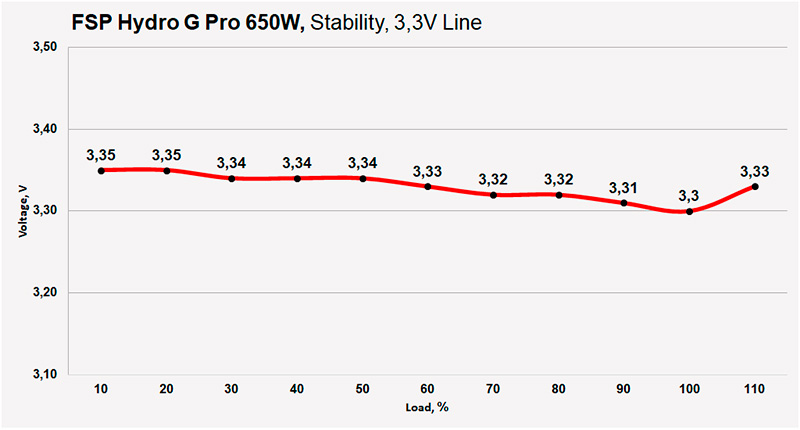 Fan
The tests were conducted both in normal and Eco-mode.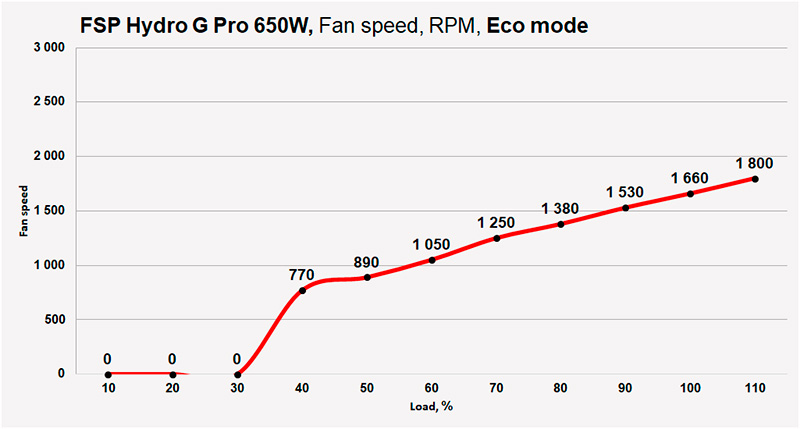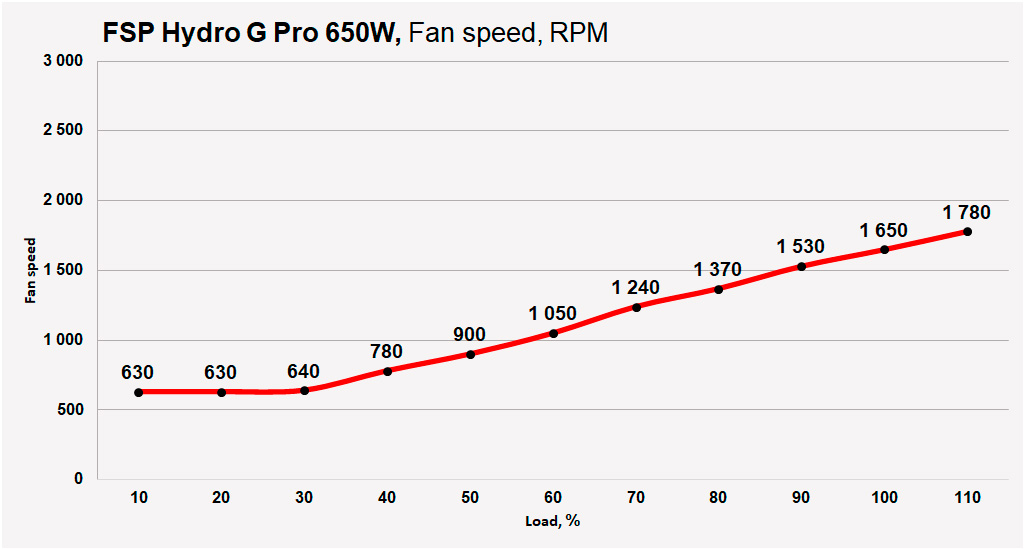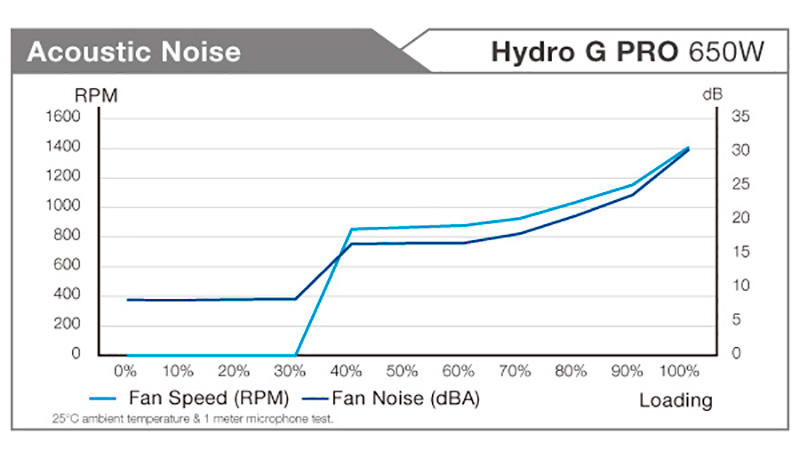 Extraneous noise
There are no extraneous noises throughout the entire power range, in particular at loads above the rated power, and at high frame rates too. And no, the fan does not muffle, they are really absent.
Protection
FSP Hydro G Pro 650W received a standard set of protections for a consumer class unit:
OPP – from overpower
OVP – from overvoltage
UVP – from undervoltage
OCP – from overcurrent
SCP – from short circuit
OTP – from overtemperature
Another undeclared feature is NLO protection – the unit will not turn on without a connected fan.
SCP (short circuit protection) is expected to work on all lines, not only for 12V. On the main 12 V line, the protection is triggered at a load of 780 W, which is 20% overload.
On the secondary lines, the protection thresholds are overrated, which has already become commonplace in FSP power supplies. For 3.3 V line it is about 107 W load (32.5 A current, 62% overload), for 5 V – 154 W load (30.8 A current, 54% overload). On the other hand, such settings are just optimal in case of a large number of hard drives with high inrush currents.
Conclusions on FSP Hydro G Pro 650W
The FSP Hydro G Pro is a good power supply, but not perfect. As for the controversial things, it's the 120 mm fan. Relative to classmates with a 140-mm propeller, the noise level is slightly higher, but the case is more compact. Also, in my opinion, FSP engineers overdid it with the propeller speed curve. For 650 "golden" watts almost 1700 rpm at maximum load is too much.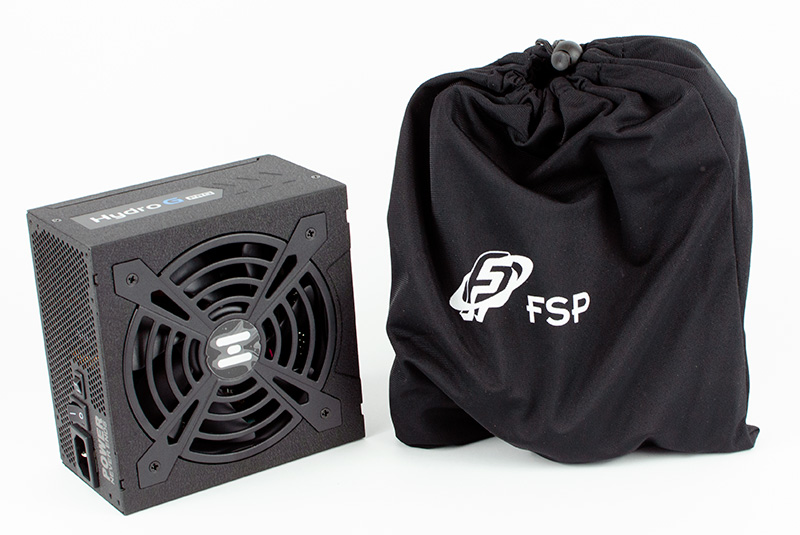 On the other hand, it means that the operating temperatures will be lower. Combined with exceptionally high-temperature capacitors, decent heat sinks and a generally modern topology, this makes it possible to predict a really long service life. The hydrodynamic fan bearing and 10-year warranty confirm this.
There is another controversial point – the setting of 3.3V and 5V line protections with 50-60% overload, which is a lot. On the other hand, with this feature, Hydro G Pro is great for systems with a large number of HDD drives with high inrush currents.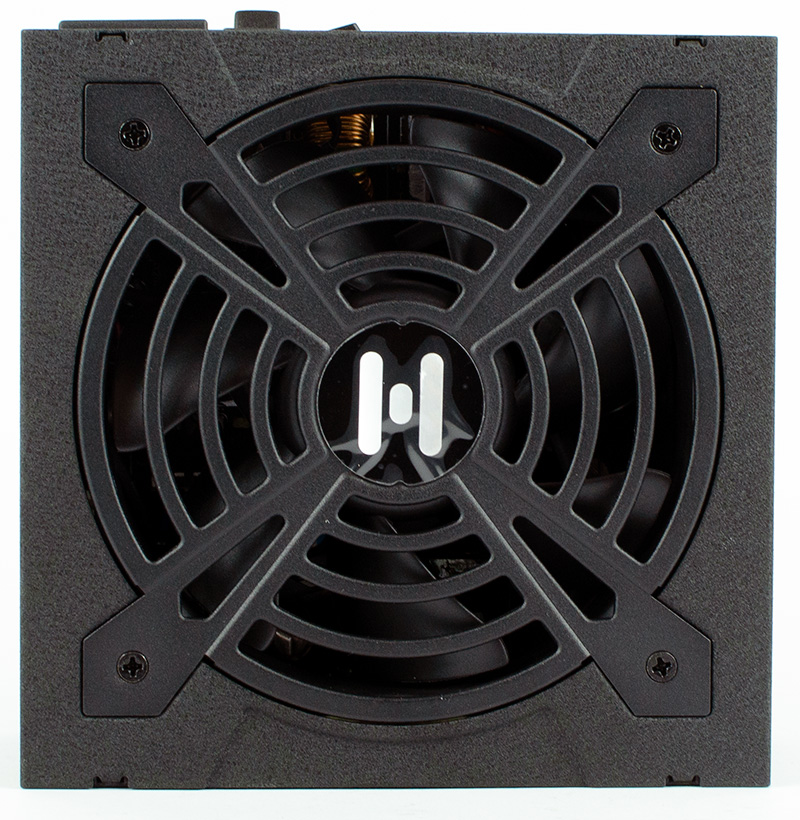 The rest is excellent. The cable set is even generous for 650 watts, the cables themselves are really long with a classic 18 AWG cross-section. The output electrical parameters are excellent, especially on the 3.3V and 5V lines.
As a result, FSP Hydro G Pro is a very good offer on the Ukrainian market. On a global scale, the unit falls into the competitive segment of the "$100 PSU", where, at least, it has good potential. A strong workhorse.
Read also:
You can also help Ukraine fight with Russian occupants via Savelife or via an official page of the National Bank of Ukraine.