The purpose of this article will be to answer the following questions: what are the advantages of DDR5 and why is this memory, using the example of Kingston Fury RGB DDR5 5600, much, MUCH better than DDR4. Why backwards compatibility is impossible. And so, I will tell you a little bit about what has changed over the year.
Power supply
Let's start with the differences. The main thing for DDR5 is that the power management module, also known as the Power Management Integrated Circuit, or PMIC, has moved from the motherboard to the cards themselves.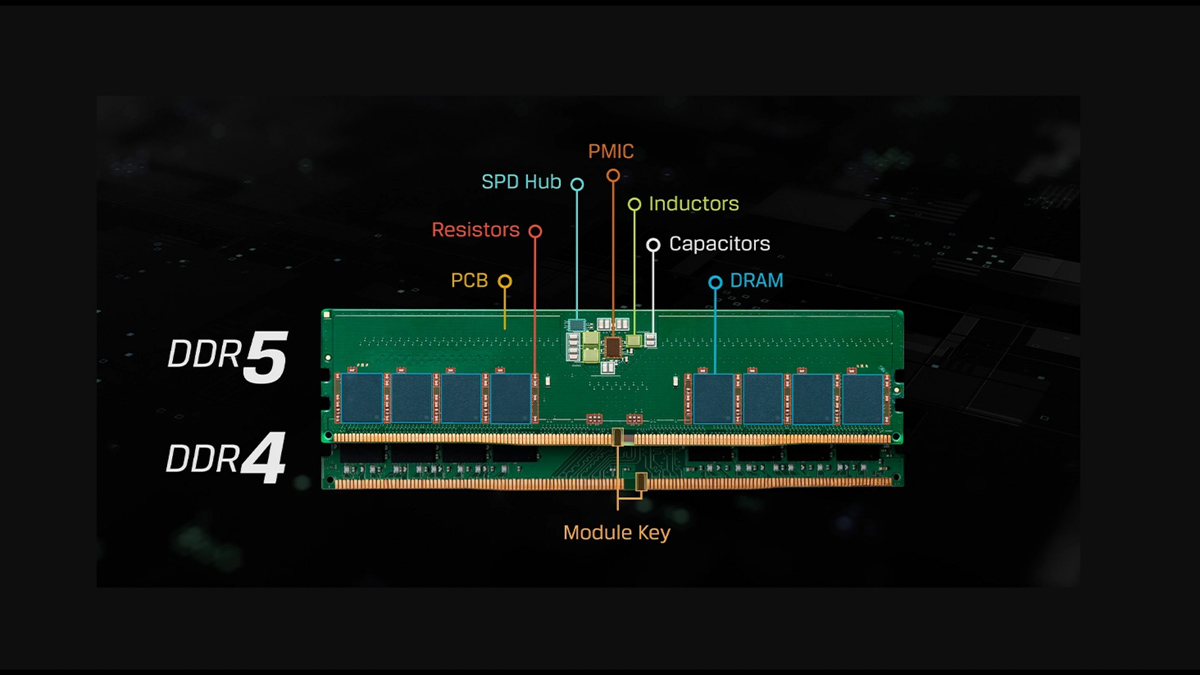 This, of course, increases the cost of the slats. In addition, the PMIC can… whistle during operation. Yes, I'm talking about the same coil whine, albeit much less noticeable than that of video cards. Because yes, the PMIC is essentially a transformer that controls the voltage supplied to the RAM.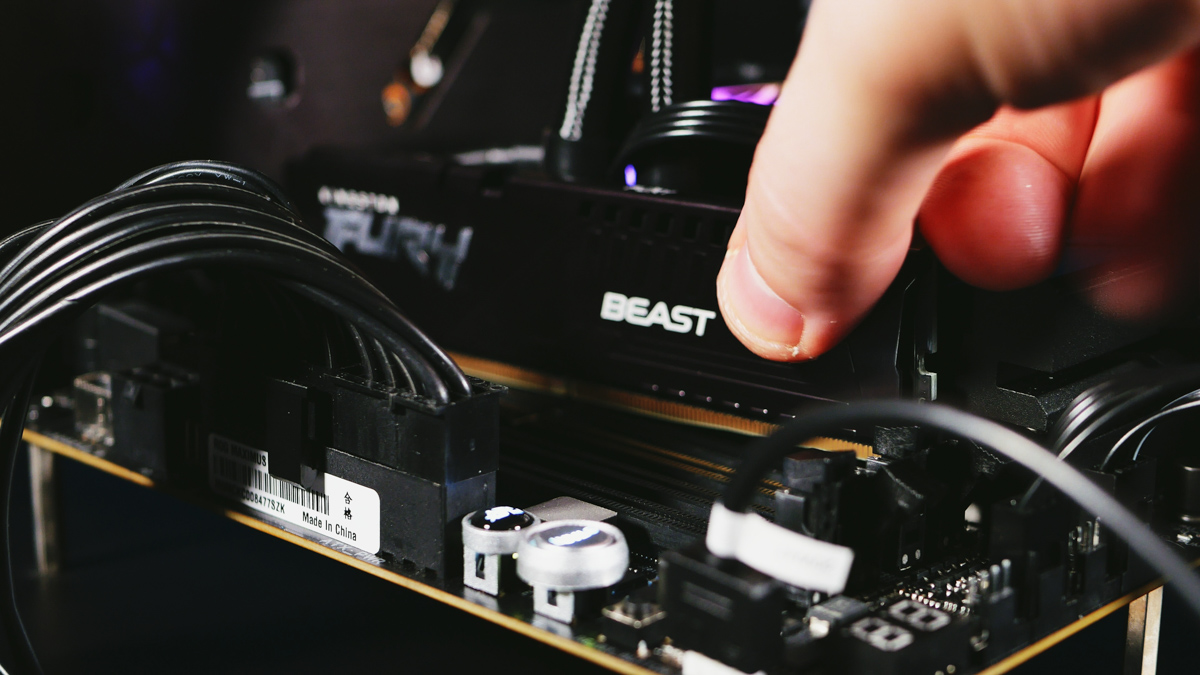 This is the main reason why DDR4 and DDR5 are not compatible, but the advantages of this solution are very, very obvious. DDR5 is absolutely incredibly stable at high frequencies. In fact, the speed of the standard has increased by up to 50%.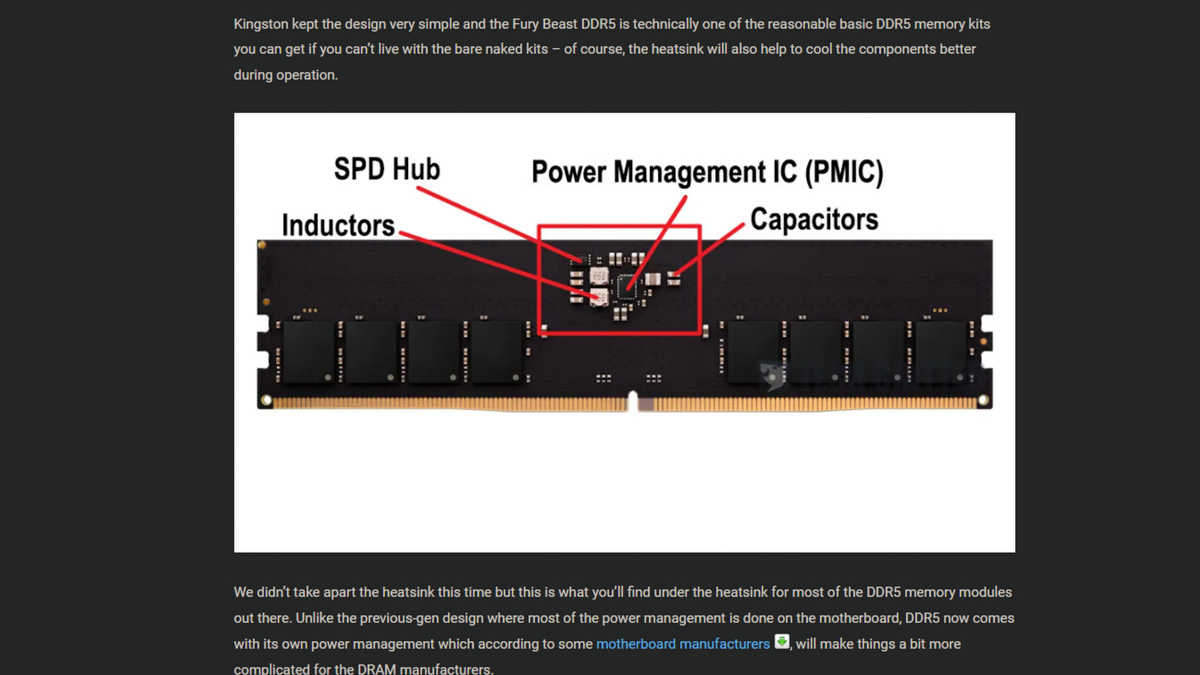 And overclocking memory will be much easier. At the moment, some companies are working on sub-7000 MHz bars, and the theoretical speed limit is generally at 8,400 MHz.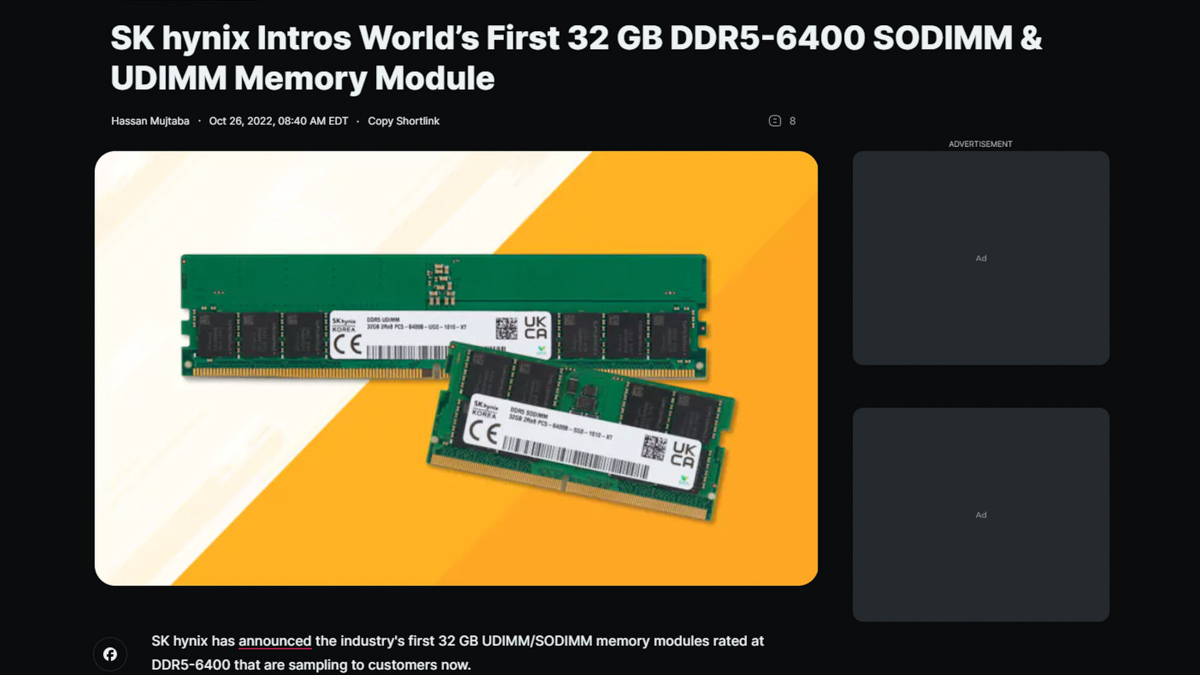 By the way, yes, I'm talking about MegaHertz, although it's more correct to say MegaTransfers, because for every Hertz there are two transfers, and in fact, in honest megahertz, the memory is twice as slow as it is written everywhere in marketing. But this doesn't really affect anything. Just so you know.
Cooling
A PMIC is not only a transformer, but also has several additional functions, which will be discussed later. However, a transformer is never 100% efficient, and the magic 5V to 1.1V change always has heating associated with it.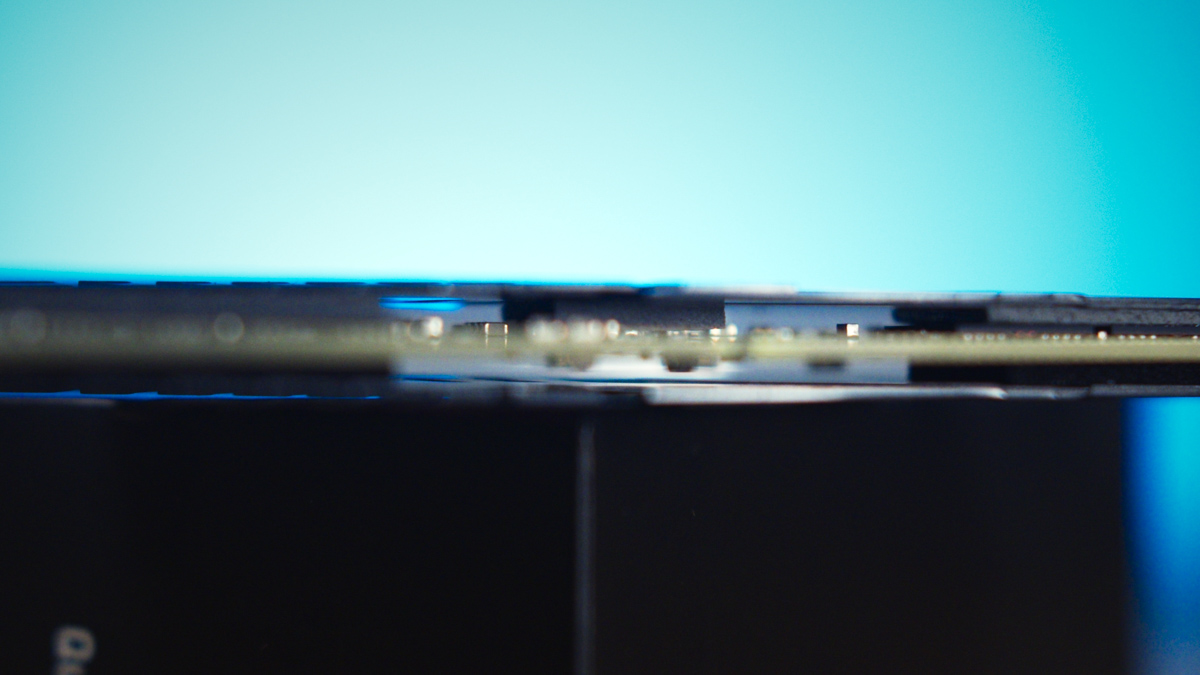 For this reason, heatsinkless DDR5 cards are much worse than heatsinkless DDR4 cards. And don't be surprised if you see separate fans on motherboards for cooling the RAM. This is necessary and will be needed more and more over time.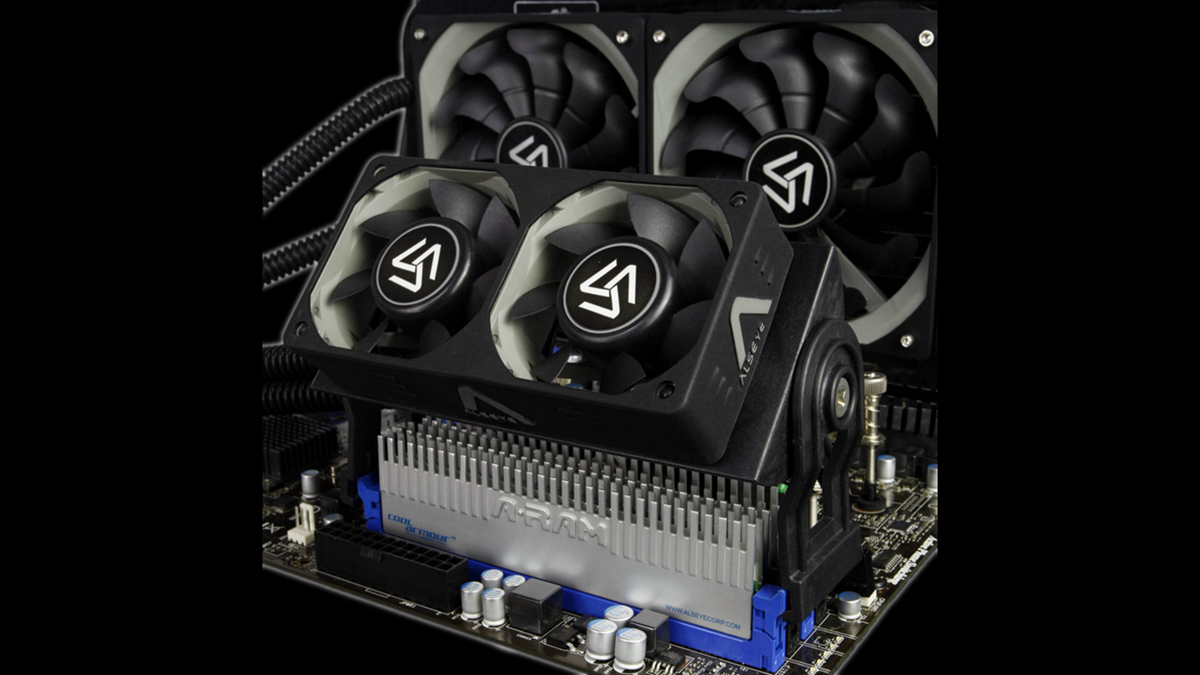 The chips will also need to be cooled, because high frequencies, frankly, do not lower the temperature. And the chip capacity will increase. Theoretically, the chip density for DDR5 can be up to 64 Gbit. One chip. And the final capacity of the strip can be up to 512 GB. One bar, yes. 512. And this is for custom chips, servers can have up to 2 TB per strip.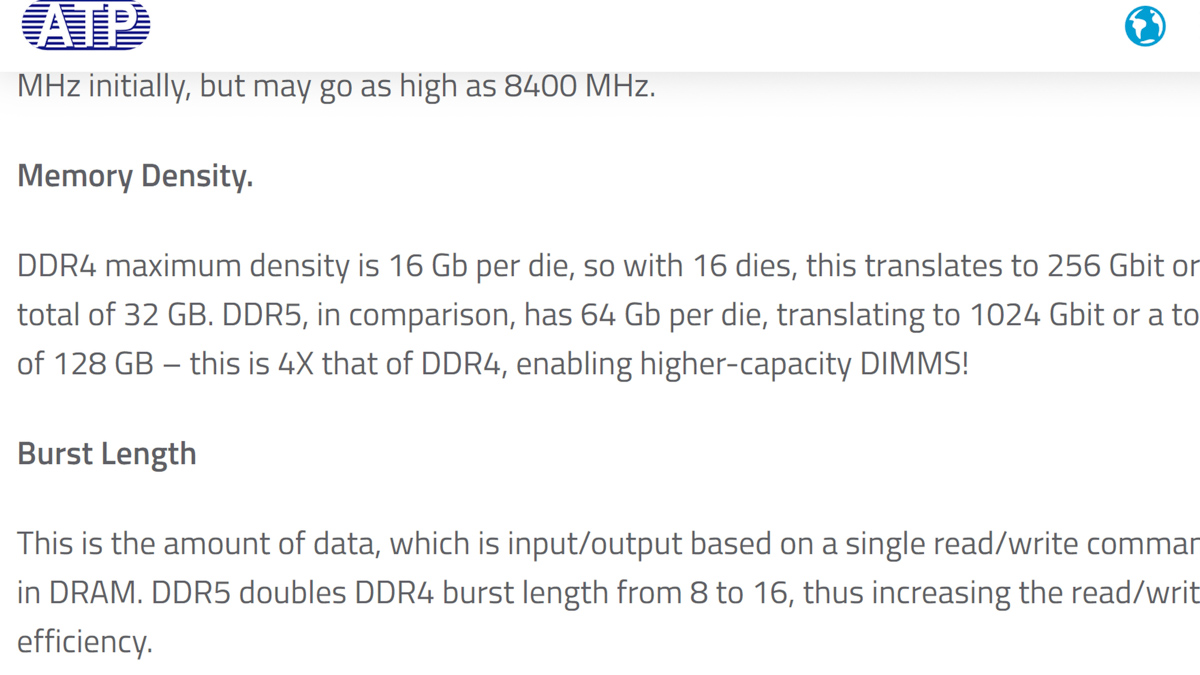 Why is the price so high?
Here we come to a place that was very painful at the time of the DDR5 release, and even now, at the moment, has not fully healed. The price. First, the PMIC. An additional element that adds to the price. Secondly, radiators. They are needed because the PMIC smokes. And the additional capacity also affects the price.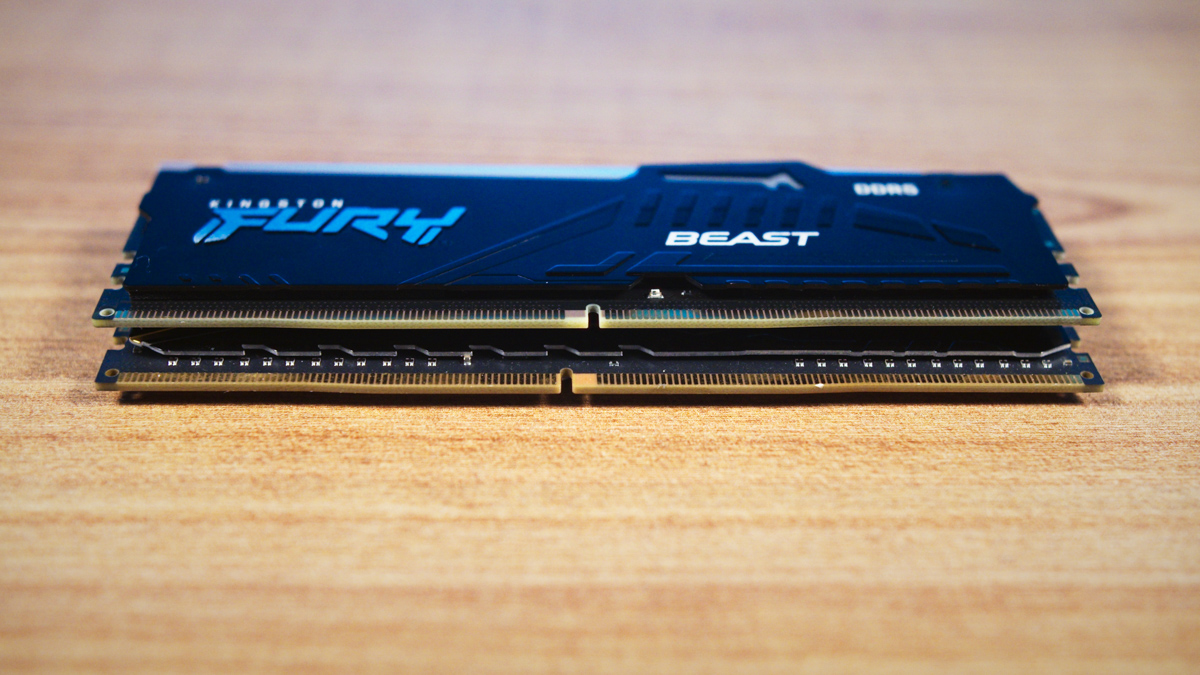 Now the question is, is it worth it? I mean, is it worth switching to DDR5 platforms, since DDR4 is still being produced, sold, and even supported? Take, for example, the same Raptor Lake, the 13th generation of Intel. The processors support both DDR4 and DDR5, as long as the motherboard is appropriate.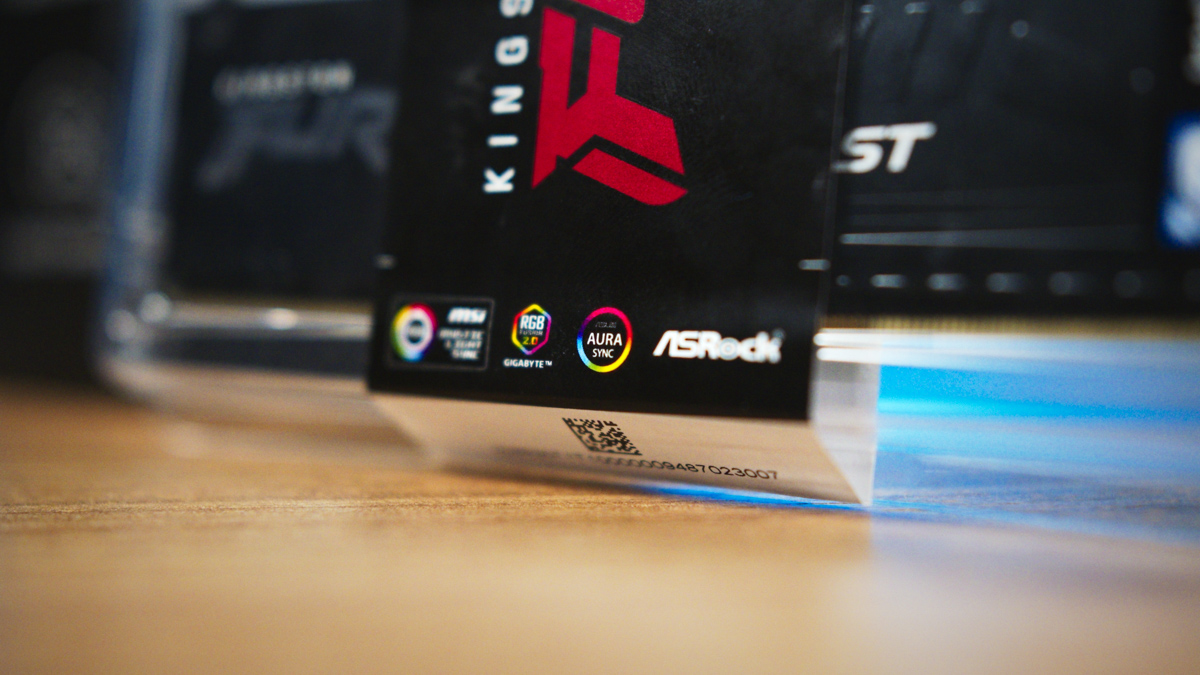 DDR4 is supported by the price, of course, and the choice of platforms. No one is stopping you from building a system with B550 and AMD Ryzen 7 5800X3D, and you'll be in chocolate, because the processor fights with Intel's 13th-generation flagships and calmly holds its own at the Ryzen 7000 level.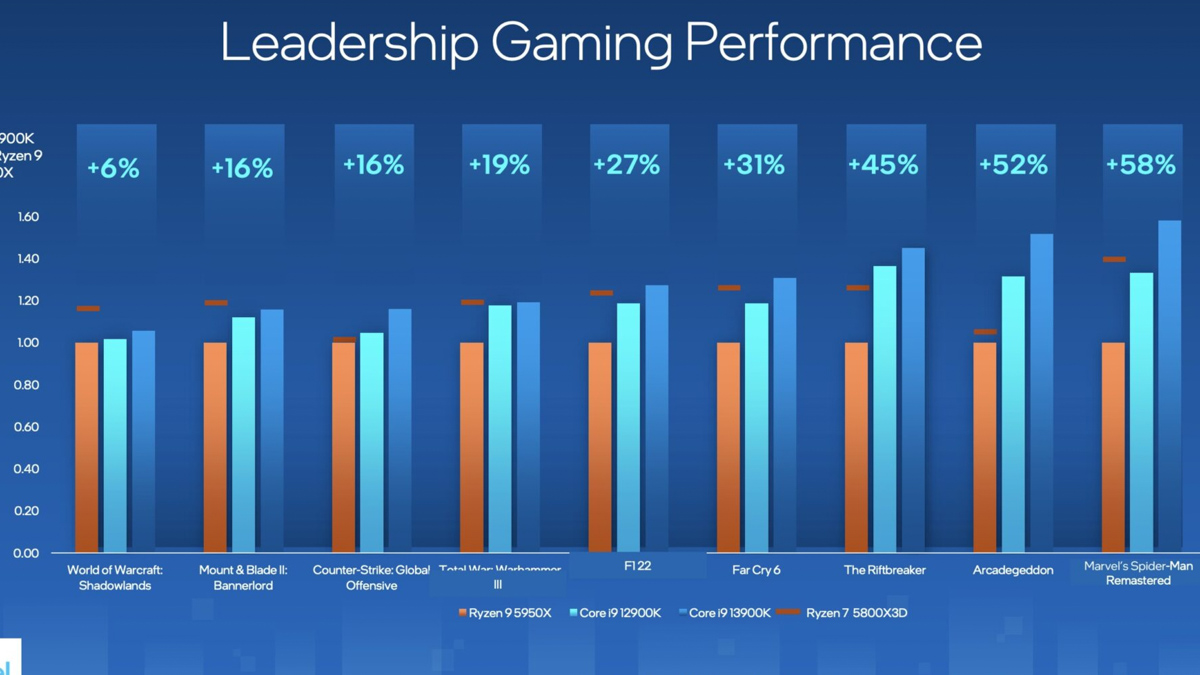 Actually, the dumbest decision I can safely call is the desire to build a PC with Intel Raptor Lake and DDR4, so that later, at some point, you can upgrade to DDR5. That is, to reassemble the PC, replace the motherboard, replace the RAM, sell it all and buy something newer.
Read also: Огляд БЖ be quiet! System Power 10 850W
That is, you will spend a wild amount of time and effort on something that does not need to be done at all. If you don't have the money for a DDR5 platform, and DDR5 costs not ten times more than DDR4, but two times, maximum two and a half, then either buy a small amount of RAM or don't build the system on new processors at all! Don't waste money on the freshness tax. Build a PC with Ryzen 5000. In games, it's still the video card that decides 90% of the time, not the processor.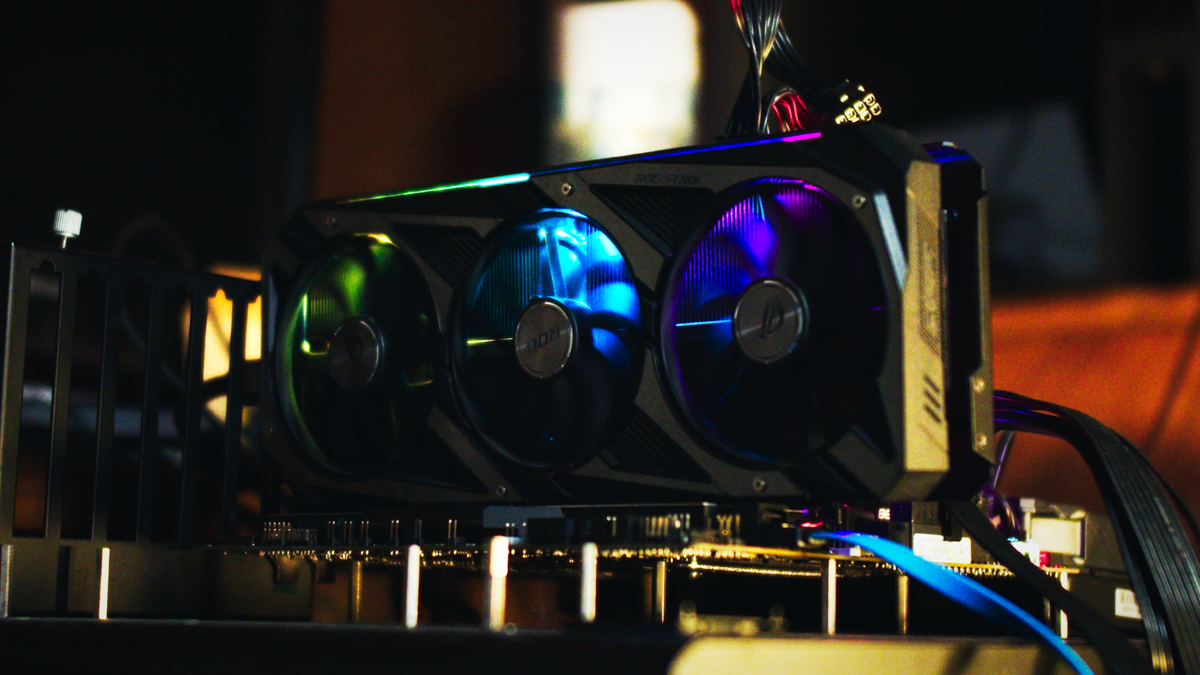 If you need a lot of PCIe, no problem, but how many of you? Two, three? I don't know where to use PCIe 5.0 now. Is there at least one mainstream SSD for this? Is bifurcation supported? And if it is supported, will you have enough PCIe slots on mainstream motherboards? Wouldn't it be better to buy a Threadripper?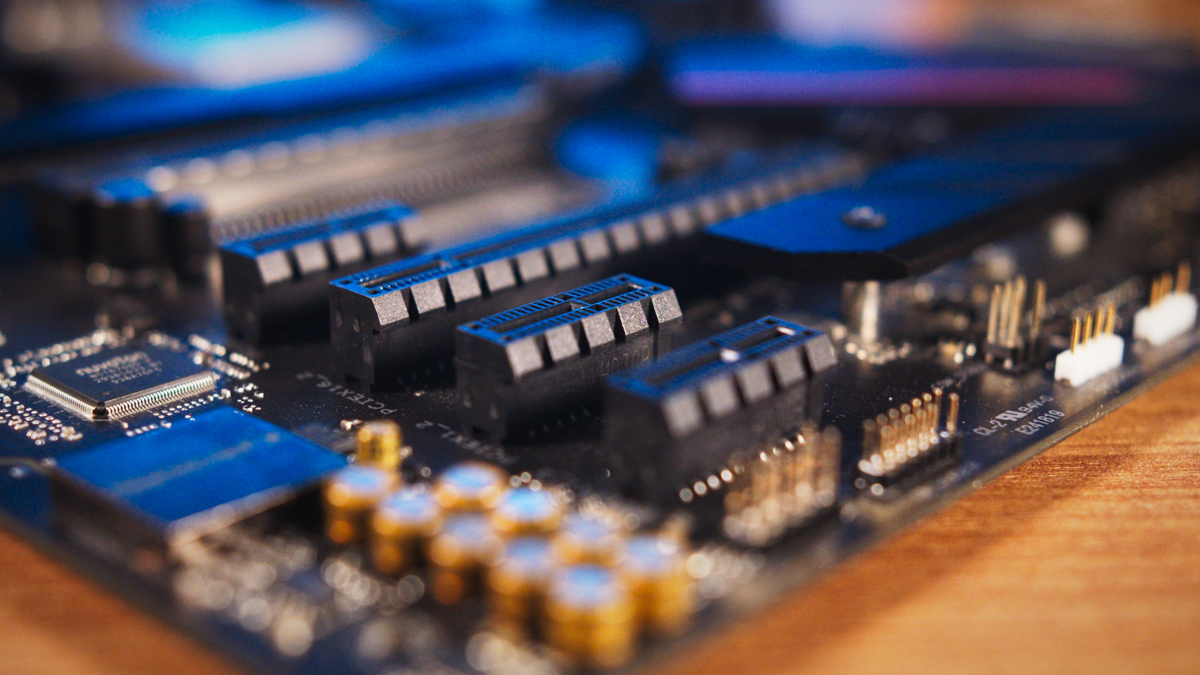 Actually, my recommendation for a PC with DDR5 is a compact gaming system based on ASUS ROG X670E Gene, with some AMD Ryzen 7 7700X, plus Kingston Expo RGB RAM and a compact ASUS RTX 3060 12GB. The compact system, which takes 5 GHz from one left, is hyper-quiet in games, requires almost no cooling, and is top-notch in performance. It's just a thrill!
Summary of DDR5 and Kingston Fury RGB DDR5 5600
You need to understand that DDR5 is worth the money. It is more expensive than DDR4, there is no doubt about that. But you can consider it a litmus test.
Because if you don't make the difference in price between DDR4 and DDR5, then you won't be able to build a system on new hardware at all, and any advantages of Kingston Fury RGB DDR5 won't help you. And there are advantages. And they are gorgeous. But use your head.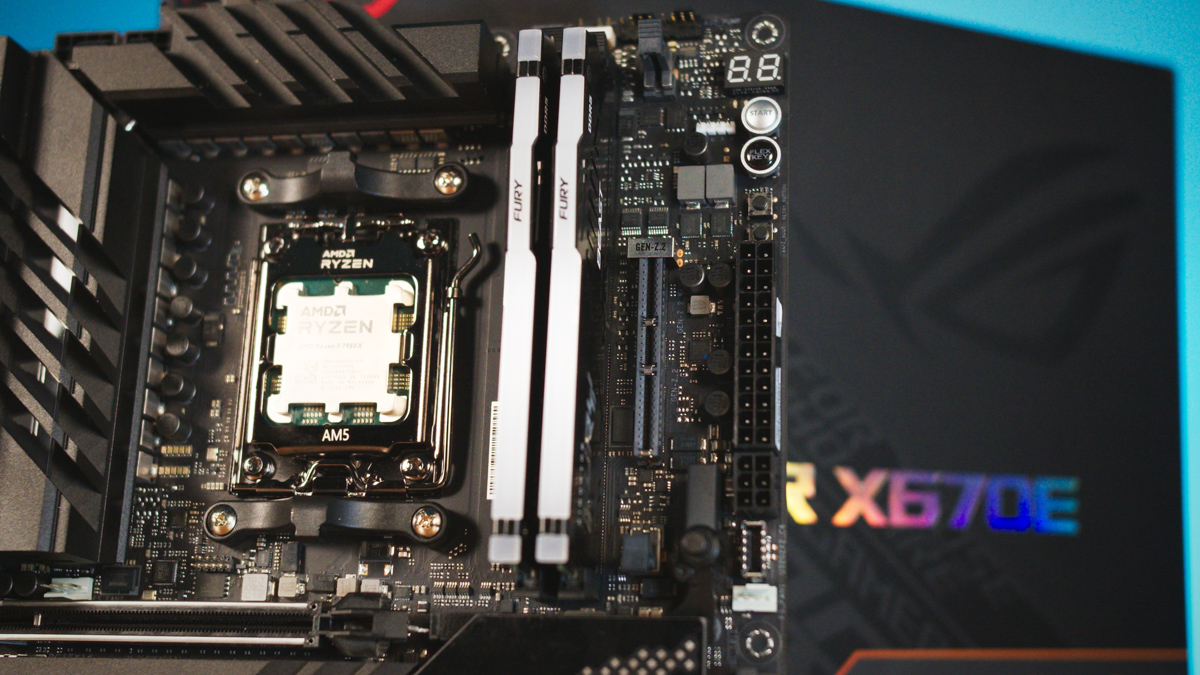 DDR5 is the future, coexisting with the present of DDR4. Because DDR4 is the present, not the past. Besides, Kingston has some amazing DDR4 kits. Almost the best on the market. And in our market, they are almost always the best.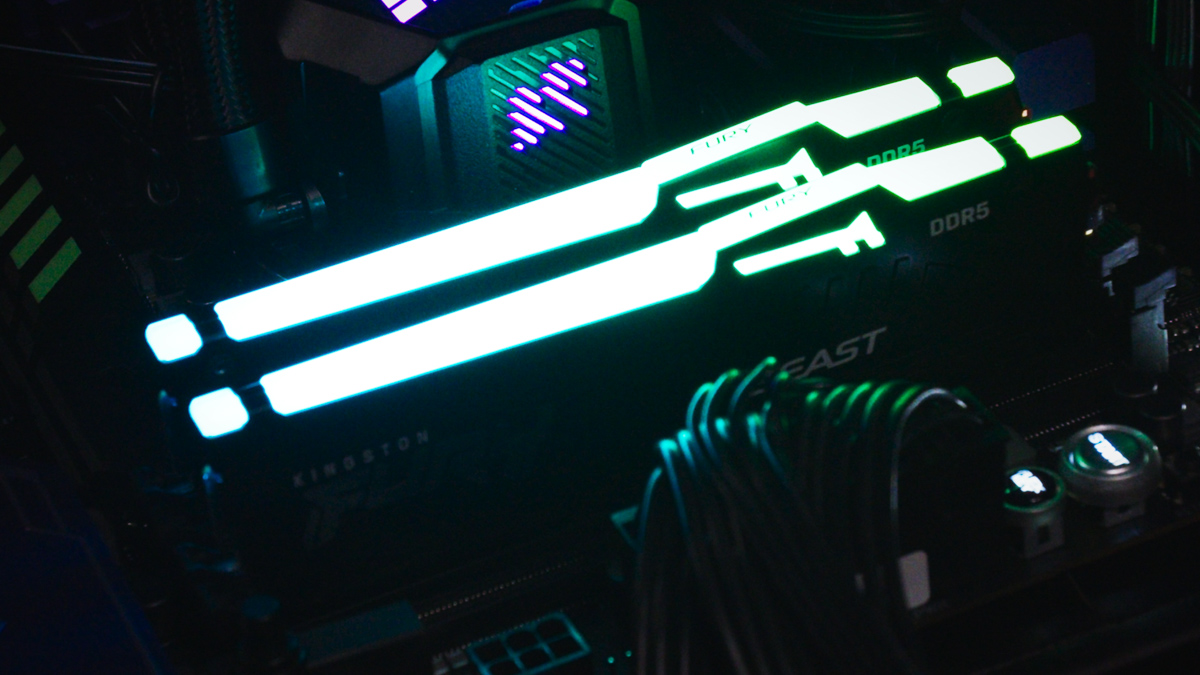 Well, if you have money for DDR5, a new platform and generally want a top-end for your money, then the Kingston Fury RGB DDR5 5600 will be just what you need. Even without overclocking. By the way, maybe I will overclock it, but next time.
Video about DDR5 (and Kingston Fury RGB DDR5 5600 MHz)
Read also: