First of all, just so you know, I have been buying and using mostly Intel competitor processors, and will continue to do so for a very long time. I am not a fan of Intel, and I consider whole generations of processors of this company to be absolute rubbish. So imagine how top-notch the Intel Core i9-12900K turned out to be, so that I sincerely take off my imaginary hat to the company?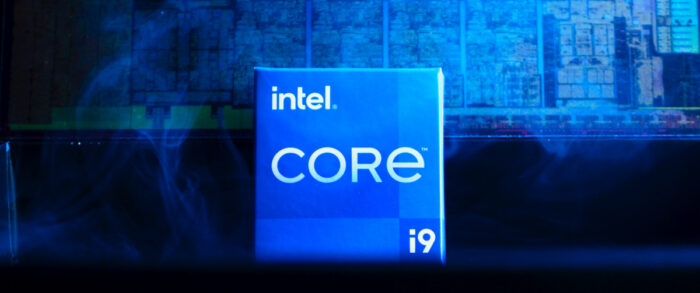 Why now?
This material was delayed for half a year for obvious reasons, so its relevance is questionable. But not really if you take into account that the release of the 13th generation will greatly reduce the price of the 12th, and the 12 is absolutely top-of-the-line in itself, you can buy this baby even cheaper.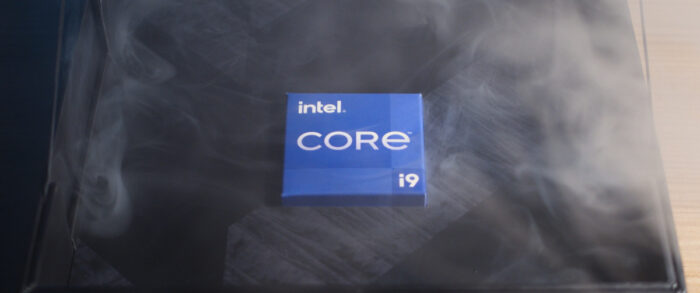 If anything, the price of the processor was about $600-700 and higher, in fact, it was worth it. This is the most powerful mainstream processor for games and one of the best for work. I emphasize that I don't say "the best", because it has two issues. More about them at the end.
Processor structure
But to begin with, Intel Core i9-12900K is important not just as an incredible heart for a hyper-powerful machine, but also as a proof that the concept of LITTLE-big on x64 architecture machines is not a fairy tale and not a fake, but the future, and the absolute fiasco with Lakefield did not affect it in any way.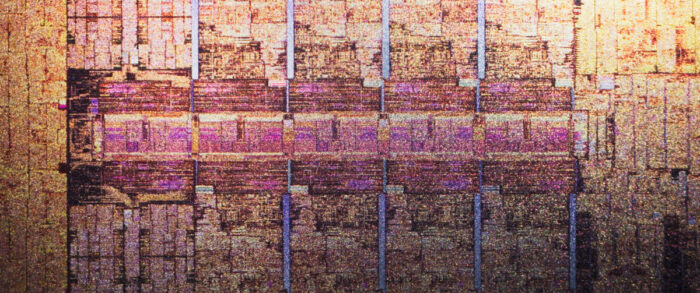 Actually, this is the trick. All 12 generations of Intel, both on desktops and PCs, have so-called P-core and E-core. Power and Efficiency. Consider – two processors in one. The first – with an ultra-modern architecture, much more powerful than the 10th and 11th generations. High-frequency, two threads per core, and in games just tears. Actually, the tests are below:
And yes, Intel Core i9-12900K is more powerful than AMD Ryzen 9 5950X in games due to P-core, and in multithreaded tasks it has an advantage due to threads. BECAUSE!
The second processor in the duplex is based on low-power cores of the Haswell-Skylake level, that is, 5-6-7 generations, at approximately the same low frequencies, but without multithreading. That is, just low-frequency cores.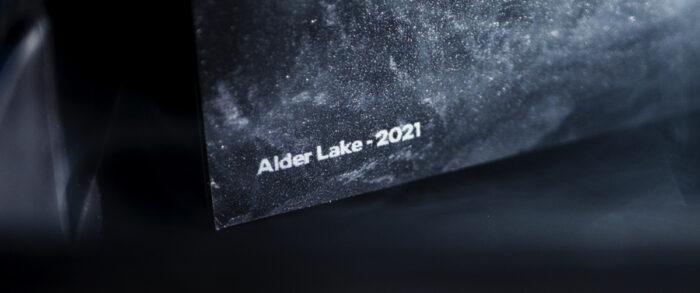 And thanks to the correct balancing of optimization on Windows 11, heavy tasks can be performed on P-core and light background tasks on E-core.
Disadvantages of Intel Core i9-12900K
And this approach will give much more efficient power distribution and generally lower CPU wattage. In theory. In the future. But… not now. Not today. Because in the stress test for all cores, a moderate stress test, Intel Core i9-12900K consumes under 300 watts and throttles on all cooling systems that I had.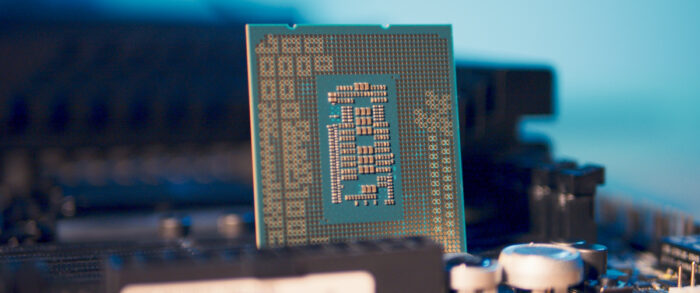 That is, the horizontal tower be quiet! Dark Rock TF2? Three-section water tower be quiet! Shadow Loop 360? Whatever. In games the situation is better thermally, but God forbid you compare it with the same 5950X. With the same 16 cores.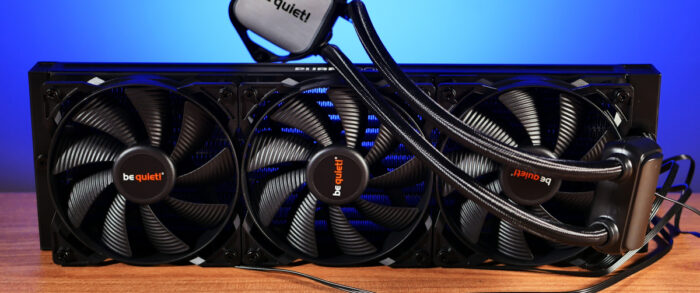 Because the difference in wattage is under 100 W, and in temperature – about 50%. I repeat. Intel Core i9-12900K heats up 50% more than AMD Ryzen 9 5950X.
And it would seem, well, that's fine, I'll just reduce or fix the frequencies so that the processor does not eat 300 watts in one snout, giving a turbo up to 5.5 GHz. But you can't. Well, more precisely, you can, but there are… thickets. That is, it's not just "go to the BIOS and in 3 minutes everything is done".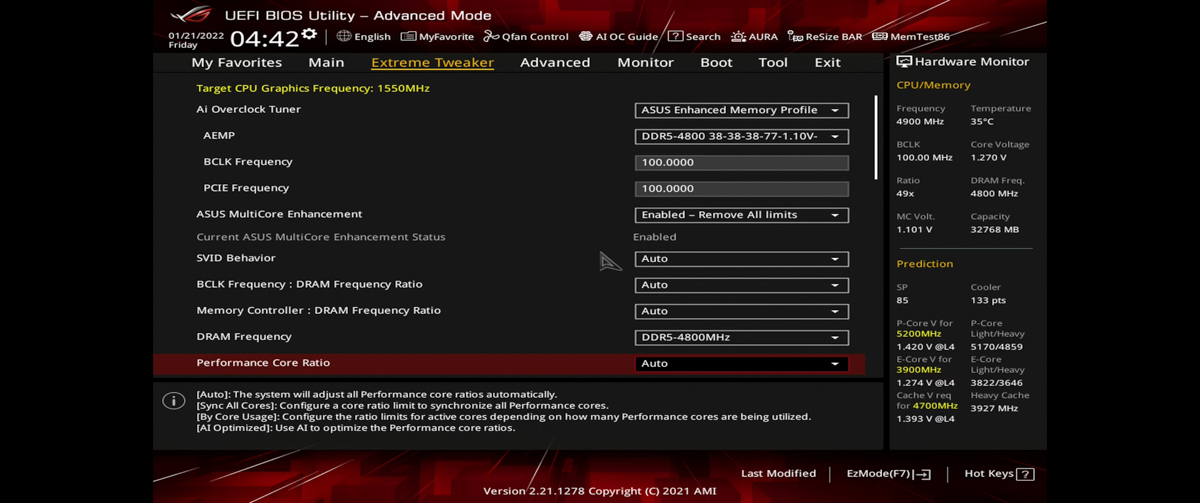 Коли я намагався зробити це під тест охолодження – я не зміг взагалі. Це "тіпа" пояснюється тим, що Intel Core i9-12900K складається з двох процесорів, котрі між собою майже незалежні. Але я цей аргумент не приймаю. Процесор – це процесор. Частоти – це частоти.
Test stand
And this is not a motherboard problem, because ASUS ROG Z690 Maximus Hero was the perfect option for the test.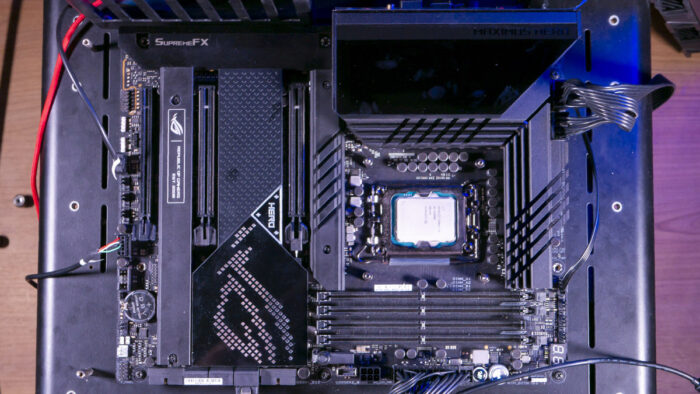 Flagship motherboard, plus ASUS RAM, and there was also DDR5 from Kingston!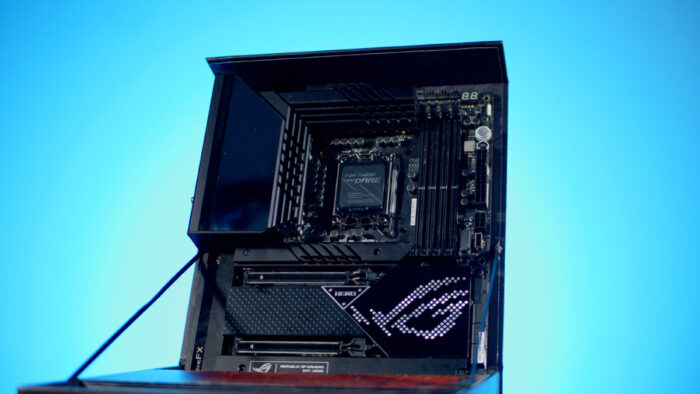 And all the same, the system behaved wildly in the stress test, the CPU was running at frequencies like a fool, it was throttling when it wanted, and when it didn't want it was consuming 70 W. And all this in the stress test, when it had to consume the maximum and constantly!
Instability
That is, the stability of such a system is questionable. Actually, Adobe Photoshop refused to work stably for some testers. Specifically on the 12th generation. Actually, if you are interested in the issue of stability, I recommend to make any moves in the direction of LITTLE.big only in two or three years. Well, or at least from the 13th generation.
Because optimization of hardware and programs will not be in a perfect state for a long time. And, in fact, energy efficiency. Because again, 8+8 cores of Alder Lake devoured more than 24 cores of Zen 3. And all this needs to be cooled!
Final recommendations
Actually, that's why I don't really recommend Intel Core i9-12900K everywhere, except for absolutely unicorn gaming systems where there will be super-cooling. If you need a good processor for work… Then you don't need Alder Lake at all. Take 5950X, fix the frequency to 4,600 MHz on Arctic Freezer II 420 water and you will be happy. At least you will not worry about optimization.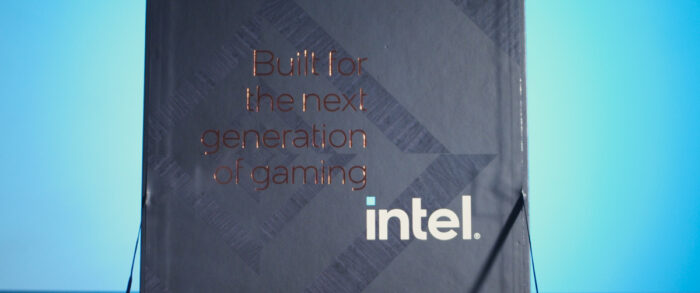 If you want Intel and to play – Intel Core i5-12600K I recommend ahead of Ryzen 5, it is now the best gaming processor. But not Core i9. Not even Core i7. In fact, even Core i3-12300F in terms of performance in games is like 10900K. I'm not kidding!
Conclusions on

Intel Core i9-12900K
Alder Lake in general and the Intel Core i9-12900K in particular is an incredible step forward for Intel, and proof that Lisa Su and Pat Gelsinger's competition will be a spectacle you won't want to miss. And it certainly won't be a waste of sand. Oddly enough, Intel should be commended for this – because it's only going to get better. I believe in it.
Intel Core i9-12900K video review
Don't want to read? Watch the video:
Read also:
You can also help Ukraine fight with Russian occupants via Savelife or via an official page of the National Bank of Ukraine