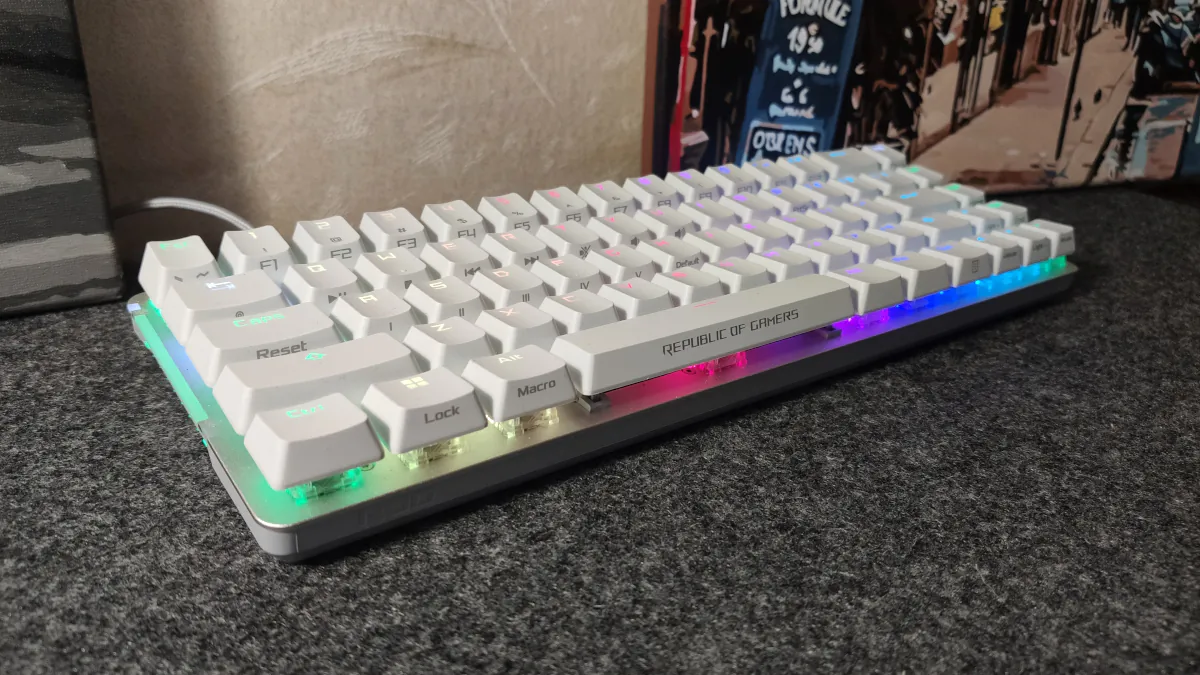 ASUS ROG Falchion Ace is a new mechanical ultra-compact keyboard for 2023 from ASUS. It inherits the design and main features from its predecessor ROG Falchion, which was presented two years ago at CES. By the way, the classic Falchion received awards for design and innovation from CES, reddot, and Good Design, which means that the next version should be just as good. So let's see what interesting things the new model of game mechanics offers.
Read also: ASUS ROG Strix Scope NX Wireless Deluxe Review: Wireless Gaming Mechanical Keyboard
ASUS ROG Falchion Ace specifications
Connection: wired
Interfaces: USB 2.0
Size: ultra-compact (65%)
Polling frequency: 1000 Hz
Key type: mechanical
Type of switches: ROG NX Red
Pressing force: 40-55 г
Stroke: 1.8 mm to the trigger point, 4 mm full stroke
Backlight: RGB, synchronization with Aura Sync
Dimensions: 305.79×101.0×37.50 mm
Weight: 599 g
Materials: metal, plastic
Cable: Type-A/Type-C 1.8 m, braided
Features: included hard protective case, interactive side touch panel, symmetrical arrangement of two USB-C ports for easy connection or simultaneous connection to two devices, on-the-fly macro recording, internal memory for storing up to 5 user profiles
Price and positioning
While ASUS ROG Falchion offered a hybrid connection method (both via wire and radio), ASUS ROG Falchion Ace is a purely wired keyboard. This made the model with the "Ace" label cheaper to buy. While the classic Falchion from two years ago now costs from $165 (and the market average is up to $200), the new ROG Falchion Ace will cost from $138. What will a gamer get for this money?
Package contents
As is typical for many ASUS devices, ROG Falchion Ace arrived in a presentable double box. The outer packaging is thinner and contains an image of the keyboard and a list of its main features. Inside is a denser black box with a red brand logo on the lid, which already contains all the goodies. Looking inside, we see the keyboard in a textile bag with a solid protective cover, a reliable 1.8-meter braided USB-A to USB Type-C wire, accompanying literature, and a set of ROG branded stickers.
Read also: Review and impressions of the COUGAR VANTAR AX gaming keyboard
ASUS ROG Falchion Ace design
To begin with, the ASUS ROG Falchion Ace case combines plastic and a metal panel located directly under the keys. The keyboard we have on review is presented in white, but it is also available in black. It is up to each person to decide what he or she likes, but in white color it looks quite elegant. The keyboard dimensions are 305.79×101.0×37.50 mm, and it weighs as much as 599 g. It's not a small amount for such a small device, and it feels a bit heavy, but reliable.
Here we have 68 buttons with a high travel (4 mm) and in the review version only the English layout is provided. The caps here are two-component and made of PBT. On the spacebar you can see the inscription "Republic of gamers", and on some other buttons you can see tips at the bottom that indicate what function the key performs when combined with the Fn button or when pressing Fn+Insert. For example, the top row of numbers at the bottom is labeled "F1", "F2", "F3", and so on, the row below that is the playback control symbols, and the arrows in the lower right corner are the symbols for switching between backlight modes and changing the brightness. So, despite its compact form factor, the keyboard performs the same functions as full-size models.
There are two Type-C connectors on the back, which allows you to either conveniently connect the keyboard on the side you need, or connect it to two devices at the same time and quickly switch between them, for which a switch is provided in the middle. However, there is only one cable included, so you will need to use your own to connect to a second PC. In general, the ability to simultaneously use Falchion Ace on two devices is certainly interesting. But whether it is needed in practice is an open question. And it seems to me personally that it's not very useful.
But one of the main features is the placement of an interactive touch panel on the left. Thanks to customization through Armory Crate, it can be adapted to a variety of use cases, but we'll look at this in more detail below.
Turn the keyboard over and you'll see the corrugated and textured bottom part of the case. In the upper corners there are three-position legs that allow you to choose the desired angle of the keyboard. You can leave them folded, so the keyboard will be horizontal on the table surface, or you can open smaller or larger legs and lift it closer to you. Whichever option you choose, all the ends of the legs are rubberized, and there are rubber pads at the four corners to prevent slipping on the table.
As for the RGB backlight, it's as good as expected. The ability to adjust the brightness and choose different backlight effects allows you to customize the glow to your liking. You can even make each key different colors, or "flood" the keyboard with a stylish white color – whatever you like. The materials and build quality are of premium level – the keyboard feels reliable and durable, there is no backlash on the case.
Cover case
ASUS ROG Falchion Ace is complemented by an atypical accessory – a hard case-lid. It will come in handy both as dust protection when you don't use the keyboard and for safety during transportation.
The base of the lid is made of transparent, dense plastic and has a protective metal plate on top with a bi-directional polish and engraved "ROG" logo. Inside, there is a rubber surface along the entire lid to protect the caps from scratches. In addition, there are rubberized overlays on the outside corners that act as legs when the cover is placed under the keyboard during operation. Thus, this cover can be used not only on top, but also placed underneath – windows for connectors and the touchpad are provided for both sides. For example, you took the keyboard somewhere and transported it in the case. When you arrive at your destination, you take out the keyboard and put the cover underneath it so that it doesn't get in the way. Simple and convenient.
Read also: Review of Bloody B885N and Bloody B880R keyboards: Optical mechanics, take 2
Перемикачі ROG NX Red
The review version of ASUS ROG Falchion Ace is equipped with proprietary ROG NX Red mechanical switches. As you probably know, ASUS has NX switches not only in Red, but also in Blue and Brown. Each of them has its own characteristics – trigger point, travel depth, tactile feedback, etc. If you want, you can read about their differences separately on the official website, and we'll get back to NX Red.
The NX Red switches have a 1.8 mm trigger point with a full travel of 4 mm. The initial actuation force is 40 g to prevent accidental pressing, and the full force is 55 g to provide a more precise tactile feedback. The switches use a factory-lubricated stabilizer that reduces friction when pressed, and it is also stated that there is a layer of foam inside the keyboard that absorbs excess noise and provides a more pleasant acoustic experience.
NX Red has linear switches that have a smooth stroke and a pleasant tactile response. The keyboard is well adapted for gaming, but it's hard to say that it's ideal for typing. The speed and quality of typing is affected by the considerable depth of travel – it requires more effort to press, which affects the speed of work. However, this is the opinion of a user who is used to primitive laptop keyboards. If you're on a first-name basis with "mechanics," it's likely that this won't be a problem for you.
Софт
The full range of ASUS ROG Falchion Ace settings is available in the proprietary Armory Crate utility. After installing the program and connecting the keyboard, ROG Falchion Ace will immediately appear in the Devices section.
The settings interface consists of 4 tabs. The first one is responsible for key assignments. You can set up a specific action for any button except Fn – opening a desired site or program, functions for working with tests and proprietary software, surfing, and so on. There are really a lot of customization options. You can also disable the Alt+Tab and Alt+F4 shortcuts for game mode.
The second tab is for customizing the touchpad. It also has a rich set of settings – from media management to presets for working with texts. The next tab is for controlling the backlight. There are 11 backlight effects, a choice of colors, color transition speed, and brightness level. If you need more flexible keyboard customization, welcome to Aura Creator, where you can "paint" the keyboard as you like.
At the end of the list, there is an important tab for software updates. In addition, Armory Crate allows you to configure up to 5 user profiles and provides for the creation of macros with very flexible and detailed settings. This is one of the things that makes ASUS ROG Falchion Ace a professional gaming hardware, because the possibilities to customize the keyboard for different games are unlimited.
Read also: ASUS ROG Delta S Core Review: Gaming Headset for Any Occasion
Touch panel
The side touch panel of ASUS ROG Falchion Ace is represented by 9 LEDs, starting with the "-" symbol and ending with "+". Above it is a small LED panel with Win Lock and Caps Lock indicators above and below it, respectively. The touch and top panels light up in unison with the entire keyboard, and when the touch button is activated, it lights up red.
By the way, the panel recognizes not only presses (there are three trigger zones – top, middle, and bottom), but also swipes. In Armoury Crate, you can customize the functionality of the touch panel for a number of use cases, such as media control, functions for convenient surfing, working with texts or with Armoury Crate itself, etc.
I liked using the panel to control music playback. Swipe up/down to adjust the volume, press in the center to assign the Play/Pause function, press the top button to the next track, and press the bottom button to the previous track. And that's it, you have a convenient media control at your fingertips. But you don't have to use the panel's functionality for only one function – you can mix them as you wish, adapting them to suit your needs.
Conclusion
If you're looking for a good wired gaming "mechanic" in a compact form factor, ASUS ROG Falchion Ace is a solid 10/10. The keyboard has a great design, excellent material and build quality, original packaging, which includes a sturdy protective cover, and a well thought-out design. It has fantastic backlighting that can be controlled as you like through the proprietary software, a convenient touchpad on the side that can be customized for many scenarios, and internal memory for saving up to 5 user profiles.
The model is perfectly adapted for gaming, both technically and programmatically. It uses caps made of dense RVT plastic, beautiful ROG NX Red branded switches with a pleasant recoil and a springy and clear stroke, and you can choose from 3 tilt angles. The symmetrical arrangement of the Type-C ports makes it easier to connect the keyboard to a PC, and there is also support for recording macros without software, but with it, with software, the convenience of setting up increases significantly. Subjectively, it's not the best keyboard for typing, but for an avid gamer, ROG Falchion Ace is a great tool. And the only thing that can partially overshadow the advantages of the ASUS keyboard for a player is the not-so-modest price tag.
Read also: