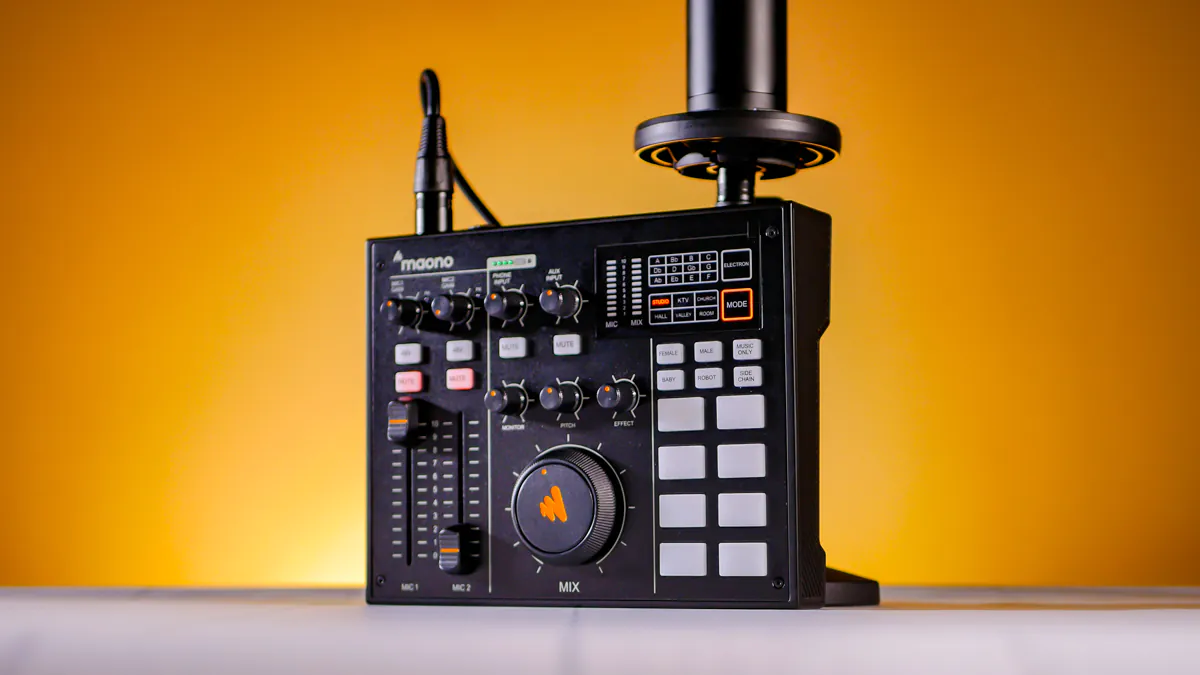 Before we get started. For almost the entire video review of the Maonocaster AM100 Podcast Mixer below, you'll hear my voice not very well. It's worse than it is now. I didn't record the sound well, but then, when I get to the tests of the console itself, you'll realize HOW important the sound quality is, not the picture.
Because the mixer has many advantages, as you will realize, but it is the sound quality that rules. And if the contrast between my bad and good recordings doesn't make you feel the quality, then you probably won't be able to feel it at all. So, let's go.
Market positioning
There's no easy way to describe the Maonocaster AM100 Podcast Mixer Solo Bundle. Imagine you're walking down the street, dreaming of Joe Rogan's fame, the studio, and celebrity guests. In general, you are a human being on the outside, but a podcaster on the inside. So you're walking along and you find $250 on the road. Yes, exactly one bill.
Where will you spend this $250? Considering your dream. Here's a tip – take a closer look at the Maonocaster AM100 Podcast Mixer Solo Bundle. This is a standalone audio console, microphone, and studio headphones. All in one at once!
Actually, if you're wondering who came up with the idea to make such a combo-wobo, the future manufacturer of the Maonocaster with AM100 went to Kickstarter… and raised $700,000.
Package contents
Also, be prepared to receive a box the size of a small PC. Inside you will find a bunch of stuff, cables, parts, and adapters. But the main thing is that in addition to the AM100, you'll get a Maono PM320 microphone and Maono AU-MH601 studio headphones.
I honestly expected to talk about these accessories in a separate article, as I was 146% sure that they were sold separately, but only the Maono MH601 is sold.
Appearance
Not so long ago, I reviewed the AVerMedia hybrid remote control for streamers. At that time, I said that the appearance of the remote lacked solidarity, and that "quality and professionalism" were not felt so strongly.
So, meet… Maonocaster AM100. Full metal design, minimal plastic, ultra-high-quality build, restrained colors, and a very pleasing to the eye.
We'll leave the top part for later, so let's start with the sides. Right now, for example, we have four anti-slip feet, a nameplate, and screws. You won't be able to spin up a sound studio in a simple way, keep in mind that screws won't be enough, it has its own system.
Periphery
There are two 3.5 mm monitoring outputs on the front for a pair of headphones. In fact, the manufacturer has a Maonocaster Dual Bundle (AM100-K4) for $400, with two pairs of headphones and microphones, but one remote control. Actually, you don't need much more for podcasts.
The rear panel is even cooler. Two hybrid inputs, a hybrid XLR with a 48V phantom. Six mini-jacks, USB Type-C for charging and synchronization, a noise reduction toggle switch, and another one for recording sound from a PC.
And if everything else is relatively clear, then the six mini-jacks can confuse even the most savvy person. And I'm not one of them, so I'm going to tell you.
From left to right: Monitor SPK (also known as AUX Output for speakers or headphones), POD1 and POD2 Output (two TRRS audio outputs for a smartphone if it has a mini-jack or you have an adapter), AUX Input (also known as AUX audio input for MUSIC from a smartphone), Phone Input (TRRS audio input for receiving CALLS from a smartphone) and finally – Mic2B Input (audio input for unbalanced microphones without phantom).
And yes, this means that you can simultaneously connect speakers, a laptop, THREE smartphones and THREE microphones, TWO of which are with phantom.
And you can control all this happiness, mixing everything together or separately with seven control knobs, two gain sliders, four mute buttons, two phantom power buttons…
…as well as a mixer wheel, seven customizable sound effect buttons, a separate cough button, three voice change buttons, twelve auto-tune buttons, and six reverb buttons.
There are twelve and six presets, respectively. Everything else is as physical as tico can be.
Plus, there are indicators, four battery LEDs, operation LEDs, and two microphone and input mix volume levels.
And yes, the attentive among you have already realized that there is a battery here! And it's a non-acidic 5000 mAh battery, which, according to the manufacturer, will extend the device's life "up to 8 hours."
The manufacturer does NOT indicate how many devices can be connected, whether the phantom is connected to a microphone, and so on, but even if you reduce this figure to 4 hours with everything connected, it's, sorry, 4 hours of podcasting in an open field!
Moreover, this is more than enough to cover the power outage. On the other hand, in this case, you will have problems with the Internet, unless you are broadcasting over 5G or you have a router on an uninterruptible power supply.
Read also: Tecno CPE TR210 and Tecno TR118 Portable Routers Review
In addition, there is support for proprietary software. It can change the assignment of seven buttons to sound effect items. What can't be done? You can change the color of the buttons' backlighting, but this is not really necessary, since this way the location of the sound effects is much easier to remember.
Test results
As for the audio quality, everything is absolutely satisfactory. Audio samples will be in the video review below. BUT! I will immediately compare it with a professional Tascam DR-40X recorder. And not in favor of the latter, oddly enough.
I would like to note two things – echo cancellation and active noise reduction. Moreover, echo cancellation is set to the standard, this is the standard operating mode. And the noise reduction is just a toggle switch behind the device.
This means that with the Maono PM320 microphone and Maono AU-MH601 headphones, both you and your listeners will be delighted. However, I advise you to think about ergonomics. I found it most comfortable to place the Maonocaster AM100 Solo Bundle sideways on my desk.
And during the stream, when I tried to mute the microphone, I often changed the pre-gain because my hand was just reaching through this rather soft toggle switch. This won't be a problem with the correct positioning of the remote control on the table, but just be aware.
I also managed to get tangled up in the mini-jacks when trying to output the system sound to headphones through Maono, and then I couldn't turn up the volume to the level I needed. But this is my fault, and here's why: it's a tool for recording sound, not a sound card for outputting it.
That's why the system sound output from the Maonocaster AM100 Solo Bundle feels like exactly 100% of what I want, with the volume options cranked to maximum everywhere you can reach. No margin for error, mind you.
This is not a subway player. If you have noise in the background and you need a volume margin, you shouldn't be podcasting, you should be taking a broom and sweeping all the bad noise out of the room as quickly as possible.
А! By the way, don't forget to check the volume of your source sources when editing. I forgot that my sources were at a lower volume, and when I turned up the volume, the questions about the Maono's volume disappeared completely.
Summary of the Maonocaster AM100 Podcast Mixer
I'll repeat what I said at the beginning. Do you dream of being a podcaster and want great hardware in one purchase? The Maonocaster AM100 Solo Bundle will give you everything you want and more. Because rarely does a console also have such peripherals and a battery inside.
If you want more buttons for audio effects, you've obviously been streaming for a while. If you want more channels, you are an audio engineer, not a podcaster. If you don't like the sound quality, buy a Brauner VM1S.
If you don't like the look, buy a gouache or permanent white marker. Otherwise, you can sit on the Maonocaster AM100 Podcast Mixer Solo Bundle, Maono PM320, and Maono AU-MH601 for another ten years.
And then pass it on to my grandchildren. Let them grow up to be podcasters, they say, you little brats.
Video about Maonocaster AM100 Podcast Mixer Solo Bundle
You can see the mixer here:
Where to buy