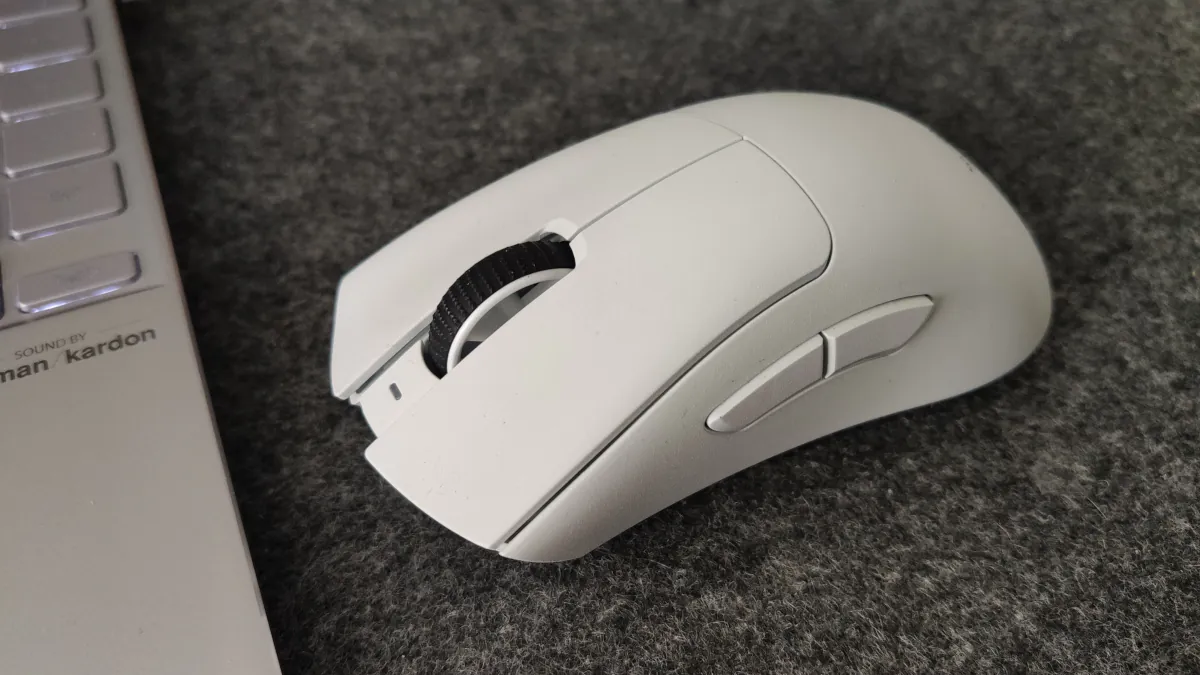 At the end of last year, the gaming brand Razer updated its DeathAdder line of mice with the brand new DeathAdder V3 Pro. According to the manufacturer, professional eSports players were invited to improve this popular gaming mouse. So to speak, professionals from professionals.
Compared to the previous generation, V3 Pro has retained its familiar shape, but has become lighter, got rid of RGB backlighting, and significantly improved its main characteristics – speed, sensor resolution, and acceleration. So let's find out what Razer has done this time.
Read also: Razer Leviathan V2 X gaming soundbar review: not just for gamers
Razer DeathAdder V3 Pro specifications
Mouse type: gaming
Sensor type: Focus Pro 30K, optical
Maximum resolution: 30000 DPI
Maximum speed: 750 IPS
Acceleration: 70 G
Maximum polling frequency: 1000 Hz
Number of buttons: 5+1
Razer Switches Gen 3 button life: 90 million clicks
Body material: plastic
Connection: 2.4 GHz, cable
Autonomy: up to 90 hours (1000 Hz), up to 24 hours with Razer HyperPolling Wireless Dongle (4000 Hz)
Dimensions: 128×44×68 mm
Weight: 63 gAdditional features: ergonomic shape for right-handed use, LED indicator, without RGB backlight, built-in memory for saving 2 settings profiles
Razer DeathAdder V3 Pro price and positioning
The Razer DeathAdder V3 Pro is positioned as a professional gaming tool that was developed in conjunction with eSports players. It does not have the standard attribute of gaming peripherals (RGB backlighting), but the main characteristics and functionality of the mouse hint that it is an advanced gaming mouse for avid players.
DeathAdder V3 Pro is priced according to its positioning – from $145. This is certainly not the most expensive offer, but for a mouse, it's not that cheap. So what do they offer for this money?
Package contents
Razer DeathAdder V3 Pro arrived for review in a beautiful box in the branded black and green colours. Inside it you can find a mouse, a 2.4 GHz USB adapter, an adapter adapter, a braided Type-A to Type-C cable, Razer branded stickers, mouse pads, and accompanying documentation.
The adapter has Type-A and Type-C ports and will come in handy, for example, if the system is a bit far away and you want to keep the adapter close at hand to prevent any interference with the signal. It will also be convenient for charging – just remove the adapter and put the mouse on the charger.
Mouse tapes, also known as mouse stickers, have a slightly rubberised and rough texture. They are glued to the main buttons of the mouse (left and right), as well as on the sides, and are designed to prevent the mouse from slipping in your hand during gaming battles.
By the way, this is how brutal the mouse will look with stickers.
But whether to use tapes or not is up to each user to decide, because the body material gives a good grip on the palm of your hand without them. So it will depend more on the style of use or play and, probably, on the favourite genre of games.
Razer DeathAdder V3 Pro design
The Razer DeathAdder V3 Pro has the same recognisable shape as all the other mice in the DeathAdder line. It's an asymmetrical lightweight gaming mouse with a successful ergonomic shape that is perfectly adapted for right-handed use.
The mouse body is made of matte and rough plastic, pleasant to the touch, and it is available in two classic colours: black and white. As you can see from the pictures, we have variant No.2 under review. What came as a pleasant surprise to me was that the white body was not very smudgy. Yes, you can see dust on the mouse (especially below the main buttons, where my fingers usually do not reach) or hair from four-legged "assistants", but the material is easy to clean and there are no problems with it at all.
The dimensions of DeathAdder V3 Pro are 128×44×68 mm, so it can be classified as a medium-sized mouse, and it weighs only 63 g. The buttons have a lifespan of 90 million keystrokes, and the total number of buttons is 6. There are two main buttons, a wheel, two side buttons under the thumb, and one more on the bottom, which is a power-off and DPI button. The wheel has a rubberised coating with microspikes, which provides excellent scrolling clarity.
Below the wheel, you can see an LED indicator that not only tells you when it's time to charge the mouse or when it's out of sleep mode, but also which DPI mode is currently in use. By default, the mouse has 5 DPI modes: 400, 800, 1600, 3200 and 6400. Each of them has its own colour. And when you switch the DPI either on the mouse or through the software, the indicator briefly lights up with the colour corresponding to a certain mode. By the way, this is the only backlight element on the mouse. As mentioned above, RGB is not provided here.
Below the indicator, you can see a Type-C connector in a hidden niche. It is used to charge the mouse or connect it to a PC via a cable. Yes, this is a gaming mouse with a combined connection type that works both via cable and radio signal.
We turn the mouse over and see the hole for the optical sensor, the power button and DPI switching, grey plastic legs and technical markings. It's worth noting that the optical sensor used here is a proprietary one, called Focus Pro 30K, which does not have the usual backlight. The legs and the "frame" around the sensor are made of glossy plastic, and the lower part of the mouse is framed with white "gloss", which together provides excellent sliding on the surface.
Razer Synapse software
The Razer DeathAdder V3 Pro, like almost all devices of the brand, is connected to the proprietary Razer Synapse software. This utility allows you to configure the mouse in detail for different usage scenarios.
Once connected, the mouse will immediately appear in the list of connected devices on the Synapse home screen. The DeathAdder V3 Pro itself has 4 tabs with different settings.
The first, "Customise", allows you to configure the functions of the buttons and actions for the two modes – normal and Razer Hypershift. Here, you can assign certain functions not only to the buttons (including wheel presses), but also to scrolling up and down. In Hypershift, you can even program the left mouse button, but in the standard mouse, you cannot change its function. You can use the software to set a variety of actions, from opening specific applications to controlling multimedia or quickly entering a text character or even an emoji.
Next, we have a tab with mouse settings. Here you can manually select the manipulator's sensitivity, adjust the DPI in two axes, set the polling frequency (125, 500 or 1000 Hz) and get quick access to the mouse's Windows settings.
In the next tab, you can calibrate the device for different types of surfaces, adjust the mouse's trigger height (distance of release and landing), and there is also a manual for resetting the mouse to factory settings. The "Power" button contains power settings and a standby timer.
Read also: Lenovo YOGA AIO 7 27ACH7: the solution for work and leisure
Ergonomics and experience
Now let's move on to the subjective – impressions of use. Frankly speaking, I am a fan of symmetrical, small and relatively heavy models. Historically, I haven't found anything better for myself yet, it's a matter of habit. But DeathAdder V3 Pro not only met but exceeded some of my expectations.
Firstly, I really liked its shape with an ergonomic arch under the index and middle fingers. My palm rests on the mouse in a relaxed and natural way, and I didn't have to get used to it at all, as is the case with most other mice.
Secondly, this is probably the first lightweight mouse that I felt comfortable using and during the testing I didn't have a desire to return to my usual mouse. It has a very competent weight distribution and, thanks to the glossy legs, it slides on the mat almost effortlessly. At the same time, I use the simplest mat, which, although positioned as a gaming mat, does not stand out. However, it is worth noting that the mouse is adapted for almost any surface, including glass (from 4 mm) and very quickly "switches" between surfaces without losing the quality of cursor control.
Thirdly, the surface of the case is not only pleasant to the touch and easy to care for, but also does not slip in the hand at all. So, I didn't need to use the bundled tips at all. And finally, fourthly, I really liked the side buttons, which I mostly used for work. Now this is something I miss in my mouse. I assigned one button to perform the "back" function in the browser, and the other to paste copied text, and the workflow became more convenient and faster.
I didn't notice any difference between wired and wireless connection, so I used it almost all the time without a cable. The buttons and the wheel work clearly, no complaints here. The only nuance I had to face was its size. The mouse is a bit bigger than I personally need, but it will be just right for medium-sized palms. Because of the size, at first it was a little inconvenient for me to reach the first side button, but later I got used to it and it was no longer a problem.
Battery powered
The DeathAdder V3 Pro in wireless mode is battery powered, not rechargeable like most wireless models. This means that if you use it with a 2.4 GHz adapter, it will need to be charged. The manufacturer claims up to 90 hours of battery life with a 1000 Hz sampling rate. This is specified for a reason, because you can buy the Razer HyperPolling Wireless Dongle to the mouse and get a 4000 Hz sampling rate. However, with this device, the battery will run out in 24 hours. We don't have such a dongle in our review, so we'll talk about the experience with 1000 Hz.
So for almost 3 weeks of daily use, I had to charge the mouse only once. Yes, sometimes it was in use for only a few hours a day, but sometimes there were 10-12 hours of work, and it lasted more than 2 weeks on a single charge. True, the experience of charging a mouse is something interesting and new for me. But it's convenient that while you charge the mouse, it just turns into a wired mouse for a while, because you can charge it and continue to use it. It took me just under 2 hours to charge from 10% to 100%. If 2 hours of charging equals 2 weeks of work, then the "sacrifice" is very, very acceptable.
Read also: Corsair Vengeance review: From mid-range to flagship with RGB
Conclusions
The Razer DeathAdder V3 Pro is a very successful mouse that will appeal to both gamers and general users. The mouse has a really comfortable ergonomic shape and medium-sized dimensions, which makes it suitable for most users. Its lightness and well-thought-out weight distribution make it almost effortless to use, and it is also perfectly adapted to a wide variety of surfaces, including glass.
Other advantages include an advanced proprietary sensor, user-friendly software with flexible button settings, sensor sensitivity and calibration, so the mouse can be adapted to any game and any usage scenario. The combined connection method with long battery life when used without a cable is a definite plus. With a button life of 90 million clicks, we can say that DeathAdder V3 Pro is a reliable and durable solution. Its only drawback may be the price, but it definitely won't stop those who want to get one of the best gaming mice on the market.