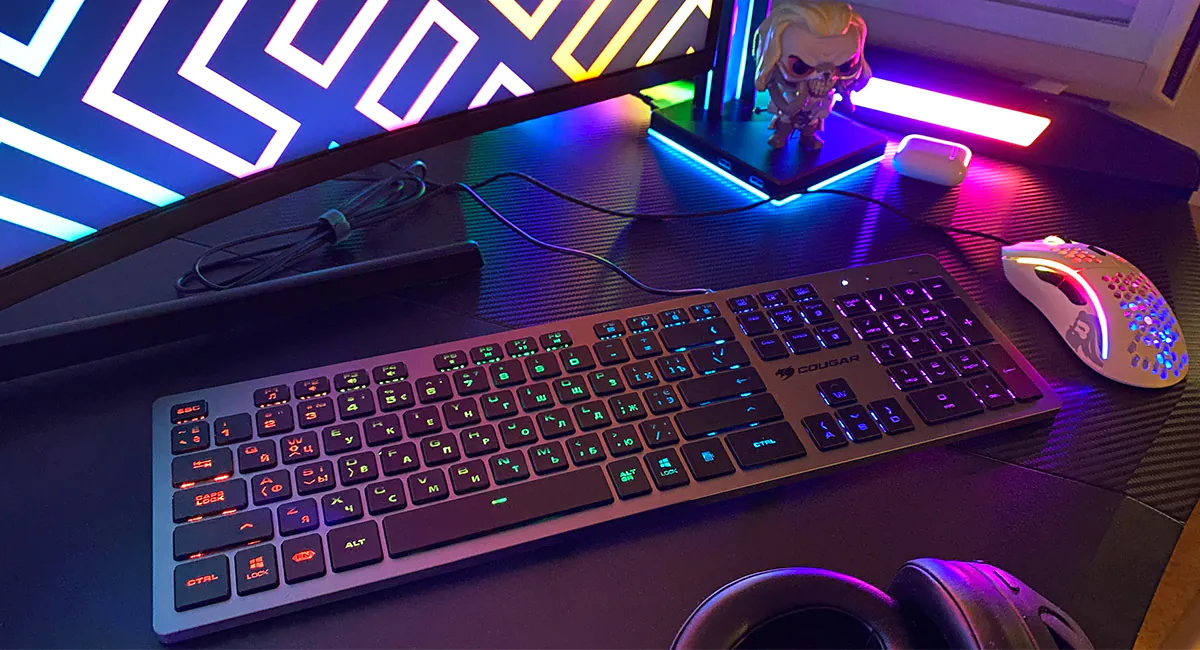 Many people believe that only mechanical keyboards exist in the gaming category, and that all other formats are only suitable for work. COUGAR VANTAR AX boldly breaks this stereotype. This is a low-profile keyboard with scissor switches that allows you to play games and work with texts equally comfortably. To understand how versatile it is, you just need to use it, for example, to play games or write this review. But if you don't have that opportunity, I'll tell you about some of the features and share my impressions.
Briefly about the main thing
The COUGAR VANTAR AX gaming keyboard is a successful combination of design and features that expand the range of its application. That is, thanks to its elegant appearance, it will perfectly complement a stylish work setup. But in terms of functionality, the keyboard is more suitable for gamers. In fact, in both cases, VANTAR AX works at 100%. How did this happen? It's all thanks to COUGAR's thoughtful approach to the development of peripherals. After all, why limit the user audience when you can create a keyboard for everyone? It's a win-win!
Characteristics of COUGAR VANTAR AX
Type of switches: scissor
Anti-Ghosting: simultaneous use of 19 keys
Backlight: 8 modes
Connection interface: USB
Cable length: 1,6 м
Dimensions: 445×127×15 mm
Weight: 626 g
Package contents: keyboard, manual
Design
Just look at it, because it looks perfect: a thin metal case, flat matte keycaps, and a minimum of inscriptions. It's perfect for a person who never got into mechanics, because I don't like thick, noisy keyboards. And such a beauty will become a real decoration of the workplace.
This is a classic full-size keyboard with a full-size letter part and a numpad. The top row of keys, from F1 to F12, performs media control functions in combination with the FN button. It has an aluminum unibody body that feels like a solid, sturdy structure that does not squeak or ring when you press the keys. The frame height is only 15 mm. This parameter is adjustable thanks to the legs, which can be raised or lowered to adjust the height to suit you.
Thanks to rubber pads on the back, the keyboard does not slide on the table. In terms of design, the VANTAR AX feels almost imperceptible compared to mechanicals: your fingers don't catch on neighboring keys, and the switches have a light, short stroke. This model is wired, connected to a PC via a USB cable that does not detach from the device. It is thin, without winding, and its length is 1.6 meters.
Switches
COUGAR VANTAR AX works on scissor switches. They are most often found in laptops. The main advantages of such a mechanism are the speed of typing and a soft and short key stroke. They are louder than membrane keys, but these are two different technologies that are better not to compare in this regard. The keys are also equipped with anti-ghosting technology, which protects against false keystrokes. This guarantees a clear and accurate response when using several keys at the same time.
COUGAR VANTAR AX backlighting
This keyboard has an RGB backlight that works in 8 different modes. You can switch between them using the FN+1-8 key combination located on the top line. This diversity allows you to customize the keyboard to match your setup style, for example, by synchronizing it with the table backlight COUGAR MARS.
Impressions of use
After the mechanics, the COUGAR VANTAR AX seems… very different. It takes some time to get used to it, but then everything falls into place. I would like to highlight a few of its advantages:
The thin body looks really attractive. It fits into almost any setup, unless, of course, it is pink.
Due to the aluminum, the keyboard successfully passes the twist test, i.e. it does not squeak.
The backlighting will always be an important plus, because it helps to navigate the keys in the dark.
It's really comfortable to work on: writing, coding, etc. The typing speed increases as soon as you get used to the key layout.
Playing "meditative" games that don't require lightning-fast reactions is more comfortable on VANTAR AX. The fact is that the keys in low-profile models are almost not felt under your fingers. It's a bit disorienting when you're running around in CoD, for example, or you may not feel the force of a punch in Dark Souls. But this is the specifics of such games, the keyboard itself has nothing to do with it. In fact, such conventions are purely individual, so they are just one more of many opinions. If you're used to playing on a laptop, then the keyboard will work just fine. For example.
Read also: