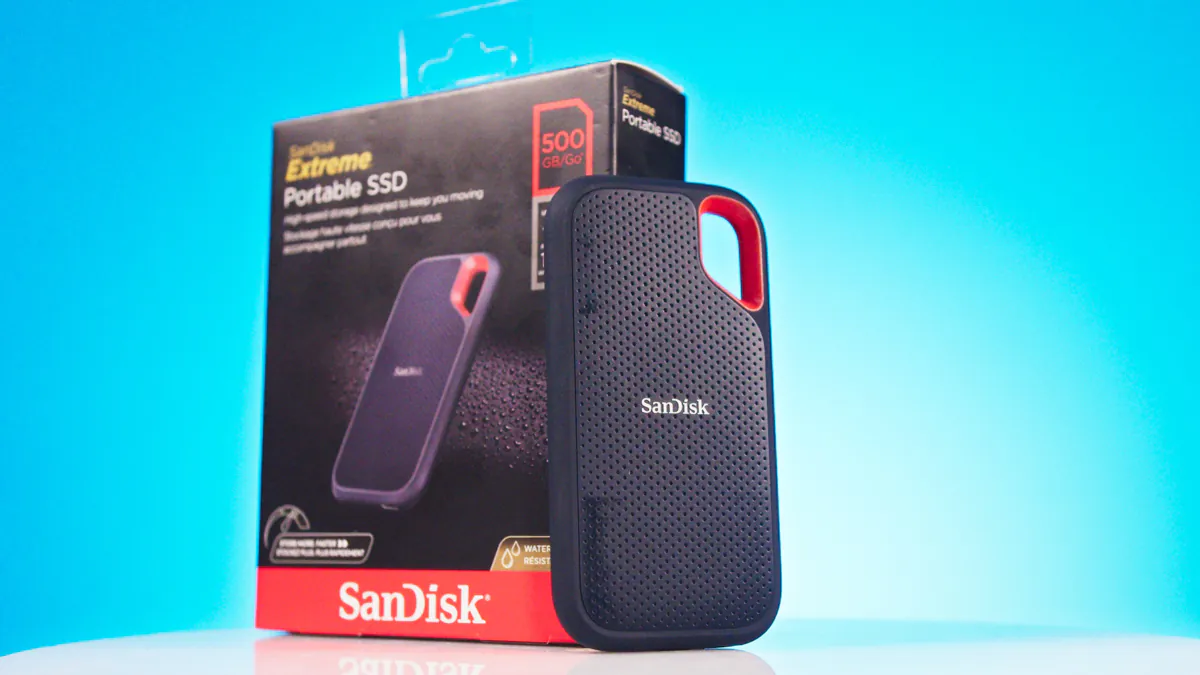 Tell me frankly – what associations do you have with the word SanDisk? The name of the company. Because I know it only for the most reliable, premium, and high-quality things. In fact, I trust it more than Samsung in terms of storage devices. And I'm not the only one. Just as Koss has the immortal Porta Pro, Apacer has the chthonic AS2280P4, so does SanDisk Extreme Portable 500G. A portable secure SSD that has been on sale for probably as long as I've been in the industry.
Market positioning
Actually, this is a bit of a lie, the first mention of SanDisk Extreme Portable dates back to 2018-2019. I started working a little bit before that. But this is still a very, very long time, because since then, although there have been updates to the disk, they have been minimal.
So, actually, yes – the fully packed box that came to me may be from 2018, and relatively fresh. The price, by the way, is about $90. For the half-terabyte version.
Package contents
In the box, in addition to the drive itself, there is a cable and, what I always like, a Type-C to Type-A adapter. The one that I have praised and recommended having more than once or twice.
Appearance and peripherals
And the drive itself is a classic! From the outside, anyway. Because its appearance hasn't changed over the years, despite the technical improvements that have been made.
On the outside, it is always a gray rubberized flat thing with a hole for a carbine. There is a logo on the front and a nameplate and specifications on the back.
At the bottom end is a 10 Gbps USB Type-C connector. Actually, this is one of the main things that is updated over time. Because the first ones had a USB Type-C of only 5 Gbps.
Technical characteristics
For almost everything else, it is unchanged. Protection against moisture – IP55, i.e. against water jets under a pressure of 30 kPa for 3 minutes. Shock protection – up to 1500G, vibration protection – up to 5 gRMS with a frequency of 10 to 20,000 Hz.
In fact, almost any SSD has vibration and shock protection as standard. These are HDDs, i.e. hard disks that can die if they are dropped without any damper, even on asphalt, several times.
Test bench
Our test bench is unusual. It's AMD, but it's surprisingly fresh. The processor is an AMD Ryzen 7 7700X, an 8-core Zen 4 beauty with a peak frequency of up to 5,400 MHz, and even a built-in RDNA 2 video core. The review is coming soon!
The motherboard is ASUS ROR Crosshair X670E Gene. The model is based on the latest AM5 platform under the LGA 1718 socket. In fact, the main advantage of the platform is several USB4 with a speed of 40 Gbps, so for testing SanDisk Extreme Portable 500G, the platform is even more than sufficient.
The RAM is Kingston Fury DDR5 5600 MHz, 2×16 GB kit. I am preparing a massive review of a special variant, the Kingston Fury DDR5 6000 MHz 2×32 GB Expo. I will also talk about it a little later.
The 8-core is cooled by the 240 mm ASUS TUF Gaming LC 240 liquid cooling system. And yes, it is enough for the processor to raise frequencies above 5 GHz and consume more than 120 watts without any problems.
Plus – for testing purposes only – ASUS ROG Strix RTX 3050 8 GB. Although I always recommend getting an RTX 3060 for everyone who can afford it, RTX is RTX, RTX provides DLSS and a video buffer that is enough for games and work tasks. Not all, but enough.
And all this goodness is powered by an FSP Hydrp PTM Pro 1200W power supply. Actually, it will be more than enough for an RTX 4090, if it ever comes to me and I have the right connector. And even more so, it's enough for a system that consumes a little more than a laptop.
Test results
Testing. The disk has already been initialized in the system, and the capacity available to the user is 476 GB. The test results show stable speeds, averaging 900 MB/s sequentially and 120 to 170 MB/s randomly, depending on the test program.
In fact, the stable speed allows you to use the SanDisk Extreme Portable 500G with cameras like the Blackmagic Design Pocket Cinema Camera 4K. And the drive even fits into the universal mounts for Samsung T5 and Samsung T7, but the location of the USB input does not allow you to connect a standard cable to the drive.
I note, however, a very stable speed chart and minimal heating – from 32°C in idle mode to 36 degrees after a long test.
Conclusion on SanDisk Portable Pro 500G
Who is the SanDisk Extreme Portable 500G for? Well, basically anyone who cares about their data. Of course, the drive is more expensive than many analogs, but for a professional of any kind, whether a videographer, photographer, or just a person who is a little clumsy, the files will be absolutely safe here.
It's still not recommended to swim in the sea with the drive, but as a hard drive, you won't kill it no matter how much you kiss the floor. So yes, I recommend it!
Video review of SanDisk Portable Pro 500G
Read also: