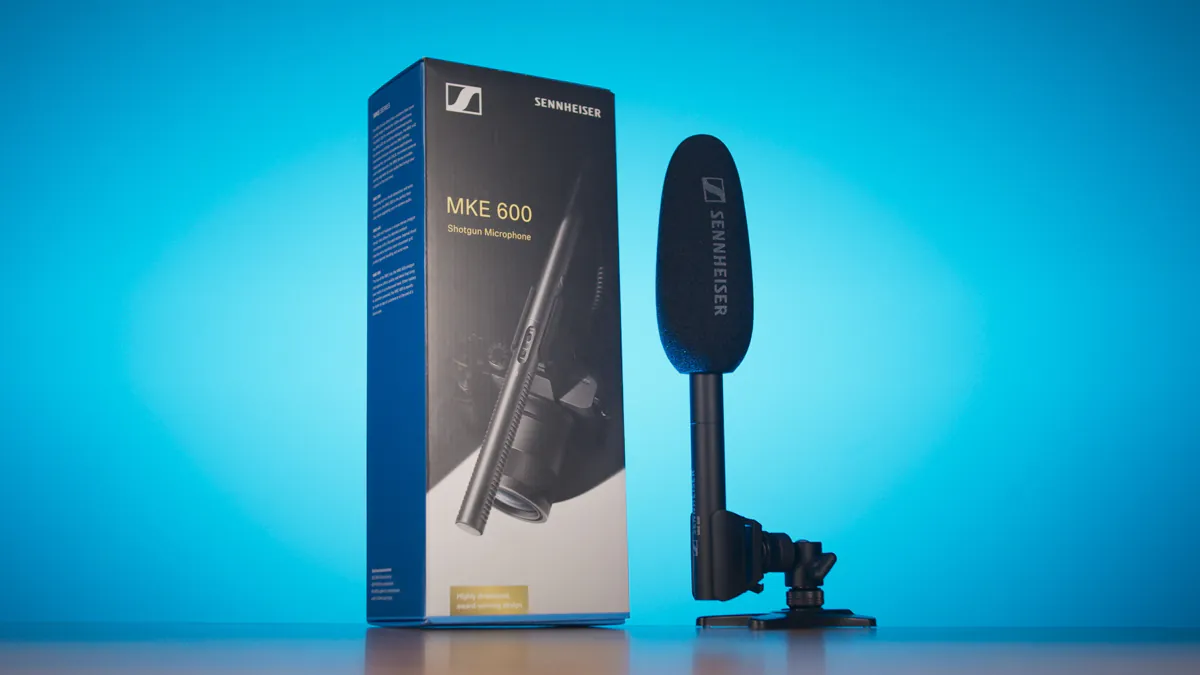 To give you an idea of how important the Sennheiser MKE 600 microphone is to the reporting industry, YouTube productions and even films, I'll give you the following analogy. This is the closest analogue to the classic shotgun in the classic DOOM.
It is a basic indispensable workhorse that, even with the advent of better instruments, will always, ALWAYS, find its place. Its versatility, sound quality, frequency response, combination of features and ease of use have earned it a perpetual throne. That is why the MKE 600 has no rivals in its class. There are only challengers.
Market positioning
This, however, is reflected in the price of the model. It costs about $300. And for productions with at least an average budget, that's not much. But just so you understand – the most expensive microphone I used before the 600 on a regular basis cost three times less.
Supply package
The equipment is rich. By the way, in case you were wondering why I gave it a 10 out of 10 at the end of the text review… I give it such a rating if the box contains noticeably more things than are needed for the full functioning of the gadget. And that's exactly the situation here.
Of course I would have liked to see the MZH 600 "dead cat" type wind protector included as well, but the standard MZW 600 wind protector is included anyway. So does an AA battery, a short XLR-to-Pad-TRRS adapter cable, a warranty and manual, and a pouch for transportation.
And a very interesting 1/4″ or hot shoe mount. It's interesting because it's completely plastic, except for the threads at the bottom, but thanks to the rubberisation it works as a very good anti-vibration damper.
Appearance
Let's quickly go over the exterior, because that's the least interesting part. The microphone is a 255mm long, brushed metal tube that weighs 162g (with battery) and has a three-pin XLR connector.
The front has what I call an interference tube, which is quite long. It's what's called an interference tube – in fact, that's what gun microphones themselves are called, "interference tube microphones".
In the centre of the enclosure are the power and bass cut-off switches below 100Hz. Next to that is the operation indicator.
The back of the MKE 600 unscrews and gives access to the battery compartment for a single AA battery. I should point out straight away that the battery is very difficult to remove unless you press it down with your fingernail beforehand. Then it is much easier to get it out.
Technical specifications
The Sennheiser MKE 600 is a super-cardioid cannon microphone with a frequency response of 40 to 20,000 Hz. It, interestingly enough, does exclusively mono recording, which I didn't expect. However, that is probably the only thing that surprised me in the least bit negative way.
As you have already understood, the microphone is battery powered, but it can also work with a phantom. Actually, with phantom microphone its characteristics become better. Sensitivity is 21 mV/pa instead of 19, maximum sound pressure – 132 dB instead of 126, noise level – 15 dB instead of 16.
Read also: Maonocaster AM100 Podcast Mixer review: A podcaster's dream
In places, of course, the difference is negligible, but it is guaranteed to be there. As sound pressure is measured non-linearly, the difference is noticeable. The phantom draws 4.4 mA, and on a full battery the microphone lives up to 150 hours! And up to another 8 hours when the low battery indicator lights up, that is, somewhere under 1.1 V.
The indicator illuminates red when the battery is fresh, blinks every second when less than 8 hours remain, and blinks fast and fast when there is no charge left. It lights green when the phantom is connected.
Read also: Fifine K658 studio microphone review: The flagship in all its glory!
Sound from Sennheiser MKE 600
Do you see this graph of the frequency response? This line right here? Which is almost flat, except for the hump at frequencies between 2,000 and 7,500, and the cutoffs at the back and front.
That's what people are willing to pay money for. This means that the microphone transmits all frequencies from 200 Hz to 2,000 Hz as honestly and in detail as possible, and further frequencies are louder, but this is necessary, because these are voice frequencies, and it will be heard much better. And low and high frequency noise will be heard much worse.
The frequency map is also interesting, with the worst picking frequencies being from 8,000Hz to 16,000Hz and above. In fact, it is for this reason that I almost never hear the noise of my refrigerator, which has always bothered me so much, on recordings now.
Experience of use
Unfortunately, I can't compare the Sennheiser in the same vein as my other microphones, but solely because it is hardware-wise several heads up. Because it has a detachable cable. This, in fact, makes it possible to use the MKE 600 as a studio model, under the crane and for my needs.
But if you want to hear the sound quality – the video review at the end of the text will have it all.
Why didn't I use the Boya as a studio unit? Because of the length of the cable. I can't run it from the camera to the crane, constantly syncing the camera sound to the recorder is not fun for me at all, mini-jack extensions unfortunately either don't work on TRRS or give the Blackmagic Pocket Cinema Camera 4K a nasty parasitic noise.
In fact, I started using the Sennheiser MKE 600 the way I planned to, only after purchasing a separate 6m cable. But after that… I stopped understanding why there are more expensive microphones.
Why buy higher-priced models?
There are as many as three reasons. Firstly, different microphones at different prices pick up voice in different ways. Even at the same price point, different models tend to behave slightly differently. And there may be a microphone that picks up my voice better. Or maybe even worse, it has to be tested and re-listened to. If you notice any difference at all.
Secondly, I may not hear the improved sound quality of the more expensive models in general, but I'm not a sound professional either. In fact, of all the things I do at the moment – technique testing, camerawork, presenter work, editing, colour grading – I find sound engineering the hardest to do.
And thirdly, the feature set. The MKE 600 is perfect for "plug and play" class production. You don't even have to turn the bass cut off ever. But if you're a television worker, or shooting a TV series, the same, say, Sennheiser MKH-8070 for $1,000 will give you considerably more options and settings.
On the other hand, if you're a TV or professional film sound engineer, I don't know why you're reading this, honestly. If you're a youtuber or doing short metering, however, the Sennheiser MKE 600 will satisfy your audio needs 100%. Whether on camera or in the studio, the microphone is low-consumption, long-lasting, versatile and high quality.
Summary of Sennheiser MKE 600
The best recommendation would be the following. I have recorded my last 100 videos through a Sennheiser MKE 600. 50 of them I've written the way I should – over an extension cord, over a crane, under the right distance. And those 50 videos sound better to my ear than I've ever sounded before.
As I said, there are many contenders, but the king is one. Of course – it's not a given that the Sennheiser MKE 600 will suit you better in sound than any model at this price, but it will 100% meet your needs, unless you're a TV or Hollywood sound engineer. So, obviously, I recommend it.
Video about Sennheiser MKE 600
Read also: