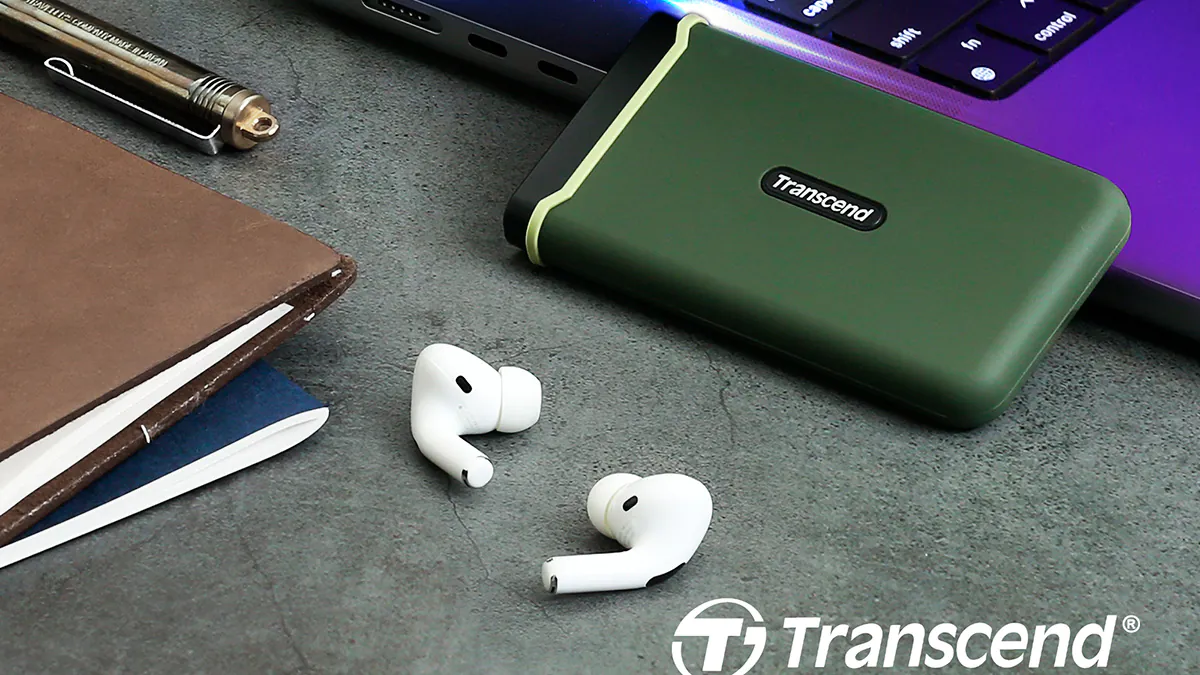 In my humble opinion as an industry observer, the external hard disk drive is a dead story. About 15 years ago, portable HDDs were interesting because flash drives hadn't yet reached decent capacities, USB interfaces hadn't yet reached decent speeds, and SSDs had very high price tags. Finally, 100-megabit Internet was only being pulled through attics and basements by the author of this article. Afterwards, he discussed with his colleagues the brilliant ideas of the old ladies in the stairwell on the topic of "we don't need the Internet."
If you're looking for an external drive in today's realities, an external SSD will be a much more competent solution. It doesn't need additional power, it can be connected via OTG to a phone, and indeed to anything (not every HDD can boast of this because of power requirements). It's also worth mentioning the many times faster speed and tolerance to drops and vibrations.
As an example of such a solution, let's take a look at the Transcend ESD380C 1 TB (TS1TESD380C), a new Transcend product that can offer not only the highest speeds of up to 2 GB/s, but also allegedly drop protection according to the US Army standard. Let's take a closer look at the latter.
Market positioning and price
Transcend ESD380C price tags start at ~$115.
If Transcend doesn't lie about the speeds, and it doesn't, but there are nuances, the ESD380C is not just a good deal. The ESD380C is a cannonball of a deal. The fact is that competitors of similar cost and similar volume deliver speeds half as fast. Secondly, most of them have a 3-year warranty, while Transcend ESD380C has a 5-year warranty.
After carefully scouring the market, I found only 2 competitive solutions that are similar in speed and warranty: Kingston XS2000 and ADATA SE900G. But Kingston has some bad reviews, and ADATA has no protection.
As a result, we can say that according to the introductory data, the Transcend ESD380C looks like a suitable, albeit a bit of a stretch, blanket. To be honest, it's really powerful for a second- or third-tier SSD manufacturer.
Packaging, equipment
The drive comes in a simple box that doesn't boast any technical details. The only useful information we can find is a mention of support for the USB 3.2 Gen 2×2 interface, data transfer speeds of up to 2 GB/s, and a 5-year warranty period.
On the part of Transcend, it would be useful to provide data on the resource and the algorithms of the SLC cache. The advantages of military-grade protection go without saying. Unfortunately, this data is not even available on the official ESD380C 1 TB page.
In addition to the paperwork, which is mostly Transcend product catalogs, the package includes 2 cables: USB Type-C > USB Type-C 45 cm long, and 40 cm USB Type-C > USB Type-A. Of course, you can get the full speed of operation only when using Type-C, but Type-A provides the ability to connect to a larger list of devices.
Also, Type-C is clearly made of higher quality, as if there is additional shielding. Its cross-section is almost 2 mm thicker.
Appearance, internal structure
Transcend ESD380C is very compact. Its dimensions are 96.0×54.0×12.5 mm, and it weighs only 75 g. In fact, the manufacturer could have made the case smaller by another 20 percent, which will be clearly seen later.
On the back there is a small sticker with a serial number, etc. The only information we can get from it is the consumption data – 5 V at 1.5 A, i.e. up to 7.5 W. This is quite a lot for an external drive (usually ~5 W), but it can be explained by the very high speeds. Meanwhile, 7.5 W is the peak value, essentially reactive power. Most often it will be about half that.
The only connector is located at the end. This is USB 3.2 Gen 2×2 Type-C with a theoretical bandwidth of 20 Gbps. It is this feature that distinguishes Transcend ESD380C from most competitors, which have a "regular" USB 3.2 Gen 2 (10 Gbps). Nearby is a dim diode that flashes white when connected.
The khaki silicone case provides protection against drops according to the military standard MIL-STD-810G. It fits extremely tightly on the case. I even had to spray some WD40 to remove it from the case without damage.
The aluminum case consists of two halves held together by 4 screws. The warranty seals nominally do not allow you to look inside, but when has that ever stopped you?
Transcend puts those who know how to remove seals without damage in their place. Such tricks won't work here.
Inside is a single-sided board that does not occupy the entire space of the case. It's hard to say why this is so (most likely, other models use a similar case). For the 2 TB version, the additional space is still not enough for 4 more memory chips. But the "hole" turned out to be just fine. The case is made of 1.5 mm thick aluminum.
So, let's examine the hardware platform. It is based on the Silicon Motion SM2320G AB controller. This is a fairly recent controller, introduced at the end of last year. The manufacturer loudly calls the SM2320G the fastest in its class.
This is indeed a very advanced solution. It does not require an additional USB bridge, which reduces the cost and delays. There is support for 256-bit AES encryption, end-to-end data channel protection using the NANDXtend ECC protocol, full compliance with Opal Trusted Computing Group (TCG) specifications, and fingerprint protection (not implemented in the case of the Transcend ESD380C). The controller works with NAND memory in 4-channel mode, which improves parallelism. We couldn't find any data on the number of cores, process and frequency, but here is the officia datasheet.
As you can see from the board, there is no DRAM cache. In fact, SM2320G doesn't support it at all.
As usual, the story with NAND chips is complicated. They have an internal Transcend marking on them, which says nothing. Tricky utilities for in-depth analysis of the hardware platform showed nothing, because they can't work with the USB interface.
The NAND chips are normal according to indirect signs. Firstly, there is a marking at all, which reduces the likelihood of any Micron rejects, which are often sold under the SpecTek brand (and this is a very popular topic). Secondly, Transcend has a decent reputation, they do not indulge in "wrong" chips. Third, the 5-year warranty seems to be a hint.
At the end of the external-internal review, it remains to add that Transcend ESD380C is easy to implement moisture protection. The fit of the case halves is just great, it was hardly possible to split them. It was enough to make a plug for the USB connector to fill the case with sealant from the inside.
What is MIL-STD-810G?
In the context of this review, it will be useful to explain the military standard MIL-STD-810G. In fact, the complexity of this topic is comparable to the relations between China and Taiwan. And the text in the 24-megabyte, 800-page PDF-document that is somewhat ornately written. Especially with regard to the differences between editions "F" (MIL-STD-810F), "G" (MIL-STD-810G), "H" (MIL-STD-810H) and others. By the way, "G" is the penultimate edition that appeared in 2008.
There is an opinion that the intricate language is written on purpose. There are companies that provide explanations for $865 for each item for a reason.
You should also understand that the MIL-STD-810 designation means nothing at all. It is completely open, not certified. It's not even so much a standard as a description of testing methodologies (and it's lame on both legs). Manufacturers can safely indicate MIL-STD-810, and in fact not even conduct testing in accordance with the methodology. And even if the tests were conducted, MIL-STD-810 itself says that a new sample can be taken during each test. That is, if it has survived one fall, it is compliant. This does not mean that one sample will survive 50 falls, everything is much, much more prosaic. "Filkin's Certificate" is a phrase that perfectly describes MIL-STD-810 in the context of consumer computer equipment.
At best, manufacturers attach test certificates from several independent research institutes. These can be found on the official pages of truly ruggedized laptops, but the Transcend ESD380C page does not have them.
MIL-STD-810G describes the methods of various tests: resistance to temperature, low and high pressure, vibration and shock, moisture and dust, salts and alkalis, and more. Transcend claims protection against drops only.
According to the methodology of the G edition, the equipment must withstand a fall from 2 meters onto plywood. Herein lies the main reason why the latest edition "H" was not adopted. It requires withstanding a fall from 24 meters onto a sheet of steel (as if 24 meters were the height of a helicopter drop).
The Transcend ESD380C is protected only by a silicone case and 1.5 mm of aluminum – that's it. Simply put, it will hold up if dropped, but it's not really a serious protection.
Testing
The Transcend ESD380C series of external SSDs includes models with a capacity of only 1 TB and 2 TB. I got the junior terabyte version.
The drive is initially formatted in the exFAT file system. Not all mobile devices can work with it, it is better to reformat it to FAT32 or NTFS.
After formatting, 931 GB of disk space is available to the user. Gigabytes were "lost" during the conversion of values from bits to bytes, part of it is reserved for storing checksums, wear leveling, as a replacement fund for broken cells. This is 10% of the declared capacity. For reference, it is usually 7%.
Before starting the tests, it's important to note that manufacturers always cunningly indicate the speed of the SLC cache, not the drive. Its size depends on the algorithms used and the manufacturer's settings. Outside of the SLC cache, the speed drops, if not by an order of magnitude, then at least dramatically.
And the last thing: the USB 3.2 Gen 2×2 interface is hard to find. The lion's share of modern motherboards are not equipped with it. Testing was carried out with an expensive ASUS ROG Strix B550-E Gaming motherboard and the latest BIOS version, which fixes the strange operation of USB ports. However, this model does not have USB 3.2 Gen 2×2 (20 Gbps). We'll have to make do with USB 3.2 Gen 2 (10 Gbps) and the widespread USB 3.2 Gen 1 (5 Gbps) as compensation. Let me remind you that USB 3.2 Gen 1 is exactly the same as USB 3.1 Gen 1 and USB 3.0.
Before each test, the drive was forced to use the TRIM command to clean it up and get reliable results.
CrystalDiskMark
ATTO Disk BenchMark
Anvil's Storage Utilities
AIDA64 Disk Benchmark
Big and beautiful numbers are great, of course, but only full-capacity read/write tests will show the real performance of an SSD.
Let's talk about reading first, since everything is simple here. The read speed is stable throughout, it's about 950 MB/s when connected via USB 3.2 Gen 2 and 430 MB/s with USB 3.2 Gen 1.
Writing is more complicated. Within the SLC cache, the drive delivers about 870 MB/s and 430 MB/s. However, the implementation of the SLC cache algorithm raises questions. It's not clear why Transcend implemented a static SLC with a capacity of about 100 GB. That is, each time during write operations, ~100 "fast gigabytes" are available to the user. Usually, dynamic SLC is made for 33% of the available free space.
Of course, 100 GB is a lot. But there are no obstacles to do the usual and give the user more. And, for reference, the previous Transcend ESD350C had 22% SLC cache, that is, around 200 fast GB.
Without the SLC cache, the write speed drops to ~90 MB/s, which is the level of a decent hard disk, and the connection interface no longer affects anything.
I managed to find tests of the Transcend ESD380C connected to a full-fledged USB 3.2 Gen 2×2 on the Web. In real-world scenarios, the drive does not deliver the promised 2GB/s, but about 1.5GB/s.
Температурний режим
Even when writing data to the full volume, the Transcend ESD380C felt like it was heating up just a little bit. Of the diagnostic utilities, only AIDA64 displayed temperatures correctly. At most, AIDA64 showed 34 degrees.
Conclusions
The Transcend ESD380C is an interesting representative of the external SSD segment. First of all, it is notable for the small number of competitors capable of delivering similar speeds and having a similar price tag. Yes, there are some decent competitors, but they are few and far between, and there are questions about them.
However, there are also questions about the Transcend ESD380C. It delivers the declared speeds, and even a little more, but only in synthetics. In real-world scenarios, you should expect a maximum of 1.5 GB/s, not the promised 2 GB/s. However, falling short of the promised is a typical story with SSDs.
Secondly, the SLC cache implementation is strange. The drive has only 100 "fast gigabytes", although usually devices of this class have 20%+ of the declared volume (i.e. around 200 GB). To be fair, 100 fast GB are available to the user every time, and yet this is a considerable amount for everyday use. Outside of SLC, the speed drops to ~90 MB/s – the level of a hard disk.
One of the "killer features" is protection against falls. It's there, but you shouldn't rely on it too much. There are no test certificates from independent laboratories, and the drive is not protected by anything but a silicone case and a thick body. You can drop it out of your hands, but no more.
In the end, the Transcend ESD380C is a good product. The recommended and actual price tag are normal, the hardware platform is modern, and NAND chips are not rejected. Drop protection in the form of a free bonus.
Read also: