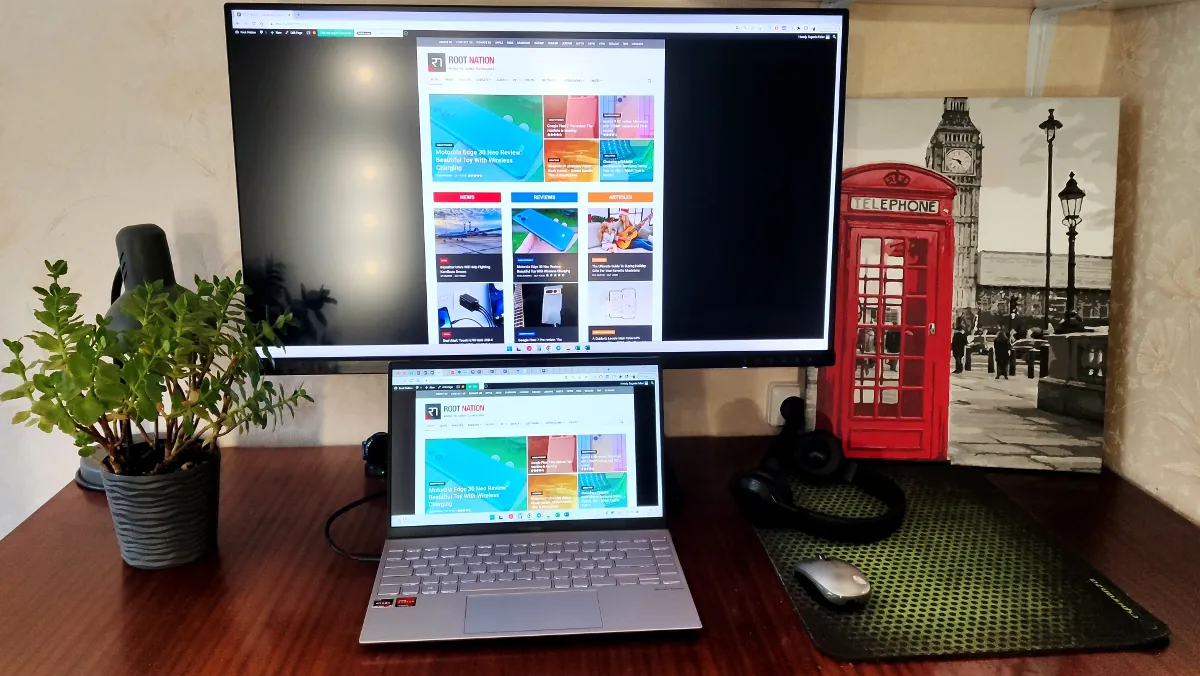 ASUS ProArt Display PA329CV is a professional 32-inch 4K monitor created for designers, artists and all those who work with multimedia content. ASUS added it to its ProArt lineup in 2022. Its belonging to the pro segment provides 100% coverage of Rec.709 and sRGB color spaces, flexible color rendering settings in any mode, as well as factory calibration, which is confirmed by CalMAN Verified certification.
Read also: ASUS ROG Strix Scope NX Wireless Deluxe Review: Wireless Gaming Mechanical Keyboard
Specifications of ASUS ProArt Display PA329CV
Screen: IPS, 32 inches, 4K (3840×2160), aspect ratio 16:9, 138 ppi, pixel size of 0.18 mm, refresh rate of 60 Hz, anti-glare coating
Response Time: 5 ms (gray to gray)
Horizontal and horizontal viewing angles: 178°/178°
Brightness: 400 cd/m²
Optional: 10-bit color depth, 100% Rec.709 and sRGB color gamut, DisplayHDR 400 support, TÜV Rheinland certification, Flicker-Free, AMD FreeSync, CalMAN certification
Interfaces: 1×USB-C (with DisplayPort Alt Mode and Power Delivery up to 90W), 2×HDMI 2.0, 1×DisplayPort 1.2, 4×USB-A 2 Gen 1, 3.5 audio
Height adjustment: 0 – 130mm
Tilt: -5° – +23°
Rotate: +30° -30°
Portrait mode: +90° -90°
Dimensions with stand: 727.08×471.48-601.48×245mm
Dimensions without stand: 727.08×428.13×67.72 mm
Weight with/without stand: 12.6 kg / 8.03 kg
Installation: Stand, bracket (included)
Supports VESA 100×100 bracket: Yes
Speakers: 2×2W
Market positioning and price
ASUS ProArt Display PA329CV is primarily a tool for professional use – working with graphic design and creating multimedia content. All its functionality and features are aimed precisely at creators, so for ordinary users its capabilities will be excessive, but for gamers it will be insufficient in terms of gaming performance.
The price for the ASUS ProArt Display PA329CV starts at $870. Is this a high price tag? Not really. After all, if you scour the market for professional 32-inch 4K monitors with IPS matrices, swivel mechanism and built-in speakers, they will cost about the same money, and in some cases even more. And even those models that were released 2-3 years ago. So for its segment the price is more than adequate. What do we get by choosing the ASUS ProArt Display PA329CV?
Delivery set
The ASUS ProArt Display PA329CV monitor comes in a large cardboard box that shows the model name and key features. Inside, besides the monitor itself, you can find a power cord, USB Type-C to USB Type-C and DisplayPort to DisplayPort cables, a manual, and a CalMAN Verified factory color calibration certificate.
In addition, we have two stands in the kit – a classic table stand and a bracket for fixing it on the tabletop. The first one combines a nice plastic surface and a metal base. It is quite massive and heavy, but it is not surprising because the stand has to hold a 32 inch monitor, which can also tilt and rotate.
The trick of the second is that it takes much less space on the table, but the reliability of fixation is guaranteed to be just as good. The bracket can be screwed onto most tabletops, and thanks to the rubber backing, the surface will be protected from scratches.
By the way, in addition to the above two options for placing the monitor, there is another option – wall mounting with VESA 100×100 mm, but it does not come with it.
Read also: ASUS ZenBook 14 Flip OLED (UP5401) Review: Transformer Laptop With OLED Display
Design and ergonomics
The ASUS ProArt Display PA329CV looks pretty classic. Black plastic case, small frames on three sides around the screen, and on the bottom there is a brand logo and control buttons with a joystick.
On the back, matte plastic interchanges with ribbed plastic, and there is an inscription in the form of the name of the series – ProArt.
The stand is solid, metal, and has a hole to arrange the wires.
The monitor is very easy to adjust in height. Just a gentle push up or down is all it takes to get the screen perfectly locked in position. The monitor can be raised up to 13 cm from the bottom position. In addition, the ProArt Display PA329CV can be tilted (+23° to approximately -5°), swiveled sideways (30° to each side) and rotated 90° into portrait mode.
I don't know how the book mode is used by designers, but I liked reading the news feed or social networks in this format, because there are so many posts that you hardly ever have to scroll. Although, it is a joke about the feed, but only partially.
Interfaces
The ProArt Display PA329CV doesn't come short of any ports. On the bottom left there are a couple of HDMI 2.0 and the same number of USB-A, DisplayPort 1.2, audio jack and USB-C with data transfer and Power Delivery. The last feature is a very handy thing. You connect the monitor to your laptop to display an image, and in the meantime, the laptop is charging. It's nice. And the charging power is up to 90W.
The power button is on the right side at the back, as well as the power connector.
Another pair of USB-A sockets is on the top left. So we have four USB-A connectors and the ability to connect many peripherals and devices to the monitor.
And also the monitor is equipped with a pair of 2W speakers each. Let's say the sound is far from good, but they are enough to watch a video on YouTube or TV series in the evening. And for the more demanding I recommend to connect the speakers.
ASUS ProArt Display PA329CV control system consists of 6 mechanical buttons and a joystick. The first button is a power button, then there are 4 shortcut buttons for quick access to the menu and some menu items (2 of them can be set up manually), and the last one is the "Close" function.
Moving through the menu items and "deepening" into it is done with the joystick. In fact, the main control takes place with it, and it should be noted that it is really convenient and clear.
Another thing worth noting is the number of settings, both basic and advanced. The monitor provides a lot of presets (sRGB, Rec.709. DCI-P3, reading mode and others), and there is also room for two custom modes. There is the ability to adjust the amount of blue, as well as very flexible color adjustments. This includes adjusting brightness, contrast, saturation, black level, color gain or shift with and without axes, temperature, and the like.
Separately, I would like to mention such features as picture-in-picture (PIP) and split screen (PBP) settings, as well as QuickFit Plus, which is used for screen layout – grid, screen center marking, highlighting areas, ruler and other tools that will be useful for creators and designers. In addition, you can customize the menu view, select its language, lock the buttons, and even turn off the power indicator.
Screen Specifications
The ASUS ProArt Display PA329CV has a 32-inch 4K IPS matrix with a 16:9 aspect ratio and anti-glare coating. It is not a gaming monitor, so the refresh rate is 60 Hz. Pixel size is 0.18 mm, response time is 5 ms (gray to gray), vertical and horizontal viewing angles are identical – 178 °. One of the main features of the ASUS monitor is the "reference" factory calibration (color rendering accuracy ΔE<2) CalMAN Verified, which provides the most accurate color reproduction.
The monitor also features 10-bit color depth, brightness at 400 nits and 100% Rec. 709 and sRGB. There is support for DisplayHDR 400 and TÜV Rheinland certification, which means less eye-damaging blue glow. And Flicker-Free support, which reduces screen flicker, reduces eye fatigue when using the monitor.
Testing with test images revealed some uneven backlighting around the perimeter of the screen. On black it is not visible, but on white you can see a thinner, darkened band along the frame, which is interrupted in some places. Well, this is a feature of LED backlighting. However, in my opinion, at this diagonal it is not significant. The layman's eye could not notice any other problems.
Subjectively, ASUS ProArt Display PA329CV image is of very high quality. In standard mode the color rendering is excellent, the darkening of the picture is noticeable only at almost maximum deviation from the screen, and the brightness level is with a good margin. I was comfortable working with the screen at 50% brightness or lower.
Imperssions and conclusions
At the end I want to share my impressions of using the ASUS ProArt Display PA329CV. I am not a professional in the field of creating multimedia content as my work with graphics is limited to processing photos for reviews and other small things. Usually my 14″ laptop screen is enough for my work, imaging and multimedia. However, doing it all on such a huge and high-quality screen is a completely different experience and pleasure. Surfing, working with texts or images, watching a movie in the evening is a fundamentally different experience.
Still, using the ASUS ProArt Display PA329CV for entertainment or surfing is a side effect. Considering the features and functionality of the ProArt series monitor, it will be an ideal tool for multimedia content creators. It's got a really great 4K matrix, factory color calibration and 100% coverage of the most popular color spaces, flexible color adjustments for any scenario and plenty of assistive tools that designers and artists will need. And thanks to the design and the ability to rotate 90°, it is very ergonomic, it can be fixed in any convenient way (on a stand, bracket or simply on the wall), it has a rich set of interfaces, and support Power Delivery in USB-C will allow you to forget about charging your laptop separately. Content creators will be pleased.
Read also:
You can also help Ukraine fight with Russian occupants via Savelife or via an official page of the National Bank of Ukraine.