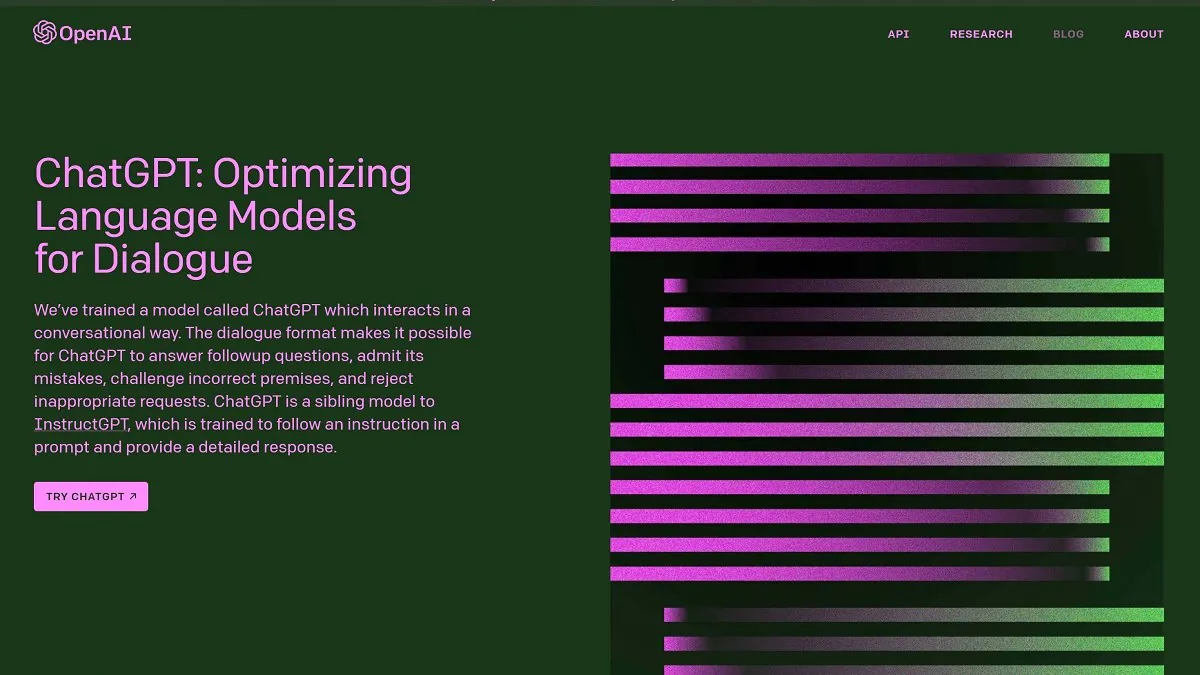 What is ChatGPT by Open AI and how to register and access the popular chat room? We will tell you all about it today.
ChatGPT is an artificial intelligence chatbot developed by OpenAI. This solution has recently become very popular. AI answers can be used in different ways. People write about the novelty, argue about it, some praise it, and some say it is nothing new, that it is just the next step in AI development. ChatGPT has become the main newsmaker in recent weeks. Let's get to know it better.
What is ChatGPT and why is there so much hype?
Users love using ChatGPT. It is nothing more than an artificial intelligence trained to answer any question from all categories. It has quickly become a dominant example of the impact that AI-generated content will have in the future, showing how powerful these tools can be.
It was created by OpenAI, a company known for developing the DALL-E generator for converting text to images. ChatGPT is currently available to anyone.
For many people, ChatGPT is just a curiosity that allows them to get acquainted with how the machine will answer sometimes extremely complex questions. For others, it facilitates their work, helps them find specific answers, and for some, it is even just a companion with whom they are interested in talking about anything.
In general, ChatGPT is an AI-based Generative Pre-trained Transformer 3 (GPT-3) technology. The system generates answers based on the study of conversations between people and computers, so the dialog looks natural, and in many cases it seems that a real person wrote the answers.
Can I use ChatGPT for free?
Yes, the basic version of ChatGPT is currently completely free to use. But, of course, OpenAI will not be able to work for free all the time. According to estimates, OpenAI currently spends about $3 million per month to keep ChatGPT running, which is about $100,000 per day.
Therefore, it is not surprising that OpenAI recently announced a new paid premium version of its chatbot called ChatGPT Plus. It is not available yet, you can only join the waiting list. It is already known that the final price will be $20 per month. ChatGPT Plus will provide access even during peak hours, subscribers will receive answers faster and will be the first to use new features.
What you need to know about Chat GPT beforehand
According to the ChatGPT Terms of Use, users must be at least 18 years old.
ChatGPT is constantly learning and improving. Every week it becomes more accurate and answers questions more naturally.
Artificial intelligence in chat from Open AI is not free from mistakes. Be sure to check the answers and do not trust them 100%.
Many answers given by ChatGPT are identical. Therefore, it's better not to use them as "unique" content on your pages, in your works, etc.
ChatGPT speaks many languages, and you don't need to change anything in the settings. Just write to the chat in a certain language, and the system will detect it automatically.
Answers from ChatGPT should be taken as a help in your work, but you should check their correctness.
How to use ChatGPT: a step-by-step guide
Enabling ChatGPT is a fairly simple process. The manufacturer allows you to use your tool, for example, in messengers (Slack or Messenger) or the Merlin ChatGPT plugin, but the main way to launch Chat GPT is to go to the page where you can communicate with artificial intelligence. Especially since the new chatbot is now officially available in Ukraine and understands the Ukrainian language well. Therefore, we will discuss this method.
Do I need to download ChatGPT?
It should be noted that the GPT is available at https://chat.openai.com/chat, so there is no need to download it. OpenAI has not yet released an official app, despite the fact that app stores are full of fake versions. They should be installed and used with caution as they are not official ChatGPT apps.
As soon as you select the address, the system will perform a quick security test, so you don't have to worry about it – provided you're not a bot.
Log in to ChatGPT – how to do it?
After entering the chat page, you will be given the opportunity to log in or register a new account. Unfortunately, the developer doesn't allow you to use the system without providing your data. Therefore, choose the fastest option: sign in and then use, for example, your Google account to log in to the chat.
GPT chat will ask you to enter your name. The artificial intelligence will need it to communicate with you by name. By providing your data, you also confirm that you are over 18 years old (a legal requirement).
The next step, after a short familiarization with the chat, is the second stage of verification. ChatGPT will ask you to enter your phone number, to which a verification code will be immediately sent. You will need to enter it in the next step.
Once your phone number is confirmed, GPT is actually ready to use. A chat window will open in your browser and you can start chatting.
How to communicate using ChatGPT?
You start a conversation with artificial intelligence at the bottom of the screen, where you can enter your question. By default, ChatGPT responds in English (this is displayed if you enter a random string of characters that doesn't make logical sense), but just say "Hello" in Ukrainian, and the system will immediately understand what language you want to communicate in.
When communicating with GPT, pay attention to how you ask questions. Even though it is an artificial intelligence that needs to understand the questioner as best as possible, you should still ask specific questions that minimize the risk of a mistake due to a bot misunderstanding the essence of the question.
I wrote about how to use ChatGPT in a separate article. If you are interested, you can read it below. I am sure you will learn a lot of interesting things.
Read also: 7 coolest ways to use ChatGPT
Does ChatGPT have any disadvantages?
It may seem that the Open AI tool is flawless. It does not hesitate to answer many of the craziest questions and can handle many math problems.
However, everything is not so rosy. First of all: ChatGPT knows what happened before 2021. If you ask the chatbot about events in, for example, 2022, it won't be able to answer. It is important to understand that this cannot be considered a disadvantage of artificial intelligence. It is still artificial intelligence that lacks independent thinking. A bot knows how to answer if it has been trained. However, it cannot think in the way humans do – independently. Therefore, you shouldn't be surprised by mistakes, which, by the way, can often be the result of misunderstanding an incomplete question.
Read also: