Background: When a new iPhone is released, many Android customers will undoubtedly switch from Samsung or Huawei to the new iOS gadget. However, there is one crucial question: how can I migrate WhatsApp from Android to iOS? Today, we will provide you with the complete answers to this question.
Fortunately, there are a few options for transferring WhatsApp conversations from Android to iPhone. Please take a moment to read the parts below. We'll also discuss the distinctions between the two options more intuitively.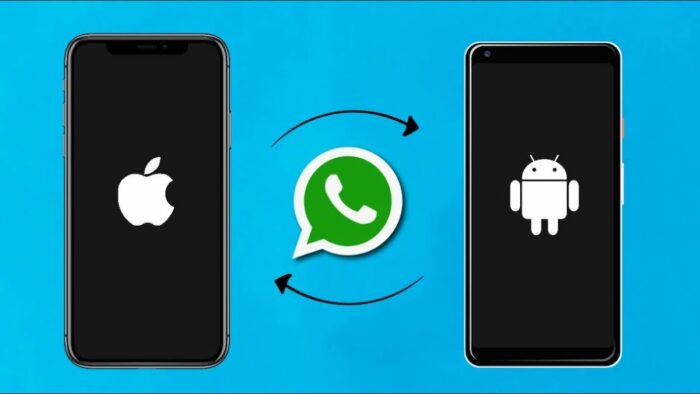 Part 1: Is It Possible to Transfer WhatsApp from Android to iPhone Directly?
As much as the public loves the Android vs. iOS conflicts, switching from one device to the other is always a misadventure. It's crucial to transfer your contacts, images, and other items from your old mobile to your new one when you switch devices. It's also crucial to ensure that your WhatsApp Android to iPhone messages are correctly transmitted. In this post, we'll show you how to transfer whatsapp from Android to iphone.
The way backup works in iOS and Android is the fundamental reason WhatsApp is unable to migrate conversation data across operating systems. WhatsApp utilizes Google Drive to back up its data on Android, whereas iCloud is used on iOS.
Although the process of transferring WhatsApp data from Android to iOS is rather straightforward, you may need to follow the instructions to ensure a successful transfer. Because you can't do it natively on WhatsApp, Android, or iOS, you may have to pay a few dollars to have it done.
Here's how to move your WhatsApp conversations from Android to iOS.
Part 2: What's the easiest method to Transfer WhatsApp from Android to iPhone?
You may transfer WhatsApp from Android to iPhone 13 using Tenorshare iCareFone Transfer. It also enables you to backup, recover, and export WhatsApp messages, contacts, and media assets (WhatsApp Business also included).
Features:
Transfer WhatsApp and WhatsApp Business across Android and iOS with ease.
Google Drivenew is a new way to transfer LINE from Android to iPhone.
Messages and links from WhatsApp and WhatsApp Business may be exported to HTML as a backup.
Backup and restore WhatsApp/WhatsApp Business (iOS & Android) and Kik/LINE/Viber/WeChat with a single click (only for iOS)
Compatible with iOS 15/iPadOS 15 and Android 12 devices.
Download and restore your WhatsApp backups from Google Drive to your iPhone.
Pros:
With Tenorshare iCareFone Transfer, you can easily transfer your data from an old iPhone to a new iPhone. Backup and restore, WhatsApp transfer and phone data management are also included.
How to transfer WhatsApp from an android to an iPhone?
Follow these Steps To transfer WhatsApp from Android to iPhone,
Connect two devices to your PC using iCareFone Transfer. Then click "Transfer" to proceed.
You'll be prompted to confirm the popup here. To go on to the next level, choose "Yes."
By following the above steps, you can back up WhatsApp data on your source device. Click "Continue" after you're finished.The application is retrieving data from the source device; please wait for it to finish.
Please authenticate the WhatsApp account you used to make the backup by entering your phone number and country code to secure your WhatsApp data.
A popup appears after you input the information, informing you that you may get a WhatsApp verification code on your source device. To go to the verification interface, click "Continue."
Please fill in the line and click "Verify" after your source device gets the 6-digit code.After successful verification, your device will proceed to the following phase, which is to produce data that will be restored on the target device.
Please ensure that you have signed in to WhatsApp on your iPhone before restoring data; otherwise, the data will not be available. If everything seems OK, click "Logged in".
Your iPhone's data is being restored by the software. Please be patient since the pace of restoration is determined by the amount of data.
The following screen will appear after the data has been fully uploaded to your device. If you'd like, you may share it.
Part 3: Are There Any Alternatives to Transfer WhatsApp from Android to iPhone?
To transfer WhatsApp conversations from Android to iPhone without using a computer, WhatsApp offers another option: Email. It will transmit your whole conversation history to your iPhone using this approach,  you can only view your chats on iPhone as a text file, and they would not be available on WhatsApp the usual way.
Here's how to email WhatsApp from an Android phone to an iPhone:
On your Android smartphone, open the WhatsApp app.
Select "Chats" from the "Settings" menu.
To access the conversation history panel, choose "Chat History."
To export WhatsApp conversations, tap "Export chat."
You'll be prompted to choose a contact whose conversation history you wish to export on the next page.
To send the whole conversation history to an email address, choose a contact and then click Email (or Gmail, if you use it).
Open the email account from which you transmitted your conversation history to your iPhone's inbox.
Your WhatsApp data will be viewable on your iPhone.
Final Words:
Those who wish to learn how to transfer WhatsApp from Android to iPhone may use one of the four techniques listed above. If you are planning to transfer WhatsApp conversation history from your iPhone to Android in a single click, iCareFone  WhatsApp Transfer, Backup & Restore is the ideal tool for you.