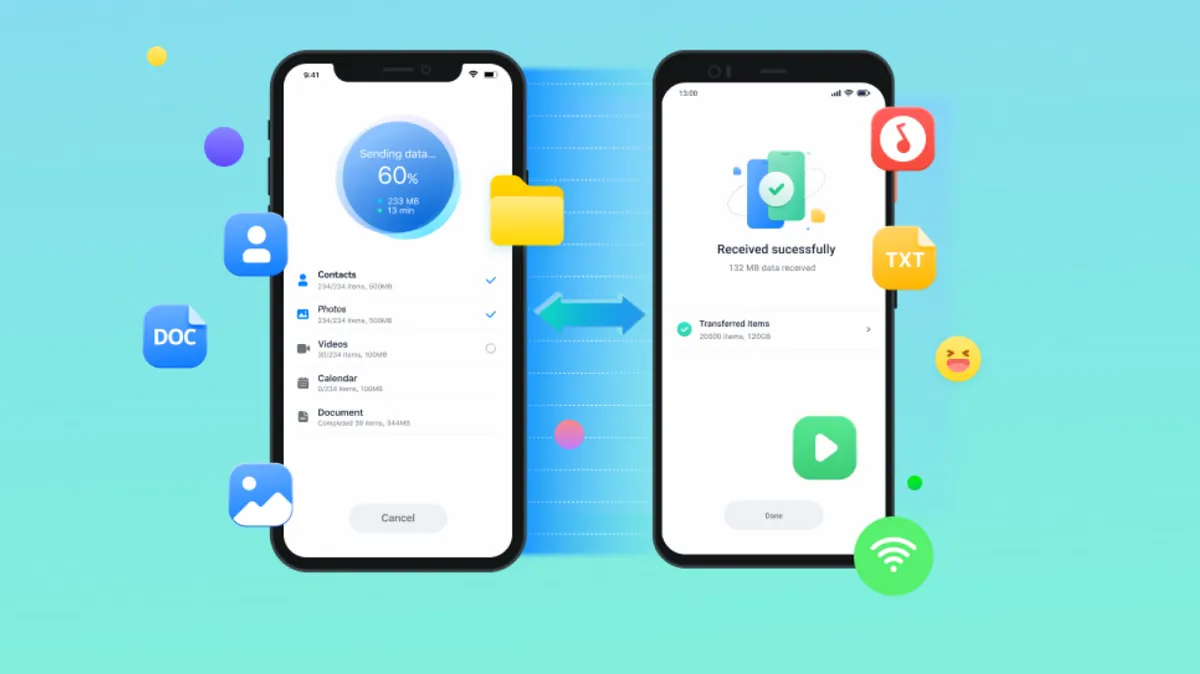 If you have Android device user, you may be interested in switching devices or possibly moving to iPhone, the most secure smartphone. The process of switching devices requires you to perform the laborious task of phone to phone transfer.
If you are praying for a way to make this process easy and short, MobileTrans – Phone Transfer can be the answer to your prayers. It can transfer messages from Android to iPhone and 18 types of other data in a few minutes with a few quick clicks.
Part 1: How to Transfer Data from Huawei to iPhone Through MobileTrans Desktop Tool
Transferring data from a Huawei device to an iPhone can be troublesome andtime-consuming. This process can be made short and quick by using MobileTrans – Phone Transferfor transferring data from Huawei to iPhone. You won't have to worry about leaving any essential data behind, as MobileTrans supports over 18 types of data. It also supports over 2000 devices of all leading brands of smartphones.
The existing data on iPhone will not be deleted or overwritten during the process, and new data can be merged with existing data. If you have any favorite apps, these can also be transferred across devices. Unlike Move to iOS, the interface and transfer steps are not tedious and complex but simple and easy to understand. At best, a few steps a required to transfer data, which are described below in detail:
Step 1: Starting MobileTrans to Initiate the Process
On your computer, MobileTrans needs to be installed and launched to initiate the phone data transfer process. When the app is launched, go to the "Phone Transfer" tab and select the "Phone to Phone" option. When you have connected the Huawei and iPhone to your system, the transfer process is ready to get started.
Step 2: Placement of Devices and Data Selection
You need to place devices correctly, specifying which device is "Source" and which one is "Destination." In this case, Huawei should be on "Source" and iPhone on "Destination," and you can use "Flip" to change positions if needed. Select the data you want to transfer now and check the box "Clear data before copy" if you want to delete the existing data on your iPhone.
Step 3: Huawei to iPhone Data Transfer Process Completion
Once you have made your choice regarding data selection and deletion, press "Start" to initiate the process. Both Huawei and iPhone devices shouldn't be touched or moved during the process. Once the process is completed, you can disconnect the devices and check the newly transferred data on your iPhone.
Part 2: How to Transfer Phone Data Using MobieTrans App for Smartphones
There is also a MobileTrans app available for smartphones if you don't want to use the computer for some reason. The mobile app gives you freedom from using a third device as a medium and frees you of the hassle of USB cables and other gimmicks. To transfer data from Huawei to iPhone using MobileTrans –Mobile App, you don't need a data cable or internet connection. All you need to do is install MobileTrans apps on both devices and follow these simple steps to complete the procedure:
Step 1: Installation of App and Data Selection
Once you have installed the app on both Huawei and iPhone, you need to define which device is "New" and which is "Old." In this case, Huawei will be allotted to "Old" and iPhone to "New." Once confirmed, select the data you want to transfer.
Step 2: Device Pairing and Transfer Process Completion
After data selection on the old device, you need to press "Send" and scan the QR code available on the "New" device. The devices will be paired up when the code is scanned, and the transfer process will begin. Now, wait for the process to end to use newly transferred data on iPhone.
Ending Thoughts
There are many question marks on Huawei regarding privacy protection and data security. Lack of access to Google Suite and many other significant apps doesn't help either. An everyday user doesn't have time or tech skills to find ways to install essential and daily used apps on his Huawei device. So, if you want to move on to another platform like iOS, MobileTrans will make switching easier and more relaxing.