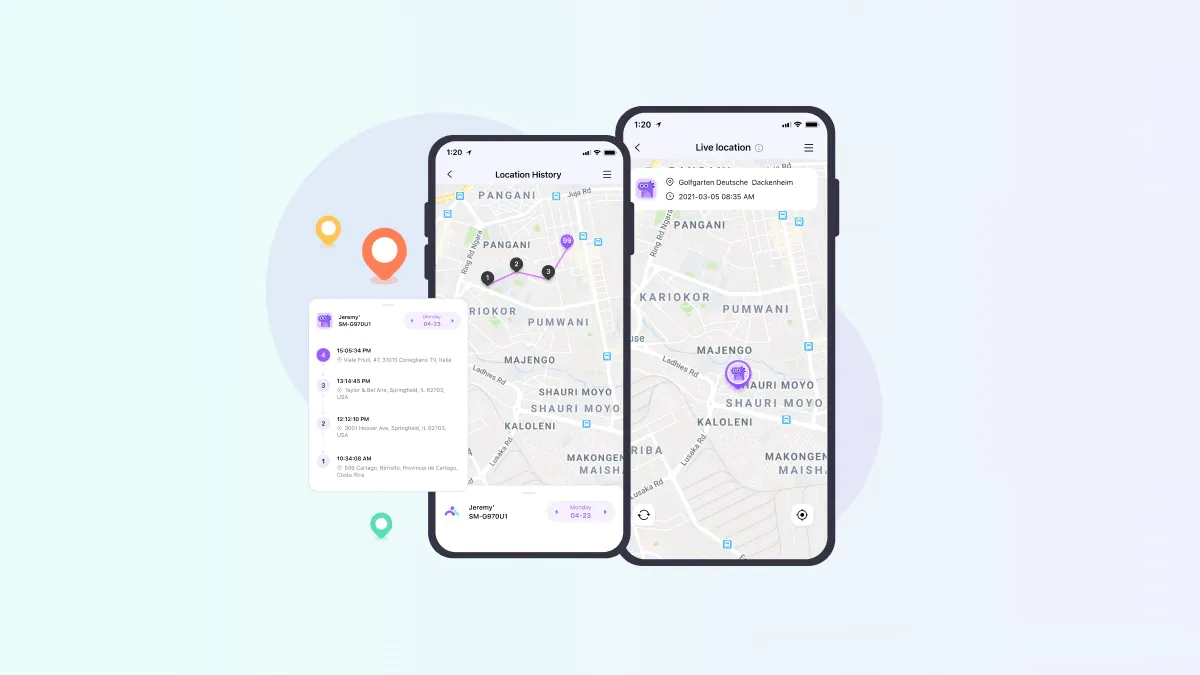 Many entertaining places around us attract everyone, and many people are eager to visit them. But, some places or areas can be dangerous for children, so it is essential to know if your child ever happens to go there or not. Or in another scenario, the traffic is constantly increasing, and sometimes when kids get late to reach home, parents start to get panic. In situations like these, real-time GPS location comes in handy.
If you wish to know your child's location or track a cell phone for free, you can rely on Wondershare FamiSafe, an exceptional parental control app. The location services of this app allow you to know where your child is from. Moreover, you can also monitor the places your child visited by viewing the location history. Below, we will provide more information about GPS tracking and Wondershare FamiSafe.
Part 1: Defining The Meaning of GPS Tracking – An Introduction
In this world of good and bad, GPS made it possible for you to know the location of your loved one to ensure their safety anytime and anywhere. GPS stands for Global Positioning Systems, which is used to track a particular location of a person or place. Based on longitude, latitude, and direction course, you can find the exact location of something or someone in no time. It is very easy to ensure that your child is in a safe place with a GPS.
Moreover, you can locate the present location of your child with a parental control app that offers a GPS feature, like Wondershare FamiSafe. You can track your kid's location from their cell phone for free with this app's outstanding live location feature.
Wondershare FamiSafe is a reliable parentalcontrol app that you can use on both iOS and Android platforms to know your kid's whereabouts. Knowing that your children are away from areas that can be dangerous for them is a relief, and this tool makes it possible. With FamiSafe, you can not only monitor the live location of your kid but also see the history of places they've visited. If there are any areas that you wish your child never visits, take assistance from the geofence feature, so whenever they are close to that area, you'll know.
Above all, Wondershare FamiSafe is a feature-rich tool, so it not only ends with locating features. Whether you want to limit screen time, block specific apps, want to see complete web activity reports, or control YouTube, you can always rely on this tool. With the ultra-fast processing speed of this tool, you don't have to wait the whole day to complete your task. Moreover, it is very easy to use because of its user-friendly interface, and you can quickly locate your child by reading the next part.
Finding the real-time location of your child without letting them know is easier than you think. Follow the steps mentioned below to know where your child is:
3.1 Install and Register onyour Phone
Step 1: In order to get started, install Wondershare FamiSafe on your phone. You can download this parental control app from Google Play Store or App Store for free.Once downloaded, register a Wondershare ID, or you can log in with a Google, Apple, or Facebook ID of yours.
Step 2: Afterward, you have to tap on the "Connect a Device" button to start the pairing process as a parent. You'll have two options to pair with your kid's phone: QR Code Scanning or Pairing Code.
3.2 Connect with the Kid's Device
To configure your kid's device, you have to do pairing, and as mentioned above, there are two ways for this, i.e.
Method 1: Install FamiSafe on your kid's phone from App Store or Google Play Store. After this, open FamiSafe and tap "Start" to access the "Connect Parent's Device" screen. Here, you will see a pairing code option,enter the code into your kid's device, and you'll be paired.
Method 2: The alternative way to get the device pairing done is to open the FamiSafe, and tap "Start." Afterward, you will see the scan QR code option, which you have to scan with the QR Code present on your device to complete the pairing process.
3.3 Give Permissions to FamiSafe
Here, you can manage access on your kid's device, whether it is operating on an Android or iOS platform. Let's have a look at how to give permissions to the FamiSafe app:
For Android Users
Step 1: In order to allow accessibility, open settings and from settings, allow "Accessibility" to FamiSafe. If you wish to block apps on your kid's phone, activate "Run in Background" permission. With this, you can block apps of your choice on your kid's phone. You have to also enable the option of "Display over other apps" for interfering with other apps. Moreover, in order to monitor activity reports, you can activate "App Supervision."
Step 2: If you want all the notification alerts to be seen by you, activate "Notification Access" for FamiSafe. Next, activate "Device Administration," and you will be able to set screen time along with stopping uninstallation or force quit by kids.
Step 3: Following this, you have to activate and disable the option of "Autostart" and "Battery Saver" to allow FamiSafe to work continuously. To know the live location of your kids remotely without letting them know, activate the "Location Service" for FamiSafe.
For iOS Users
Step 1: First of all, you have to give accessibility to FamiSafe, open settings, and grant access for locating the location of the target device. Next, you have to download the FamiSafe profile and install it on the kid's iOS device to control their device.
Step 2: For managing and blocking inappropriate content on Safari, enable "Content Blockers" for FamiSafe.
3.4 Manage Your Kid's Device onyour Phone
As you can see above, you can enable the features of your choice on both iOS and Android platforms. Afterward, access the FamiSafe app installed on your device and tap on "All Features" on the screen. You will be able to see all the features provided by FamiSafe on the screen. Access any of the features according to your requirement and set it up for your kid's safety.
Conclusion
In summary, you don't have to worry about the digital experience of your kid anymore because you can control it just the way you want with Wondershare FamiSafe. From managing content to locating the location of your kid remotely, without letting them know, this tool can handle all. Indeed, FamiSafe is the most reliable parental control app, which can secure your kid from digitally alarming situations effectively.