Last year, Nokia introduced an over-the-ear wireless headset, the Nokia WHP-101. This affordable headset doesn't have any interesting features like ANC or support for more advanced audio codecs other than SBC, but the price is very, very affordable. And, as the manufacturer assures us, they have good bass and offer a long battery life. And we will certainly check this in our review.
Technical specifications of Nokia WHP-101
Type: full-size, closed
Drivers: 40 mm, dynamic
Connection: Bluetooth 5.2
Codecs: SBC
Connector: USB Type-C
Battery: 800 mAh
Battery life: up to 60 hours
Full charge time: 2.5 hours
Weight: 188 g
Features: folding design, official 2-year warranty, support for Alexa, Siri, Google Assistant voice assistants, on-body control
Price and positioning of Nokia WHP-101
The Nokia brand specializes in the production of affordable, but high-quality and functional headsets of various form factors: from full-size models to TWS. Nokia WHP-101 is no exception: these are full-size Bluetooth headphones with good sound and a rather pleasant price tag. Thus, you can buy WHP-101 on the official website for $44.
What's in the package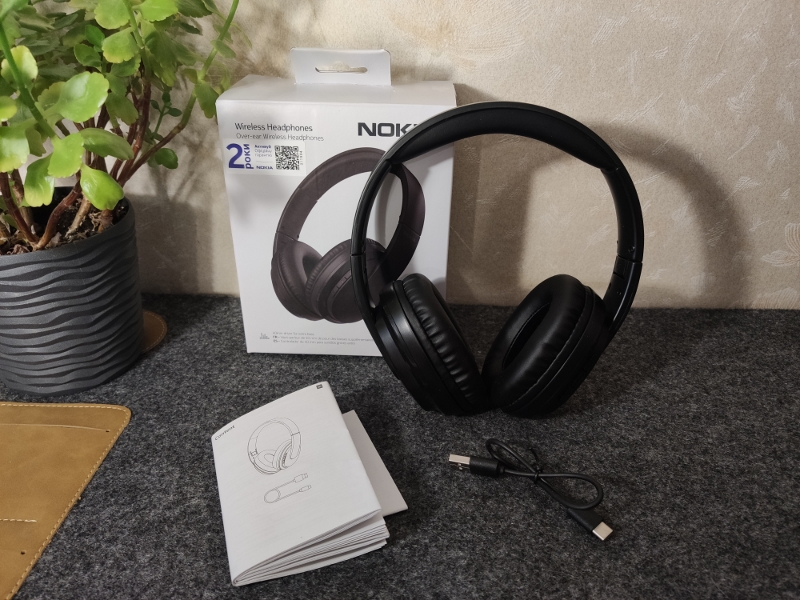 The headphones arrived in a modest cardboard box with no pretense of being premium. On the package, you immediately notice a sticker with a QR code and an offer to register your device on the official website to receive a two-year warranty. Inside, you can find headphones, a compact USB-A to USB Type-C charging cable 20 cm long, and accompanying literature.
Design and layout of elements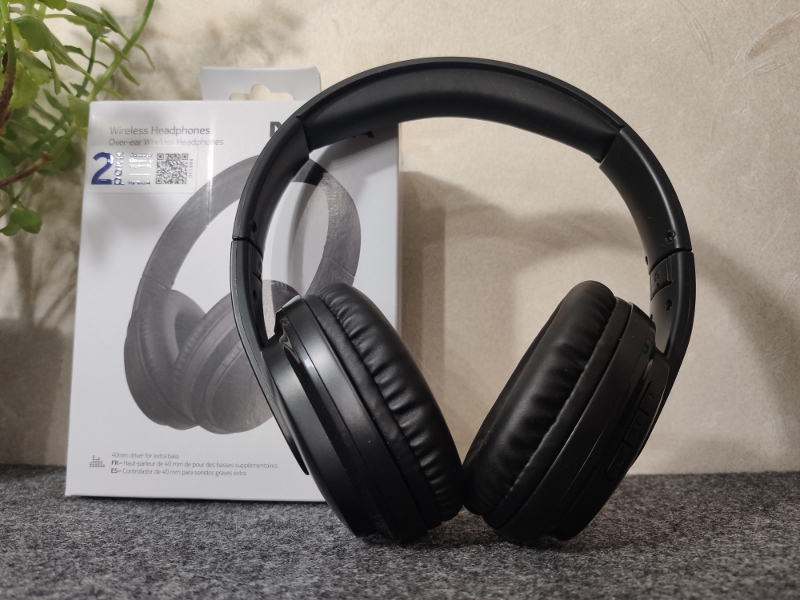 The new Nokia WHP-101 are available in two universal colors – black and white. And, despite their considerable size, the headphones weigh only 188 g. The base of the case is made of high-quality matte plastic, and only the extension cords inside are metal.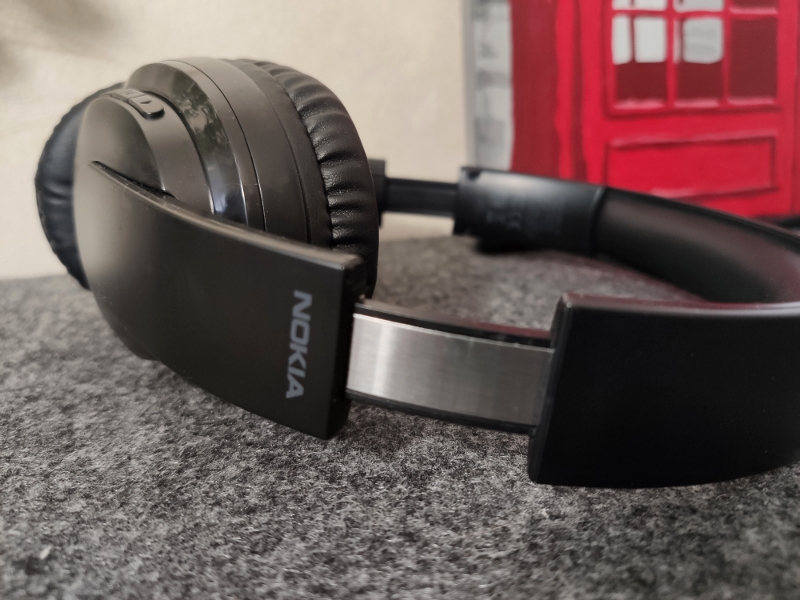 The headset is foldable, so it takes up less space in your bag and is easy to take with you. The ear cushions and headband are soft, with foam inside and a pleasant-to-the-touch leatherette outside.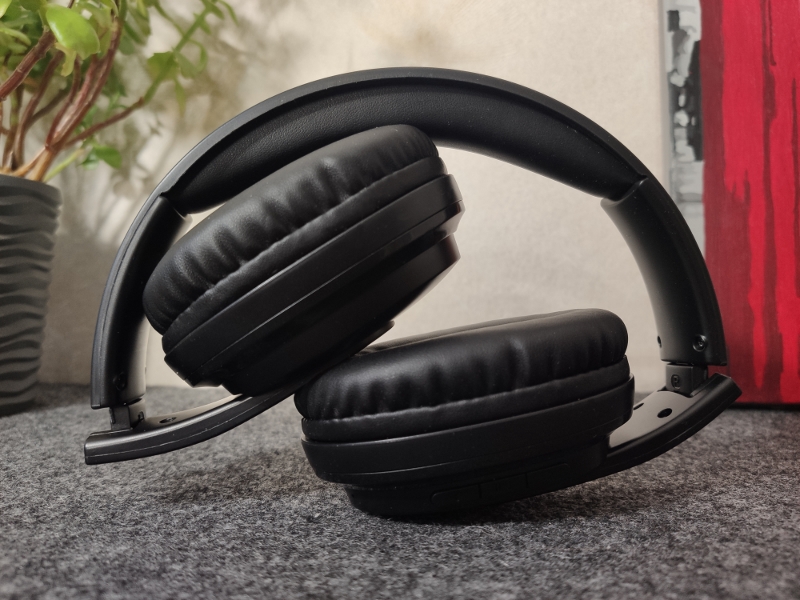 The earbuds are oval, not round, which is the case with most full-size models. Each earbud is signed – the letters "L" and "R" are on the hinge inside. Above the hinge on the left, you can see the labeling and technical information.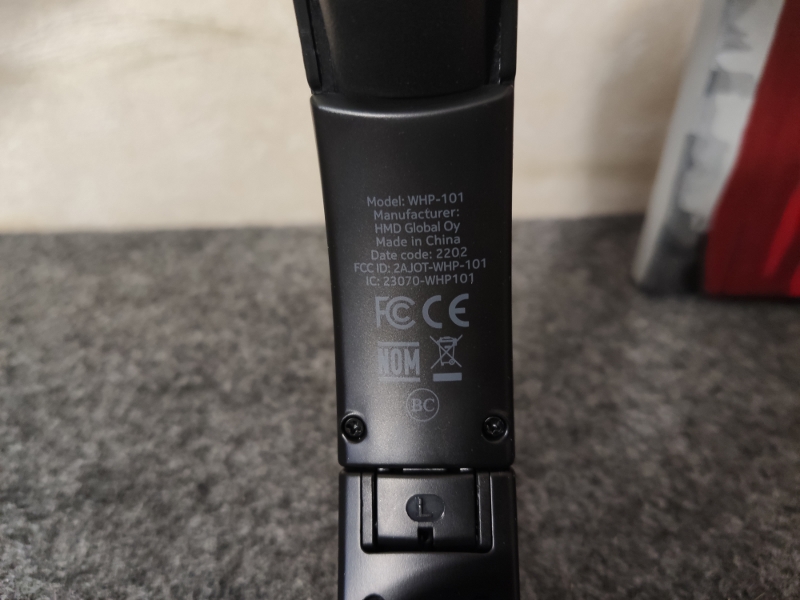 Let's look at the headphones from the outside. Everything here is quite ascetic, which will please fans of minimalism. On both sides, you can find small brand logos that are almost invisible and do not attract attention.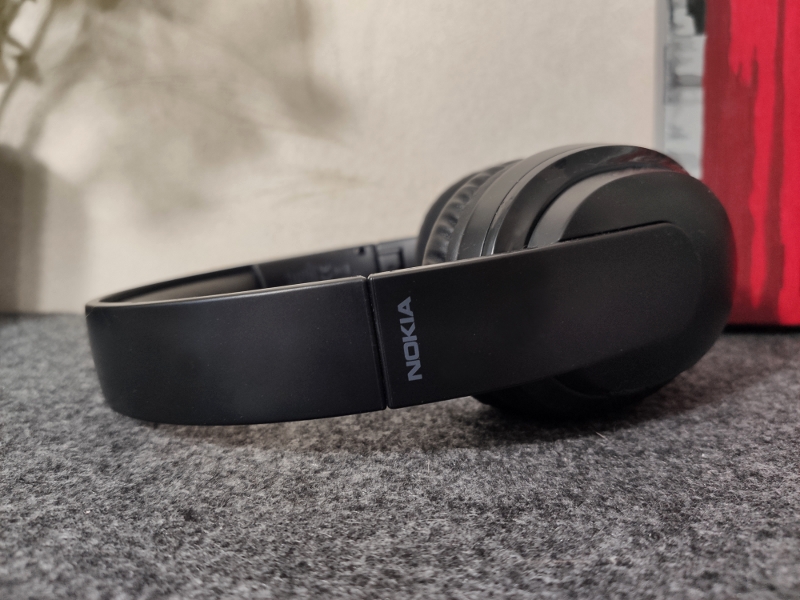 The left earpiece was left without any controls, concentrating them all on the right one. The Type-C charging connector, the operating mode indicator, and the microphone hole are located on the bottom.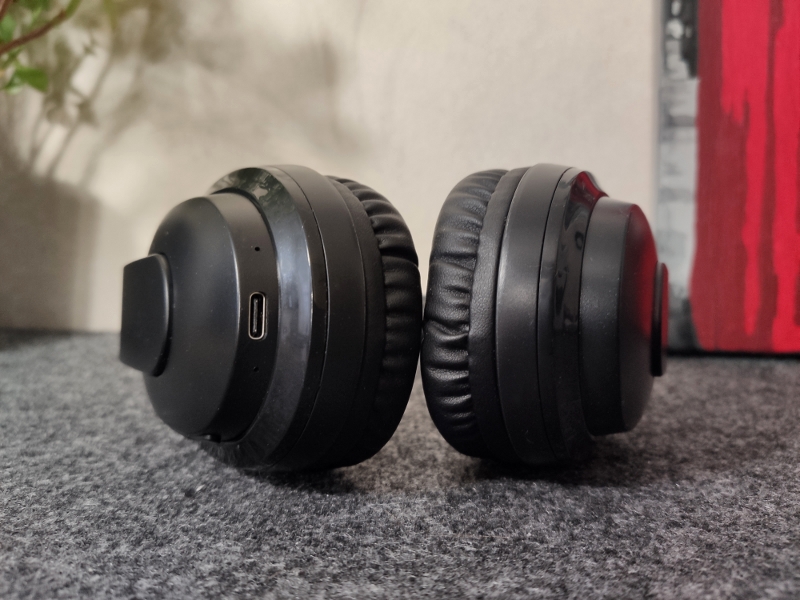 Above are three control buttons. Despite the fact that there are only three buttons, they are multifunctional and perform all the actions required in headphones. We will return to the details of the controls later, but I would like to note separately the sound of pressing the buttons. The buttons have a clear stroke and at the same time the sound when pressed is a little "plastic" and loud, and I wanted something more delicate and inaudible. But that's just the way it is, if you nitpick.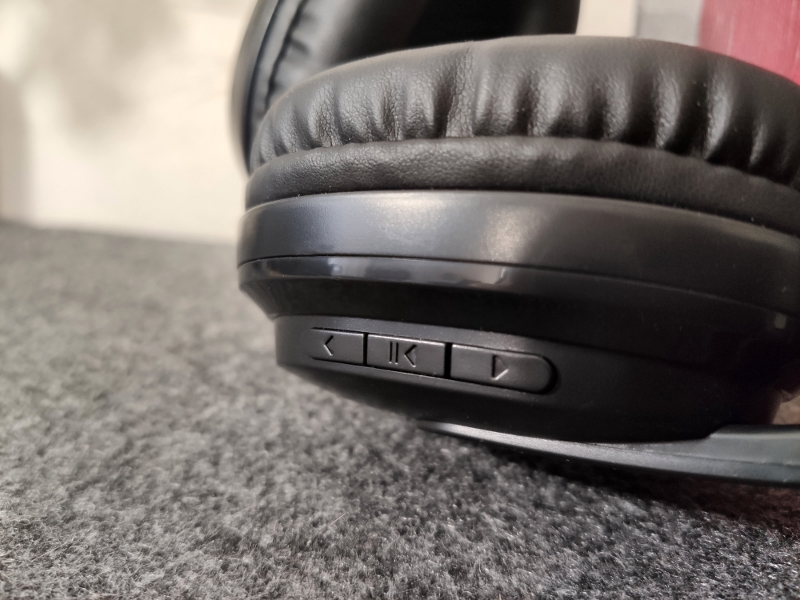 Despite the simplicity and lack of interesting design elements, the impression of Nokia headsets is quite positive. They are lightweight, well assembled, foldable, have a soft headband, and pleasant to the touch ear cushions.
Ergonomics
There is nothing more subjective in evaluating headphones than the fit and sound quality, because in both cases everything is very, very individual. At first glance at the oval ear cushions, or rather the fact that they seem too narrow for an adult's ear, it seems that Nokia missed the mark with the dimensions. But then you put on the headset and doubts are dispelled, because the headphones "sit" perfectly, completely hugging the ear.
The headset fits quite snugly on the head, and changing its position does not affect its fixation. However, they are hardly suitable for sports or physical activity. As for the fit of the headphones, I note that at first it seemed to me that the headset was too stiff – when put on, it unexpectedly pressed on the cheekbones and was not very pleasant. However, later on the design "spread out" a bit and the pressure issues disappeared – everything fit as it should. By the way, the snug fit, in addition to a secure hold on the head, also provides good passive noise reduction. In the case when active noise reduction is not foreseen, this is very, very good.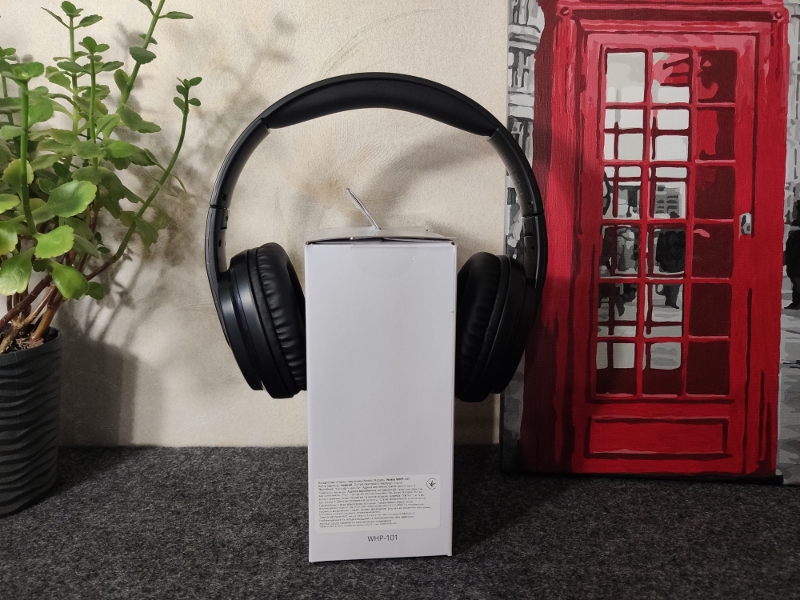 As a result, Nokia WHP-101 is quite comfortable and you can spend several hours in a row without any problems and not feel tired. However, I would advise you to try them on before buying.
Read also: ASUS ROG Cetra True Wireless Review: Gaming TWS Headphones
Nokia WHP-101 control
So, we have only three buttons in Nokia WHP-101 and full control, which includes control of playback, calls and voice assistants. The main button is the center one, Play/Pause. To turn the device on, it should be held for 2 seconds, to turn it off – for 5 seconds. Of course, this button is responsible for playing music and pausing, as well as for calling voice assistants, for which it must be held down for 2 seconds, and allows you to control calls. For example, when you receive an incoming call, you need to press the button once to answer, to hang up, and to do the same during a call, but to hang up, you need to hold the button for 2 seconds.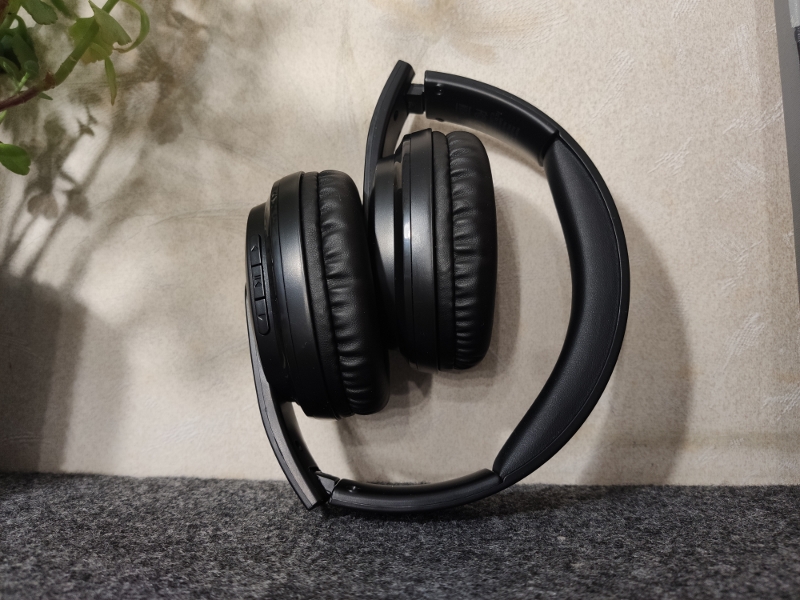 The side buttons (left and right arrows) are responsible for volume and track rewinding. To adjust the volume, it is enough to press the up or down button once, and to rewind, hold the corresponding button for 2 seconds. As you can see, the controls are full-fledged, logical, quite convenient, and you don't need to reach into your pocket for your smartphone to switch tracks or answer a call.
Initial connection
Connecting Nokia WHP-101 is also quite simple. First, you need to put the headset into pairing mode by holding the power button for 7 seconds. Then turn on Bluetooth on your smartphone or other device, find our Nokia WHP-101 in the list of available gadgets and connect.
It's worth noting that the headphones switch between two devices quite quickly, but this is not the case with all gadgets. For example, the WHP-101s switch between two smartphones without any problems and in a split second, but not between a smartphone and a laptop. At the same time, the separate connection to a smartphone and a laptop is excellent. As for the quality of the connection, everything is fine. During testing, we did not observe any sporadic disconnections, and the connection is stable.
Read also: MOTO XT500+ headphones review: Better at home
Sound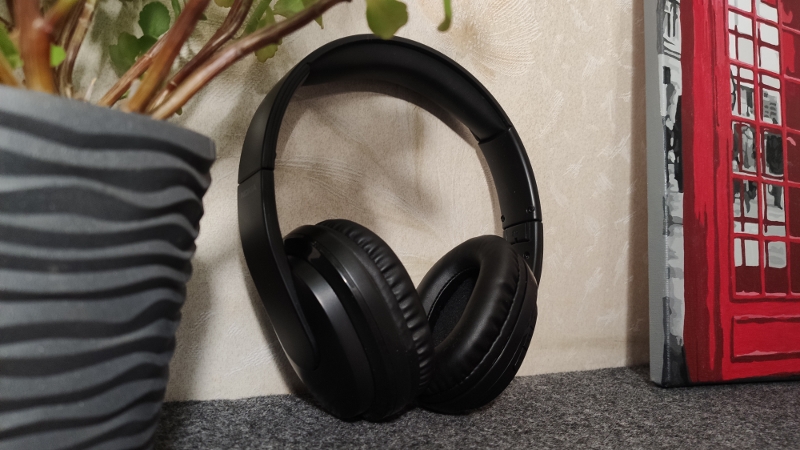 So we have reached the second subjective point – the sound. Here we have 40 mm dynamic emitters, and only SBC is supported from the audio codecs. The manufacturer says that Nokia WHP-101 has really rich bass. And in practice, this is true. The headphones are not just bass-heavy, they have a clear bottom end. For those who are looking for a more balanced sound, this headset from Nokia is unlikely to appeal. But for those who need a rich bass sound, this is a great and inexpensive find.
Personally, I love it when the bass is buzzing in my ears, so for me, the sound of Nokia WHP-101 is really great. Yes, there is no rich panoramic sound, and in some cases the headphones are not crystal clear, blurring the sound of instruments or vocals, but considering the price, the sound is very pleasant and three-dimensional. It's worth noting that the clarity of the sound depends on the music style and each individual track you listen to, and in general, the headset provides quite clear and high-quality sound.
As for the volume, it is perfectly balanced. The maximum volume is at an excellent level: on the one hand, it's enough for those who are used to listening to music loudly, and on the other hand, it doesn't cause discomfort. The headset is also great for watching movies, especially blockbusters or something like that. The same bass response plays into the hands of the headset. And I could compare the sound in the headphones to the sound in a movie theater to some extent – they perfectly reproduce the same rattle that we hear in dynamic scenes in the theater. As for audiobooks or conversational videos, everything is expectedly good and nothing special. But in movies and music, the headphones are very, very good.
Headset mode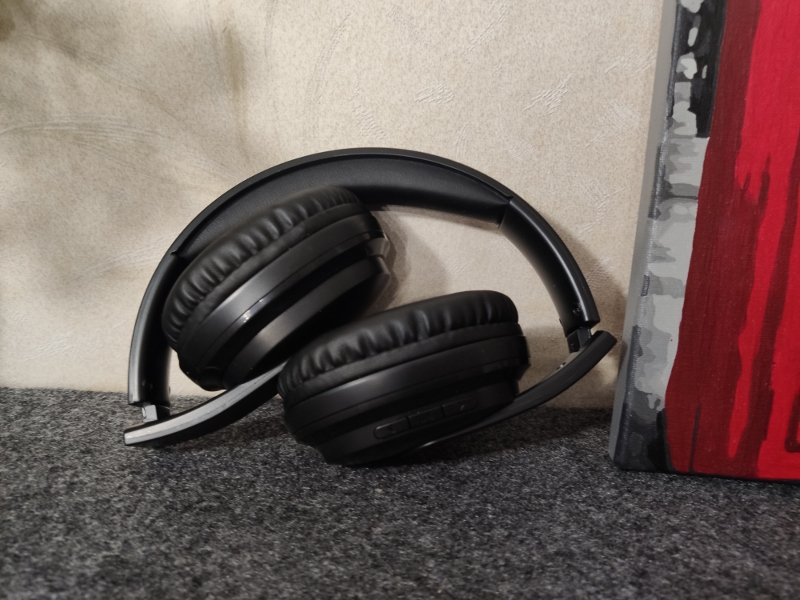 Let's be honest: phone calls are not Nokia WHP-101's strong suit. There's only one microphone, without ENC and any enhancements, so the person you're talking to doesn't hear very clearly even in a quiet room, let alone on a noisy street or in traffic. All noises are heard on the other end of the line, and the voice is transmitted quite quietly and not clearly, so the interlocutor is forced to constantly ask questions, which puts both parties to the dialog in an awkward position. Therefore, it is better to use a smartphone for conversations.
Читайте також: Honor Choice Earbuds X review: Inexpensive TWS with good battery
Autonomy of Nokia WHP-101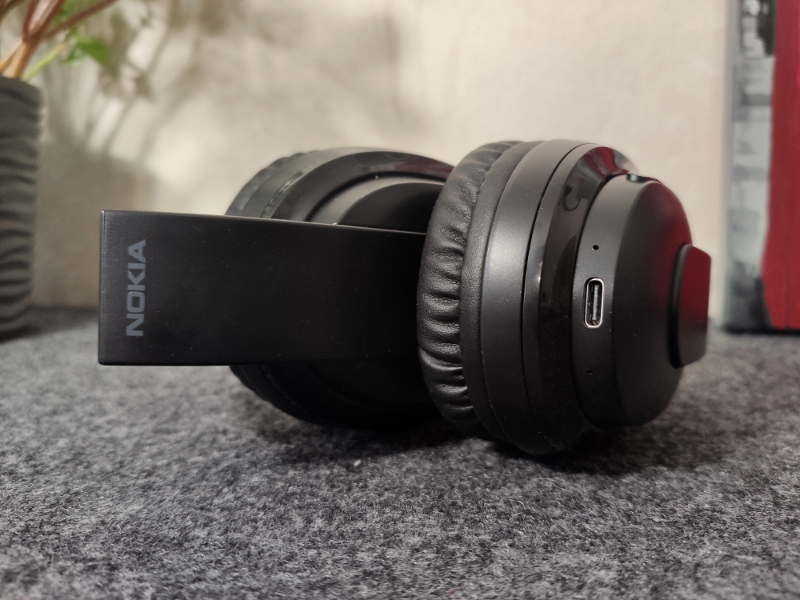 But what Nokia WHP-101 can't take away is its impressive battery life. With a battery capacity of 800 mAh, the headphones can work up to 60 hours on a single charge. In two weeks of 100% use, they have not run out of juice, and my smartphone shows the remaining charge at about 70%. This is taking into account the fact that I used the headset almost every day for about 1-2 hours, connecting it to a smartphone or a laptop. That is, if you have a need to spend a whole working day (8 hours) with headphones, then you don't need to think about charging for a week. And for a couple of hours a day, the charge will last for a month. And this is impressive.
Conclusion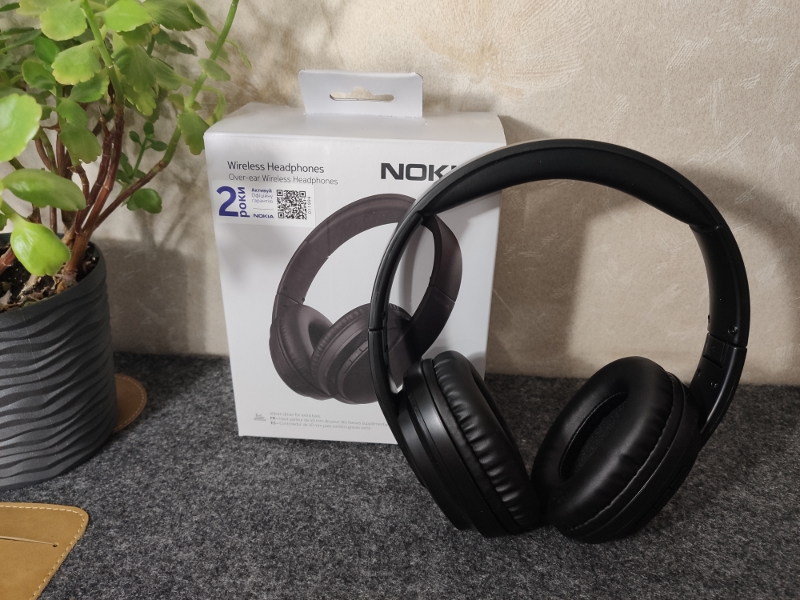 Nokia WHP-101 is an affordable headphone model that is great for music, movies, podcasts, audiobooks, and more. Given the lack of active noise cancellation, we can conclude that these are a good option for home or office use. However, they have really powerful bass, which you don't really expect to see in a headset for a modest $40-45. In addition, they are lightweight, comfortable to wear for a long time, foldable and don't take up much space, and they have really cool battery life and convenient controls that eliminate the need to reach for your smartphone every time. Stable connection and no falling off are also pluses.
And what's not so good here is the headset mode. Don't expect to use these headphones for conversations, they're not designed for that. Also, some may miss the app, but there is no particular need to use it – the controls are convenient and logical, and you don't want to affect the sound quality, so the lack of an app is not a problem at all. Given the very nice price tag and a lot of advantages, Nokia WHP-101 can be recommended to those who are looking for a stable wireless connection, good bass sound, and just super battery life for very nice money.
Читайте також: