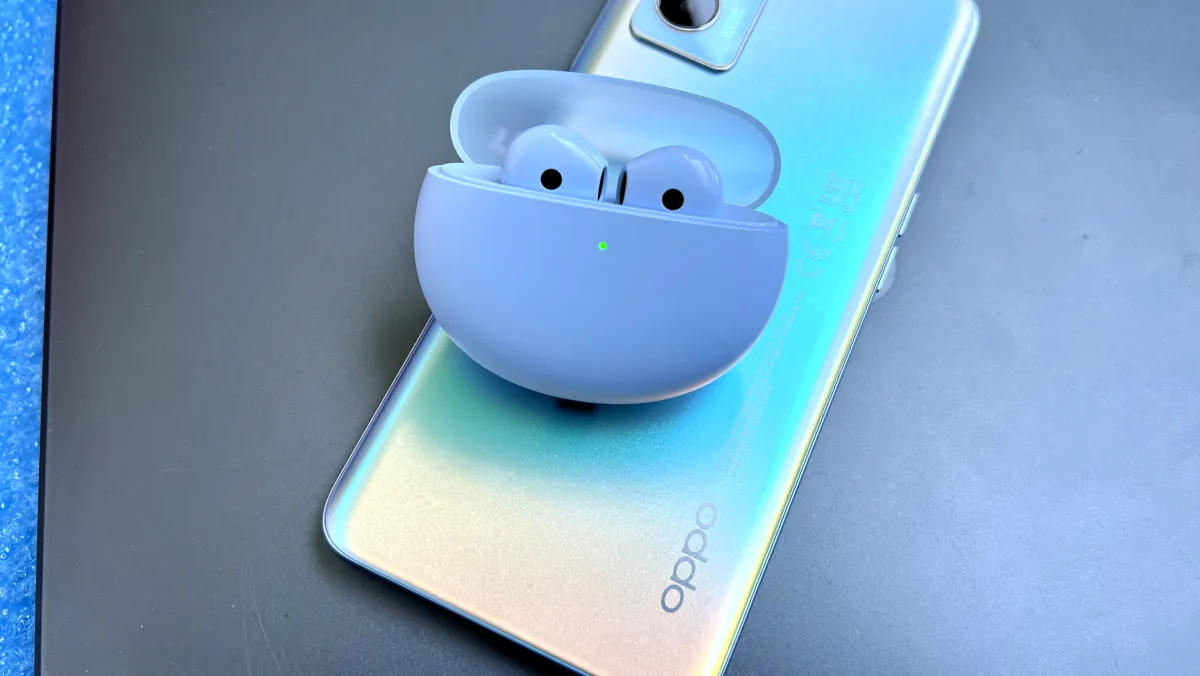 OPPO is a company that produces not only expensive premium gadgets, but also affordable devices. "Cheap" for OPPO does not mean the same as "bad". Today we test low-cost OPPO ENCO Air 2 headphones. How premium can they be for that price?
Read also: Обзор OPPO Enco Free2: Достойные TWS-наушники с ANC
Specs
Headphone type: in-ear earbuds
Connection interface: Bluetooth 5.2
Minimum frequency: 20Hz
Maximum frequency: 20,000 Hz
Speaker: 13.4mm
Microphone sensitivity: -38 dB
Active noise control: no
Codecs: SBC, AAC
Color: blue, white
Weight: 3.5g each earbud
Battery life: 4 hours active listening and 24 hours with charging case
Extras: touch control, game mode, IPX4 waterproof
Read also: TWS OPPO Enco X Review: Almost Perfect + ANC
Design
OPPO decided to give the gadget a minimalistic design. The plastic case is not necessarily a bad thing. There are no fingerprints visible on the matte case, there is no feeling of cheapness.
The shape of the case resembles a flattened circle – it is convenient to carry the device in your pocket. I liked the transparent case cover – nothing extraordinary, but an unusual solution in terms of design.
There are typical earbuds without silicone tips. These earphones are more suitable for people who often ride a bike, walk in the evenings and want to hear what is happening around them, for safety purposes.
For me, the shape of the headphones is as comfortable as possible, my ears did not hurt after using the buds for a long time, there was no discomfort when putting them on. I even forgot I had headphones on! However, the model is probably not suitable for every user, because everyone has different auricles. Therefore, it is better to try them on before buying.
I will add that the headphones (but not the case) have IPX4 protection, so a little rain or sweat are not a problem. Available colors are white and baby blue, which we think looks wonderful.
Read also: OPPO A96 review: Extremely stylish budget smartphone
Sound
There's nothing to complain about, the sound is very good. Especially if you take into account the low price of headphones. The 13.4mm titanium driver with composite diaphragm does a great job. I wish there was more bass though.
There is no active noise cancellation, which is a minus, but, on the other hand, if you don't want to lose connection with reality, the buds will suit you just fine.
The sound in the headphones can always be corrected using the HeyMelody application. On OPPO smartphones, it is pre-installed from the factory. Connecting is quick and easy, just like the iPhone and AirPods.
If we talk about phone calls and microphones, then everything is at a high level. The sound is perfectly transmitted, the volume is sufficient. We tested the headphones even in a noisy environment and were satisfied.
Connecting OPPO ENCO Air 2 to a smartphone
I had a problem connecting to the iPhone (there is no latest version of HeyMelody in the App Store), but if you have Android, feel free to install the application from Google Play. Of course, the headphones can also be connected without an application in the Bluetooth settings.
Read also: OPPO Find X5 Pro review: A flagship that can KILL
Controls and the app
As already mentioned, the OPPO ENCO Air 2 supports the HeyMelody app. The UI of the app is clear and simple, I would call it intuitive. It immediately offers a "gesture training course", but you can skip this part.
With HeyMelody, you can check the charge level and select sound effects (activate bass boost, for example). You can also manually turn on the game mode, which allows you to eliminate the delay between audio and video, and adjust the controls.
Headphones are controlled by touch. For example, you can skip a song (double tap on any earbud) or answer/end a call, adjust the volume (hold your finger on the touch area).
Gestures are simple, there's no need to get used to the controls. The only thing missing is a proximity sensor, but given the price, it's not that bad.
Read also: OPPO Find N review and user experience
Battery life
I almost always use earphones, so I was curious how long these OPPOs will last. On a single charge, they worked for 4 hours and 10 minutes – a good result for an inexpensive model. And with the charging case Enco Air 2 can work up to 24 hours. Charging the case with headphones takes almost 2 hours.
Verdict
The OPPO ENCO Air 2 are good earbuds. One of the advantages of the model is an affordable price. At the same time, the sound is excellent thanks to the large 13.4 mm drivers. There's also a handy app (which unfortunately didn't connect to my iPhone, but there were no problems with Google phones) and sensitive touch controls that can be customized to suit your needs.
It is worth emphasizing that the build quality is perfect, and the plastic of the case does not feel cheap. The downside is, perhaps, the lack of ANC.
You can also help Ukraine fight with Russian occupants via Savelife or via an official page of the National Bank of Ukraine.