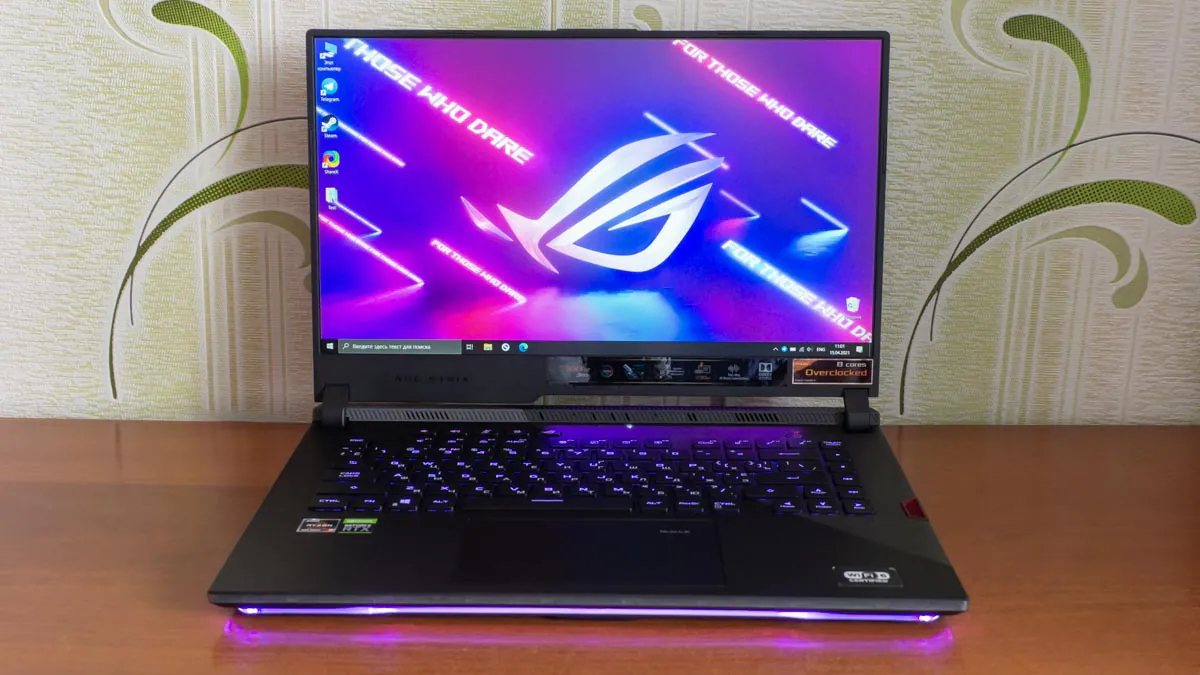 In today's review, we take a look at ASUS' top-end gaming laptop in the ROG Strix SCAR line. The new ASUS ROG Strix SCAR 15 G533 received modern and productive hardware, a screen with a record refresh rate and many other cool features, which I will tell you about in great detail.
ASUS ROG Strix SCAR 15 G533QS-HF115R full specifications
The table below shows the technical characteristics of the ASUS ROG Strix SCAR 15 test set labeled G533QS-HF115R. This is the maximum, top-end configuration of this laptop that will be available for purchase in many markets. In the next section, traditionally, I will talk about other possible hardware configurations and the cost of the laptop.
Type
Gaming laptop
Operating system
Windows 10 Pro
Diagonal, inches
15,6
Coating type
Anti-reflective
Resolution
1920×1080
Matrix type
IPS
Touch
–
Screen refresh rate, Hz
300
Aspect ratio
16:9
Processor
AMD Ryzen 9 5900HX
Frequency, GHz
3,3-4,6
Number of processor cores
8 cores, 16 threads
Chipset
AMD
RAM, GB
32
Maximum RAM, GB
64
Memory type
DDR4
Memory frequency, MHz
3200
SSD, GB
1×1024 M.2 NVMe PCIe 3.0 x4
HDD, GB
–
Graphics adapter, memory capacity
Discrete NVIDIA GeForce RTX 3080, 16 GB, GDDR6 + AMD Radeon Graphics Embedded
External ports
1×USB 3.2 Gen 2 Type-C with DisplayPort and Power Delivery3 × USB 3.2 Gen 1 Тип-A

1×HDMI 2.0b

1×3.5 mm combined audio jack (earphones + microphone)

1 × RJ45 LAN

Card reader
–
WEB-camera
–
Keyboard backlighting
+
Fingerprint scanner
–
Wi-Fi
6 (802.11ax)
Bluetooth
5.1
Weight, kg
2.3
Size, mm
354.0×259.0×22.6-27.2
Body material
Plastic, metal
Case color
Black
Battery, W*h
90
ASUS ROG Strix SCAR 15 G533 configurations
In total, 8 different configurations of ASUS ROG Strix SCAR 15 G533 will be officially sold, and they will differ in the following parameters: screen, processor, discrete graphics card, RAM, storage and operating system. As I already noted, I have a top-end version of the ASUS ROG Strix SCAR 15 G533QS-HF115R on my test: it has a 15.6-inch screen with FHD resolution and a refresh rate of 300 Hz, an AMD Ryzen 9 5900HX processor, an NVIDIA GeForce RTX 3080 video adapter, 32GB RAM, 1TB ROM, and Windows 10 Pro out of the box.
What kind of displays can there be? There are two of them to choose from and they are mainly designed for gamers and those involved in graphics. In any case, these are 15.6 IPS-level 16:9 screens with anti-reflective coating, support for Adaptive-Sync and a response time of 3 ms. But the resolution, refresh rate and color gamut are different:
FHD (1920×1080), 300 Hz refresh rate, sRGB coverage: 100% and Adobe RGB: 75.35%
WQHD (2560×1440), 165Hz refresh rate, DCI-P3 coverage: 100% (sRGB and Adobe RGB – not specified)
The ASUS ROG Strix SCAR 15 G533 processors in all modifications are only from AMD. Hardly surprising, because the manufacturer decided to release gaming laptops this year mainly with Ryzen CPUs. Although there are exceptions like the ASUS TUF Dash F15 model; they are quite decent laptops based on Intel Tiger Lake-H. But back to the Strix SCAR 15 G533. And here you can get one of two eight-core processors based on AMD Zen 3 architecture:
AMD Ryzen 7 5800H – 3.2 GHz base clock speed and maximum up to 4.4 GHz, AMD Radeon Graphics integrated graphics with 2000 MHz
AMD Ryzen 9 5900HX – 3.3 GHz base clock speed and maximum up to 4.6 GHz, AMD Radeon Graphics integrated graphics with 2100 MHz
As for discrete video cards, there is a choice of three options for NVIDIA GeForce RTX 30xx (115-130 W), but in fairness only one model is planned to be sold with a basic graphics adapter, but there are more configurations with two others:
GeForce RTX 3060 – 6 GB GDDR6, with a frequency of up to 1802 MHz
GeForce RTX 3070 – 8 GB GDDR6, with a frequency of up to 1660 MHz
GeForce RTX 3080 – 16 GB GDDR6, with a frequency of up to 1645 MHz
The maximum RAM can be 64 GB, however ASUS does not sell the ROG Strix SCAR 15 G533 right away with that amount. The amount of RAM varies from 16 to 32 GB, but I do not have the exact data on how much modules the slots on the laptop's motherboard will occupy. Nevertheless, nothing is soldered on the board, and the laptop definitely has two slots for SO-DIMM modules, into which you can put a total of 64 GB of RAM.
With drives, everything is easier: initially the laptop is equipped with one SSD (M.2 NVMe PCIe 3.0) with either 512 GB or 1 TB. Some markets also have a 1TB + 1TB option in a RAID 0 array. Inside there is another free M.2 slot for installing a second solid-state drive, so in this regard, the user's hands are also untied and, in theory, you can create such an array yourself. Or you can simply expand the storage by installing a second SSD for any tasks without replacing the existing one.
Finally, the operating system. There can be three options in total: a laptop without a pre-installed OS, a laptop with Windows 1 Home edition and with Windows 10 Pro.
Also, for your convenience, I have collected all the configurations known to me in one list with brief technical characteristics:
G533QM-HQ006 – WQHD 165Hz, Ryzen 7 5800H, GeForce RTX 3060, 16 GB RAM, 512 GB ROM, no OS
G533QS-HF078T – FHD 300Hz, Ryzen 7 5800H, GeForce RTX 3080, 16 GB RAM, 512 GB ROM, Windows 10 Home
G533QS-HF007 – FHD 300Hz, Ryzen 7 5800H, GeForce RTX 3080, 16 GB RAM, 1024 GB ROM, no OS
G533QR-HQ100T – WQHD 165Hz, Ryzen 7 5800H, GeForce RTX 3070, 16 GB RAM, 512GB ROM, Windows 10 Home
G533QR-HF043T – FHD 300Hz, Ryzen 7 5800H, GeForce RTX 3070, 16 GB RAM, 1024 GB ROM, Windows 10 Home
G533QS-HF115R – FHD 300Hz, Ryzen 9,5900HX, GeForce RTX 3080, 32GB RAM, 1024GB ROM, Windows 10 Pro
G533QS-HF034R – 300Hz FHD, Ryzen 9,5900HX, GeForce RTX 3080, 32GB RAM, 1024GB ROM, Windows 10 Pro
G533QR-HF044T – FHD 300Hz, Ryzen 9,5900HX, GeForce RTX 3070, 32GB RAM, 1024GB ROM, Windows 10 Home
ASUS ROG Strix SCAR 15 G533 price
I will not describe the cost of each configuration, because not all configurations are still available for purchase. So I'll just give the price tags of the most basic and top-end configurations available in at the time of publication of this review, for a general understanding of the price category of this device. So, $1999 you have to pay for the G533QM-HQ006, and G533QS-HF034R will cost $3505. I have a laptop labeled G533QS-HF115R that costs $3434.
Curiously, the laptop itself is exactly the same as in the G533QS-HF034R config. The difference between them lies only in the configuration: the G533QS-HF115R will have an ASUS ROG Chakram Core mouse and a second, more compact 100 W power adapter in the box, and with a slightly more expensive G533QS-HF034R you only get a mouse, but another one – ASUS ROG Strix Impact II. And you understand correctly – in the first case, you get not only a more advanced (in my humble opinion) mouse, but also a second compact power supply. And it costs cheaper, which is the most important thing.
What's in the box
The set is quite rich and therefore very interesting. Everything comes in a really big box, inside of which there is another smaller one with a laptop and everything else, and next to it is a ROG Backpack.
In addition to the laptop, the smaller box contains two power adapters at once: one large 240 W with a separate power cable and one compact 100 W with USB Type-C and also with a detachable power cable. Next is the ASUS ROG Chakram Core wired mouse, a pair of removable decorative panels for the topcase, as well as a key for the proprietary KeyStone II identifier key and various accompanying documentation.
I will briefly tell you about the accessories, because not every laptop can boast of such a wide range. The keychain is a black ROG KeyStone case made from soft silicone with ROG embossing and metal logo stud. It is fastened with a massive metal carabiner, and I will tell you about it separately.
Decorative removable Armor Cap panels allow you to partially diversify the appearance of the laptop. There are two in the box: silver and dark translucent with logos, instead of the standard gray. They are held by small latches and a magnet, but easy to change. Interestingly, you can create your own custom panel, print it on a 3D printer and install it on a laptop case. All information and details are here.
The mouse in our case is ASUS ROG Chakram Core. This is a large wired model, with a side-mounted joystick, backlight and interchangeable switches. You can buy them separately and for a lot of money, so its presence in a set with an expensive laptop is definitely pleasing. The set is the same as in the case of the commercial version: a mouse, a 13.6 g weight, a removable pad and a plug for the joystick on the left, a small tweezers for removing switches and documentation.
The ROG Backpack fits both 15 "and 17" laptops. It looks stylish, made of quality materials and has several additional pockets and a laptop compartment with a padded partition inside. In general, it is quite a good option for transporting a laptop and related accessories.
Design, materials and build quality
Visually, the ASUS ROG Strix SCAR 15 G533 is a real gaming laptop, and it doesn't hide it. When closed, you immediately see the display lid, or rather, to the large mirrored ROG logo and an asymmetric pattern resembling dot perforation with various, barely noticeable inscriptions.
Of course, the Armor Cap also draws a lot of attention. Personally, I settled on the translucent version, because I think it is the most suitable for the general design style of a laptop with the same translucent working panel. Let me remind you that if you wish, you can make your own unique panel using a special template for 3D printing.
When opened, the design as a whole will surprise with the previously mentioned translucent panel. The division is also asymmetrical and through the panel you can see part of the laptop's internal structure. In addition, you pay attention to the red translucent "key" with ROG embossing – this is not only a functional element, but also a bright decorative one. You can configure the execution of different quick actions when the key is connected or disconnected.
Backlighting is another story. The aforementioned logo on the lid is illuminated, there is an LED strip on the bottom edge of the lid, the light of which is reflected directly onto the operating panel in the area of the power button. There is also a single wide LED strip on the front and it partially extends over the left and right ends of the laptop.
The lid of the laptop can be easily opened with one hand, and the maximum opening angle itself is approximately 135°. Nothing outrageous, but for a gaming laptop it's just right. The bezels around the top and sides of the screen are thin, the bottom is traditionally much wider than the others.
ASUS ROG Strix SCAR 15 G533 is made of very high quality and tactilely pleasant materials. The display unit cover is made of aluminum and, according to the manufacturer, has a special nano-coating that is resistant to fingerprints. In practice, of course, you can leave prints on the lid, but nevertheless, there will be few of them and it feels like this coating really works. The edges and bottom of the laptop are made of standard rough plastic, which is also reluctant to collect traces of use, but the working panel itself is made of smooth plastic. It is similar to the one that the manufacturer uses in its other devices, such as gaming mice. Tactilely, this plastic is pleasant, but there are a lot of traces on it, of course, and they often have to be wiped off.
What is really great is the size of the laptop. For a 15-inch model with such a productive harfware, the dimensions are really small: 354.0 x 259.0 x 22.6-27.2 mm. At the same time, its weight is about 2.3 kg and in general, the manufacturer notes that the case is 7% smaller than its predecessor. Not an ultrabook, but for this this kind of hardware it's very good. And an additional compact power supply will further simplify the transportation of the device.
The layout
The laptop lid has a large ROG logo on the right and a dot pattern on the left. The entire display hinge can be seen under the removable Armor Cap. The hinges, by the way, are not particularly tight, but they hold the display very securely.
The bottom of the laptop is actually covered with various rubberized legs, panels and stripes for additional stability. There are really a lot of them, they are of different sizes and some even come with the brand "slogans" of the Republic of Gamers. There are also two woofers at the bottom on the sides.
On the right side there are no additional elements besides the "key" and slots for the cooling system. On the left one, at the same time, you can find a similar CO grille, two USB 3.2 Gen 1 Type-A ports and one 3.5 mm combined audio jack.
All other ports and additional hot air blowing slots are on the back: a third USB 3.2 Gen 1 Type-A, one USB 3.2 Gen 2 Type-C with support for DisplayPort 1.4 and Power Delivery, HDMI 2.0b, RJ45 LAN, and a power connector. On the front there is only a small "visor" for easy opening of the laptop lid.
The front perimeter around the screen has several rubberized stripes and a glossy ROG Strix embossing. Slightly below the front of the "overflow" there are several slots and holes of different sizes – a pair of tweeters and an array of two microphones.
On the topcase above the main keyboard unit there is a row of several additional keys, and under it is a large glass touchpad with a pleasant matte finish. Top right is a typical hexagonal power key with LED.
The KeyStone II NFC key is placed in a separate slot and held in it by a magnet, and the functionality is implemented using the wireless NFC interface – this module can also be seen through the translucent body.
ASUS ROG Strix SCAR 15 G533 screen
ASUS ROG Strix SCAR 15 G533 received a 15.6-inch 16:9 display with anti-glare coating. The screen itself occupies 85% of the front panel. The IPS-level screen boasts Full HD resolution (1920×1080) and high refresh rate (300 Hz). The response time is 3 ms, there is support for Adaptive-Sync technology. This screen offers 100% sRGB and 75.35% Adobe RGB.
Let me remind you that there is a second display option. It has an increased to Wide Quad HD resolution, that is, 2560×1440, and 100% coverage in DCI-P3 space. But the refresh rate will be less (165 Hz). Nevertheless, there is a choice and, as for me, it is quite obvious. For games – FHD and 300 Hz, and for work – WQHD and 165 Hz.
I like this screen. It has decent brightness considering this is a gaming laptop. Of course, you can't really play in the sun, but in the shade, the maximum brightness level should be enough. The color reproduction of the display is pleasant – the colors are saturated, not faded. Viewing angles are traditionally wide, with a typical loss of contrast in dark tones under certain angles.
The refresh rate of 300 Hz is something with something and there is simply nothing to add here. Anything above 60 Hz is already good and will be pleasing to the eye both in games and in ordinary work tasks. But when we reach a record 300 Hz for laptops, the impressions are fantastic.
There is nothing particularly new in the display settings. The proprietary Armory Crate utility has a tab with GameVisual parameters, where you can adjust the color temperature or change the default display profile. There are a total of eight of them, and each one quite significantly changes the picture in accordance with the description. So, you can improve visibility in dark scenes, reduce the blue glow, or simply increase the saturation and brightness of the image. However, the most versatile options that are suitable for both gaming and everyday use are the standard and rich profiles.
Sound and noise reduction
Built-in ASUS ROG Strix SCAR 15 G533 audio system is represented by as many as four speakers, which is a rarity for any type of laptop. But the interesting thing is that these are not just four identical dynamics. The point is that they are divided into low frequency and high frequency speakers. The first two with a 4W capacity with support for Smart Amp technology are located on the bottom of the laptop, while the second high-frequency 2W each are located on the front of the topcase under the display and are directed directly at the user. Such an array of speakers is able to create virtual 5.1.2-channel surround sound based on Dolby Atmos technology.
And these speakers sound great considering this is a small, yet gaming laptop. The sound is very loud, spacious and quite well balanced in frequencies: the lows are well felt, but at the same time they do not interrupt the mid and high frequencies. Good speakers, in short. Moreover, the sound can also be configured for yourself in the Dolby Access utility manually or by choosing the most suitable preset from several available.
Like other laptops from the manufacturer, the Strix SCAR 15 G533 is also not deprived of a two-way intelligent noise reduction system. This technology improves the incoming and outgoing audio signal for voice communications using the computing power of the central processor. All this is configured in Armory Crate; for each there are three levels of efficiency: low, medium and high. It is logical that everyone removes the surrounding noise, but it is important to choose the right level so that the system does not cut off anything unnecessary. The built-in system for checking the effectiveness of noise reduction in the Armory Crate itself will help in this.
The low level is enough to remove the sounds of mouse and keyboard clicks, the middle one will cope with the general background noise, and the high one is most effective for dealing with strong monotonous ambient noise. Noise reduction can be enabled either permanently or only in selected apps. Instructions for setting up noise reduction in Microsoft Teams, Discord, Zoom and Skype are here.
Optical-mechanical keyboard and touchpad with NumberPad
The keyboard in the laptop is interesting – it's optical-mechanical. Its main difference from standard mechanical ones is that it uses an infrared beam, which, when a key is pressed, is interrupted and thereby a signal is given and the press is recorded. In other words, triggering will occur with virtually no delay and this gives a great advantage in games. In addition, opto-mechanical switches are considered to be more durable.
Key travel is 1.9 mm, each key has 100 million keystrokes, with individual RGB backlighting, and a response time of less than 0.2 ms. In comparison, standard mechanical switches have a delay of about 5ms. Also, the surface of the keys is slightly concave (b0.15 mm), which increases the overall comfort of working with the keyboard.
The layout is generally very comfortable: all the main keys, including the arrows and a number of functional F-keys, are of the same height. Both Shift keys are long, Enter is one-story, Backspace is lengthened. Above the main unit there are a number of hot keys: volume down and up, forced microphone mute, switching modes of the cooling system and launching the Armory Crate utility. The F buttons are divided into separate blocks of four keys. Also on the right side there is a vertical row with separate buttons for multimedia control.
It is very pleasant to work with such a keyboard. When pressed, there is a characteristic, but not very loud click. The key travel is comfortable, all clicks are clear and work instantly. In general – a godsend for lovers of mechanics and a new experience for users of standard laptop membrane keyboards. The click sound may not please all users. Personally, the ASUS ROG Strix SCAR 15 G533 keyboard suited me completely, both during long gaming sessions and when typing long texts with tens of thousands of characters.
Naturally, there is a high-quality full RGB-backlighting and each key is backlit separately. The backlight uniformity is high, there are three levels of brightness and support for AURA Sync technology, with which you can synchronize the backlight of your laptop with other devices that support AURA Sync.
There are a lot of lighting modes in Armory Crate: static, breathing, strobe, color cycle, rainbow, comet, flash and dash, star, rain, reactive, laser and ripple. Depending on the selected type of backlight, you can adjust the tempo and change colors. However, all selected effects are applied simultaneously to both the keyboard and other backlit elements. In general, as an option, they can be turned off altogether. But for some reason there is no way to turn off the logo illumination, which is strange.
However, this "problem" can be solved in AURA Creator – a powerful tool for very fine tuning of the backlight. Here you can do whatever you want: at least choose a separate backlight mode for each key and element, or even create your own unique effect.
The area of the touchpad, as indicated by the manufacturer, has grown by 85% compared to the previous models of the series. And it is really quite large – 130 × 77 mm. The panel itself is glass, with a pleasant matte finish, on which your finger glides very well. Gestures are defined correctly, no issues with the sensitivity. In the upper right corner of the touchpad there is an inscription Num Lk, and with a long hold, the touchpad turns into a full-fledged touchscreen NumPad.

However, in this case the ASUS NumberPad is a bit simplified compared to what we have seen previously in various laptop from the manufacturer. If in the ASUS ZenBook Flip S (UX371EA), for example, with the unit turned on, you could both move the cursor and use the buttons. When the numbers light up, you will have to use only them, which is sometimes not very convenient, of course.
ASUS ROG Strix SCAR 15 G533: Features and performance
I was testing ASUS ROG Strix SCAR 15 bundled G533QS-HF115R with AMD Ryzen 9 5900HX processor, NVIDIA GeForce RTX 3080 discrete graphics, 32GB of RAM and a 1024GB SSD. I already spoke in detail about the rest of the configurations and possible hardware at the beginning of the review, so I will not repeat myself here.
AMD Ryzen 9 5900HX is a mobile CPU with AMD Zen 3 microarchitecture, belonging to the Cezanne-H family. It is based on the 7nm FinFET process and has 8 cores with 16 threads (SMT). The base clock speed is 3.3 GHz, and the maximum clock speed is up to 4.6 GHz. 16MB L3 cache, 45+ W nominal TDP with 35-54 W cTDP adjustment.
There is an integrated AMD Radeon RX Vega 8 graphics with 8 processing cores and a clock frequency of 2100 MHz. The solution is quite productive, both for integrated graphics, and it is entirely sufficient for normal work with the system. But it is obvious that this is just a secondary video adapter and the main emphasis in a gaming laptop is solely on discrete graphics.
And as a discrete, nothing other than a mobile NVIDIA GeForce RTX 3080 is used. In this particular case, with 16 GB of GDDR6 video memory, a power of 115 W (130 W with Dynamic Boost) and a clock frequency of up to 1645 MHz. These are, of course, not the maximum possible parameters of the RTX 3080 for laptops, but relatively close to them. The card itself is built on the Ampere architecture with 6144 CUDA cores, 2nd generation RT cores and 3rd generation tensor cores. 256-bit bus offers 457.7 GB/s bandwidth.
The RAM in this configuration is 32 GB, which is more than enough for games at the moment. The laptop has two slots for RAM modules and in this case they are occupied, because the RAM works in dual-channel mode. The memory type is, of course, DDR4 with an effective frequency of 3200 MHz.
The main drive is an M.2 NVMe SSD from SK Hynix – model HFM001TD3JX013N with 1 TB, which is connected via PCIe 3.0. This drive is often found in the manufacturer's laptops and the last time I came across it was in the ASUS TUF Dash F15 gaming laptop. The drive is really very fast.
The ASUS ROG Strix SCAR 15 G533 is a very powerful machine for virtually everything. Games, any resource-intensive software – it will cope with everything and there is no doubt about it. In the gallery below you can see the test results.
Cooling and heating system in ASUS ROG Strix SCAR 15 G533
A laptop cooling system consists of several components. Thermal Grizzly liquid metal is used as a thermal interface for CPU cooling. Arc Flow fans have 84 blades made of liquid crystal polymer. They are only 0.2 mm thick and vary from base to finish, which enhances the airflow and the wave-like shape to reduce noise. For heat dissipation, four copper radiators with 0.1 mm thick fins are used, which is why it was possible to increase their total number. The CO itself is designed in such a way that the fan blows over the area of ​​the WASD keys and they do not heat up during long gaming sessions.
By good old tradition, the laptop has three modes of operation: quiet, efficient and Turbo. Switching can take place both in automatic mode and in manual mode – in the proprietary software or a separate key above the keyboard block (or with the Fn + F5 combination).
I can half-hour stress tests in AIDA64 in each of the three performance modes. The first two (quiet and efficient) were additionally tested on battery power, while Turbo is only available with a 240W PSU connected.
Quiet "silent" mode is designed for less resource-intensive tasks and normal office work. In this mode the CPU does not heat up over 60°, and the fans will not even start spinning, and the device is silent. Otherwise, the fan speed will be audible, but as the manufacturer assures, the noise will be no louder than 35 dB. The average CPU clock speed in this mode is 2.9 GHz, the average temperature is 77.1° and does not exceed the maximum 85°. When connected to the mains, you get 2.7 GHz, and average and maximum temperatures of 77.1° and 82°, respectively.
Efficient mode aims for a balance between performance and noise. It is promised that the fan noise during operation in this mode will not exceed 40 dB. Running the same half-hour stress test on battery power, we get the following metrics: the average CPU clock speed is 2.9 GHz, the average temperature is 72.3°, and the peak temperature is 80°. When connected to the mains, the frequency stays at 3.4 GHz, and the temperature readings are 95.1° on average and 99° at peak.
But here's a strange situation – for some reason the results in the efficiency mode are almost identical to the quiet mode in the tests on battery power. What's even stranger is that the temperature readings in the efficiency mode are even lower.
The Turbo mode accelerates the fans to the maximum speed; accordingly, the laptop makes the loudest noise in this mode. But in fairness – the hardware also works at full capacity. The noise level declared by the manufacturer should not exceed 45 dB. Let me remind you that this mode can only be active with a connected power supply, and the results are as follows: the average clock speed is 3.4 GHz, the average temperature of the processor cover is 95.1°, and the maximum peak temperature is 100°.
Summing up all of the above, we can draw the following conclusion: you don't have to switch between modes, but constantly use the average mode. This is because when running on battery power the device's performance will be about the same as in quiet mode, and on mains it will be similar to Turbo mode. Of course, in the games there may be a difference of several FPS, so if the noisy operation of the fans does not bother you, it makes sense to play with the selected maximum performance mode. Or even overclocking hardware in Armory Crate – why not.
ASUS ROG Strix SCAR 15 G533 in games
The table below shows several demanding titles and average FPS values at the maximum graphics settings. Absolutely all effects were included, indlucing ray tracing with DLSS (if supported). ASUS ROG Strix SCAR 15 G533 was tested in Turbo performance mode, of course, with power from a 240 W unit.
| | |
| --- | --- |
| Game | Average FPS |
| Counter-Strike Global Offensive | 283 |
| Crysis Remastered | 62 |
| Cyberpunk 2077 | 60 |
| DiRT Rally 2.0 | 133 |
| Grand Theft Auto V | 85 |
| Just Cause 4 | 135 |
| Kingdom Come Deliverance | 50 |
| Metro Exodus | 81 |
| Red Dead Redemption 2 | 45 |
| Shadow of the Tomb Raider | 75 |
| The Witcher 3: Wild Hunt | 116 |
In other words – ASUS ROG Strix SCAR 15 G533 will cope with absolutely any game with maximum graphics if you run them in native Full HD resolution. Of course, you can play at a higher resolution on an external monitor, for example, but then, even in relatively new titles, you will have to lower some settings. There are no problems with e-sports games, and there cannot be thanks to 300 Hz.
ASUS ROG Strix SCAR 15 G533 battery life
The laptop is equipped with a non-removable lithium-ion 4-cell battery with a capacity of 90 Wh, which, according to the manufacturer, should be enough for 12 hours of video playback.
On average, for office tasks it is good for 4-4.5 hours – this is with a browser and some simple programs like a text editor and messenger. Obviously, in some demanding software, the charge will hold even less, and when playing games, the charge is melts before our eyes. In the Modern Office battery test from the PCMark 10 benchmark, the laptop shows decent numbers. With 50% display brightness, backlight and effective performance mode, we get 3 hours and 41 minutes.
The laptop supports fast charging via USB-C and can even be recharged with a compatible external battery. When traveling, you can use the compact 100W power adapter, which also has a USB-C interface. But keep in mind that when you connect it, the laptop will not be able to work at full power, as it happens with power supply through a standard 240 W adapter. The speed of recharging is about 1.5 hours from any power supply.
Verdict
ASUS ROG Strix SCAR 15 G533 is a powerful gaming laptop with modern hardware that allows you to easily perform any kind of task. A good set, a stylish high-quality case, a good 300 Hz screen, an optical-mechanical keyboard and impressive sound can also be included in the list of the device's pros.
What is missing? All sorts of little things: there is no webcam, fingerprint scanner or a card reader, which aren't essential. Especially considering that the ASUS ROG Strix SCAR 15 G533 is a gaming laptop first and foremost.
Subscribe to our accounts: