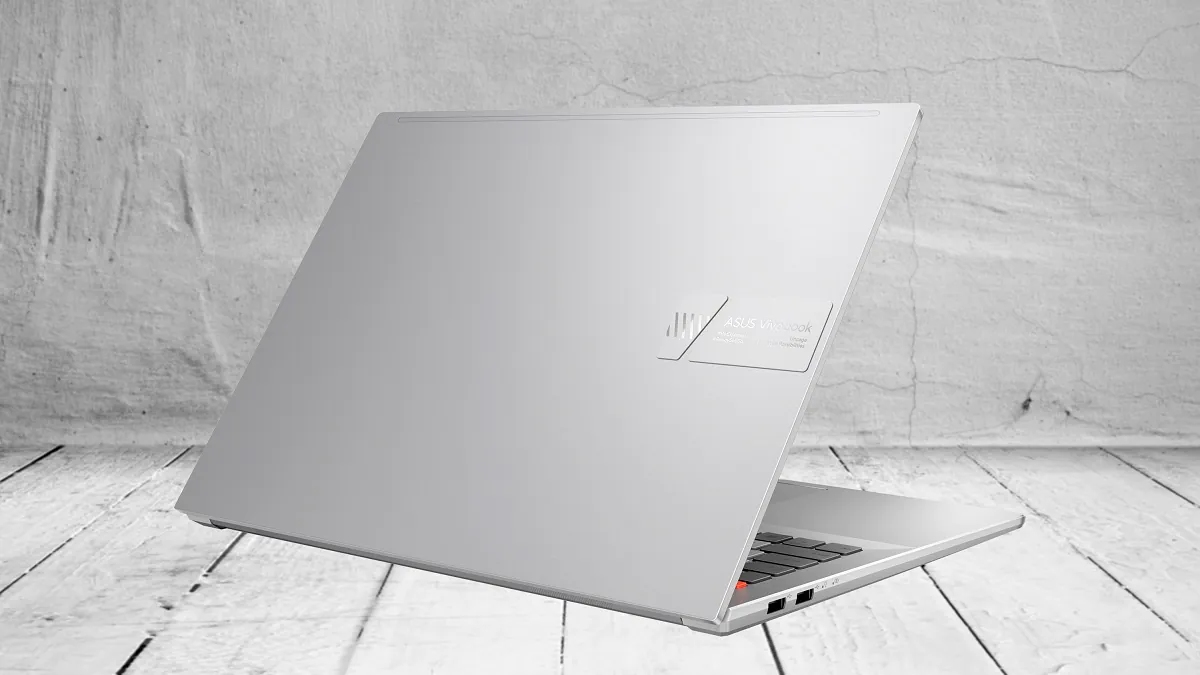 At the end of September, ASUS launched notebooks of the Vivobook Pro series, intended primarily for creators of media content. In this review, we will take a look at the flagship of the line – the ASUS Vivobook Pro 16X OLED (N7600), and find out whether it is a suitable option for creative tasks.
Full specifications of the ASUS Vivobook Pro 16X OLED N7600PC-L2041T
The table below shows all the main technical characteristics of the ASUS Vivobook Pro 16X OLED in the N7600PC-L2041T modification with an Intel Core i7-11370H processor. Traditionally, I will talk about other existing variations of the Vivobook Pro 16X OLED (and not only OLED) in the next section.
Model
N7600PC-L2041T
Operating system
Windows 10
Screen, inches
16
Type of coating
Glossy
Resolution, pixels
3840×2400
Matrix type
ОLED
Peak brightness, cd/m2
550
Touch
–
Screen refresh rate, Hz
60
Aspect ratio
16:10
Processor
Intel Core i7-11370H
Frequency, GHz
3.3-4.8
Number of processor cores
4 cores, 8 threads
Chipset
Intel
RAM, GB
16
Maximum amount of RAM, GB
32
Memory type
DDR4
Memory frequency, MHz
3200
SSD, GB
1×1024 M.2 NVMe PCIe 3.0
HDD, GB
–
Graphics, memory
Discrete NVIDIA GeForce RTX 3050, 4 GB, GDDR5 + integrated Intel Iris Xe Graphics
External ports
1×USB 3.2 Gen 1 Type-A1×USB 3.2 Gen 2 Type-C (Thunderbolt 4)

2×USB 2.0 Type-A

1×HDMI 1.4

1×3.5 mm combined audio jack (headphones + microphone)

Cardrider
MicroSD
Web camera
720P, privacy curtain
Keyboard backlight
+
Fingerprint scanner
+
Wi-Fi
6 (802.11ax)
Bluetooth
5.0 (2×2)
Weight, kg
1,95
Size, mm
360.5×259.0×18.9
Body material
Metal, plastic
Body color
Silver (Cool Silver)
Battery, Wh
96
Configurations and cost of the ASUS Vivobook Pro 16X OLED
ASUS Vivobook Pro 16X OLED laptop comes in different configurations. They can mainly be divided into two categories: by Intel and AMD processors, which are labeled as N7600 and M7600 respectively. Since we have the pre-sale variant with the Intel processor, today we will talk about the N7600 bundle. Still, it is worth knowing that there are modifications of this laptop with mobile AMD Ryzen.
So, the ASUS Vivobook Pro 16X OLED (N7600) can have one of two Intel processors of the Tiger Lake-H family: Intel Core i5-11300H or Intel Core i7-11370H. The amount of RAM can be either 8, 16 or 32 GB, with PCIe 3.0 SSD 512 GB or 1 TB of storage. The laptop can come with a preinstalled Windows 10 operating system in the Home edition, or without an OS at all. It is worth noting that there are more affordable modifications with other displays.
The ASUS Vivobook Pro 16X with OLED in the name is obviously equipped with OLED panels with a resolution of WQUXGA (3840×2400 pixels) and 60 Hz – such models are marked as N7600PC-LXXXXX. But there are simplified versions with IPS-level matrices, which in turn have a lower WQXGA resolution (2560×1600 pixels), but 120 Hz displays – they are labeled as N7600PC-KVXXX.
In other words, there are configurations of the Vivobook Pro 16X (N7600) for different tasks and different wallets. In total, I know about seven variations, and their exact markings and brief characteristics are in the list below:
N7600PC-KV034 – WQXGA IPS 120Hz, Core i5-11300H, GeForce RTX 3050, 16GB RAM, 512GB ROM, No OS, Silver
N7600PC-KV032 – WQXGA IPS 120Hz, Core i7-11370H, GeForce RTX 3050, 16GB RAM, 1TB ROM, No OS, Silver
N7600PC-L2058 – WQUXGA OLED 60Hz, Core i5-11300H, GeForce RTX 3050, 16GB RAM, 1TB ROM, No OS, Gray
N7600PC-L2009 – WQUXGA OLED 60Hz, Core i5-11300H, GeForce RTX 3050, 16GB RAM, 1TB ROM, No OS, Silver
N7600PC-L2029 – N7600PC-L2010 – WQUXGA OLED 60Hz, Core i7-11370H, GeForce RTX 3050, 16GB RAM, 1TB ROM, No OS, Gray
N7600PC-L2010 – WQUXGA OLED 60Hz, Core i7-11370H, GeForce RTX 3050, 16GB RAM, 1TB ROM, No OS, Silver
N7600PC-L2041T – WQUXGA OLED 60Hz, Core i7-11370H, GeForce RTX 3050, 16GB RAM, 1TB ROM, Windows 10 Home, Silver
What's in the box
The ASUS Vivobook Pro 16X OLED set turned out to be more advanced than initially thought. In a large box, in addition to a smaller one with a laptop and accessories, you can also find an unusual backpack for transportation. The box with the laptop contains a 120W power adapter with a separate power cable, a compact wired mouse with ASUS branding, a set of accompanying documentation and a set of Letterboy x ASUS Vivobook 2021 stickers.
Design, materials and build quality
The design of the ASUS Vivobook Pro 16X OLED laptop is hardly strict or overly bright. There are several interesting and rather unusual moments, which are remarkably combined with each other. Thanks to this, it is certainly not boring; its design is more of a cross between ZenBooks and Vivobook styles.
First of all, the lid with two decorative elements catches the eye: there's a a strip on top and a kind of pedestal with a logo and other inscriptions. Next to the latter there is an additional island with a pattern in the form of silvery diagonal lines. When opened, the view is drawn to the keyboard. First of all, it has a non-standard color palette. The main array of keys is colored light gray, and some of the keys are dark gray.
In addition, the Escape key is highlighted in bright orange, and there are various inscriptions and neat decorative icons above the top row. In fact, the designers were inspired by turntables and this can be seen from the color combinations used. It all looks very unusual and stylish.
But the color palette itself depends on the color of the case. We have a Cool Silver model, with an anodized aluminum textured lid. In the Comet Gray model, the color of the main keys is slightly different, in addition to the case itself, but the main thing is that the lid is covered with a smooth and pleasant-to-touch coating, which is resistant to dirt.
The lid can be easily opened with one hand, which is almost always enough for comfortable use of the laptop on your knees or just on the table. The bezels around the screen aren't very thin. The upper bezel is almost twice as wide as the sides, and the lower one is even larger.
Most of the body materials are very high quality. The case is covered with aluminum on all sides, the frame around the perimeter of the screen and the casing that covers the display hinge are plastic. If the second visually resembles the main material, then the frame is made of cheap, slightly rough black plastic, like in budget laptops.
The build is excellent overall and the case feels as solid as possible. The topcase practically does not bend even under strong pressure, but the display lid is more pliable to pushing and twisting. Since this is a 16-inch laptop, its dimensions will be larger than the classic 15.6-inch models: it's 360.5×259.0 mm, but the thickness is only 18.9 mm, and the weight is 1.95 kg. You can take it with you, especially since the set includes a fairly convenient backpack.
Read also: ASUS ZenBook 13 (UX325) review: New Member of the ZenBook Family

The layout
The lid of the laptop is adorned with the previously mentioned decorative pedestal with various inscriptions and slogans, as well as a relatively thin decorative strip on top. The bottom cover is screwed on with 11 screws and contains three rubberized feet for better stability. Towards the center there are many cooling slots.
On the right side there is a 3.5 mm combo audio jack, a card reader for microSD cards, a USB 3.2 Gen 2 Type-C port (aka Thunderbolt 4), an HDMI 1.4 interface, a USB 3.2 Gen 1 Type-A port and a power connector. On the left end of the elements there's only a pair of USB 2.0 Type-A ports and two LED indicators.
In general, the number of ports is enough, although there are some questions. For example, instead of a microSD card reader, I would like to see a full-fledged SD reader. But at least there's something. Plus, it would not hurt to have more high-speed USB Type-A ports, since one USB 3.2 is not be enough. In addition, it is not entirely clear why most of the ports are on the right.
On the front there is a shallow recess and one multimedia speaker on the left and right. At the back there's nothing but ventilation slots for hot air.
When opened, in the upper part above the display, we can see an array of two microphones, and between them is a webcam with a special privacy shutter and an LED. When closed, the curtain has a bright orange color.
The topcase consists of a full-fledged keyboard unit with various decorative symbols and inscriptions above the top row of keys. In the lower part there is a large area of the touchpad, the harman/kardon inscription to the right of it and various stickers.
Read also: ASUS Zenfone 8 review: Excellent compact flagship

Screen
One of the main features of the ASUS Vivobook Pro 16X OLED is its display. It's an impressive 16-inch OLED panel with 4K resolution (3840×2400 pixels) and 16:10 aspect ratio. Declared peak brightness is 550 cd/m2, contrast ratio is 1,000,000:1, with up to 1.07 billion colors and 0.2 m response time. The display provides 100% DCI-P3 and 133% sRGB color coverage at any brightness level, and also supports HDR. The refresh rate is standard 60 Hz, the coating is glossy, touch input is not supported.
Among other things, the laptop display is certified by leading independent laboratories. It emits 70% less blue light than conventional LCD panels, certified by TÜV Rheinland and SGS Eye Care.
Out of the box, the laptop display is perfectly calibrated for both everyday use and professional work. Color reproduction remains extremely accurate even at the lowest brightness level. The viewing angles are traditional for this type of matrix – very wide in general, but under certain angles, the white color acquires a green-pink tint. But overall this is definitely one of the best laptop displays on the market. For work, of course.
From the display settings, or rather its color rendition, we can note the Splendid profiles available in the built-in MyASUS utility. There is a normal mode with more realistic colors, with increased brightness and vividness of the image, and the manual mode with the ability to change the color temperature and Eye Care feature. Also there is also Tru2Life technology with "smart" algorithms for optimizing sharpness and contrast for each frame of the video.
Another question is what the manufacturer has done to maximize the life of the display. Still, do not forget that this is an OLED display, which means there is a risk that it may burn out over time. Part of the responsibility lies with the laptop user. So, you need to make sure that a static image does not remain on the screen for a long time, especially at maximum brightness, so you should periodically change the desktop wallpaper, the location of the shortcuts and so on.
The manufacturer, for its part, has added a special section to the already familiar MyASUS utility called ASUS OLED Care. It consists of four parameters: a screen saver (automatically turns on after 30 minutes of inactivity), pixel shift (an imperceptible pixel shift to avoid burning out static screen elements), automatic hiding of the taskbar in desktop mode (again, to avoid static display, since it is the panel that most often remains unchanged), as well as the translucency effect for the latter. Also, by default, the OS uses a dark theme, which, among other things, allows you to save a little battery power.
Sound
The sound system of ASUS Vivobook Pro 16X OLED is represented by a pair of speakers that are aimed directly at the user and form a full-fledged stereo pair. They were developed in collaboration with Harman/Kardon experts, as evidenced by the markings on the laptop topcase. The sound enhancement software has a built-in DTS Audio Processing utility and I strongly recommend not to neglect the available profiles, since with DTS turned off, the sound is not very expressive.
The Music profile sounds very nice. It has excellent volume reserve, low frequencies are present and the sound seemed to me quite balanced in all key parameters. The utility also has ready-made profiles for games and movies, one custom profile and a five-band graphic equalizer.
The manufacturer paid a lot of attention to intelligent noise cancellation, and it improves not only outgoing, but also incoming audio signals during voice communication. In addition to general sound optimization, there is a mode with the suppression of extraneous voices and noise, and during conferences, you can enable a special mode for leveling the volume and clarity of several voices at once. You can select the required profile or disable optimization in the MyASUS utility, and examples of how the function works can be found on the manufacturer's website.
Read also: ASUS ROG Zephyrus G14 2021 laptop review: Great, but not mind-blowing

Unlocking
The laptop supports a personalized Windows Hello login method, but only with a fingerprint or PIN, since the webcam is not equipped with special sensors. The fingerprint scanner is built right into the power key and is located in the upper right corner of the keyboard unit.
That is, not only does it not spoil the appearance of the device, but it is also very convenient to use: you press the power button and hold it for a whole. And you're in! That is, the method is not only reliable, but also fast and convenient.
Read also: ASUS ZenBook Pro Duo UX582 Review: 4K OLED, GeForce RTX 3070 and… Two Screens

Keyboard and touchpad
The keyboard unit is slightly recessed into the body, but the manufacturer has managed to make it full-size with a digital NumPad. In total, there are 98 keys, without additional hot keys – they are combined with a number of upper functional ones. The latter are traditionally low and less wide. Numpad keys are standard height but narrower. You will only have to get used to the size of the arrows, if you use them often.
The rest of the layout is standard: the Shift keys on the left and right are long, Enter is one-story, Backspace is slightly shortened. The power key, as you already know, is combined with a fingerprint scanner. It is recessed stronger than the others and requires more pressing force, and this is done to avoid accidental touches. Also, three keys are endowed with their own status indicator: F9 and F10 (to mute the microphone and webcam), as well as Caps Lock.
The keys are not particularly loud, the travel is clear and at the same time not very deep (1.35 mm), while usually in this kind of notebooks, the full travel of the keys starts at 1.4 mm. The distance between the keys is quite comfortable and it is very pleasant to type on such a keyboard. The top row of keys can perform standard functions, which are defined by the system or program, as well as hot multimedia functions for controlling sound, backlighting, etc. without having to use them in combination with the Fn key. Switching between modes is carried out either in the MyASUS utility, or by pressing Fn + Esc.
Among other things, the keyboard has white backlighting. It is not the most uniform that I have seen. In total, there are three levels of backlight brightness, you can change them by pressing the F7 or Fn + F7 keys, depending on the selected mode of the function keys.
The touchpad in the ASUS Vivobook Pro 16X OLED is unusually large as for Windows laptops – 130 × 85 mm. The manufacturer claims that it is 44% larger than in the Vivobook 15 K513 and is covered with a special smooth film for more precise navigation.
It is really very pleasant to use it, and thanks to its large size and high accuracy, it can easily replace a mouse. Buttons have a noticeable click, but not too loud. The panel's sensitivity is high even by default and all system gestures are recognized correctly.
However, the main feature of this touchpad is the built-in DialPad touch controller. As we know, ASUS quite often experiments with touchpads in its laptops. We have already seen different variations, such as the touch-sensitive NumberPad, and even the additional ScreenPad screen. And here we have another additional tool called DialPad.
At its core, this is a kind of touch wheel designed to accelerate the execution of various actions both in the system and in compatible software, for example, from Adobe. ASUS already has laptops with a physical wheel, but here it is a touch wheel. DialPad is activated by swiping to either side of the icon in the upper right corner of the touchpad, and appears in the upper left corner of it.
By simply touching the center of the wheel, the corresponding radial menu appears on the laptop screen at the top left and above the active window. Navigation on it is intuitive and simple: by moving DialPad clockwise (or counterclockwise), you can select a specific action, then by touching the center of the ring, the scale of the selected option itself is expanded and the same movements can be used to adjust its value. You can adjust the system volume and brightness of the display, carry out vertical scrolling, switch between running apps and virtual desktops. But more useful actions are already available in different compatible programs.
There's a reason why the ASUS Vivobook Pro 16X OLED customers are offered a free three-month subscription to Adobe Creative Cloud. The DialPad virtual interface currently supports After Effects, Photoshop, Premiere Pro, and Lightroom Classic. So, using the DialPad wheel, you can conveniently adjust various sliders in the programs and much more. Here's a video demonstrating the capabilities of the wheel.
You can customize the order of actions and group parameters in certain programs in the built-in ProArt Creator Hub utility. In the same place, the adjustment speed is adjusted and the controller operation modes are switched. It can either be disabled or put into normal mode with the standard Windows wheel settings (Microsoft Wheel Device). Also, for the system, you can create your own function when scrolling, which will be available in the radial menu, by assigning it via a key combination.
In general, the feature will be useful and very convenient for those who often work on the go and without a mouse. The wheel will definitely be more comfortable in such tasks compared to the usual input via the touchpad or keys. Faster so for sure, although it depends on habits, and at first you have to get used to the sensitivity and placement of the wheel.
Ther other uses of DialPad directly in the system, like for changing brightness or volume, are a possible but hardly important. After all, there are physical keys for adjusting these parameters. Personally, the classic familiar tools seemed convenient to me, although in professional software, such a virtual interface really helps and simplifies the whole process. The main thing is to adapt.
So far, it kinda works, but there are bugs in Lightroom Classic, when adjusting the contrast of an image with a wheel, the brightness of the display changes at the same time. With a high degree of probability, such issues will be fixed by the next updates.
Read also: ASUS ROG Strix SCAR 15 G533 Review: Superb Gaming Laptop

Features and performance
All possible configurations of the ASUS Vivobook Pro 16X OLED have already been discussed at the very beginning of the review, so now we will consider a specific configuration, N7600PC-L2041T. Briefly about the hardware: an Intel Core i7-11370H processor, a discrete NVIDIA GeForce RTX 3050 graphics card, 16 GB of RAM and a 1 TB SSD.
We are already familiar with the Intel Core i7-11370H processor. This 35W mobile processor from Intel appeared at the beginning of this year and belongs to the eleventh generation of processors (Tiger Lake-H family). It is based on a 10nm process technology and consists of four cores with a base clock frequency of 3.3 GHz and up to 4.3 GHz with a load on all four cores. The maximum possible frequency in this case can reach 4.8 GHz in Turbo Boost mode, but only for 1-2 cores. The processor supports Hyper-Threading technology and 4 cores can work in 8 threads. You get (L3) is 12 MB Intel Smart Cache, support for Wi-Fi 6/6E (Gig +), Thunderbolt 4 and PCIe 4.0 interfaces.
The integrated graphics in general are quite good: Intel Iris Xe Graphics G7 with a clock frequency of 400 to 1350 MHz and 96 execution units. The discrete video card is NVIDIA GeForce RTX 3050, built on the basis of the Ampere architecture. The manufacturer has set its power consumption at 35W (50W with NVIDIA Dynamic Boost). The clock frequency is up to 1700 MHz, 128 bit, the amount of video memory is 4 GB of GDDR6 type.
Our configuration has 16 GB of RAM, but in general it varies from 8 GB to 32 GB. In all cases, the memory will be soldered to the motherboard, which means that you will not be able to change it on your own and you need to immediately choose the appropriate version. Dual channel DDR4 memory up to 3200 MHz. If a laptop is purchased mainly to work in specialized software, you should look at options with at least 16 GB of memory.
The drive is an M.2 (2280) NVMe SSD. There is only one slot inside, which means that you won't be able to add a second disk either. It's possible replace it in versions with 512 GB with a larger drive. In our case, a 1 TB drive from Hynix is installed – model HFM001TD3JX013N. The results of testing are below.
The ASUS Vivobook Pro 16X OLED itself is a truly powerful solution. The laptop does a great job with normal daily tasks. In single-core tests, the processor shows good results, but in multi-core tests it is inferior to processors with a large number of cores. A set of Intel Core i7-11370H with NVIDIA GeForce RTX 3050 is quite good, but not optimal for work. Especially in those tasks where the number of processor cores and threads is important. You should probably forget about modern games with good graphics, but the device is suitable for working with photo/video/graphics.
Cooling
The proprietary ASUS IceCool Plus technology is used to cool the components, which consists of two fans and heat pipes, as well as a special software algorithm. The user is allowed to adjust the fan speed manually via the MyASUS utility or ProArt Creator Hub or by pressing Fn + F, choosing one of the built-in profiles. MyASUS has a quiet, standard, and performance modes. In ProArt Creator Hub there are quiet, standard, high performance mode (essentially the same three profiles from the first utility) and the maximum mode. At the same time, the Windows performance management remains available, while in gaming laptops, for example, it becomes inactive if it is possible to change profiles through ASUS proprietary software.
As always, in each mode, the level of performance  will change accordingly, in addition to the speed of rotation of the fans. Overall, it is all illogical and a little confusing. That is, we have both MyASUS and ProArt Creator Hub, and power profiles built into Windows. Just how much do you need?
To test the hardware under load, a half-hour stress test from the AIDA64 utility was used.  The tests were run both on battery and mains power.
Let's start, traditionally, with a quiet mode. It makes the laptop as quiet as possible under load, but in return, obviously, limits the performance of its hardware. When running on battery power, the average CPU clock speed was 1.5 GHz, and it heated up to 72.6° on average (the maximum recorded was 79°). Under the same conditions with mains power, the frequency increased to 2.0 GHz, while the average temperature was 62.5° (73° at the peak).
Next is the standard mode. It offers a balance when it comes to noise/performance. On battery power, the average CPU clock speed was at 2.4 GHz, and the average temperature was 68.4° (maximum was 71 °). From the mains, the average frequency is 3.0 GHz, the processor heats up to an average of 79.6° (the recorded maximum is 91°).
In performance mode, the device is noisier and this can really interfere in certain situations. The average frequency and temperature of the CPU when operating on battery power in this mode is 2.6 GHz and 69.3°, respectively (80° maximum), and from the mains, these figures grow to an average of 3.6 GHz and 93.5° (with a maximum of 95°).
The last mode, Maximum, is available only in the ProArt Creator Hub. The manufacturer, again, does not limit it in any way, and it is available not only when connected to the mains, but also with battery power. Yes, you can actually activate this mode even when running on battery power, but the laptop does not work at full capacity. On battery power in this mode, it shows exactly the same results as in the previous mode. The situation changes a little when the charger is connected. The frequency on average is kept at around 3.0 GHz with an average temperature of 79.4° (92° maximum).
It turns out that in order to achieve maximum performance, it is not at all necessary to activate the last mode in the ProArt Creator Hub. The usual performance mode will do.
Read also: ASUS ROG Zephyrus G14 2021 laptop review: Great, but not mind-blowing

Battery life
The battery is 6-cell, with a capacity of 96 W*h. This is a impressive capacious battery for a laptop of this size. The battery life, as always, will depend on the tasks performed by the user. If we talk about some resource-demanding ones, then a laptop will work for a couple of hours from one charge. But when using browser, text editor and other undemanding software, then in this mode of operation the laptop can last up to about 6-6.5 hours.
To objectively assess the battery life of ASUS Vivobook Pro 16X OLED (N7600), we used the Modern Office battery test from the PCMark 10. The laptop was set to 50% display brightness, keyboard backlighting (medium), and high performance mode. In this mode, the laptop lasted 5 hours and 15 minutes, which is quite a good result, as for a laptop with a 16-inch screen and 4K-resolution.
The laptop charges slowly from the included 120 W power adapter, about 1.5 hours from 10% to 100%. Of the pleasant features, it is possible to note support for charging through the USB-C interface. Of course, a standard 10-20 W charger from a smartphone will be charging a laptop for a very long time and there is no point in doing so, but nevertheless, there is such a possibility. Fast charging will work if the charger is Power Delivery certified.
Read also: ASUS ZenBook Pro Duo UX582 Review: 4K OLED, GeForce RTX 3070 and… Two Screens

Verdict
Without a doubt, the ASUS Vivobook Pro 16X OLED (N7600) is a very good laptop. It has an original design, but the main thing about is a stunning OLED display. I want to look at it and use it, especially because of other features that are implemented here at a fairly high level. Decent sound of the speakers, very comfortable keyboard and a large touchpad with a virtual DialPad interface – there's a lot going for it.
So, overall, this is a great machine for working with media content on the go. But if your tasks require as many processor cores in a laptop as possible, you should take a look at the Vivobook Pro 16X OLED based on AMD Ryzen processors, which are labeled with the M7600 prefix.
Subscribe to our accounts: