Let's assume you're not here out of curiosity and you really want a new, modern laptop – compact, lightweight, moderately powerful, with decent battery life and a good screen. Yes, and at a reasonable price, not a macbook, but a similar Windows-based ultrabook.
Suddenly, I have something to offer you. And yes, it will be a rather exotic device, not a laptop from one of the big name brands. It was still unclear at the start of the test, but now I confidently advise you to check out the realme Book Prime, or at least consider this model as one of your options for purchase. Why I liked this gadget is detailed in my review.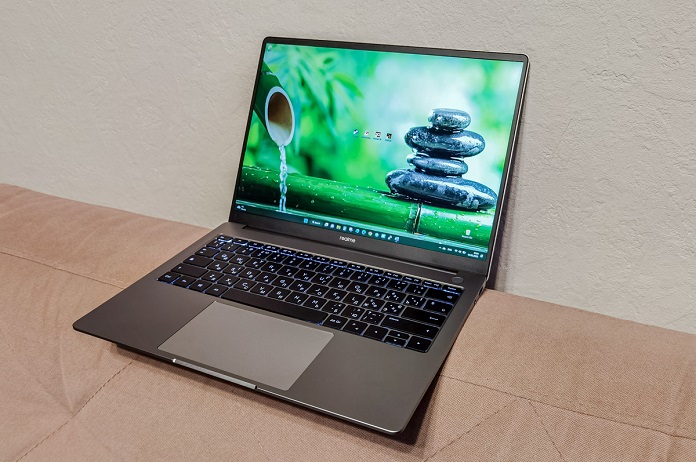 Specification and equipment of the realme Book Prime 14
I'll start with the main features of the laptop, so you know what we're dealing with straight away.
Screen: 14″, 2160×1440 pixels, IPS, glossy, 100% sRGB, 400 nits
Processor: Intel Core i5-11320H, quad-core, 3.2-4.5GHz
RAM: Dual channel, 8GB or 16GB, LPDDR4X, 4266MHz
Storage: SSD, 512GB, PCIe
Video: Intel Iris Xe Graphics integrated, dynamic video memory capacity
Ports and Connectors: USB 3.2 1×Type-C (Gen 2), USB 3.1 1×Type-A, 1×Type-C (Thunderbolt 4), USB Type-C Power, 3.5mm headphone jack
Keyboard: X-hinge, Ukrainian, English, Russian, 3-level backlight
Touchpad: 123.8 x 78.2 mm, supporting Microsoft PTP Clickpad technology
Security: Fingerprint scanner in the power button
Built-in webcam: 720p
Audio: 2 HARMAN speakers, DTS surround sound, 2 microphones
Wireless Adapters: Bluetooth 5.2, Wi-Fi 802.11ax 2×2 MIMO
Battery capacity: 54.08Wh
Dimensions: 22.80×30.70×1.55 cm
Weight: 1.37 kg
Case: Metal, colour: Grey
Operating system: Windows 11 Home
Positioning and price
Realme is well known as a manufacturer of relatively inexpensive but high-quality smartphones, and we have also seen watches and headphones from the brand. But for the last few years, realme has also been trying its hand at TVs and laptops.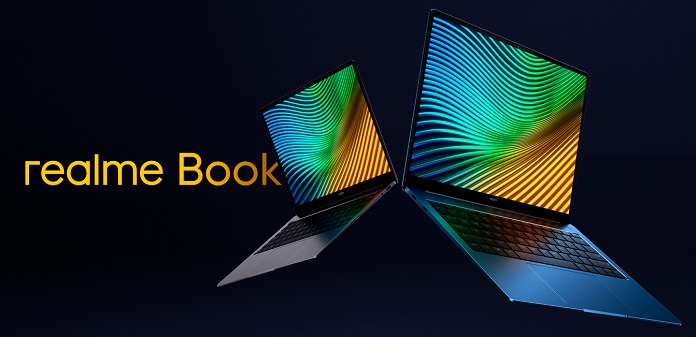 It can be said that the current generation of ultrabooks is the first in the manufacturer's portfolio. Therefore, the line can be considered a flagship, because realme does not have another one (yet). It has three almost identical models: the younger realme Book, equipped with an Intel Core i5-1135G7 processor and 8GB of RAM, while the Book Prime version runs on the slightly newer and more efficient Intel Core i5-11320H. All other features of the laptops, their design and equipment are the same.
Configuration of the test laptop: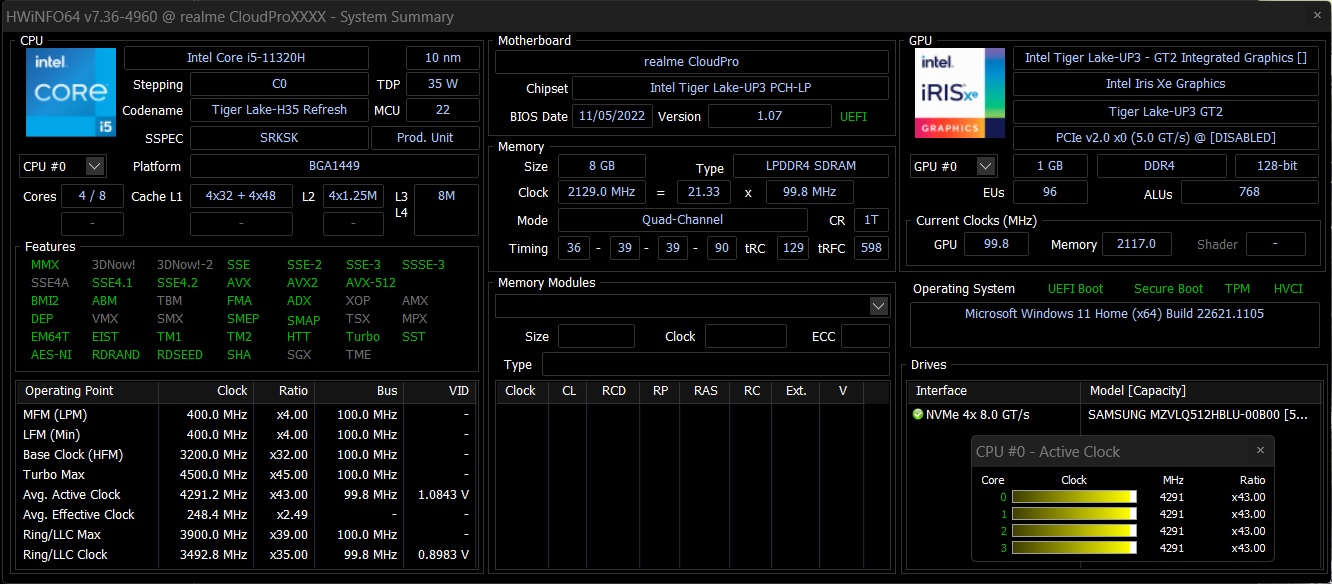 I'm testing the smaller model in the realme Book Prime range with 8GB RAM, which costs around 790 USD. A notebook with 16 GB RAM is available for 920 USD.
What's in the box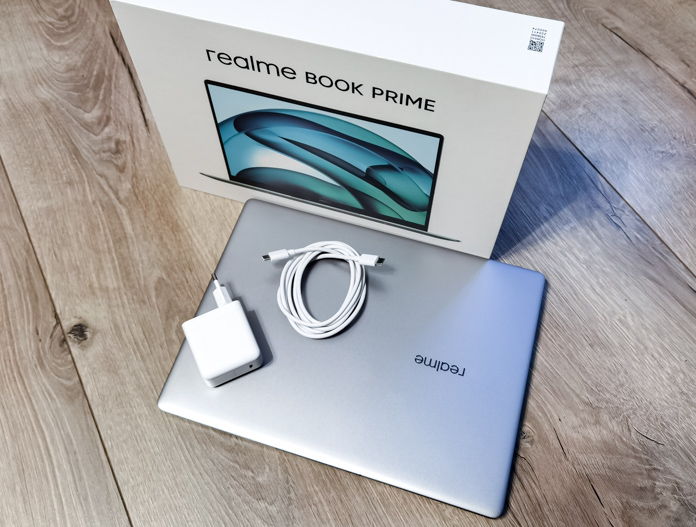 The package is very simple. The white cardboard box contains the notebook itself, a small 65W power supply that looks more like a smartphone charger, and a 180cm cable with USB Type-C connectors on either side.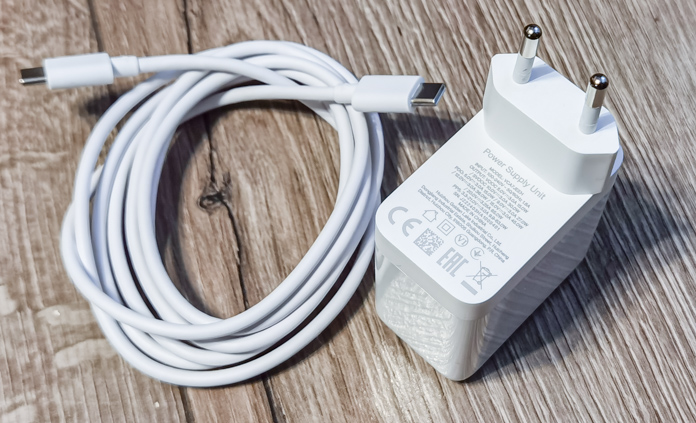 Accordingly, there is a USB-C port on the adapter for connecting the cable: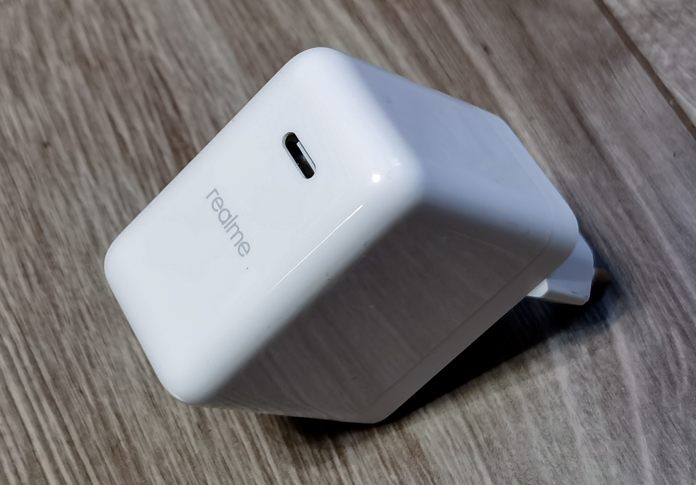 Read also: Realme Pad X Review: An Extraordinary Tablet
Design, materials, assembly
You don't have to be an expert to see where the designers at realme drew their inspiration for the Book Prime. In concept, the laptop is almost exactly the same as the MacBook Air. I will not assess the moral and ethical side of this issue. It seems to me that this is a perfectly acceptable approach, which has become even commonplace when a relatively young Chinese manufacturer copies the best examples of global industrial design. No one particularly condemns it.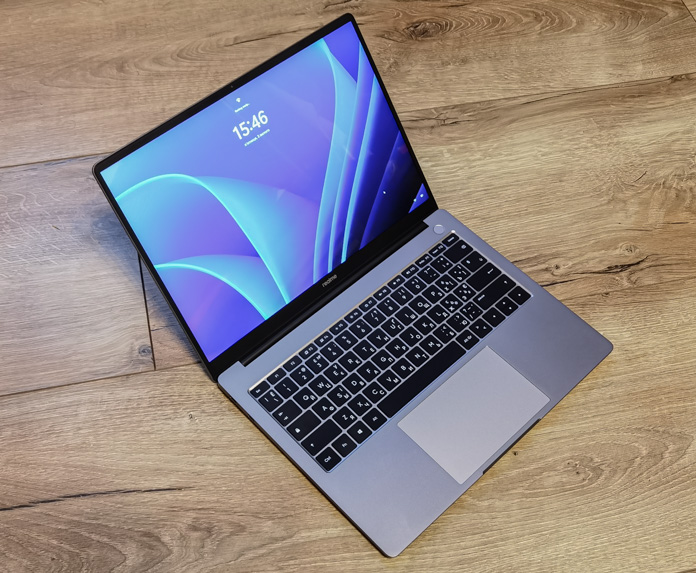 Overall, the laptop is quite pleasant looking and feels sturdy. It has an all-metal body. The only plastic we see is on the frame around the display, in the hinge cover and in the keyboard caps. The bottom cover is a separate removable part that is secured with screws.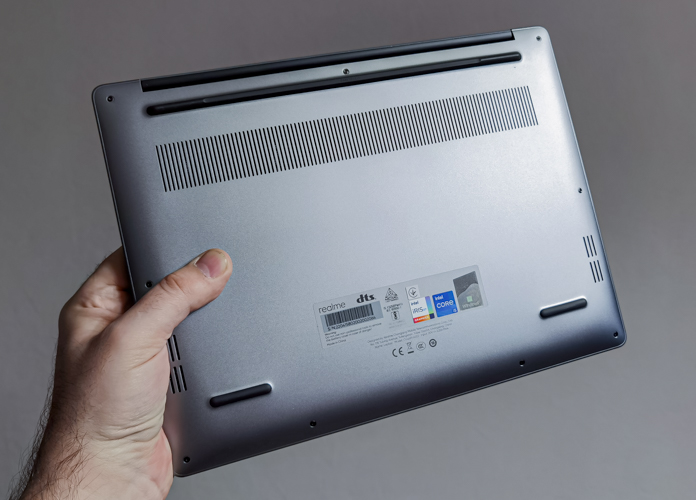 But the design is generally stiff to bend and twist, you can grip the laptop with one hand by the edge of the underside when unfolded, and it doesn't sag or squeak.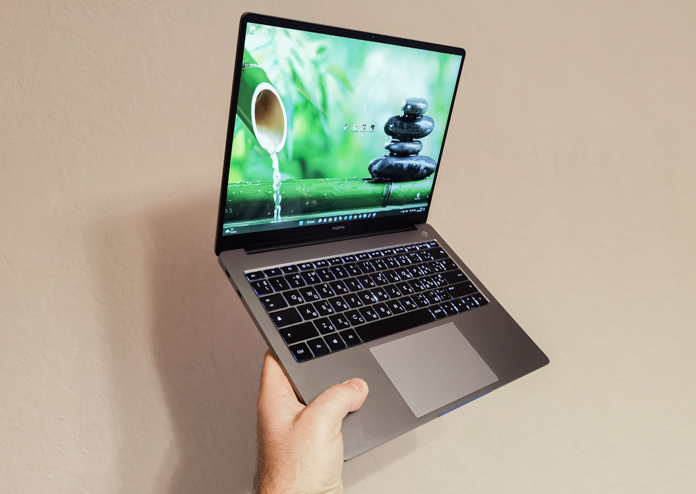 I can also mention the pleasant touch of the matt silver oleophobic coating, which does not collect fingerprints at all. This is very cool, you don't have to wipe it down regularly at all to keep it looking presentable, which is very rare in today's world of consumer electronics. No matter how you grab the laptop, it stays visually clean. Magic!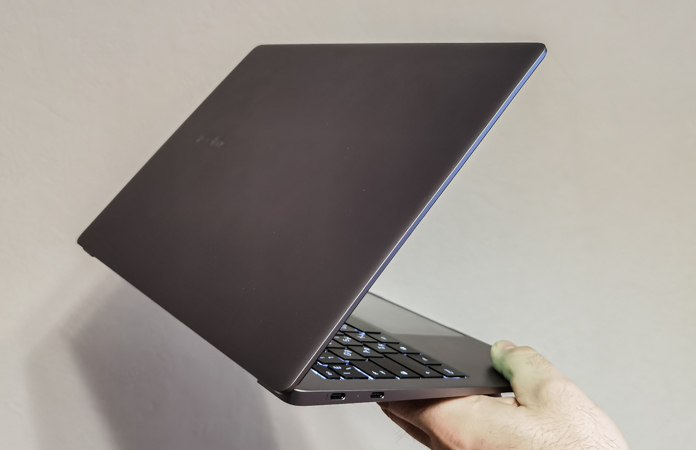 The build of the device is absolutely perfect, I didn't notice any faults. All parts are manufactured and fit together perfectly.
Read also: Realme C33 review: what to expect from a $140 smartphone?
Layout of elements, ergonomics
The notebook has a strictly classical format, so we won't see anything unusual in the arrangement of the elements. But let's look at it from all sides.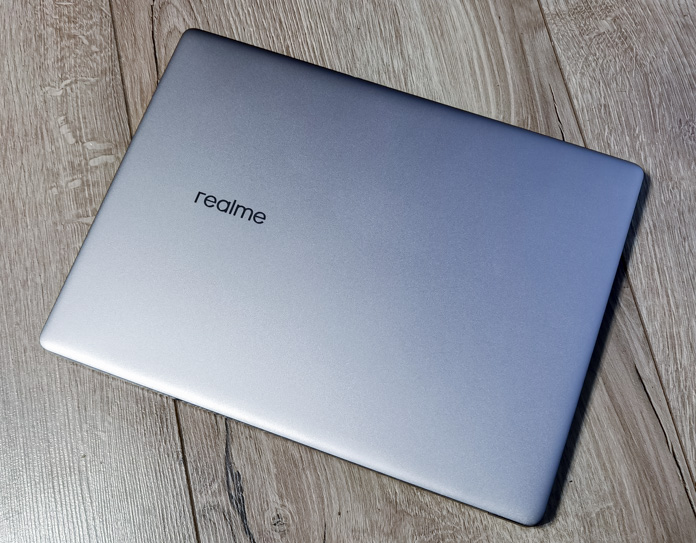 The top lid is metallic and uncluttered except for the mirrored stamped manufacturer's logo in the middle on the left. When you open it up, you see the display unit with a thin border on the left and right, a slightly larger border on top with the camera, indicator and 2 microphones and an even larger field at the bottom, here too the realme logo is imprinted. The display takes up 90% of the front panel area, meaning that the bezels are really small.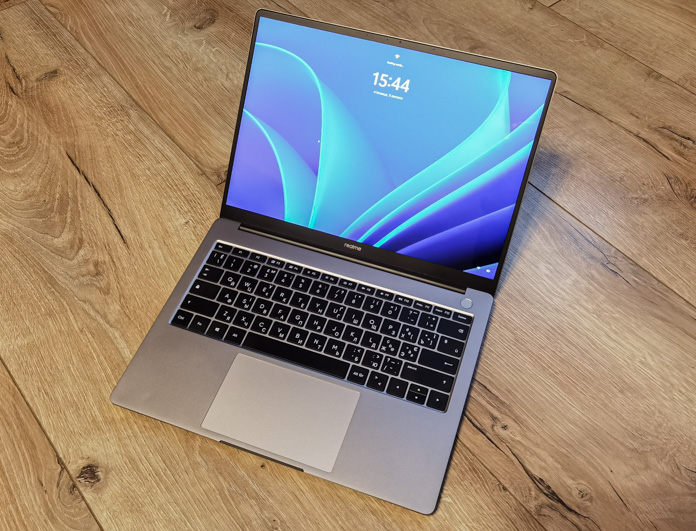 Next we see the keyboard, above it on the right-hand side is a round power button with a built-in fingerprint scanner. Here I have a small note on ergonomics. When I pick up the open laptop with my right hand, the most comfortable place is the centre of gravity near the hinge. And at this time, the power button can get under my thumb, so you have to be careful because you can accidentally press it.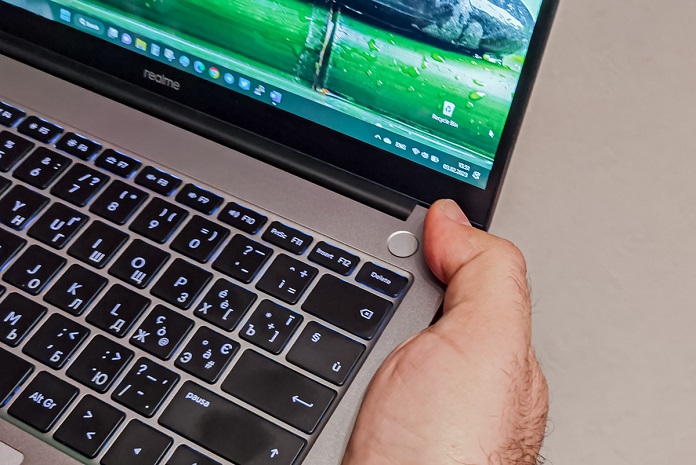 Below the keyboard is a large touchpad. Underneath the touchpad there is a cut-out for more comfortable opening of the notebook lid.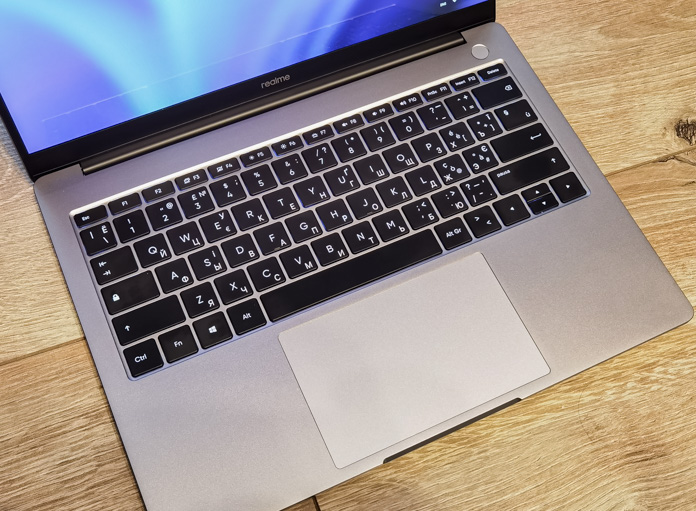 What's interesting is that the realme Book Prime successfully passes the so-called 'macbook test'. That is, when it's standing on a surface, you'll be able to open the lid with one hand without holding the bottom of the laptop with your other hand. Fun fact. It may not seem like an important parameter, but it makes using the device more comfortable and indicates the quality of the hinge. It's worth noting that most Windows laptops fail this simple test.
In the realme Book Prime, the hinge is soft, but it holds the display securely at any angle. Incidentally, the screen unfolds to an almost horizontal position.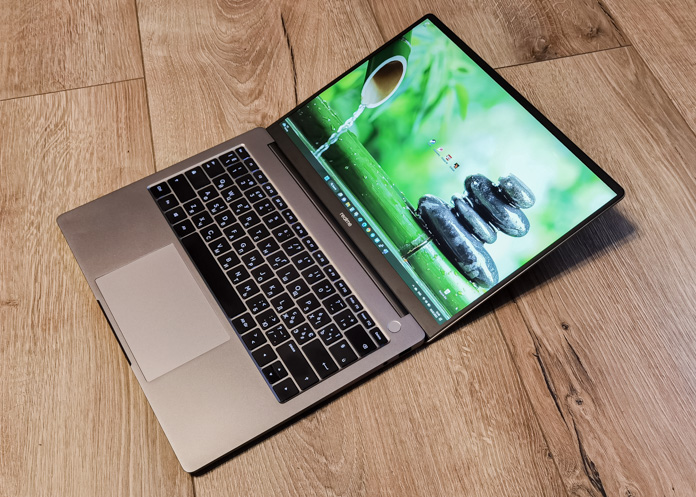 On the side edges there are a minimum of elements. On the left are two USB-C 3 ports and between them an LED status indicator. The first port supports Thunderbolt 4, while the second is USB-C 3.2 Gen 2. The notebook can be charged via either port. You can also use both ports to connect compatible external monitors or other peripherals to the notebook.

On the right, there's one USB-A port and a 3.5mm universal jack for connecting a headphone, microphone or headset.

Underneath you can see the cooling grille almost the entire width of the case, 2 speakers on each side, 2 small speakers and a wide rubber feet.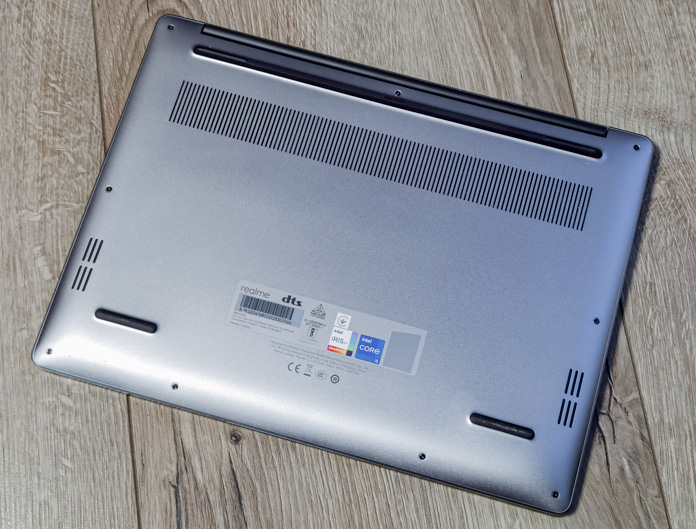 The large foot in the middle has the brand slogan "Dare To Leap" printed on it. It doesn't seem to affect anything, but it shows the manufacturer's attention to detail, which gives hope that more important details have been given attention in this notebook too.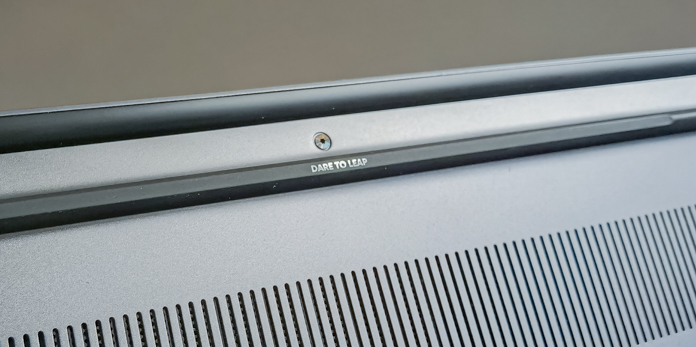 Read also: Realme Pad Mini Review: Compact and inexpensive tablet
Screen
The main feature of the realme Book Prime display is the 3:2 aspect ratio. That is, the screen has been enlarged in height and, after the usual 16:9, looks almost square. This is a definite plus for tasks such as working with documents, web pages, reading texts and programming.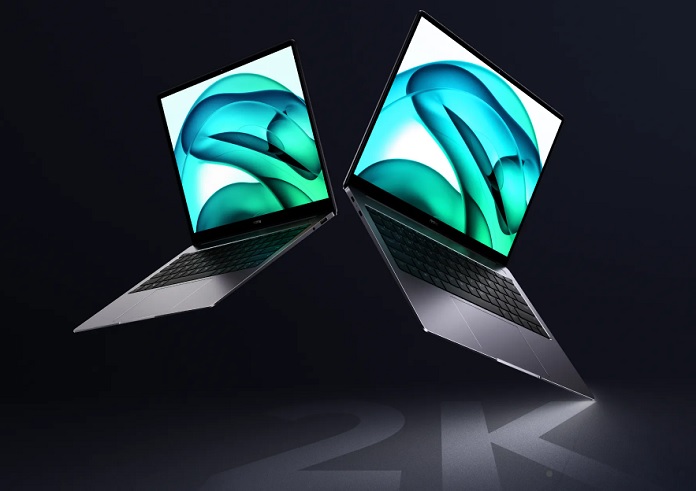 Overall, it's a pretty good quality IPS panel (made by Chi Mei, model CMN8C03, if that tells you anything) with a high pixel density (2K resolution – 2160×1440 dots on 14″), so images and fonts look very sharp on it.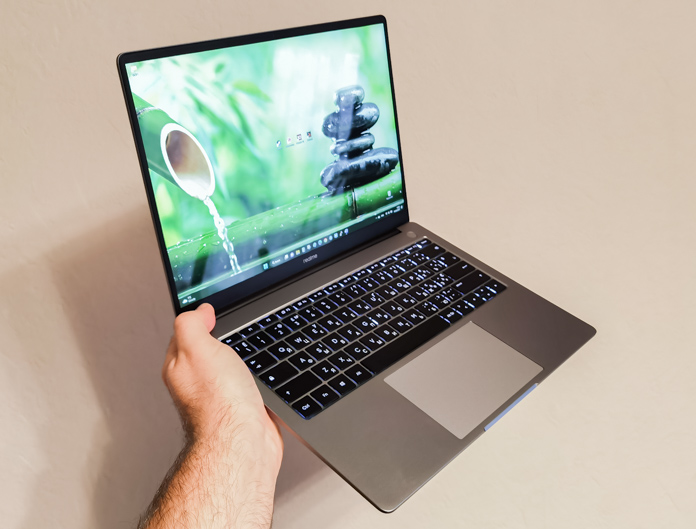 There's also a 100% sRGB colour gamut, making it suitable for photo editing, video and graphics work in general. Add to that a peak brightness of 400 nits (which is MacBook Air M1 level) and you've got a pretty decent screen for any use in artificial or natural light.
Read also: Realme 10 Smartphone Review: A New Mid-Range Hit?
Keyboard, touchpad
The controls and input elements in the realme Book Prime are quite in line with current norms and trends for such elements in Windows devices. I won't say much about them, the main thing is that I didn't find any drawbacks and didn't feel any discomfort when using them.
The keyboard is island, the keys have a scissor type mechanism. The stroke of the caps is short, keystrokes are crisp, everything is as it should be, noise level is average when typing fast. The backlight is white, has three levels of intensity and functions adequately.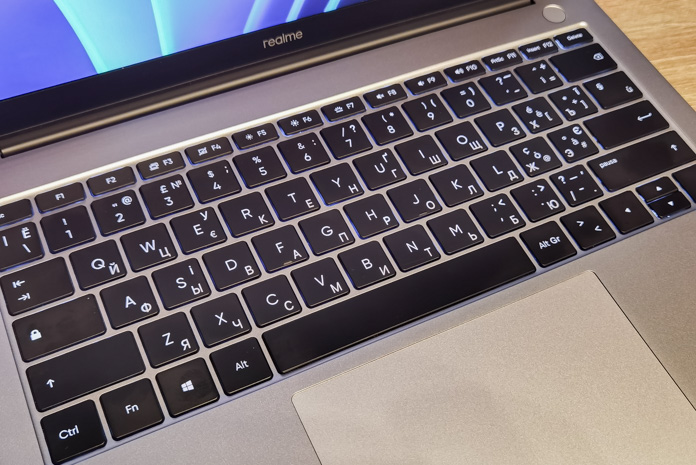 The touchpad is large and comfortable, supports multi-touch and gestures, and performs its functions perfectly. The panel seems to be plastic. It has a high-quality oleophobic coating, as does the entire body, so it hardly collects any dirt or fingerprints.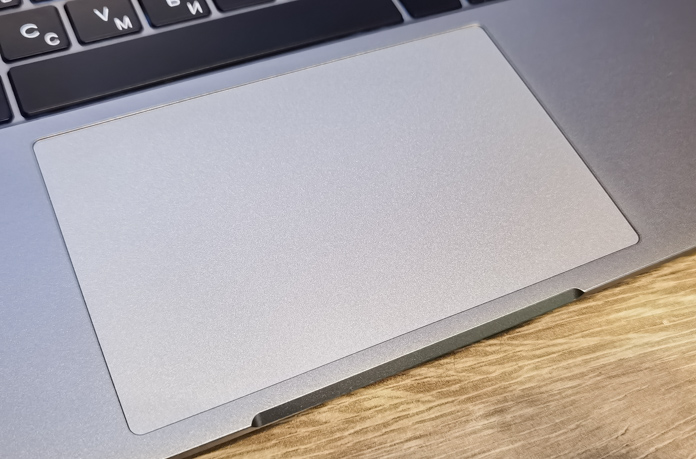 Realme Book Prime performance
To be honest, this moment came as a pleasant surprise to me. Or maybe I just haven't tested laptops in a long time. In any case, last year's platform based on the Intel Core i5-11320H processor with integrated Intel Iris Xe Graphics proved to be quite fast.
In my day-to-day activities, the laptop performed at its best. I worked with texts in websites and office editors, a lot of heavy tabs in the browser, worked with pictures (scaling, cropping), occasionally editing photos in Adobe Lightroom and administering the server via SSH and SFTP applications. In such typical tasks, realme Book Prime is very fast.
Apparently, one of the reasons for the good performance is the drive, because there's a high-quality, fast SSD from Samsung inside:
As a formality, I decided to run some performance tests. The results are shown in the gallery below.
Among other things, I don't know why, apparently out of habit, I ran the video adapter test with the 3DMark utility, not expecting any good results. But I was surprised by what I saw on the screen during the testing process and the final result was not directly very bad. So I decided to delve into the question of whether it's even realistic to play on an ultrabook, which is clearly not designed for such use.
The first game I tried was World Of Warplanes by Wargaming. The result was average, because I was playing on an external large widescreen 43″ monitor on a full 32:10 screen with a resolution of 3840×1200 pixels. So I installed the SD version of the client and selected medium graphics settings. I got a pretty decent 40-50 FPS, which means it was pretty comfortable to play. Now I wish I had tried 1080p mode in a window. But I think, that if you play in Full HD, you could try to set even HD-version of the client, or set ultra settings in SD-version. But in general I can say that if you're a fan of online Tanchiki, Ships or Planeswalkers games from Wargaming, which are actually based on the same game engine, you can find a comfortable combination of screen resolution and graphics settings to play comfortably on realme Book Prime.
Next it was time for GTA V. This was the first time I had ever played this game on my laptop screen. And with maximum graphics quality settings. And I was also shocked, because it is possible to play, and if you lower the settings a little bit, it is even quite comfortable to do so.
So as not to be unsubstantiated, I recorded the process of passing the built-in test on video:
Later, I repeated the test on an external monitor in a 1920×1080 window. In this case we have quite decent 25-30 FPS. And if you want more frames, you can just lower the picture quality. I attach the video recording:
Encouraged by the results, I got cheeky and went further – installed on a laptop rather demanding to the power of equipment game Red Dead Redemption 2, and just in case I got mad and added more Cyberpunk 2077.
As for RDR2, the built-in graphics test still failed to start, even with minimal video quality settings in a Full HD window. On the other hand, the game itself launched in both 2K and FHD, and I could even play it for about 15 seconds, although the framerate was noticeably low (about 15-17 FPS). But then the picture froze. It seemed to me that it was because of lack of video memory. After all, the integrated video core uses some of the RAM for its tasks and 8 GB is simply not enough to run the OS and a heavy game. But if you buy a laptop with 16 GB of RAM, it seems to me, this problem will be overcome and RDR2 can be played comfortably on low graphics settings. But Cyberpunk 2077 didn't run at all – the game simply crashed after the initial splash screen. Well, to be honest, I didn't get my hopes up…
All in all, it's safe to say that it's possible to play on an ultrabook. It's definitely capable of playing many 3-5 year old games in Full HD, favourite tanks, classic eSports titles like Dota, Counter Strike, Fortnite and many other titles. If you're going to play on this ultrabook, I suggest you do so with an external Full HD monitor. Or, if you already have a higher resolution screen, you'll probably have to play in windowed mode. Of course, you could even try playing with a 14″ 2K laptop display, although I don't approve of such an approach as the screen is small and increasing the resolution only increases the load on the system and reduces the FPS.
Cooling
The laptop turned out to be very quiet on the whole. Which also surprised me, as there is only one grille on the outside of the cooling system, almost the entire width of the bottom cover. It seemed to me that through this grille the CO both draws in outside air (from the right side) and ejects hot air (from the left side). In any case, I did not notice any other grilles or slots where air is entering or exiting.

In the official materials, the manufacturer declares "a microstructured lithographed cooling system design", the use of liquid cooling of the steam chamber and two low-profile high-speed fans. A diagram of the cooling system can even be found on the company's website. Indeed, between the hinge and the display part on the end there is a grille for blowing hot air. Part of the flow comes out to the back and part of it goes above the screen.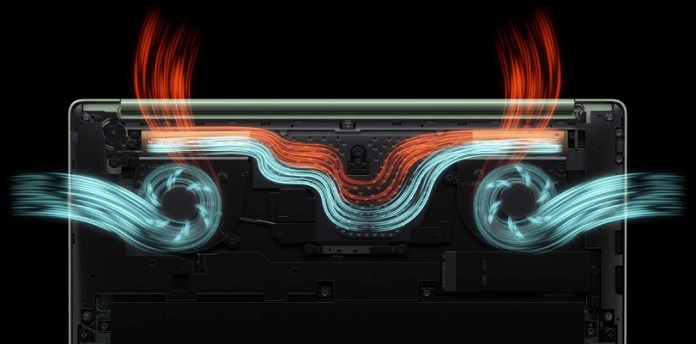 But, in any case, I can say that the realme Book Prime's cooling system works very efficiently. So quiet that it is almost imperceptible during normal operation, which I described above. And even during loads, e.g. gaming, the noise from the fans is not very much audible, with the case getting a little warm at the bottom, just in the area of the grille on the left.
Battery life and charging
The Realme Book Prime has a 54Wh battery, which may not seem like a lot of capacity, but apparently the engineers couldn't fit a big battery into such a slim design. Nevertheless, that said, I was quite happy with the resulting autonomy figures. I can say that the battery is enough for a whole working day. Depending on the tasks and brightness of the screen you will get 6-8-10 hours of continuous operation of the device. Or up to 12 hours of video playback on a laptop screen.

The realme Book Prime can be charged via either of the two USB Type-C ports. The included charger provides a quick charge of up to 50% in 30 minutes. A full charge takes just over an hour. You can also charge the laptop from most modern pawerbanks. It's best to do this while the laptop is switched off, so you don't waste extra power to keep your operating system and hardware running.
And the laptop also has Dart Charge, a proprietary fast charging feature for realme smartphones equipped with a USB-C port. The power output is up to 30W.
Sound, microphones, camera
Two DTS-enabled speakers from Harman are located on the underside of the chassis on the right and left. They provide pretty decent sound from the laptop's stereo system, especially when standing on a hard surface. When working on your lap, there's a chance of accidentally overlapping the speakers. But overall – the sound here does not disappoint.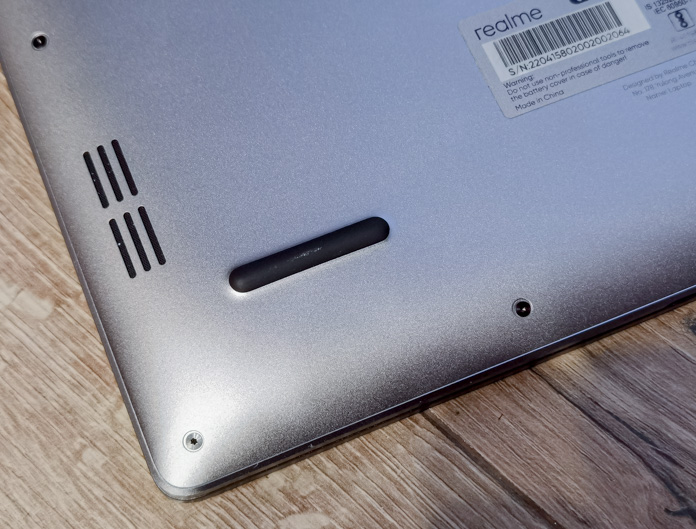 There are also 2 fairly good quality microphones on the frame above the screen, near the camera, which fulfil their function in video conferencing. The quality of voice transmission and recording is satisfactory. I can't say anything special about the camera. I would call it typical. It is there, it works, it captures video in HD quality, in general it is no worse and no better than similar cameras in competitors' laptops.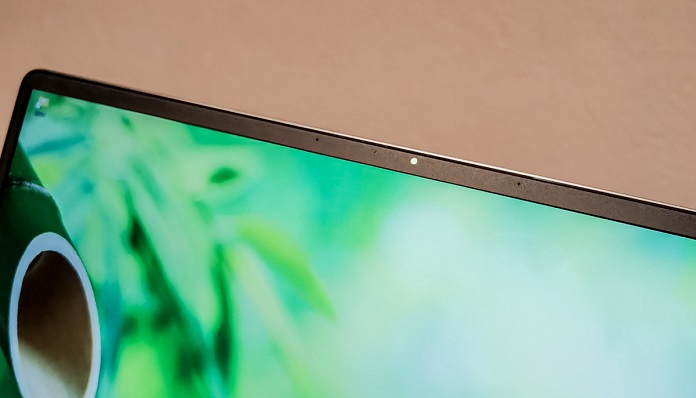 Read also: realme Pad review: First tablet from the brand
Some nuances in using realme Book Prime
The power button, by the way, has a capacitive fingerprint scanner function. I found out about it on the last day of testing and was pleasantly surprised. You can activate the scanner and add a fingerprint to sign in in the Windows Hello settings menu. It works like the smartphone's fingerprint scanner, which is almost instantaneous, and saves you from having to enter your password or pin code to unlock your laptop.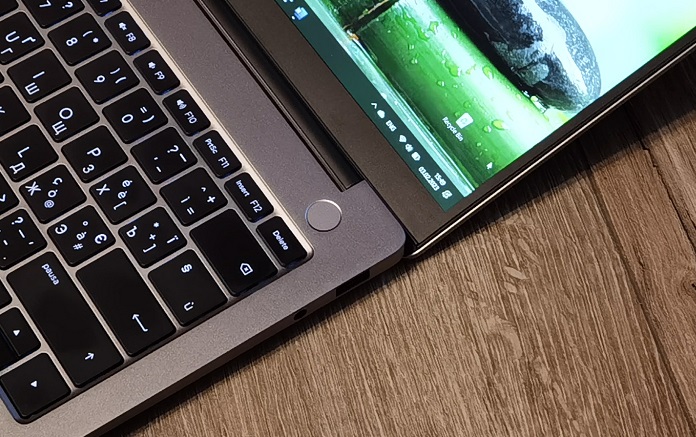 A few tips if you plan to use the realme Book Prime as a desktop replacement with an additional external monitor. Many modern models have the ability to connect to laptops via USB-C with DysplayPort support. Also, such monitors often have a built-in USB hub, so you'll have the option of connecting an external keyboard, mouse and an additional drive at the same time. You can then simply connect your laptop to the monitor with a single USB-C cable, which will also provide power and charging for the device.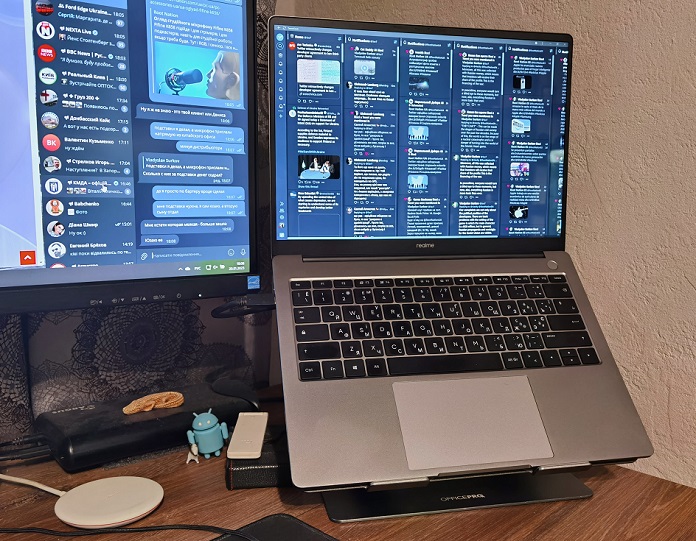 Alternatively, if you have an older monitor with HDMI, DVI or VGA D-Sub, you can buy a separate USB-C hub with an appropriate port to connect an external monitor (example). Here you see for yourself according to your needs and financial possibilities.
Another point worth noting is the availability of software to combine your realme Book Prime laptop with an Android smartphone (of course preferably also from realme, but not necessarily). With the PC Connect app you'll be able to work with your smartphone directly from Windows. You will also have access to your smartphone's programmes, messages, files and shared clipboard.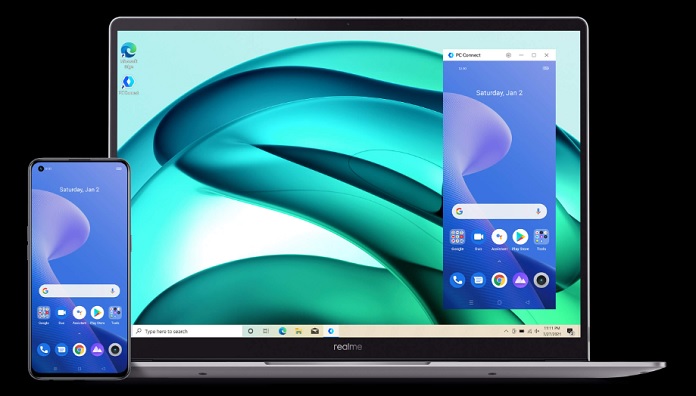 Read also: Review of the realme 10 Pro Plus: a mid-range bid for success?
Conclusions
What can I say after completing my testing. I'm a little shocked in a good way, because this laptop actually has no obvious flaws. I can't even believe that this is realme's first attempt at making laptops. It gives the impression that it's not made by a young brand, but by an experienced manufacturer who has eaten a lot of salt in developing similar devices. Although perhaps, as is often the case, an experienced OEM contractor has indeed been brought in for the task. I do not know, and do not want to conduct such investigations, but such a possibility is quite possible. By the way, there's a clue, the laptop is defined in many applications as Cloud Pro, perhaps it's a good place to start. But it's not about who made the laptop now, it's about whether it's worth the attention of customers. I think it is!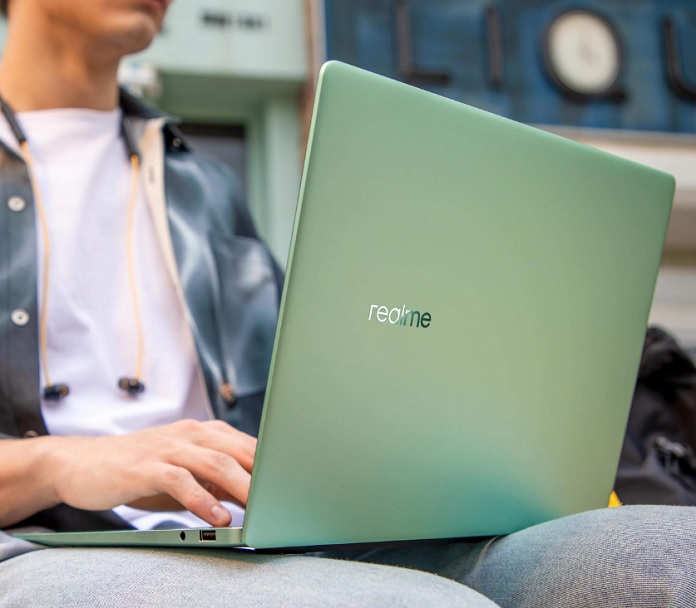 The first thing that wins this laptop over is its screen, and it's very cool in every way. Starting with the 3:2 aspect ratio instead of the 16:9 that most manufacturers use. I will say that in work, the increased height screen shows itself much better, because it enlarges the working area in documents and in any editors. Then there is the 100% sRGB colour gamut and the optimal 2K resolution for a 14″ panel, these parameters allow us to recommend the laptop to professionals creating photo and video content.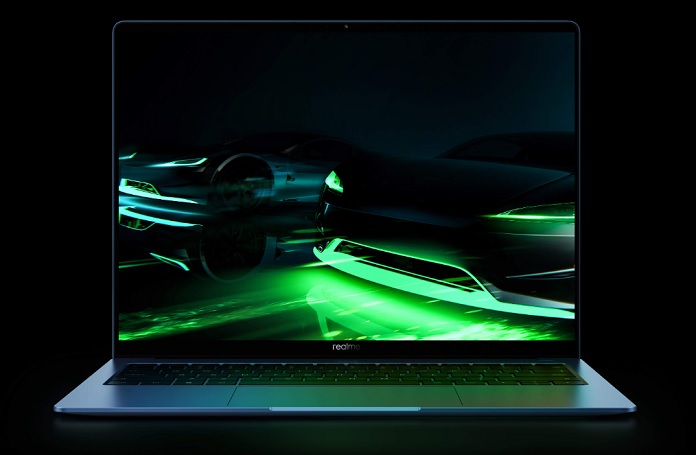 In addition, the notebook is just fine with the equipment, with fast memory and a high-quality Samsung fast drive. All ports, interfaces and additional hardware work perfectly. As a bonus, there's a fingerprint scanner, which adds to the security and comfort of using the device. Excellent battery life and quiet operation are two cherries on this delicious cake at once!
The price puts the realme Book Prime in direct competition with devices from the well-known ASUS or Acer ultrabook lines. That said, the realme device ends up being slightly cheaper than the premium models in the range (Zenbook and Swift), and with similar equipment to the more mid-budget Vivobook and Aspire it will have the advantage of a metal body, while competitors will offer plastic.
Of course, I cannot guarantee that every realme Book Prime will work reliably for many years and that there will not be some problems with the equipment after some time. Yes, the manufacturer still has to prove its ability to take its rightful place in the market among the more established old-timers of the industry. But what I saw "out of the box" really impressed me nicely. Realme has turned out a cool first laptop. Way to go!