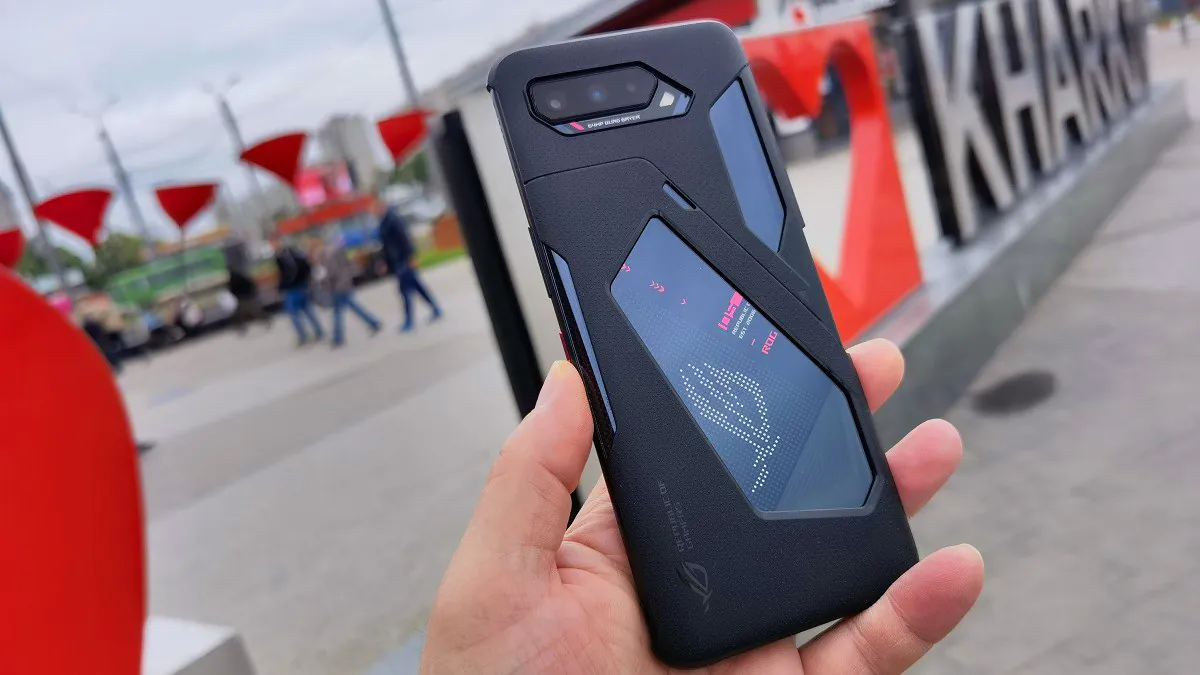 The world of gaming smartphones has found its new king: ASUS ROG Phone 5. It has everything that mobile gamers might ever need.
The gaming industry has come a long way in recent years, and every year mobile phone manufacturers try to present the best smartphone targeted at gamers. If you are interested in the world of gaming, then you have definitely heard a lot, and perhaps personally encountered devices under the ROG (Republic of Gamers) brand from ASUS. In addition to gaming computers, laptops and all kinds of accessories, the Taiwanese company has been dealing in mobile gaming smartphones of the ROG Phone series for several years and, it should be noted, successfully so. ASUS right now is one of the innovators in this segment. Unsurprisingly, in addition to its "civilian" Zenfone line of smartphones, ASUS offers a series of phones aimed primarily at mobile gamers. Today we'll talk about the ASUS ROG Phone 5. How it performs, whether its functionality meets the expectations of the players.
Why makes the ASUS ROG Phone 5 interesting?
In the minds of many users, a gaming smartphone should be different from conventional mobile devices. It should not only be super powerful, fast and functional, but also have an unusual design, a good cooling system and a powerful battery.
This is exactly what you will find in the new ASUS ROG Phone 5. It features the most powerful Qualcomm Snapdragon 888, 16GB of LPDDR5 RAM, a gorgeous Samsung large AMOLED display with a refresh rate of 144Hz, with 1ms response and support for HDR10+, as well as high-quality stereo speakers. The GameFX audio system in ROG Phone 5 now includes a pair of symmetrically positioned seven-magnet speakers for truly balanced stereo sound effects. Their sound has been perfected in collaboration with Dirac. The device also offers a large 6000 mAh battery with extremely fast 65W charging, a system with a special environment with gaming elements, additional gaming software, ultrasonic triggers and accessories that are easy to customize, as well as an original gaming design with RGB backlit logo. By the way, for the first time the Qualcomm Game Quick Touch technology allows you to increase the sensor response speed and reduce the latency by up to 20%. The main camera has a high resolution of 64 megapixels, and can record video in 8K.
Even unboxing is interesting
The ROG gaming series always surprises us with its sophistication and style. Even the box in which the ASUS ROG Phone 5 arrived is not like the others. It is made of thick black cardboard with all the attributes inherent in gaming devices. The box opens like a book, with Akira comic strip, which can be brought to life with the help of an AR camera.
You will be offered to watch a short video, after which there is even an opportunity to make yourself a virtual avatar.
Now about the box. It contains the smartphone itself, a rather large 65 W power supply with a cable up to a meter long. The beautifully braided cable has a USB Type-C connector on both sides. There is also a branded tool for removing the SIM tray and a case that repeats all the shapes of the phone. The cover is made of plastic with harsh textures.
It is enough for a modern smartphone. It is also possible to purchase an external aeroactive cooler. Unfortunately, I didn't have it for testing. Also on sale is the ROG Kunai 3 gamepad, which players will definitely appreciate. The proportions of the phone have changed between generations, and this gamepad has received a new cover specifically for the ROG Phone 5.
Read also: ASUS ROG Zephyrus G14 2021 laptop review: Great, but not mind-blowing
Stylish design
In general, with regard to equipment designed for gamers, manufacturers from year to year use a large amount of RGB lighting in their designs, as well as black and red. The whole structure is usually quite massive and rough, which may not always be to everyone's liking, but gamers love it. In the case of the latest ROG Phone 5, some of these things are true as well. Although the design is hardly original, you certainly will not confuse it with a regular phone. First of all, the smartphone is quite massive. It has a large screen and a large battery, which makes the weight of the device tangible. The ASUS ROG Phone 5 weighs 238 g, and its body dimensions are 173×78.2×10.3 mm (11.6 mm with protruding optics). Therefore, it is even larger and heavier than giants like the LG V60 or Motorola Moto G100. Sure, you can feel this mass in your hand, but it is well distributed, the smartphone is well balanced.
The design of ASUS ROG Phone 5 is not purely gaming. We have a black case with sharp camera cutouts, red inserts on the physical buttons and an LED screen on the back of the device.
As for the build quality, the body is aluminum, but as for the back of the device, I have some doubts that everyone will like it since it feels very plasticky, although the glass itself is of quite high quality. I personally liked the surface. The smartphone fits comfortably in the hand, and it's not slippery. I tested the ROG Phone 5 in stylish black, the smartphone is also available in white. Although I will frankly say that I liked the black color better, but this is a matter of taste and preference.
On the rear panel there are two triangles with different finishes. These elements give the phone a unique character, and I love it. An important element of the rear panel, again, is the Republic of Gamers logo. These lighting effects can visually diversify the design according to your preference. The photo module also has an unconventional look and shape and protrudes slightly above the surface.
In front, almost the entire surface is occupied by a large screen. It is a 6.78-inch FHD+ AMOLED display (2448×1080 pixels) and an aspect ratio of 20.4:9. Of course, the advantage of the ROG Phone 5 display is the absence of protrusions or notches, even despite the fact that the upper bezel slightly increases the dimensions of the device, and the back is covered with Gorilla Glass Victus, which is somewhat rounded at the edges, with the so-called 2.5D effect.
Yes, the top and bottom bezels are quite thick, but visually they look pretty good. Personally, this solution seems good to me, because thanks to the thicker bezels, it is more convenient to hold the smartphone with two hands while playings. It should be noted that there is no distracting notch of the selfie camera in the device. The notification diode, which we don't see very often in new phones, has found its place on the top bezel, and I greatly welcome its presence.
Not to mention the front stereo speakers, which are less noticeable than last year's model. They sound quite loud and have a decent bass range. The sound is very dense and helps to fully immerse you in the game or movie. Personally, I find this sound to be one of the best I've heard in a smartphone. And it is not surprising that DxOMark Audio ranked these speakers as the best of all smartphones in its ranking. In addition, you will find an improved equalizer in the system.
High-quality finish and dedicated accessory connector
The edge of the smartphone is made of aluminum and offers several interesting visible and hidden elements. At the bottom is the USB Type-C connector and 3.5mm audio jack output. Last year it was not there, this year it is here along with a high-quality DAC converter. The USB Type-C connector is located slightly to the left of the center, at first glance it may seem like a bad solution, however during playback you can use the second USB Type-C connector on the left side, which also supports fast charging.
The dedicated accessory connector on the side with two USB Type-C, which was in the previous model, has now been replaced with one USB Type-C connector and a port with five special pins. This, unfortunately, also means that accessories for older models may not be compatible. This connector is covered with a rubber stopper, but it does not fit very tightly, so you can easily lose it.
On the bottom left side there is also a slot for two nano-SIM cards. It is hard not to see it because it is purple.
On the right, there are traditional hardware buttons and ultrasonic buttons in the corners (for more details, see a separate section, where I dwell on all game functions). Here you'll find an elongated volume rocker and, just below it, the power button, as well as one of the microphones. The travel of the buttons is palpable and pleasant, and they work well in everyday use.
It is worth remembering that there are also Air Triggers here, which are actually touch points that act like physical triggers, located at the edge of the edge. The solution is useful in games, but not all of them work as they should. I want to add that the phone is also equipped with four microphones and OZO noise cancellation technology.
Read also: ASUS ROG Strix SCAR 15 G533 Review: Superb Gaming Laptop
Quality AMOLED display with 144Hz refresh rate and 1ms response
One of the key elements for the best gaming experience is undeniably a quality display. The ROG Phone 5 offers a large 6.78-inch E4 AMOLED touch panel from Samsung with Full HD+ resolution (2448×1080 pixels) at 144Hz, but now slightly more responsive to touch with 300Hz. It is no longer the best product on the market for any of these parameters, but thanks to top-notch color calibration, it looks incredibly good. Plus, it has a slightly higher maximum brightness, which is almost two-tenths more than the previous ROG Phone 3. Again, this is, in my opinion, the ideal screen.
Everything looks great, but let's not forget that a very similar screen of the last year's ROG Phone 3 (AMOLED, 6.59 inches, 144 Hz, FHD+, Gorilla Glass 6, 270 Hz sensor). We are talking here about evolution in the series (brighter panel), not revolution.
The picture quality is very good – the viewing angles are nice, but still not the same as in the case of the latest Samsung Dynamic AMOLED 2X panels, the contrast is excellent and the colors are intense, but by default they are a bit too cold. Perhaps, ASUS picked up this idea in terms of color reproduction from the very cold FPS modes inherent in gaming monitors.
The ROG Phone 5 display supports auto-refresh, 60Hz, 120Hz, or 144Hz. It's actually hard to talk about any real quality difference between the 120Hz and 144Hz settings, but again, this is more about marketing. In automatic mode, the phone maintains a refresh rate of 120Hz when viewing photos, websites, and I also used this frequency when playing Asphalt 9. The camera interface works at 60Hz, just like the Brawl Stars menu, but the gameplay itself supports 144 Hz. It is clearly an adaptive technique.
The ROG Phone 5 screen can operate in one of five modes: Default, Natural, Cinematic, Standard and Customized, in which we can manually adjust the level of color saturation. It is also possible to adjust the white temperature in all modes. It is important to remember that the AMOLED screen has a constant current function and therefore flickering is only possible when using 60Hz refresh.
In the default mode, the displayed color range exactly matches the color space of the DCI-P3 cinema, but the white temperature is up to 8028K (6500K reference), so the image color is definitely too cold. The average delta E 2000 error for this mode is 4.74.
The maximum brightness available with the manual slider is quite average today (461 cd/m2), but after setting the automatic brightness level, in strong ambient light, it can be temporarily increased to 765 cd/m2, and if we leave only 25 percent white, even up to 930 cd/m2.
Maybe it would be better to do it in a mode called Natural? Unfortunately, nothing of the kind. Here we get exactly the same color temperature calibrations as in the default mode. The only difference is that the panel now displays the maximum range of colors, so in the end the colors are even less accurate than the default setting.
However, if you like DCI-P3's wide color gamut and natural and well-calibrated colors, you should immediately set your ROG Phone 5's screen to Cinematic Mode. In fact, the green color is slightly muted here, but the overall color tone remains very natural (white temperature is 6409 K), and the average error of delta E 2000 in color reproduction is reduced to the level of 2.05. This mode, in my opinion, has the best color rendering.
Is the increased refresh rate of the display really an advantage? I am sure that many users are interested in this question. Yes, gamers will appreciate the high refresh rate of 144Hz, but you also have the option to set the default to 60Hz, or 120Hz, or automatic. It is a pity that 90 Hz mode is missing. The display promises extremely low touch latency at just 24.3ms and a sampling rate of 300Hz (last year's model had 25ms and 270Hz).
Most games today are equally optimized and run at the standard 60Hz frequency. You hardly notice the difference between 144 Hz and 120 Hz.
In-display fingerprint scanner and face unlock
The optical fingerprint scanner has found its place at the front, directly in the display. It is fast and accurate, and is positioned at a comfortable thumb height. While I might have expected a slightly faster scanner, given the quality of the display, I can't really complain about it. The nice thing is that there is no need to press hard on it, and the sensor itself is large enough, so it is easy to use it.
You can also use 2D face scan for authentication, which does not offer the same high level of protection as a finger scanner, but is also very fast and convenient to unlock the smartphone. However, I was unpleasantly surprised that when I turned my smartphone horizontally, it took the scanner a while to realize that the phone was positioned differently.
The camera is quite decent for a gaming smartphone
The ROG Phone 5 has a triple main camera in its arsenal. The main sensor received a high resolution of 64 megapixels and an aperture of f/1.8. The second camera is an ultra-wide-angle sensor with a resolution of 13 megapixels, a viewing angle of 125° and an aperture of f/2.4. There is also a 5-megapixel macro camera with f/2.0 aperture. The main camera supports the function of combining 4 pixels into one, so the resulting photos have a resolution of 16 megapixels. It's a shame that we won't find an optical stabilizer for the main camera here. You only have to settle for electronic image stabilization. The set of sensors for the main camera is the same as that of its predecessor.
The selfie camera also has a high resolution of 24MP (f/2.45). Camera features include manual mode, Pro video, night mode, macro, portrait mode (which was not on last year's model) and several video modes.
Although this smartphone is mainly for gaming, the photos taken with the main camera are pretty decent. In good lighting conditions, the device can take very high quality images, detailed and clear. You don't even have to worry about backlit scenes or cloudy skies, although the dynamic range could be better. The level of electronic noise is well controlled, the detail is good, and the dynamics of the photos are clearly better than with the wide-angle module.
Daytime photos taken with the ASUS ROG Phone 5 wide-angle module have natural colors, fairly good detail, although there are typical drawbacks of such solutions, like a clear loss of quality of details and chromatic aberrations on the sides of the frame, appearing on contrasting elements.
The lack of a telemodule forces the ROG Phone 5 camera in tele 2x mode to use the classic digital zoom. These photos are quite good quality, although it may seem that they are too bright and have over-emphasized contrast, which makes them less natural.
Also worth mentioning is the good night mode, which will allow you to take fairly high-quality pictures in low light conditions. In low light, Night Mode starts automatically, extending the exposure time to about four seconds. If the lighting conditions are particularly dark, the exposure time may be lengthened. Yes, these shots are not as good as those of the flagships from Apple, Samsung or Huawei, but they are really good, as for a gaming smartphone.
The ROG Phone 5 can shoot video in maximum 8K resolution at 30fps. You will get better results at 4K, however, at both 60fps and 30fps when you have the option to record video with a wide-angle camera. Electronic image stabilization is also present in video recording, which is a very useful solution.
Professional mode or hyper-stabilized video functions are also available in the camera app, but this video is shot through the wide-angle module and then stabilized, so the quality is not very good.
Top-of-the-line hardware
Better hardware at the moment has become the driving force behind this mobile device. High performance is provided by the 5nm Qualcomm Snapdragon 888 chipset (1×2.84 GHz Kryo 680, 3×2.42 GHz Kryo 680 and 4×1.80 GHz Kryo 680). Compared to the ROG Phone 3, CPU performance has been increased by 25%. Graphics performance is provided by the Adreno 660 graphics accelerator, which also provides a 35% increase in performance.
The smartphone has three models. I had the opportunity to test the powerful configuration, which offers an incredible 16GB of RAM and 256GB of storage space (approximately 237GB available for users) of the UFS 3.1 storage type. 8GB/128GB and 12GB/256GB versions are also available. All models feature LPDDR5 RAM with 50% faster data transfer rates over the previous generation LPDDR4x and 20% less power consumption. However, real mobile gamers should remember that no version of the smartphone allows expanding data storage using a memory card.
The presence of the SoC Snapdragon 888 also means support for all mobile networks, even 5G, a fast dual-band card with Wi-Fi 6 support and a modern Bluetooth 5.2 module. The phone also has an NFC module.
High performance and ROG GameCool 5 system
The ROG Phone 5 is a very efficient and powerful smartphone, at least in the 16GB RAM variant I tested. In the AnTuTu test (8.5.6), the smartphone passed three tests on average to 737 thousand points (in total it reached almost 740 thousand). This gave the ROG Phone 5 the opportunity to place itself at the top of this list making it the most powerful phone to date.
The important thing is that the cooling system used in the device is so efficient that the phone is not prone to a significant drop in performance (I usually noticed a 10% decrease in performance). Optimization is also almost perfect, I have never had something freeze. The new GameCool 5 cooling system uses "sandwich storage" again, which means that the individual layers are stacked on top of each other.
A large graphite film closest to the display distributes heat evenly across the screen. The improved design of the 3D steam chambers dissipates heat even faster with a copper cooler. Even under maximum load, the back panel does not heat up like an open-hearth furnace, yes, it is quite hot, but not critical. This is where an external aeroactive cooler comes in handy, but, let me remind you, you need to buy it additionally.
Perfect battery life and 65W ultra-fast charging
The device is equipped with two non-removable batteries each with a capacity of 3000 mAh. Together we get a very high capacity, 6000 mAh, just like the previous generation).
The smartphone boasts a very fast 65W charging (21V/3A) with support for Qualcomm Quick Charge 5.0 or USB Power Delivery 3.0. Charging is very fast, you can reach 70% battery capacity in 30 minutes, and a full charge from zero to 100% takes only 52 minutes, which is great. When charging, the phone does not get much hotter than usual.
| Battery capacity | Charging time, min |
| --- | --- |
| 10% █ ░ ░ ░ ░ ░ ░ ░ ░ ░ | 6 |
| 20% █ █ ░ ░ ░ ░ ░ ░ ░ ░ | 9 |
| 30% █ █ █ ░ ░ ░ ░ ░ ░ ░ | 11 |
| 40% █ █ █ █ ░ ░ ░ ░ ░ ░ | 16 |
| 50% █ █ █ █ █ ░ ░ ░ ░ ░ | 20 |
| 60% █ █ █ █ █ █ ░ ░ ░ ░ | 26 |
| 70% █ █ █ █ █ █ █ ░ ░ ░ | 30 |
| 80% █ █ █ █ █ █ █ █ ░ ░ | 39 |
| 90% █ █ █ █ █ █ █ █ █ ░ | 44 |
| 100% █ █ █ █ █ █ █ █ █ █ | 52 |
The battery life on a single charge is excellent, with typical use I usually get up to two days. However, this smartphone is mainly intended for gamers who will play in any free time, and this puts more stress on the battery than regular apps. Therefore, demanding users will have to put up with a one-day endurance. However, you can play, for example, Call of Duty for 7.5 hours at a time, which is about an hour longer than the Xiaomi Mi 11 Ultra. The phone has very well controlled power management. You can choose from Dynamic Mode (default), X Mode (Game), Ultra (Eco Mode), and Advanced. The only pity is that the smartphone, despite the glass back panel, again does not support wireless charging.
There's also advanced battery care, battery saver options, and an automatic sleep mode. The manufacturer offers in the settings the option of slow charging during the night or at a set time. For example, you can charge the battery up to 80, 90 or 100% by 7 a.m. and the software will automatically control the recharging process during the night so that it is as gentle as possible on the battery.
Another interesting feature is the so-called energy bypass mode, which redirects energy directly to the phone (and not to the battery) when the charger is connected, resulting in fewer charge cycles.
Android 11 and ROG UI
ASUS did not save on anything and equipped the smartphone with the latest Android 11 operating system, complemented by its own ROG UI, which is aimed at gamers, as well as the standard ZEN UI environment. The system works almost seamlessly, it is lightning fast and offers many improvements, especially in terms of games, which I will talk about in the next chapter.
The native skin looks very good and, aside from slightly different icons and functions, is not much different from pure Android. The system has several special apps from ASUS, mainly various tools, useful functions, camera app and game mode.
ROG Phone 5: Built for Gaming
A gaming phone usually includes a game mode and other game elements and functions. The ROG Phone 5 offers many of them, and in this section I will expand on them in detail. Let's start with the ultrasonic triggers I mentioned in the introduction to this review.
They serve the same purpose as buttons on game controllers. The grip is confident, the tactile response is also pleasant, and they have been moved a little closer to the edge so that even shorter fingers can easily reach them.
AirTriggers (touch surfaces) allow up to five types of touches – single-tap, double-tap, long-press, swipe left or right on the same pad, and swipe out to and from each other.
Squeezing the phone starts/stops X mode thanks to the pressure-sensitive sides, for maximum smartphone performance.
Air gestures are now available, meaning you can simulate touching the screen. Motions include shaking the phone up and down, moving up, tilting left/right, tilting the right/left side of the phone towards you, moving left/right horizontally, and tilting away/towards each other.
The Armory Crate app works like a game portal that offers the user a complete overview of system functions (CPU temperature, RAM usage, etc.), a library of games, including their settings (performance, sound, display, touch adjustment, etc.) for each game separately, the function of setting power, setting lighting and fan speed. The highlighting options are varied, and certain settings can also be synchronized with friends.
Another great feature on ROG Phones is the panel that can be removed from the left edge of the screen in every game. On this panel, you see an overview of basic information, you can comfortably change the brightness and frequency of the display, turn off notifications, start recording, block touches and much, really much, much more.
You will enjoy playing both simple and more demanding games, this smartphone handles everything down to the smallest detail. Perfect graphics, fast display response and great stereo speakers can turn this phone into a true pocket console. ASUS offers a full range of accessories to enhance your gaming experience, which is why the ROG Phone brand is so popular.
I've played COD Mobile on ROG Phone 5, Mortal Kombat X, ShadowFight 3 and some simple games like BB Racing 2. Everything ran great. As far as the aforementioned features are concerned, it runs much faster than on a regular device. I was able to recognize a hidden enemy more quickly thanks to a large and dynamic display, spread controls over a larger area, additional command buttons, etc, and I was generally more agile than the competition in almost every game.
Verdict
The ASUS ROG Phone 5 surprised me. I haven't been using an Android phone in a long time, but ROG Phone 5 made me very happy.
The ROG Phone 5 is undoubtedly a very successful continuation of the ROG series of gaming smartphones. Yes, it does not make any serious functional or technological breakthrough in comparison with the old ROG Phone models. This is not a device that I could recommend to everyone with a clear conscience. An ordinary user, of course, not only will not be able to appreciate ASUS gaming features, but will even consider them useless. You also need to understand that the price is also quite high. But, if price doesn't matter to you, the ROG Phone 5 is a very cool gaming smartphone that isn't just for gamers. It can be used as your main phone if you are not scared by the dimensions and weight, lack of waterproofing, and also not the best cameras.
However, if you are an avid mobile gamer, the ROG Phone 5 is the right choice for you. This is one of the most exciting, if not the best gaming phones on the market. The smartphone has a great screen, very good stereo speakers, a high-end headphone output, functional software, it is very efficient and high-performance.
Pros
equipment and accessories
unique design with game elements
additional ultrasonic buttons
perfect AMOLED display with a refresh rate of 144 Hz and 1 ms response
high-quality fingerprint scanner on the screen
excellent front stereo speakers, 3.5 mm audio output with DAC
interesting set of cameras, high-quality photos, 8K video shooting capability
powerful Snapdragon 888 processor, up to 16 GB of RAM
Android 11 with its own ROG UI shell, which has many features for gamers
good battery life and extremely fast charging
Cons
the smartphone is quite big and heavy
no dust and water protection
the camera doesn't have an OIS
no wireless charging
high price
Read also:
Subscribe to our accounts: