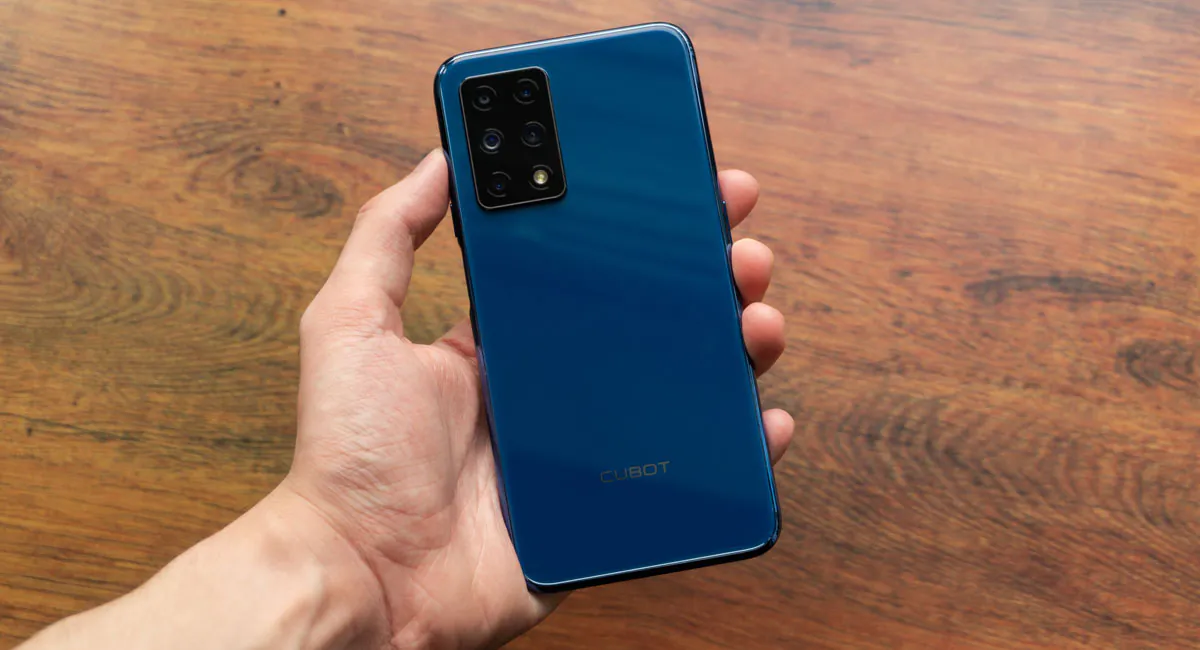 Second-tier Chinese manufacturers sometimes surprise with their approach to creating smartphones. Now and then they make inexpensive and reasonably balanced devices, and other times they seem to try to collect all the trends in one device. And they manage to keep a relatively low cost. Today we will take a look at one of these smartphones – Cubot X30. A smartphone with a modern design, five cameras, large storage and affordable price.
Specifications of Cubot X30
Display: 6.4″, IPS, 2310 × 1080 pixels, aspect ratio 19:9, 398 ppi, 60 Hz

Chipset: MediaTek Helio P60 (MT6771), 8-core, 4x Cortex-A53 @ 2.0GHz and 4x Cortex-A73 @ 2.0GHz
Graphics Accelerator: Mali-G72 MP3
RAM: 6/8 GB, LPDDR4x
Storage: 128/256 GB, UFS 2.1
Support for microSD memory cards: up to 256 GB
Wireless networks: Wi-Fi 5, Bluetooth 4.2, GPS (A-GPS), NFC
Main camera: 5 modules, main 48 MP, f/1.8, Samsung S5KGM1; ultra wide-angle 16 MP, f/2.3; macro 5 MP, f/2.2; 2 Mp depth sensor, "photosensitive" 0.3 Mp lens
Front-facing camera: 32 MP, f/2.0
Battery: 4200mAh
OS: Android 10
Dimensions: 157.05 x 76.44 x 8.5 mm
Weight: 193 g
Price and positioning
Cubot smartphones have always been relatively affordable, so it is difficult to differentiate them by class. But in general, it can be divided into ultra-budget (up to $100) and budget (from $100). So our today's subject belongs to the second type. For Cubot X30, on average, they ask for from $160 to $190, depending on the configuration and place of purchase.
What's in the box
Cubot X30 comes in a thin, almost square cardboard box in black with gold accents. Inside is a smartphone, a 10 W power adapter and a white USB/Type-C cable, a transparent silicone case, a SIM card eject tool and a set of accompanying documentation. A protective film is already glued on the smartphone screen, but its quality is rather mediocre.
Design, materials and build quality
Design of the Cubot X30 is, in one word, alright. The smartphone looks at least up-to-date. On the front, there are relatively thin bezels on the sides and above the screen, and a higher margin at the bottom. The front camera is in the form of a hole in the upper left corner.
In general, this is an absolutely classic version and is found in many smartphones from other manufacturers from the same price range, and even more expensive, often by much. Yes, somewhere the bezels are thinner, somewhere the notch is smaller, but the idea is the same.
But looking at the back of the smartphone, there is a feeling that the manufacturer wanted to impress with this particular part. Because there is a large rectangle with cameras here. The block is really massive. Perhaps not the largest of those that I have seen, but given the overall dimensions of Cubot X30, it looks imposing.
Good or bad, is there any reason for this many cameras – we'll discuss all this later. But if you look at the block exclusively as a design element, then I think it coped with its task: the device looks more expensive than it actually is.
Otherwise, everything is extremely simple. In my case, the smartphone is blue. Both the back panel and the frame. This is a regular monotone blue color without any gradient or iridescent effect. But it should be noted that not every of the three possible body colors is like that.
In addition to blue, the smartphone comes in black and green. And last one comes with a gradient.
As I have already noted, there is no iridescent effect here, and in fact the entire rear panel is a solid "mirror" that simply reflects everything around. And if there is a lot of light on the other side, then the color itself will seem lighter. If, on the contrary, there is a lot of dark in the environment, then the blue will look more saturated. It's minimalistic and strict.
Let's talk about the materials of the case. Surprisingly, there is glass, plastic, and even notes of metal. Front and back are glass, with glossy plastic frame, and physical buttons and edging around the camera block are metal.
In general not bad, often even in smartphones much more expensive glass is only in front. Glass adds a little premium and tactile sensations from it are different. But in return, the phone becomes a fingerprint magnet.
Moreover, there is some kind of oleophobic coating and it is not difficult to wipe off the traces Also, the glass of the camera block gets dirty instantly. Not least because of its size, of course.
And this is bad because it will definitely get dirty and these traces will affect the quality of the pictures. That is, before starting the camera, you will constantly have to wipe this block, which is annoying.
The buttons do not dangle and everything looks monolithic, but a small issue was discovered by accident. When you press down on the frame in the area of ​​the USB-C port, there is a clicking sound. Apparently a loose fit of the part in this place.
Elements configuration
On the front, in addition to the front camera, the screen has no additional elements, such as sensors, LED for notifications and everything else.
On the right is the power button, and under it is a notch with a separate pad for the fingerprint scanner. Why not combine these two elements together, as other manufacturers are doing now, to be honest, I do not understand. On the left there is a volume rocker and a combined slot for two nanoSIMs or a bundle of one SIM and a microSD memory card.
At the bottom, the USB Type-C port is slightly shifted down, and on each side of it there are 6 round holes, behind which are hidden a microphone and a multimedia speaker, respectively. The smartphone does not have a 3.5mm audio jack, which is again somewhat strange. In such a segment, manufacturers rarely abandon the audio port.
On the upper end there is another shallow recess with two round windows – light and proximity sensors. The eyes themselves are also somehow displaced and not centered relative to the notch. I can't say that the location of these sensors was very surprising, we already saw something similar in the Honor 20 and 20 Pro, but they had a proximity sensor.
Is this location convenient? Well, it's rather unusual. They work normally, and when you bring the smartphone to your ear during a conversation, the screen immediately goes out, and the brightness is regulated, although not always as it should, but that's a completely different story.
At the back, everything is extremely simple – the aforementioned block with five camera eyes lined up in two columns, and a flash. At the bottom there's only the Cubot logo.
Ergonomics
Cubot X30 is quite ordinary, as for a 6.4″ smartphone. It is not very large (157.05 x 76.44 x 8.5 mm), but still a bit wide. You can use it with one hand, but only if you are the owner of a large palm. Otherwise, you will have to change the grip and fiddle with your fingers if you need to reach the top of the screen. But all the buttons are in their places.
Cubot X30 display
The smartphone received a 6.4″ display and an IPS matrix with a Full HD+ resolution (or 2310 × 1080 pixels) with an aspect ratio of 19:9. The pixel density is 398 ppi, and the refresh rate, of course, is classic 60 Hz.
The screen is quite solid. I am glad that it's not only HD. Therefore, all icons, icons and fonts appear clearly on the Cubot X30 screen. The brightness margin is not bad, which is good. But I would like to have a lower minimum level, since in the dark the display seems too bright.
The colors are rich, the contrast is high, the viewing angles are traditional, for IPS. No color distortion, but with fading of the dark when viewed at an angle. In general, it is a quite good screen, but at first you have to manually adjust the auto brightness a little.
The display has no special settings: there's night mode, dark theme, upscaling and font size, as well as activation in a vertical position – the display will turn on when the device is lifted.
Cubot X30 performance
The X30 is powered by the mid-range MediaTek Helio P60 (MT6771) chipset. This is no longer a new 12nm platform with eight cores divided into two clusters (4 Cortex-A53 cores with a maximum clock speed of 2.0 GHz and 4 more cores), but Cortex-A73 with the same clock speed up to 2.0 GHz. The corresponding graphics accelerator is Mali-G72 MP3.
There is a lot of RAM in the smartphone – 6 GB of LPDDR4x type in the basic version and as much as 8 GB in the other one. As you can imagine, for Helio P60, both options are more than enough. A dozen applications are easily kept in RAM.
There is also a lot of storage – 128 or 256 GB. The manufacturer does not specify the type of memory, but judging by the speed tests and directly from the Helio P60 specifications, it is a UFS 2.1 drive. In a smartphone with a storage capacity of 128 GB, 112.32 GB are reserved for the user. You can expand the storage with a microSD memory card up to 256 GB, but only if you do not need a second SIM card, since the slot is hybrid.
Overall, Cubot X30 demonstrates a normal level of performance in everyday tasks. Everything works relatively quickly, but not always smoothly, sometimes animations lag a little. In short, the system and simple apps work in a way appropriate for the smartphone level. With games, the situation is not bad – casual ones run well, and in demanding ones you can play on medium or sometimes even high graphics. Here is what the measurements made with Gamebench showed:
Call of Duty Mobile – settings on high, depth of field, shadows and ragdoll animation are on, Battlefront mode, ~ 35 FPS; Battle Royale, ~ 27 FPS
PUBG Mobile – high graphics settings with anti-aliasing and shadows, ~ 28 FPS
Shadowgun Legends – high, ~27 FPS
Cubot X30 cameras
As you already know, there are as many as 5 modules in the main unit of Cubot X30 cameras. The main one is Samsung S5KGM1 with 48-megapixel resolution and f/1.8 aperture. Then comes the 16MP f/2.3 ultra-wide-angle lens. The third camera is a 5-megapixel macro with f/2.2, but the remaining modules are a 2-megapixel depth sensor, and a 0.3-megapixel "photosensitive" lens, whatever that means. Therefore, to sum up, in fact we have only three cameras, and the rest are more for quantity.
The main module can shoot both 12 megapixels and 48 megapixels. In most cases, high-resolution photos look better: they are more detailed, clear and contrasty, but sometimes they look oversaturated. By the way, the oversaturation of images inherent in shooting with AI is even in the normal mode, so often photos from Cubot X30 look unnatural. But even if we discard the color rendition, the rest is not much better. Narrow dynamic range, mediocre detail, and the camera's desire to lighten dark areas results in manual exposure downward. Despite the presence of the night mode in the app, it is unlikely that it will be possible to take a high-quality photo.
EXAMPLES OF PHOTOS IN FULL RESOLUTION
Bokeh mode – well, I haven't seen this for a long time, this is not the portrait mode we are used to. This is the most common Tilt and Shift from 2015. That is, there is a focusing area, in this case round, the edges of which are simply blurred. The smartphone will not even try to somehow separate objects from the background, which further casts doubt on the presence of the so-called depth sensor. Although in fairness, I note that if you cover it, a notification will appear on the screen and the ability to adjust the degree of blur will disappear.
The superwide-angle lens is also not very high quality. Even under ideal conditions, there are problems with colors, dynamic range and detail. There are definitely problems in this regard. And it is clear why – a smartphone is inexpensive. You can't even record video this way.
FULL RESOLUTION PHOTO FROM SUPERWIDE-ANGLE LENS
Macro. It's nice that it has autofocus, but that's where all the pros end. The resolution is not enough, the detail is lame, and the picture is taken by modern standards for eternity. Even if the shooting animation has already passed on the screen, you need to hold the smartphone in the same position for about a second, otherwise you will get a blurry frame.
PHOTO IN FULL RESOLUTION IN MACRO MODE
Videos can be shot in Full HD resolution and 30 frames per second. As I have already noted, only the main module can do this. But it's no good anyways. No stabilization, autofocus often misses. The picture is adequate in terms of quality, but shooting something on the go is not a good idea, for the reasons mentioned above.
Front-facing camera for all its 32 megapixels and f/2.0 is also far from good – it often blurs the picture, the fixed focus misses. Even on a fully extended arm the focus is on the background, and not on a person. It reproduces colors relatively well, the angle is very wide, there is a portrait mode. But how to take a selfie when the areas of focus are confused I don't know. The selfie camera writes video in 720p, of course without stabilization.
Cubot has its own camera and photo preview applications and is noticeably different in design from the rest. The shooting modes are: video, photo, beauty, beautiful face, bokeh and night. Additionally, you can enable a watermark, remove GIF, time-lapse, manual settings, and there is a built-in QR code scanner.
Unlocking methods
The smartphone, as usual, can be unlocked in two ways – with a fingerprint scanner or camera. As already mentioned, the scanner is not aligned with the power button and is a separate platform on the right edge of the device. I would call the scanning and unlocking speed average, but there are no qualms about stability. That is, it does not work super-fast, but it's reliable. Other actions, such as calling the notification curtain, cannot be performed with this scanner.
Unlocking by face recognition is also not fast, but it works for a split second faster than the scanner. It works well if there is light, and in the dark, it's increasing the brightness of the screen.
From other options for this method, you can choose the unlocking method – by pressing a button or after swiping up the lock screen.
Cubot X30 battery life
The battery in Cubot X30 is 4200 mAh. Should be enough, but in reality the results are somewhat lacking. This smartphone is able to survive a day and nothing more. Most likely, such indicators are associated with bad energy efficiency of the MediaTek chipset, maybe with software, or maybe both. And in terms of autonomy, the smartphone disappoints, I expected better.
I got about 5 hours of screen time. The PCMark Work 2.0 battery test at maximum brightness of the display backlight showed a result of 5 hours 4 minutes.
Charging speed from the bundled 10W power adapter and cable also leaves much to be desired:
00:00 — 16%
00:30 — 40%
01:00 — 63%
01:30 — 82%
02:00 — 90%
02:30 — 96%
Sound
The speaker is very unpretentious, nothing outstanding. Sometimes the volume is not enough and the frequency range is too narrow. The multimedia speaker is also mediocre – it is not very loud or good overall.
The situation with headphones is somewhat different. To begin with, let me remind you that there is no 3.5 mm jack in Cubot X30 and there's no adapter as well! That is, if you want to connect wired headphones, you will have to fork out extra for an adapter. Or wireless headphones.
I used the Mixcder E10 headphones with a wired adapter from Pixel 2 XL, and I can praise the X30 for its maximum volume. The quality is also quite good, and there are no problems with wireless headsets either.
Communications
Cubot X30 has at its disposal a dual-band Wi-Fi 5 module with support for 5 GHz networks, there is Bluetooth 4.2, a not very accurate GPS module (A-GPS) and even NFC. But for some reason, when it is turned on, an intrusive notification about this hangs in the blind. And the saddest thing is that there is no way to remove it.
Firmware and software
The smartphone has "virgin" Android 10 installed without third-party shells, but with certain apps from Cubot, like OTA updates and the face unlock setup menu. Therefore, they are clashing with the overall style of the system. Plus there are a couple of usual apps: a voice recorder and the camera. As for the rest, it is a typical AOSP system with a minimal set of features – there are gesture controls and that's about it. The smartphone is not part of the Android One program, so no guaranteed updates and monthly security patches. But during the testing period, one update arrived, aiming to fix some bugs.
But everything has not yet been fixed and this system can hardly be called ideal. The first and most striking thing is the position of the time in the status bar. The first number almost always slightly overlaps the front camera notch. In addition, in general, all the icons are not centered relative to that very notch. It does not affect work, but it looks extremely unaesthetic.
The second annoying point is the recommendations at the top in the settings menu. Usually they can be closed, but not in this case. Part can be removed by doing what is recommended there. But it doesn't work like that, what if I need silent mode and I don't want to turn it off? Some part will remain, no matter what you do. For example, Pixel personalization. Let's start with the fact that the X30 is no Pixel, and end with the fact that I've already changed the wallpaper. I can't do anything else. However, the recommendations think otherwise. And this list is constantly jumping. When you open the settings, it kind of opens up, but even if you are already in the settings and go back then this list of recommendations is first collapsed and then expanded again. And it turns out that all the items in the settings menu first creep higher, and after a moment they drop again.
Verdict
Cubot X30 certainly has a number of advantages, like its design and materials. I liked the screen: it has pleasant colors and, what is most important, the resolution is "correct". The amount of storage is also fine and there are no particular issues with performance: social networks, games etc work fine. It's a good entry-level smartphone for undemanding users.
But, unfortunately, that's about it. I think that the company went too far with its marketing. It seems like there are five cameras in the back, but in fact there are only three, and only one actually works. 4200 mAh battery is very weak, and the software is buggy. Therefore, before buying, you should carefully weigh everything and be prepared for the fact that not all the declared features are present in this device. Perhaps the software problems will be improved, as well as the battery life and camera software, but I cannot guarantee this.
Where to buy
Subscribe to our accounts: