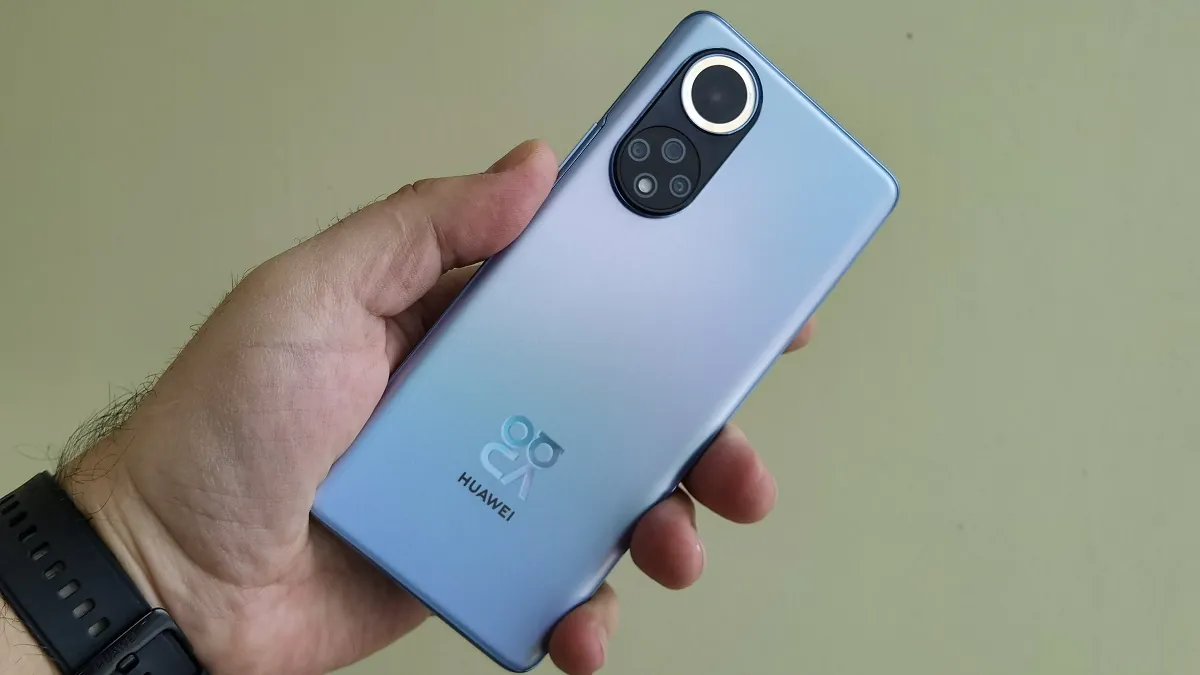 Today I am reviewing a device that in other circumstances could've had every chance of becoming a smash hit, but will never become one now for political reasons. Technically an excellent product for its price, it will most probably go unnoticed. Meet the Huawei nova 9 – one of the few smartphones of the company that was designed and manufactured by Huawei from beginning to end during the period of sanctions.
The smartphone is significant primarily because it was made at all at this difficult time for the brand. And that makes it interesting to me personally. Well, let's get started.
Full specifications of the Huawei nova 9
To understand what kind of device we are testing in general, let's take a look at the full characteristics of the smartphone.
Dimensions: H 160×W 73.7×D 7.77 mm
Weight: about 175g (with battery)
Screen: 6.57-inch OLED, FHD+, 2340 x 1080 pixels, 1.07 billion colors, 120 Hz refresh rate, 300 Hz sampling rate, multi-point touch
System-on-chip: Qualcomm Snapdragon 778G 4G, Octa-core, 4 × Cortex-A78, 2.42 GHz + 4 × Cortex-A55, 1.8 GHz, Adreno 642L video core.
Memory: 8 GB RAM + 128 GB ROM
Main camera: 50 MP (high-resolution lens, f/1.9), 8 MP (ultra-wide-angle lens, f/2.2), 2 MP (depth-of-field lens, f/2.4), 2 MP (macro lens, f/2.4)
Autofocus Mode: Phase Focus, Contrast focus
Image Stabilization: AIS
Zoom: Digital
Photo resolution: up to 8192×6144 pixels
Video resolution: up to 3840 × 2160 pixels, 720p support at 960 fps, slow motion. The values of 720p and 960 fps are implemented on the basis of an artificial intelligence-enabled interpolation algorithm.
Main Camera Shooting Modes: Video Blog, Story Creation, AI Shooting, Super Wide Angle, Night Shooting, Portrait, High Resolution, Photo, Pro, Video, Dual View, Super Macro, Panorama, Time Lapse, Slow Motion, Aperture, Stickers, Documents, Live Photos, Filter, Timer, Smile, Audio Control, Instant Shooting, Burst Shooting
Front-Facing Camera: 32 MP, f/2.0 aperture
Photo resolution: up to 6528×4896 pixels
Video resolution: up to 3840 × 2160 pixels, 720p support at 240 fps, slow motion
Front Camera Shooting Modes: Video Blog, Low Shutter Speed, Create Stories, Night Shooting, Portrait, Video, Slow Down, Time Lapse, Panorama, Filter, Stickers, Smile, Audio Control, Timer
Battery: 4300 mAh, HUAWEI SuperCharge 66W fast charging
Main and Secondary SIM cards: 4G FDD LTE, 4G TDD LTE, 3G WCDMA, 2G GSM (850/900/1800/1900 MHz)
Wi-Fi connectivity: 2.4 GHz, 5GHz, 802.11 a/b/g / n / ac/ax, 2×2 MIMO, HE160, 4096 QAM, 8 MU-MIMO antennas, peak download and data transfer speeds: up to 2.88 Gbps
Bluetooth: 5.2, support BLE, SBC, AAC, LDAC.
USB: Type-C, USB 2.0, Headphone jack
NFC: Supports read and write mode, card emulation mode (payment via SIM card or HCE)
Navigation: GPS, AGPS, GLONASS, BeiDou, Galileo, QZSS, NavIC
Sensors: Gravity sensor, Fingerprint scanner, Gyroscope, compass, light sensor, proximity sensor
OS: Android 11 with EMUI 12 shell
As you can see, on paper it's a modern smartphone, with good hardware. The only thing that can be confusing is the lack of support for 5G networks. But these are the consequences of sanctions. Qualcomm couldn't give Huawei more. A critical disadvantage of the device? I don't think so. Especially in the context of the current realities of the development of mobile networks. A good 4G connection is enough for most tasks.
Positioning and price
The manufacturer announced the European price of the smartphone (499 euros) at the official event. In short – the price, in my opinion, is deliberately too high and will not go down. Why, read the link above. Just keep in mind, this is not the official position of Huawei, but only my speculation.
Right now it costa about $576. Those who have made a pre-order will receive a Huawei FreeBuds 4 TWS headset as a gift, which in itself officially costs $180.
As for positioning, the nova line has always been med-range with flagship features, usually in terms of performance, screen and cameras. Whether this trend has persisted remains to be seen.
What's in the box
In a simple white box there is a smartphone itself with a protective film glued to the glass, a high-quality branded transparent silicone case, a thick USB/USB-C cable and a large charger with 66W fast charging support.
In general, it's nothing outstanding, but at the same time there is everything you need to fully use your smartphone immediately after purchase. I have no complaints about the configuration and can not be.
Design, materials, build quality
The Huawei nova 9 uses several solutions that are designed to distinguish the smartphone from competitors. I think they should appeal to potential buyers.
Firstly, a screen with curved edges. This is definitely the flagship solution in the eyes of most buyers. A bit dated, but still quite eye catching.
Yes, the bends are mostly useless, (although you can include a retractable side panel). Externally, the smartphone benefits from this display.
The second feature of the smartphone is the main camera unit. By design, it is the same as it should have been in the Huawei P50 line, which has not really entered the markets outside China. Two large circles, one under the other, embodying the infinity sign or whatever else they remind someone of. Nothing fancy, but there's a touch of originality.
And the third design feature is the cool back cover coating, which does not collect fingerprints and other traces of use. The surface is rough and pleasant to the touch, it seems matte, but at the same time it literally sparkles with multicolored iridescences in the light. It is difficult to describe it in words, it is better to look at the video, and even better – live, because tactile sensations are extremely important in this case.
In all other respects, the nova 9 is an ordinary mid-ranger with all the ensuing consequences. The frame is plastic, shiny, similar to the back cover. It reminded me of the Huawei P30 Pro: it has the same thin bezels. The smartphone is quite thin and light. But, its lightness rather makes it feel cheaper. I expected it to be more weighty. But then you get used to it, you stop paying attention.
The build quality is perfect, I can't find anything to complain about, Huawei is known for this.
Ergonomics
There is nothing unusual about a big phone like this. The buttons are located in the usual places for Huawei smartphones, on the right side. They conveniently fit under the thumb if you hold the smartphone in your right hand. The fingerprint scanner is in-screen and located too low, you have to support the smartphone with your little finger from below during unlocking. Once again, this happens with the majority of smartphones with 6.5′ screens. In terms of ergonomics, the nova 9 does not present any surprises.
Layout
In front, of course, there is a screen with curved edges. The bezels are quite thin, but still a little wider than the flagship P40 Pro. The black bezels around the screen are symmetrical, so the front part looks neat and harmonious.
The upper bezel has hidden light and proximity sensors. Between the glass and the bezel at the top is the thinnest slot of the voice speaker. The front-facing camera embedded in the screen at the top in the middle completes the composition.
The left edge is empty. To the right is the power button with a red marker and the volume control key above. The bottom edge is wide and flat, and there you'll find a slot for 2 nanoSIM (memory cards are not supported), a microphone, a USB Type-C port, 5 large holes of the main speaker. There is only an additional microphone on top.
The back plate is bent at the edges. On the right and left the bends are large, on top and bottom they are smaller, but they are visually noticeable.
The camera unit in the upper left corner is large and protrudes 3-4 mm. The edging of the island is metal, and then comes a black glass platform. The round block of the main camera is raised another fraction of a millimeter and there is a small protruding protective ring around the perimeter. And the lower unit with 3 cameras and a flash, on the contrary, is slightly recessed. In general, the design of the cameras is multilevel and quite bizarre.
On the lower part of the case there are shiny logos.
Screen
I must say right away, the 6.57″ Huawei nova 9 OLED display with a resolution of 2340×1080 pixels is one of the key features of the smartphone. It impresses with its characteristics and is very good in real operation. This is probably the best screen in its price segment… probably. Judge for yourself.
The stated screen parameters are very cool. An impressive billion-plus colors are supported, there is full compliance with the DCI P3 standard, support for HDR10 and ΔE<1. In real life, the picture looks very juicy and pleasing to the eye. The dynamic range of the screen is impressive, the color reproduction is natural and soft, the viewing angles are ideal, the maximum brightness is enough for any situation, and the minimum is actually very low. When compared directly, the picture on this screen at the flagship level.
In addition to high-quality pictures, this display is also fast. The maximum frame refresh rate is 120 Hz, while it is automatically reduced by AI to 60 Hz in static scenes in order to save energy. The sampling rate of the sensor is generally an impressive 300 Hz. This ensures the fastest possible reaction to your actions in games. And in general, the screen is very responsive and smooth in any usage scenarios.
As for the program settings, there are all the standard chips and a little more: switching to a dark theme, eye comfort and reduced flicker, e-book mode – switching the screen to black and white mode. You can adjust the resolution and refresh rate of the display, switch between two built-in color schemes – standard and saturated, as well as adjust the color rendering manually.
Performance
This is the most boring section, but we have to at least briefly describe our impressions of the smartphone's performance. In normal operation, no issues happened at all. After all, Qualcomm Snapdragon 778G is a fairly productive solution that will satisfy most users. And the video core is powerful here, so you can play any games. The main problem is to install all the desired games on this smartphone so that they work normally and synchronized with the cloud (this is required by many modern games, especially online ones).
In general, all you need to understand is that the hardware of the smartphone provides almost flagship performance. Only the Snapdragon 800 series can be better, but there is also a downside to the coin in the form of increased heating and less energy efficiency. And of course, the price category of such smartphones is usually higher. Although, some solutions from POCO create serious competition for our hero. POCO devices have their own issues and not everything is smooth with cameras and software, but there are full-fledged Google services. But that's another story…
That's it! If you are waiting for some tests and benchmarks, then here are the results of AnTuTu compared to Huawei P40 Pro, as you can see, everything is very decent:
Cameras
At the official presentation, the manufacturer paid a lot of attention to the smartphone cameras. They were described in all the usual various flagship epithets and positioned almost as the best choice for mobile photographers.
In fact, the cameras are actually quite good. Rather, only one camera is. No wonder the manufacturer calls it an ultra camera (Ultra Vision 50 MP). First of all, this module is distinguished by a big sensor with RYYB color filters, which is 40% more sensitive than standard sensors, which means it perceives more light and allows you to take decent pictures in poor lighting conditions.
In general, as for the quality of photos, you should understand that the main thing in a smartphone is not optics and hardware (they are just decent here within the budget), but software, or rather algorithms for post-processing images by AI. All the load and responsibility for good photos falls on a special dedicated processor called Huawei XD Fusion Engine. Once you have taken a photo, it looks somehow faded and expressionless on the screen. But right before our eyes, the pic seems to develop and details start to appear. And thus the AI completes the picture and makes it much better. And in fact, this is quite a reasonable and progressive approach that allows you to achieve decent photo quality on average equipment. For example, the Google Pixel line is constantly evolving in this direction.
As for the rest of the camera modules… they are very weak, but again, the quality of the photo is enhanced by the post-processing. The wide-angle module is is kinda useful in good lighting, and the other 2 modules help with the depth of field and macro photography.
In general, the camera is alright. Quite fine for a mid-ranger, but in many ways limited compared to real flagships. The camera supports digital zoom up to x10. Examples of photos are attached.
PHOTOS AND VIDEOS IN FULL RESOLUTION
As for the photography modes, there are standard, night, portrait modes, as well as manual parameter settings (pro mode), aperture (background blur adjustment), Hi-Res (shooting at a maximum resolution of 50 MP), panorama and super macro.
A lot of "blogger" camera features are about videos. To begin with, there is support for 4K shooting, but only at 30 FPS. With a frequency of 60 fps, you can shoot 1080p and lower resolution videos. When shooting a video, an intelligent superstabilization system turns on – just like the top flagships. This allows you to use your smartphone as an action camera. A special Video Blog mode allows you to shoot simultaneously on different modules of the main camera, as well as simultaneously on the front-facing and rear cameras, dividing the screen in half or using the picture in picture mode. There is accelerated and slow-motion shooting at 960 FPS. The camera recognizes smiles and understand phrases (you need to say "cheese" loudly or just raise your voice). You can also customize the camera UI – sort the modes in the right order and bring the necessary ones to the main screen from the "More" menu.
As for the quality of video. It's not bad, but I can't say that it very good either. It's average, fine for the price segment. Again, it falls a little short of the flagship level.
A few words about the front-facing camera. It is also not bad, but with has a fixed focus. But it supports 4K video shooting. There is a mode for turning on the backlight of the screen instead of a flash, an enhancer for selfies and portrait and night modes.
Also, the smartphone has a fairly advanced built-in video editor called Petal Clip. A little something for the bloggers, as I understand it. The editor has all the necessary tools to create short videos, like for TikTak. And there is even a magic "Auto-creation" button, where you just need to specify the captured video file and then the program will make a spectacular music clip out of it.
Communication
If we discard the lack of support for 5G for political reasons, then it's all fine. The smartphone has it all. There's also a modern Wi-Fi 6 module with a theoretical possible data transfer rate of up to 2.88 Gbit/s.
And everything is fine with all the other modules – Bluetooth is the latest version, GPS supports all possible protocols, and even a new advanced NFC module, which, unfortunately, you probably won't be able to put into practice due to the lack of Google Pay.
Sound
Traditionally, the Huawei nova 9 does not have an analog 3.5mm audio jack, and if you are a fan of wired headphones, you will have to buy those with a USB-C plug or look for an adapter. I have the one. It definitely worked with the P20-30 Pro, doesn't work with the P40 Pro (as with most Samsung smartphones), but it likes the nova 9. More of a lottery, I do not recommend it. Anyway, it's time to give up wires. I've been doing exactly that for three years now. Bluetooth 5.2, AAC support, it's all there.
As for the speakers. The main one is excellent. Too bad it's not stereo. The range is wide, without distortion and wheezing at maximum volume. The conversational speaker in nova 9 is also good, I have no complaints.
Unlocking
Nothing unusual, there are fingerprint scanner, face recognition and smart unlocking using trusted Bluetooth-connected devices (a watch or a headset). In the latter version, there is an "Optimized mode" for additional protection, which is probably something related to the Huawei ecosystem, I'm going to figure it out in the near future.
The fingerprint scanner is fast, it feels no different from the fastest flagship scanners. I have not observed any errors either. The only complaint is that the sensor is too low. Face recognition also works great, is very fast in standard conditions and works even in the darkness. To speed up recognition in the dark, you can activate the option of highlighting the face with the screen, but even without this feature, recognition works, it's just slower.
Battery life
It may seem that a battery with a capacity of 4300 mAh is not very much by modern standards. But at the same time, the smartphone demonstrates excellent battery life. The phone can survive for a couple of days. The manufacturer claims that in addition to the energy-efficient platform, the nova 9 implements an innovative energy-saving management system based on artificial intelligence (I guess having no Google services helped?). I don't really know what this means, but the result speaks for itself.
Also, due to the fact that the battery capacity was not inflated, the nova 9 was able to stay a thin and lightweight device, captivating with its elegance.
But the most important thing in this smartphone is the support for fast charging, thanks to which the device replenishes the empty battery in about 38 minutes. And in 18 minutes you can charge the nova 9 up to 60%, which is enough for a day of operation. Moreover, a 66-watt charger unit comes bundled with a smartphone, which is good news. Of course, competitors already have options with 120 watt charging. But believe me, 66 is also very fast.
What I personally missed is support for wireless and reverse wireless charging (I use the FreeBuds Pro headset and the a GT 2 Pro watch). Although, this is a purely flagship feature.
Firmware and software
EMUI 12 is a transitional shell that has absorbed the Harmony OS UI, but its software basis is still Android 11. So far, Huawei smartphone users outside of China do not have access to a new operating system, butt I do not see a big problem in this, because what difference does it make to the end user what is there under the hood?
In general, we have a familiar Android interface with minor improvements. For example, the most noticeable thing is the redesigned curtain. If you swipe down the screen from the top left, the notification menu opens. On the right is a control panel with switches, network connections and buttons for quick access to connected devices in the Huawei ecosystem, such as smart watches, headphones, tablets or laptops.
You can also note large folders, or rather, groups of apps on the desktop. They differ from standard folders in that any app can be opened by clicking on the icon – without opening the folder in a new window. That is, it is rather a widget for grouping application shortcuts on the desktop.
Another key feature of EMUI 12 is an advanced multi-window mode and working with multiple apps on a split screen. Here you have complete freedom to resize the window, collapse it into a floating shortcut and expand it to full screen. In general, it's very cool, although I personally have not found a practical application of these functions for myself.
In general, the design of the updated shell looks fresh. All the interface elements are polished, the animations are beautiful. I really like the default font.
But of course, the main thing for any user is not the wrapper, but the filling of the candy. Or rather, in this case – the absence of the most popular filling. There are no Google services in EMUI 12. And for most users, it sounds like a verdict. But not for me. I have been using Huawei P40 Pro for almost 2 years and have already got used to these issues.
Of course, I can't recommend anyone to drop everything and switch to Huawei smartphones without GMS. Moreover, I can't impose my experience on anyone, because it is atypical, since I almost always have 2-3 smartphones on hand in parallel and with GMS on board, too. But the P40 Pro is my main smartphone and I had no issues with it.
I don't want to once again raise the topic of "hard life" with a smartphone without built-in Google services. In my opinion, the user experience is undoubtedly changes, but not significantly. I continue to use the usual services and apps, but perhaps in a different form or in a slightly different way. What I am definitely missing is contactless payments using Google Pay. Although this problem can also be solved by changing the payment system, for example, using wrist devices like Xiaomi Mi Smart Band 4-6 NFC or watches that support Garmin Pay. Everything has been described many times for a long time and if you want, you can read my experience in this article:
Verdict
I like the Huawei nova 9, if I consider it exclusively as a test device. Stylish, thin, light, quite powerful, with an excellent screen, a good camera and fast charging. Many of us have missed the quality of Huawei, and the nova 9 demonstrates that the company has not forgotten how to make these very smartphones – even in the most critical of conditions.
But here we come back to one of the most important drawbacks – the lack of Google services negates all the advantages of the device and condemns it to oblivion. The maximum that Huawei nova 9 can count on is popularity in narrow circles of connoisseurs, experts and fans of the brand. There is no hope for mass sales. A pity. The smartphone really came out quite good. I would even like to give it some kind of editorial award, but what's the point? It will be more of a consolation prize than a real recommendation to buy.
Therefore, I will leave the final decision to the buyers. After all, someone will definitely buy this smartphone for reasons I can't possibly fathom. But I won't judge, because this is a quality device, no matter what.
Subscribe to our accounts: