The Galaxy Note20 Ultra is the most powerful smartphone from Samsung, but is raw power enough to entice the buyer? I cordially invite you to the Galaxy Note 20 Ultra obsessive review, where you will find answers to all your questions about this smartphone.
Writing a review was extremely easy for me. The Samsung Galaxy Note20 Ultra is indeed the best Samsung smartphone, and perhaps even the best flagship device on the market, but at the same time this device is… rather boring. However, this shouldn't be a disadvantage in 2020.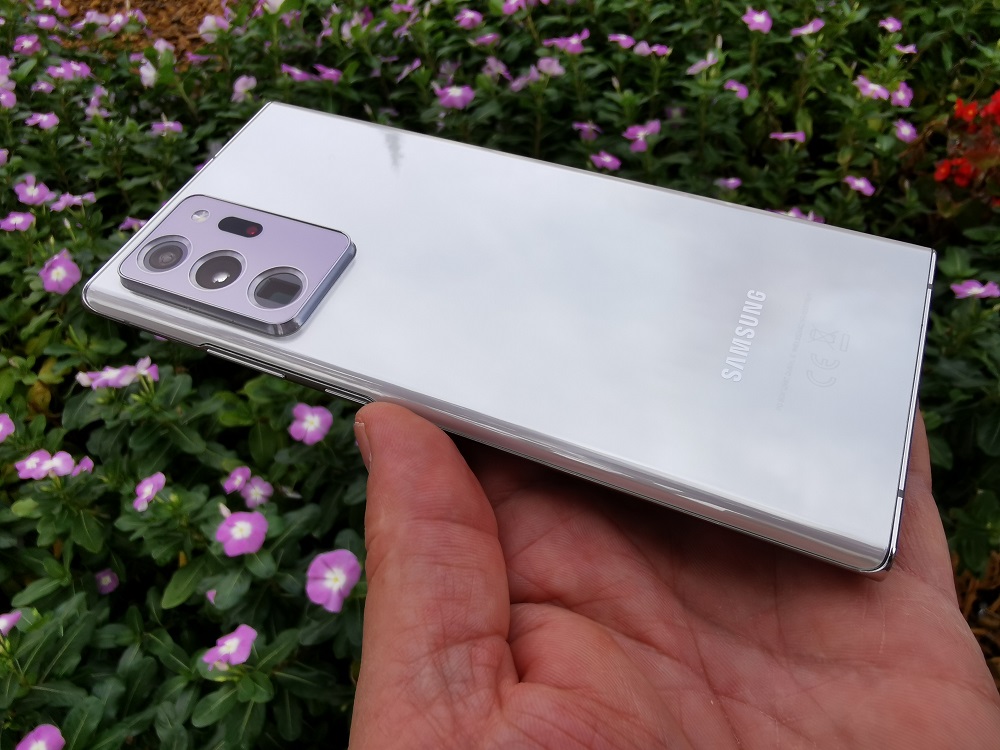 What is interesting about the Galaxy Note20 Ultra
When I first saw the Samsung Galaxy Note10+ live a year ago, it made a huge impression on me. The entire front of the smartphone was a screen! Now, a year later, the Galaxy Note20 Ultra looks almost identical but doesn't make the same impression as its predecessor. But, well, nowadays it is impossible to invent a new design every year. On the other hand, not all users change their mobile phones constantly. So if you upgrade to the Note20 Ultra from a 2 or 3 year old smartphone, the difference will be enormous.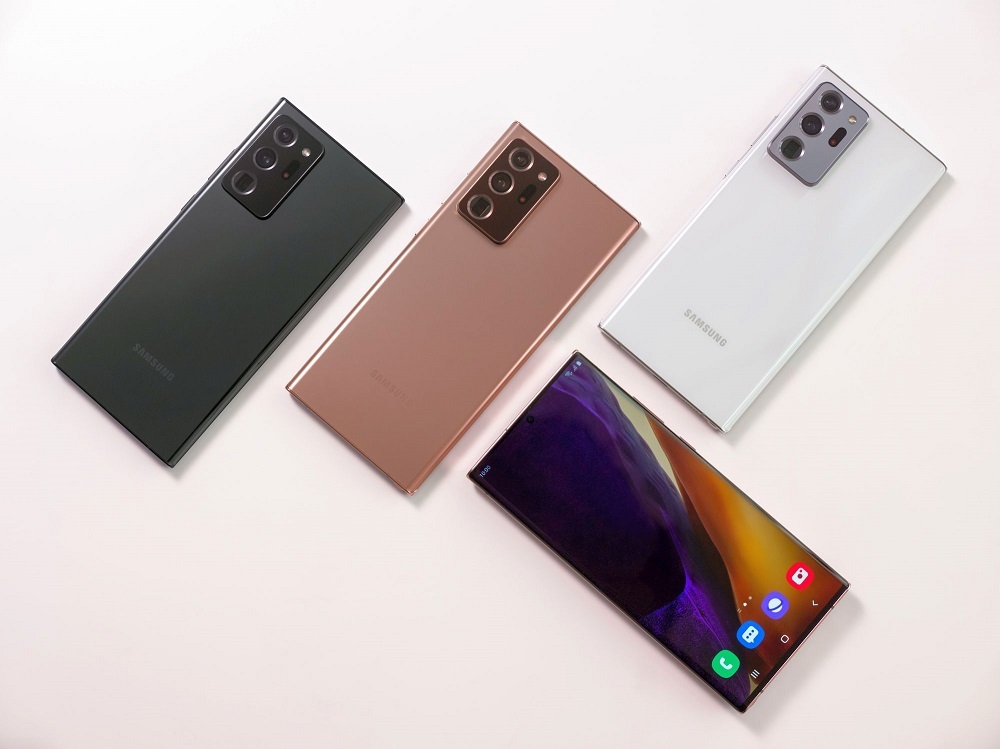 I like it that the back of the new smartphone made of matte copper-colored glass. The new color makes the smartphone look unique and extremely attractive. It's both suitable for an Instagram blogger and the president of a company. In addition, the matte surface does not collect fingerprints. It is a pity that a smartphone came to me in white, so I cannot describe all the beauty of copper from my own impressions.
Modern design and great build quality
In the reviews, I try to describe everything to the smallest detail as much as possible, but not in this case.
I highly recommend going to a Samsung store or showroom and picking up the Galaxy Note20 Ultra. You will immediately feel that the smartphone was developed by people who know their stuff very well and really understand premium things. The visual and tactile sensations are very important. Thin bezels around the display, thin edges, excellent workmanship, curves and straight lines create a harmonious whole.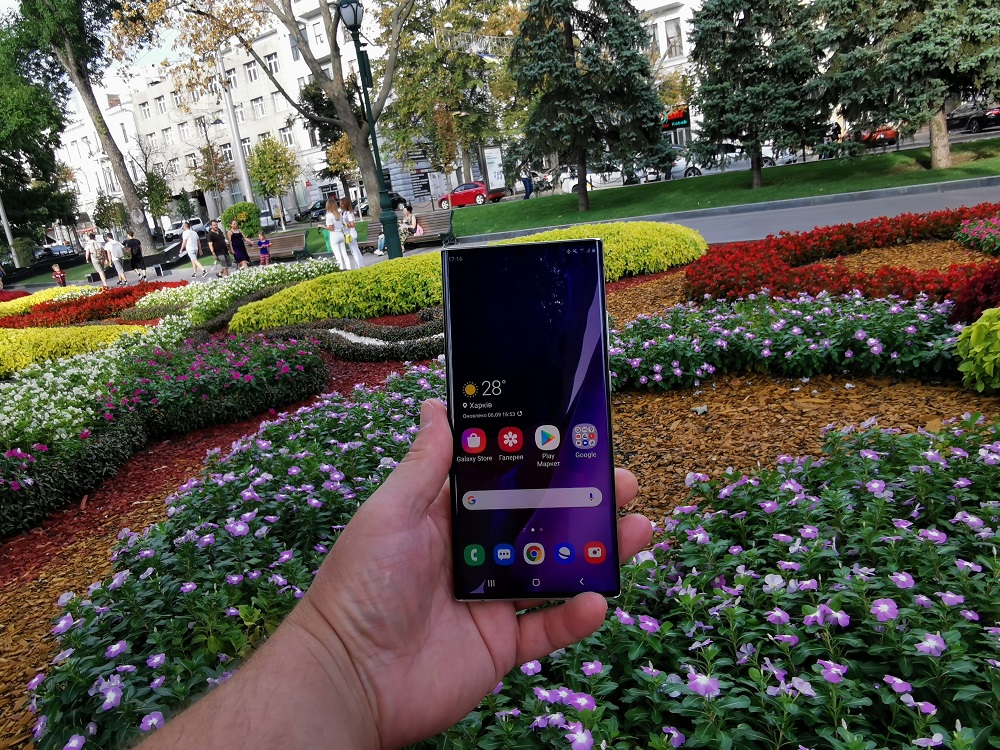 On both sides we get the latest version of durable Gorilla Glass 7 Victus (in the copper version, the back glass is semi-matte). In the Ultra model, the sides of the screen are slightly bent, which has a very positive effect on the comfort, although this can make it difficult to choose the right protective case.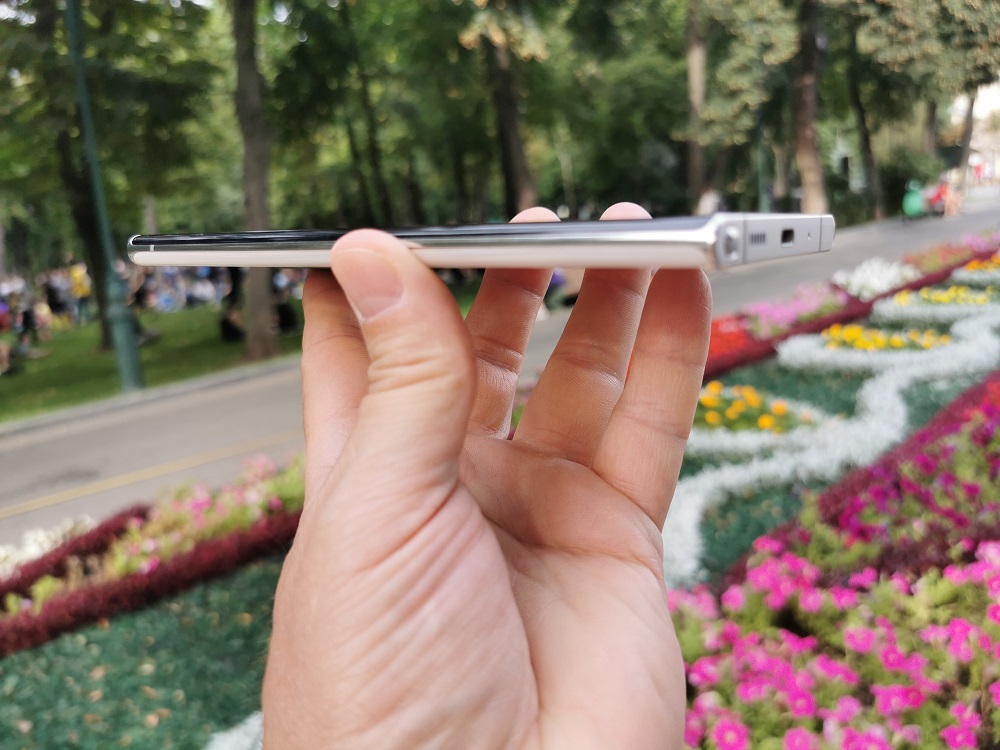 Main camera protrudes too much
Everything would be just beautiful if the rear cameras did not protrude so much. Turning the phone over, I chided myself for complaining so much about how the cameras of other phones stick out. I have never seen such huge protruding cameras.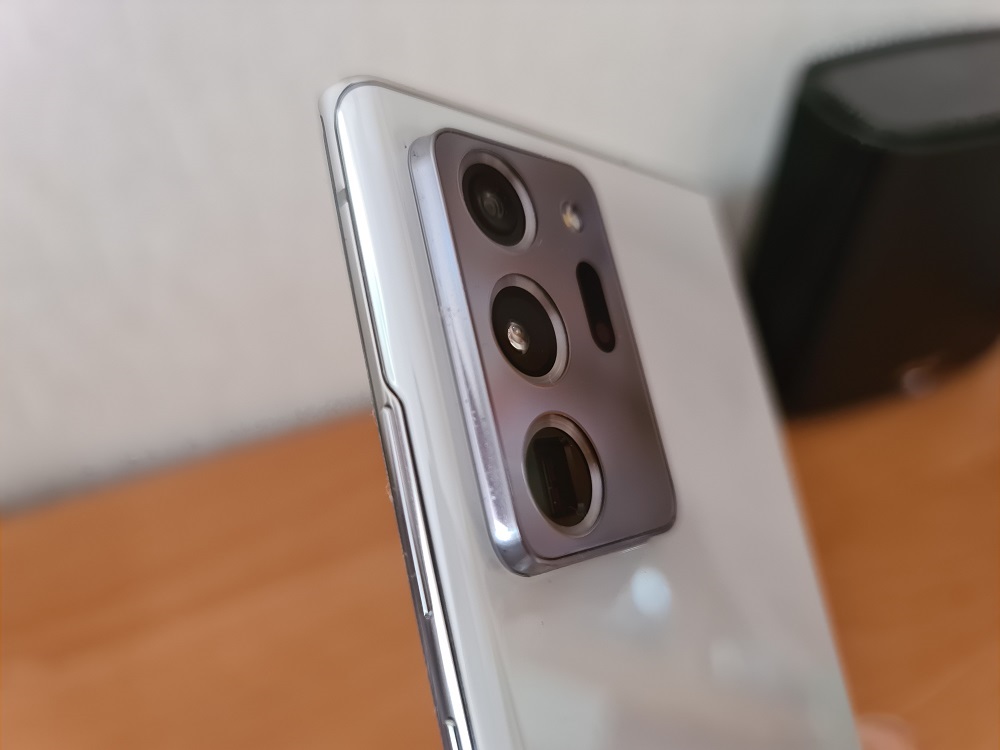 I know that there are several sensors here, a laser distance meter and an optical zoom of the periscope, but the thickness of the camera module is too much. In my white version, the block of modules is metal, with silvery glass, so it stands out especially against the general white background.
In addition, the area with cameras is not in the center, which makes it uncomfortable to use the smartphone when it's on a table. The left side is lowered by 2mm, tapping the table with each touch. I measured the thickness of the case and it turned out that without cameras it is 8.3 mm (quite good), but with cameras it is 11 mm, unfortunately.
If anyone is interested, then here are the measurements:
Dimensions (H x W x D): 164.8 x 77.2 x 8.1mm (measured thickness 8.3mm without rear cameras, 11.0mm with cameras)
Weight: 208g
Materials: Gorilla 7 glass (front and back), metal (perimeter frame)
Waterproof: yes, IP68, but I do not recommend swimming with it
Very large and very good display
I write every year that the new Galaxy Note has the best screen I've seen so far, and in the Note 20 Ultra review I can write the same. Incredibly, Samsung can improve its screens even further in terms of color and maximum brightness. The Note 20 Ultra's display is simply mind-boggling in this regard.
Let me remind you that this is a 6.9-inch display, 1440 × 3088, Dynamic AMOLED with ultra-wide HDR10+ color range.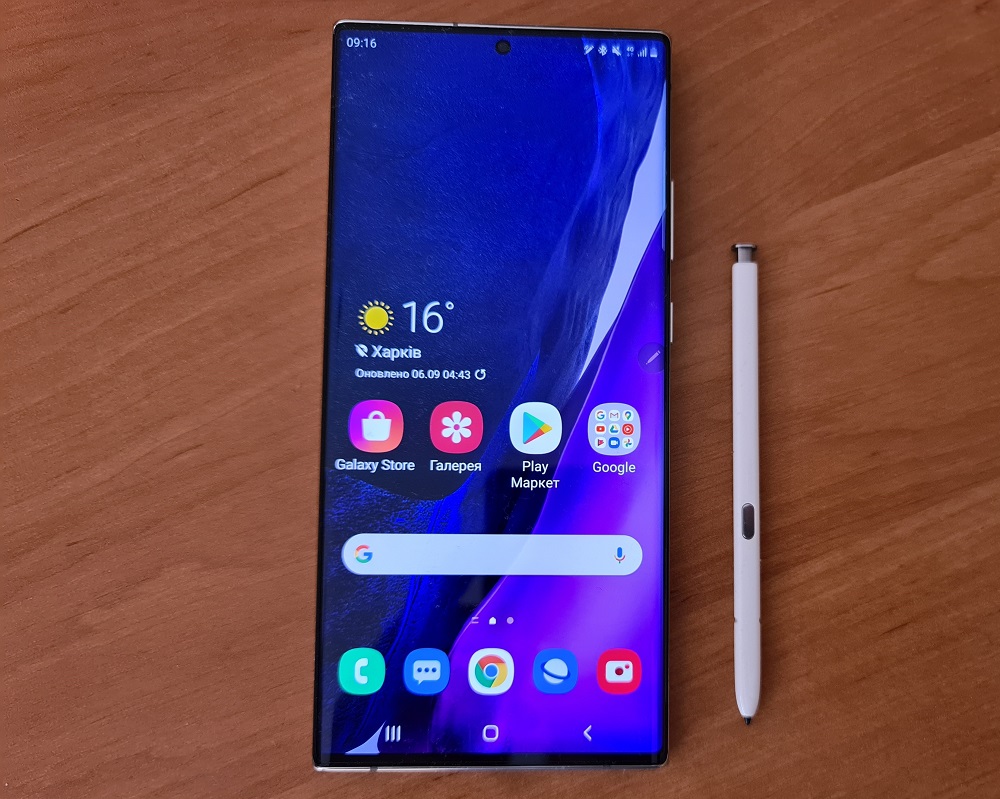 And if we are talking about the screen, then it is impossible not to remember the refresh rate, which has been improved compared to its predecessor. The panel can operate at 120Hz refresh rate, but only in Full HD+ resolution. If you decide to go with the high resolution WQHD+, you'll have to settle for 60Hz.
I definitely recommend a high refresh rate that can be seen right away as opposed to a subtle increase in resolution. For me, 120Hz delivers sensational smoothness and reduces eye strain.
Colors, contrast and brightness are great in any situation. It doesn't look too bright at night, and it's not too dark on a sunny day.
Personally, I like big screens. They are especially good for watching movies and TV series or YouTube videos.
Display type: Dynamic AMOLED with HDR10 +, 120Hz
Size: 6.9 inches
Resolution: 1440 x 3088 pixels (496 ppi)
Maximum brightness: approximately 460 cd/m2
120Hz adaptive refresh rate – what does it mean?
Important note. The maximum refresh rate of 120 Hz is only available in reduced FHD+ resolution (1080 × 2316 px). In WQHD+ mode (1440 × 3088 px) it drops to 60 Hz.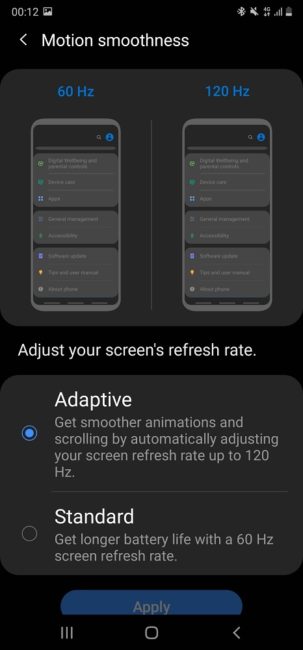 This means that the Galaxy Note20 Ultra's screen cannot run continuously at 120Hz due to the adaptive mode. What it means is that the screen adapts to the displayed content. In most applications, we have 120 Hz, but when watching movies, the screen can switch to 24 or 25 Hz, and when reading text even 10 Hz. To save battery. However, by playing around, we can achieve refresh rates in the 60-120 Hz range, as far as the performance of the processor and graphics accelerator allows.
Always On Display and In-Screen Fingerprint Scanner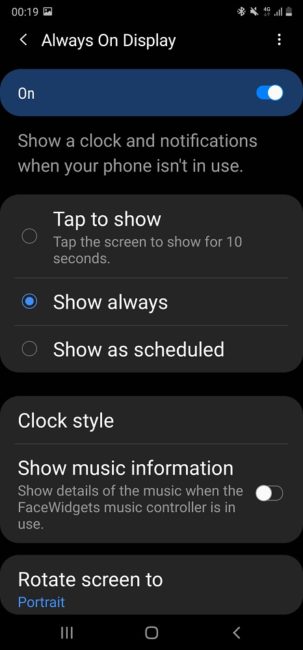 Already familiar to many users, the Always On Display function displays the time, date, notification icons and the name of the song being played, even when the screen is locked. Convenient and practical, as always.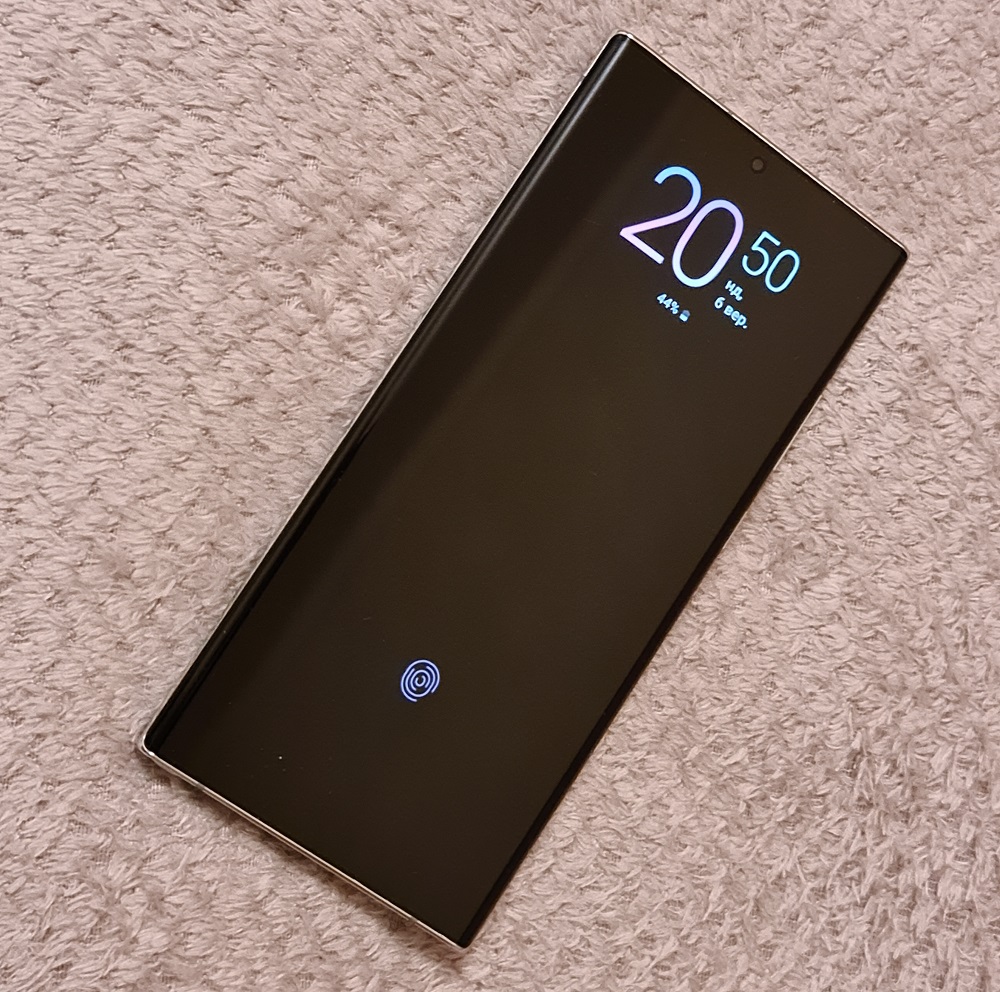 The in-screen fingerprint scanner is the same as in the Galaxy S20 Ultra. It works well enough when the finger is dry, but problems start when it is wet or damp, even from sweat or rain.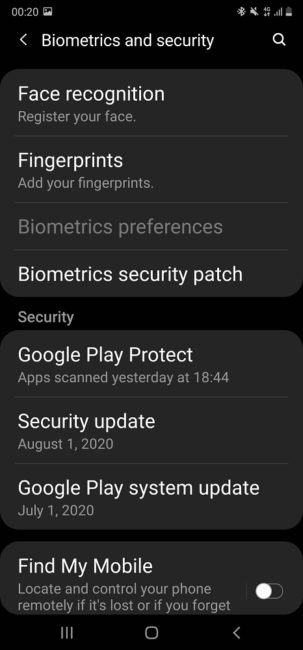 Then unlocking the smartphone may not take place at all. I have had several issues.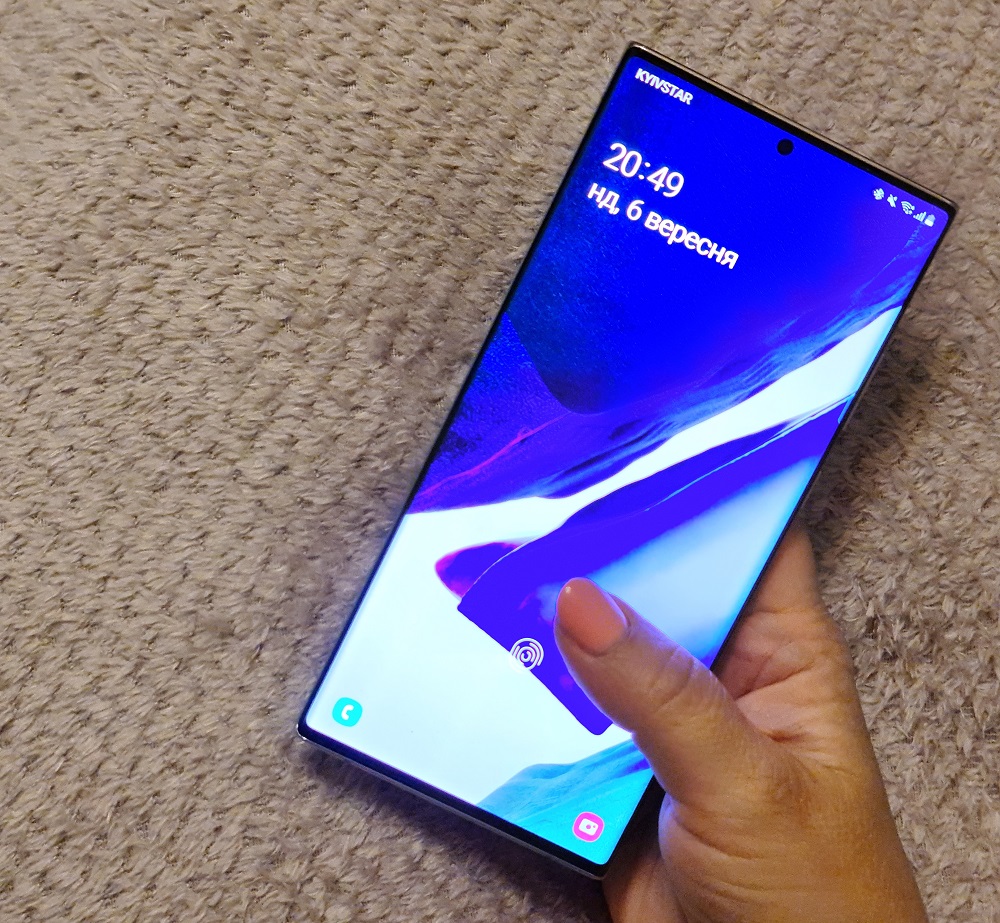 You can use face recognition if you want, but this method is less secure. Although I constantly use this unlocking method. It works almost perfectly, even in low light, and in total darkness there were rarely any problems
Read also: Samsung Galaxy S20 Ultra 5G review — One Step From Perfection
Best Stereo Speakers?
Yes this is true. Samsung has managed to surprise me with the built-in speakers in the Galaxy Note20 Ultra. By the way, the smartphone has two speakers – one above the display, and the other on the bottom edge. They provide superb stereo sound. The first is somewhat quieter, but rather high in frequency, and the second is louder and reproduces more middle frequencies. In general, the sound quality is sufficient for a movie.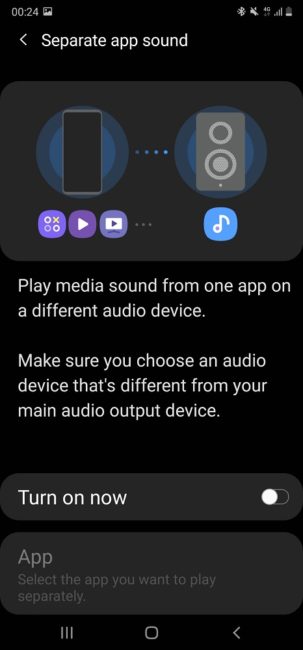 The sound is quite loud and clear and, in my subjective opinion, the best among all modern smartphones.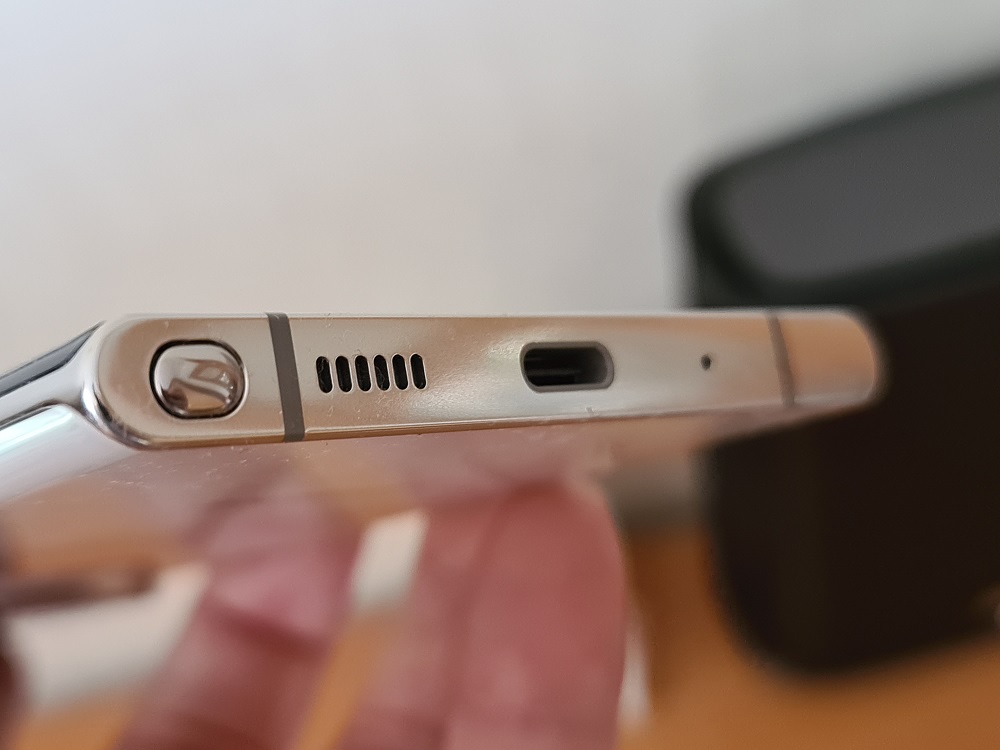 Perhaps it is a shame for someone that the standard 3.5 mm audio jack has finally disappeared from modern devices. But now wireless TWS headphones are becoming more popular, and the new Samsung Galaxy Buds Live headphones are something else. Although the new product comes with AKG in-ear headphones. They are wired with a USB Type-C connector. If you want to connect your old wired headphones, you will need to buy a USB Type-C to 3.5 mm Mini-Jack adapter yourself.
Familiar S Pen, but more features
It is very difficult to imagine smartphones of the Galaxy Note series without the S Pen stylus. It has truly become the hallmark of these amazing mobile devices. It is a very useful device that can only be appreciated when you start using it. I admit that I am a long-time fan of styluses, but this one is different. Sometimes it seems that the S Pen is more like a magic wand.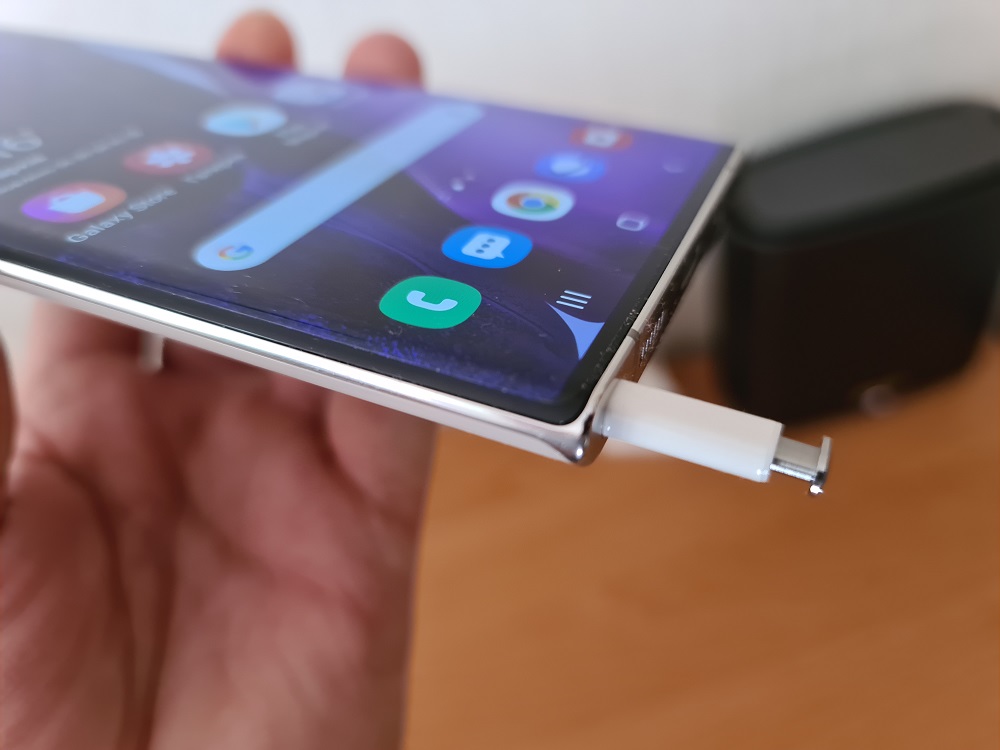 Indeed, the S Pen is no ordinary stylus. It is an active pen with wireless connection and fast inductive charging. It is used not only to create simple notes, but also to remotely control your smartphone using gestures, taking photos, editing text (including layers and PDFs), drawing, adding notes to graphics and documents, and much more.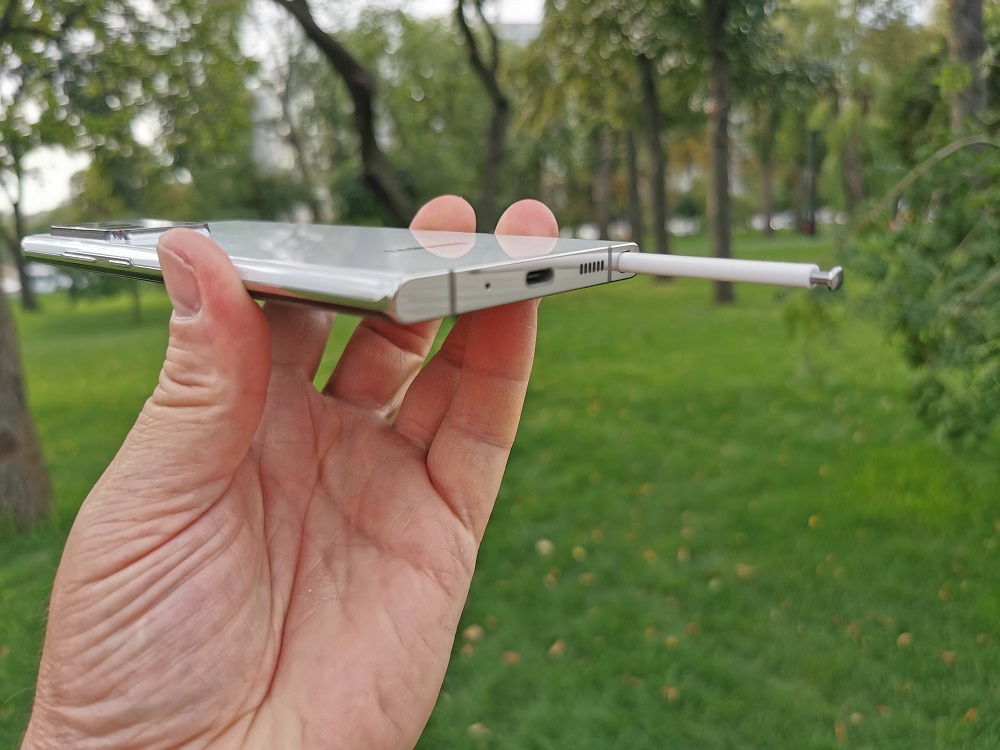 Here are a couple of examples of how to use it in everyday life.
Example 1: You are meeting with friends and taking a picture together. You set up the phone, approach the group and use the stylus to turn on the camera and take as many photos as you like by pressing the button. I tested the stylus from more than 10 meters away and it worked without problems.
Example 2: You are relaxing in a sun lounger or hammock in the garden or on a sofa and listening to music. Thanks to the S Pen, you can switch songs, change the volume, and turn playback on and off without holding your smartphone. It may be a few meters away from you. All you need is a corresponding stylus gesture in the air.
Example 3: You are in a meeting or lecture and need to take notes. With the S Pen on the Galaxy Note 20 Ultra, you can write easily, then turn those notes into digital text and instantly paste it into an email or text document.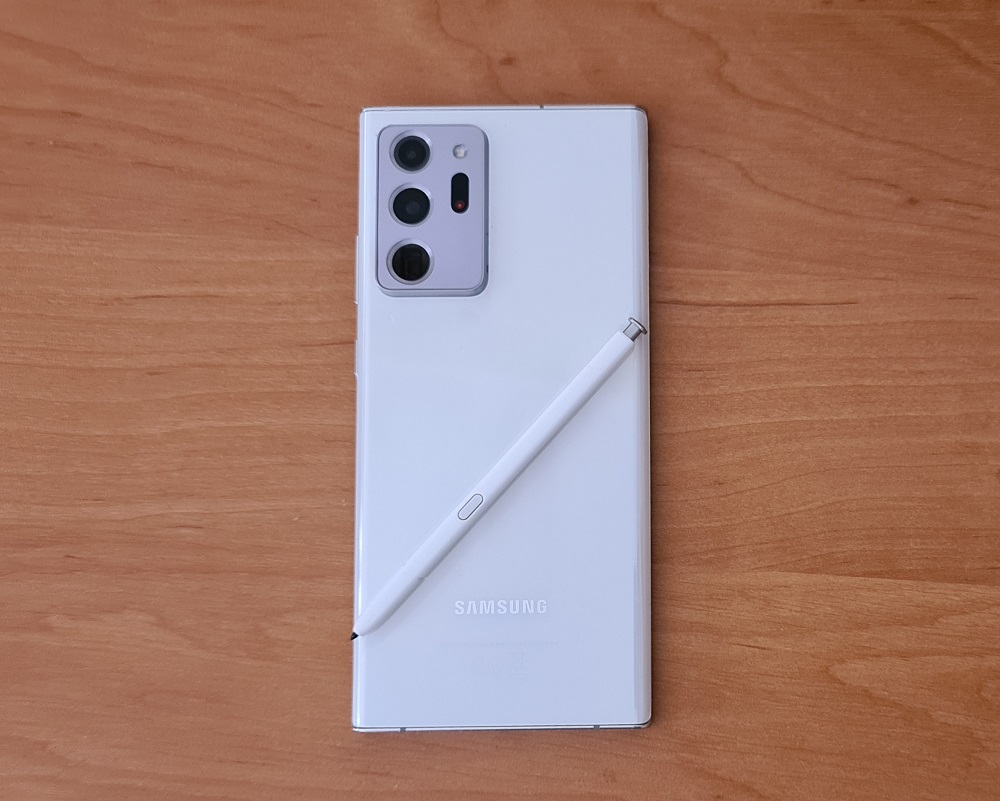 Note that recognition algorithms can work even with rather sloppy handwriting, although sometimes you have to add spaces, for example, after converting handwritten text to digital.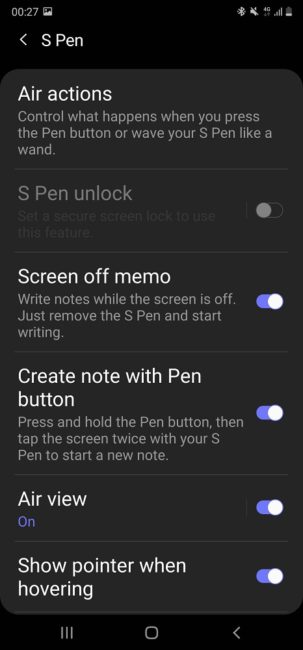 Of course, your handwritten and digital notes are synced to Samsung Notes across all supported devices (under one account). It is very convenient and practical, especially for students, managers and business leaders.
Good performance, but Exynos again
Inside we find Samsung's own Exynos 990, based on the 7 nm+ process, consisting of an octa-core processor (2x Mongoose M5 @ 2.73 GHz + 2x ARM Cortex-A76 @ 2.50 GHz + 4x ARM Cortex-A55 clocked at 2.00 GHz) and an ARM Mali-G77 MP11 graphics chip. The smartphone is equipped with 12GB LPDDR5 RAM and 256GB extremely fast UFS 3.1 memory for data and apps.
The Americas, as usual, get flagships powered by powerful Qualcomm chipsets (in the case of the Galaxy Note20 Ultra, it's the Snapdragon 865+), while Europe gets the global version with Samsung's chipset, which is Exynos.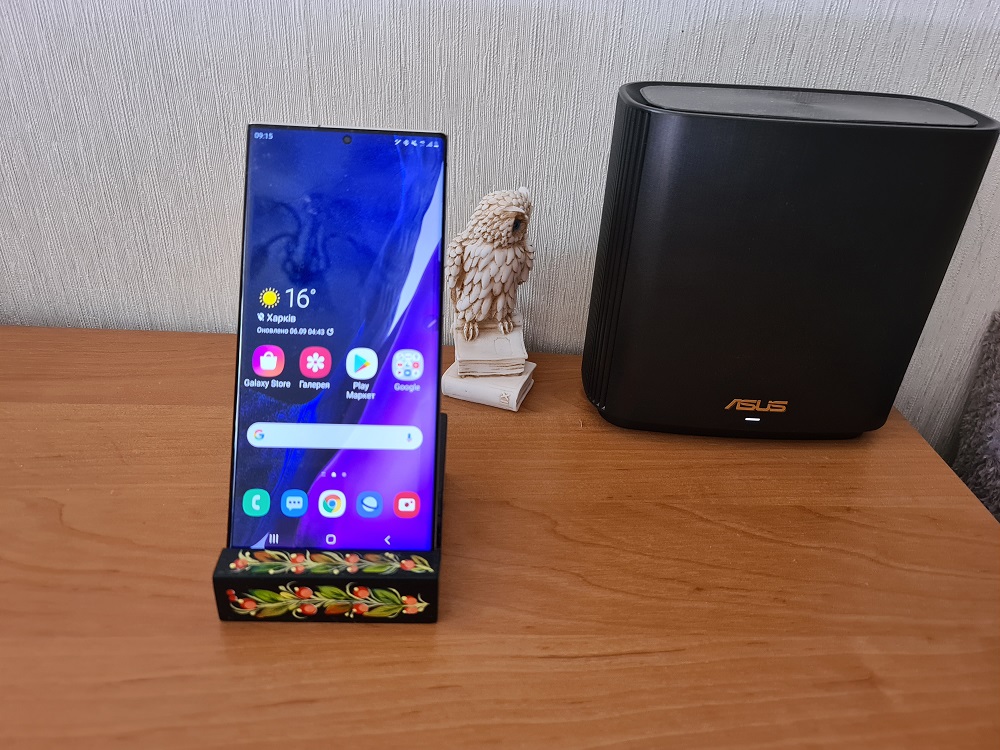 In general, Samsung chipsets are slightly less powerful and less energy efficient than their counterparts. Of course, these differences won't be noticeable in daily use, and the Galaxy Note20 Ultra does run smoothly and stably. I'm a little surprised that, contrary to tradition, the Note20 series hasn't received a new, better processor this year than the current Galaxy S line.
But the smartphone really works very quickly – you can't complain about that. Especially when 120Hz refresh is enabled, the system becomes just lightning fast. All animations are very fast and very smooth, and opening and closing the apps is instant.
The performance of the new Exynos 990 in popular tests is noticeably better than the Galaxy Note10+ with Exynos 9825. I agree that in everyday use both of these phones work almost the same, but… the regular Snapdragon 865 (not even in the plus version, which the Americans get) is clearly faster than the Korean flagship Exynos 990.
Read also: Samsung Galaxy S20 Ultra: Three advantages and three disadvantages after three days of use
The lag in speed and performance can be forgiven, but the Exynos 990 heats up quite quickly which affects the performance. During the test, the temperature of the Galaxy Note20 Ultra rose noticeably during a long video call, which would seem a fairly simple task for a smartphone. What is the reason for this rise in temperature? It was probably my test version of the smartphone that behaved this way.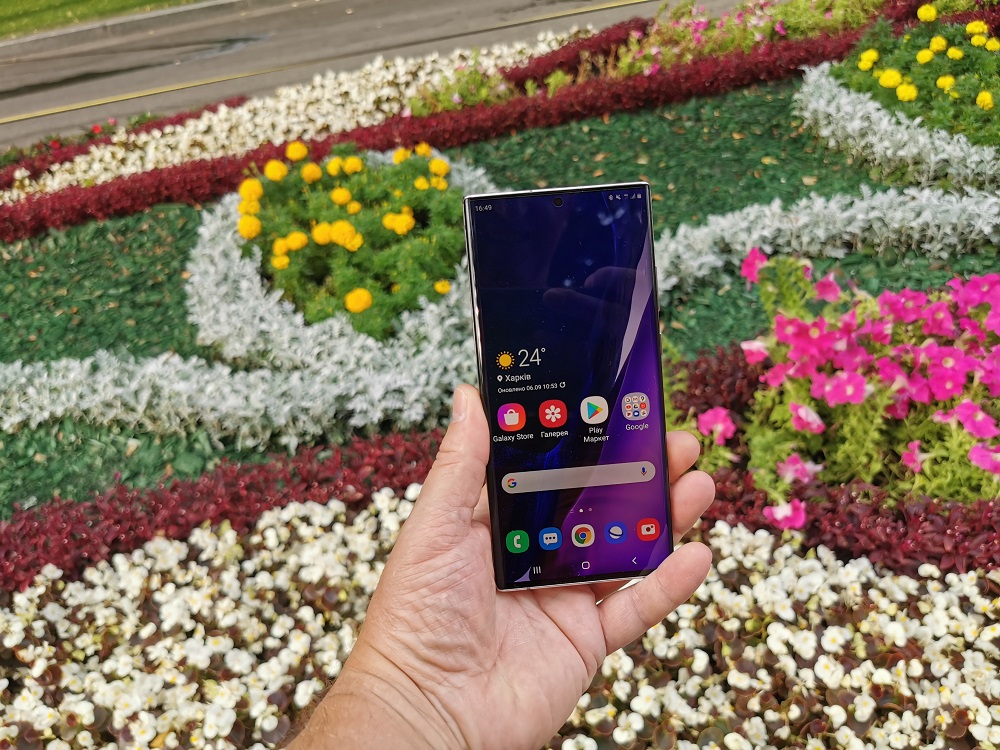 Overall, I had no issues with the smartphone. In most cases, everything works exactly as it should, as the smartphone is fast and responsive. You can play your favorite games on it and quickly launch the necessary app.
You can find the benchmark results below. I will only add that the temperature of the phone rose noticeably during the test.
It should be added that Samsung is promoting Microsoft services in its devices, in particular Xbox Game Pass/xCloud. Hence, we can play over 100 PC games from the cloud on a smartphone. This is possible, and in practice does not strain on the smartphone as much as you might think.
There is even a dedicated MOGA XP5-X+ controller to make gaming more enjoyable on your smartphone.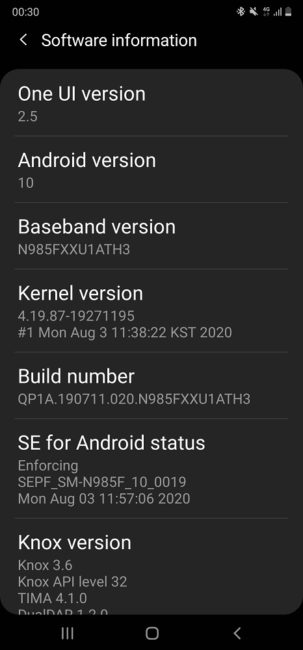 The system, of course, is Android 10, but with a new version of the One UI 2.5 shell. In addition to wireless DeX and additional pen functions, you can quickly share files (Nearby Share and Quick Share), use the advanced Samsung KNOX encryption system, and My Safe feature.
The smartphone is equipped with Wi-Fi 6, Bluetooth 5.0 and an NFC chip, which you will use with Google Pay. The Internet connection over your home network is very stable and reliable, as well as Bluetooth, LTE or GPS.
Importantly, the smartphone also offers support for 5G technology.
Read also: Samsung Galaxy Z Flip review – Ultra-modern flagship flip phone
Wireless DeX lets you transfer images to your TV
Samsung stubbornly continues to believe in its ability to transform a smartphone into a desktop thanks to DeX mode.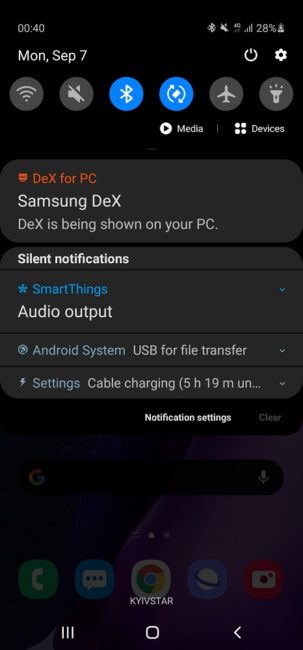 We have a new wireless version of DeX technology at our disposal. It allows you to send images from your phone to your TV and, above all, mirror the system in a Windows-like desktop mode. The system can be controlled remotely using a smartphone or an Bluetooth keyboard and mouse.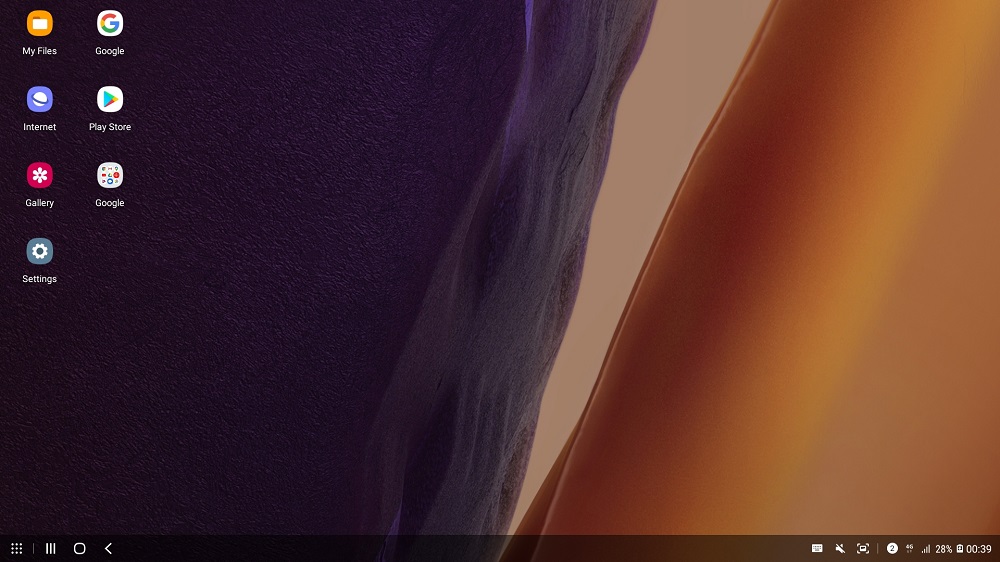 Wireless DeX uses Screen Mirroring and even works on older Samsung Smart TVs. They don't even have to be from Samsung… all you need is Miracast-compatible hardware.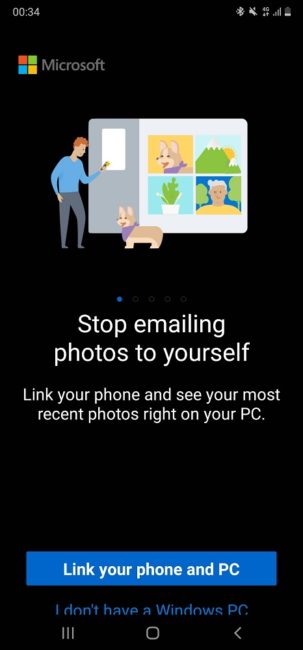 We can wirelessly connect our Galaxy Note20 Ultra to a computer (on Windows 10) thanks to the pre-installed Link to Windows service. Thus, you can control your phone from our PC – transfer data, call or send texts, etc. Sometimes it seems to me that the Samsung flagships are better at being Surface smartphones than the Surface Duo itself. This is not surprising when you consider the close relationship between Microsoft and Samsung. One of the leaders of the American company even participated in the presentation of the Galaxy Note20.
Additional Edge Panel
In addition to the illuminated edges of the display you can also use the optional toolbar. This feature should only be recommended to people who don't like having a lot of icons on their home screen, but want to have them at their fingertips anytime on a slide. Here you can place shortcuts to contacts, apps, tools, reminders, clipboard, and more. Additional panels can be downloaded from the Galaxy store.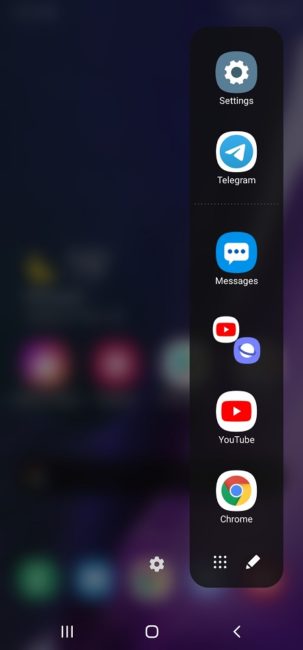 I admit that I used to be quite skeptical about this feature, but recently I have become very used to it. This is really useful when you have an additional panel where your applications or contacts are. One move from the edge of the screen to the center of the smartphone and you have access to your favorite shortcuts. Try it and you will understand what I mean.
Battery life: nothing new
The Galaxy Note20 Ultra has a battery capacity of 4500 mAh. Yes, that's a lot, but it could be better. Although you can really count on 1 day of work, from morning to evening.
The display is huge, so it consumes a lot of power. Plus, I tested it at 120Hz most of the time. During a very busy day, the smartphone could hardly survive from morning to evening, but managed to reach 1.5 days of work with moderate use.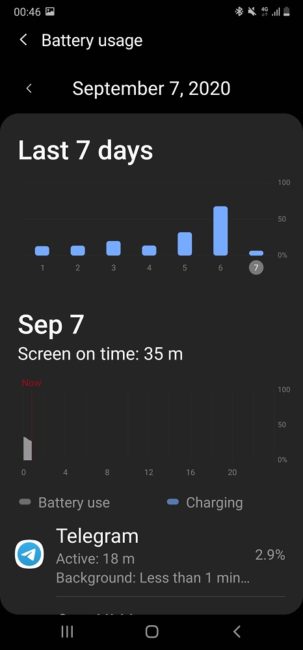 It is clear that better optimization is needed, but it can be assumed that this is a typical result for new flagship smartphones. Powerful hardware, very large displays and advanced features, unfortunately, quickly consume battery power and there is nothing you can do about it.
Here are some numbers and data on the battery life of the Galaxy Note20 Ultra:
Battery capacity: 4500mAh
Charger: 25W
Full charge time: approximately 1.5 hours (when using the factory charger)
Easy battery replacement: not available, only at a service center
Wireless Charging: Yes
Reverse charging: Yes (inductive)
Working hours: usually 1 day, maximum 1.5 days
Test in PCMark Work 2.0: 6.5-7.5 hours
The battery charges up to 40% in half an hour, and a full charge takes 1.5 hours. This is odd as the larger battery of the older Galaxy S20 Ultra charges faster – it takes less than an hour.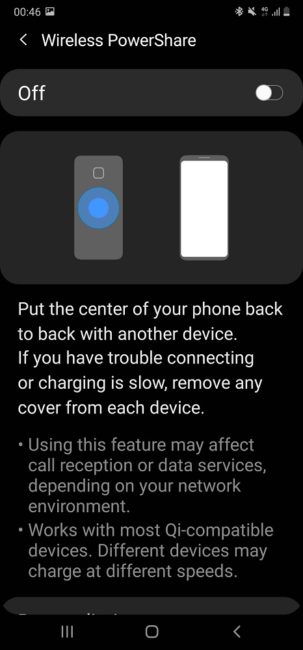 There is also wireless (inductive) charging. After turning it on, you can put, for example, Galaxy Buds Live headphones or the Galaxy Watch 3 on the back of your smartphone and charge them. You can also charge another smartphone this way, but in this case most of the energy of the smartphone itself is used.
Samsung Galaxy Note20 Ultra cameras
This question worried me the most after the presentation of the Samsung Galaxy Note20 series. I was delighted that the Galaxy Note20 Ultra has got a completely new, significantly improved camera. In many ways, the camera module resembles the design from the Galaxy S20 Ultra, and in some cases even improves on it.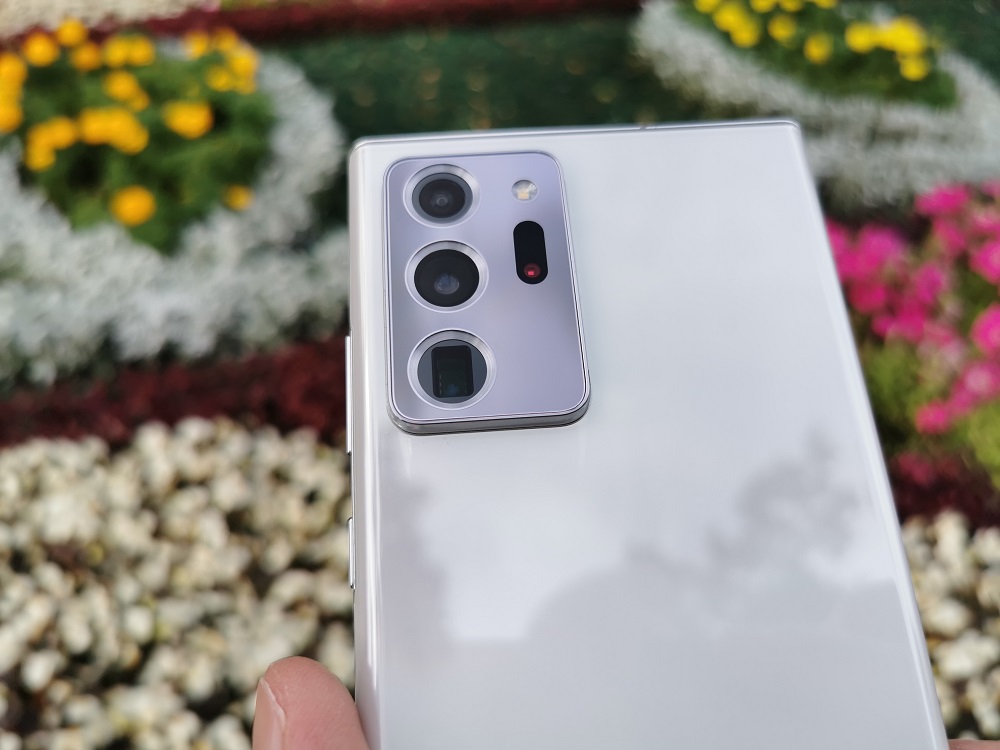 So on the back of the Galaxy Note20 Ultra there is a special set of lenses, a laser focus sensor, and an LED flash. All are housed on a huge but stylish island. I don't want to paint everything for a long time, therefore, here are the characteristics of the camera modules and its capabilities:
108 MP, f/1.8, 26mm (wide), 1/1.33″, 0.8µm, PDAF, Laser AF, OIS
12 MP, f/3.0, 120mm (periscope telephoto), 1.0µm, PDAF, OIS, 5x optical zoom, 50x hybrid zoom
12 MP, f/2.2, 120˚, 13mm (ultrawide), 1/2.55″, 1.4µm
Features
LED flash, auto-HDR, panorama
Video
8K@24fps, 4K@30/60fps, 1080p@30/60/240fps, 720p@960fps, HDR10+, stereo sound rec., gyro-EIS & OIS
As far as the main camera of the Samsung Galaxy Note20 Ultra is concerned, it isn't much better than the Galaxy S20 series smartphones, especially when we only consider photos in auto mode and in daylight.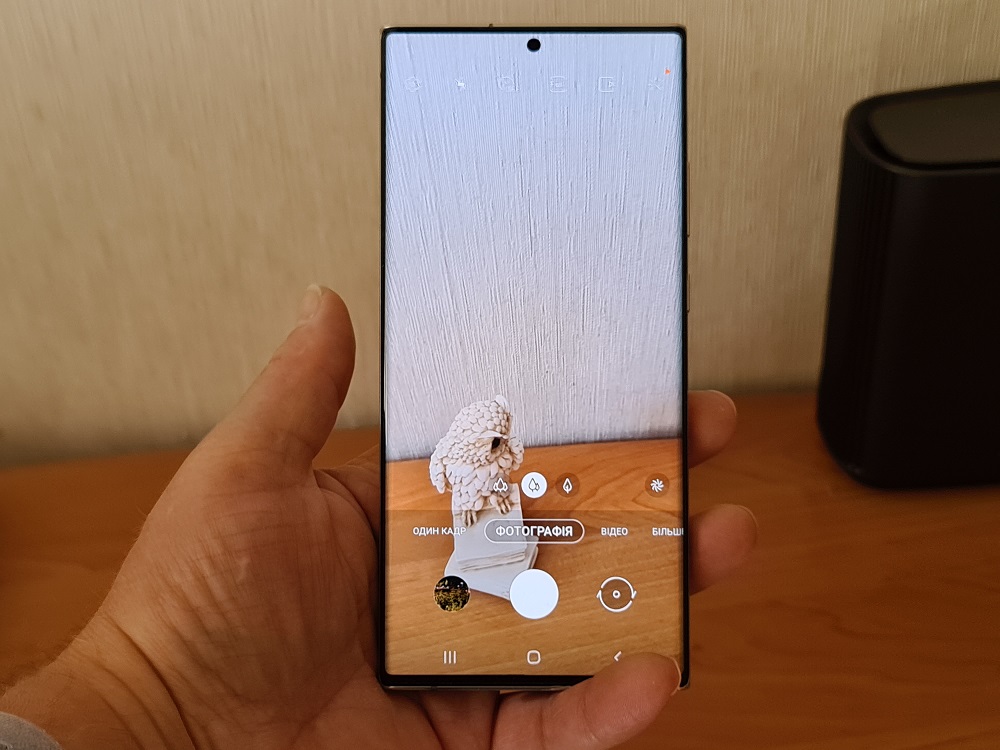 The 108MP camera uses nine-pixel-to-one technology to finally get a 12MP photo, which in most cases doesn't offer better detail than 12MP photos that can be captured with the Galaxy S20+. However, when you take pictures at the full 108MP resolution, the increase in detail is noticeable to the naked eye.
However, this does not change the fact that we get a lot of detail, wide dynamic range and usually realistic colors in the pictures.
ПРИМЕРЫ ФОТО С КАМЕР В ПОЛНОМ РАЗМЕРЕ
The main camera also works well in the dark. It is not always necessary to use a dedicated night mode for shooting, although it does significantly improve contrast and overall brightness. Sometimes you can see exaggeration and too much lighting in the photos, but this happens mostly with dark landscapes, so we can forgive Samsung for that.
Most importantly, the device saves photos in night mode much faster, and the exposure itself seems to be shorter, but without any impact on the overall quality.
The Galaxy Note20 Ultra's camera lacks the ToF module found in the Galaxy Note10+ and Galaxy S20 Ultra. It could have been due to the addition of a laser autofocus system, or perhaps a simple lack of space is to blame. The laser autofocus system is really commendable. It makes the Galaxy Note20 Ultra's camera fast and efficient, even though the standard module has the same 108MP sensor lacking the Dual Pixel PDAF (Samsung ISOCELL Plus S5KHM1) system found in the Galaxy S20 Ultra, which has been criticized for its poor sharpness.
As for the photos that were taken with an ultra wide-angle lens, the quality is quite good compared to its predecessor. Although the curvature effect on the sides depends on the scene. The same goes for the subtle fish-eye effect, as can be seen in the examples. More importantly, the camera performs well even at night, despite the lack of optical image stabilization. Of course, the quality that the main camera is out of the question.
The cherry on the cake is, of course, the telescopic lens that delivers 5x optical zoom, a significant upgrade from its predecessor. You can easily judge the quality for yourself.
The phrase "Space Zoom" has also disappeared from the camera module, which in the Galaxy S20 Ultra meant 100x digital zoom. Now we can use "only" 50x magnification. But anything over 30x will be marked by a significant deterioration in the quality.
Videos can be recorded at various resolutions, the highest being 8K at 24 frames per second. Note, however, that some functions are disabled when using the maximum resolution and shooting at 60 frames per second. However, we cannot use video effects and autofocus tracking. The slow-motion mode allows you to record 960 frames per second in HD resolution (1280 × 720 pixels).
Video with a blurred background looks interesting, although it can still only be recorded at 1080p and 30fps. There are several modes to choose from, including recording background in grayscale and foreground in color. The background is cropped very nicely.
In each of the modes, we get smooth video with very good detail and great clarity. The stabilizer works, and the autofocus sharpens the foreground brilliantly.
One selfie camera (10MP, f/2.2, 26mm, 1.22um, Dual Pixel PDAF) is good enough and works great in all conditions, as it has a special night mode.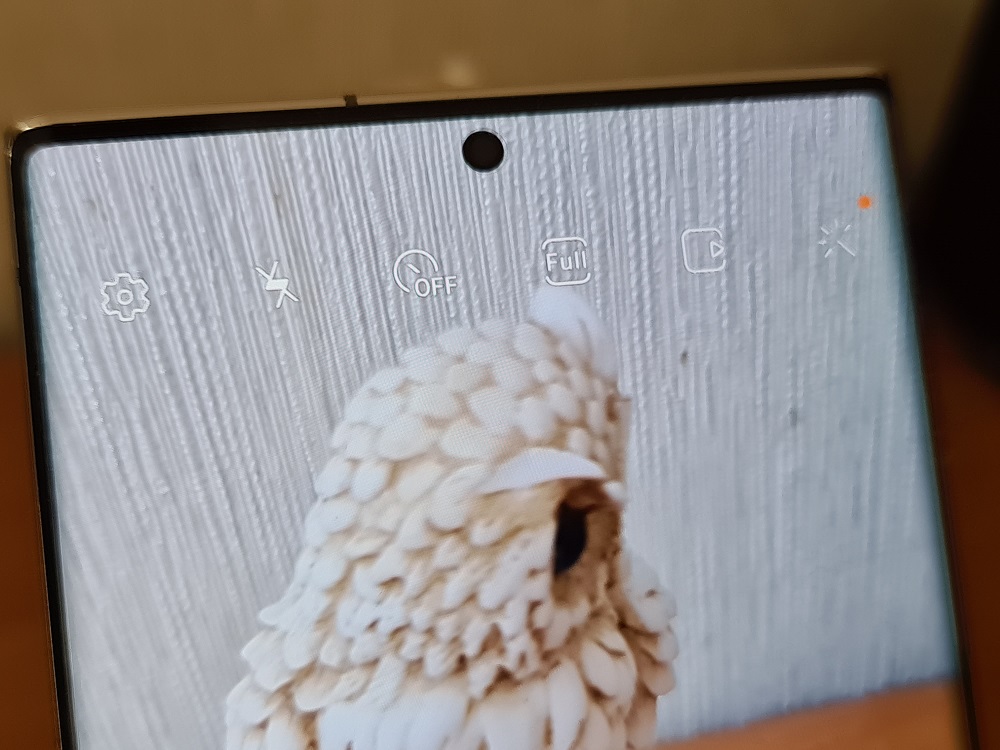 There is also background blur in photos and videos, slow motion mode and lots of stickers. And of course AR Doodle. Videos can be recorded at UHD resolution and at 60 frames per second.
Also in the Galaxy Note20 Ultra there is a sound amplification system when shooting video, which consists of several microphones. It is called Zoom-In – when you aim the camera at an object and the sound of this zone is amplified.
Also, for the first time in my memory, it is possible to choose on which microphones the sound will be recorded! You can choose one of a pair of microphones located on the device itself, as well as connect an external microphone (including a TWS headphones' microphone) and record sound from it. This option looks very interesting and expands the capabilities of the smartphone. Bloggers will definitely find this feature useful.
Should you buy Samsung Galaxy Note20 Ultra?
Many people expect any gadget to deliver maximum performance and efficiency. For them, the Galaxy Note20 Ultra is the best smartphone they can get right now. It is an epitome of functionality thanks to the wonderful S Pen, as well as improved software. In this matter, no other smartphone has yet come close to the capabilities of the Samsung Galaxy Note line.
But that is not all. There are also people who use their smartphone primarily for social networking, music, movies, photos, games and, understandably, communication. For them, the Samsung Galaxy Note20 Ultra is also great. It runs very fast and smoothly, mainly thanks to the 120Hz display, fast memory, and a decent processor. No task is a challenge for it.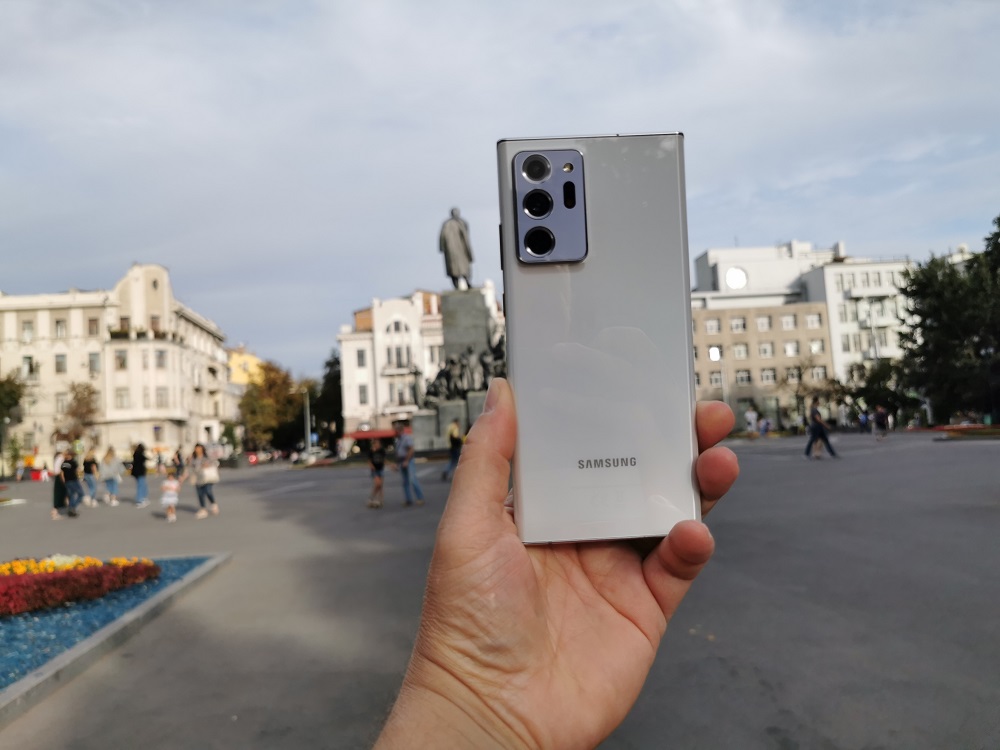 Is this the perfect smartphone? Absolutely not, because nothing is perfect. Firstly, this is a very expensive smartphone that has a protruding camera, an average fingerprint scanner, and an Exynos processor, which is not the best. A more annoying issue for me is the heat build-up. The Galaxy Note20 Ultra can get noticeably hot, and the heat spreads to almost the entire body.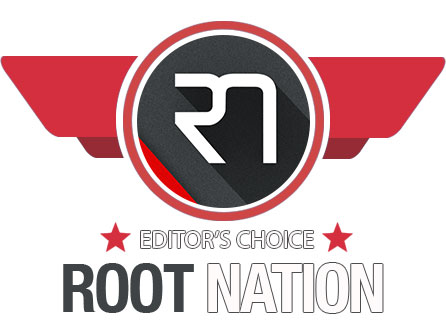 Pros
phenomenal build quality;
high-quality materials;
waterproof (IP68)
large, bright, clear AMOLED display with 120Hz refresh rate;
wonderful cameras in the front and back;
night mode in the main and front cameras;
5x optical zoom and video recording in 8K mode;
a lot of fast memory for data and RAM;
intuitive OneUI 2.5 interface;
unrivaled S Pen with gesture support;
wireless Samsung DeX;
high quality sound from speakers;
inductive and reverse charging;
sufficient battery life.
Cons
main cameras protrude too much from the body;
50x zoom is almost completely useless;
average performance of the fingerprint scanner;
heat dissipation problems;
very high price.
Subscribe to our accounts: