This autumn, TECNO Mobile announced several new smartphones of the POVA series. In addition to the original numbered novelties, a smartphone with the Neo prefix was presented – TECNO POVA Neo 2. It is the successor to last year's TECNO POVA Neo and a continuation of the budget Neo sub-series of the POVA line. Let's find out what features the novelty has from the current "fours" and what the manufacturer managed to improve in the smartphone compared to its predecessor.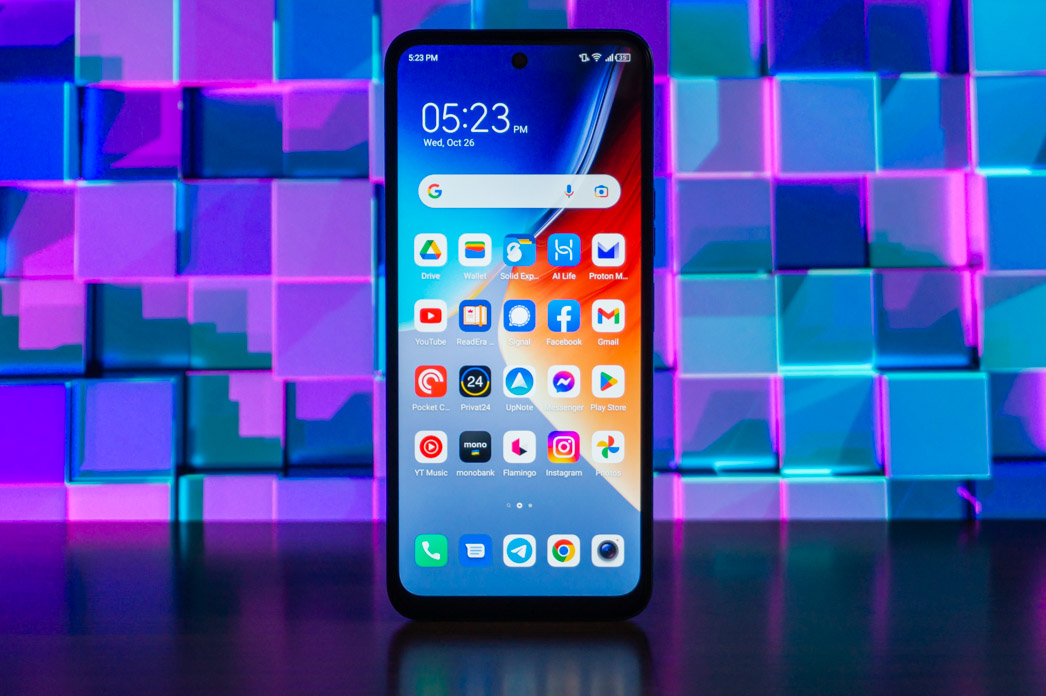 Specifications of TECNO POVA Neo 2
Display: 6.82″, IPS LCD matrix, resolution 1640×720 pixels, aspect ratio 20.5:9, pixel density 263 ppi, refresh rate 90 Hz
Chipset: MediaTek Helio G85, 12 nm, 8 cores, 2 Cortex-A75 cores with clock speeds up to 2.0 GHz, 6 Cortex-A55 cores with clock speeds up to 1.8 GHz
Graphics accelerator: Mali-G52 MC2
RAM: 4/6 GB, LPDDR4X
Permanent memory: 64/128 GB, eMMC 5.1
Support for microSD cards: up to 256 GB
Wireless Networks: 4G, Wi-Fi 5, Bluetooth 5.0, GPS, A-GPS, GLONASS, NFC (only in LG6n model)
Main camera: dual, 16MP wide-angle module, f/1.9, AF; 2MP depth module, f/2.4
Front camera: 8 MP, f/2.0, FF
Battery: 7000 mAh
Charging: 18W with support for fast charging Flash Charge
OS: Android 12 with HiOS 12 shell
Dimensions: 170.9×77.8×9.6 mm
Weight: 230 g
Market positioning of TECNO POVA Neo 2
TECNO POVA smartphones mainly belong to the inexpensive middle class. However, smartphones with the prefix Neo are a kind of a branch of the series and they can be attributed closer to an even more affordable segment. And as you know, the new TECNO POVA Neo 2 is exactly like that.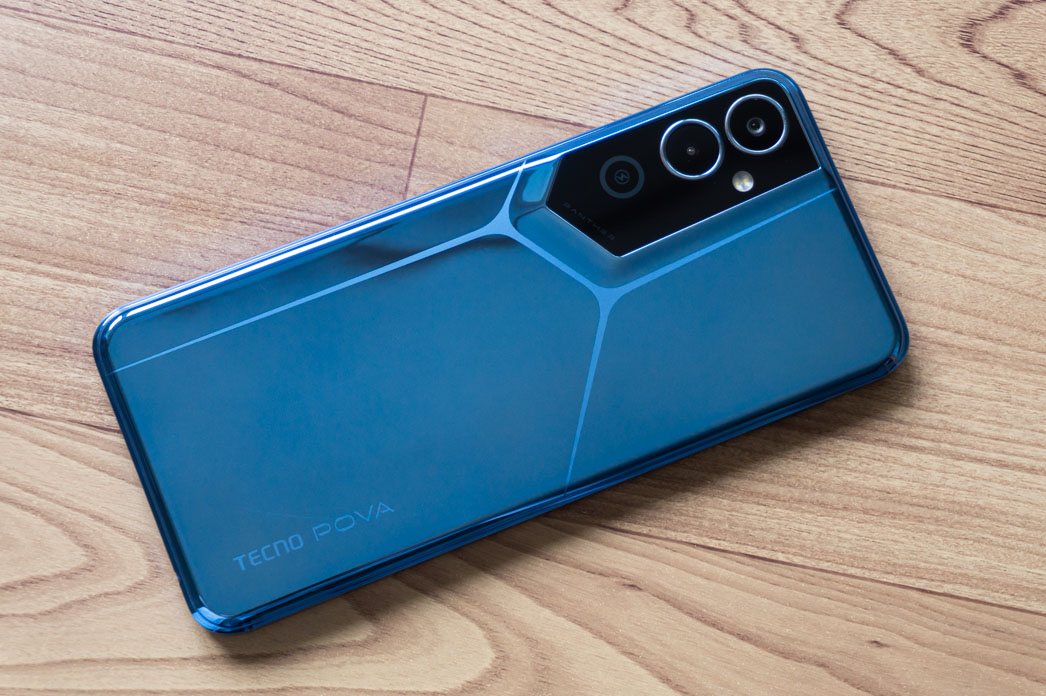 Delivery set
The smartphone is delivered in a large, but at the same time thin cardboard box with the actual corporate design and contents usual for smartphones of the manufacturer. In addition to TECNO POVA Neo 2, in the box you can find an 18 W power adapter, USB Type-A/Type-C cable, simple wired headphones with a headset function, a protective case, a card slot eject tool and a set of accompanying documentation.
You should not expect any outstanding sound quality from the headphones, of course, but they are included in the package, which is not very often nowadays. The bundled case is silicone, transparent, of absolutely acceptable quality. It protects the camera unit and the display with corresponding edges around the perimeter, and also stands out with a matte coating on the ends, which makes the grip more reliable and clinging. In addition, a protective film is immediately glued to the smartphone screen.
Design, materials and assembly
The first thing that stands out is the design of TECNO POVA Neo 2. Visually, the smartphone turned out to be quite interesting and distinctive. It does not have much in common with its predecessor, but it has many similar design solutions with the current smartphones of the line. And they look impressive to some extent, especially against the background of many similar smartphones. On the other hand, not everyone may like the unusual design of POVA Neo 2.
The front of the smartphone, for example, is not much different from others, but in general the solution is modern. Although the implementation of the novelty can not be called perfect. The bezels around the screen are not the thinnest by today's standards, and this applies not only to the lower and upper margins, but also to the side ones. But the front camera is cut directly into the screen and is located in the center, which has already become a modern classic.
But the back panel of the smartphone looks convincing without exaggeration. First of all, the eye "clings" to the non-standard design of the camera unit, which actually consists of only two modules and a flash, if we do not take into account decorative elements. But they are placed on a massive black insert of a very non-standard shape. Closer to the edges, the lines of this insert are smooth, rounded and repeat the shape of the body, but in other parts they are already beveled and sharp.
Also there is a light smooth inflow near the insert, to which matte stripes from different edges "flow" from all the back edges. These stripes can be called another design element, because they visually divide the back into several large uneven parts, thus complementing the overall look. We should also note the flat frame around the perimeter, which is often found in various TECNO smartphones and not only.
The mirror finish of the case, which is well combined with matte stripes and glossy black insert in the camera area, also adds its zest to this "Energy Light ID" design. In general, the design of TECNO POVA Neo 2 can be called at least bold. It is not as "aggressive" as in the case of TECNO POVA 3, for example, but it is definitely no less memorable. This is what makes the novelty similar to other "fours" from the series, by the way.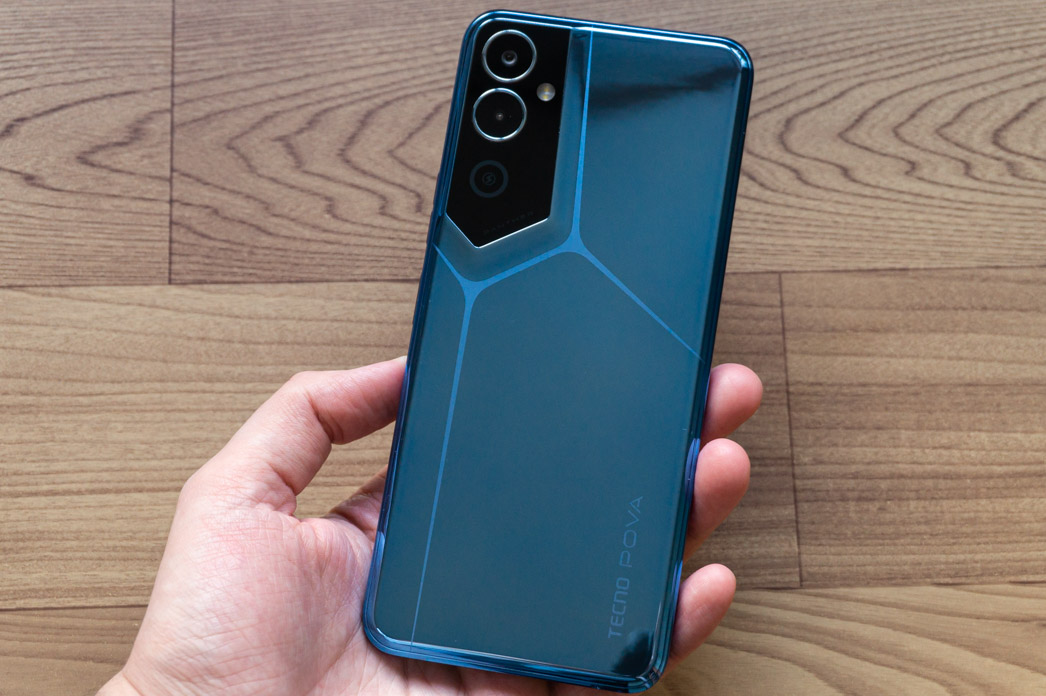 The body of the device is completely plastic, including the back and frame. Finishing of all elements is glossy, and even in the case of relatively light coloring the smartphone body gets very dirty. But the assembly is simply excellent: nothing bends, the buttons do not wobble and the device feels as integral and monolithic as possible. Of course, there is no certified protection of the case against water and dust, although the card slot is additionally protected by a rubberized seal.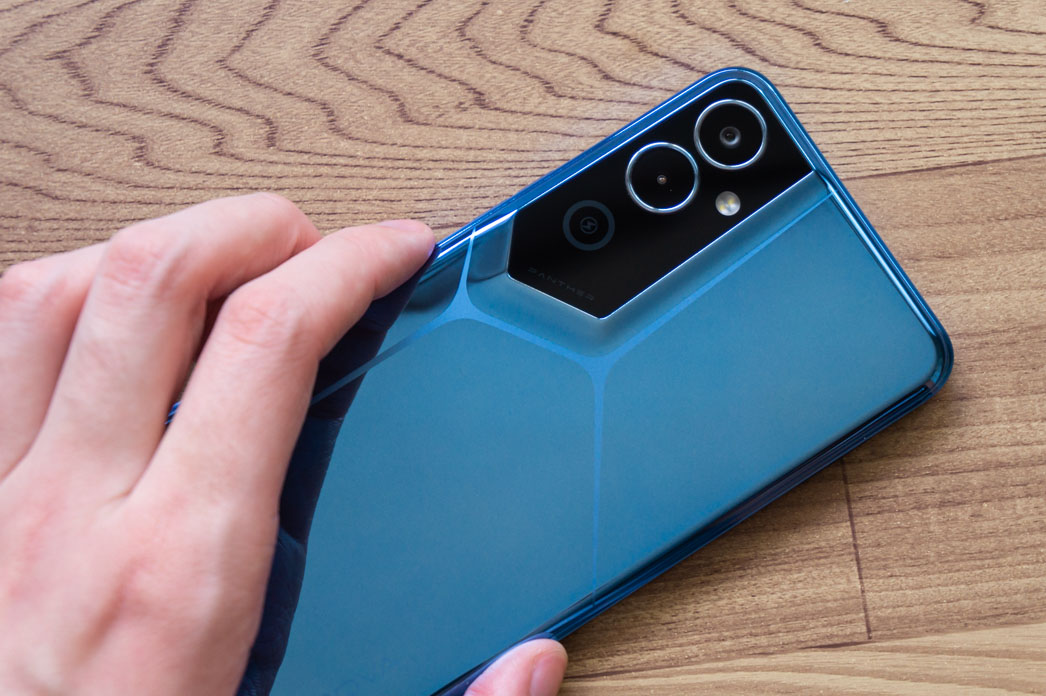 There are several colors of TECNO POVA Neo 2 to choose from: blue Virtual Blue (like ours), a little more strict, but very attractive gray Uranolite Gray, as well as black Orange Magma with bright orange accents, or rather orange stripes on the back. However, the latter color is the rarest and not available in all markets. As for the first two, they are both with a glossy finish and will get dirty just as much.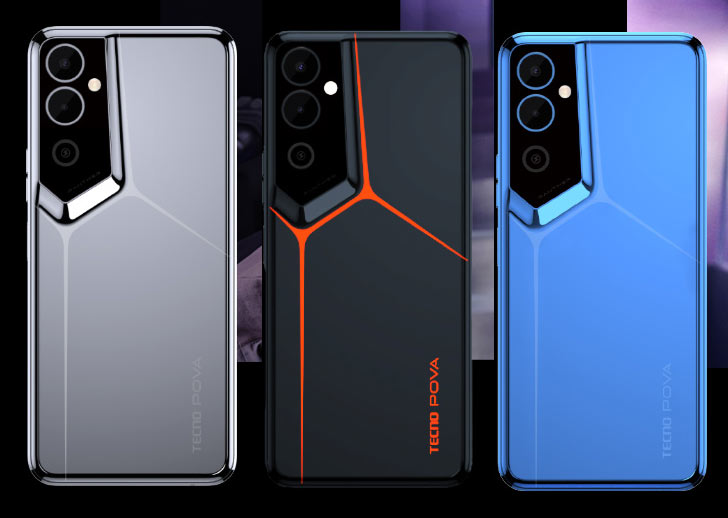 Read also: TECNO Camon 19 Review: A Stylish Smartphone With a Powerful Camera
Layout of elements
In front, all the elements are located in the upper part. The front camera is in the screen, and above it in the frame there is a slot for the earpiece and the second multimedia speaker. To the left of the grid is a front flash, and to the right are light and proximity sensors.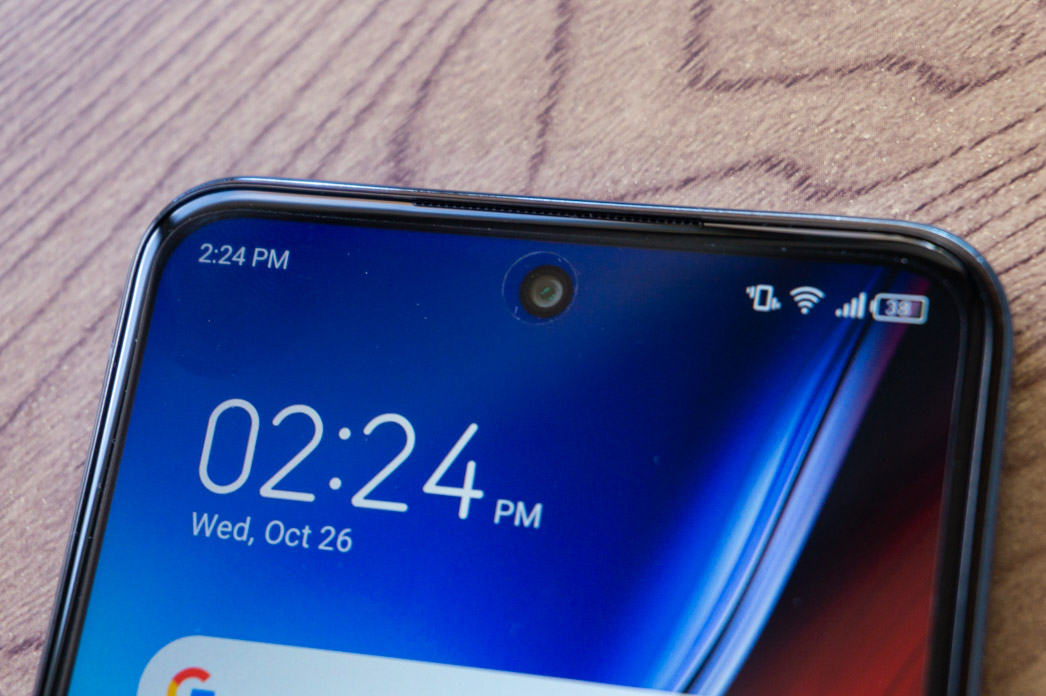 There are visually separate volume keys and a large power button combined with a fingerprint scanner located on the right side of the smartphone. On the left, there is only a dedicated slot for two nanoSIM cards and a microSD memory card.
The top edge of the smartphone is completely blank, and all the main elements are located at the bottom: A 3.5mm audio jack, the one and only microphone, a USB Type-C port in the center, and several slots behind which the main multimedia speaker is hidden.
At the back, in the upper left corner, there are two additionally ringed camera modules, a flash, and a pair of decorative inscriptions and icons of the proprietary PANTHER ENGINE software game module. At the bottom right there is only a vertical inscription TECNO POVA.
Ergonomics
TECNO POVA Neo 2 cannot be called convenient for everyday use, as the smartphone is large and heavy. With a diagonal of 6.82″, its body dimensions are 170.9×77.8×9.6 mm, and the device weighs 230 g. Of course, it's slightly smaller than the 6.9-inch TECNO POVA 3, but the difference is insignificant, and it's still impossible to use the smartphone comfortably with one hand because of its dimensions. This is not a drawback, but simply a given, due to a number of other features of the device.
However, the manufacturer has made it slightly easier to use the smartphone on the go by shifting the physical buttons on the right side closer to the center. If you don't need to reach for the power button at all, then to increase the volume, for example, you only need to slightly lift (or stretch) your finger, which is easy to do. In addition, there is a one-handed control mode, which makes it much easier to reach the interface elements at the top of the screen.
Display TECNO POVA Neo 2
The display diagonal of the smartphone is 6.82″, the matrix is IPS LCD, but not of the highest resolution, HD+ (1640×720 pixels). Just like its predecessor, by the way. The aspect ratio is a little more stretched, 20.5:9, and the pixel density, predictably, is also not the highest to date, 263 ppi. Despite the simplification in terms of display resolution, the manufacturer managed to provide TECNO POVA Neo 2 with an increased refresh rate of 90 Hz.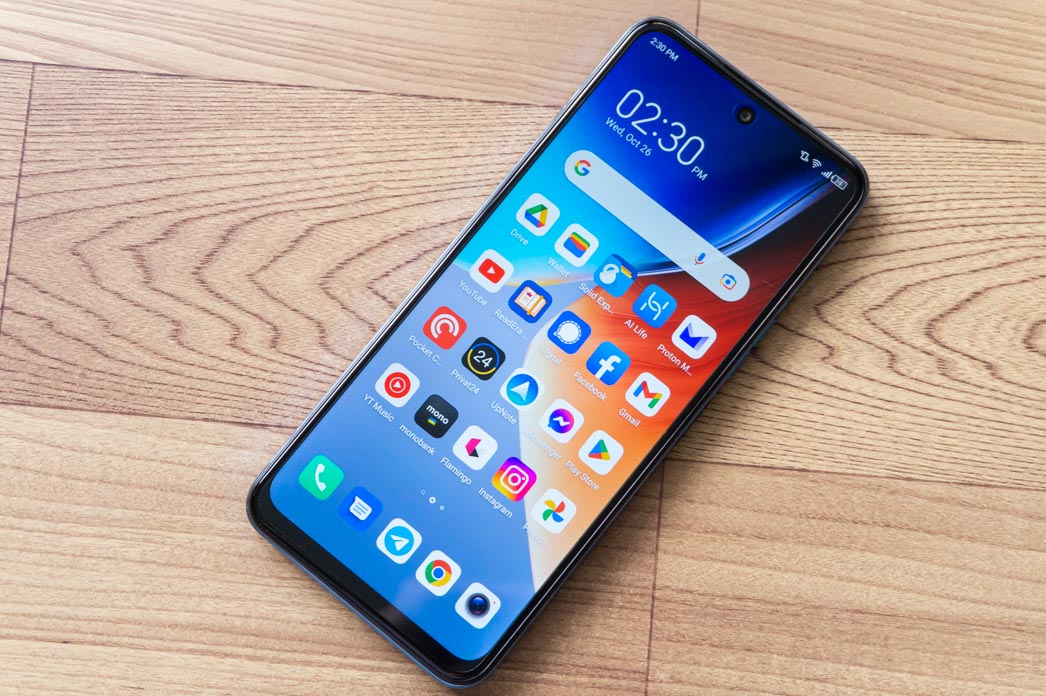 It turns out that the smartphone display does have its own feature with an increased frequency, which should definitely be regarded as a pleasant feature. On the other hand, the panel resolution is not Full HD+, but only HD+. Although in this segment there are smartphones with both the usual high resolution and 90 Hz. Perhaps not such a large diagonal, but still. Moreover, Full HD+ resolution would be nice for such a diagonal.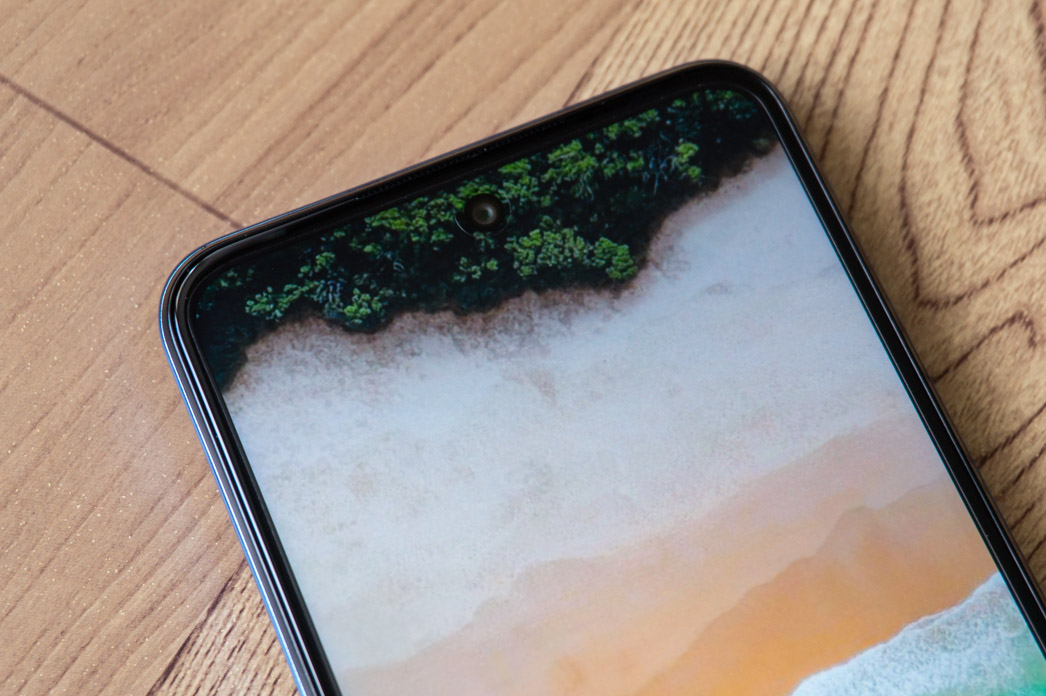 So if you've used a smartphone with a higher resolution display before, you'll likely notice that some interface elements are not sharp enough. This is especially true for small icons, some signatures, and icons. At a normal distance, it's not very noticeable, but if you look closely, you can see it. But for undemanding users, this level is likely to be enough.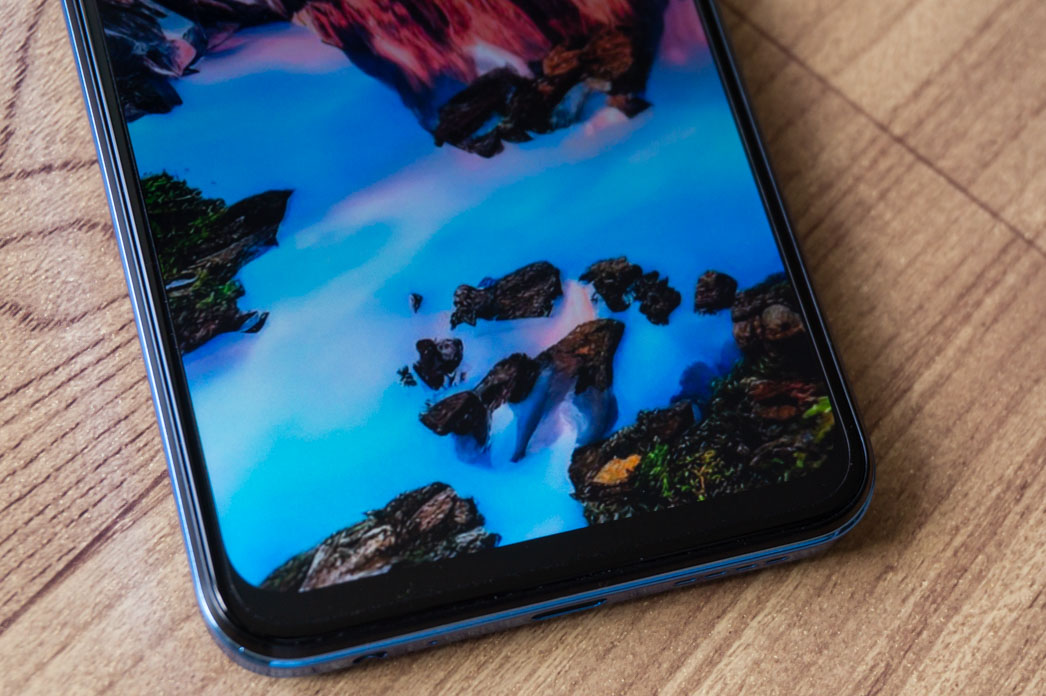 If you evaluate the screen by color reproduction, then it is just normal for its level. The maximum brightness level is slightly above average and in bright sunlight the readability is not perfect, obviously, but on a cloudy day or in the shade there are no problems with this. The color reproduction is restrained, not oversaturated. Everything is usual in terms of viewing angles: the picture is practically not distorted at linear deviations, but it fades more strongly at diagonal ones, as expected.
The refresh rate can be set to 60 Hz, 90 Hz, or auto at the user's discretion. However, the automatic mode, as usual, works not so well, and many applications often use the classic 60 Hz frequency. Therefore, if you want to see 90 Hz not only when you scroll the desktop, but also in most applications, choose 90 Hz. This mode is still kind of automatic, and when watching a video, for example, the frequency still drops to 60 Hz.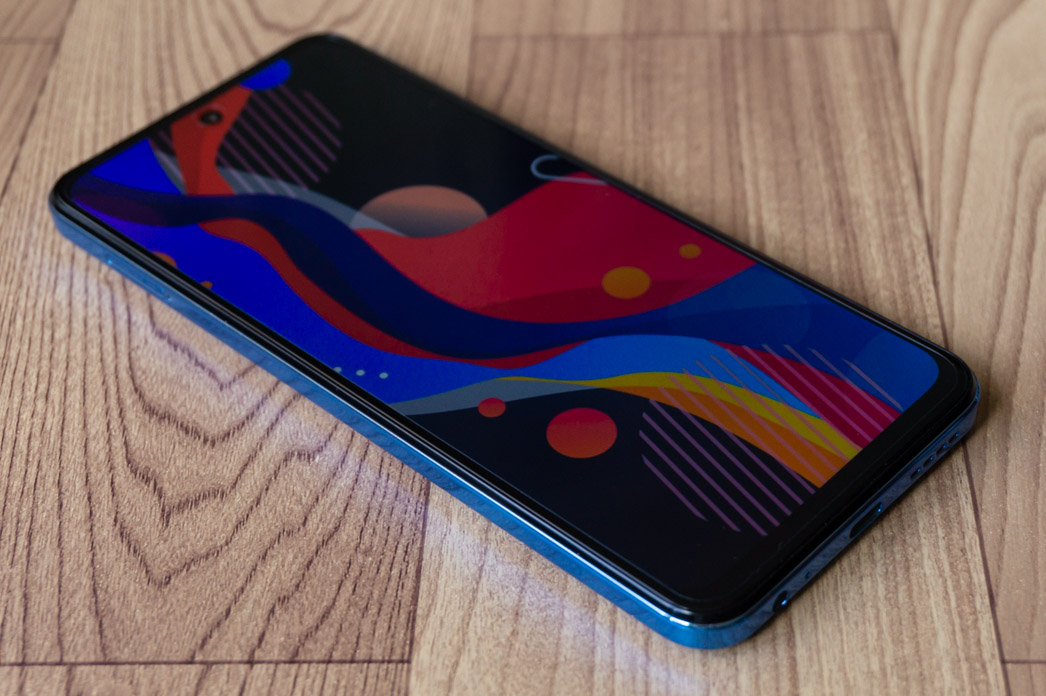 The set of display settings is quite modest by modern standards: light/dark themes with the ability to set a schedule, refresh rate, eye protection mode, screen off, font size, accidental touch prevention, and auto-rotation. The switcher curtain also has a privacy mode that allows you to darken any selected area of the screen so that information cannot be seen from the outside.
TECNO POVA Neo 2 - Display Settings
Read also: TECNO CAMON 18 Premier review: Gimbal stabilizer and 5x zoom in a mid-ranger?
Performance
The hardware in TECNO POVA Neo 2 is the same as in some other smartphones of the manufacturer – MediaTek Helio G85. The same chipset, for example, is installed in TECNO CAMON 19. This is a 12-nm 8-core platform with 2 Cortex-A75 cores with a maximum clock frequency of up to 2.0 GHz and 6 Cortex-A55 cores with a clock frequency of up to 1.8 GHz and a Mali-G52 MC2 accelerator. The results in benchmarks are about the same, although it is clear that things are a little better with cooling here.
TECNO POVA Neo 2 - Benchmarks
As I mentioned earlier, the smartphone comes in several versions with different amounts of RAM: 4 GB or 6 GB of LPDDR4X type. In total, there are three versions: 4/64 GB, 4/128 GB and 6/128 GB. The top-of-the-line variant will definitely be enough for everything, but it is also important that the user has the function of virtual expansion of RAM due to excessive free space in the device's permanent memory.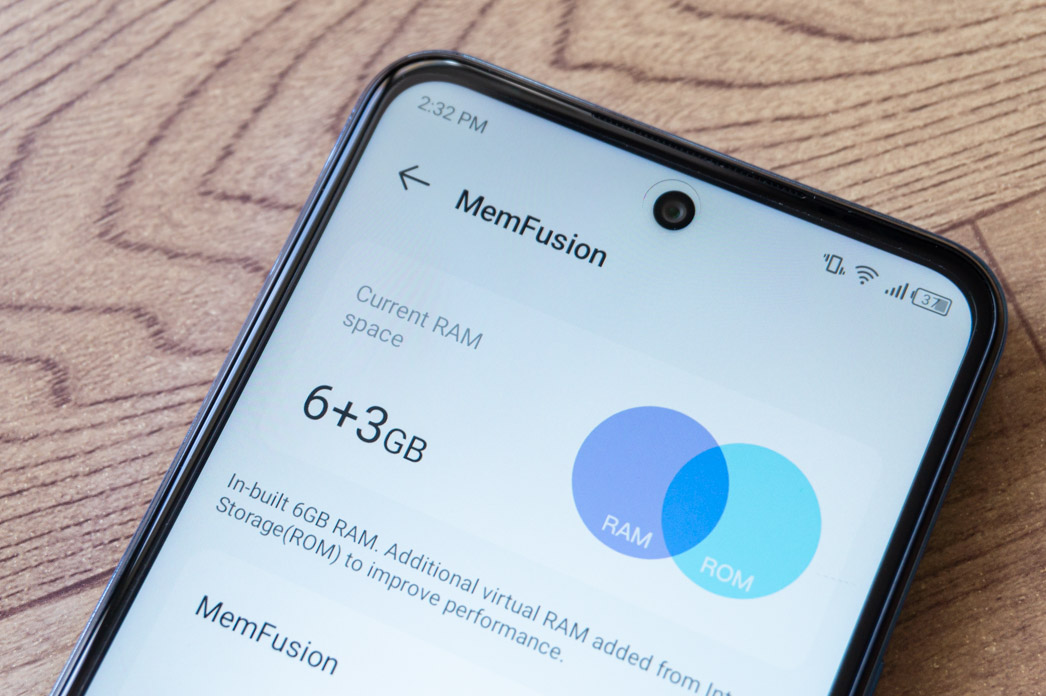 For the basic 4/64 GB version, an additional 1 GB is allocated by default, but in the settings you can expand it up to a maximum of 3 GB, thus getting up to 7 GB in total. The mid-range 4/128 GB version is already allocated 2 GB by default, although expansion is also available for a maximum of 3 GB. But for the senior 6/128 GB version, 3 GB of virtual RAM is allocated by default, and you can expand it by a maximum of 5 GB, which means you can get up to 11 GB in total.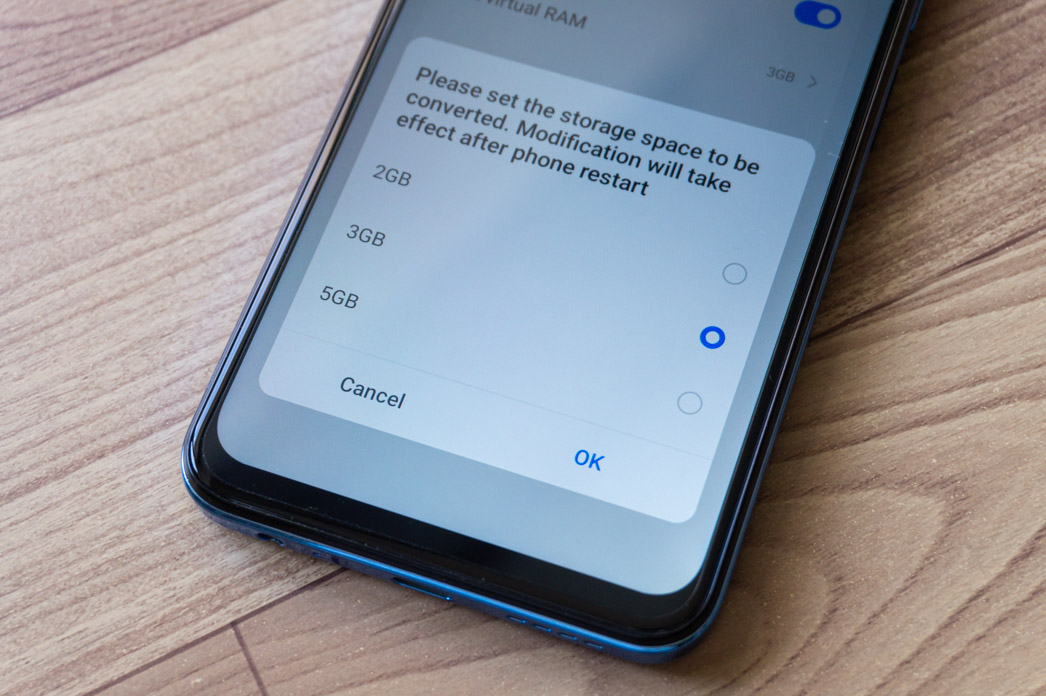 And as it has already become known, 64 GB or 128 GB of permanent memory is offered. However, in any case, the drive will be of the eMMC 5.1 type, which is not very fast. The 128 GB version has 106.98 GB available for users, but I want to remind you that the storage can be expanded with a microSD card up to 256 GB. Importantly, this slot is always available, regardless of the number of SIM cards installed in the smartphone.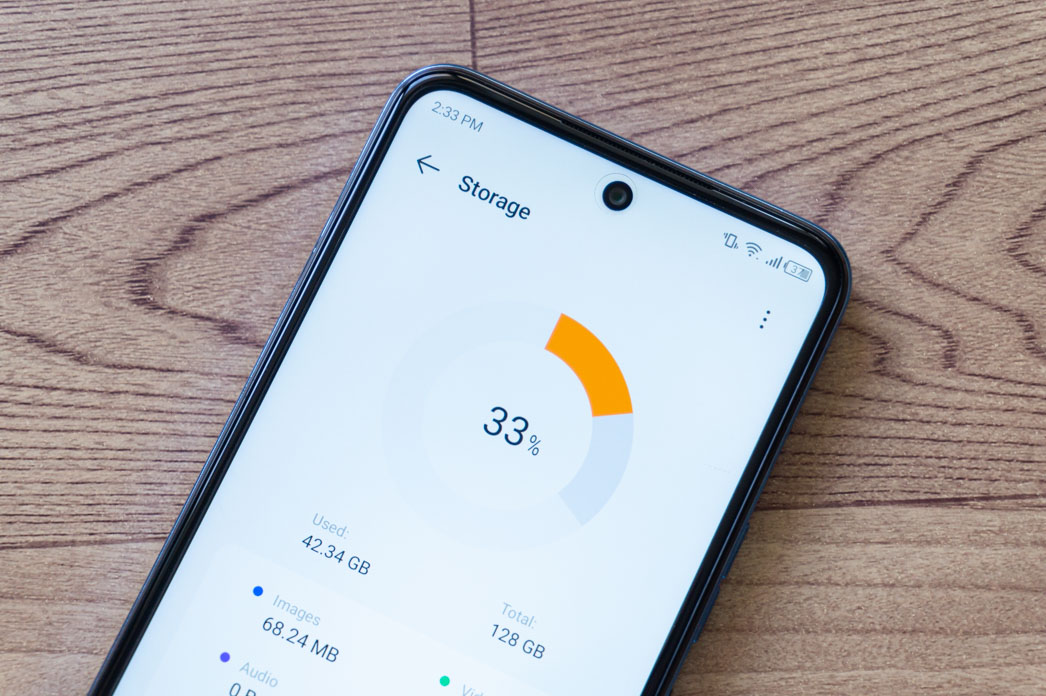 The smartphone works quite normally for its class: fast and smooth at 90 Hz. Although there are slight slowdowns in interface animations, and in some individual programs when scrolling, for example. The level of performance allows you to play even heavy demanding games on TECNO POVA Neo 2, but mostly on medium graphics, although there are various exceptions. Below are measurements of the average frame rate in several resource-intensive projects:
Call of Duty: Mobile – medium graphics settings, real-time shadows enabled, Frontline mode – ~54 FPS; Battle Royale – ~40 FPS
PUBG Mobile – high graphics settings with 2x anti-aliasing and shadows, ~30 FPS
Shadowgun Legends – medium graphics settings, 60 FPS limit, ~53 FPS
Cameras of  TECNO POVA Neo 2
The main unit of TECNO POVA Neo 2 cameras has "only" a couple of modules. The main one is wide-angle with a resolution of 16 megapixels, f/1.9 aperture and conventional autofocus (AF), as well as a 2 megapixel depth sensing module with f/2.4. That is, you can shoot with only one main module, but this is quite common for inexpensive smartphones.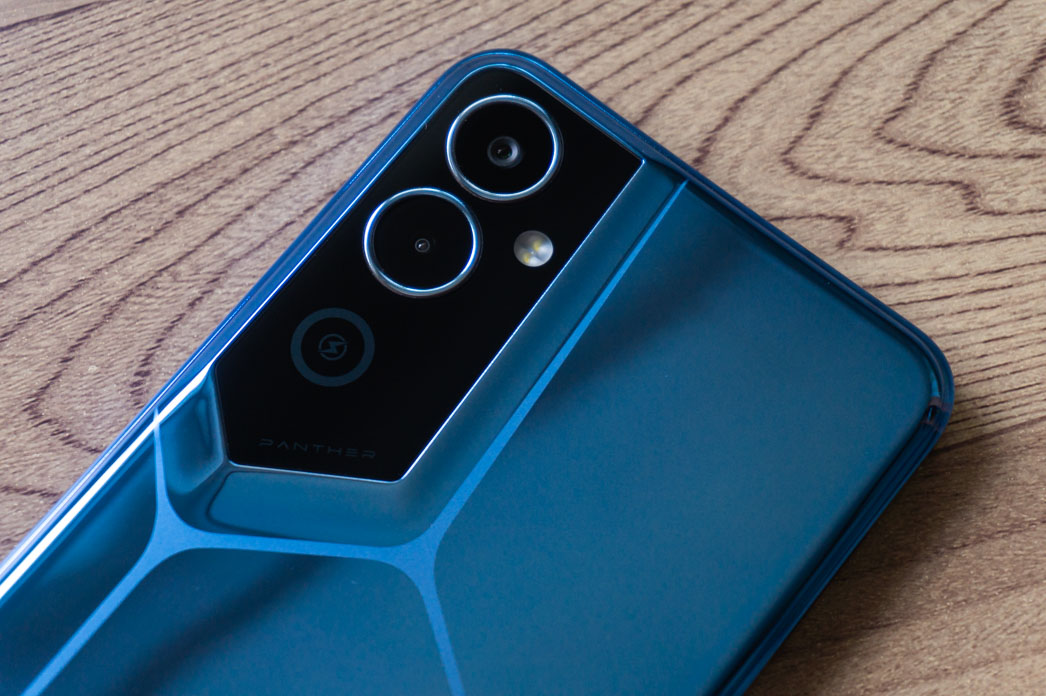 In terms of photography, the smartphone is not particularly strong and the pictures from it can be called just average, as is usually the case given the low price of the device. The detail and clarity are acceptable in good light, but a little graininess is noticeable, and the color reproduction is slightly dull. Shots in low light are not very good, which is understandable.
EXAMPLES OF PHOTOS IN FULL RESOLUTION
The camera app has a night mode called Super Night, and it fulfills its main function: the pictures are noticeably lighter and clearer, and with bright light sources, things are much better. But such photos can still hardly be called high-quality, of course, since the smartphone itself takes pictures far from perfectly.
Video is recorded in a maximum resolution of 2K at 30 FPS. In full resolution, the videos are of the most standard quality, usual for an inexpensive smartphone. That is, under the right conditions, relatively detailed and with more or less natural color reproduction, but it is a bit weak in complex scenes. There is no electronic stabilization, and the image "floats" during sudden movements.
The 8-megapixel front camera module (f/2.0, FF) takes simple pictures: normal in color, but without much detail. It's enough for video calls, but photos are best taken in excellent lighting conditions. Video on this camera can also be recorded at a maximum resolution of 2K at 30 FPS, but it turns out to be average: without stabilization and with the same flickering. However, it's not as obvious as on the main camera.
The standard camera app in HiOS has many modes: short videos, videos, photos, beauty, portraits, night, AR, panoramas, documents, slow motion, fast motion, and a manual Pro mode for photos. There are also several useful options in the settings, such as AI focusing and the ability to turn on the built-in QR code scanner.
TECNO POVA Neo 2 - Camera UI
Read also: TECNO Pova 3 Review: Large and Lasting Mid-Level Phone
Unlocking methods
The fingerprint scanner in TECNO POVA Neo 2 is combined with the power button and is located on the right side of the device. As I noted earlier, the platform is located almost in the center of the edge and it is very simple and easy to use the scanner. Moreover, it works very quickly in this smartphone, although for better accuracy I would recommend saving the same finger several times.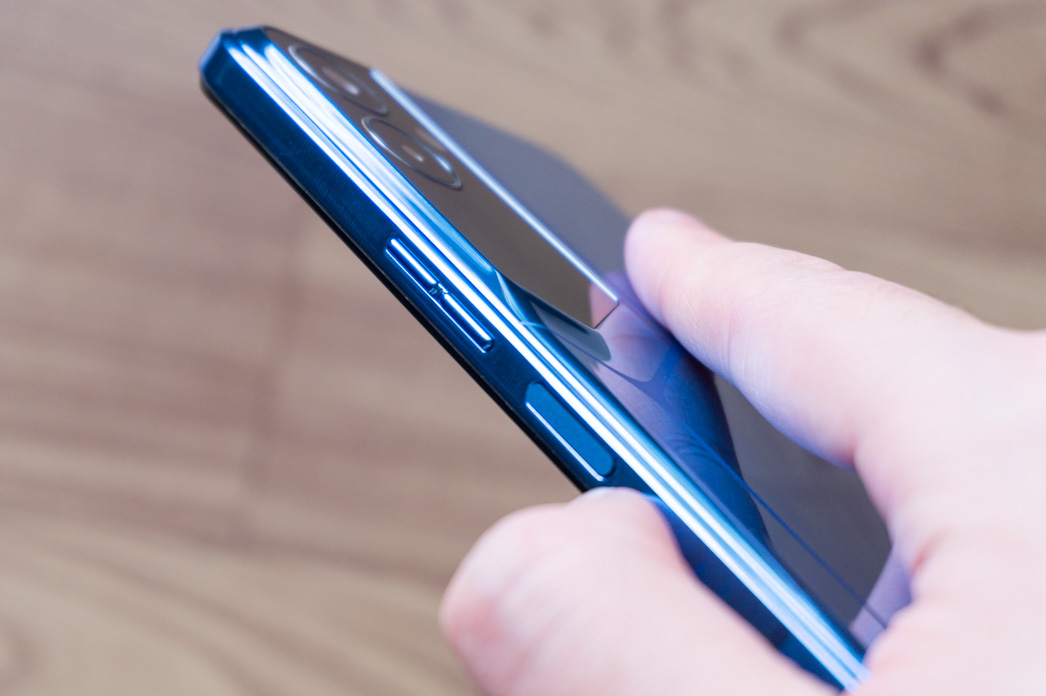 That is, the smartphone is unlocked instantly at the touch of a button or by simply touching the pad, depending on the method chosen. You can change it in the smartphone settings, and in addition to the usual unlocking options, the scanner can also be used to answer incoming calls, activate call recording, and turn off the alarm.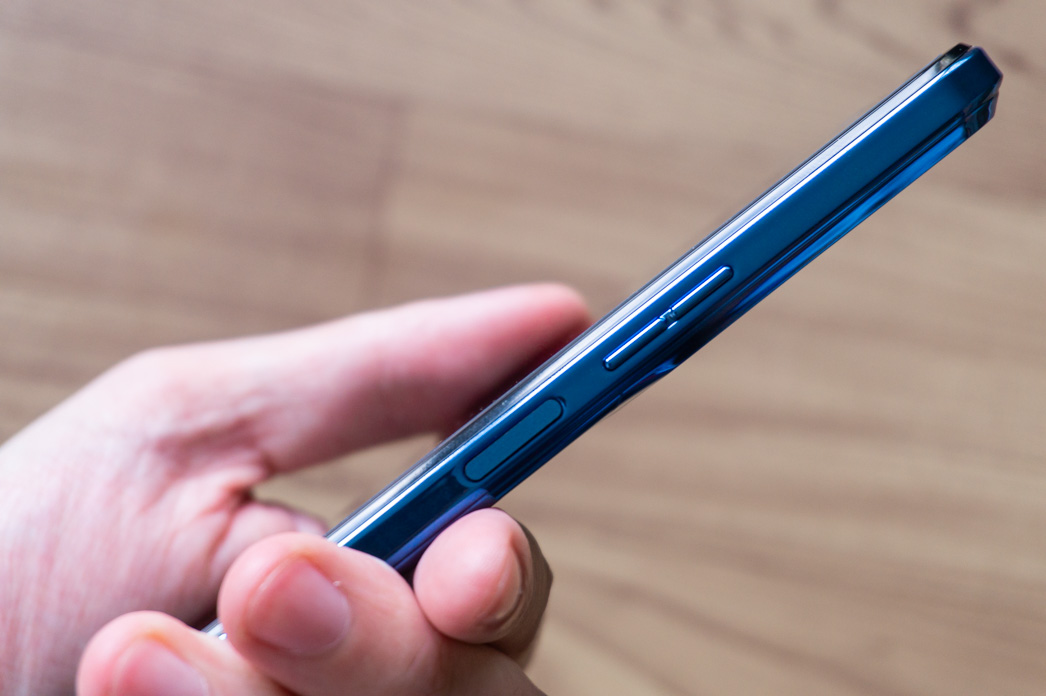 You can also unlock your device with your face. This method is less reliable in terms of security for obvious reasons, but in some cases it greatly simplifies the use of a smartphone. The speed of its operation directly depends on the light around, but the more light there is, the faster the smartphone unlocks. In ideal conditions, of course, it works slower than the scanner, but not by much.
You can use it even in complete darkness if you enable the corresponding option to increase the screen brightness in the settings. And this is not some bright white background or front flash, but a regular gradual increase in brightness on the lock screen until the face is fully illuminated. The only other option is to select a specific face unlocking condition.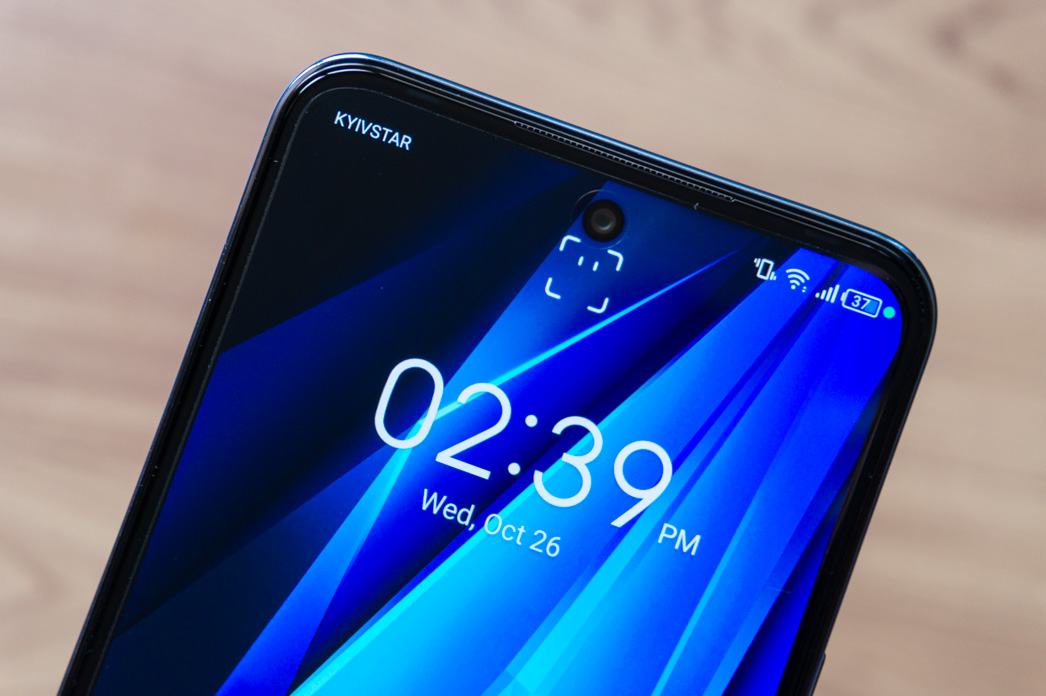 This can be standard unlocking immediately when the screen is turned on without any additional actions on the part of the user, scanning only after a preliminary swipe up on the lock screen, or a similar swipe to unlock the smartphone, but after automatic scanning of the device owner's face.
TECNO POVA Neo 2 - Security Setings
Battery life of TECNO POVA Neo 2
All TECNO POVA series smartphones are distinguished by capacious batteries, and it is noteworthy that the more affordable version with the Neo prefix is not just as good as more expensive smartphones, but even surpasses them in this regard. After all, the battery capacity of the TECNO POVA Neo 2 is 7000 mAh, which is more than that of POVA 4 and 4 Pro, for example.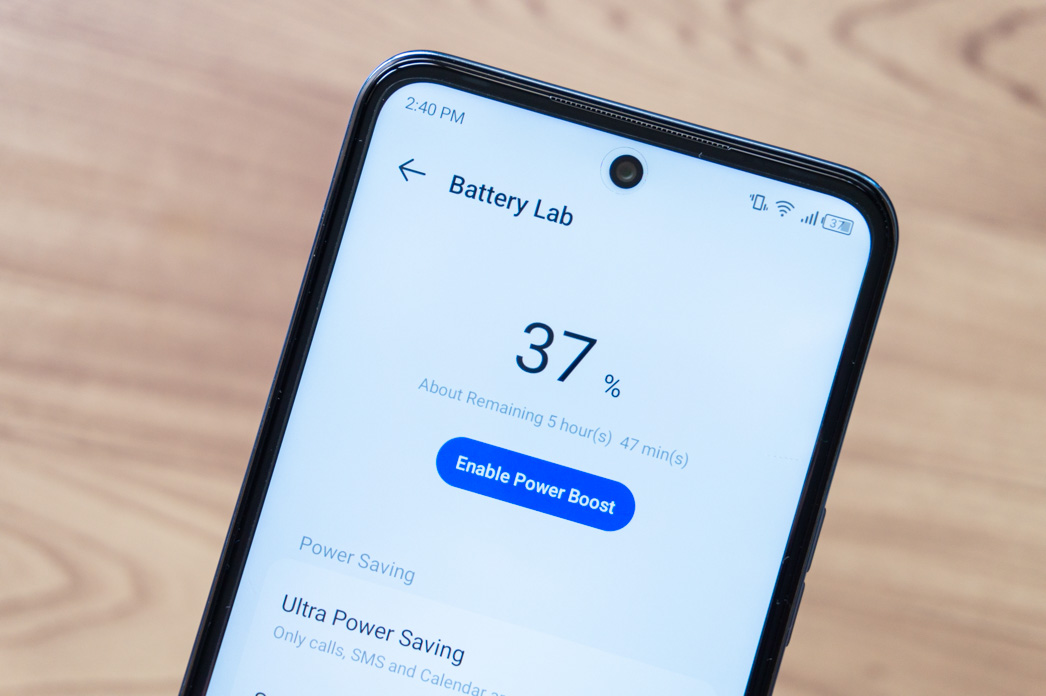 It is clear that with such a battery, the smartphone has no problems with battery life at all. In addition, the screen is large and has a refresh rate of 90 Hz, but it has a low resolution. And this also, to one degree or another, has a positive effect on the operating time of the device on a single charge in general.
In reality, a single charge of the smartphone is easily enough for at least two full working days, and with a more moderate and gentle use, you can safely count on three days of operation without recharging. The potential here is really huge, and it's definitely one of the most autonomous smartphones I've ever tested.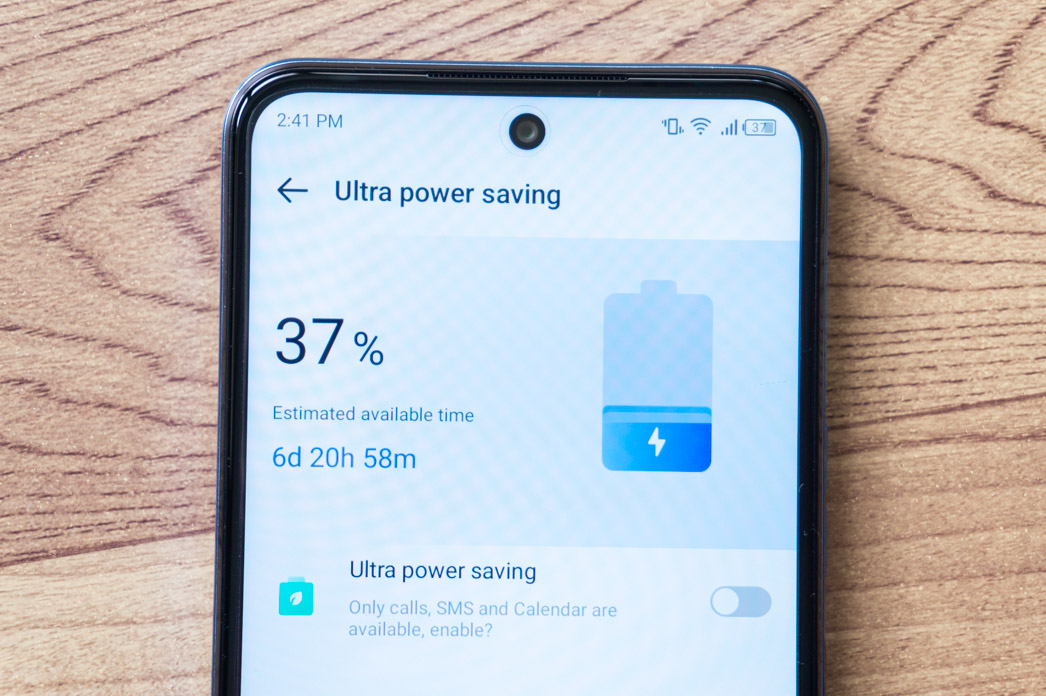 If we talk about more specific numbers, then on average TECNO POVA Neo 2 worked for me for about 2.5 days, that is, about 62-65 hours of total operating time with 12-15 hours of active screen in forced 90 Hz mode. In the PCMark Work 3.0 autonomy test with maximum screen brightness and in 90 Hz mode, the smartphone lasted 10 hours and 27 minutes, which is also very much.
The smartphone supports 18W Flash Charge fast charging. By modern standards, the device does not charge very quickly, but do not forget about the considerable size of its battery. So, it takes 2 hours and 20 minutes to charge from 10% to 100%. But with such an autonomy, this is not critical at all, as it seems to me. Detailed measurements are below:
00:00 — 10%
00:30 — 32%
01:00 — 53%
01:30 — 75%
02:00 — 94%
02:20 — 100%
Sound and communications
The earpiece speaker in the smartphone is of the most ordinary level and it is just enough for conversations, without any special comments on the volume or quality. Much more interesting is the fact that this speaker, in addition to its main function, serves as a second multimedia speaker. It is used in conjunction with the main lower speaker, and together they produce quite loud stereo sound.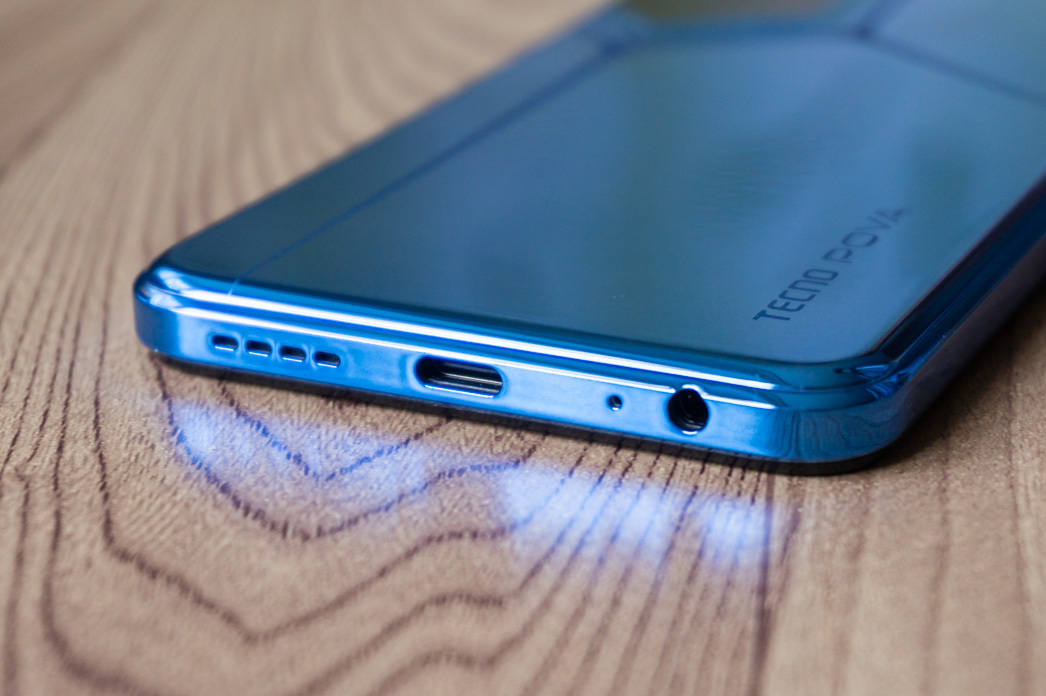 Still, you shouldn't expect any special detail or volume from the speakers, but the stereo effect is felt, and this is already good for a smartphone of this level. Often in this segment you have to settle for not the highest quality mono sound, but here, at least, there is stereo. Moreover, you can make some adjustments to the sound.
DTS Sound effects with four profiles are available in the settings: smart, music, video, game. All of them, except for the "smart" one, additionally have three stereo presets and switches for enhancing bass, vocals and high frequencies. In addition, a 5-band equalizer can be additionally customized for any profile. As a result, you can achieve a slightly more expressive sound.
All of the above presets, profiles, and equalizer work not only for stereo speakers, but also for wired headphones when connected to a 3.5 mm smartphone jack. The only disappointing thing is that these settings don't work with wireless solutions. They are not limited in any way, they can be changed as usual, but they have no effect on the sound.
The smartphone operates in 4G networks, the Wi-Fi 5 module supports two bands, and TECNO POVA Neo 2 also has Bluetooth 5.0, GPS, A-GPS, GLONASS on board. There is also an NFC module, but it is specified that it is only available in the LG6n model. This is the model that is sold on the Ukrainian market, for example, but some may have some other version without this module.
Read also: Tecno CPE TR210 and Tecno TR118 Portable Routers Review
Firmware and software
TECNO POVA Neo 2 runs on Android 12 with HiOS 12 shell. It is noteworthy that for some reason this smartphone has a version of the proprietary shell that is not 8.6, as in other TECNO smartphones with Android 12. There are not many obvious differences between them, except in the visual design of some things, but from the functional side they are very similar.
TECNO POVA Neo 2 - HiOS 12
However, HiOS 12, for example, has several widgets for launching some system applications directly on the lock screen, which is not available on the manufacturer's smartphones with HiOS 8.6. The rest is more or less the same: there are customization settings, a game mode, many gestures, floating windows, app cloning, and even built-in call recording, including automatic.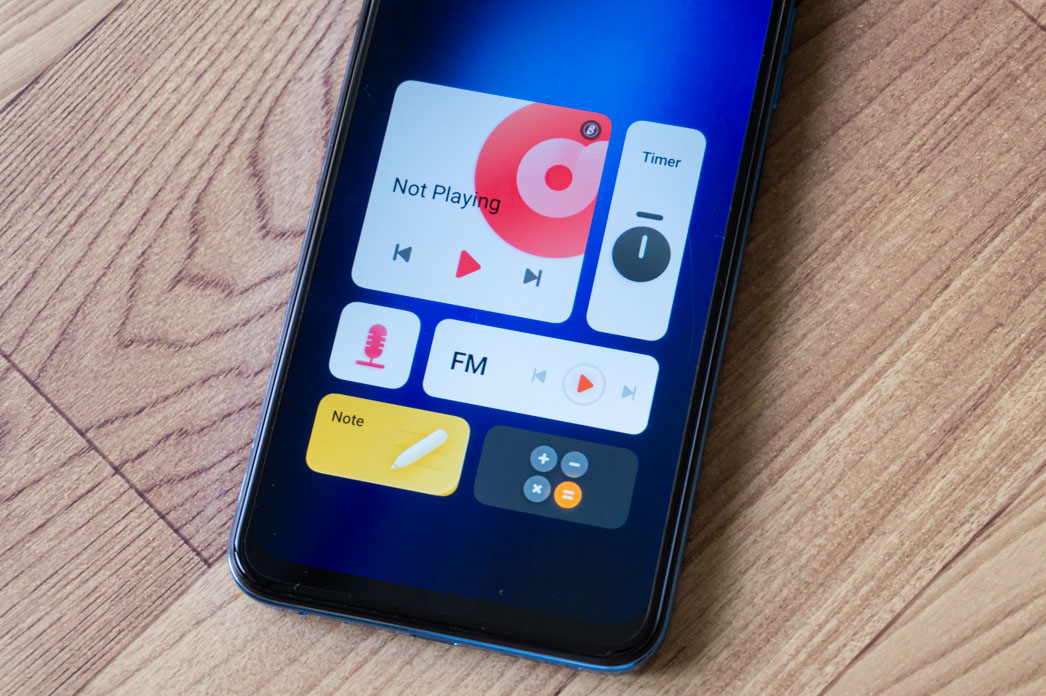 The current version of the firmware, however, has some nuances with the translation of certain items in the settings menu. In addition, sometimes there are duplicate notifications in the top curtain. It happens that two completely identical messages from a specific email client are displayed at the same time. But such issues are likely to be fixed with the next firmware updates.
Conclusions
TECNO POVA Neo 2 is an inexpensive smartphone with an interesting design, a large 6.82-inch display with a refresh rate of 90 Hz, powerful hardware for its class, excellent battery life and stereo speakers. The smartphone can be called a suitable option primarily for those who are looking for a smartphone that is not too expensive, but at the same time very durable and with a large display.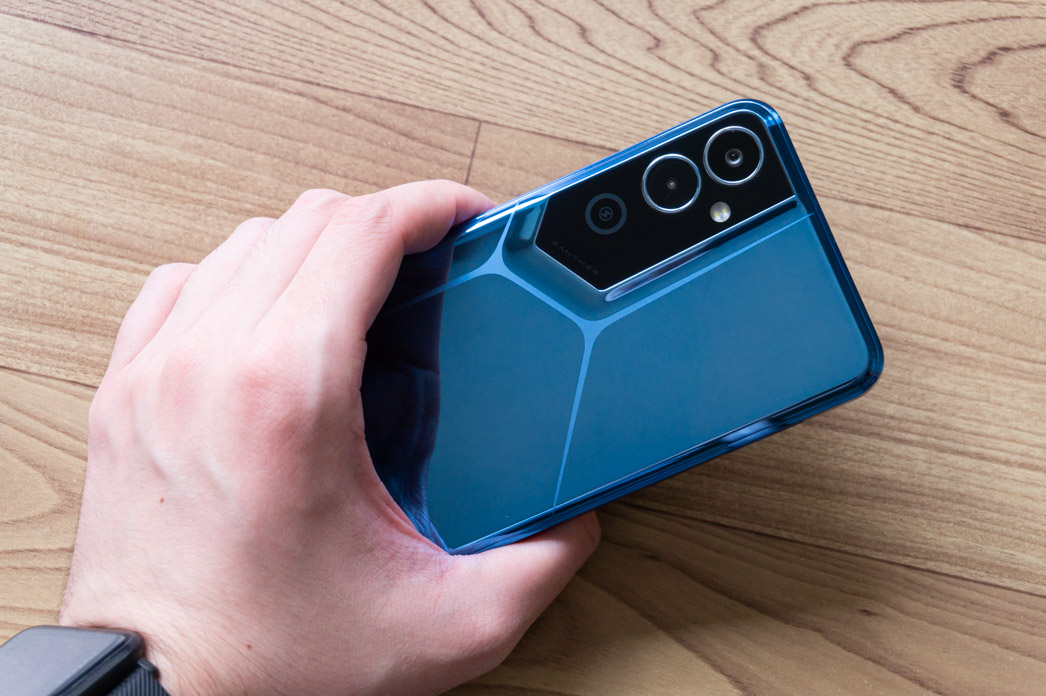 At the same time, you should understand that some things in the smartphone had to be sacrificed. Cameras, for example, which are quite simple in all respects. The low display resolution can also be attributed to simplifications, but it's difficult to identify other more or less significant weaknesses, because otherwise the smartphone is quite consistent with its price segment.
Video review  of Tecno Pova Neo 2
Read also: