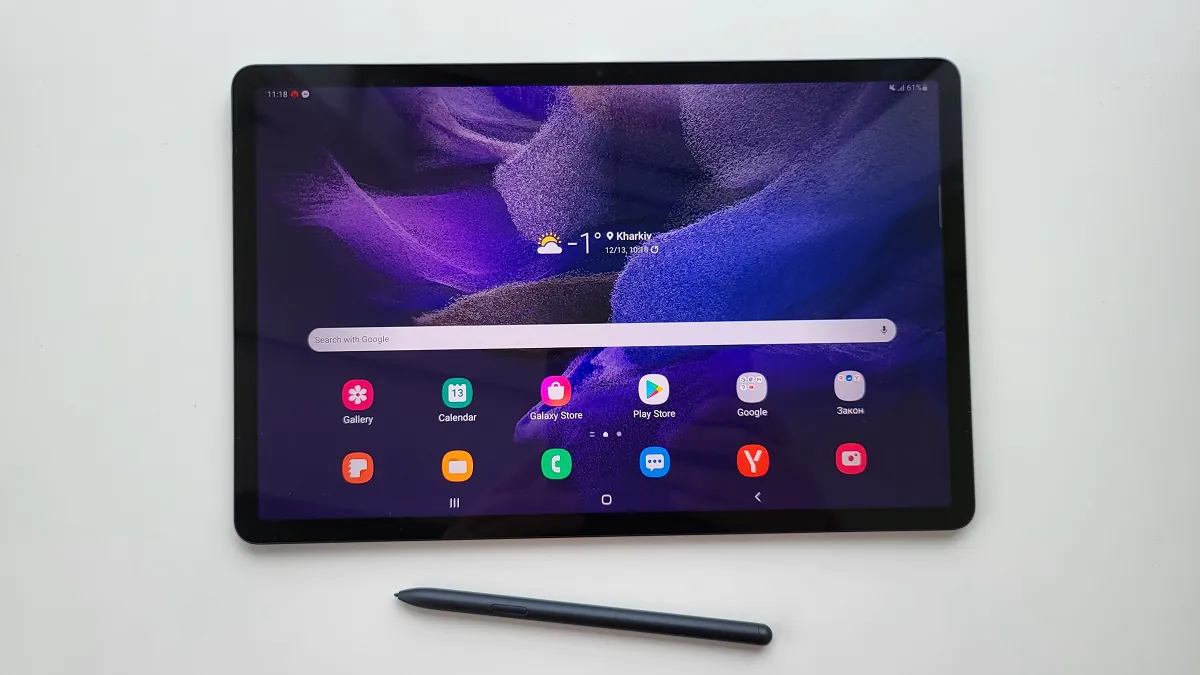 The Samsung Galaxy Tab S7 FE was originally conceived by the manufacturer as a high-end tablet, but with small compromises. Did the Korean company succeed?
Samsung devices marked Fan Edition (or FE) are intended for fans of the Galaxy brand – lovers of photography, entertainment or creativity. The idea is quite simple – to enable its fans to get a near-flagship device with some simplifications, but at a more affordable price. This experiment was quite successful, proven by the sales of the Samsung Galaxy S20 FE. So, having released a fairly successful Galaxy Tab 7+ tablet, the manufacturer decided to please fans with a "fan" version of this device as well. Let's try to find out was it's worth releasing this device to the market.
Read also: Samsung Galaxy Z Flip3 review: Better, cheaper and for everyone?
Not strictly for the fans
Unfortunately, I have to say that my expectations for the Galaxy Tab S7 FE were slightly higher. The tablet, positioned as an almost flagship, doesn't not resemble one.
Officially, the Samsung Galaxy Tab S7 FE tablet was presented in May 2021. However, the new product from Samsung is a compromise model. It's not for nothing that at first everyone thought that it would be called Samsung Galaxy Tab S7+ Lite. By the way, my pre-sale sample has kept exactly this name. To reduce the price of the device, the manufacturer had to make several technical improvements and simplifications. However, do these compromises make the new tablet a mediocre product? I don't think so. It has enough arguments to win over the general public. This is a fairly high-quality, modern tablet. It is still included in the top line of tablets from the South Korean manufacturer, however, the FE (Fan Edition) in the name indicates that this is a slightly lighter version of the device. The main differences are a slightly weaker processor and not such a high-quality display (IPS is losing to AMOLED nowadays). But the price decides everything. And I am sure that those who love Samsung products and want to get a quality product will be happy with the Galaxy Tab S7 FE.
Of course, it's worth remembering that the device is equipped with a rather compromise eight-core Qualcomm Snapdragon 750G, but my biggest disappointment is the amount of RAM. It is only 4 GB, which is not enough nowadays for a modern Android tablet. This undoubtedly affects the operation and functionality of the device. And 64 GB of storageis also not too much for such a tablet. But what can you do. I had a Wi-Fi version, but there is also an LTE-enabled version on sale.
Price
The LTE version in the 4/64 GB configuration costs $625, and the Wi-Fi version in the same configuration is $550. You can also buy the 6/128 GB configuration.
Buy Galaxy Tab S7 FE on Amazon
Technical specifications
Screen: 12.4″, FHD+ TFT, 2560 × 1600 (244 ppi), 16:10 aspect ratio, 60 Hz refresh rate
Processor: Qualcomm Snapdragon 750G
Graphics: Adreno 619
RAM: 4 / 6GB
Storage: 64/128 GB, microSD card slot (up to 1 TB)
System and Software: One UI 3.1 based on Android 11
Security: Face unlock
Rear Camera: 8 MP, Autofocus, Video: 1080p @ 30 fps
Front Camera: 5 MP, Video: 1080p @ 30 fps
Audio: Dual AKG-tuned speakers, Dolby Atmos support
Connectivity: 4G LTE, 802.11 a/b/g/n/ac Dual-band Wi-Fi, Bluetooth 5.0, GPS, GLONASS, Beidou, Galileo
Connector: USB 3.2 Gen 1 Type-C
Battery: 10,090 mAh, support 45W fast charging, 15W charger included
Add-ons: S-Pen
Dimensions and weight: 185.0×284.8×6.3 mm, 608 g
Design: Classics
The design of the Samsung Galaxy Tab S7 FE follows the current trend that the manufacturer has maintained in recent years. Flat edges, rounded corners, neat finish, 12.4-inch screen: This Galaxy Tab S7 FE reflects Samsung's know-how and leverages the strengths of the Plus iteration. We are dealing with an all-metal tablet with thin bezels and only 6.3 millimeters thick. The blue-silver metal case looks really interesting. At first, due to the overall dimensions, it is sometimes difficult to hold the device right and safely in your hands, especially since the back of the tablet is quite slippery. However, after a short time, you quickly get used to the size of the device.
The very reasonable arrangement of the buttons deserves praise. This, of course, is the unlock key and two-button volume control. A slot for a SIM card or microSD memory card is located slightly lower. If you hold the tablet in a horizontal position, the buttons on the upper edge are easily accessible. If you use the tablet in an upright position, the buttons on the right and left are also easily accessible.
However, unfortunately, there is no built-in fingerprint scanner on any of the buttons mentioned, and you won't find it anywhere. Instead of a fingerprint scanner, face recognition with a front-facing camera is used to unlock the device.
However, there are alternative ways to unlock, such as a password, PIN code or a graphic key.
Samsung also thought about the location of the front-facing camera, which, of course, will be used as a webcam, so I welcome its placement in the upper bezel if you hold the device horizontally. Such a large tablet is usually used in this way.
On the back cover of the tablet there is a magnetic system designed to store the S Pen stylus. To install it correctly, you need to point its tip at the camera. When the tablet is lying horizontally, the stylus, "stuck" to its back, can serve as a small support for tilting the screen up. It can also be attached to the edges, but you need to spend a little time to find the right place. And using a tablet in this way is not always convenient.
I don't fully understand this strange and impractical choice of attaching a stylus, since the accessory can come off at any time when placed in a bag, even if the magnet seems strong enough to withstand small shocks. The S Pen can quickly get lost in your bed, in your apartment or at work due to the lack of a special place for it. In my opinion, a real physical compartment for a stylus in the case would be much more practical, even if the device gets a few extra millimeters. But, in the end, I was rescued by a case, where there is a special recess for a stylus in the upper part.
The front-facing camera is located on the right side of the device, if you hold the tablet vertically.
But in landscape mode, you'll be perfectly centered during video calls, and that's ultimately more important. The camera module on the back panel does not protrude much above the surface and is quite neatly positioned. The branded case will make it almost invisible at all.
The bottom end has a USB Type-C port for charging the tablet. Next to it is the speaker grille by AKG.
Another such grille is located on the upper face, where besides it there are also proximity and illumination sensors.
The left edge is completely designed to connect a proprietary keyboard. There is a three-pin connector that is used to power and connect a keyboard designed by the manufacturer for his device.
The weight of the tablet only slightly exceeds 600 g, which makes it quite portable. But the branded case makes it heavier, so be prepared for the fact that the Samsung Galaxy Tab S7 FE is a fairly large and not very light tablet overall.
Read also: Samsung Galaxy Watch4 Classic review: As classy as they come
Design: it does its job
Unlike the top models of the Galaxy Tab S7 series, this time we are dealing with an IPS panel, which has "only" 60 Hz. However, despite initial concerns, the Samsung Galaxy Tab S7 FE display soon won me over. With a size of 12.4 inches, it has an excellent resolution of 2560×1600 pixels.
If you do not directly compare the Samsung Galaxy Tab S7 FE display with higher-level AMOLED displays, then you will be extremely satisfied with it. The color rendering is excellent, and even the black areas look pretty good, so, for example, watching multimedia is very pleasant. Let me remind you that the display also supports the S-Pen.
Also one of its strengths is a good coverage of the sRGB color space, up to 136%. In other words, your eyes will be dealing with a beautiful color palette. The DCI-P3 space, which is more difficult to manage, is covered by 91%, which is a good indicator, but not excellent.
The color accuracy deserves special mention, since the average Delta E is 4.19, while the reference value is about 3. In other words, the colors displayed on the screen usually correspond to reality. It is also worth mentioning the temperature regime of 6848 K, which does not deviate too much from the ideal average value of 6500 K.
I will also note that the IPS panel is a little blueish, but I don't really find fault with this fact. In general, everything is very good. The maximum brightness of 470 cd/m2 is the average for LCD screens. Thus, you will not encounter any serious problem with readability in general, except, perhaps, in cases of direct sunlight on the display.
As usual, two display modes will be available to you: saturated and natural colors. The first mode will allow you to enjoy colorful color reproduction and bright colors, and the second only corresponds to the sRGB profile, so the colors will be more natural. The matrix of the tablet is quite well calibrated and configured. You will definitely not be disappointed with the quality of the displayed content.
But the refresh rate of 120 Hz is gone, and we only have 60 Hz. Therefore, do not expect perfect smoothness when browsing the Internet or social networks. Unfortunately, this will be especially noticeable during gaming.
Read also: Samsung Galaxy Unpacked 2021: Galaxy S21 Series, Buds Pro, SmartTag
Audio: loud and flat
Now let's move on to the audio part. As I said above, the Samsung Galaxy Tab S7 FE has only two speakers compared to the four of the older model. They are located one on the right, the other on the left if you hold the tablet horizontally. However, the stereo speakers remain compatible with Dolby Atmos and, according to Samsung, allow you to enjoy the feeling of immersion in content thanks to spatial orientation.
However, let me immediately note that in my opinion, Dolby Atmos remains primarily a marketing gimmick. The algorithms do their best to achieve full spatial reproduction, but here we are closer to stereo, although very good, than to 360° reproduction. In content not suitable for Dolby Atmos, vocals tend to saturate quickly even at medium volume, and I strongly recommend disabling this option if your movie or album is incompatible with this technology.
As for the playback itself, the Samsung Galaxy Tab S7 FE produces a powerful and generous sound, but it lacks the bass to be convincing. The voices sound good, the overall sound remains fairly even, the tablet can turn into an additional speaker for a few minutes, but that's about it.
Please note that Samsung still offers an equalizer, which can be found in the settings, to adapt the sound playback according to your needs, which makes it quite possible to fix some of the problems that arise.
Like many competing manufacturers, Samsung did not consider it necessary to integrate a 3.5mm jack for connecting wired headphones, so you will have to use headphones connected to USB Type-C or wireless headphones to listen to music or watch a movie.
Performance: A versatile processor
As for the processor, in order to reduce the cost of the device, the manufacturer replaced the high-performance Qualcomm Snapdragon 865+ from Tab S7+ with a much more modest Snapdragon 750G.
This is an octa-core processor from Qualcomm with Kryo 570 computing cores with a frequency of up to 2.2 GHz, supplemented with an Adreno 619 graphics core, as well as with 4 or 6 GB LPDDR4X 2133 MHz of RAM and 64 or 128 GB of internal memory. You can only get it with Wi-Fi and Wi-Fi plus 5G. I had an option with 4/64 GB, which clearly hurt my impression of the tablet's performance.
Without a doubt, 4 GB is very small for a modern Android device. I often had to observe slowdowns in the work and clear the RAM, after which the tablet literally came to life again.
Obviously, this is confirmed by various tests that I have conducted. The Samsung Galaxy Tab S7 FE scored 635 points in single-core and 1637 points in multi-core, which logically puts it below Samsung Galaxy Tab S7+ and the average Android tablet.
Despite the fact that the Samsung Galaxy Tab S7 FE is not the most productive device, it runs the most common apps without problems, such as various instant messaging programs, social networks, productivity applications, web browser, and media. It easily copes with simple tasks, such as writing a text or presentation.
As for video games, I was able to try Geishin Impact and PUBG Mobile, and they run, but on weaker settings. To ensure sufficient smoothness, I had to bring the graphics settings to a minimum.
I also note that the Galaxy Tab S7 FE has support for Wi-Fi 802.11 a/b/g/n/ac, Bluetooth 5.0, as well as A-GPS, GLONASS, BDS and GALILEO systems.
There are also models with LTE support, in this case, the nanoSIM slot will allow you to use the mobile Internet if there is no Wi-Fi network available nearby. On the other hand, I was a little upset by the fact that here we get a Wi-Fi 5 chip, while many manufacturers have already switched to Wi-Fi 6 for their models with similar prices.
Software: One UI 3.1
The Samsung Galaxy Tab S7 FE comes with Android 11 and with the manufacturer's proprietary shell called One UI, which is currently in version 3.1.
Those who have already used Samsung devices before will find a familiar interface here, which practically does not change from year to year, and does not fundamentally differ from what you see on Samsung mobile phones.
The clarity of the image is definitely pleasing, and the optimization is excellent, everything is extremely quick. There are November security patches on the tablet right now, and that's great.
Read also: Huawei MatePad 11 review: Testing the first HarmonyOS tablet
DeX mode
The large display of the Galaxy Tab S7 FE also promotes the use of DeX mode, which is most convenient to enable via the download panel. However, starting DeX mode takes about 10 seconds. On the other hand, few people will constantly switch. In DeX mode, the tablet becomes almost a desktop device, where you can work more comfortably with multiple windows, see shortcuts on the desktop, and a classic panel will appear at the bottom of the screen.
However, limited RAM makes it difficult to work with demanding apps. In this regard, the Galaxy Tab S7 FE is a bit unpolished.
Samsung S Pen: no Bluetooth gestures
As is the case with other tablets from this series, the Samsung Galaxy Tab S7 FE includes an S Pen, so you do not need to buy it additionally. At first glance, it is identical to the stylus for older models. And of course, since all S Pen are interchangeable, you can use the stylus from the S7 Plus. I like that this is possible with all Samsung S Pen devices.
However, there is one internal difference. The S7 and S7 Plus styluses have a built-in battery that does not need to be charged for handwriting and drawing, but you need juice for Bluetooth gestures that the S7 series supports. But the S Pen stylus, which is used in the S7 FE, does not have a built-in battery, which means that this tablet does not support Bluetooth gestures. However, you can attach the pen to the tablet using a magnet, as is the case with the S7 Plus.
The program functions are identical. I still think the Samsung Notes app is one of the best note-taking apps for Android, and it's great for handwriting or drawing with the S Pen. You can also work with PDF files. The stylus is very accurate and works great.
Aerial commands are also supported. With their help, you can quickly create a new note, take a screenshot and annotate it, use the translation function and much more.
Mediocre camera
The Samsung Galaxy Tab S7 FE, with its 8-megapixel sensor on the back, promises neither stunning images nor video. But it's a tablet after all. It must have a photo lens to take some necessary photos when there are no more suitable tools at hand, or to scan documents. Therefore, Samsung approached this aspect of the tablet without much enthusiasm.
In the middle of the day, the pictures are fine, especially on the street, however, the colors were a little blurry and dull. Indoors, you will see the limitations of the sensor due to poor lighting control, overexposure, or the very noticeable presence of digital noise. Obviously, at night and without flash support, the quality deteriorates even more, and the pictures become unusable, even with the night mode built into the application.
It is possible to record video in Full HD resolution with a frequency of 30 frames per second. The result is average, but again, in the case of a tablet, this is not something that should bother you.
The front-facing camera is equipped with a 5-megapixel sensor, which will be used almost exclusively for video conferencing, with proper video rendering. The camera does its job, but it does not make a special impression.
The photos are so-so, and the flash built into the screen gives an artificial, and not necessarily a positive effect.
Battery life is a bit lacking
The Samsung Galaxy Tab S7 FE is equipped with the same 10,090 mAh battery as the S7+, so the two devices have similar battery life. Good, but not excellent. However, the autonomy, of course, depends on how we use the tablet.
With active and frequent use, the batteries loose charge very quickly. For example, a 12-hour goal is usually unattainable, but one charge is enough for the tablet to work during an 8-hour working day. However, most people periodically use the tablet at home to watch videos with a Wi-Fi connection. In this case, the tablet can last you for several days without recharging.
In the case of much longer and more intensive use on a daily basis, especially with DeX, which seems very energy-intensive, you cannot count on more than two days of use. This is clearly not bad, but far from what one would expect, especially with a screen limited to 60 Hz and a less powerful processor.
Samsung provides only a simple 15W adapter for charging, while its device is compatible with 45W charging. This is unpleasant, and because of this, the charging time increases to more than 3 hours.
Should you buy the Samsung Galaxy Tab S7 FE?
After almost two weeks of use, the tablet left a mixed impression. I read a lot of comments on the internet saying that this tablet is useless because it is much slower than the S7, although both cost about the same. And yes, if you need more computing power and premium features like a fingerprint scanner, four speakers and a 120 Hz display, then the Galaxy Tab S7 is a much better choice for you.
The Samsung Galaxy Tab S7 FE makes sense if you need a big screen and don't require premium features like the S7 Plus or the 12.9-inch iPad Pro have, which are much more expensive. This is the main highlight of the Galaxy Tab S7 FE. At an average price, it offers a large and clear 12.4-inch display. The lower price is also due to a weaker processor and slower charging. You can say that, despite these compromises, you will get a high-quality tablet with a metal case, an S-Pen stylus and nice Samsung environment. You will also be pleased with a fairly good battery life and probably the ideal size of the display for work and multimedia consumption. If you really want a tablet from Samsung, but you are not ready to pay much, then the Galaxy Tab S7 FE might be an excellent choice.
Pros
interesting design and high-quality case materials
excellent 12.4-inch IPS display
S Pen included
sufficient performance
Android 11 with One UI 3.1 and Dex support
very loud stereo sound
good battery life
Cons
no fingerprint scanner
average photo and video quality
overpriced
Where to buy
Subscribe to our accounts: