Huawei Watch GT 3 Elite Edition is a combination of elegance with sporty features. For the first time, we learned about the new Huawei Watch GT 3 at the end of October during a special event. I used to test quite a lot of smart watches of the Watch GT series from Huawei. I've been using the Huawei Watch GT 2 Pro for almost a year now, so I was especially interested in what else the Chinese company could show us. The improvements are easy to spot, and this is without a doubt the best iteration in the series. The Huawei Watch GT 3 is the first watch in the series that comes with the new Huawei HarmonyOS operating system. This OS really improves on the GT 3 compared to its predecessor, although the user interface will look familiar.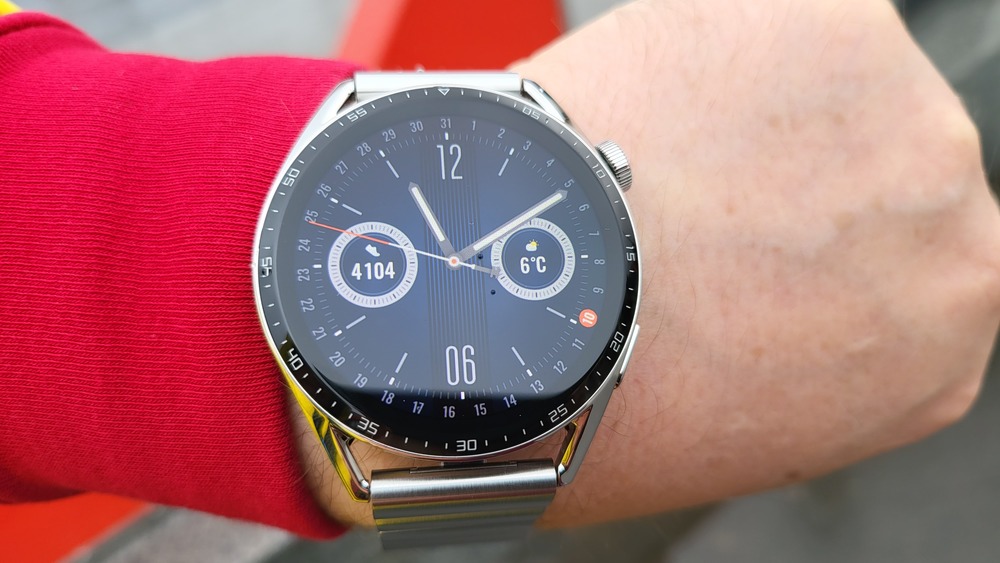 The new Watch GT 3 is available in six different versions: in addition to the three 46mm versions with a black plastic, brown leather or silver stainless steel bands, there are also three thinner 42mm models with black plastic, white leather, as well as a stainless steel bands or a gold metal band to choose from.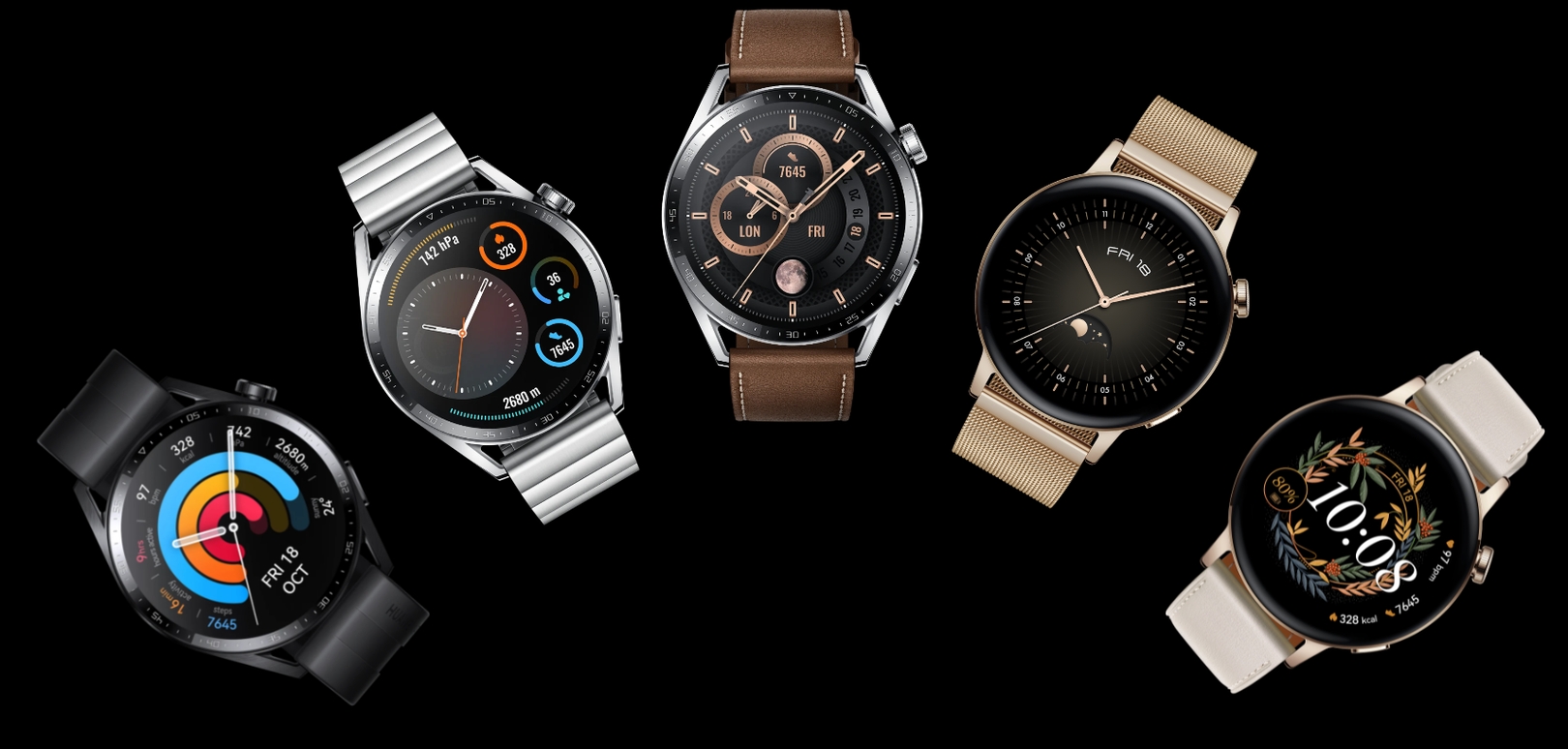 In addition to appearance, the 46 and 42 mm versions differ from each other in three parameters: display size (1.43 vs. 1.32 inches), case thickness (11 vs. 10.2 millimeters) or weight (42.6 vs. 35 grams without a band) and, most importantly, battery life.
While the larger version promises 14 days with normal use and eight days with intensive use, the smaller one will last half as long. But it's still longer than most competitors.
By the way, our website also already has a review of the 42mm model, impressions of which were shared by Olga Akukina.
Read also: Huawei Watch GT 3 review: Smartwatch with HarmonyOS on board
What's so interesting about the Huawei Watch GT 3 Elite Edition?
But back to the hero of our review. I was interested in how the Huawei Watch GT 3 differs from its predecessor. Answering a call using the template text (convenient if you are busy and cannot answer), a rotating crown, round-the-clock SpO2 monitoring, skin temperature measurement and wireless charging. These are the most important changes compared to the GT 2 Pro. We also have an improved navigation system (five instead of two) and an improved heart rate measurement (TruSeen 3.5 vs TruSeen 5.0).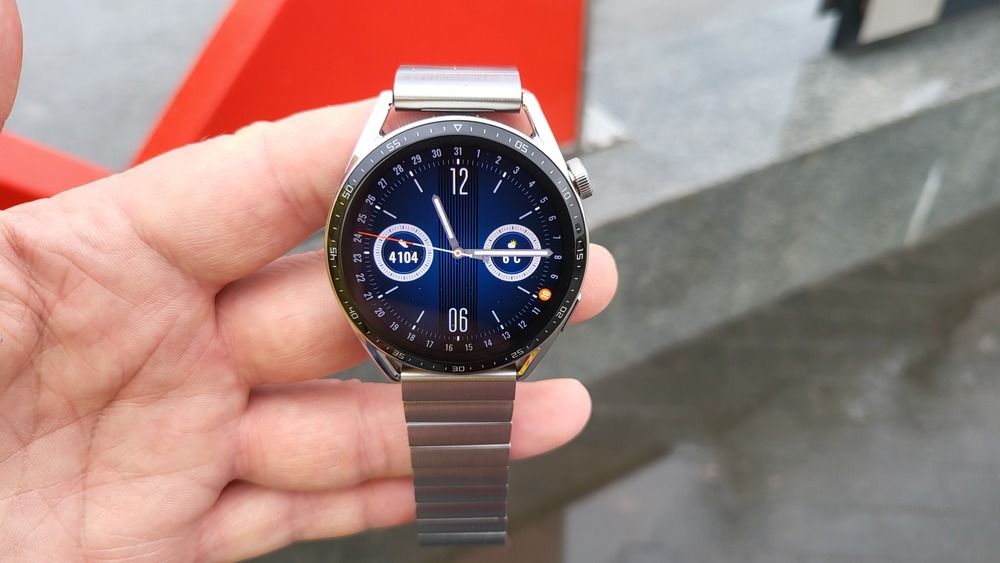 The Huawei Watch GT 3 is not exactly a relative of the Watch 3. The novelty of the GT 3 series does not boast eSIM support, as is the case with the Watch 3, and the conversation function is possible via Bluetooth connection. This is perhaps the most striking distinguishing feature, which justifies the higher cost.
The Huawei Watch GT 3 is cheaper, but you should not consider them as a "poor relative" of the Watch 3. The new watches from the GT series have a number of functions that can make them interesting for the user. Perhaps even more interesting than the Watch 3.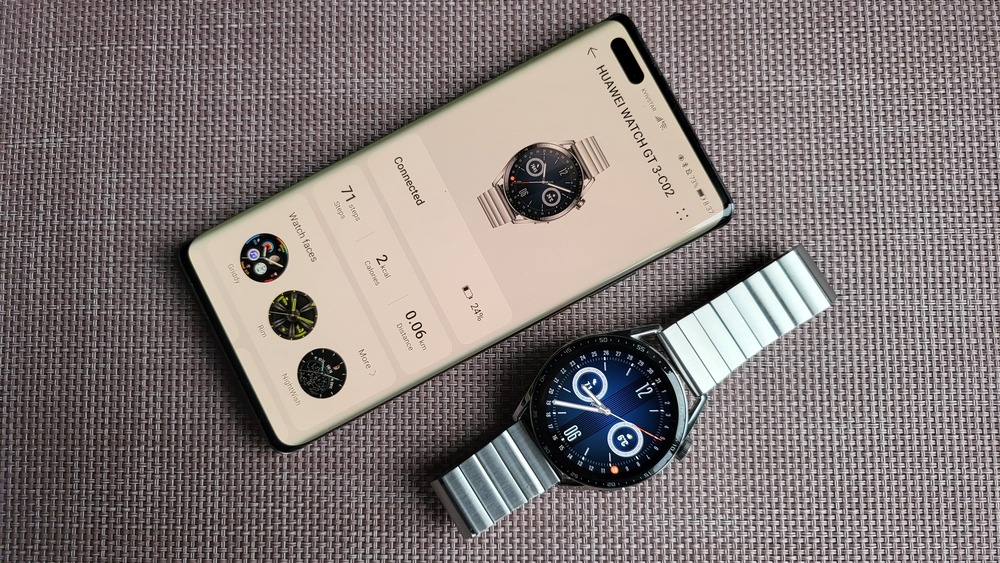 The Watch GT 3 is, in fact, a hybrid of sports and classic watches. Huawei has included a lot of fitness features here, but thanks to the metal bracelet, you can easily wear a watch in combination with a suit or something like that.
The new Huawei watch is basically a sea of stainless steel, slim design and impressive endurance. Excellent display, advanced functions for measuring activity and sleep quality.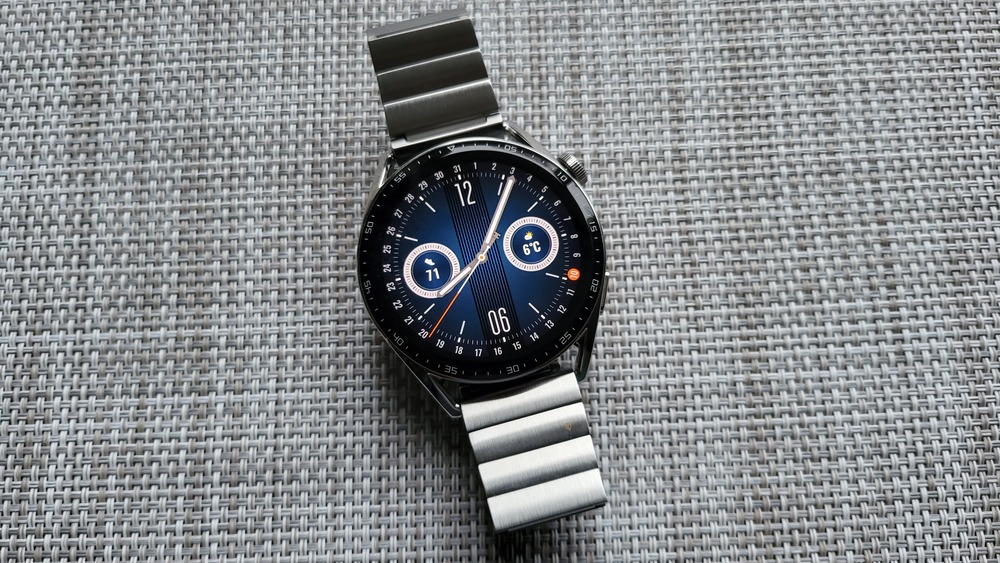 If we talk about the price, the 42-millimeter version in leather costs about $277, and in metal it costs $350. If you liked the 46-millimeter version of sport black, you will have to pay $295. The version of the Huawei Watch 3 Elite that I tested will cost almost $370.
Those who make a pre-order from December 10 to December 20, 2021 will also receive cool FreeBuds 4i TWS as a gift.
Buy Huawei Watch 3 Elite on Amazon
Full specifications of the Huawei Watch GT 3
Screen
46 mm: 1.43 inches AMOLED, 326 ppi, 466×46642 mm: 1.32 inches AMOLED, 352 ppi, 466×466
Dimensions and weight
46 mm: 45.9×45.9×11.0 mm; 42.6 g without strap. Suitable for wrist 140-210 mm42 mm: 42.3×42.3×10.2 mm; 35 g without strap. Suitable for wrist 130-190 mm
Colors, materials
46 mm:

Color: Black/Steel
Material: stainless steel and plastic
Bands: black fluoroelastomer, brown leather, steel

42 mm:

Color: Black/Gold
Material: stainless steel and plastic
Bands: black fluoroelastomer, white leather, gold Milano loop

Battery
46 mm: Up to 14 days of "typical" use, 8 days of intensive use.42 mm: Up to 7 days of "typical" use, 4 days of intensive use.

Wireless charging in both versions.

Processor
ARM Cortex-M (no accurate data)
RAM
32 MB
Storage
4 GB
Audio
Speaker, microphone
Data transfer
Dual-band GNSSGPS, GLONASS, Galileo, Beidou, and QZSS, Bluetooth
Sensors
Accelerometer, gyroscope, geomagnetic sensor, optical pulse sensor, air pressure, temperature
Protection
5 ATM (immersion up to 50 m)
OS
OS Harmony
Compatibility
Harmony OS 2 and above
Android 6.0 and above
iOS 9.0 and above

Read also: Huawei Watch 3 Pro review: premium smartwatch running HarmonyOS
What's in the box
The Huawei Watch GT 3 comes in a black and gold recyclable box. In addition, the amount of packaging waste is limited (only one compostable plastic bag). This position of the brand made a good impression on me.
In addition to the smartwatch, you will find an instruction manual that makes little sense because the device is already ready for use, the setup process is simplified for users, but more on that later. Also included is an induction charging station (without the power supply, you can use a third-party one), elements for extending the band and a warranty. The watch already has a metal strap, which with the help of additional modules can be extended. The set does not include a standard rubber strap, it will need to be purchased additionally.
By the way, if you forget or lose a small charging station, it is possible to charge the watch using a smartphone, provided that it has a reverse wireless charging function.
Design
As for the design, the new Huawei Watch GT 3 Elite Edition is definitely impressive. The 46 mm version with a stainless steel strap, combined with a curved AMOLED display (466×466 pixels) finally refutes the cliche that smartwatches cannot meet the needs of the classic wristwatch lovers.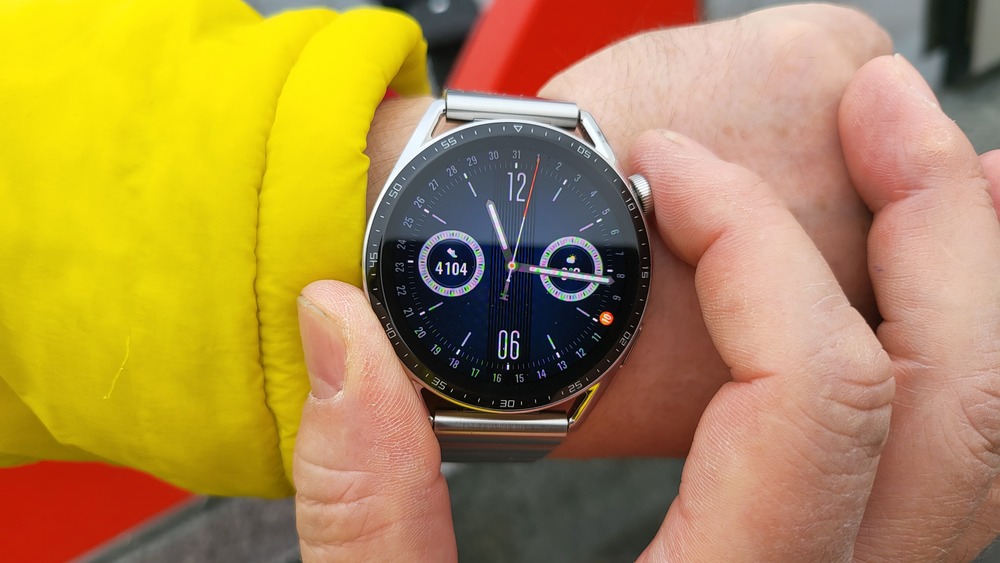 This is also facilitated by the rotating crown, which allows you to control the watch with gloves and scroll through the settings.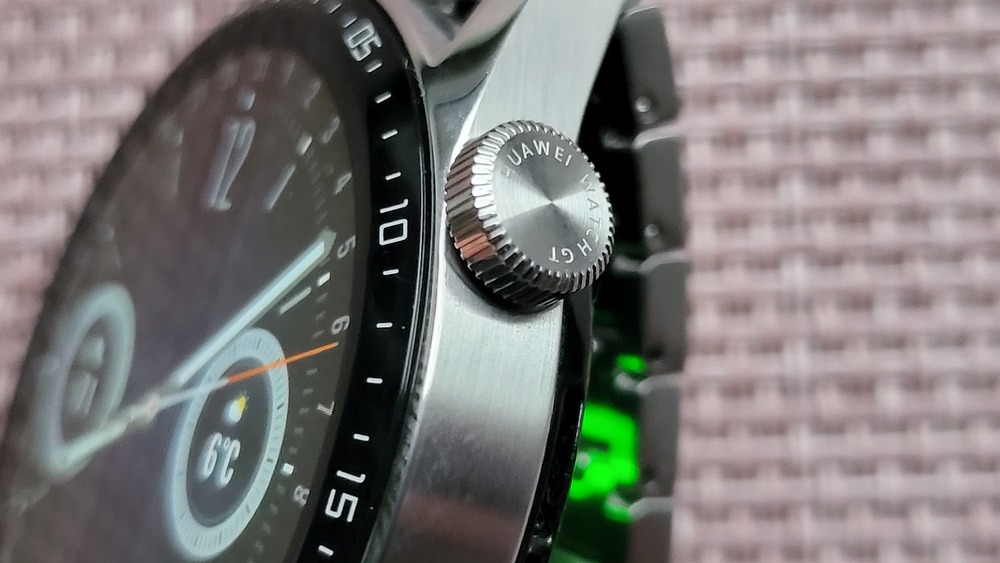 The crown, even in standard configuration, gives you tactile feedback, which, I am sure, will appeal to most users.
If you find it annoying, you can easily disable it in the settings. Below is a button for calling certain functions – for example, training, as in my case.
The front part of the Huawei Watch GT 3 case is made of lightweight and durable, heat- and cold-resistant stainless steel.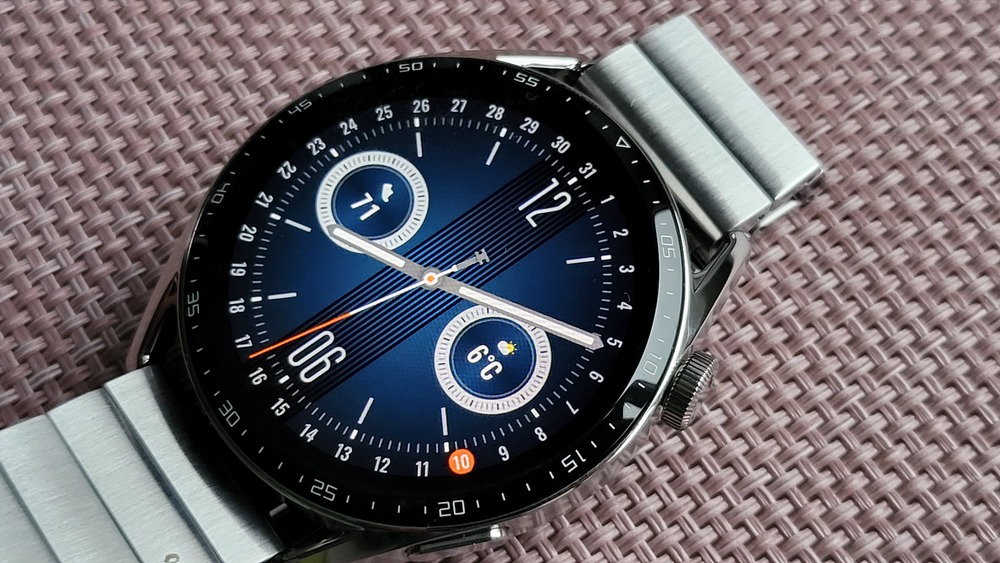 The back cover, made of composite material with polymer fiber, provides increased strength. The sensor module, which consists of eight photodiodes arranged in a circle and two light sources under a curved lens, clearly protrudes above the surface.
In general, the Watch GT 3 fits well, I can even wear it while sleeping.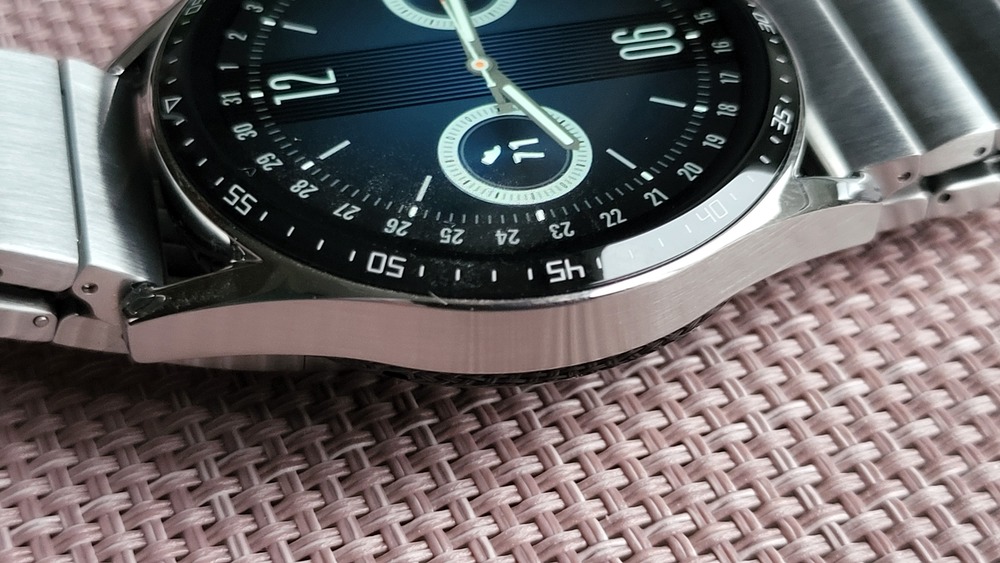 The stainless steel case and metal bracelet look very elegant, and the Huawei Watch GT 3 can be easily used in harsh conditions.
How convenient us it?
The dimensions of the model with a 46 mm body that I tested are 45.9 ×45.9×11 mm, and the weight is 42.6 g. Due to their smaller size, it is easier to wear all day and even night. On the other hand, it is still a solid watch that cannot be overlooked.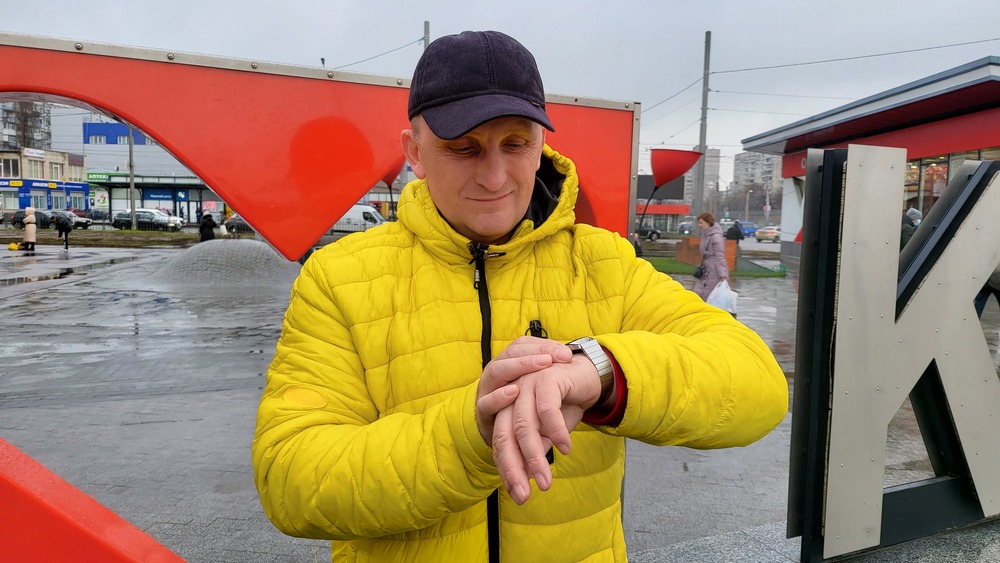 The Watch GT 3 bracelet is very specific – it consists of uniform, almost equal modules forming one row. Very retro. But it is very pleasant to the skin and feels almost weightless. It is also suitable for training in the gym, although it is still better to buy a rubber strap.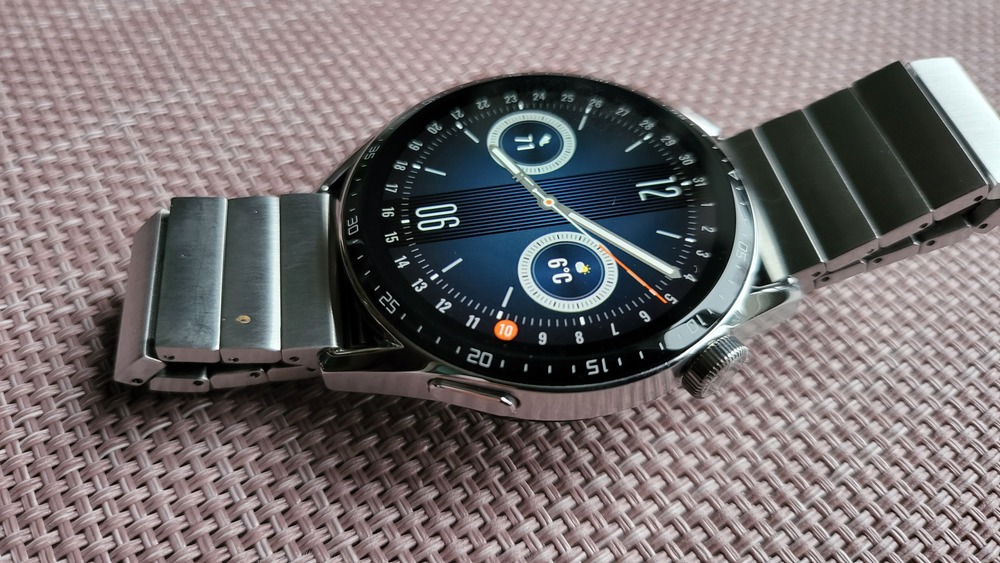 It's very nice that the bracelet can be shortened or lengthened quickly by removing/adding individual modules. You can also easily detach it from the case itself and replace it with any 22mm strap.
The watch provides a water resistance of 5 ATM, and Huawei claims that the device is suitable for swimming both in the pool and in open waters, including the sea. But I would still not recommend using it for swimming in salt water. The recommended operating temperature ranges from 0° C to 35° C, which means that in winter, in severe frost, it is better to hide it under a jacket.
Read also: Huawei MateBook 14s laptop review: 90 Hz and premium design
Pairing with the phone
The first launch of the watch is possible only after pairing it with a smartphone. If you have a mobile device from Huawei, then it already has the Huawei Health application, with which you can pair. On the Huawei Mate 40 Pro the process took literally 2 minutes.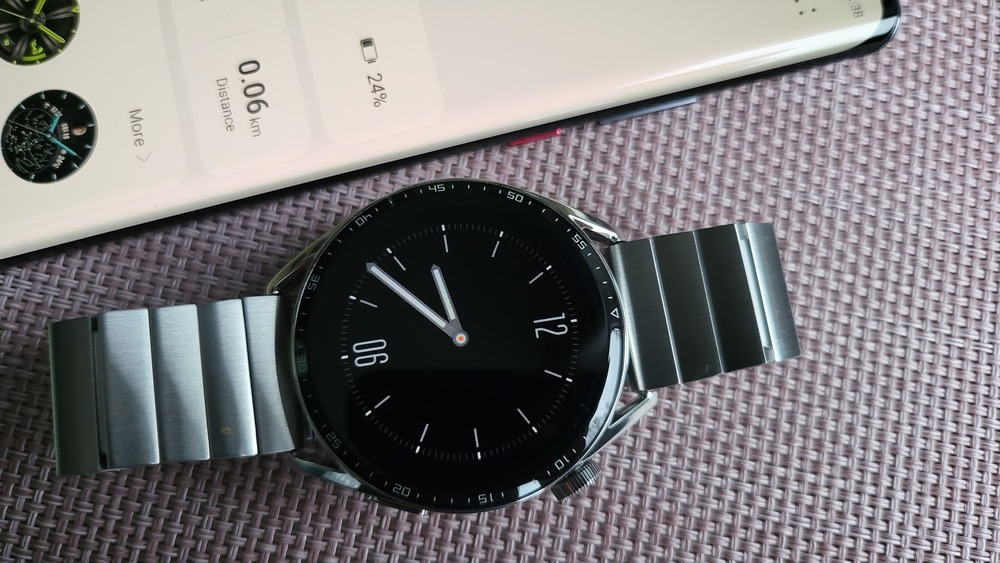 If you have a device from another manufacturer, including an iPhone, then you will have to download this application from the AppStore and Google Play. And in just a couple of minutes, the watch will connect to the smartphone.
At the first launch, you will be greeted by the colorful screen.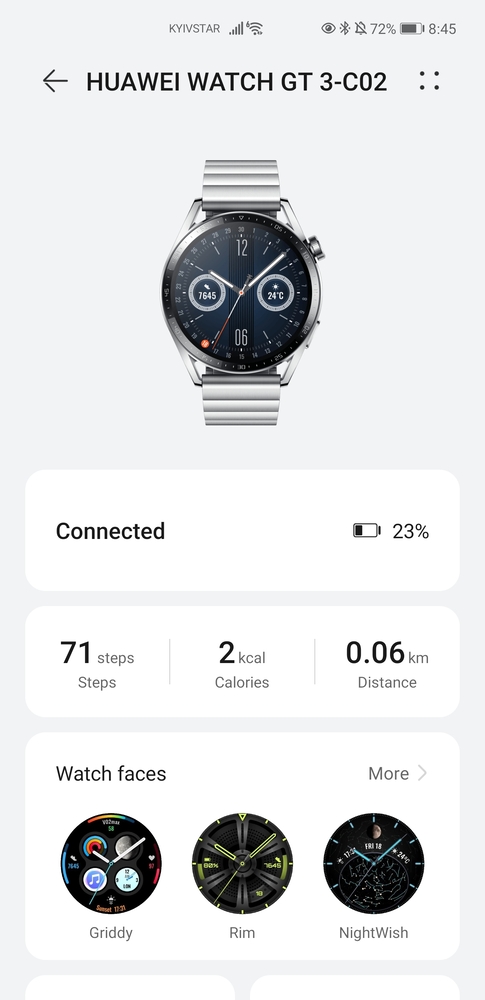 Read also: Samsung Galaxy Watch4 Classic review: As classy as they come
Screen and UI
The Huawei Watch GT 3 Elite in the 46mm version has an AMOLED screen with a diameter of 1.43 inches and a resolution of 466×466 (326 pixels per inch). The screen, of course, is fully touch-sensitive, and is protected from the outside by durable Gorilla Glass 3.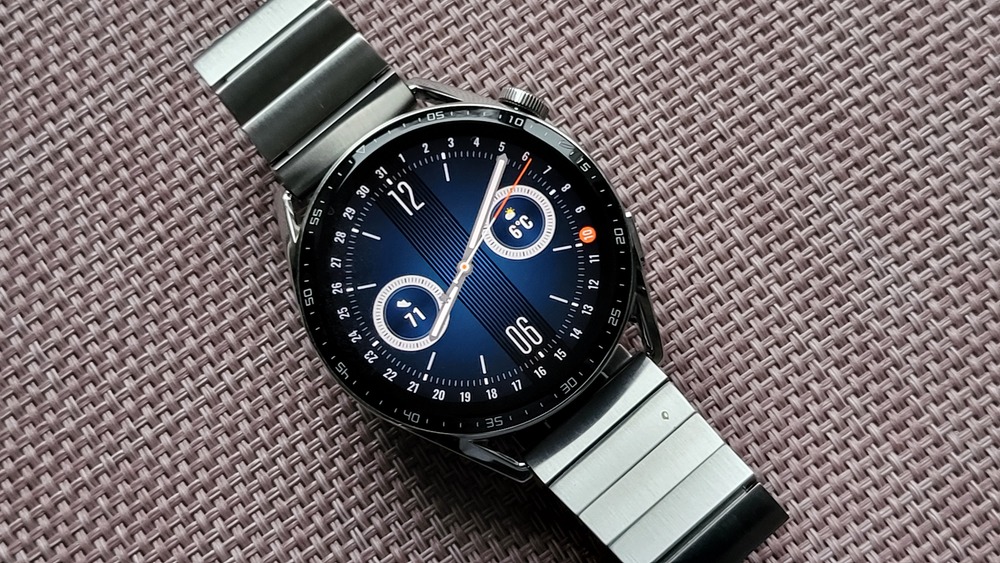 As for the watch, compared to my Watch GT 2 Pro, it no longer has sapphire crystal and the coating material is not the most durable, so it is possible that scratches will appear over time. Although I managed to avoid them during the tests. The watch with honor withstood training in the gym.
The colors of the display are impressive, especially in combination with a beautiful interface. Everything is controlled by the HarmonyOS system, but the UI resembles the LiteOS I'm used to. Of course, there are changes, but they are insignificant and, rather, useful.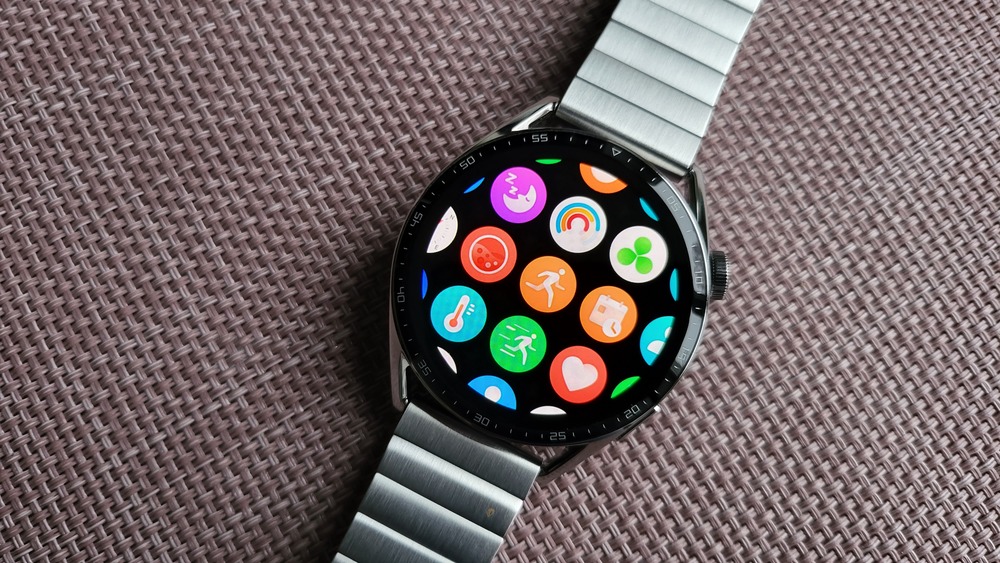 A new feature of HarmonyOS is the main menu in the form of a chessboard. It can be called by pressing the top button. It looks very cool, but it's not always functional. It is suitable for quickly searching for the right app or settings, but I used the traditional menu more often. Although maybe over time I will change my attitude.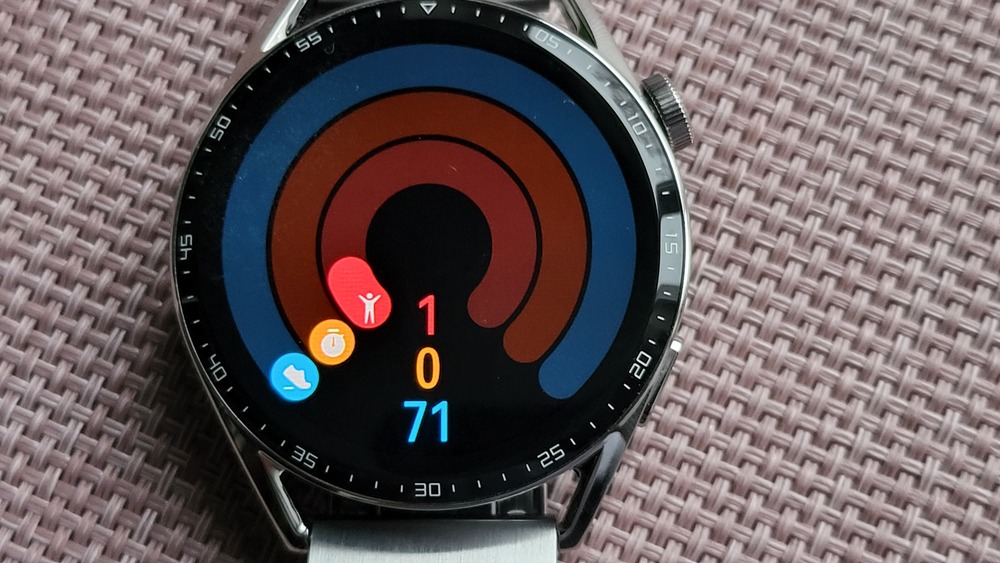 The rest of the interface elements are flawless: legible, colorful graphs with measurement results from sensors look very nice and stylish. In this regard, Huawei is still at the forefront.
The principle of operation of the interface is no different from the previous Huawei watches. The gesture at the top of the screen displays a shortcut bar – it's a pity that there are only 6 icons to choose from, because you often have to look for additional options in the corners of the menu. This problem is not present in the Galaxy Watch4 Classic.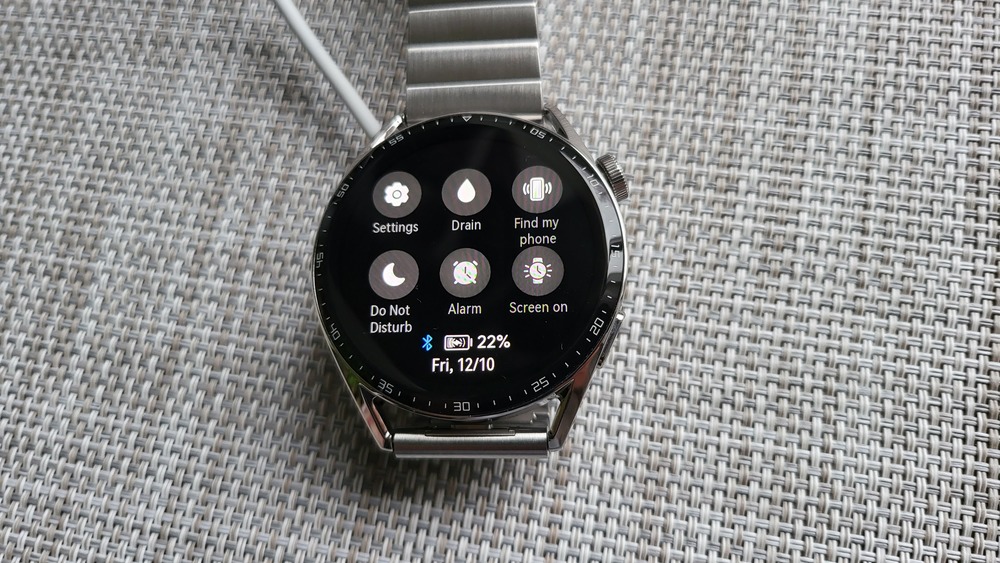 Moving from the bottom of the screen opens a list of notifications. They are very legible, allow you to instantly view messages or other notifications, but, with one exception, their usefulness is invariably limited. Longer messages are divided into parts of sentences or words, they cannot be answered, for example, using a template. The aforementioned exception is text messages – in this case we can choose one of several ready-made questions: "OK", "Thank you", "No thanks" or "OK, I'll be there in a minute". A useful thing that was missing before. It would be nice if Huawei added similar templates to messengers, for example, to Messenger.
When you move the watch face to the right, the Huawei Assistant screen opens. It can display, for example, information about upcoming tasks, music playback, and also there we get access to an active stopwatch or other similar applications running in the background. There is also the Celia assistant, who needs a Huawei phone with EMUI and communicates only in English.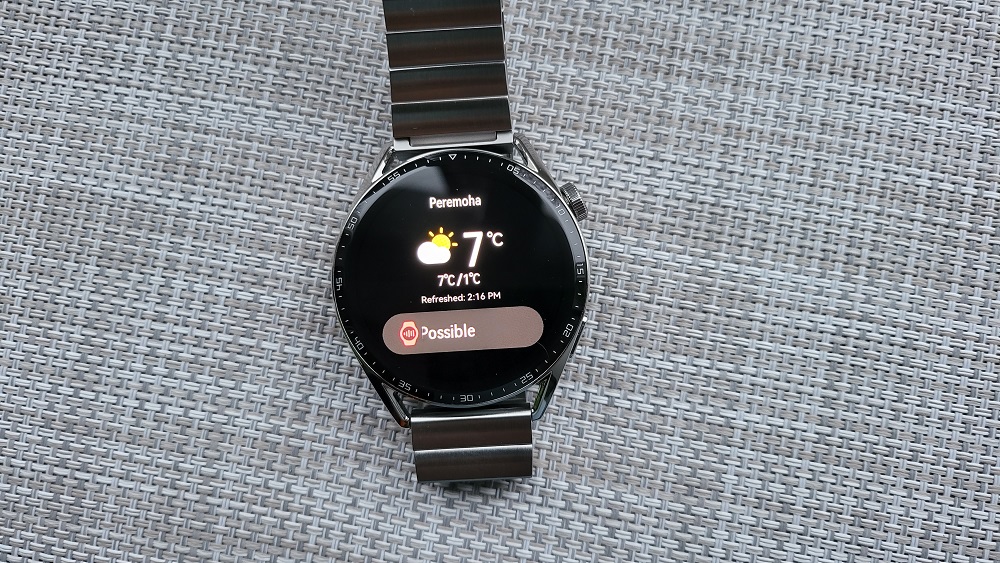 When you move the watch face to the left, a set of tabs opens: heart rate, oxygen measurement, activity, weather, moon phase and sleep. They look beautiful, and it's a pity that in addition to the indication of phases and weather, the rest of the screens are practically inactive. They cannot be used to open the application completely, which would be useful, for example, in the case of activity monitoring. Also, you can't add new maps.
HarmonyOS still has numerous limitations, but the undoubted advantage is that everything works smoothly.
Read also: Huawei Watch Fit review: Your Own Portable Fitness Instructor
Watch faces galore
The watch comes with 10 preset faces, which is quite a bit. But take a look at the Huawei Health app to get access to a huge number of new face designs.
Huawei is constantly developing its catalog. In it you can buy a lot of interesting faces created by third-party designers, as well as install free ones. There is also a clear division of the faces into popular, new and free, which was not there before. There are so many faces very unlike LiteOS, where the choice was very limited and it was difficult to find something for yourself.
The only thing missing is a larger set of faces with the AoD mode.
Are there enough apps?
I'm sure many potential buyers of Huawei watches are asking themselves this question. Of course, this is not a watch on WearOS that has access to Google Play, but there is also a decent set of applications and programs. Sadly, it's not yet possible to make contactless payments with their help.
Shortcuts to all installed apps are in the menu that opens with the top button. What exactly will we find there? There are three shortcuts for exercises, fitness monitoring apps (pulse, SpO2, skin temperature) in addition to the motivating Healthy Life app and activity, sleep and stress logs. Next we find breathing exercises, phone call log, contacts, music, barometer, compass, notifications, weather, wallet (although it is useless for us so far), stopwatch, timer, alarm clock, flashlight, Find my phone function and settings shortcut. So, as you can see, there are quite a lot of them.
You can also check the AppGallery on the phone. Unfortunately, the number of available s for the Watch GT 3 at the time of testing was 26, most of which seemed to me to be of little use, with the exception, perhaps, of the calculator and Petal Maps.
Read also: Huawei MateView monitor review: Good looks, and what else? 
Is it convenient to receive and make calls?
You can make phone calls using a watch and a paired smartphone. There is no eSIM function here, as in the Watch 3 Pro model, but there are no obstacles to using the Watch GT 3 as a speakerphone. The watch allows you to make outgoing and receive incoming calls. The built-in loudspeaker does not provide loud sound, but for a quiet place, for example, at home, it is enough.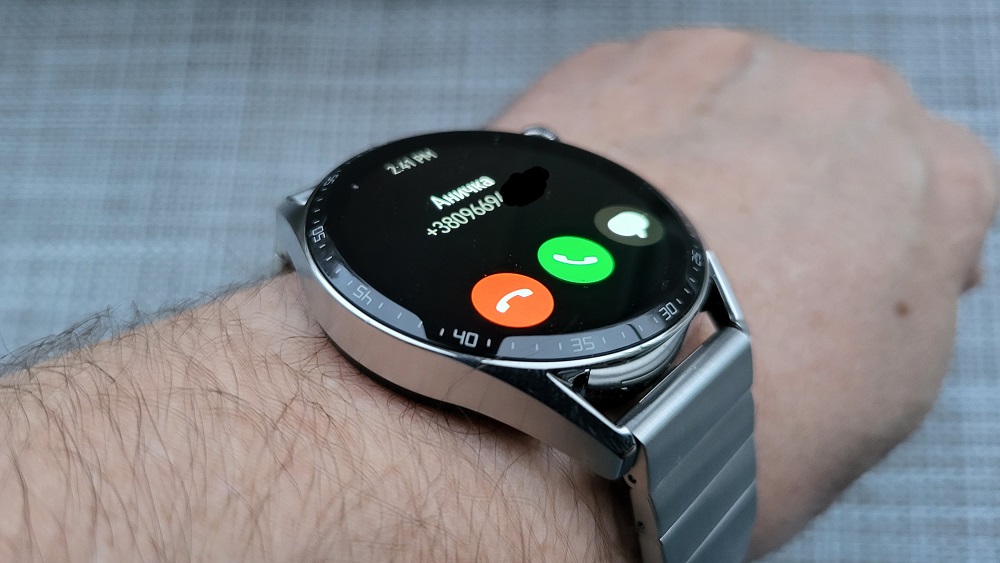 An additional improvement of the phone's functions is the contact book, which, however, must be added using the Health app – without it, the watch saves only those contacts who made a call, and only in the call log.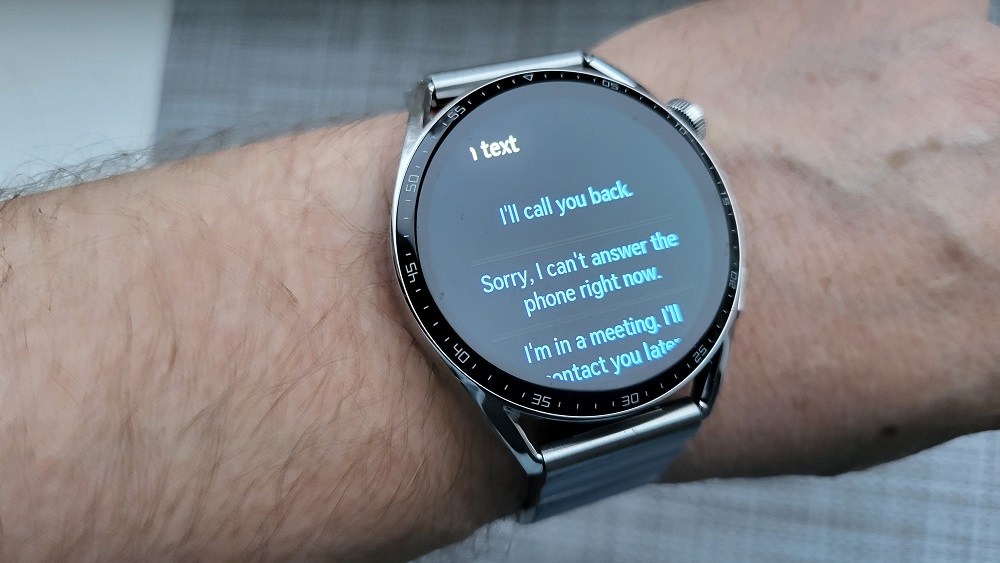 After pairing the watch with headphones, there is another option for making calls. In this case, the GT 3 is used only for receiving or making calls, the conversation will take place through the headset.
The Huawei Health app
I would like to dwell a little more on the possibilities of this very convenient app. I wrote in the Samsung review that I didn't like that for the Watch4 Classic to work properly, I had to install as many as three applications. In the case of Huawei Watch GT 3 Elite there's only one.
The "Healthy Lifestyle" tile on the home screen is new. It allows you to define several daily goals. Thus, you can determine the daily number of steps, breathing exercises, sleep duration and wake-up time, the time of daily activity or the amount of water consumed. There is also a "daily smile" goal that encourages you to smile every day, but of course the watch will not measure this with sensors.
At this stage, the Huawei Health app is one of the best when it comes to the functionality of a smartwatch.
Read also: Huawei MatePad 11 review: Testing the first HarmonyOS tablet
A good assistant during training
It's not for nothing that I called the review that way. The watch from Huawei is specially created to be an assistant during the training process. It should be noted that the Huawei Watch GT series was distinguished from the very beginning by extensive sports options, in the case of the Watch GT 3 nothing has changed. The smartwatch supports more than 100 sports modes, including such popular disciplines as running, cycling, hiking, swimming and skiing, but there are also many more specialized ones, such as triathlon.
The workouts available in the main menu can be changed from the menu, for example, by selecting goals (distance, time, calories) or by dividing into segments, selecting intervals. Running and cycling workouts can also be supplemented with a route. There are also courses for runners – you can choose, for example, running to burn fat, aerobics, long-distance running, short intervals, pace, etc.
There are new non-standard courses for runners, which can be added using an application on a smartphone. There are also weekly training plans. Courses are planned in the "Practice" tab in the Huawei Health app. You can specify how long it takes to warm up, how long it will take to run (indicating the distance, the intensity), as well as the stage of relaxation and rest. Later, such a course can be sent to your watch, where you can select it in the training menu and start it at any time. However, I didn't manage to do this with a weekly plan, but it can be run on a smartphone and then used on a watch. But I think that over time I will add to the review whether everything worked out for me.
There are only a dozen disciplines available in the training application, but if someone needs less popular ones, they can add them from the "other" menu, where there are options such as boxing, karate, yoga, roller skating, archery, tennis, bowling and dozens of others.
The Huawei Watch GT 3 Elite can also automatically detect activity if the user has not started training yet. It doesn't always work out one hundred percent of the time, and the watch offered training several times when I was walking at a brisk pace in the park.
During scheduled outdoor workouts, the Watch GT 3 quickly detects the GPS position and displays all important parameters on scrollable screens – distance, calories burned, heart rate, steps, pace, height differences, etc. There is a ring around the dial that shows the heart rate zones that allow you to evaluate the effectiveness of your training, as well as a virtual partner for the race. There is also a music control widget, a simplified route map and even a graph showing the approaching sunset. The watch also shows the training load and, depending on the intensity of the workout, tells you how long it takes to recover.
The accuracy of GPS is quite alright. Huawei Watch 3 Pro has become my indispensable assistant and partner during training.
I especially liked that the pulse measurement during training is no longer associated with random jumps on the chart that I noticed during the day. During the training process, the watch suggested where to increase the pace, and where to moderate your ardor.
Among the popular smartwatches that are not a specialized device for running, the capabilities that Huawei currently offers are unsurpassed, and in this context, the watch on Wear OS is far behind. I say this with full responsibility, since I tested the Samsung Galaxy Watch4 as well.
How good is monitoring of health and activity?
The Huawei Watch GT 3 offers several functions of constant monitoring of the condition and activity of the body, which are already known from other models of the manufacturer, but in a newer version. The TruSeen 5.0+ is responsible for this, combining a system of eight heart rate monitor diodes and some decent software. Previous generations of watches, including the Watch 3 and Watch 3 Pro, used the fourth-generation TruSeen, which had only four LEDs. And indeed, you can see a significant improvement in readings.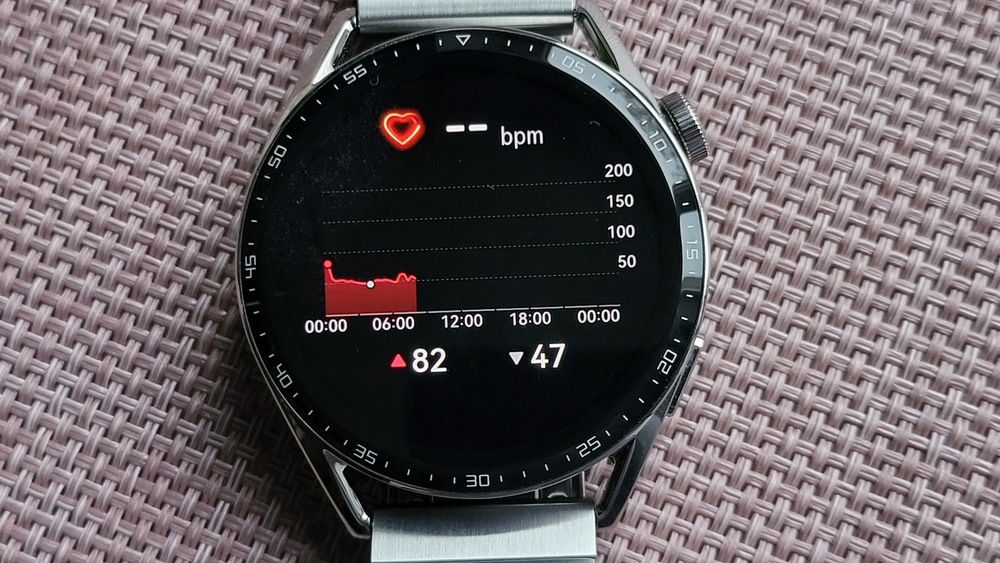 I was very pleasantly surprised by the sleep measurement (TruSleep 2.0). It worked well on previous models, but had some limitations. The Watch GT 3 Elite captures sleep periods very well, even if they are separated by longer breaks, for example, for reading at night. This happens to me quite often, and a worse equipped watch could not, for example, add extra sleep between 5 and 7 o'clock. Watch GT 3 counts all this well, it also registers a longer sleep in the middle of the day if it happens. In the watch, and in a more extensive form in the app, we get a thorough analysis of the individual stages of sleep with additional tips on how to improve this result. Compared to several other watches that I have recently tested and used, the new Huawei model works very well, if not the best of all.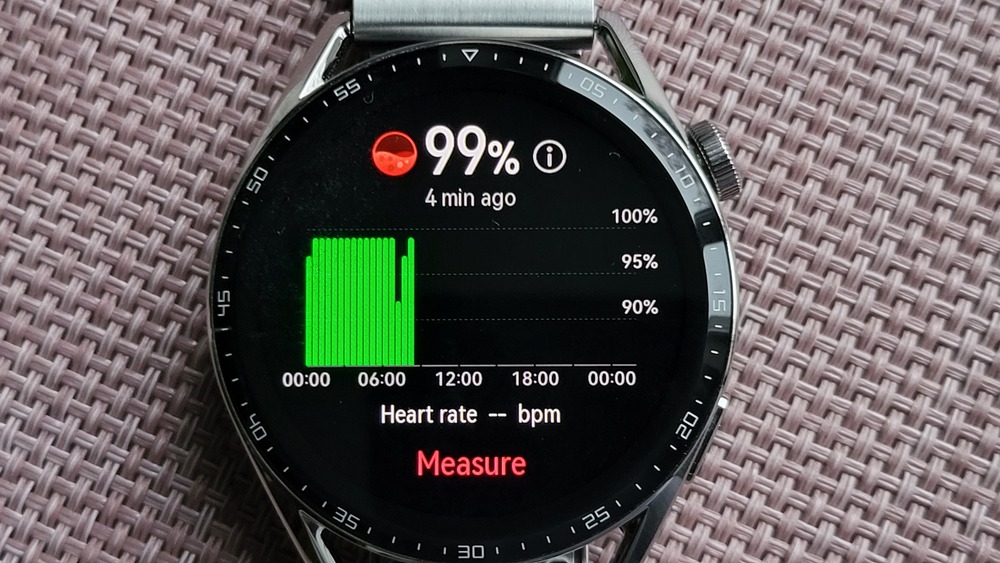 The measurement of blood oxygen saturation has also improved. Previously, the constant analysis of SpO2 was burdened with some errors. In my Watch GT 2 Pro, it was clearly underestimated (compared to other devices), and the correct result appeared only after launching the app and measuring oxygen. There are strange jumps in the Watch GT 3 readings, but the average result is closer to the real one.
The only reservations I have are about the background pulse measurement. In general, it works perfectly, however, there are completely random "shots" when the pulse instantly jumps from 68 to 125 or 130 at rest, and then returns to the correct value. I noticed such jumps shortly before I fell asleep. Perhaps these are errors related to the movement of the watch on the wrist. Sometimes I observed the same thing during a workout in the gym. You just stand still, breathe evenly, but you notice such jumps.
The temperature measurement is the same as in previous models for measuring the surface of the skin. Unfortunately, this indicator does not mean much. Firstly, there are too many factors distorting the results (wrist movement and watch grip, ambient temperature, etc.), secondly, such information is not very readable for the user, and I have not noticed these measurements in other analyses (for example, in a dream). For me, the measurement results ranged from 28 to 34.8 degrees Celsius. This is a good feature, but not informative enough for me.
So far, there is no ECG measurement, which competitors already have. So we are waiting for changes and even greater improvements. If we briefly compare it with the GT 2 Pro, then the novelty gives more accurate results, but still not always comparable with medical devices. It must be remembered that watches only help to control the state of your body, but are not medical devices.
Read also: 
Battery life
The Huawei Watch GT 3 Elite in the 46-mm version is equipped with a 455 mAh battery, which, according to the manufacturer, should provide from 14 to 8 days of battery life, depending on the intensity of use. Unfortunately, in practice it is difficult to count on such a result.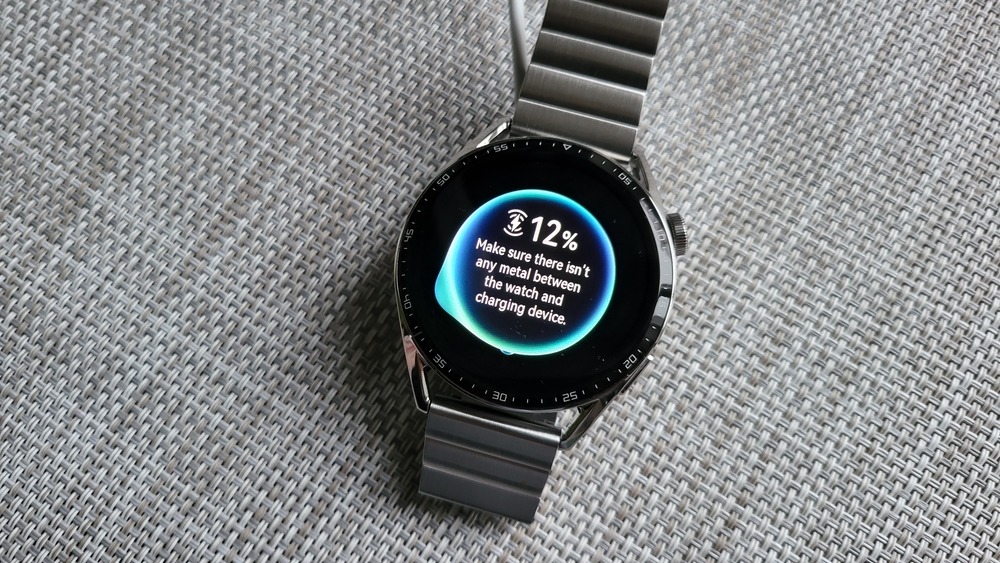 During the tests, I used all possible background functions, such as Always-on-Display, SpO2 measurement, pulse and skin temperature, and also constantly used notification preview and weather forecast. In addition, I went to the fitness club three times for a two-hour workout. The watch lost 80% in 8 days, which I consider a very satisfactory result.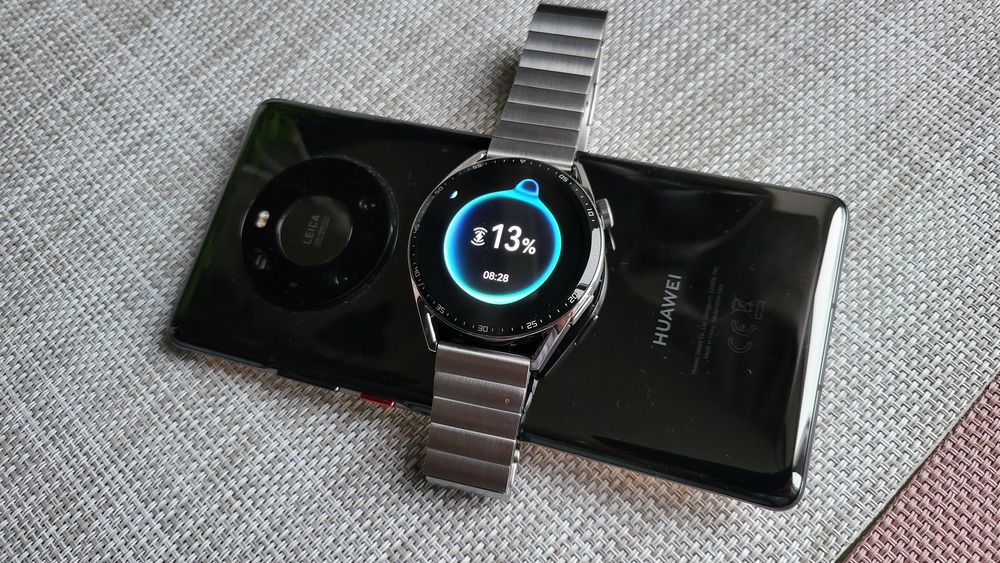 Despite the positive result, the charging time is a minus. The average time required to charge is about 2 hours. Another disadvantage is that the Huawei Watch GT 3 Elite heats up noticeably during charging. Personally, I would not advise putting on a watch immediately after disconnecting from the charger.
Unfortunately, you will not be able to use contact chargers from older Huawei and Honor watch models. Although the watch can be charged using your smartphone.
Verdict
The biggest advantage of the Huawei Watch GT 3 Elite is its elegant design, which is perfect for both a more formal occasion and everyday use. This is not only a smart watch, but also a stylish accessory. I also want to note that when you first try Huawei Watch GT 3 Elite, it feels like a premium wristwatch. The use of stainless steel and a flat watch face with a pleasant rounding certainly have a positive effect on usability.
During the tests, I appreciated the build and design quality, excellent battery, as well as improved software. On the other hand, there are built-in sensors that are ideal for monitoring health functions and physical activity.
However, there are a few things that I didn't quite like. Of course, there is no contactless payment system, which is very important these days. The training app does not allow exporting data, and AppGallery has very few apps.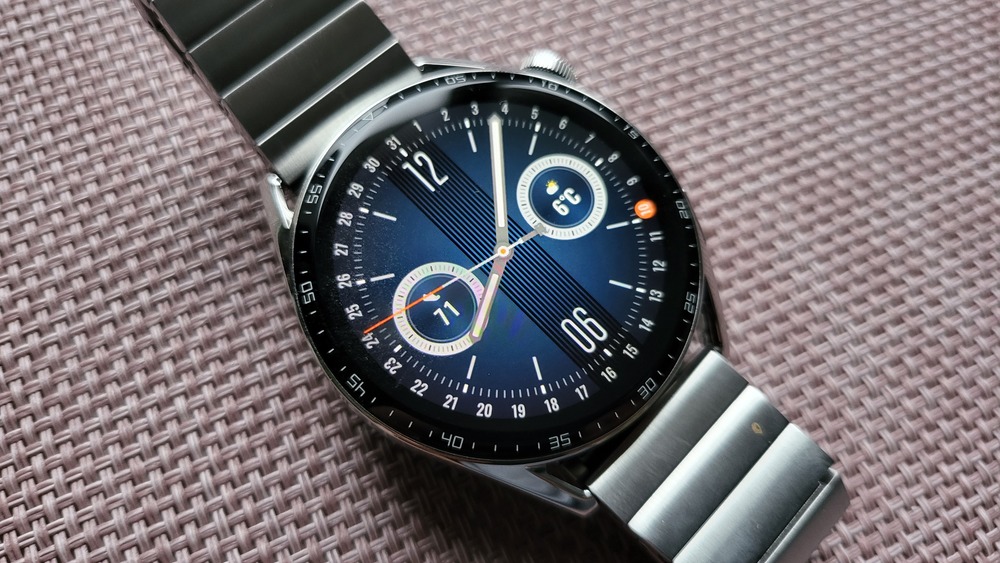 Unfortunately, compared to competitors, it's not good. If you buy an Apple Watch, you'll get lots of apps, better phone integration, and Apple Pay support. It's the same with Samsung watches, which, thanks to the introduction of WearOS, offer much more.
Do you need it if you own the Watch GT 2 Pro? This is the most difficult question for me. On the one hand, I'm used to its titanium case and sapphire glass. But on the other hand, this sporty elegance of the Huawei Watch 3 Elite fascinated me.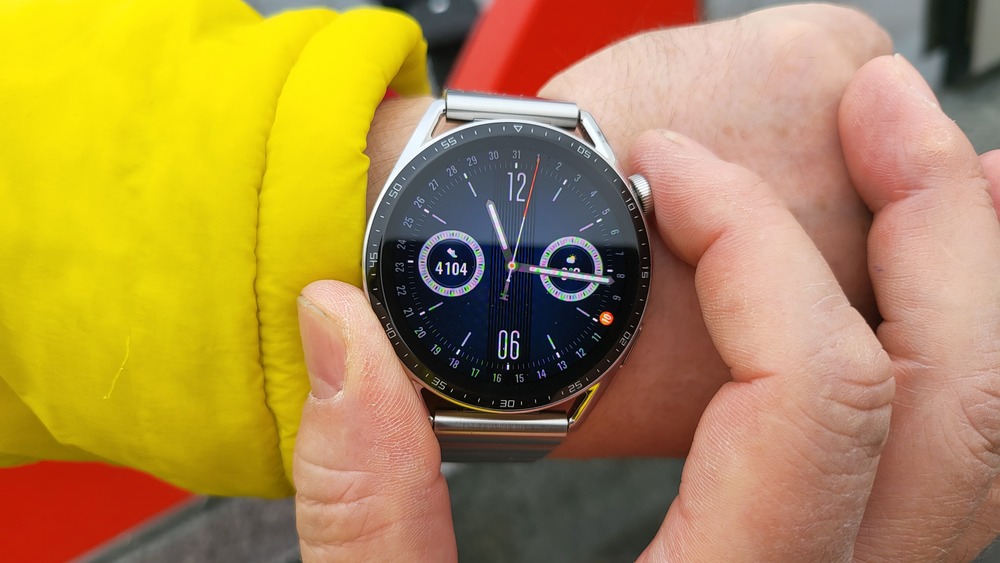 Summing up, we can say that Huawei Watch GT 3 Elite is the right choice for users who primarily care about elegance, build quality, and monitoring of health. If for you the functions of a smartwatch aren't important, and the appearance of the device plays a major role, the Huawei Watch GT 3 in the Elite version is almost ideal.
Pros
premium appearance
high-quality case materials and build quality
excellent AMOLED screen protected by durable Gorilla Glass 3
nice UI
advanced software
rich set of functions for high-precision body monitoring
extensive set of sports functions
the ability to create training courses and send them to the watch
decent battery life
Cons
there are still too few smart features, interactions and external apps
there is no support for contactless payments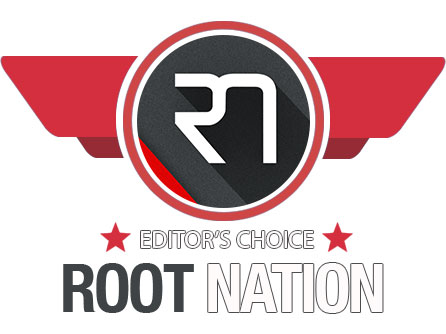 Where to buy
Read also: