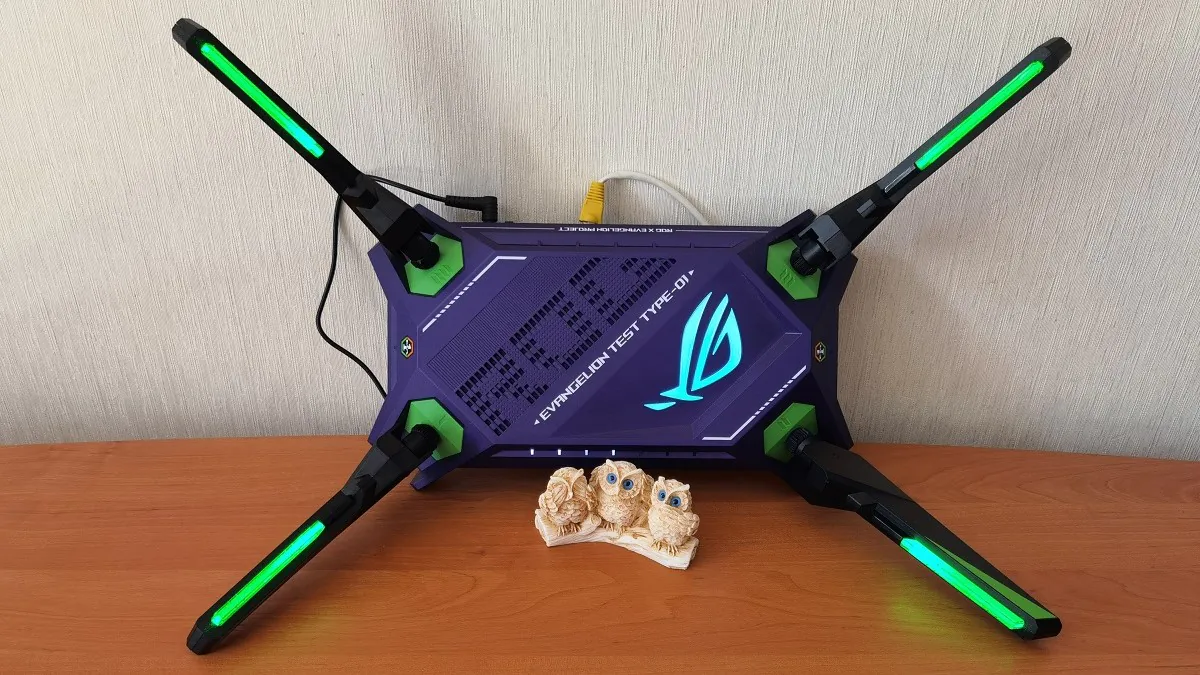 An interesting, stylish ASUS ROG Rapture GT-AX6000 EVA Edition router has emerged on the market of gaming routers. Today we will tell you all about it.
Undoubtedly, the ASUS company is one of the leading manufacturers of peripheral devices, which include powerful gaming routers. They have won the hearts of their fans and earned the respect of experts and journalists.
We haven't had the opportunity to get acquainted with new ASUS routers for a long time (because of the war), so let's make up for lost time. And  there is a great opportunity for this, because the manufacturer sent us the top model ROG Rapture GT-AX6000 EVA Edition. It should be noted that there is also a regular GT-AX6000 variant. This is a router with similar characteristics, which differs from the hero of this review only in the colors of the case (the red and black style of the ASUS ROG series is used here).
This is one of ASUS' top routers and is undoubtedly a high-end piece of equipment aimed at discerning users who want more from a router than just decent wireless performance. We're still talking about a model that supports the Wi-Fi 6 standard, not the latest Wi-Fi 6E, and only with two bands, but we can still say that this is one of the best routers of its type on the market, and also the best gaming router of those we tested.
In addition, it belongs to the ROG×EVANGELION line of products. This is a rather interesting series of devices that appeared thanks to the collaboration of ASUS Republic of Gamers (ROG) with the cult Japanese mecha anime Evangelion.
This series includes quite a few interesting devices. First of all, this is the ROG Maximus motherboard, as well as the powerful ROG Strix GeForce RTX video cards, the stylish ROG Ryujin II 360 AIO cooler and other high-end products of the ASUS ROG series. For fans from Ukraine, we have great news: some stuff from this series is already available for purchase. First of all, the hero of our review is the ROG Rapture GT-AX6000 EVA Edition router, the ROG STRIX GeForce RTX 3090 and 3080 EVA Edition video cards, and the ROG Strix Arion EVA Edition solid-state drive container. ROG MAXIMUS Z690 HERO EVA Edition motherboard, ROG Ryujin II 360 ARGB EVA Edition liquid cooling system, ROG Strix Helios EVA Edition case and ROG THOR 1000W Platinum II EVA Edition power supply will soon be available to our consumers.
All devices are distinguished by a special, spectacular exterior design and thematic art. PC builders will be able to assemble a top-of-the-line system with components in the color scheme of the EVA-01 flagship mech and the NERV Command Center. I am sure that such a stylish set will decorate the desktop of the most demanding gamer and connoisseur of the iconic Japanese mecha anime Evangelion.
Did I intrigue you? Then we invite you to take a closer look at the stylish ASUS ROG Rapture GT-AX6000 EVA Edition.
What is interesting about ASUS ROG Rapture GT-AX6000 EVA Edition?
The ROG Rapture GT-AX6000 EVA Edition is undoubtedly a high-end router aimed at demanding users, particularly gamers.
GT-AX6000 EVA Edition is a dual-band router with Wi-Fi IEEE 802.11 a/n/ac/ax class AX6000 (as the name suggests). This means that the total speed of both bands is 6000 Mbps, and if we look in more detail, we can count on 1148 Mbps on the 2.4 GHz band and up to 4804 Mbps on the 5 GHz frequency band. The router offers the typical advantages of Wi-Fi 6 technology, which means that it supports a 160 MHz band and 1024-QAM modulation, thus providing a much higher wireless speed.
In addition, it supports not only Beamforming and MU-MIMO 4×4 technologies, but also OFDMA for efficient channel allocation and communication with multiple devices at the same time (divides each channel into smaller sub-channels that have a shorter range, so they can reach more places). Latency has also been reduced, and the number of devices supported has been quadrupled. There is also a Target Wake Time (TWT) feature, which is responsible for scheduling designated intervals during which devices send data. This allows devices to go into sleep mode because they don't need to constantly wait for a signal from the router, helping to significantly reduce power consumption to increase battery life. Add to that Airtime Fairness, which helps promote more efficient wireless clients that can send more data in a given time period.
Of course, ROG Rapture GT-AX6000 EVA Edition also offers already well-known technologies such as the WPA3 protocol, which adds new features to the popular WPA2 standard, including better user authentication techniques and more effective cryptographic security, which is very useful for users who care about their confidential data. ASUS also did not forget about the Mesh mode, the ASUS AiMesh function that connects several ASUS routers to create a Wi-Fi network that covers the entire area of the house. It is important that the AiMesh technology is very flexible and allows the use of different models of ASUS routers, so we can use cheaper ones for these purposes. We must also mention the free security package AiProtection Pro, which is based on Trend Micro and provides regular updates to protect our devices and personal data from Internet threats. The package also offers advanced parental controls to block certain websites and types of mobile apps.
Specifications of ASUS ROG Rapture GT-AX6000 EVA Edition
GT-AX6000 EVA Edition is a high-end router, so its specification will not disappoint you. The heart of the device is a quad-core Broadcom BCM4912 processor with a clock frequency of 2 GHz. This is the SoC used in high-end Wi-Fi 6/6E networking equipment, so it's a perfect fit for an ASUS product. The system is supported by 256 MB of flash memory for data and 1 GB of RAM. That's not all, because on board we also find 2 Ethernet ports of the Multi-Gig standard, one of which is a 2.5 gigabit WAN port.
It's a shame, though, that the manufacturer opted for 2.5-Gigabit WAN and LAN and didn't go further with 10-Gigabit ports. We also get three additional gigabit LAN connectors. In addition, the router is equipped with four external antennas, and although we have already seen six or even eight antennas in the top models of ASUS and competitors, practice shows that quality is more important than quantity. If you are interested, you can see the details of the specification below.
Name
ASUS ROG Rapture GT-AX6000 EVA Edition
Model
GT-AX6000
Wi-Fi
Dual band AX6000
Data transfer speed 2.4 GHz
4×4 Wi-Fi 6
up to 1148 Mbps (20/40 MHz)
Data transfer speed  5 GHz
4×4 Wi-Fi 6: up to 4804 Mbps
(20/40/80/160 MHz)
Reverse compatibility
802.11a/b/g/n/ac
AiMesh support
AiMesh main router,  AiMesh node
WAN/LAN ports
RJ45 for 2.5 Gigabits BaseT for WAN/LAN × 1, RJ45 for 2.5 Gigabits BaseT for LAN × 1, RJ45 for Gigabits BaseT for LAN × 4
USB ports
USB 3.2 Gen 1 × 1, USB 2.0 × 1
CPU
4-core Broadcom BCM4912 at 2.0 GHz
Memory
256 MB Flash
RAM
1 GB
Mobile app
ASUS Router
QoS
Yes
Parental control
Yes
Security
WPA3
AiProtection by Trend Micro
Gaming functions
Game Boost
OpenNAT (game profile)
Gaming Port
Mobile Game Boost
ROG First
VPN Fusion
Gamer VPN
Number of antennas
4, external
Dimensions (no antennas)
33,02×16,76×6,60 cm
Weight
1,12 kg
Price
around $400
Read also: ASUS Vivobook Pro 16X OLED (N7600) review: 16-inch laptop with OLED screen
What's in the box?
ROG Rapture GT-AX6000 EVA Edition is packed in a large cardboard box in black and red style. The collaboration with Evangelion was naturally mentioned. Of course, the entire surface of the box was decorated with an image of the product and information about the capabilities of the router.
This is a kind of standard for ASUS. More importantly, all the elements inside are placed in a profiled dense foam sponge that perfectly protects the equipment.
What will we find here, apart from the router itself and documentation? First of all, removable antennas, which will then need to be attached before connecting the equipment (it is interesting that there are marks I, II, III and IV next to the sockets , but there are no such marks on the antennas themselves, so they do not make any sense), a power supply and quality black Ethernet cable. The equipment is quite standard, but it is difficult to expect unnecessary charms here. It's all business.
Exterior design and assembly of ASUS ROG Rapture GT-AX6000 EVA Edition
The design of the GT-AX6000 EVA Edition screams that we are dealing with a gaming router, this is emphasized by an unusual shape with numerous grooves, holes that create the characteristic ROG logo (they also perform the function of ventilation) and the inscription 'Evangelion test Type-01'.
Also, unlike the usual ROG Rapture GT-AX6000 router, our hero has a purple body and antenna bases, and the antennas themselves with the addition of green. Very impressive.
Of course, they did not forget about the RGB lighting, which includes a large brand logo on the top of the case, as well as green transparent plastic on the antennas. This is the first backlit router we've tested, but we bet it won't be the last. Of course, this is purely an aesthetic feature, and if someone does not like it, then it can be turned off (and probably many people will use this option). Nevertheless, it is difficult to deny the originality of the appearance of the ROG Rapture GT-AX6000 EVA Edition, but, on the other hand, such a purely gaming design will not suit every modern interior.
First of all, such equipment should be in the gamer's room, but, on the other hand, it is better if the router with such capabilities will be located in the center of the house or apartment. You will need to find a lot of space for it, although it is also possible to fix it vertically on the wall. Did I personally like the look of the router?
I belong to the category of people who like unusual things, so I liked the ROG Rapture GT-AX6000 EVA Edition. Stylish, unusual, especially its color scheme and location of antennas. You immediately feel that this is a game monster that will provide stable Internet coverage in your apartment or house. However, the tastes are not discussed, so everyone can judge it for themselves.
The device itself is really big, because its dimensions are 338x196x221 mm, which means that it needs a lot of space on the desktop or on some shelf. The weight of the device is 1.12 kg, which we consider a plus, because the router does not give the impression of a cheap empty shell. As for the build quality, the body is completely made of matte, slightly rough plastic, and although I would have liked to see more noble materials here, maybe even aluminum parts somewhere, but ASUS chose a practical solution.
There are eight LEDs on the front of the router that indicate power, 2.4GHz and 5GHz Wi-Fi, WAN, 2.5Gbps LAN, LAN, and WPS.
The entire bottom is covered with ventilation holes, and also includes brackets for wall mounting, non-slip pads on four legs (they reliably fix the case on the table and press it against the wall in a vertical position). There is also a sticker with the necessary information about the device and its initial configuration.
By the way, here is a QR code that you can use to download the ASUS Router app for the initial setup of the router from your smartphone. I recommend, so you don't search the Android and iOS app stores again.
All ports are located on the back of the router. Here, from left to right, the developers have placed two USB ports – USB 2.0 and USB 3.2 Gen 1, four gigabit LAN ports, a 2.5 gigabit WAN port, marked in blue, and a 2.5 gigabit LAN, marked in gray. Do not confuse them the first time you connect them. In addition to this there is  the reset button and power switch, and of course the power jack. So you can't complain about this aspect, because the set of ports and connectors is really rich. Here I really regretted that there is no way to connect a 2.5-gigabit WAN port in Kharkiv yet.
In addition, the antennas use the popular SMA standard, so if necessary, they can be easily replaced without any problems.
In short, in terms of build quality and features, the ROG Rapture GT-AX6000 EVA Edition really lives up to the expectations of a high-end consumer router.
Configuration and software of ASUS ROG Rapture GT-AX6000 EVA Edition
You can configure the GT-AX6000 EVA Edition in two ways: using the web interface and the ASUS Router mobile application. Any of these methods is quite simple, so even a beginner can handle it. You just have to follow the instructions.
Usually, I configure the routers that come to me for testing using the web interface. In this way, I configure the router to my needs in the first minutes. But you should decide for yourself which method to use.
The initial configuration of the router is very simple, especially since the Rapture GT-AX6000 EVA Edition's factory network is not even password protected, and you just need to connect to the default SSID and then go to router.asus.com (or 192.168.50.1) to use the configurator, which will guide you step by step through the setup process. The fact that the software is translated into Ukrainian also helps, so even an inexperienced user will be able to handle it.
As for the graphical interface of the browser itself, there are literally tons of options available. At first glance, the interface seems overloaded, although anyone who at least once had the opportunity to get acquainted with ASUS routers and their administration panel will feel at home here. Although the first approach to this interface can be a little overwhelming.
This is mainly due to the fact that all the options are laid out like on a coffee table, and it seems that a slightly better option, at least from the perspective of less experienced users, would be to split the interface into basic and advanced modes.
Nevertheless, those who like to dig into the settings will appreciate a significant number of options (in this regard, ASUS does better than the competition), so the graphical interface should also meet the requirements of more experienced users. It may not be as transparent and visually modern as the interface used by TP-Link, but it cannot be denied its functionality. Like the competitor, all tabs are located in the column on the left (with the difference that they do not expand below to more detailed parameters, but switch between tabs on the right), and on the top panel there are several shortcuts, including reboot button, logout, guest network status, WAN and USB, and the option to change the language. Interestingly, although the software and application support the Ukrainian language, not all releases were translated, and some of them remained in English altogether, which was a problem for us before, and it is a shame that this element is still not fixed. A better help system would also be useful, where the manufacturer would take care to explain and discuss specific options in practice.
All in all, the ROG Rapture GT-AX6000's software is really impressive, so we won't discuss all the features, as they are mostly basic options found in most modern routers.
Instead, we'll focus on the most interesting. Let's start with the dashboard, which is really extensive and, apart from the usual information about network traffic, also provides ping data, a game radar shortcut (we'll come back to this later) or backlight functions. Among the general options, we also find AiMesh, which allows you to create a mesh network consisting of different ASUS routers, which is a great option for owners of single-family houses or very large apartments.
Next on the list is the AirProtection package, developed in collaboration with Trend Micro, which is responsible for protecting the network. We can perform a router security assessment – it scans the router for security vulnerabilities and recommends appropriate solutions to improve security. The system also offers blocking of malicious sites (based on the Trend Micro database) or bidirectional IPS. It protects your device from spam and DDoS attacks and blocks malicious incoming packet, preventing router network vulnerabilities such as Shellshocked, Heartbleed, Bitcoin mining and ransomware attacks. There is also a feature to detect and block infected devices, which prevents botnets or zombies from enslaving an infected network device and using it to steal sensitive information or attack other computers. As you can see, this is a fairly complex system of additional protection, which will undoubtedly come in handy. I tested how it handled dangerous sites and I can say that the router did a great job blocking access immediately.
Parental controls also look very good, as it can define filters that block selected content for certain devices, such as a smartphone or console (for example, for adults, instant messaging, file transfer or streaming) and set a schedule (days, hours, etc.) Internet usage for individual users.
A modern router, especially from this price range, could not do without QoS. The quality of service in the ASUS version offers, among other things, a WAN/LAN bandwidth monitor, the ability to enable adaptive or traditional QoS, where the former provides optimal input and output bandwidth for wired and wireless connections for applications and tasks according to predefined settings: games, media streaming, VoIP, web surfing and file transfers.
Another important feature is the Traffic Analyzer, which analyzes network traffic and presents the results as a graphical chart showing how the network is being used and by which devices or client applications. This is useful when we want to check which client is using our network the most and how the download and data transfer has been.
In the advanced settings, we will find a number of typical parameters, for example, regarding the wireless network (interestingly, the channel width of 160 MHz is disabled by default, so it is worth activating it at the beginning) or the guest network, which is already a standard for modern routers. Thus, we can provide our guests with a dedicated network (in the 2.4 GHz and 5 GHz bands), set up a user authentication system, or limit their bandwidth and access time.
There is also a Smart Connect option in the Wireless section,, that is, an intelligent connection, which consists in choosing the optimal connection parameters for this device (automatic selection of frequency, channel and its width). More advanced settings of this technology are hidden a little deeper in the system tools, where we can independently determine individual conditions (signal strength).
There is also Dual WAN, where we choose Failover mode to use the second WAN connection as a backup network access. WAN link aggregation allows you to connect a 2.5 Gbps port to a 1 Gbps port to take advantage of WAN bandwidth up to 3.5 Gbps, and LAN link aggregation allows you to combine two 1 Gbps LAN ports to create 2 Gbps LAN connection.
Load Balance mode is responsible for optimizing bandwidth, as well as minimizing response time and preventing data overload for both WAN connections. Of course we also have port triggering, port forwarding, DMZ and NAT etc.
The gaming parameters of the ROG Rapture GT-AX6000 EVA Edition router software deserve a separate paragraph. So, in the Game Acceleration tab, we will find a three-stage system that will ensure that gaming activity is prioritized.
The first level is game port prioritization, which uses a dedicated game port that prioritizes network traffic for connected devices. The second component is the GameFirst V utility that comes with ROG motherboards, laptops and ASUS PCs to optimize network traffic during online gaming. The second level is the prioritization of game packets using the Game Boost tool, which activates the game mode using adaptive QoS. The third level is game server acceleration with the Outfox optimized gaming network, but this is a paid service, although ASUS gives us a 90-day trial. In addition, there is also a tool for prioritizing gaming devices and testing Internet speed, and the so-called gaming radar, which helps to find a gaming server (the list is constantly updated), ensuring an optimal connection.
The WiFi Radar feature is also worth mentioning, which can detect and analyze nearby Wi-Fi networks, as well as provide information on all nearby wireless signal interference and channel bandwidth. In addition, it also provides advanced troubleshooting by providing information on counters such as AMPDU (if available), Glitch, Chanim, and Packet Queue Statistics. We can use the data obtained here in the settings, which will allow us to fine-tune our own Wi-Fi network.
ASUS Router mobile application
Finally, a few words about the mobile application, which, of course, is shortened and simplified in terms of functionality compared to the browser software, but nevertheless provides everything we need every day. In general, the application works very well, allows you to personalize the interface (by changing themes), and is a good addition to the working GUI.
The program is quite easy to use. It will come in handy to control the router directly from your smartphone. It has all the main functions and settings. For the average user, they are enough, and for everyone else there is a browser web interface.
Read also: ASUS ZenBook 13 OLED (UX325) review: Versatile OLED Ultrabook
How ASUS ROG Rapture GT-AX6000 EVA Edition works in practice
I am sure that most of you are looking forward to the story about the practical use of the ROG Rapture GT-AX6000.
I conducted all the tests in my Kharkiv apartment, located in an ordinary nine-story panel building, with all its obstacles, ceilings and thick walls. It turned out that these are definitely not obstacles for such powerful equipment. I made sure of this from the first minutes of using the ROG Rapture GT-AX6000 EVA Edition. The signal was equally strong and stable in any corner of the apartment, there were practically no 'gray zones'. Moreover, the signal of the router easily reached the first floor of my house through quite a lot of interference. All devices connected to it seemed to fly: smartphones, laptops, security system, KIVI TV easily reproduced content in 4K. There were no problems.
About the wired connection, I can only write that the ROG Rapture GT-AX6000 EVA Edition squeezed everything possible from my provider, and the indicators here are appropriate. You should not have any problems with this connection, and the modern 2.5-gigabit WAN port is an additional incentive to buy this powerful router.
Usually, I choose five control points in my apartment to test the signal and its strength, but with this router I decided to choose a sixth:
1 meter from ROG Rapture GT-AX6000 EVA Edition (in the same room)
3 meters from ROG Rapture GT-AX6000 EVA Edition (with 2 walls in the way)
10 meters from ROG Rapture GT-AX6000 EVA Edition (with 2 walls in the way)
15 meters from ROG Rapture GT-AX6000 EVA Edition (with 3 walls in the way)
on a stairwell 20 meters from ROG Rapture GT-AX6000 EVA Edition (with 3 walls in the way)
the first floor of a building 35 meters from the ROG Rapture GT-AX6000 EVA Edition (with 10 walls in the way).
The results of the test pleasantly surprised me, even at the experimental sixth control point.
The signal  was strong enough and stable everywhere, the results are simply fantastic. One of my colleagues even asked me if I had gotten some results over the wire. I suggest you check it yourself. No need for comments here.
With this equipment even in wartime I got decent results, how about a 2.5 gigabit WAN connection? This is truly the best gaming router I've ever tested.
As for the USB ports, the download speeds are also in perfect order here. There can be no complaints either. Yes, there are no records here, but these results are quite enough even to use the ROG Rapture GT-AX6000 EVA Edition as a kind of NAS.
It all depends on your specific needs, but I'm sure that the router will definitely not let you down even in complex applications.
Read also: ASUS ZenBook Flip S (UX371EA) review – Top-Of-The-Line Transformer
Is it worth buying ASUS ROG Rapture GT-AX6000 EVA Edition?
When you test such a network device, you always try to understand who it is for? Yes, the main target audience of ASUS ROG equipment is undoubtedly gamers, fans of this series who want to buy a powerful gaming router.
At the beginning, I pointed out that the ROG Rapture GT-AX6000 EVA Edition is one of the best routers on the market, and is especially recommended for gamers. And now we are talking not only about RGB lighting support with the Aura Sync option, but, first of all, about a functional package of gaming options that we are unlikely to get when buying a regular router. In addition, this is an extremely efficient network equipment that can cover a really large apartment or a private house on its own. In addition, it can be used to create a mesh network, and as a central unit, it will certainly work well for this role. The equipment provides maximum speed not only in Wi-Fi networks, but also in wired interfaces, and also offers a really powerful software with many options, including advanced ones, which will please any network administration enthusiast.
On the other hand, its best strengths can also be its weaknesses, and I'm talking about the software right now, which can weigh down less experienced players who are just looking for the most efficient router. Moreover, all these bells and whistles turn the router into a rather expensive piece of networking equipment. Let me remind you that its price starts from $400, which may force many to abandon this product at the very beginning of the review. The price is really too high, although it is worth it. In addition, one can only regret that ASUS did not introduce Wi-Fi 6E support here. Such a move would make this equipment even more promising for purchase.
In any case, in our opinion, this is a product worth investing in if you want a high-performance dual-band router with extensive configuration options and gaming features. ROG Rapture GT-AX6000 EVA Edition is worth every dollar spent. This is currently one of the best gaming routers on the market. We have no hesitation in giving it our award and recommendation.
You can also help Ukraine fight with Russian occupants via Savelife or via an official page of the National Bank of Ukraine.