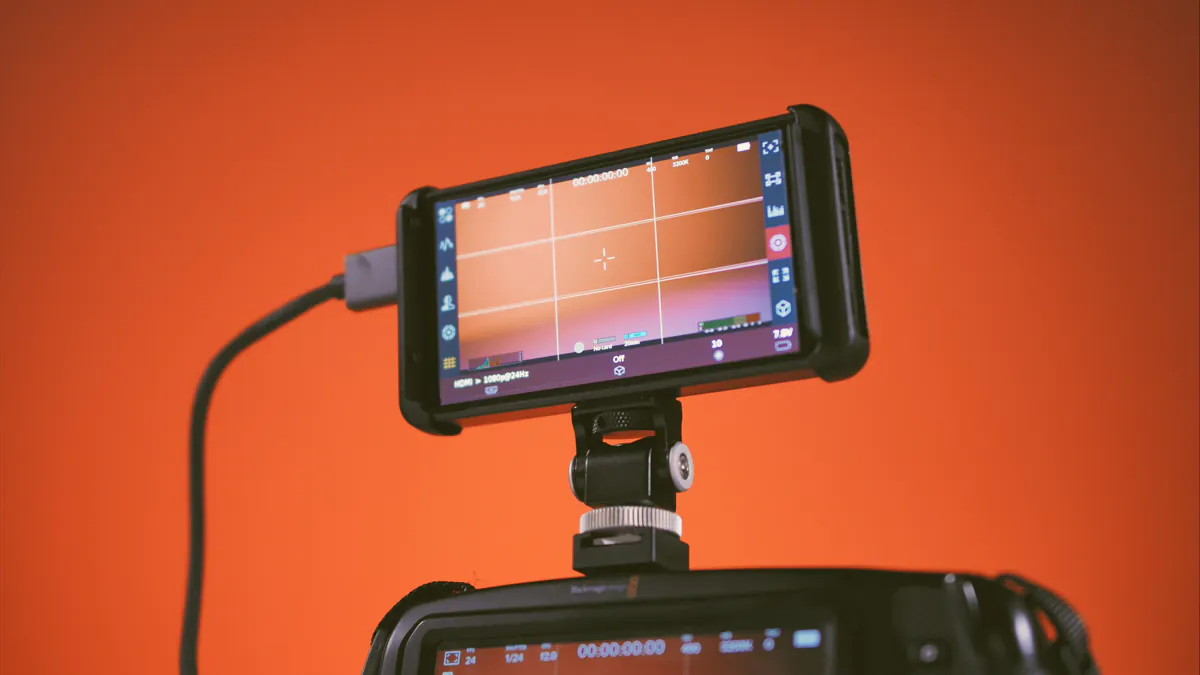 You know, buying a used set with Blackmagic Design Pocket Cinema Camera 4K had its advantages. Yes, there was no key to DaVinci Resolve in the kit, but the hardware of the system turned out to be just like Xiaomi, top for the money. The Sigma Art 18-35 F/1.8 lens is top, the power system is top, the accessories are top, even the PortKeys PT5 monitor was an absolute top for the money.
PortKeys PT5 video review
Don't want to read? Watch the video:
Specifications
Judge for yourself. 5 inches, IPS, touch panel, FHD resolution, 4K support, brightness up to 500 nits. The panel is 8 bit + 2 FRC, there is support for 3D LUTs. The set includes a sun visor and a hard case that fits both an HDMI cable and a complete base for monitors with a tilt, hot shoe and 1/4 inch thread on the bottom.
And that's not all! There are 2 HDMI here, input and output, with Pass-Through support, and input up to DCI 4K frames. There is also USB 2.0 Type-A for loading LUTs, and a mini-jack for audio output.
You can power the monitor via NP-F, Sony LP-6E behind and DC 5525 on the side!
Actually, I was able to power the monitor even through, sorry, the OTG mode of Redmi Note 10 Pro, via a Type-C cable + adapter, because the monitor consumes only 6 watts.
Powering with USB
I will say more, that USB Type-A… It is both input and output at the same time. The input is up to 10 watts, the output is 5. And to power the monitor, you will need to have a Type-A to Type-A cable, which, according to my data, does not exist, or Type-A to Type-C with a Type-C to Type-A female-to-male adapter.
That thing is very rare, but as we see again and again – irreplaceable. Another strange thing is that the monitor CANNOT be switched off in the USB power mode. It turns on by itself when the power is connected, regardless of the switch position, and turns off when the USB is taken out. It is a strange thing.
Market positioning
And all these are only physical advantages, for the price of 5,000 hryvnias before the war, or 180 dollars in foreign countries. Now the monitor costs about 7k, and that is if you can find it.
Because for the same price there is a replacement, PortKeys PT5 II, which is better only with additional holes for cooling. No, I'm not kidding.
Software
The main advantage of this monitor for me was the software. There is support for sound level, and guide lines, and zoom, and false color, and zebra. There are histograms, waveforms through lighting and separately through RGB, there are sights, zoom, focus picking.
There is support for flipping the image, changing the brightness, it is possible to customize both the interface and each of the available chips in more detail!
Actually, there are so many features that it is easier for me to name what I noticed is missing. There is no vectroscope and no parade. And the possibility of some chips is limited. For example, zoom is maxed at 3x. However, others absolutely beat even the chips in Blackmagic.
For example, control over focus picking. You can't imagine how flexible the setting of this feature is. Especially the mode -, when the contours are not highlighted on the screen, but simply shown. Only they, only contours. With the sensitivity setting.
This feature alone made me find a place for PortKeys PT5 for permanent use on Blackmagic Design Pocket Cinema Camera 4K. Because the focus picking there is not even close to that powerful. And since the zoom mode on Blackmagic is much worse, the combination of two screens with different information makes real miracles!
Read also: Sigma 18-35mm F1.8 DC HSM Art Lens Review: A Default Option For Cropping
Oh, and a small recommendation. For a long time I could not understand how to change the position of the zoom center on the monitor. I did not find it in the instructions, I saw only presets for pressing the center to the edges of the picture. In fact, everything is much simpler.
It is enough to turn on the full-screen mode with a tap, and with a long press drag the center of the zoom wherever you want. Yes, by the way, and the guides are turned on, if they disappeared, just turn on full screen mode.
Problems in use
However, the monitor has some drawbacks. The first and the smallest one is touch control. The fact is that swipes up and down on PortKeys PT5 during operation change the setup windows, and I, more often than I would like to admit, simply switched the window when trying to press an icon.
The icons are small, and the sensor here is not top 10, frankly speaking. However, you can not imagine how often I did it… until I realized that these plastic bases for the visor can be removed.
Please do not get me wrong as I got the monitor without instructions, already with the bases, and it is quite difficult to remove them in general, and I thought they were just glued. No, they are not glued.
However, this is my own fault. But the lack of battery indicator and camera operation is the monitor's problem. Another problem is a glitch with deformation of the center of the picture, when you need to turn the image 180 degrees, say, when shooting unboxings.
The monitor just goes nuts, and it can't be fixed because I have the latest firmware. However, I cured it by resetting the settings to default, and BEFORE shooting birolls, so I can not show you. However, I repeat once again – resetting should always be your first debugger!
Conclusions

PortKeys PT5
The price of $180 and an incredible set of features makes this monitor simply the best budget option. Actually, if you pump in another 200 bucks, the only thing that will be added here is probably only SDI, 4K and a diagonal with more brightness. Everything else is already in place in PortKeys PT5. I absolutely recommend it. And I hope that PortKeys PT5 II will have more stable firmware.
Avaliable on AliExpress
Read also:
You can also help Ukraine fight with Russian occupants via Savelife or via an official page of the National Bank of Ukraine.