In this review, we will discuss the Samsung Bespoke Jet 580W wireless upright vacuum cleaner with its own cleaning station (in other words, a vacuum cleaner for a vacuum cleaner), features, pros and cons of the device.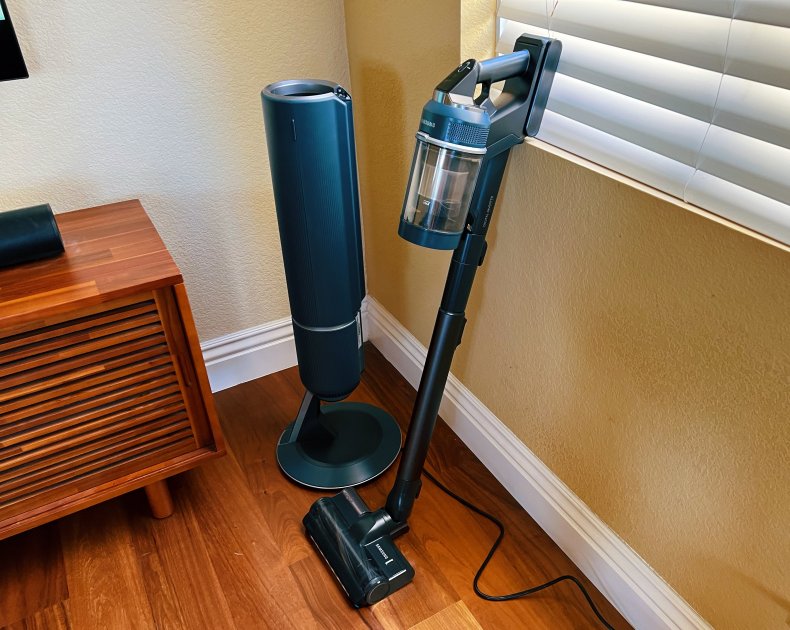 It's hard to imagine life in the modern world without a vacuum cleaner. On the one hand, cleaning is a boring routine, but on the other hand, people wouldn't be people if they didn't figure out how to make this process easier. In my opinion, a wireless vacuum cleaner is the best thing that humanity has come up with. At least among all types of vacuum cleaners. Convenience is in the little things. You don't have to take it out of the pantry/wardrobe, assemble it, or plug it into an outlet. And you don't even need to remove all the items from the floor, as you would with a robot vacuum cleaner. You can simply pick up the finished device and do the necessary cleaning, even if it's selective.
Today I'm going to talk about a wonderful device that makes cleaning as easy as possible.  If a new product is presented by the world's flagship of technology, then it definitely arouses interest. So, I tested the Samsung Bespoke Jet wireless vacuum cleaner. I should note right away that this is not a budget model. The Bespoke Jet costs from $900. Let's see what's special about this vacuum cleaner.
Samsung Bespoke Jet Complete specifications
Motor: inverter
Maximum power consumption: 580 W at the vacuum cleaner, 1300 W at the cleaning station
Suction power: 210 W
Voltage: 25,2 В
Battery type: Li-ion
Operating time: up to 60 minutes (refers to the minimum power level when connecting a non-motorized brush)
Noise level (dBA): 86
Type of pipe: telescopic
Dust container capacity: 0,5 л
Display type: LCD
Weight: 1.44 kg central module, 2.7 kg whole vacuum cleaner
Includes: vacuum cleaner, universal cleaning station and three replacement bags, accessory dock and spare battery charger, unique Jet Dual Brush, Slim Action Brush, pet hair and pet hair brush, two crevice attachments (one with stiff bristles at the end), replacement battery, flexible nozzle adapter
Available colors: pearl white, satin blue, bottle green (depending on the model)
Features of the cleaning station: 1400 W power, 2.0 l dust container capacity
Filters: outlet filter, fine dust filter, pre-motor filter
Weight of the cleaning station: 6.7 kg
Design
Vacuum cleaner Bespoke Jet
In general, the device does not differ from its "relatives" from other Samsung series and even from other vacuum cleaners of this type. Everything is familiar, the design is stylish and modern, the materials are of the highest quality, the assembly is perfect, all buttons, latches and connections are fixed perfectly and do not play – you can immediately see an expensive item from a famous brand.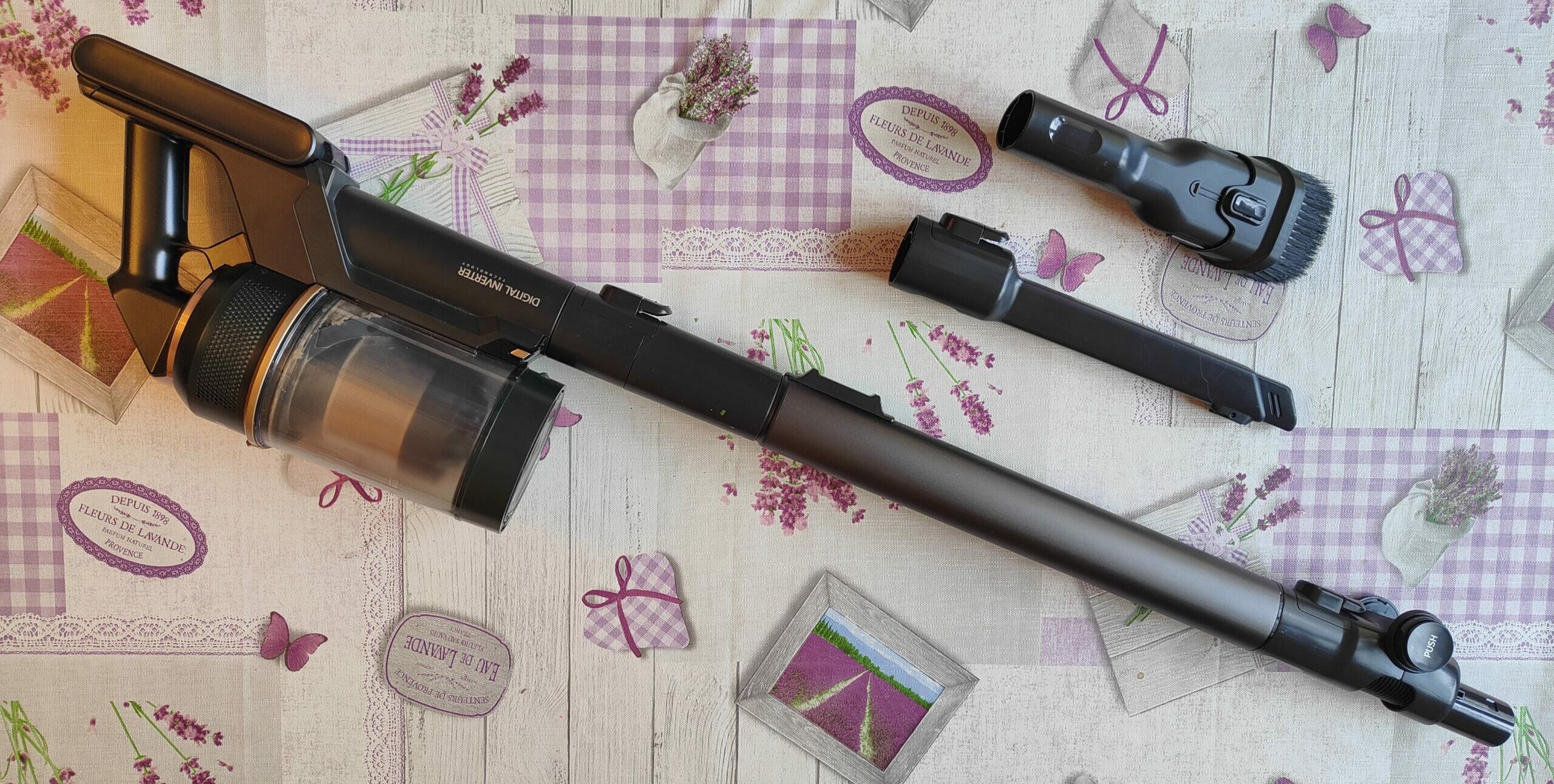 The weight of 2.7 kg (plus the brush attachments) may seem heavy to some, but the device is comfortable to use and the hand does not get tired.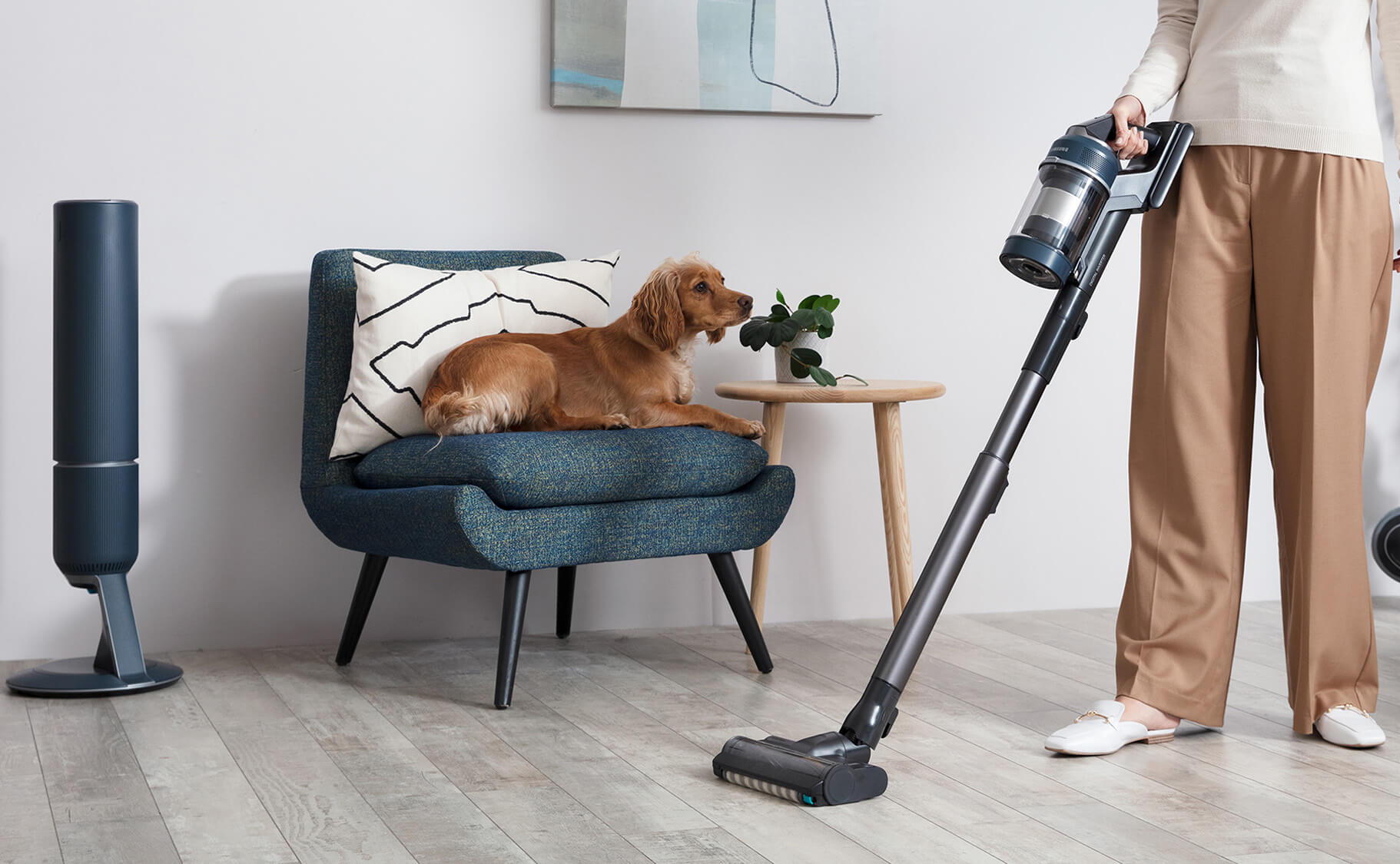 There are three color options for the vacuum cleaner, but there is no such thing as a color you can choose. Each modification has its own color. Specifically, we had a Pro, and I'll tell you more about what each version comes with below.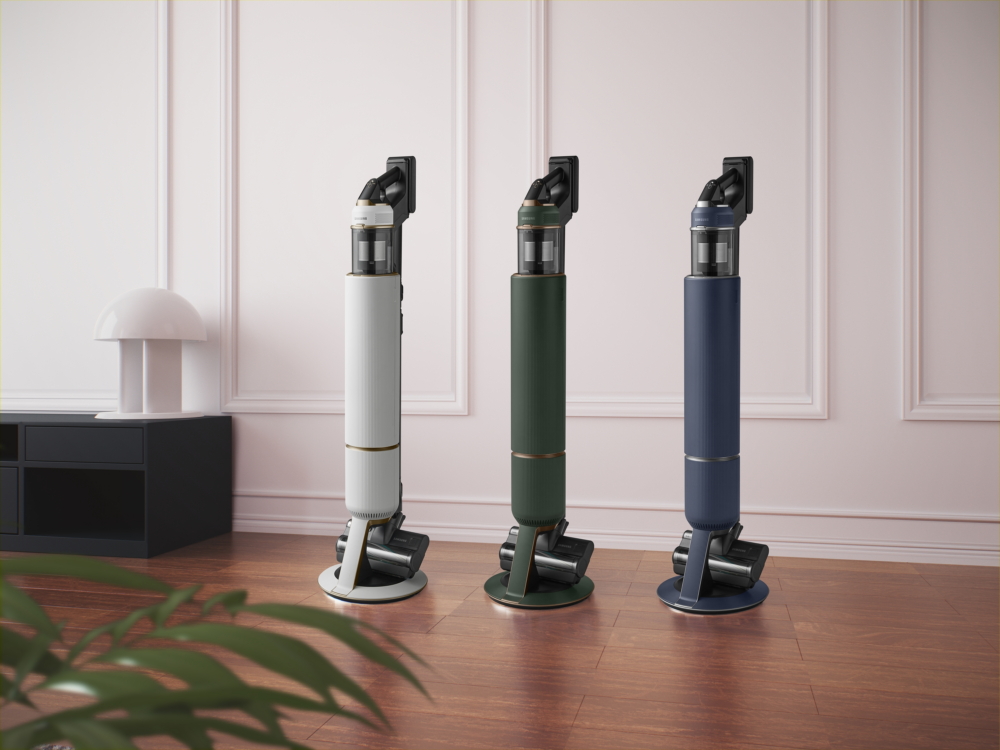 I'd just like to note that our vacuum cleaner in navy blue is hardly blue, the shade is not visible in the photo, the model looks simply black or dark gray. At the same time, it has silver design elements that look golden in our photos! But two models – white and dark green – actually have golden elements, which looks great. In general, the camera's color reproduction is confusing, but in general, it's not a big deal.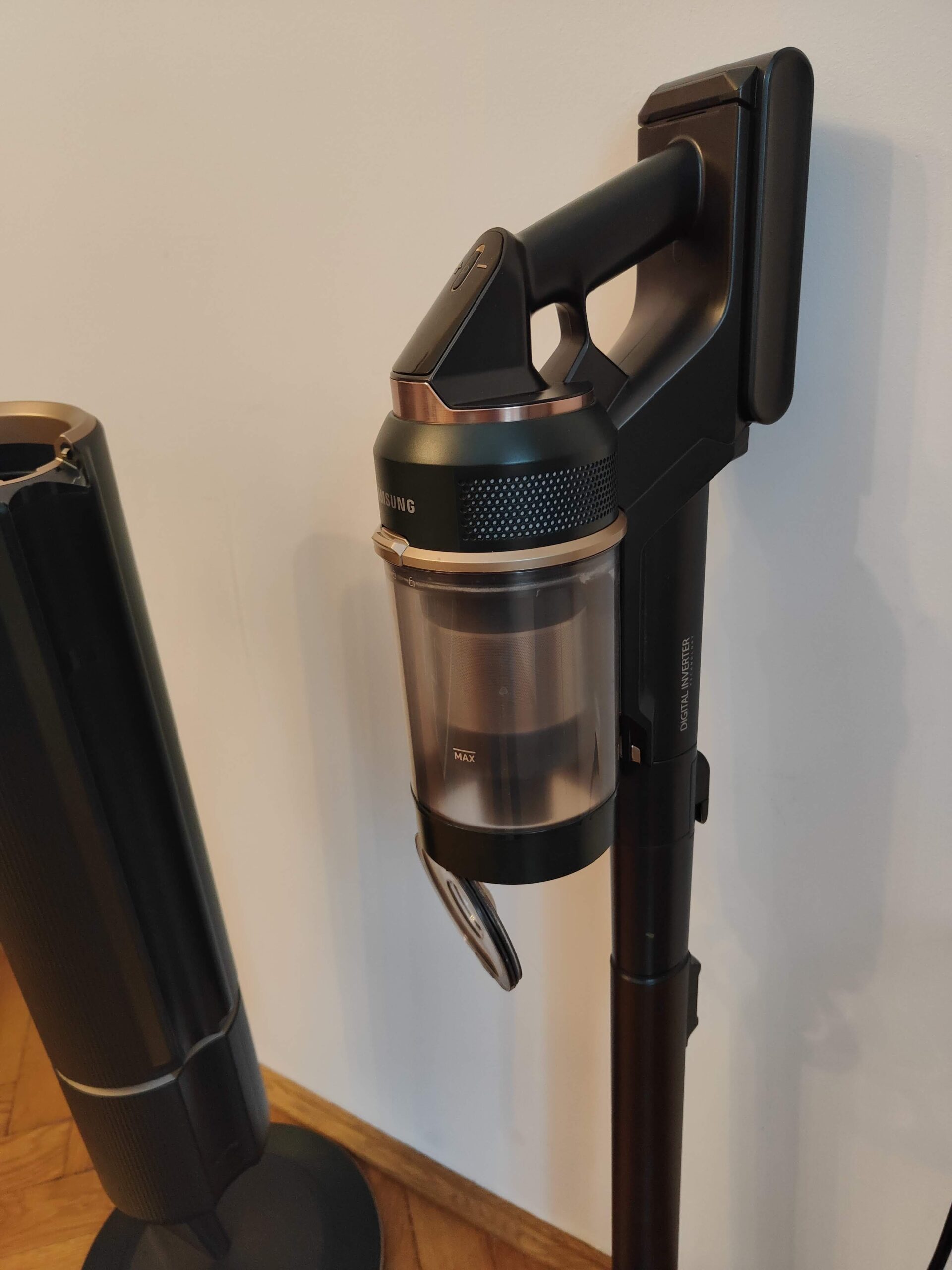 The vacuum cleaner is equipped with an LCD display that shows the current mode, elapsed and remaining operating time, notifications when something is stuck in the brush, and so on. It supports 28 languages and can be changed with keyboard shortcuts.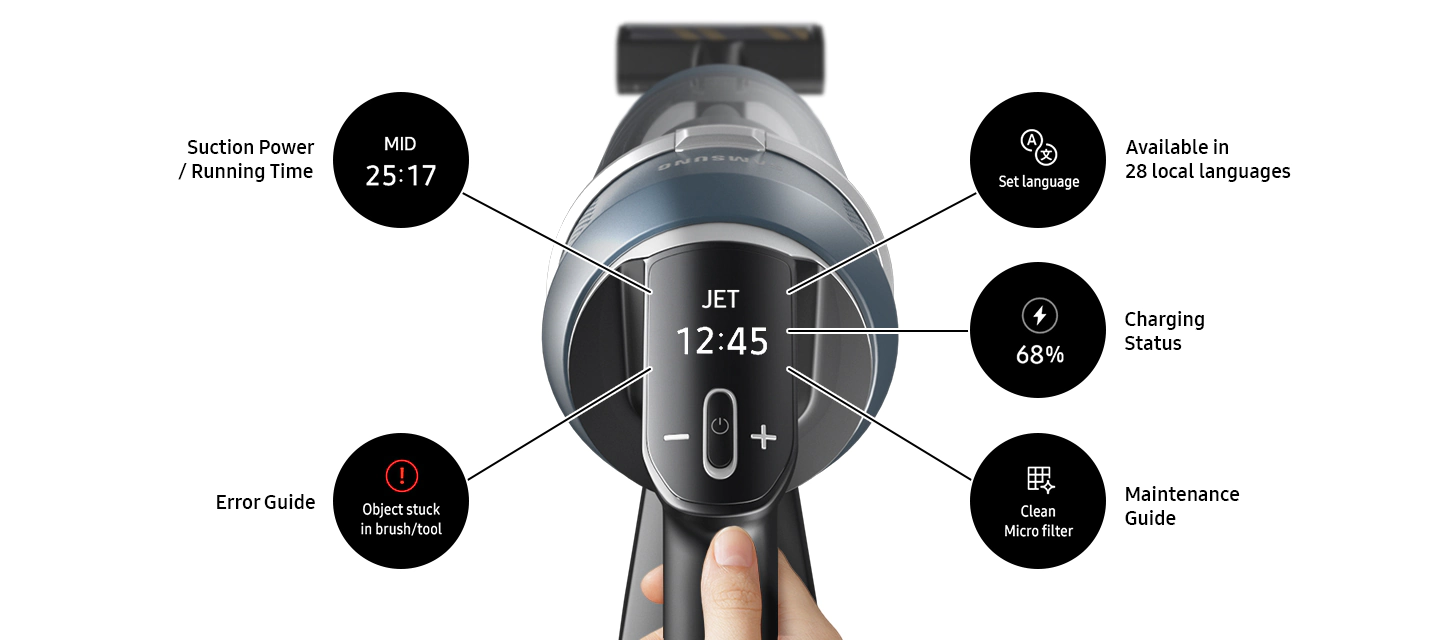 It's convenient that the vacuum cleaner has an on/off button, not a trigger that you have to hold down all the time, as in Xiaomi models, which makes your finger tired.
Cleaning station
The first thing that catches your eye is the unusual design, downright futuristic, which is where the novelty and peculiarity lies.
The Samsung Bespoke Jet upright vacuum comes with a cleaning station that sucks debris from the vacuum's built-in tank into an external bag inside the emptying station. Samsung has released similar stations before, but you had to put both the vacuum cleaner and the station somewhere, and in the case of the Bespoke Jet, the station also doubles as a stand for the vacuum cleaner, which is convenient.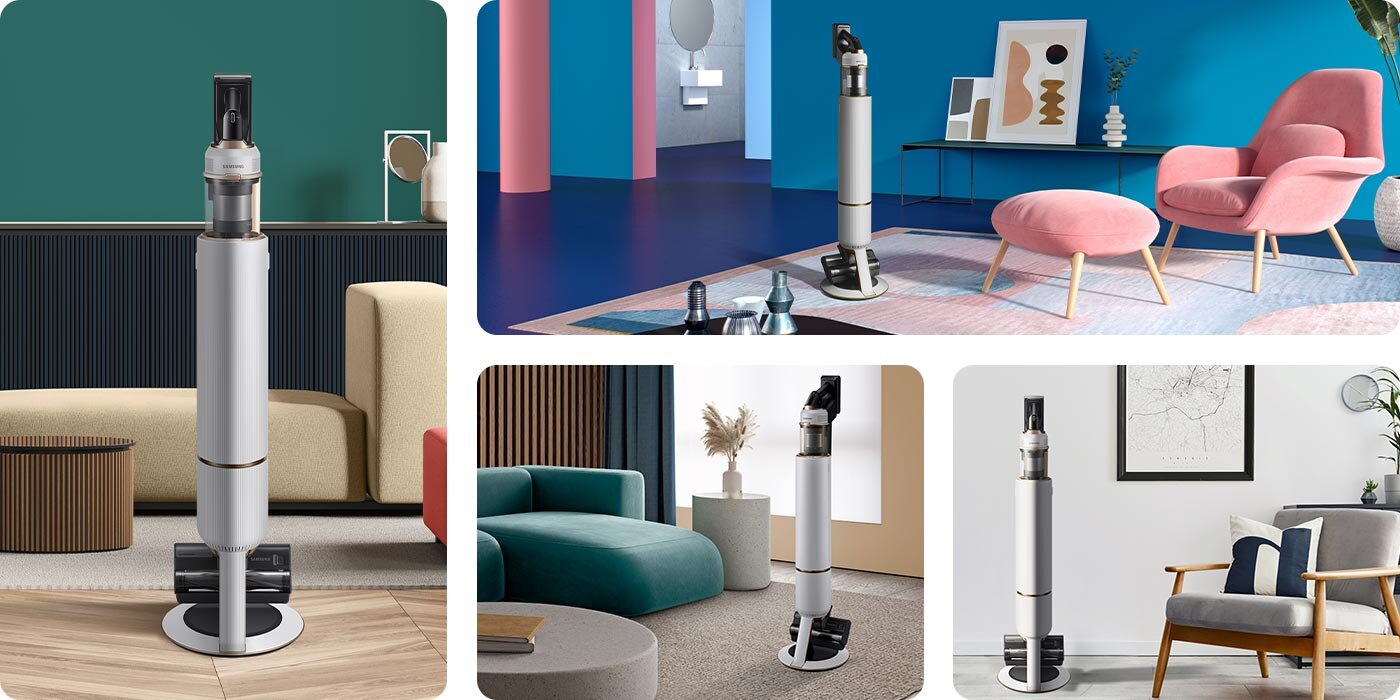 Cleaning the filter bin is easy. The vacuum cleaner is placed on a station, and a cleaning button is placed on this station, directly next to the waste container, which starts the process.
There is a disposable bag in the station where the garbage from the container on the vacuum cleaner goes.
The capacity of the garbage bag is 2 liters. You simply throw away the bag and replace it with a new one, no hassle and no physical touching of dust and debris. There is also an additional filter at the bottom of the station.
In addition to automatic cleaning, the Samsung Bespoke Jet features a multi-stage filtration system. A cyclonic filter in the dust canister while sucking in air and a multi-layer filtration system while air is passing through the canister retain 99.999% of dust, while the antibacterial bag inhibits the development of bacteria. The presence of several air purification systems makes this vacuum cleaner an interesting option for allergy sufferers. In addition, they do not have to inhale dust when emptying the container, which is also a big plus.
The universal cleaning station is designed quite elegantly. And if we do not consider the issue of its direct purpose, then, on the one hand, it is a larger accessory compared to other models, and on the other hand, it is also a vacuum cleaner stand, which is quite convenient.
The vacuum cleaner is placed on this stand, cleaned and recharged immediately. It is also convenient that the stand can be moved from place to place, unlike the base for wireless vacuum cleaners, which is screwed to the wall. But keep in mind that the station is heavy – 6.7 kg.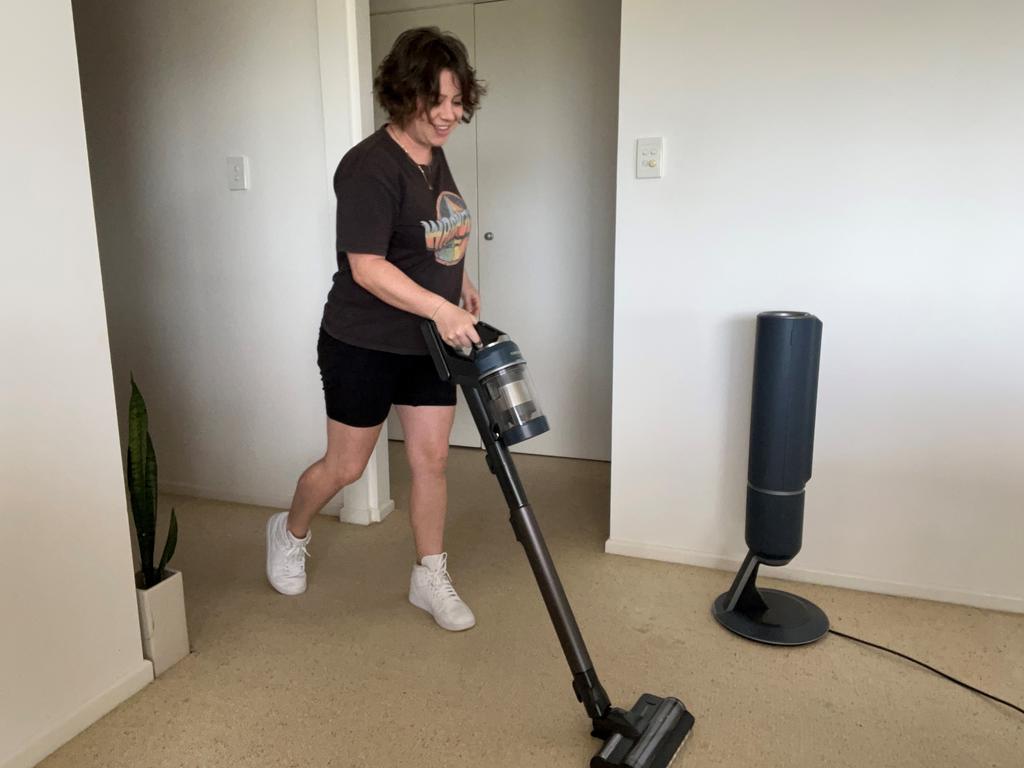 Cleaning the vacuum cleaner canister takes about 10 seconds. When cleaning is complete, the station turns off. However, you should not lift the vacuum cleaner during cleaning – it will have the dust collector lid open, and the debris will fly out. Do not repeat my research mistakes.
Performance
A common problem with wireless vacuum cleaners is the power and very limited runtime. In terms of power, the Samsung Bespoke Jet is excellent. This model has four modes: minimum, medium (turned on by default), maximum, and Jet. I don't see much use for the minimum mode, except for cleaning the keyboard. The medium mode gives me a good impression, as it sucks in the same way as much cheaper upright vacuum cleaners. But when you switch to the maximum mode, it becomes obvious that the model can compete with a classic wired vacuum cleaner in terms of power, which is rare for wireless ones! What can we say about the Jet mode! On the super-powerful mode, I think this gadget has no equal among wireless ones, it sucks very well.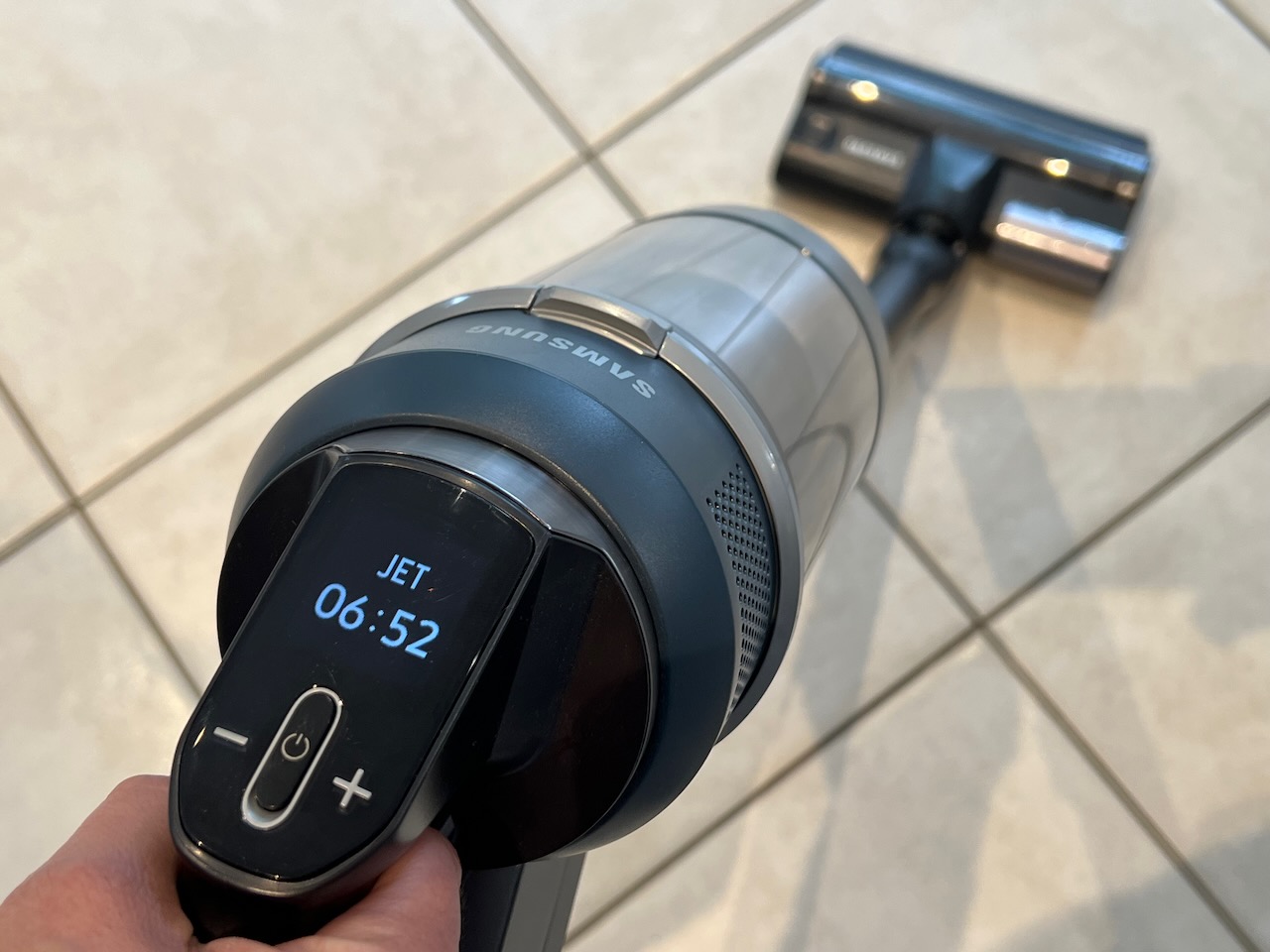 Thanks to the fact that the vacuum cleaner is very powerful, I cleaned a 45-square-meter apartment with two carpets in 15 minutes, alternating between modes. With a regular corded vacuum cleaner, it takes me twice as long! That is, I had enough charge time to spare. For comparison, when testing budget models of wireless vacuum cleaners, it took me a full battery charge to clean the same area, and sometimes it was not enough. The Samsung Bespoke Jet used only 30% of its charge.
Noise level of the Samsung Bespoke Jet
As for the noise from the vacuum cleaner, the manufacturer claims 85 dB, but tests show a lower noise level of about 70-75 dB, which is slightly lower than the noise level of an average corded vacuum cleaner. We are talking about the maximum, loudest mode. In my experience, the Samsung Bespoke Jet is a little quieter than my classic corded home vacuum cleaner. The debris cleaning station is a little louder (it also has 1400 W of power) than the vacuum cleaner during cleaning, but also about the level of a regular vacuum cleaner, so it's nothing terrible.
Modifications and battery life
The characteristics of a vacuum cleaner can be a bit confusing. It should be noted here that there are several versions of the Samsung Bespoke Jet, and their availability often depends on the market:
Samsung Bespoke Jet Pet – one less nozzle
Samsung Bespoke Jet Complete – a full set of nozzles, except for the cleaning one
Samsung Bespoke Complete Extra (or Jet Complete+, depending on the market) – the same as above, but two batteries
Samsung Bespoke Jet Pro (or Jet Premium, depending on the market) – no soft roller attachment, but a washing attachment
Samsung Bespoke Jet Pro Extra (or Jet Premium+) – the same as above, but two batteries
The Pro version was judged by its dark blue color, but there was no spare battery in the kit, nor was there a cleaning nozzle, probably because it was a test version that was used by many reviewers. The Complete version does not have a cleaning head. The Pet version differs from the Complete version in the absence of a soft roller attachment. And Jet Pro Extra and Complete Extra have two batteries in the package.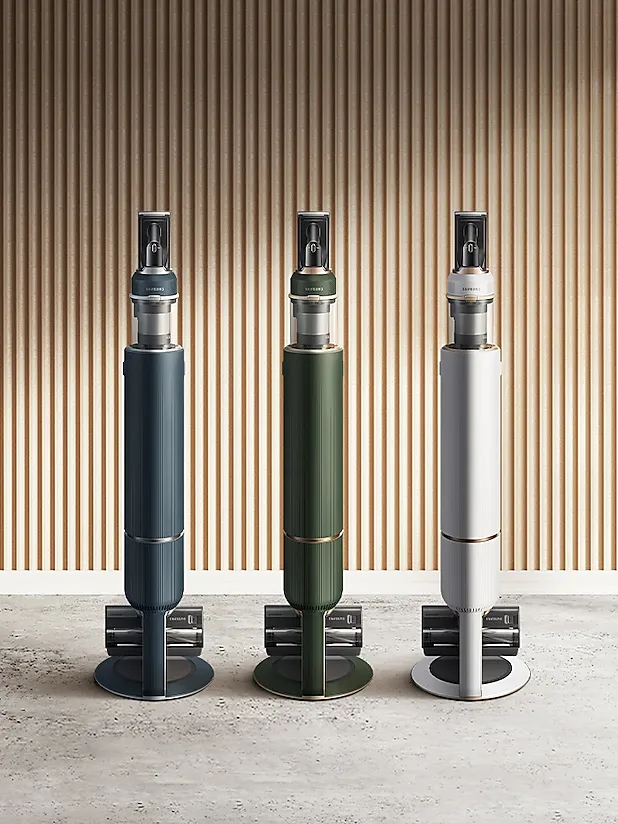 You can compare the modifications and equipment here, but I couldn't find an equivalent in English, but in general, everything should be clear: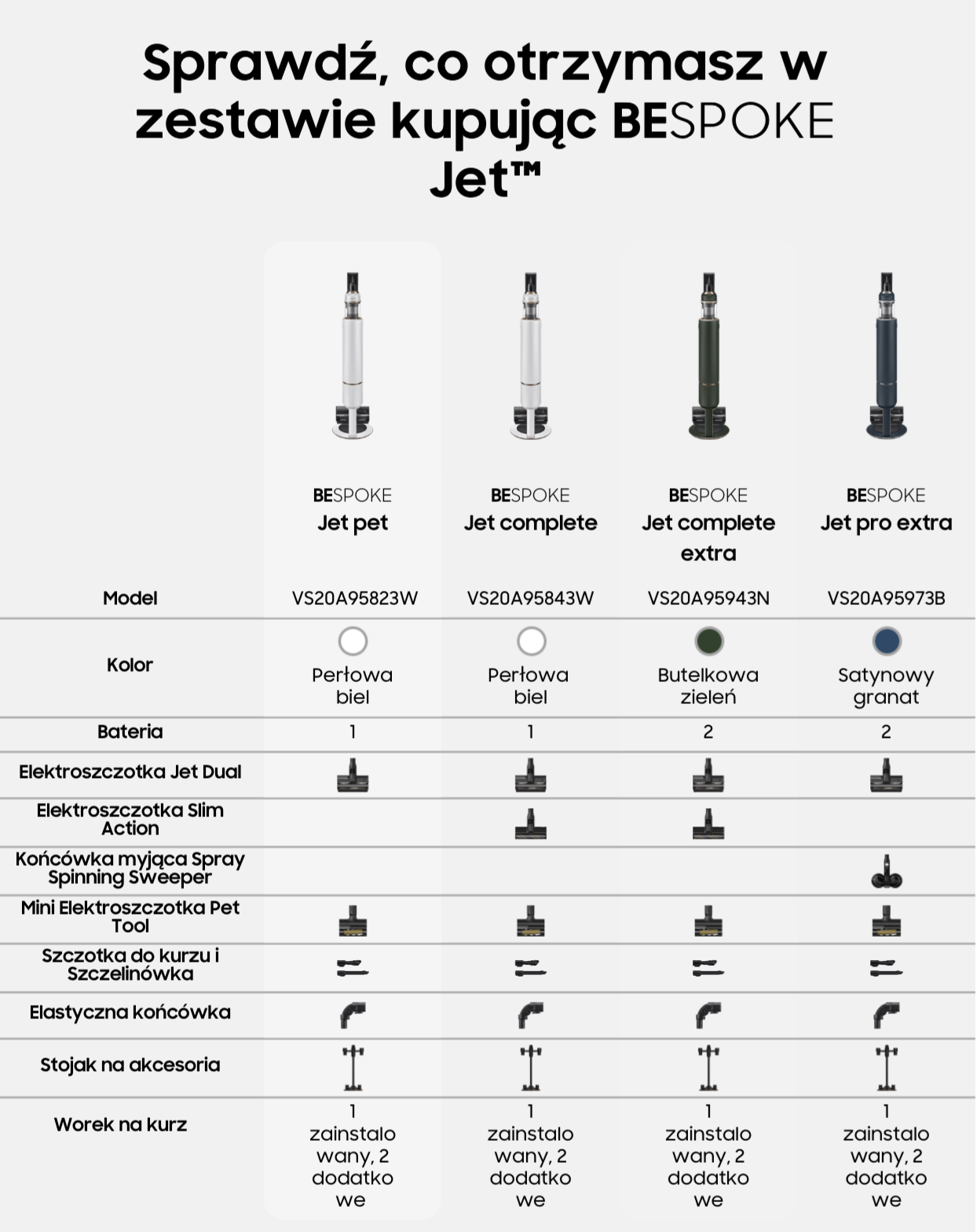 So, in the technical specifications of the models with two batteries included, Samsung indicates a working time of 120 minutes, taking into account the second battery. That is, with one battery, we have 60 minutes.
Also keep in mind that 60 minutes is the operating time at minimum power and without using motorized brushes. In general, the manufacturer is a little tricky for the sake of beautiful numbers.
When using roller (motorized) brushes, with a full battery charge, the display shows the following expected operating time:
On the minimum mode – 42 minutes
On average – 24 minutes
At maximum – 14 minutes
JET mode – 8 minutes
My tests have shown that this time is quite consistent with reality.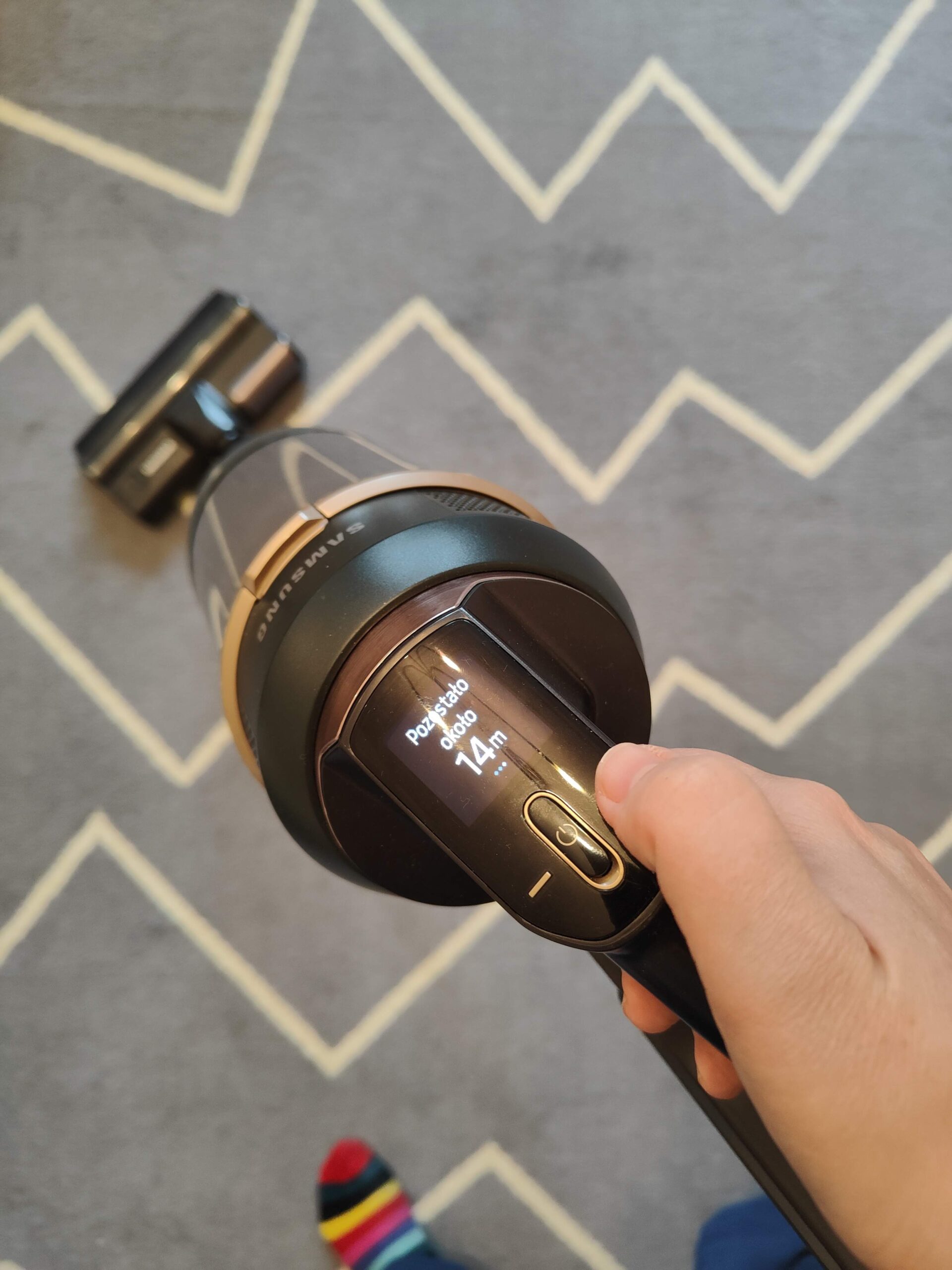 Once fully discharged, the battery takes 80 minutes to recharge.
Read also: Youpin Trouver Power 12 wireless upright vacuum review: Lightweight and Compact
Caring for your vacuum cleaner
I'll call it more of a "fad" for the rich, but it's really convenient to have another vacuum cleaner (the cleaning station) vacuuming the main vacuum! There's no need to shake out the bin, inhale dust, or pull out hair and other tangled debris with your hands. The station cleans the bin perfectly, leaving not a single speck of dust in it. Although, of course, from time to time it will be useful to rinse the dust collector with water and dry it. The filter it contains is also easy to remove and clean if necessary.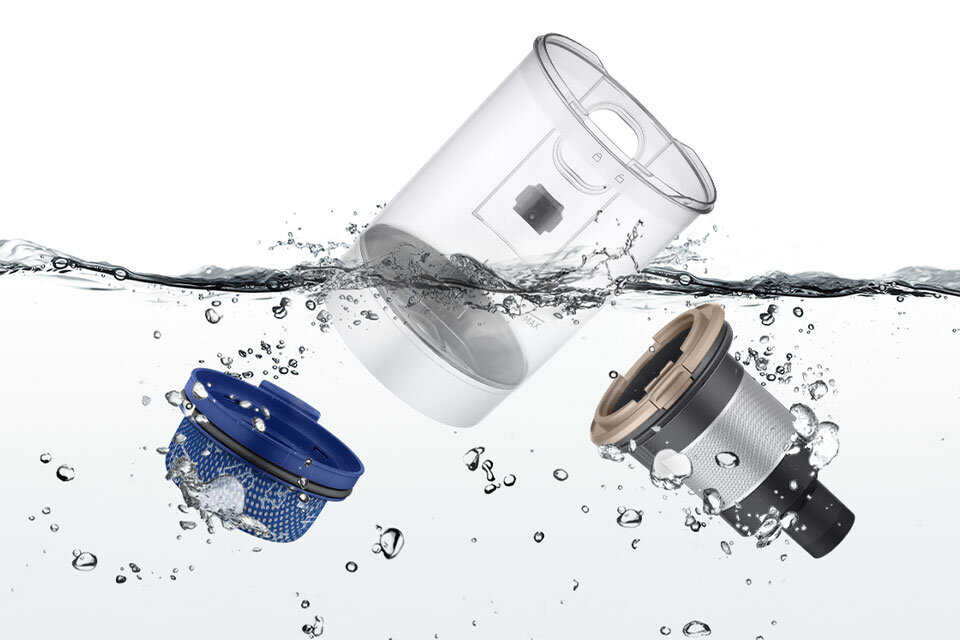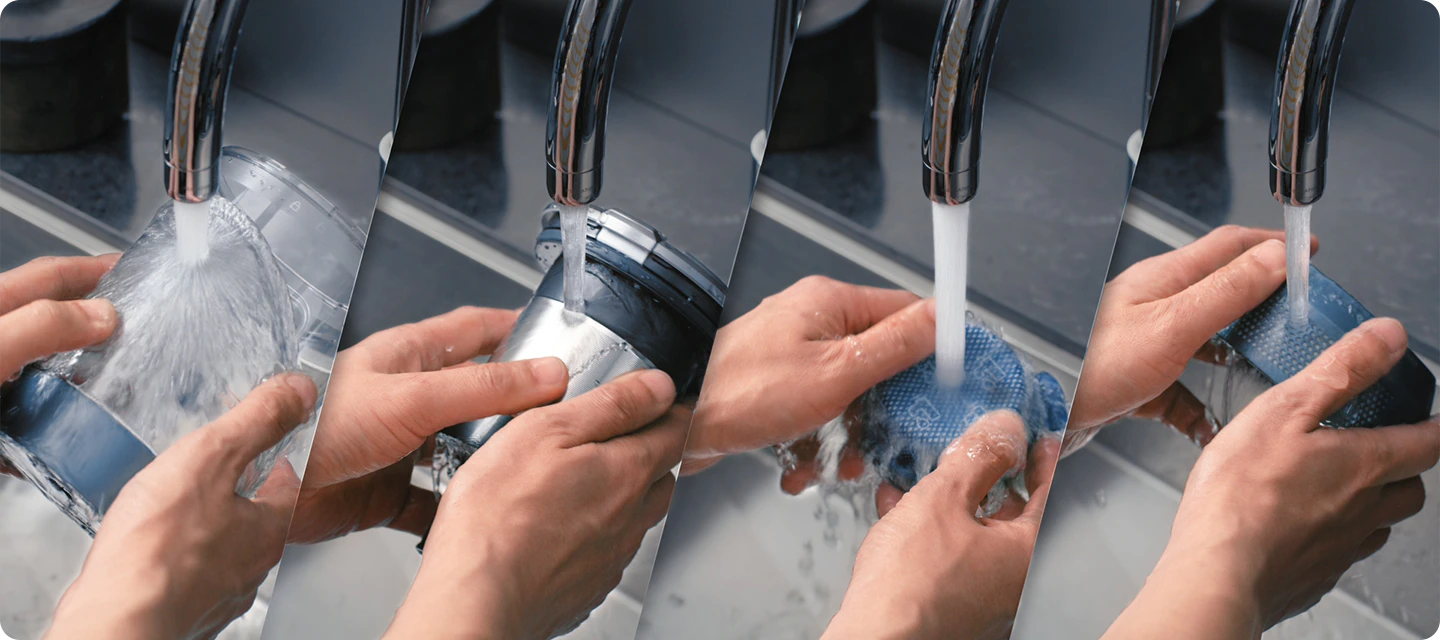 The roller brushes (and the wheels on them) can sometimes get wrapped up in hair or wool, so once every few weeks when you use the vacuum actively, you should sit down and clean them. Otherwise, no special care is required for the device. You just need to change the bags at the station, that's all.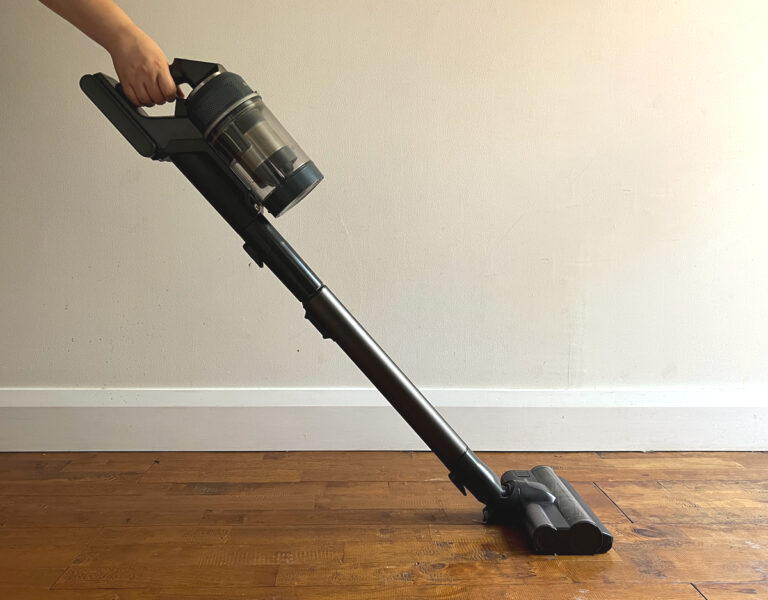 Samsung Bespoke Jet Complete attachments
The following attachments are included with the basic Complete model:
Slim Action floor cleaning brush with soft roller.
Jet Dual brush, which consists of a soft roller and a large rubber roller with nylon bristles and is designed for soft surfaces and carpets. The brush rotates up to 4000 times per minute during cleaning.
The Pet Tool brush is specially designed for cleaning pet hair and wool, and is convenient for cleaning upholstered furniture.
Narrow dusting nozzle with a stiff pile at the end.
Narrow and long crevice brush head for cleaning hard-to-reach places.
Flexible elbow adapter to which the narrow nozzle can be connected for easy use in hard-to-reach areas.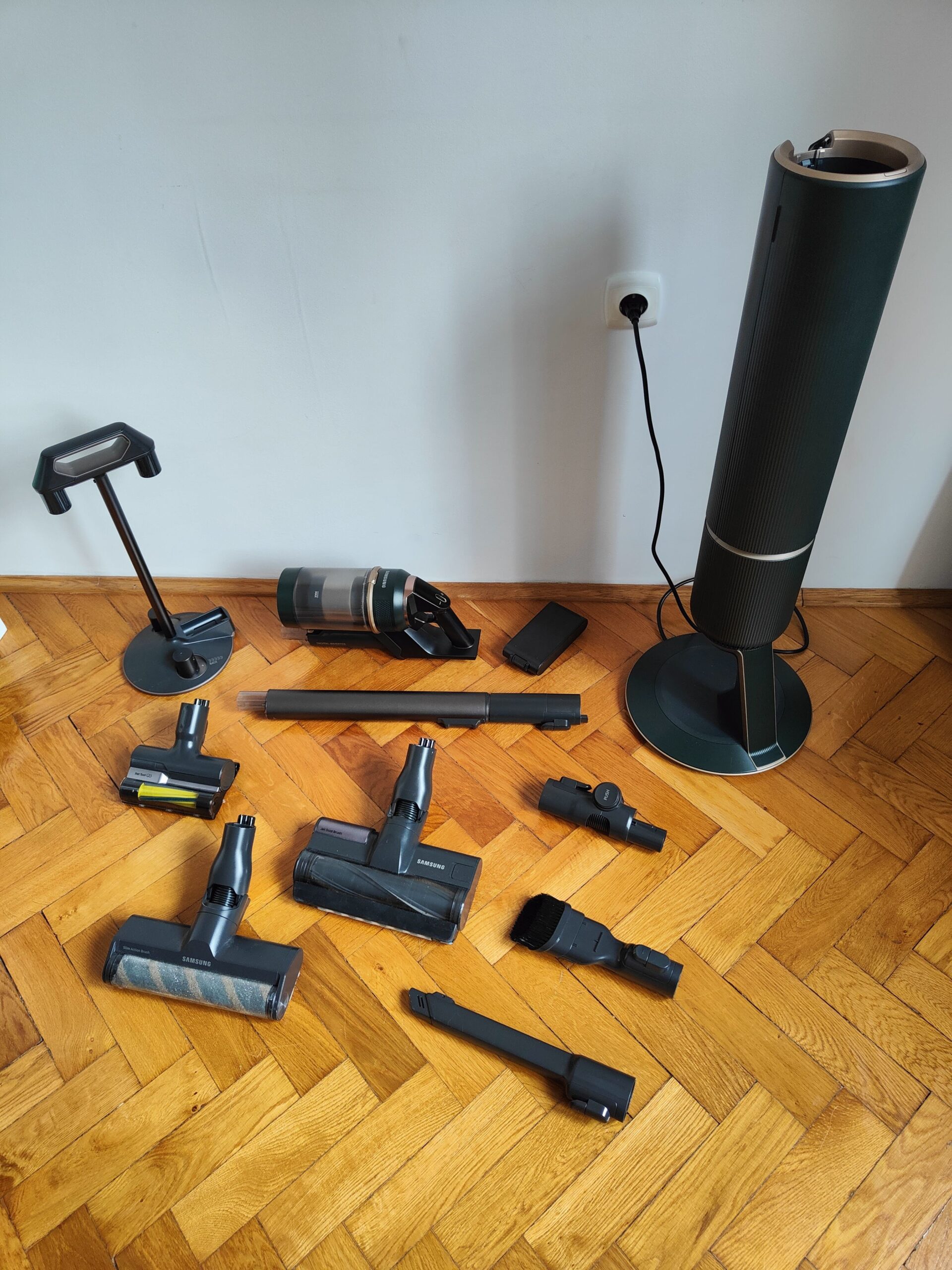 As already mentioned, the Pro version does not have a soft-roll floor brush, but instead has a Spray Spinning Sweeper attachment (in other words, a floor wiper) and "rags" for it – disposable wet ones for polishing and reusable ones for cleaning the floor.

The nozzle for wet cleaning was not included in the test model, so I can't say anything about it. If you want, you can buy it separately, although I'm not sure it's worth overpaying, since it's not a full-fledged floor cleaning – it will only spray from a 150 ml water tank, after which the spinning cloths will rub everything. Although I read the reviews – they say that at least the tiles are cleaned well.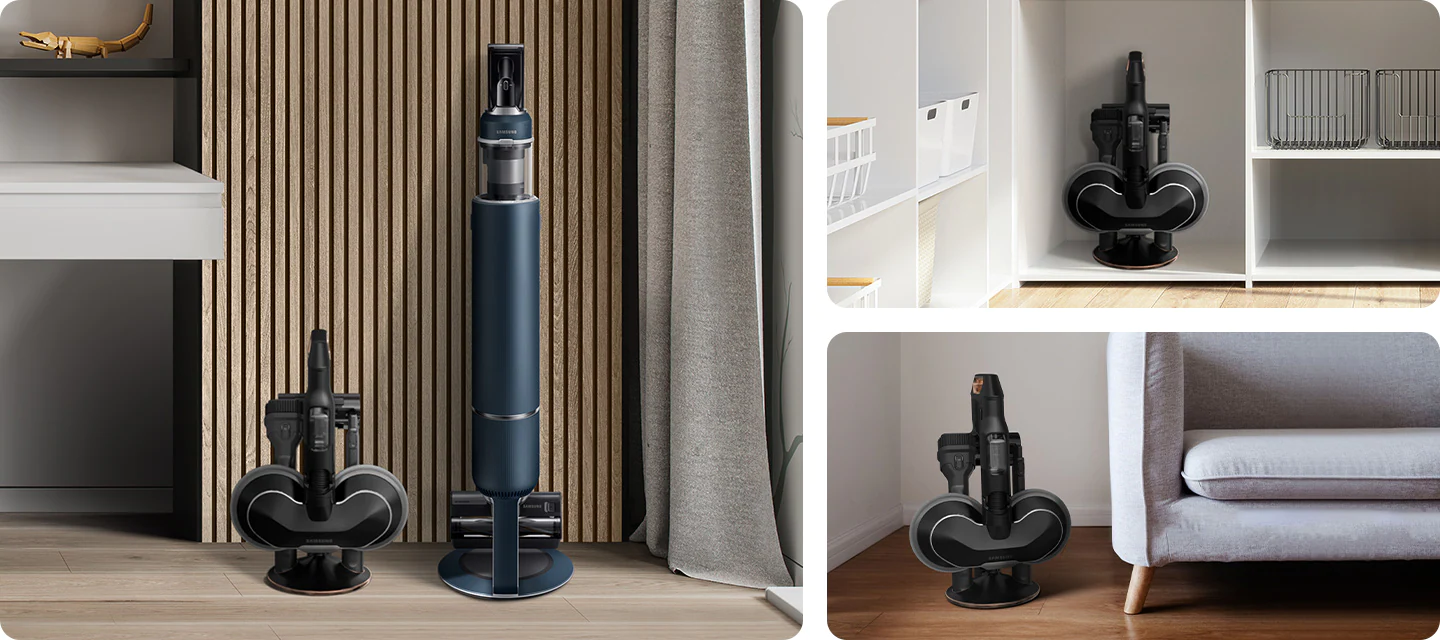 Let me tell you more about the included attachments and my experience with them. The Jet Dual nozzle is unique in that it is equipped with two rollers at once: a silicone roller with thin strips of lint and a soft lint roller. Thus, it collects both fine debris from smooth surfaces and debris from products with a nap.
It really did a great job with carpets, and I also tried to clean a more difficult carpet with this brush – a bathroom rug with a high soft pile. The vacuum cleaner did its job, cleared the debris from the rug. However, it still gave an error: something is clogged in the roller, please clean it. When removing the nozzle from the carpet, the vacuum cleaner continued to display the error, but did not stop working. Turning off the vacuum cleaner helped to get rid of the error.
Each of the roller brushes (Jet Dual, Slim Action, and Pet Tool) is equipped with an electric power boost to increase the quality of debris removal.
The Slim Action brush, equipped with a soft bristle roller, is designed to pick up debris from hard surfaces and is well suited for parquet and delicate wood floors. Indeed, it does a great job of removing debris from hard surfaces, but it also cleans low-pile carpets quite well. However, the Jet Dual nozzle cleans carpets better.
The Pet Tool has a silicone roller with thin strips of stiff lint and strips of bristles in front and behind the roller. This brush head has a smaller width, which allows it to get into tighter spaces. It cleans hair, wool, and small, slightly stuck-on debris really well. It is extremely convenient for cleaning upholstered furniture, in particular.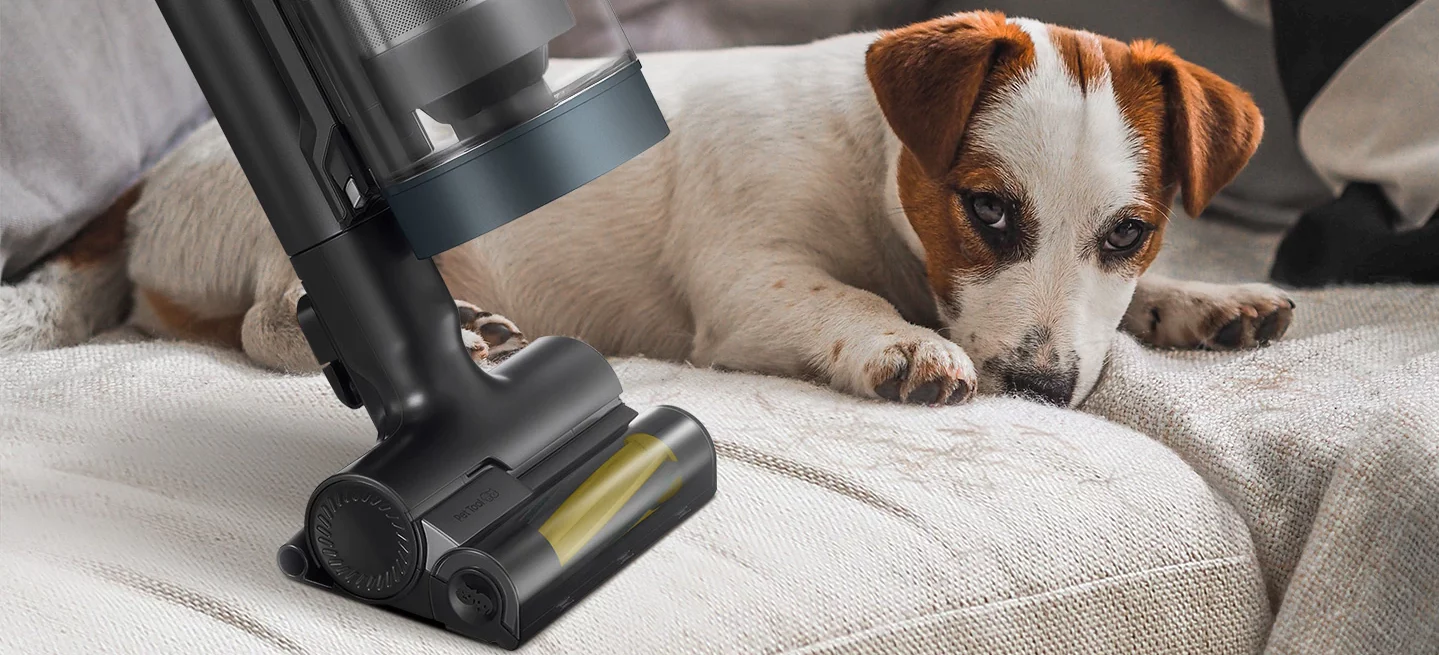 The telescopic tube of the Samsung Bespoke Jet vacuum cleaner has three length positions. At the maximum position, the height from the nozzle to the handle is 112 cm, which is convenient.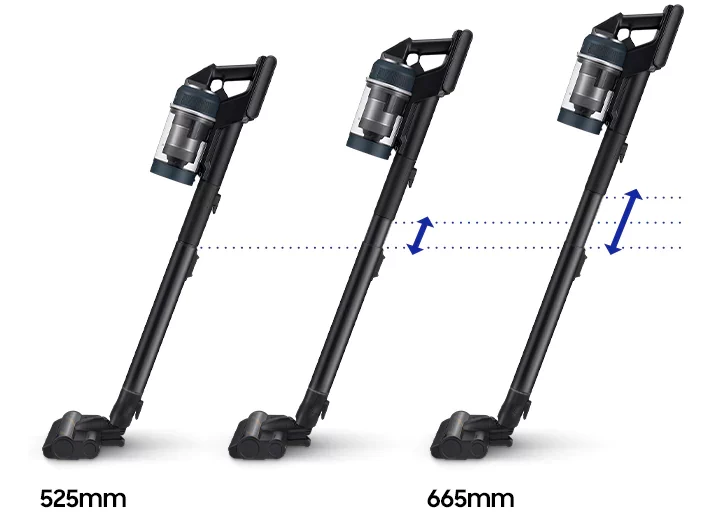 Also included is a flexible elbow that can be installed in front of or after the telescopic tube. The elbow is designed to fix the position at several tilt angles.
Samsung Bespoke Jet flexible tool
It should be noted that only a dust or crevice nozzle can be attached to the flexible "knee".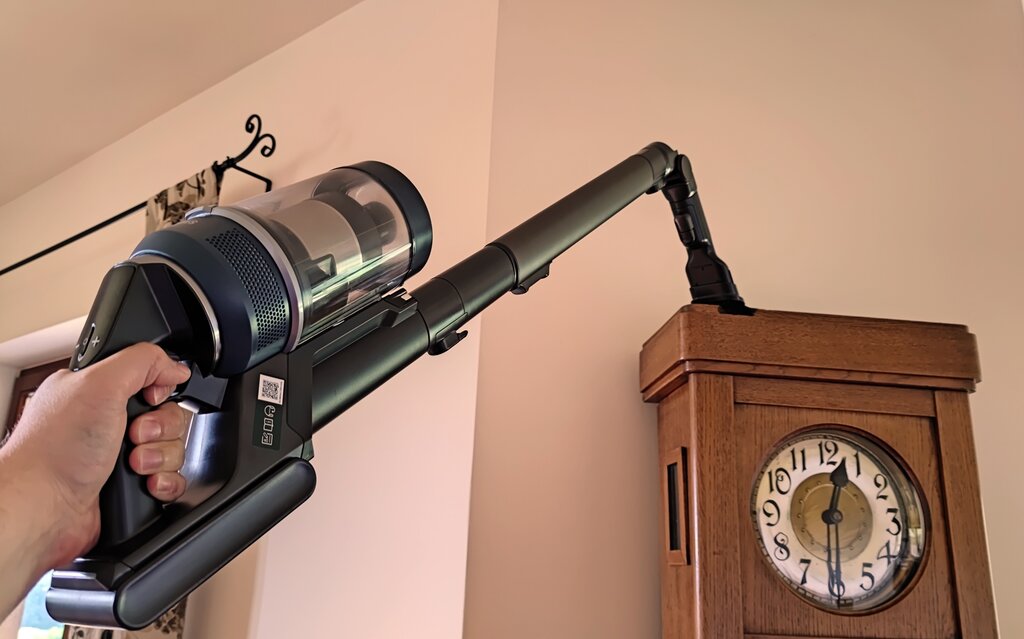 Roller brush heads cannot be attached to the flexible module. This is due to two factors. Firstly, they are equipped with an electrical connector that supplies power to enhance their performance. That is why the maximum operating time of a roller brush is 45 minutes, and the operating time of a crevice or dusting nozzle is 60 minutes. In addition, roller brush attachments are mobile by design. Therefore, there is no need for a flexible elbow for them.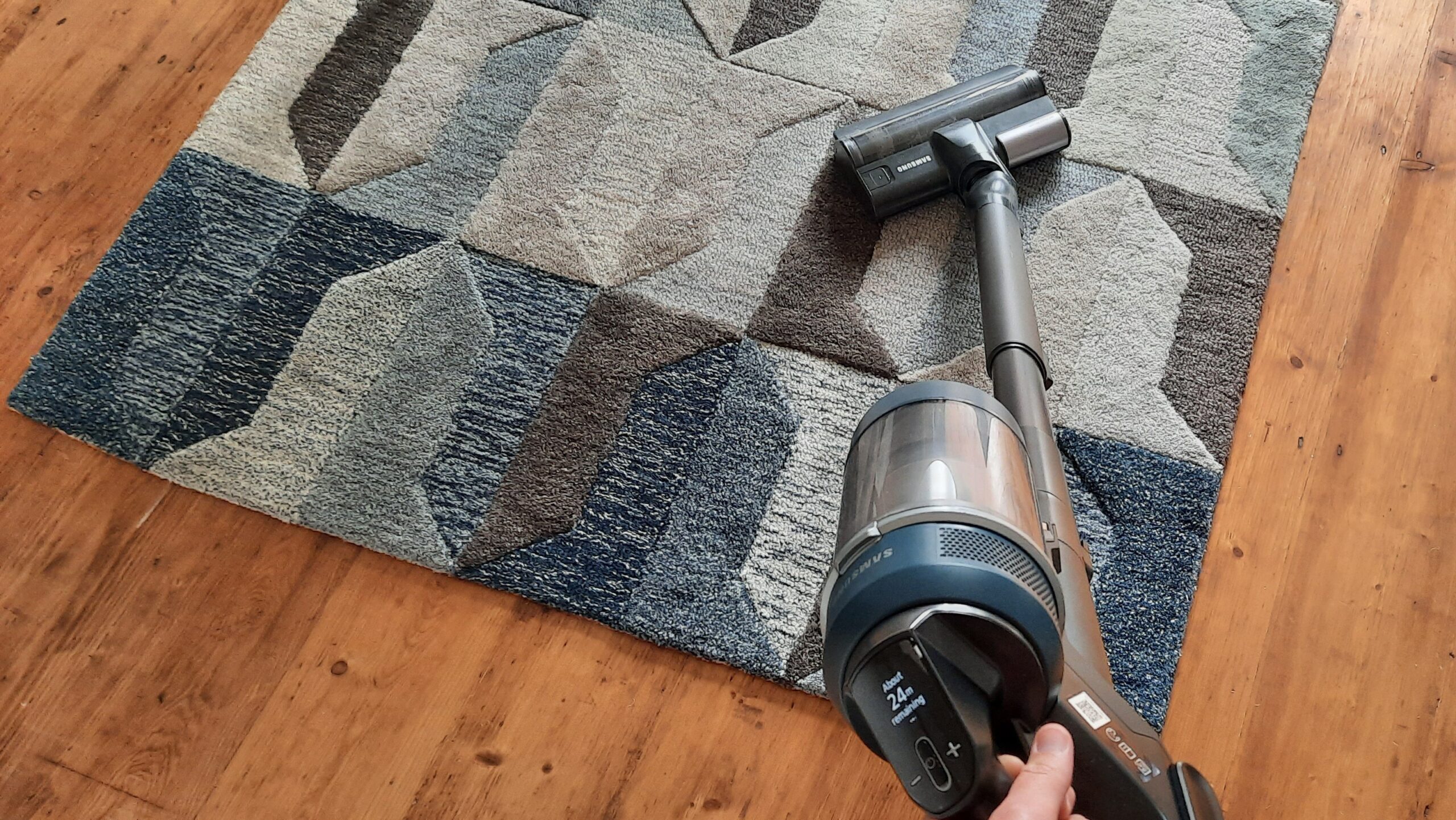 The slotted nozzle is quite long on its own, but you can extend it to increase the length. I found it even too long when folded when I wanted to collect crumbs in the high chair for feeding. But it is really convenient to get to the corners under the beds and on the ceiling, on the cabinets, and so on.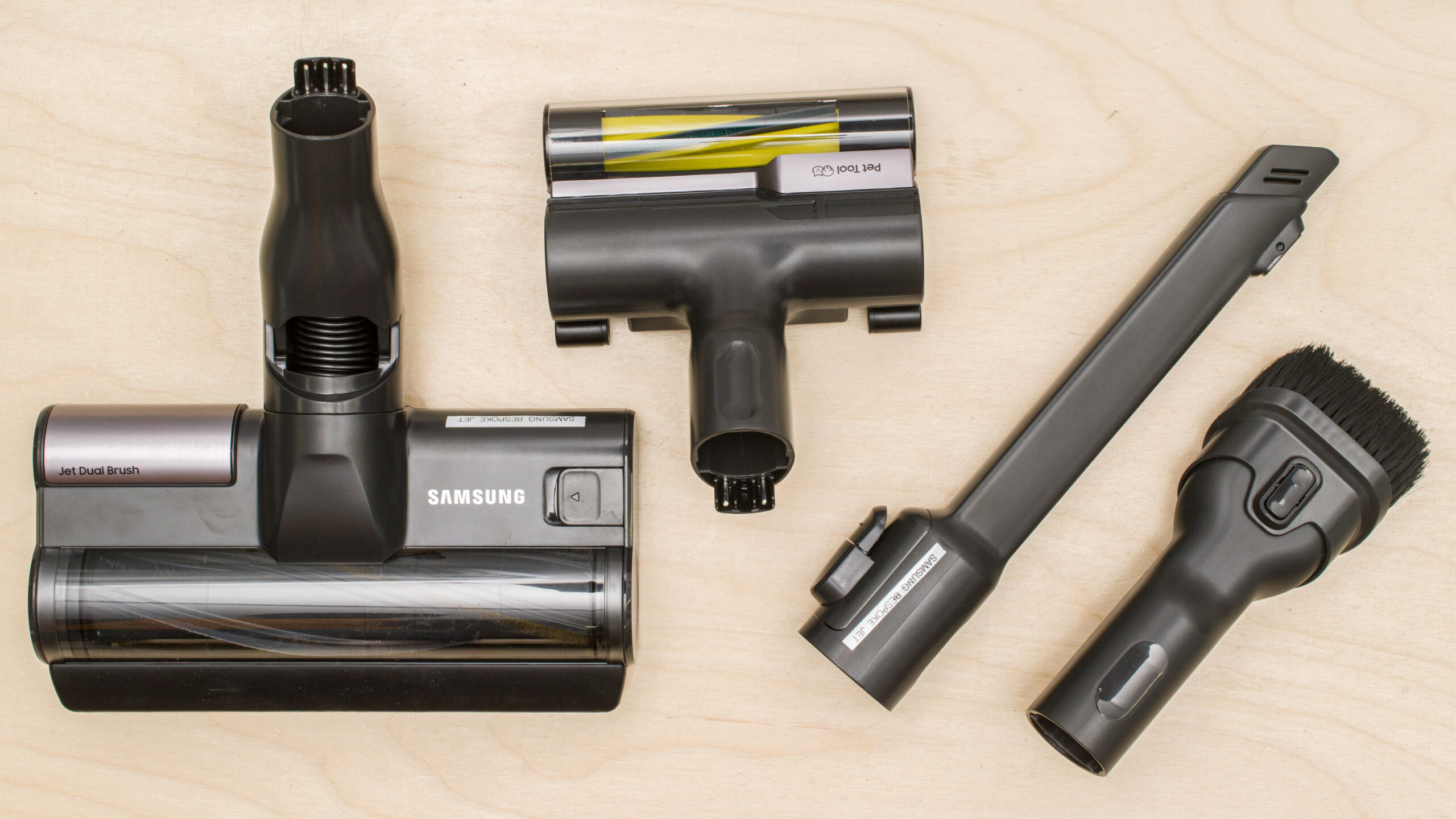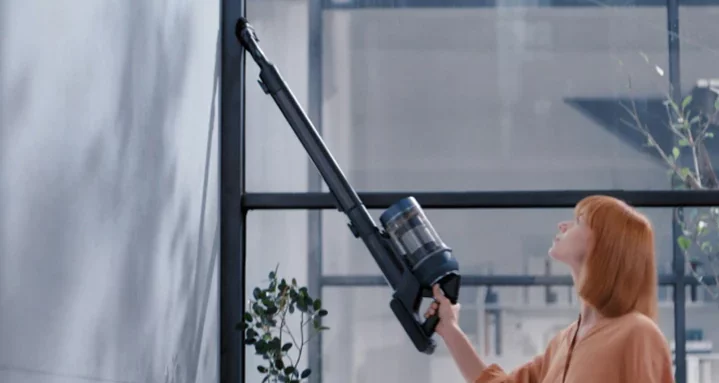 Stand for nozzles
There is no space for attachments on the cleaning station itself, so Samsung offers a separate accessory with a carrying handle. If you leave one nozzle on the vacuum cleaner, the stand can accommodate all the remaining attachments. In addition, the stand has a connector for charging an additional battery. Thus, you can really use the vacuum cleaner for a long time by quickly replacing a dead battery with a charged, ready-to-use second one.
If your Bespoke Jet didn't come with a battery, you can buy one, but it's not cheap – about $170.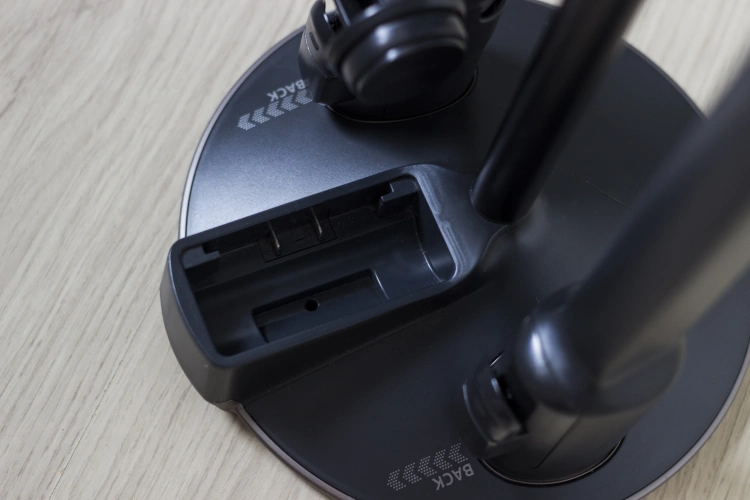 The stand is stable and won't fall over even if you accidentally hit it.
Conclusions
The Samsung Bespoke Jet leaves a lasting impression. The universal cleaning station is truly unparalleled among cordless vacuum cleaners, and together with the multi-stage filtration system, it significantly reduces contact with dust.
The vacuum cleaner itself is very powerful, at maximum power it is not inferior to the best corded vacuum cleaners, although its battery will run out quickly. But in the minimum or medium mode, the device is definitely enough to thoroughly clean a regular two-room or even three-room apartment. There are versions of the Samsung Bespoke Jet with an additional battery included, which can be charged on the accessory stand and allow you to use the vacuum twice as long. There is also a version with a floor wiper attachment, which will surely come in handy for someone.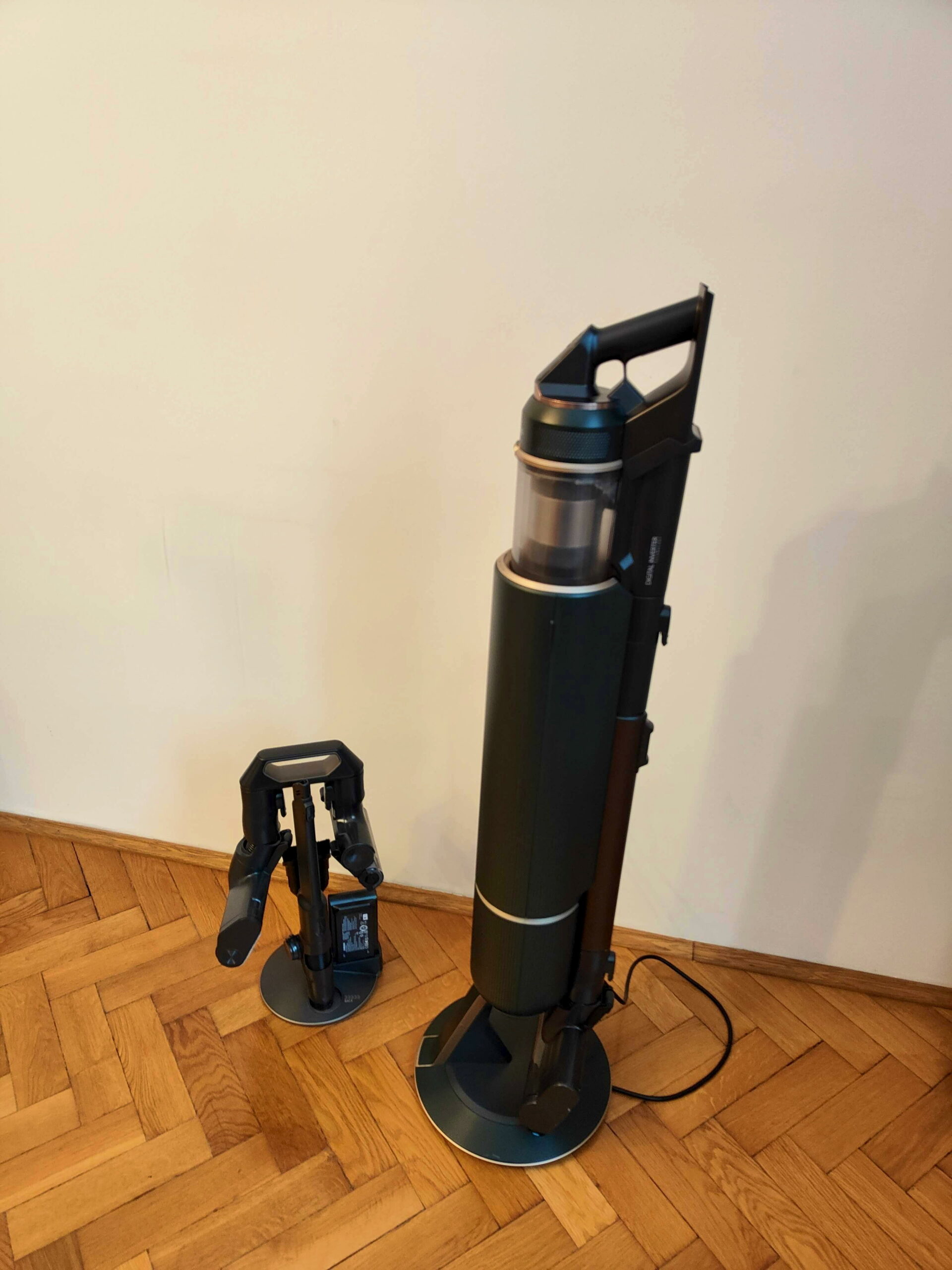 Yes, you have to understand that the vacuum cleaner is expensive, but it's definitely worth it – an overpayment for such understandable and necessary things as high power (compared to the more budget-friendly Jet 90 series) and a cleaning station. By the way, Samsung is currently running a promotion in Poland (where we received the device for testing) – if you leave a review after buying a vacuum cleaner and fill out a special form, you can get up to PLN 650 back to your account. So the cost is not so "biting" at all.
Read also: