It is not so often that we at Root-Nation test Samsungs, so let's finally get acquainted with the popular mid-ranger, the Samsung Galaxy M53 5G. This is a large smartphone with a 120 Hz display, 108 megapixel main camera, Dimensity 900 chipset and a rather unusual design.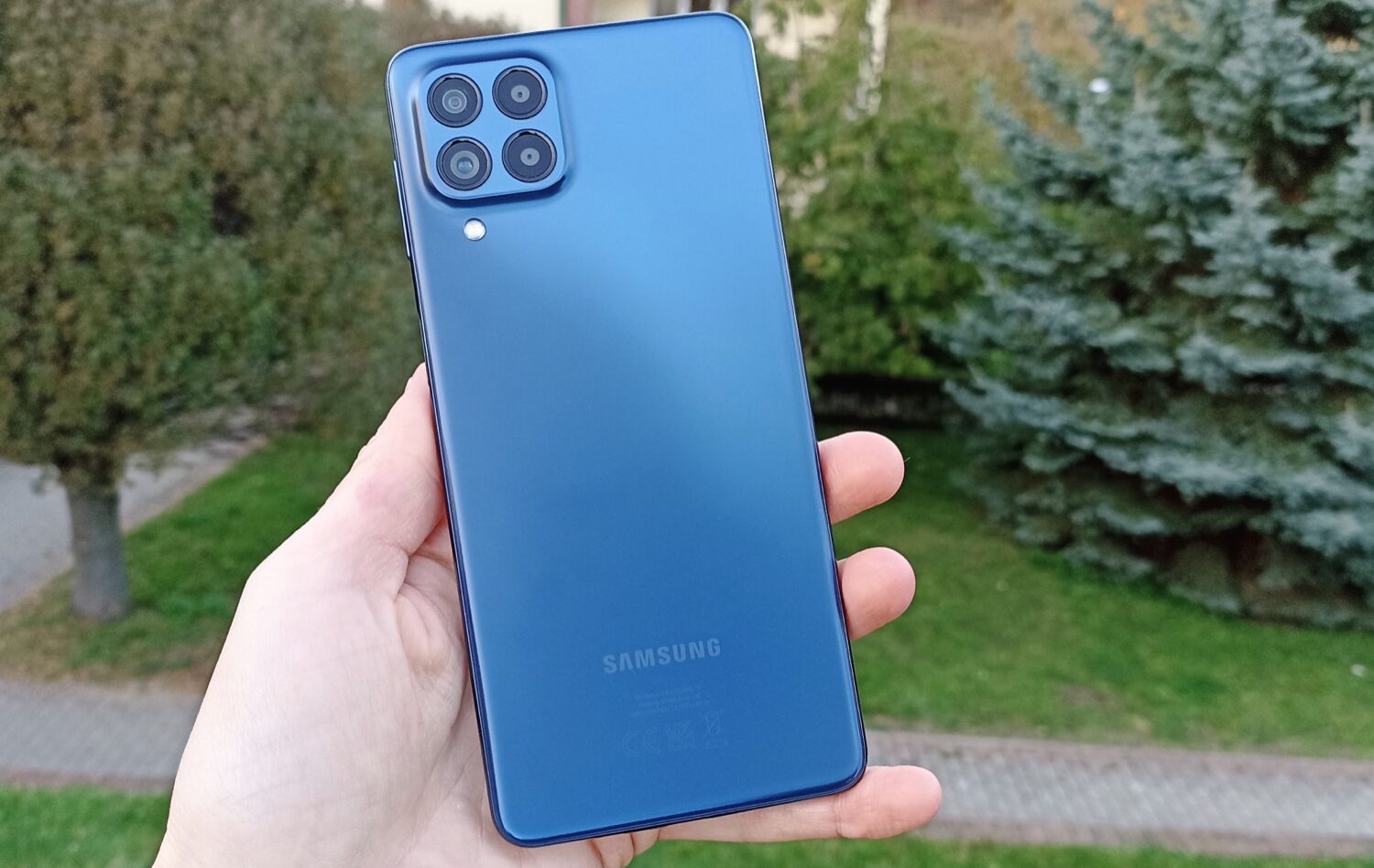 The model was released in the spring of 2022 and now costs about $ 430. Yes, not cheap. But Galaxy in general does not belong to the cheap ones, especially if you compare them with similar models of Xiaomi, OPPO, realme and so on. Is it worth overpaying for South Korean quality? Let's figure it out.
Read also: Choosing a Foldable Smartphone: Samsung Galaxy Fold vs. Flip – Which Type Is Better?
Specif Samsung Galaxy M53 5G
Display: 6.7 inches, Super AMOLED Plus, 1080×2408 resolution, 20:9 aspect ratio, 394 ppi, Corning Gorilla Glass 5 protection, 120 Hz refresh rate
Processor: MediaTek MT6877 Dimensity 900 (6 nm), Octa-core (2×2.4GHz Cortex-A78 & 6×2.0GHz Cortex-A55), Mali-G68 MC4 graphics
Operating System: Android 12, One UI 4.1 shell
Memory: 6/128, 8/128, 8/256 GB, microSD slot combined – either 2 SIMs or one SIM and memory card
Battery: 5000 mAh, 25W charging
Cameras:

Main 108 megapixel, f/1.8
Ultra Wide 8 MP, f/2.2, 1/4″, 1.12µm
Macro 2 megapixel, f/2.4
Depth sensor 2MP, f/2.4
Front 32MP, f/2.2, 26mm

Network and data transmission: 5G, Wi-Fi 5 802.11 a/b/g/n/ac, Bluetooth 5.2 A2DP, LE, navigation (GPS, GLONASS, GALILEO, BDS, QZSS), NFC, USB Type-C 2.0
Sensors: side key fingerprint scanner, accelerometer, gyroscope, proximity sensor, digital compass
Dimensions: 164.7×77.0×7.4 mm
Weight: 176 g
Delivery set
First of all, you pay attention to the box which is compact and low, like iPhones. And you can immediately guess that there is no charger in it. And what is there is a cable and the phone itself. No variety, like with the Chinese, who put in boxes and fast chargers, and covers, and sometimes even headphones, not to mention the protective films glued at the factory. Samsung has a different approach.
Read also: Samsung Galaxy S21 FE 5G review: Now definitely a fan flagship
Design
I said that the appearance of M53 is unusual. In fact, at first glance at the phone you will not say that. It looks like an average phone. But take it in your hands! I have not come across such thin models for a long time, the thickness of Samsung Galaxy M53 is only 7.4 mm. Thin and light body, flat back cover makes the model very comfortable to hold in your hand and you don't want to let it go!
Although it should be kept in mind that the phone is large. Even by the standards of modern average phones, the screen of 6.7 inches is at the upper limit of the standard. However, it is still convenient to use it, although you often have to use the other hand. Personally, I am in favor of large screens as they are more convenient to view content (texts, videos, etc.). A thin and light smartphone with a large display is just cool! I liked it.
The smartphone has minimal screen bezels, even the bottom one is almost not visible.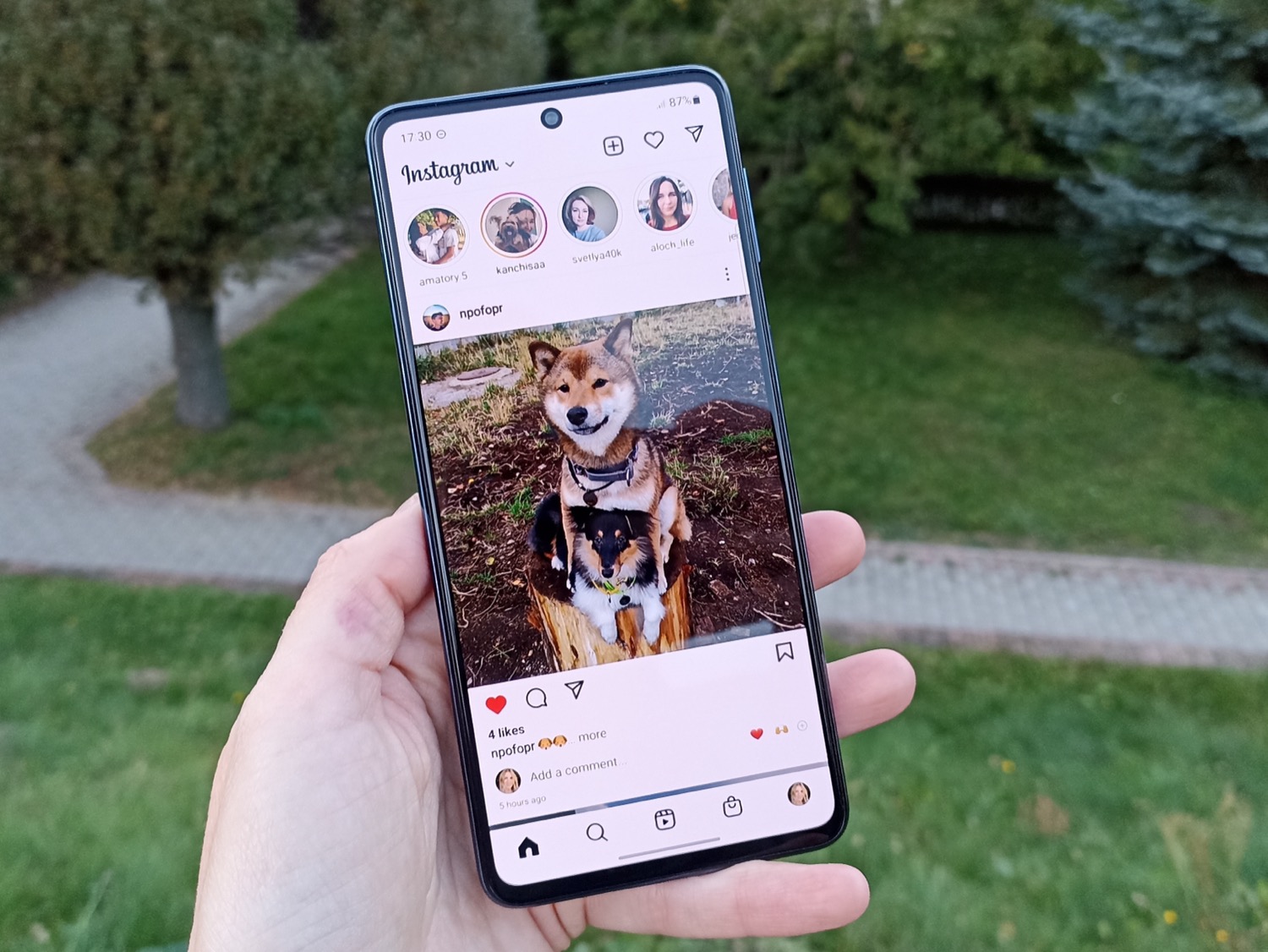 The case is plastic, the sides are glossy in the color of the case, the rear panel is matte. However, fingerprints do remain on it, and they are clearly visible. The camera block is symmetrical with 4 "eyes", it protrudes insignificantly.
Available colors of the case are dark blue, brown, green. That is, no standard ones like black and white. Although personally I find such shades boring, what about you?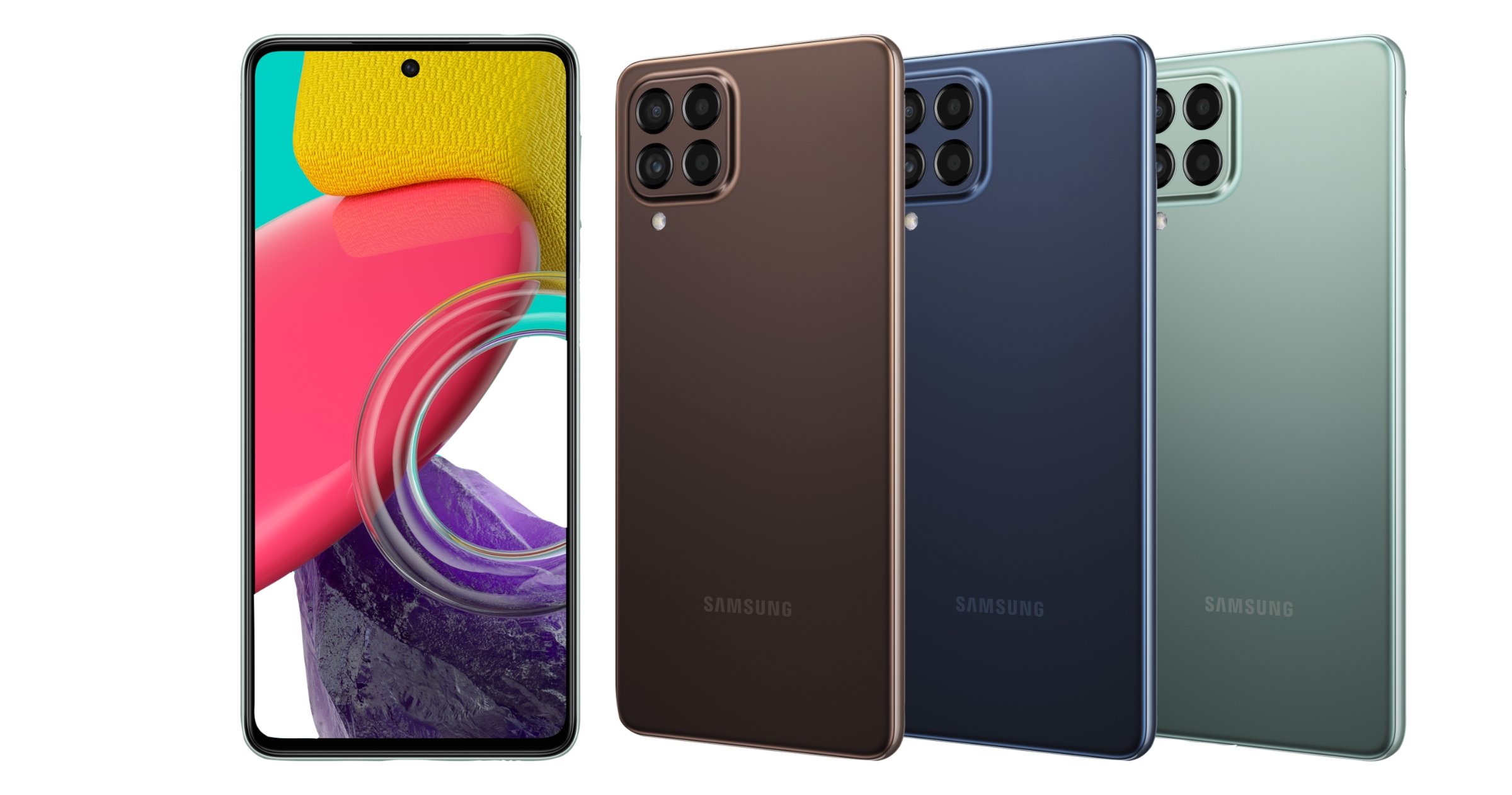 There is a two-position volume key on the right side of the smartphone (located too high, in my opinion), as well as the power-lock button, it is also a fingerprint sensor. The fingerprint is read instantly and accurately and, as for me, this is the most convenient way to unlock the phone, although, of course, there is also face recognition.
On the left side there is a SIM slot for two SIMs or one SIM and a memory card.

On the upper side we see only a microphone. On the bottom is another microphone, speaker holes, USB Type-C connector. But as you can see, Galaxy M35 does not have a 3.5 mm headphone jack.
Many Samsung models are protected from moisture, but the M53 has no IP-rating, not even the basic one.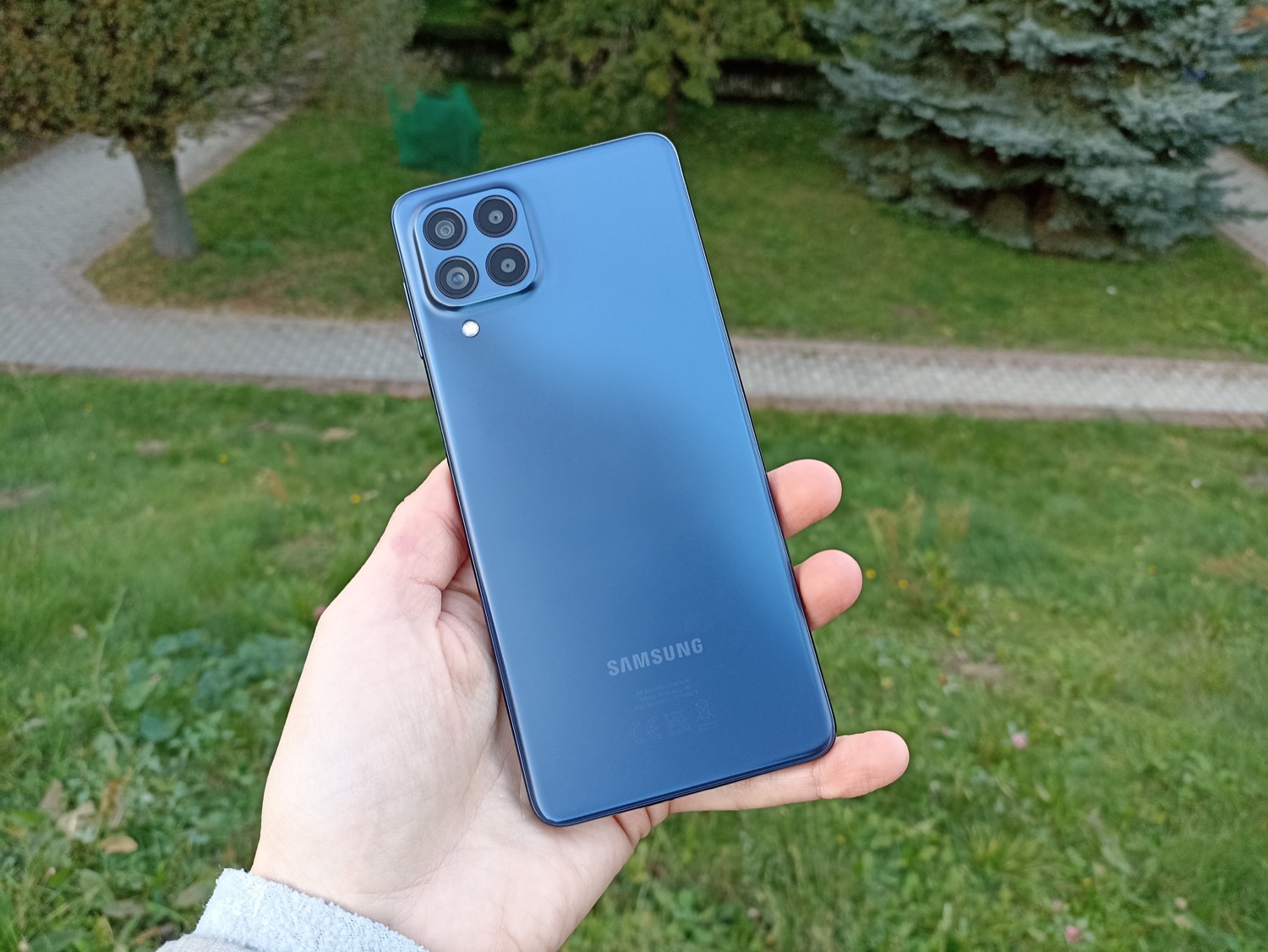 And a funny little thing as a bonus! Once I went into a dark room with a flashlight, I found that when the flashlight is on, the sides of the Galaxy M53 and the Samsung inscription glow. Nice, don't you agree?
Read also: Samsung Galaxy Watch4 review: elegant smartwatch running WearOS
Display
One of the key advantages of Samsung Galaxy M53 5G is the 6.7-inch Super AMOLED Plus display with a resolution of 1080×2408 pixels and a refresh rate of 120 Hz. Large and simply exceptional quality!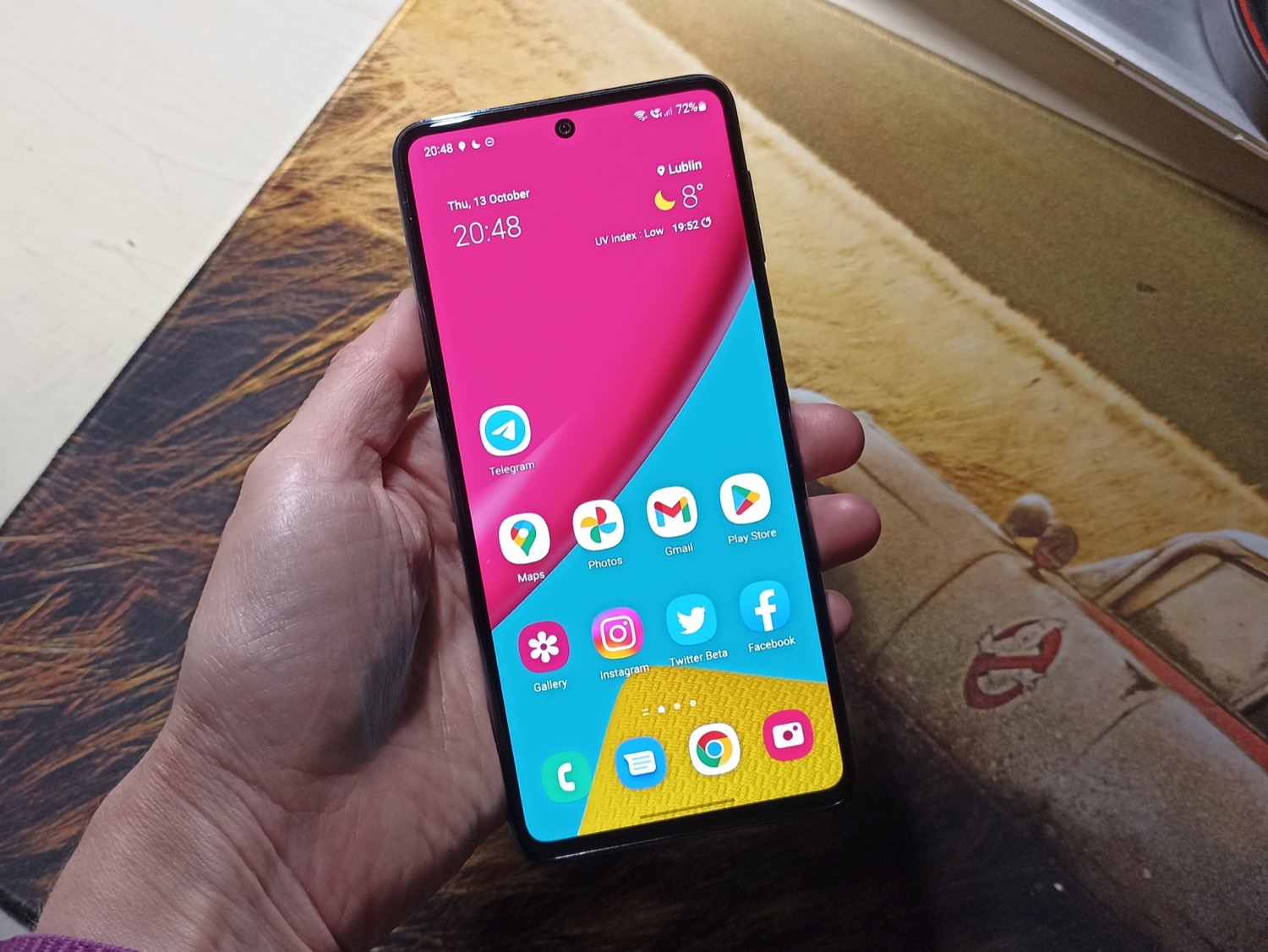 A typical panel from Samsung (which has aced the production of displays) provides a high-contrast, bright image, with excellent color reproduction and maximum viewing angles. The brightness is also high (up to 800 nits), there are no problems when working with the phone on a sunny day.
The screen refresh rate is up to 120 Hz. There is no adaptive mode, which is unusual after other smartphones. You can choose either always maximum 120 Hz or standard 60 Hz. At the same time, using 120 Hz discharges the phone faster by about 20 percent. Although you'll probably prefer to live with it, because the smoother picture looks very good.
There is also a typical Samsung setting of screen modes – saturated colors (Vivid) and natural (Natural). Personally, I prefer saturated ones, but it is a matter of taste.
There is also a well-known option of eye protection when the shades become warmer, which is especially recommended in the evening to balance the nervous system.
The full-fledged Always-on display mode is supported, in the settings you can choose one of several watch styles, change colors. Also in this mode you can display the track you are listening to, notifications. Different AoD modes are available: always off, always on, on at the selected time, displayed only when new notifications appear, displayed for 10 seconds after touching the screen.
The lock screen, by the way, is also customizable, and there are many options available.
Read also: Samsung Galaxy Tab S7 FE review: Surprisingly reasonable compromise
Hardware and performance of Galaxy M53
The days when Samsung used only processors of its own production in smartphones are over. Now we can find Qualcomm and even MediaTek. In this case, we have a modern 6-nanometer MTK Dimensity 900 and a Mali-G68 MC4 graphics chip. This is a chipset with 5G support and 8 cores (2×2.4 GHz Cortex-A78 & 6×2.0 GHz Cortex-A55).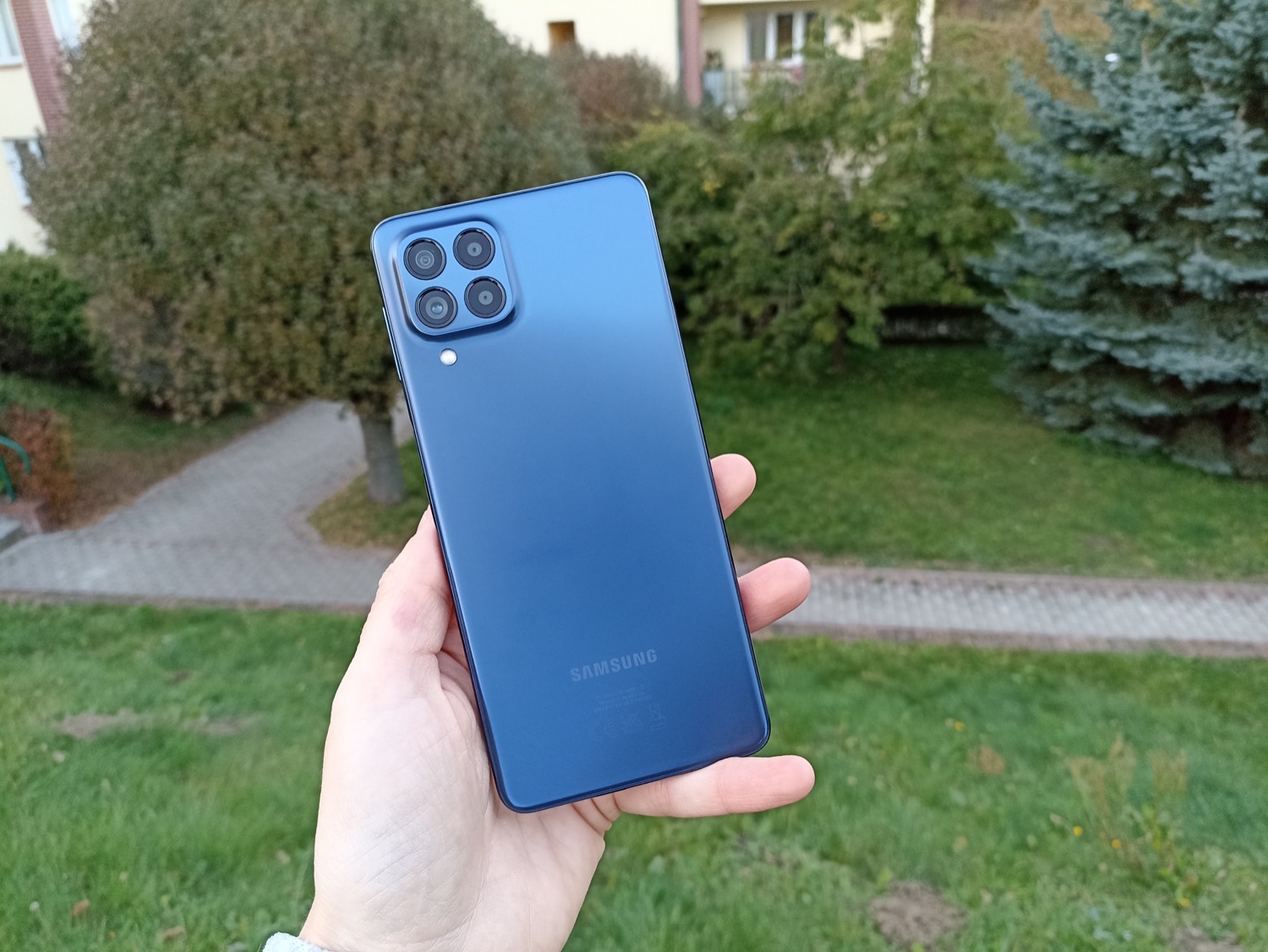 The model exists in 6GB/128, 8GB/128 and 8GB/256GB memory versions. However, only 6/128 is officially supplied to Europe, the rest can only be found imported from other countries. In any case, 6GB of RAM is enough for today's average user to work quickly and without straining. If desired, you can expand the amount of RAM at the expense of permanent memory, but, from my experience, it does not give a noticeable speed increase, the types of memory are still different.
128 GB is also an adequate amount of storage for most people, and just in case there is a slot for memory cards.
For those who are interested in the numbers, I will say that in GeekBench 5 (multi-core) the smartphone scores 2040 points, in GeekBench 5 (single-core) – 729 points, in AnTuTu 9 – 436201 points, in 3DMark Wild Life Vulkan 1.1 – 2201 points. By the standards of other devices of the middle price range these are good indicators, sometimes even higher than average.
Well, if we speak not about synthetic tests, but about personal impressions, then the device is nimble, all basic programs work perfectly, there are no problems with applications working in the background. Sometimes I noticed the interface twitching, but it is forgivable for a mid-range model.
Any games can be run, but not always at maximum graphics settings. At high load the phone heats up, but insignificantly.
Cameras and picture quality
On the rear panel you will see three camera "eyes", but only two of them are useful, the rest are "just for fun". So, we have:
The main 108 megapixel module is Samsung Isocell HM6, but photos are compressed to 12 megapixel resolution using Nonapixel technology for better quality. In the settings you can enable the original 108 megapixels, but it does not make much sense, because there will be no noticeable difference, and such photos will take up a lot of space.
Ultra-wide-angle 8 megapixel Sony IMX 35 module without autofocus, equivalent to 13 mm.
Macro 2 megapixel, primitive module.
Depth sensor 2 megapixels, serves only to blur the background, although modern cameras can do it without additional modules, so really, "just to be".
The front module is 32 megapixel Sony IMX 616, pictures are reduced to 12 megapixels.The photo quality of Samsung Galaxy M53 is just amazing! Worthy of more expensive models. The pictures are juicy, detailed, with excellent color reproduction and clarity, wide dynamic range and excellent contrast. Simply put, it is a pleasure to look at them. And even when there is less light (for example, in an apartment in the evening), we can not say that the quality is much worse.
ALL PHOTOS FROM GALAXY M53 IN ORIGINAL RESOLUTION
Night shooting is also good. Of course, not at the level of flagships, but for a mid-range model everything, sorry for the repetition, is on the level! I advise you to activate the night mode when shooting in the evening and at night, then the pictures will be clearer and lighter (but in moderation), the luminous elements, such as signs, will not be illuminated. Here are examples, night mode on the right:
There is a 2x digital zoom, pictures in this mode are not of high quality, but they will be spectacular, and texts are relatively readable. However, this zoom does not work with night mode, so there is little point in shooting in the dark. Here are examples: 1x, 2x, 10x:
ALL PHOTOS FROM GALAXY M53 IN ORIGINAL RESOLUTION
The wide-angle lens produces decent photos, fulfilling its main task – to fit more into the frame than the main module "sees". Although the pictures are often darker than from the main camera. Examples, wide angle on the right:
As for shooting macro, as I said, there is no point in using it, the photo quality is poor (although the thumbnails do not convey this).
If you want a close-up photo, it is better to take it on the main camera and crop the extra edges.
I liked the front camera – the photos are clear, with nice color reproduction. I even made one of the selfies my new avatar. But, of course, the module is sensitive to light, the less light there is, the worse the result. There is an option in the interface to switch between close-up and wider view (if you want to take a picture with someone). But the difference is small:
ALL PHOTOS FROM GALAXY M53 IN ORIGINAL RESOLUTION
The only thing left to discuss is the video quality and here, too, everything is great. M53 can record video on the main camera in 4K@30 or 1080p@60 format. The selfie module also works in the same modes. The quality of video recording is excellent – juicy colors, verified dynamic range, decent electronic stabilization. Here are examples:
day, 4K 30 fps
day, FullHD 60 fps
day, FullHD 30 fps
night, FullHD 30 fps
The camera application is typical for Samsung. Different modes are available, not too extensive settings. There is also Pro mode, in which you get detailed exposure control (ISO and shutter speed, exposure compensation) and manual focus.
Read also: Samsung Galaxy Z Fold3 5G review: Addictive foldable smartphone
Software of Samsung Galaxy M53 5G
The smartphone runs on Android 12 with One UI 4.1 shell. Samsung shell is obviously the best in the world of Android. It is beautiful, thought out in detail, smooth, very pleasant to work with.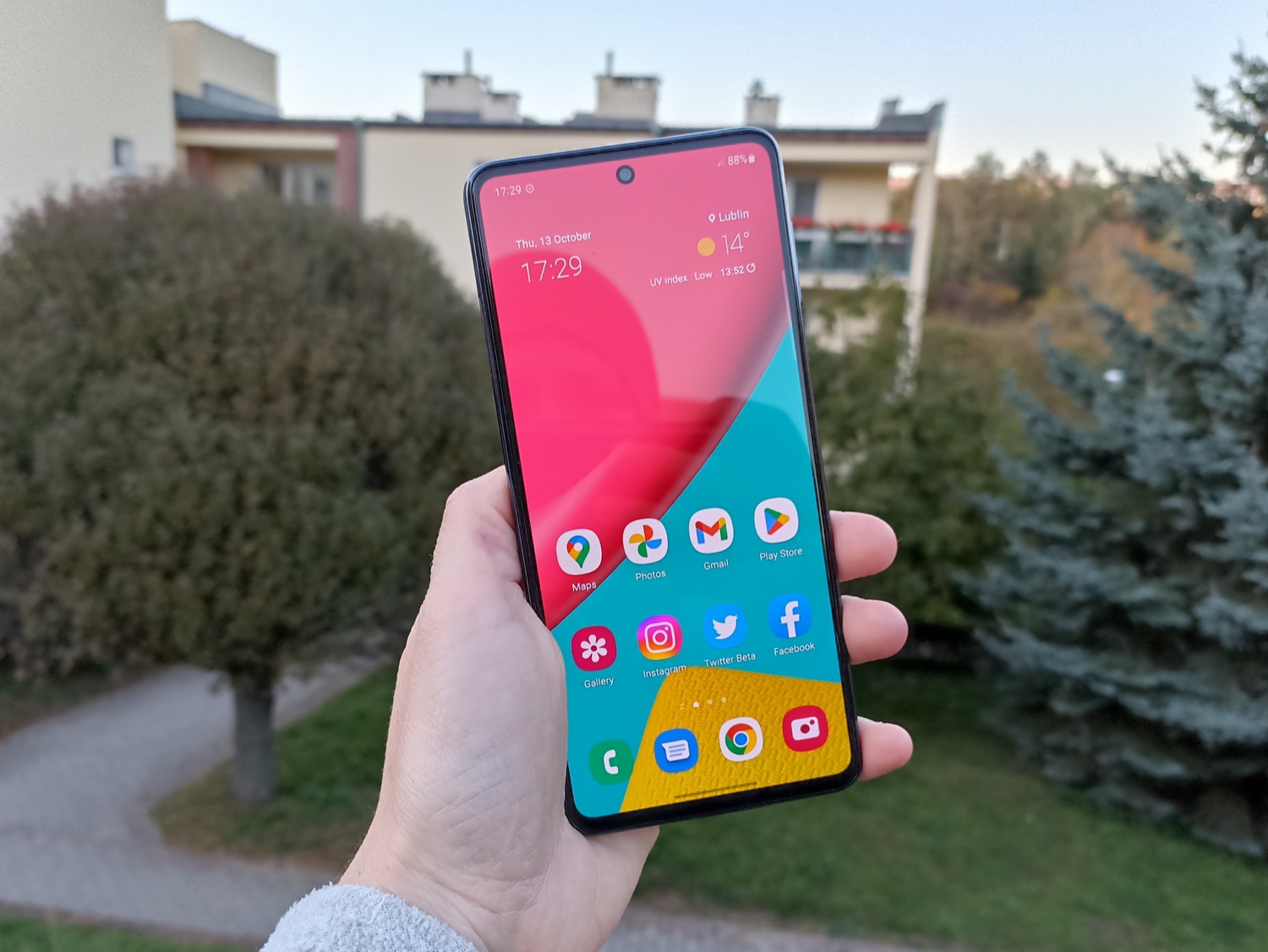 Apparently, only the Huawei shell is at a similar level, but it has its own problems due to the inability to work with Google services. In general, if I compare Chinese models with competitors from Samsung, I always note that Korean phones are more expensive, but have a plus in the form of One UI.
One of the new features of One UI 4 is color palettes. This is an adaptation of the same feature from Android 12. Based on the wallpaper you choose, a palette of shades is automatically created, and these colors are used to paint interface elements and even, if desired, application icons.
The customization is no worse than that of the Chinese, a powerful Theme application with many settings is installed.
There are also various options for communication with desktop PCs. The Link to Windows function allows you to share photos with your computer, view messages on it and even make calls.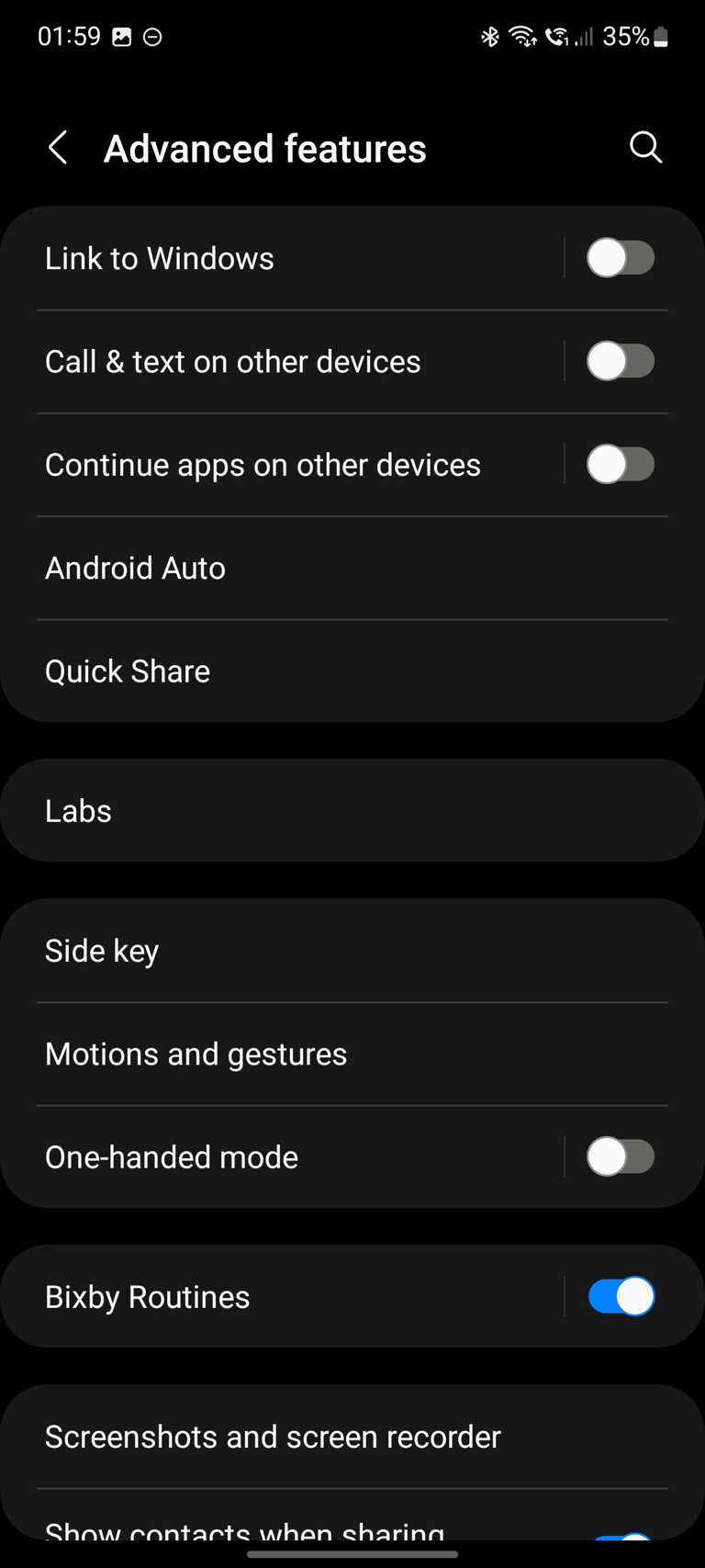 There is another option – Continue (something like a stripped-down version of Continuity from Apple). If you log in to your Samsung account on your PC and phone, connect them to the same Wi-Fi network with Bluetooth activated, you can use the Samsung Internet browser and Samsung Notes on both devices. In particular, you can copy and paste text and images and open the same tabs in the browser.
At the same time, Galaxy M53 does not support the "desktop" mode Samsung Dex, it is the exclusive to flagships.
Edge panels are not a new yet another feature of the One UI shell. They appear when you swipe on the side of the screen and contain icons of applications, contacts, useful tools (news, weather, etc.). In fact, this feature is now available in the shells of realme, Xiaomi, etc., but again, Samsung has thought out and implemented it better.
As in other shells, there is a Game launcher game center, where you can find options for changing performance, limiting distractions during the game.
Also in the settings there is an option to set up a double press of the side key, various gestures and chips (active screen when you look at it, mute gesture, opening the notification curtain by touching the fingerprint sensor, and so on). There is also the ability to use two accounts in messengers (Dual Messenger), a convenient one-handed operation mode, a utility for clearing the memory.
The smartphone comes with a bunch of pre-installed applications from Google, Samsung and Microsoft. Not all of them are useful, unnecessary ones can be removed. Samsung utilities often duplicate software from Google, but I like their interface better.
Sound of Samsung Galaxy M53
The model received one mono speaker. Another point, on which the middle product from Samsung loses to its Chinese competitors. The speaker is loud, it does not wheeze at maximum volume, but still it is unpleasant to listen to music or watch movies without volume and stereo effect.

The sound in the headphones is of excellent quality. During conversations there are no problems either as I can be heard well, and I can hear the interlocutors perfectly.
Battery life of Galaxy M53
The device received a battery of standard capacity for today's smartphones – 5000 mAh. Judging by synthetic tests, the model can withstand 28 hours of talk time, 14 hours of web browsing at 60 Hz with above-average screen brightness and almost 21 hours of HD-video playback. The indicators are good, but for an average device they are normal, as well as for most competitors.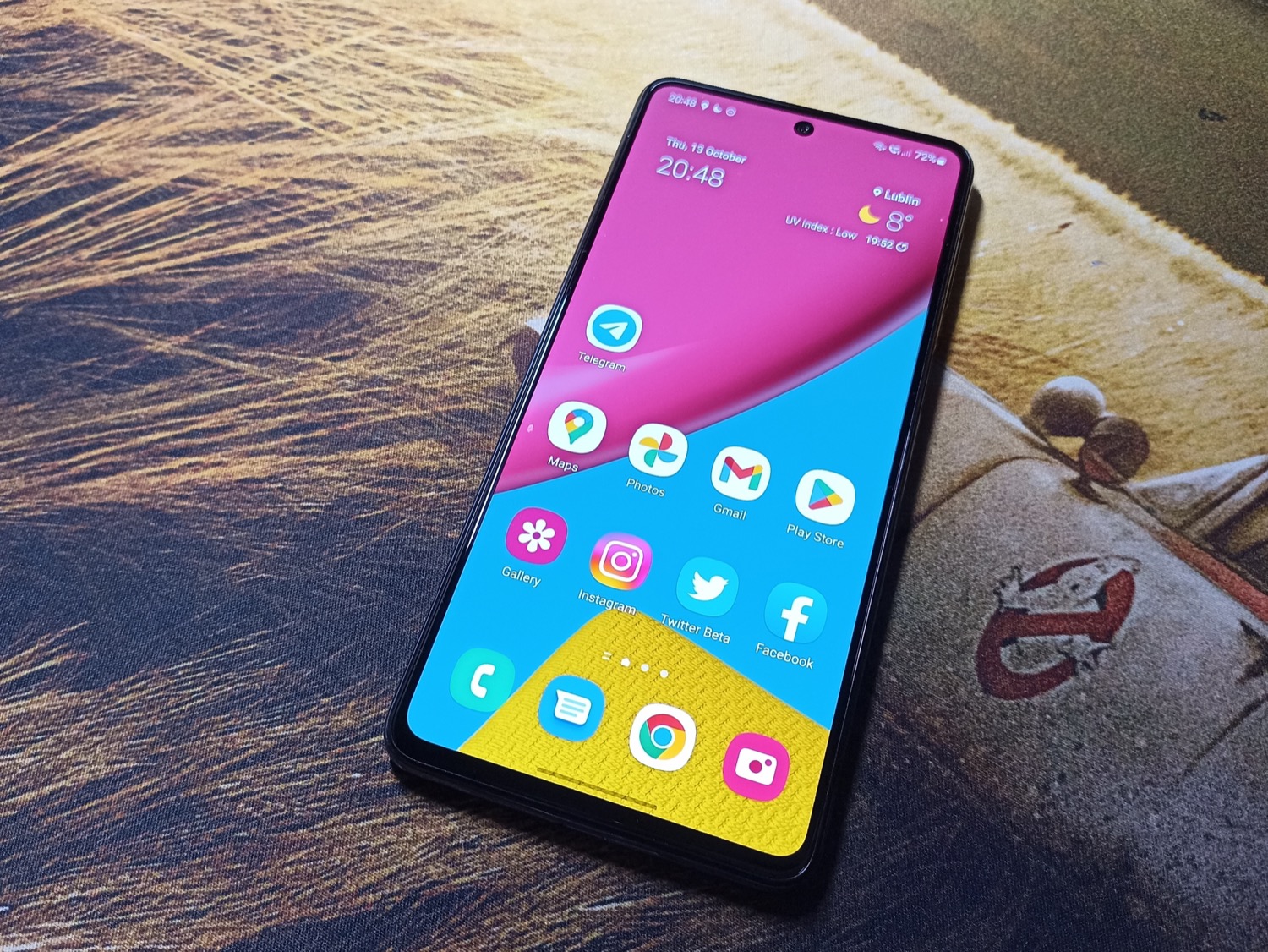 If you actively use the phone during the day (photos, web browsing, casual games, calls, social networks), then late in the evening there is still about 15-20% of the charge, at least it was the case with me. In this case, I used a refresh rate of 120 Hz during the test.
There is no charger in the package, but it is known that the phone supports fast charging up to 25 W. Of course, you can use more powerful power supplies, just the device will "take" as much as it can, no more than 25 W. I was charging Samsung Galaxy M53 using a 33 W power adapter from tested Motorola. A full charge took 1.5 hours and a bit. In half an hour, about 45% of the charge was gained. Of course, for the price of M53 there are "Chinese" with super-fast charging, but not for everyone this moment is critical.
Read also: Samsung Galaxy A72 review: Getting Closer to Flagships
Conclusions
Samsung Galaxy M53 5G is a successful mid-range smartphone from a respected and well-known brand. Its main advantages are a gorgeous 120 Hz AMOLED display, a very thin body, excellent shooting quality from the main 108 megapixel camera, convenient and thoughtful One UI shell. Performance is also enough for all basic tasks.
But at the same time, of course, the model loses in a number of parameters to cheaper Chinese competitors (such as realme 9 Pro+ 8/256, Xiaomi 11T 5G 8/128, Xiaomi 12 Lite 8/128, OnePlus Nord 2T 8/128, POCO F4 6/128, POCO X4 GT 8/128) – it lacks stereo speakers, only 6 GB of RAM in the basic version for $ 430, and M53 has relatively slow charging, and there is no charger in the kit. And it should be understood that for such money you can find models with more powerful chipsets.
In any case, if someone is ready to overpay for the advantages of Samsung, then this is an absolutely adequate solution. So we recommend it. And if someone is not ready, we will also perfectly understand. The choice is yours!
Read also:
You can also help Ukraine fight with Russian occupants via Savelife or via an official page of the National Bank of Ukraine.