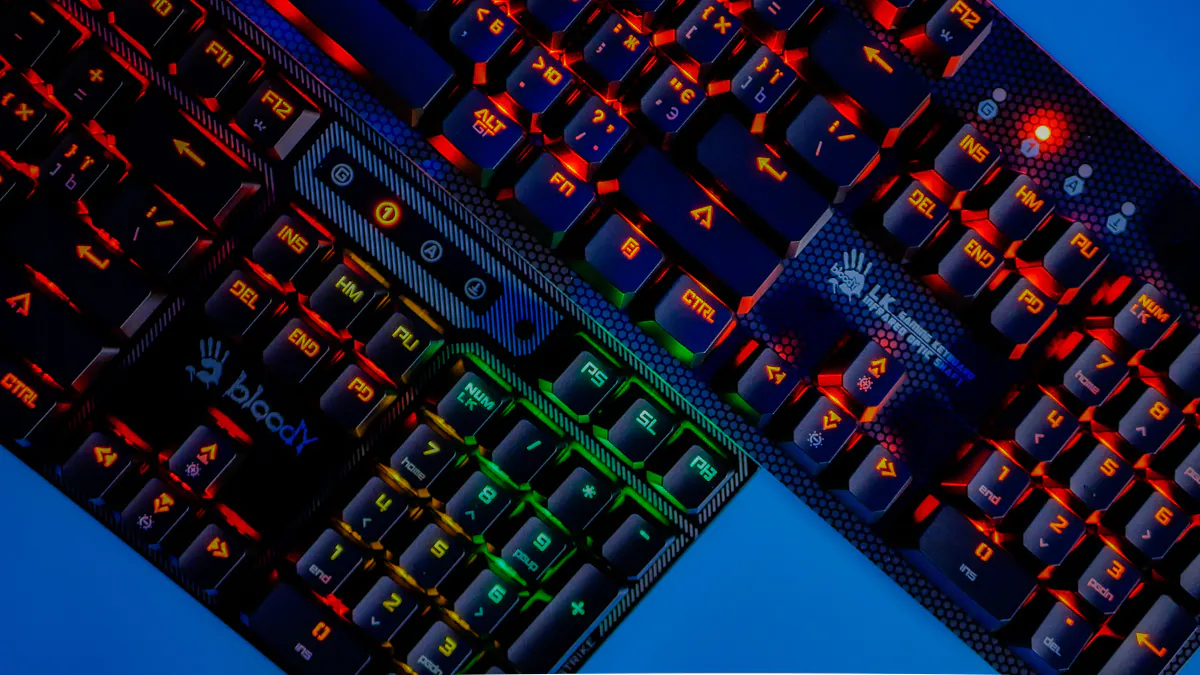 Recently I got an improvised set Bloody, a mouse-headset-keyboard in cyberpunk style. To be more exact, not cyberpunk, but Cyberpunk. You can even say 20. And add 77. Well, you get the idea. The point is that I wanted to touch and feel something so industrial and… I remembered that under the yellow plate of the Cyberpunk keyboard there is what I needed. Well, as you understand, this is a review of Bloody B750N and Bloody B800.
Bloody B750N and Bloody B800 video review
Don't want to read? Then watch the video:
Price and delivery set
Another reason why I chose them is that they are almost twins in filling, appearance and, yes, the price as well. Now it is $49 and $59 for 750 and 800 keyboards respectively. Which, you must admit, is not bad for mechanical keyboards.
Mechanical, and with a nice package. There are no palm rests, but there are, in addition to the manual and warranty, tongs for removing caps and a set of eight spare caps. Moreover, in 750 they are orange, and in 800 – burgundy.
Similarities
Both keyboards are full-size, massive and equipped with backlighting. Both are powered by LK Light Strike optical-mechanical keycaps. Accordingly, they have a crazy endurance, 100 million keystrokes, and the actuation depth is from 3 mm.
And the response time is 2 ms. For comparison, in Cherry MX it is… 30. Certainly, Cherry MX has a lot of other advantages – but, as we see, optical switches also have undeniable advantages. And by the way, their caps are compatible with Cherry.
Both keyboards are equipped with stand feet and drainage holes on the bottom, so they are moisture resistant, both have customizable backlighting, support KeyDominator2 proprietary software and it is a pleasure to type and play on them.
Differences
Next – the differences. First and most importantly, these keyboards are not truly RGB. In B750N the backlight is rainbow, but the LEDs are fixed in color. Yes, you can change the brightness and switch between constant light, pulsation and shutdown, but still.
The B800's backlighting is single-colored… But the color, oh. Let's just say, seeing this orange beauty makes you think of a nuclear winter in the Mojave, if you know what I mean.
Plus – I like the hexagonal texture under the acrylic layer much more. It reflects light perfectly, so the keyboard looks a little different from all angles, but equally beautiful.
Further – B750N has a cable without a braiding, though with a linear rifled texture, so it will be much more difficult to tangle it, which I appreciate. Also, it has no rubber areas on the bottom legs.
B800 has it, and braided cable, and rubberized legs. Well, the keycaps are ABS, both in one and in the other keyboard, and the spare caps are also ABS, no surprises here.
As for the switches, they almost do not differ from each other, both are loud, tactile, with a click, just the Blue one presses the switch a little faster.
The sound of clicks will be in the video above.
Conclusions on

Bloody B750N and Bloody B800
Both Bloody B750N and Bloody B800 are very good mechanical keyboards with stylish design. They feel different, and if I had a choice, I would take the B800 for the backlighting alone. RGB is good, but amber is nice to make the cazadores tremble!
In general, if you want an inexpensive FULL SIZE mechanic with fast switches and backlight that can be turned off at will, but the full RGB spectrum is not important to you – then yes, any of these models can be your next one!
Read also: Weapons Of Ukrainian Victory: MRAP International MaxxPro By Navistar Defense
You can also help Ukraine fight with Russian occupants via Savelife or via an official page of the National Bank of Ukraine.