American International MaxxPro are already in service with Ukrainian troops. This armored vehicle is now helping our defenders effectively fight against enemy Russian forces in war zones.
Recently, a video with MaxxPro armored vehicles was published on Ukrainian social networks. It was these vehicles that the USA provided to Ukraine. In the video you can see 18 vehicles, but it is possible that there are already many more of them in Ukraine.
https://twitter.com/UAWeapons/status/1558898058993307649?ref_src=twsrc%5Etfw%7Ctwcamp%5Etweetembed%7Ctwterm%5E1558898058993307649%7Ctwgr%5E58d4a9d552bec5649aad53ad1615fae71023319c%7Ctwcon%5Es1_&ref_url=https%3A%2F%2Fen.defence-ua.com%2Fl-media%2Faddarticles%2F
Let's get acquainted with this modern innovative armored vehicle of increased cross-country ability in more detail in our review.
Read also: Weapons Of Ukrainian Victory: Black Hornet – Drones Smaller Than A Smartphone
What is MaxxPro MRAP?
The MaxxPro is a Mine-Resistant Ambush-Protected combat vehicle developed by Navistar International in collaboration with Israeli hull protection company Plasan. MaxxPro can withstand small arms fire and blasts from mines and improvised explosive devices (IEDs).
The International MaxxPro variant can survive radiation, biological and chemical environments. Navistar has already delivered more than 9,000 MaxxPro vehicles to the US Army.
Read also: 'Neptunes' knocked out 'Moskva' cruiser: All about these anti-ship cruise missiles
MaxxPro MRAP variants
The Navistar company offers several versions of the MaxxPro vehicle, which have different levels of armor according to the requirements of combat tasks – MaxxPro Plus, MaxxPro ambulance, MaxxPro MEAP, MaxxPro Air Force and MaxxPro Dash.
MaxxPro Plus offers increased protection against explosive formed penetrators (EFP), it has a more powerful engine (375 hp) and an increased payload.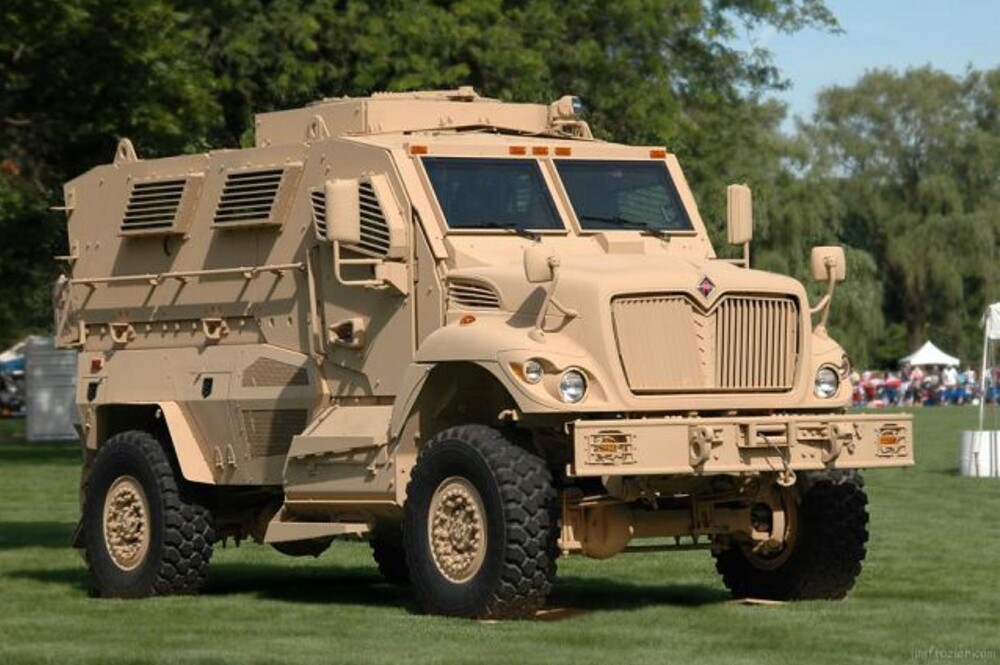 The MaxxPro Dash was designed to be a more mobile, lighter and less prone to rollover option with improved cross-country ability. The MaxxPro Dash offers a tighter turning radius and a better torque-to-weight ratio that increases the vehicle's mobility. MaxxPro Dash is designed for movement on rough terrain, so it was actively used during combat operations in Afghanistan.
Navistar has also developed other MRAP configurations, including the MaxxPro Wrecker, MaxxPro Cargo and MaxxPro Tractor. These variants were developed to support the infantry during combat operations in Iraq and Afghanistan.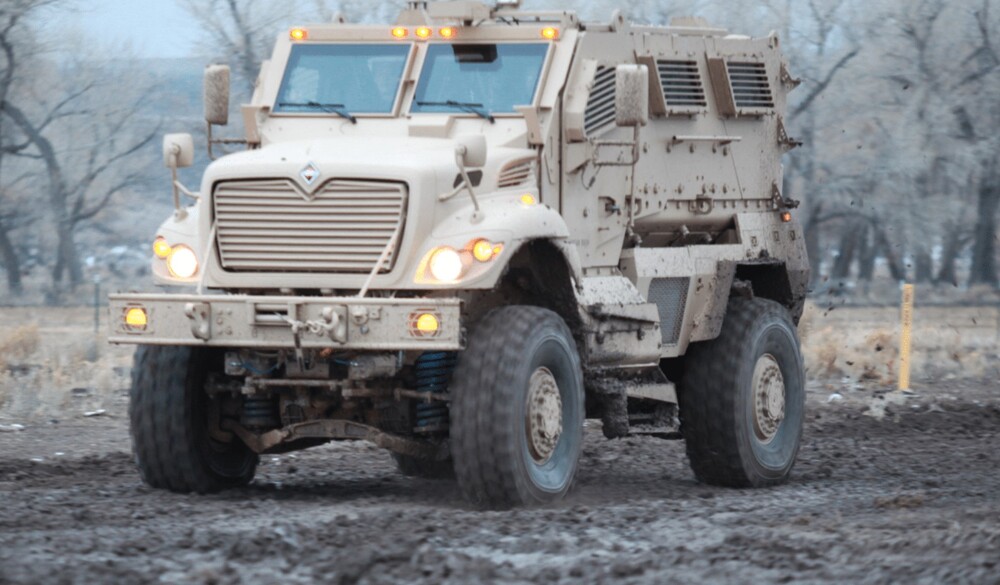 The Wrecker MRAP accommodates a two- to three-man crew and can perform support operations such as lifting damaged or disabled vehicles.
All variants of the MaxxPro vehicle have increased maintainability and a high degree of parts compatibility.
Read also: Weapons of Ukrainian Victory: Iris-T SLM for Ukraine from Germany
History of creation, orders and supply of MaxxPro armored vehicles
The first MaxxPro vehicles created under the MRAP (Mine Resistant Ambush Protected) program were tested in 2007 at the Aberdeen Proving Ground. After successful testing, the US Marine Corps ordered 1,200 units on May 31, 2007 for delivery by February 2008. The contract cost the Pentagon $623 million.
The Pentagon decided that this was not enough, and on June 19, 2007, the US Marine Corps received 16 more MRAPs, which cost the US budget $8.5 million. For other branches of the US armed forces, in July 2007, another 755 MRAPs were ordered for delivery by February 2008 under a contract worth approximately $414 million. On October 18, 2007, the US Marine Corps awarded another contract for an additional 1,000 MaxxPro units by April 2008 at a cost of approximately $509 million.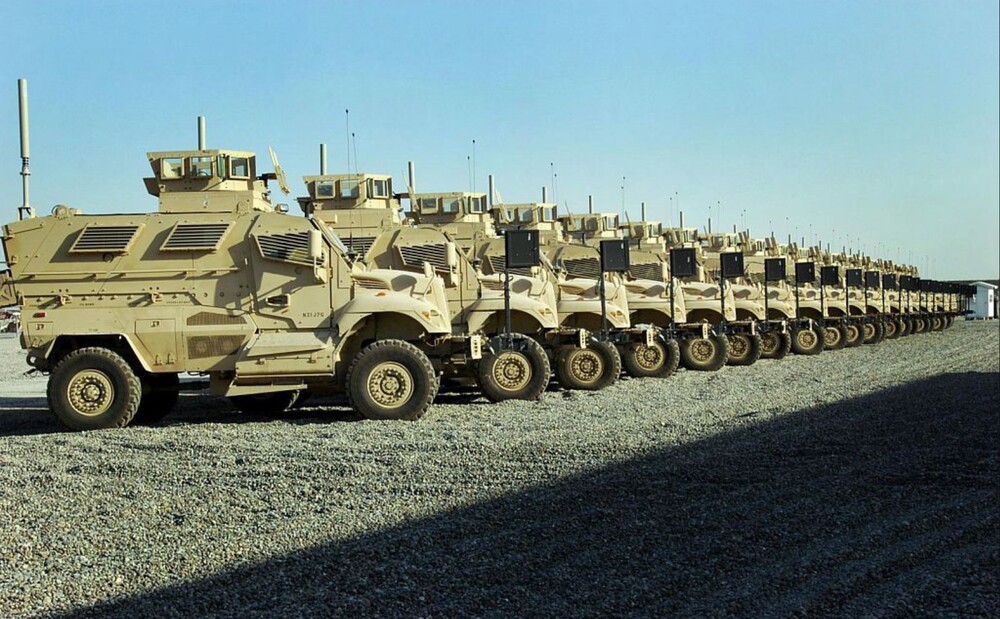 That is, this armored personnel carrier has become very popular among the US military, several thousand of these vehicles are currently in service with the US Armed Forces. Now MaxxPro is exported to a number of countries, including Ukraine.
Read also: All about the 155mm M777 howitzer and M982 Excalibur guided projectile
Structure and features of International MaxxPro
The MaxxPro vehicle features a V-hull crew capsule design that is mounted on a Navistar International 7000 chassis. The purpose of the V-hull is to divert the blast direction of a mine or IED away from the vehicle itself. Thanks to this design, the MaxxPro can withstand a 7 kg mine explosion without any damage.
The vehicle can use standardized and readily available spare parts to ensure quick repairs and maintenance. The vehicle's armored body is bolted together rather than welded, making on-the-job field repairs easier.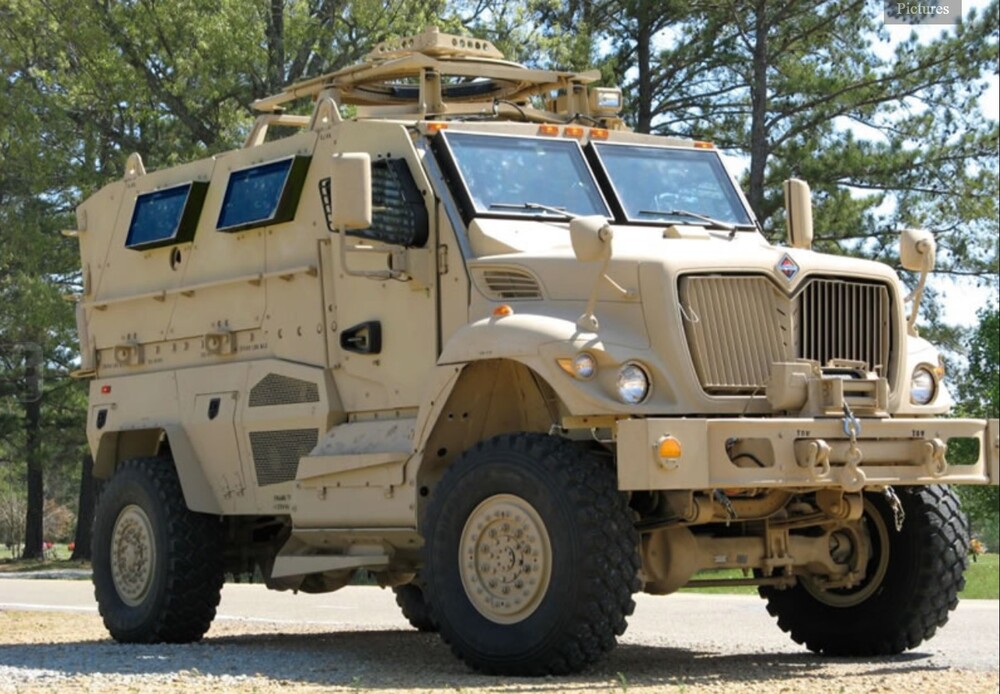 MRAP vehicles are divided into two categories – Category I and Category II – based on their purpose and the number of passengers they can accommodate.
The MaxxPro Dash is the lightest, more mobile version of the Category I, or Mine Resistant Vehicles (MRUV) vehicle, and offers greater compatibility between parts for easier integration. The repairability of the car is maximum. Although it is the smallest and lightest vehicle of all the options, it has the same survivability as the others. This option also provides for the possibility of placing an additional compartment for infantrymen.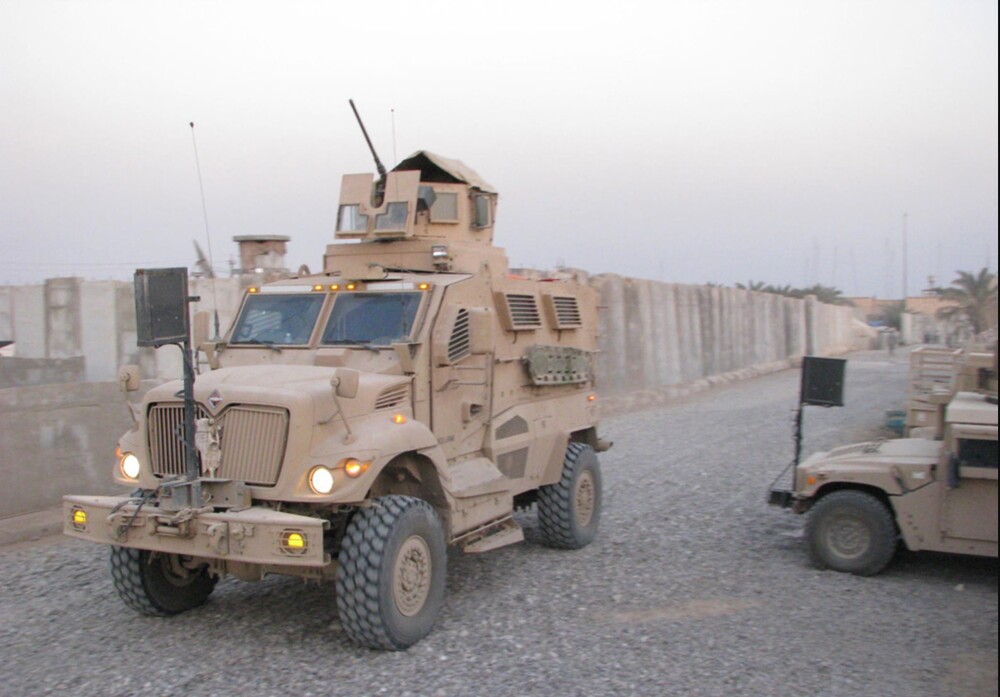 The MaxxPro Plus is an upgraded MaxxPro vehicle with improved performance and survivability, increased payload and additional engine power. The MaxxPro Wrecker, MaxxPro Cargo and MaxxPro Tractor are built on Navistar's WorkStar platform and feature a MaxxPro Dash cab.
MaxxPro variants, depending on the modifications, can accommodate three crew members and four to six fighters. The total weight of the car with personnel is up to 14 tons, the chassis (suspension and axles) are not armored.
Read also: Saab JAS 39 Gripen as an option for Ukraine's Air Forces: what kind of plane is it?
International MaxxPro engine
The MaxxPro uses the MaxxForce D8.7I6 engine, while the MaxxPro Plus and MaxxPro Dash use the D9.3I6 model of the MaxxForce D engine family. The engines are manufactured by Navistar International Corporation under the MaxxForce brand.
The D9.3I6 is a turbocharged four-stroke with direct electronic injection. Built on the I-6 architecture, it offers performance similar to larger horsepower engines while offering the economy of a mid-range diesel engine.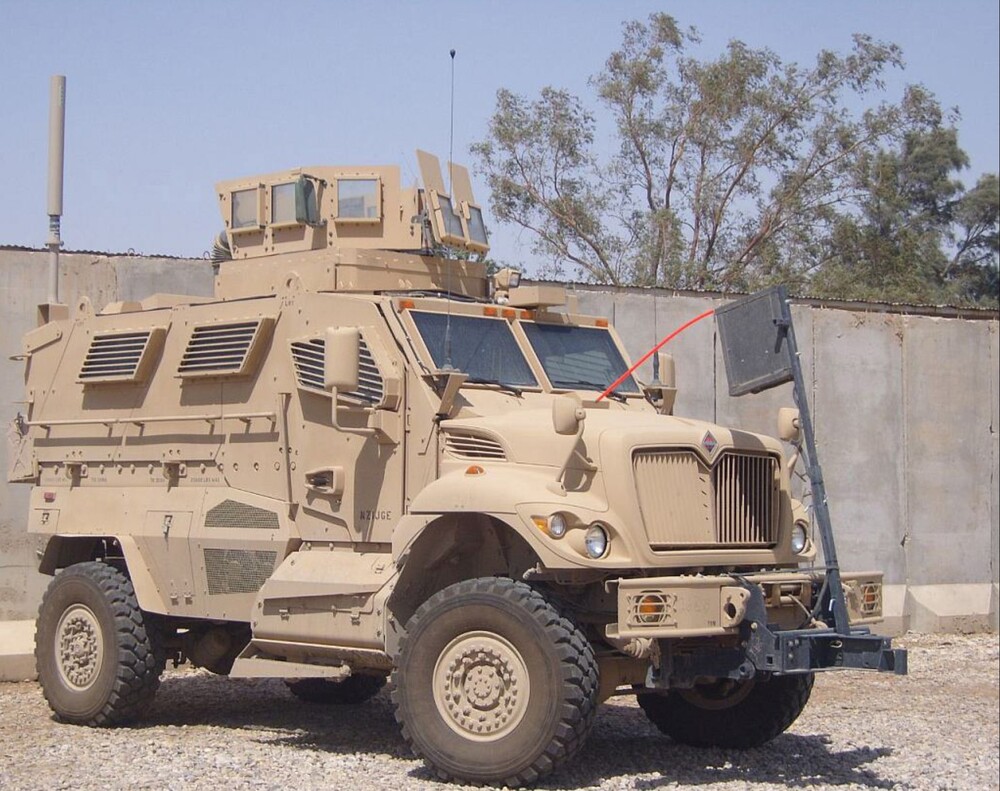 The engine uses a low-pressure fuel pump. It has a second-generation electro-hydraulic fuel system that includes an oil manifold under the valve cover, fuel injectors and a high-pressure oil pump. The design provides additional strength and extended engine life.
Read also: Silent killers of modern warfare: most dangerous military UAVs
Armament and protection
The MaxxPro 4×4 MRAP is equipped with a single turret that houses a 7.62 or 12.7 mm machine gun. The turret is installed on the right at the top of the hull.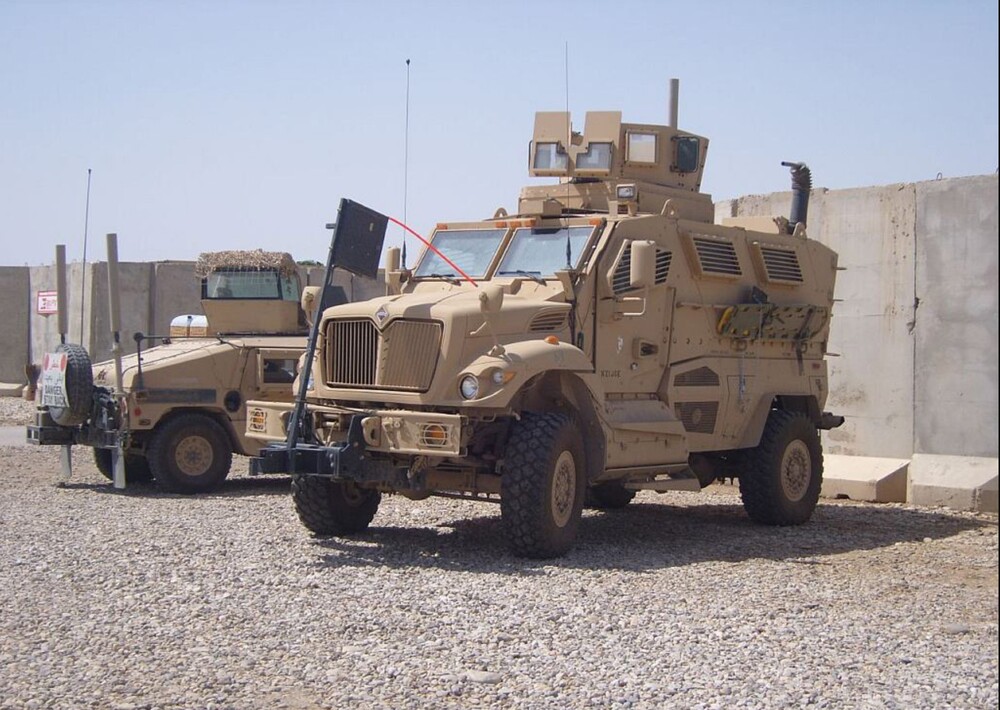 Thanks to the V-shaped design of the body, the vehicle is maximally protected against mines or improvised explosive devices. The machine is equipped with ballistic protection – armor and glazing, necessary for the performance of the task. This is very important in modern combat conditions. The MaxxPro Plus and Dash mods were designed to accept additional armor depending on mission requirements.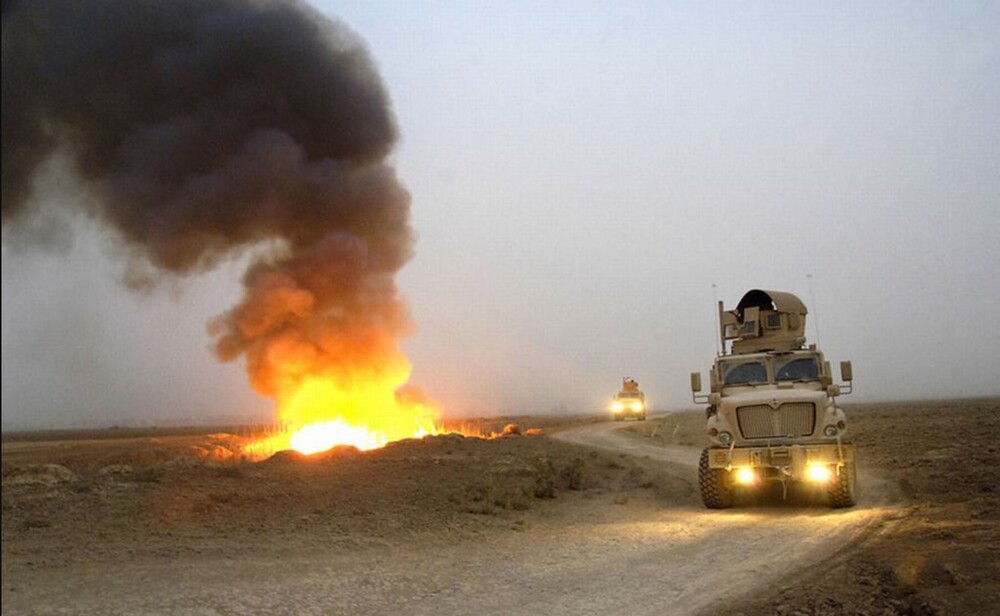 Read also: Comparison of F-15 Eagle and F-16 Fighting Falcon fighters: pros and cons
Additional equipment
As an additional equipment, International MaxxPro received a winch, which is installed in the front part of the vehicle. This allows towing damaged vehicles in combat conditions.
The international version of the MaxxPro can ford a maximum depth of 0.91 m without preparation. The car is also equipped with an NBC protection system.
Read also: Weapons of Ukrainian victory: ATGM Stugna-P – Russian tanks are in trouble
MaxxPro MRAP specifications
Protection: The V-shaped body deflects the blast of a mine or improvised explosive device away from the vehicle
Weight: 13.6-14.5 tons
Speed: 105 km/h
Range: 600 km
Dimensions: length 6.45 m, width 2.59 m, height 3.04 m
Armament: the basic version can be equipped with a 7.62 mm or 12.7 mm machine gun
Additional equipment: winch, NBC protection
Crew: 3 men (commander, driver, gunner), can carry 4-6 infantrymen
Armored vehicles are an extremely necessary vehicle in modern warfare. The maximally protected MaxxPro MRAPs will allow our defenders to move as quickly and safely as possible on the battlefield, maneuvering among mines and protecting the crew and infantry. They have already proven themselves well during the counteroffensive in the Kharkiv region.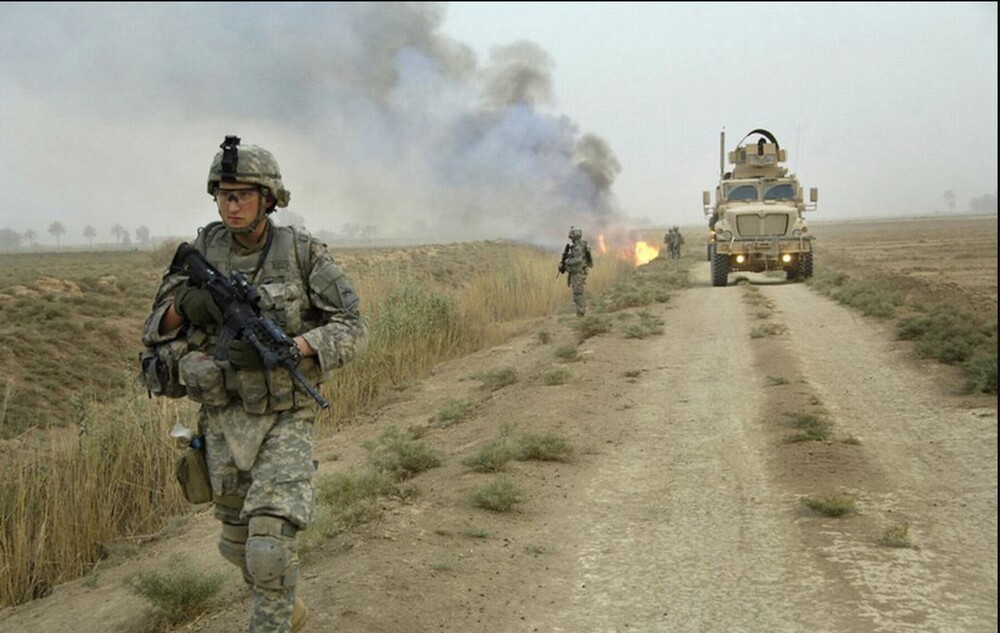 We are sure of our Victory! The enemy is demoralized and flees, leaving behind positions and weapons. Ukraine will definitely win! Glory to Ukraine! Death to enemies!
Read also: Weapons of Ukrainian Victory: ATACMS missiles for HIMARS and MLRS
You can also help Ukraine fight with Russian occupants via Savelife or via an official page of the National Bank of Ukraine.