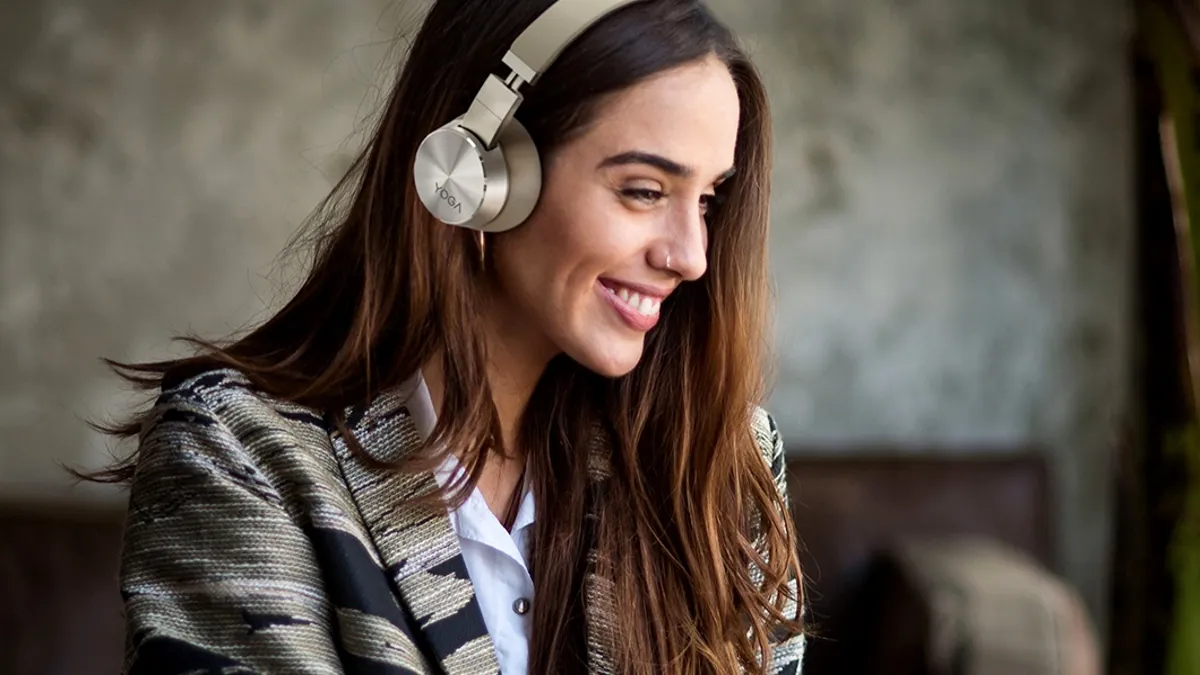 Earphones are a must-have accessory for any PC user or smartphone owner. Listening to music, watching movies, listening to webinars or podcasts, playing games, having a meeting at Zoom – for all this (and not only) many people prefer to use headphones.
Today's article is devoted to choosing the optimal headset for certain purposes on the example of Lenovo models. After all, Lenovo is famous not only for laptops and gaming gadgets – the company also pays a lot of attention to the headphone segment. There are dozens  of practical solutions in its range for any requirements that we will introduce you to.
What do we need earphones for?
The first thing you need to consider before choosing a model of headphones is the purpose for which they will be used. Need a gaming headset, or headphones for sports, music and multimedia, or TWS headphones for listening to music or podcasts on the go? After all, there are many types of headphones, and most of them show themselves best in a particular use scenario. Solving the issue with the intended purpose will narrow the choice from limitless and complex to quite comfortable.
For example, the main requirement for headphones for sports is not only pleasant sound, but also good fixation, which will keep the headset in place during physical activity and fast change of position. That is why the headphones for sports are dominated by inlaid TWS, Bluetooth headphones with a neck cable, or headsets with ear mounts, but models with a massive overhead are seldom used.
The wireless gaming headphones emphasize the accuracy and speed of signal transmission and quality connection. That's why gaming headphones show themselves well in games, but they are unlikely to satisfy an audiophile, because, for the most part, they do not have a panoramic musical sound and deep bass. In general, each type of headphones has its own features, so we suggest you get acquaintant with each of them in more detail.
Best smartphone option – TWS
True Wireless Stereo headphones are in high demand today. To see this, just walk around the city and see how many people of different genders and ages use them. Lightweight and compact headsets that connect to a Bluetooth audio source are stored in miniature cases and take up almost no space in a bag or backpack, allowing you to enjoy you time on the road, waiting in line, or just at home. Anyway, TWS is an absolute must have for a smartphone. Fully wireless headphones can be divided into two categories by type of design – intra-channel (also called vacuum) or inserts ('tablets'). Which of them is better is an individual question. Some people appreciate 'translucent' inserts to hear the surrounding sounds, while others, on the contrary, prefer vacuum for better isolation from external noise.
If you prefer the latter option, we recommend paying attention to Lenovo Smart Wireless Earbuds. This is an advanced TWS headset in a minimalist design and with flagship functionality. The headphones have an adaptive noise reduction system that can mute up to 36 dB, and 6 built-in microphones with ENC are responsible for clean voice transmission during calls. With Lenovo Enhanced Multipoint support, Smart Wireless Earbuds can connect to two audio sources at the same time. By connecting headphones to a smartphone and, for example, a laptop, you can switch between them in just a few touches. In addition, the headset supports Google Assistant and can be charged not only through the Type-C connector, but also with a wireless charger.
The headphones weigh less than 6 g (the weight of the case is only 60 g), have a built-in Bluetooth 5.2 module and are available in two colors – black and white. The model received 11-millimeter dynamic emitters and Touch IC sensor controls. The set includes 4 pairs of silicone ear pads of different sizes, so you can find the optimal attachments for yourself and use the headset with maximum comfort.
The headphones can work up to 5.5 hours with the Active Noise Canceling system on and up to 7 hours without ANC on a single charge. With the case, the total battery life increases to 28 hours. A nice bonus – the earphones have protection against moisture according to the IPX4 standard. As a result, Smart Wireless Earbuds are a great option if you are looking for good quality TWS with ANC, ENC, wireless charging and good autonomy. We expect this model to go on sale in Ukraine in mid-June.
Lenovo gaming headsets
Good gaming headphones, first of all, should provide reliable signal transmission in both directions and have such ergonomics that will allow you to conduct battles continuously without causing fatigue. Headphones for gamers can have different form factors and differ in the method of connection, so consider the most popular solutions.
Wired gaming headsets
The classic of the genre among gaming headsets are full-size headphones with a microphone and wired connection. It is the wire connection that ensures lightning fast and uninterrupted signal transmission, because in games sometimes a fraction of a second is crucial. Among such solutions, you can safely choose the Lenovo Legion H300 and crush enemies with a great drive. The Legion range is designed for gaming and is, in fact, one of the most successful gaming solutions on the gaming device market.
H300 have a brutal design in the form of a double headband – soft adjustable inner and perforated outer rims. Despite the aggressive appearance, the headphones weigh only 320 g. Combined with soft ear cushions made of high quality leatherette, the headset is comfortable to use for long time and does not cause any discomfort. H300 belong to the closed Over-Ear models and completely cover the auricle, which allows you to isolate yourself from ambient noise and immerse yourself in the game world to the maximum.
50 mm dynamic emitters are installed inside. The microphone is on the left, it is retractable, and has a noise canceling system for perfect communication with your gaming team. The length of the cable is comfortable at 1.85 m, and the fabric wire braid will ensure long-term operation. The headphones are connected via a 3.5 mm audio jack, and for those PCs that do not have a combined audio jack, a Y-headphone and microphone jack switch is included.
Wireless headsets with hybrid connection
The trend of abandoning wires has caught up with gaming headsets, where the wired connection is still canonical. However, in 2022, not everyone is ready to put up with the presence of a cable, which limits the player in motion, although it provides the best connection. That's why wireless gaming headphones today breathe in the back of traditional wired ones.
Excluding the need to periodically charge wireless headphones, their only drawback is a less reliable connection and possible audio transmission delays when compared to cable. However, major manufacturers (and Lenovo is no exception) include premium transmitters in their models, which are able to eliminate this shortcoming and successfully compete with wired headsets.
For those who have not yet decided or have doubts about the choice of gaming headset, there are alternative solutions – headphones that can be connected with a wire or without it. That is, they can have both an audio jack for connection, and Bluetooth or a radio. One of the best hybrid models offered by Lenovo is the Legion H600. This is an advanced gaming headset of complex design with a retractable microphone and passive noise reduction, as in the H300. The premium 2.4 GHz wireless receiver provides uninterrupted signal transmission. With 50 mm speakers and a minimum delay of sound transmission (less than 0.03-0.035 s), the headphones are a tournament-level audio system and will appeal not only to fans but also to professional gamers.
The ear cushions are made of breathable material, they are removable, so they can be easily removed and simply rinsed with water. The 1200 mAh battery provides up to 20 hours of operation on a single charge, and it will take 2.5 hours to charge. A feature of the model is the support for wireless charging with the Legion charging station from Lenovo.
Multimedia headphones
Avid movie and music lovers need a headset with high-quality and detailed sound. In fact, this is the main priority in their choice, other parameters are rather secondary, although still important. Good multimedia headphones should have a clean and, ideally, panoramic sound that will allow you to hear any halftones in your favorite music or movies. And it would be good if the headphones did not let in external noise and did not distract from hedonistic pleasures. For this purpose, it is especially worth highlighting overhead headphones. On the one hand, they can accommodate sound emitters that will delight with quality sound, and on the other hand, due to its design and tight fit, they cut off excess noise naturally. And if they have an active noise reduction system and support the 'right' audio codecs (aptX, for example), then it's great. At Lenovo, these parameters are perfectly matched by overhead Lenovo Yoga ANC.
Yoga ANC impresses with its design – premium materials (soft "silicone" leather and metallic finish), and the sleek shape of the headphones will delight any connoisseur of beauty. The headset has a complex design and is complemented by a thick case for comfortable storage. The model weighs only 214 g and is available in two colors – black and elegant beige.
Inside are 40mm speakers that provide clear and detailed sound. Playback is controlled using the buttons on the headset. The headphones connect to the audio source via Bluetooth 5.0 and support simultaneous connection to multiple devices. There is support for aptX and AAC codecs, as well as an active noise reduction system (2 modes). Lenovo Yoga ANC has 6 microphones with ENC, which allow you to cut off unnecessary noise during telephone conversations. Battery life is up to 14 hours, and it takes about 3 hours to charge. This is the case when the sound is impressive, design is luxurious, and well-designed headphones are just fine.
Earphones for sports
As mentioned above, an important parameter in headphones for sports is a reliable fixation during intense physical activity – running, jumping, leaning and more. Of course, no one is talking about wired headphones for sports in 2022, only Bluetooth, so that the cable does not interfere. In addition, if you train mostly outdoors, you will need at least minimal protection from moisture (from IPX4 and above), so you do not cancel the run if there is light rain outside the window.
Given these factors, many athletes opt for Bluetooth headphones with neck mount. Due to the shifted back center of gravity, they hold well during training and do not interfere with exercise. HE06 stands out among Lenovo headsets of this type.
These are inserts with a metal body, protected by the IP65 standard, which are perfect for outdoor and indoor activities. Inside are 10-millimeter speakers that provide quality sound. Each earphone is connected by a flexible strong cable with the neck mount, which includes a control panel and microphone. Lenovo HE06 runs on up to 10 hours on a single charge, and can last up to 200 hours in standby mode.
Another option is TWS for sports. Most often, these are vacuum models, because their fixation is more reliable. There are many types of vacuum TWS, so you should pay attention to the shape of the headphones themselves. For example, not only classic models with a "leg" at the bottom are good for sports, but also with an upward or sideways body, as in Lenovo True Wireless Earbuds.
Their main feature is that, due to the special shape, they are perfectly fixed and securely held during training. True Wireless Earbuds have IPX5 protection against moisture, they are not afraid of sweat or splashes of rain if you train outdoors. One charge provides up to 4 hours of music listening, and with the case, the battery life increases by another 6 hours.
We cannot help mentioning the original design of the case, the lid of which does not open up, as in most TWS, but slides to the side. The set also includes 3 sizes of ear cushions for optimal fit. The headset is connected via Bluetooth 5.0, and it also has touch control. We are expecting for True Wireless Earbuds to be in stores with Lenovo Smart Wireless Earbuds in mid-June.
Read also: Lenovo Legion 5 Pro review: The powerful duo of AMD and NVIDIA
Headsets for communication
In 2020, when the pandemic 'drove' us to remote home offices, many were faced with the need to solve work task (as well as educational, too) through video conferencing. And the picture is not as important in work callsas the quality of voice reception and transmission. After all, no one is tempted by the prospect of putting yourself or your interlocutor in an awkward position, constantly questioning or repeating phrases because you are misheard. If you often have to 'hang on the wire' for work or study, it makes sense to buy a specially designed headset. For example, Lenovo 100 Stereo USB Headset.
This is a overhead Google-certified headset for Chromebooks. It is equipped with a rotating microphone with passive noise reduction for clear sound during calls and a rotating rod, thanks to which the microphone can be located both left and right. The headphones are light (only 137 g), have soft cups with a memory effect and adjustable headband. 30mm dynamic emitters provide clear sound and excellent audibility of the interlocutor, and in between meetings the headphones will help to reload and enjoy your favorite music.
As you can see, Lenovo has the answer to any user request to get quality headphones for certain tasks. And this is taking into account the fact that we have considered only a small part of the models presented by the brand – the real variety is much greater. Moreover, you can find good solutions not only in terms of characteristics but also in terms of price. Therefore, when choosing new headphones, remember that Lenovo is not just about laptops and PC accessories.
Read also:
And don't forget! You can also help Ukraine fight with Russian occupants via Savelife or via an official page of the National Bank of Ukraine.