A modern laptop can do almost anything. Whether it's work or game related, you can be sure that it can handle every task: both a $900 laptop and a $2100 gaming machine. ASUS ROG STRIX SCAR 17 SE steps up the game with the most powerful components possible in a laptop at the moment: with the Top of the line 12-gen Intel Core-i9 processor, and Nvidia RTX 3080Ti, both with the unlocked TDP. And it also comes at a whooping $4200, which is twice as much as the most expensive laptop I've ever tested.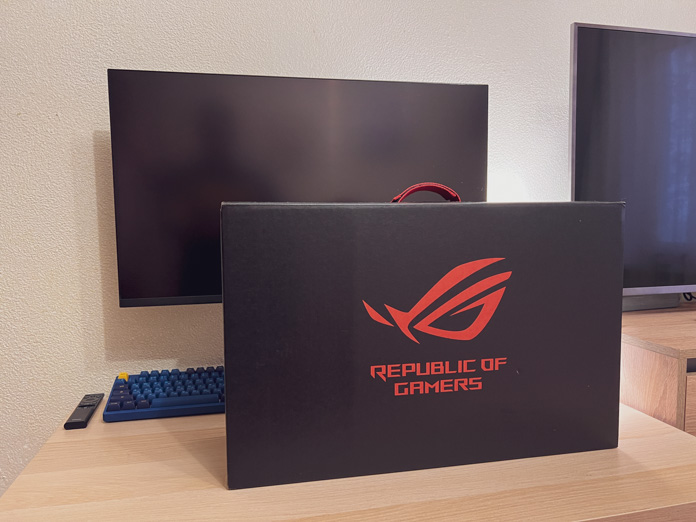 But can you actually do more with it? And does more money and power mean more better? To find this out, I'll step away from my standard laptop review cycle, and instead, I'll tell you what impressive you can do with such an impressive laptop (and a few things that you can not).
You Can Impress People by Simply Unboxing It
And they don't have to be gamers to be impressed. My wife is no gamer (well, if you don't count Super Mario Bros.), and her friends aren't as well, but all of them were genuinely shocked by the in-box content and the way it was delivered. So take a seat and I'll tell you what's included:
The laptop itself
Ultraviolet light (more on why you might need it later)
A keychain with ROG Keystone
3 interchangeable magnetic panels which you can use to customize your laptop looks
Asus ROG Strix Impact wired mouse
100W Type-C Charging brick
330W Charging brick
A backpack
It's like Santa forgot his gift bag on your porch, and thus, Christmas in your home starts earlier. Just to keep all these accessories together, Asus had to divide the transportation package into 2 compartments: 1 for the box with the laptop, and the second one for the included backpack.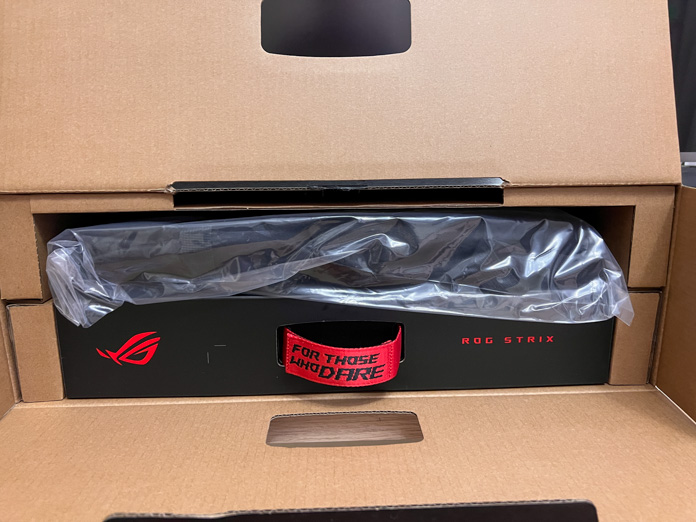 And I must admit that the accessories that come with the laptop are very useful (maybe, except for ROG Keystone and those magnetic panels – these are gimmicks):
The ultraviolet light is handy to check whether or not you have some fake money (seriously, that's important)
The mouse, although wired, and lacks side keys for productivity – is pretty good in use, and RGB light is amusing
100W Type-C Charging brick is a gift that keeps on giving: if you want to pack lightly, you can use it not only to charge your laptop but compatible phones (sorry iPhone), tablets (sorry basic and old iPads), or even other laptops. I would also appreciate having a detachable Type-C cable on it, but I'm asking too much, I guess. Thank god, you won't be stuck with the 330W "chungus" with a proprietary plug.
The backpack was comfortable enough for daily carry. And I appreciate the additional zip lock for quick access to the laptop compartment – very convenient.
Although I should admit that the Asus' "bag of gifts" is not complete: the webcam accessory and headset were noticeably missing. But hey, Santa has to save something for Christmas.
Recommended reading:
You Can Be Sure That You Have the Top Specs
At the moment, every aspect of the ROG Strix Scar 17 SE is the top one. You want not just the powerful laptop processor, but the most powerful – there you have the Intel Core i9-12950HX CPU, which has a TDP of up to 65W, which is awesome for the laptop. You're looking not just for a good laptop GPU, but the best one – NVIDIA GeForce RTX 3080 Ti is at your service with its 175W TDP.
If you want DDR5 memory or Wi-Fi 6E, you have them both. 17" QHD 240Hz screen, Thunderbolt 4 port – what else do you want? Maybe a decent webcam… Well, you can't have everything at once, you have to admit it. But here's the full list of what you'll have with ROG Strix Scar 17 SE:
ASUS ROG STRIX SCAR 17 SE Modification As Tested:
Model: 17 SE G733CX
Dimensions: 395 x 282 x 23.4 ~ 28.3 mm (15.55″ x 11.10″ x 0.92″ ~ 1.11″)
Weight: 3.00 Kg (6.61 lbs)
OS: Windows 11 Pro
CPU: Intel Core i9-12950HX, 16 cores (8 P-cores, 8 E-cores), 2.30 GHz
GPU: Intel UHD Graphics, 1 GB + NVIDIA GeForce RTX 3080Ti Laptop, 16GB
RAM: 32 GB, DDR5, 4800 MHz
Storage: 1TB, NVMe, PCIe Gen 4
Screen: 17.3", QuadHD(2560×1440), IPS, 16:9, 240Hz, DolbyVision HDR support
Connectivity: Wi-Fi 6E, Bluetooth 5.2, 2.5G Ethernet
Ports: 1x 3.5mm Combo Audio Jack, 1x HDMI 2.1, 2x USB 3.2 Gen 1 Type-A, 1x USB 3.2 Gen 2 Type-C , 1x RJ45 LAN port, 1x Thunderbolt™ 4
Battery: 90 W•h
Additional features: Aura Sync RGB-backlit Keyboard, Aura Sync Light Bar, Aura Sync logo
And you know, what's the best thing about it? You can buy the very same modification of the laptop. Asus gracefully provided me with a retail unit, so everything you see and hear about the performance of this beast can be applied to an actual laptop you can purchase from the store of your choice.
You Can Admire The Looks of the ASUS ROG STRIX SCAR 17 SE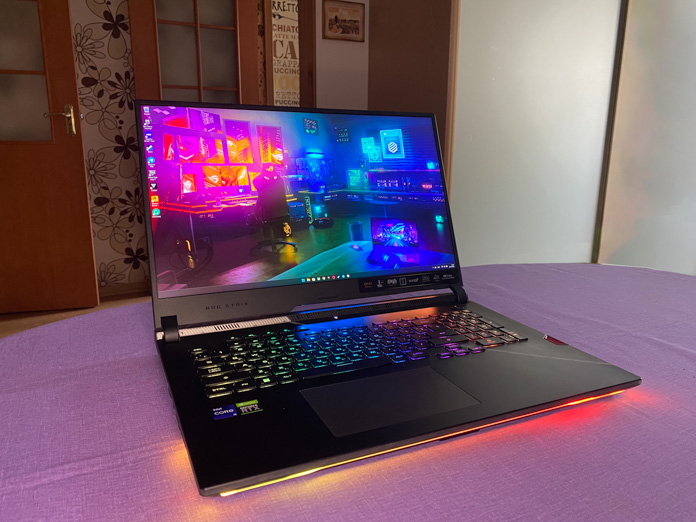 Although I prefer stealthy and minimal looks over the RGB extravaganza, I must admit that ROG Strix Scar 17 SE looks stunning.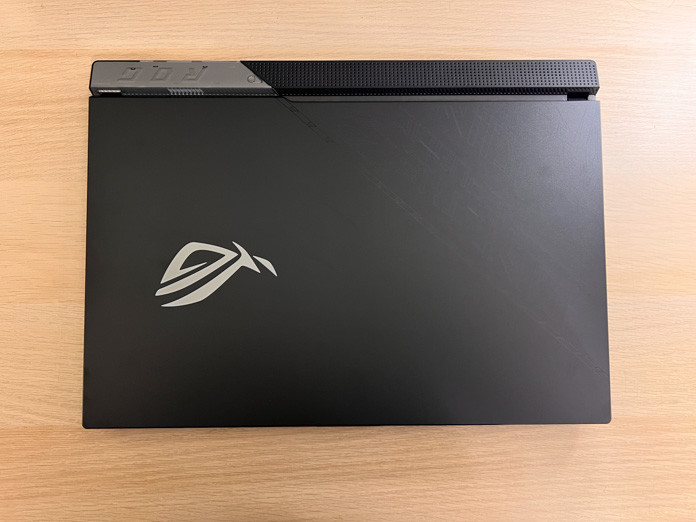 Starting with the lid with a glowing ROG logo and an interesting-looking inscription. That's where your ultraviolet light comes in handy – the inscription shines under UV light. And although you can't always hold the light pointed at the lid – at least that's another way to show off in front of your friends. Making a splash is better than cash.
Read also:
And remember, you didn't even open the laptop – and that's where the most interesting part of it. Underneath the lid, you can see a beautiful Aura-sync-enabled RGB keyboard, an extended lighting strip under the keyboard, and even a small light strip hidden at the edge of the lid…
OMG, what a combination, especially when you plug in the mouse, put on Aura Wallpaper, and enable Aura Sync in the settings. I've left the laptop open in the dark room once, and it can totally serve as a lamp… Nice RGB lamp.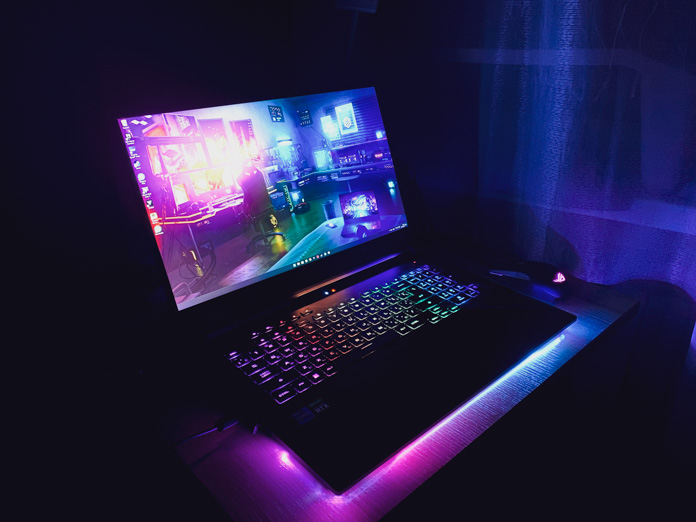 And if you have a free day or more, you can fully customize the experience via the Armory Crate app, save your profile and even transfer it via the ROG Keystone (however, good luck finding a friend with a laptop that supports this proprietary transfer method).
Recommended reading:
Or You Can Watch Something on the Screen
Don't you think that I've been staring at the Aura Glow all the time? In fact, most of the time I've been looking at the screen. And it looks fantastic. First of all, thanks to thin bezels you have a big 17" screen in an almost 15" laptop body, which is already an impressive achievement.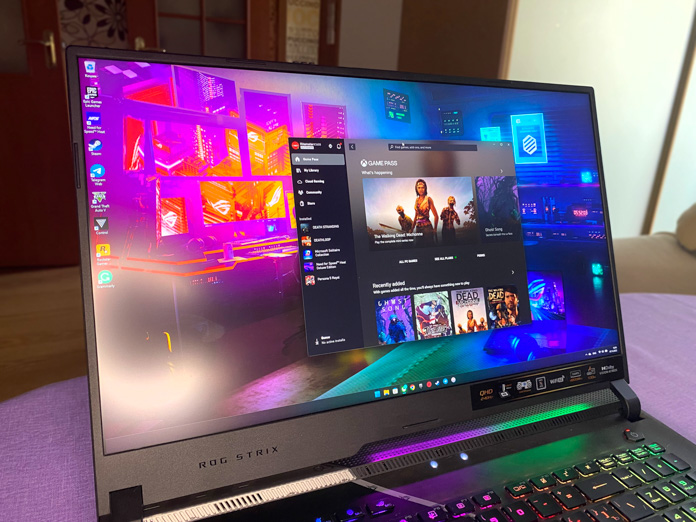 Secondly what a beautiful screen it is: it is bright, crisp, and fluid (of course it will be, with 240Hz refresh rate and a QHD resolution), it also supports HDR (incl. Dolby Vision), and has a matte coating to prevent glares.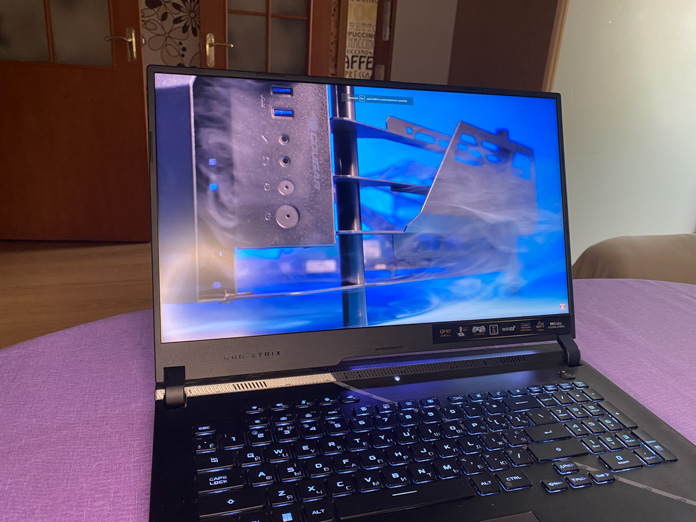 Combine all this with the ability of Aura Glow to sync with the content on the screen and you have almost the perfect home theater. You can even take it to bed to watch some movies and TV series before you fall asleep – the laptop is not that hefty.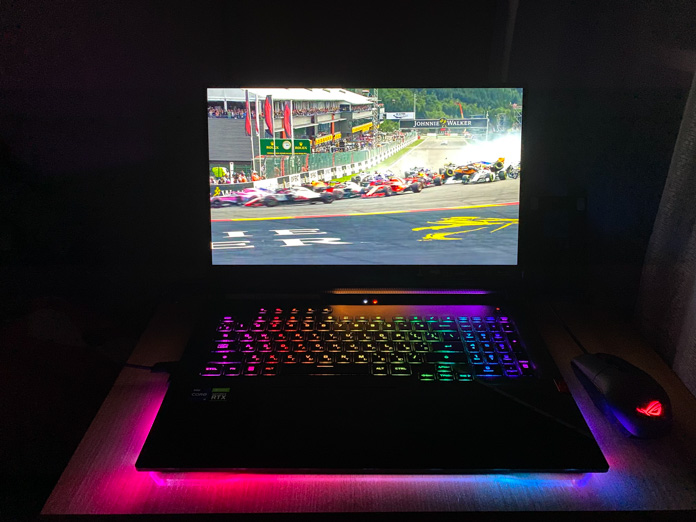 But what looks best on that gorgeous 17" screen is games.
Read also:
You Can Play Both With Ultra Graphics and High Framerate
Up to this point all the laptops that I've tried offered some sort of compromise: it is either ultra graphics settings with the highest possible details, ray tracing, and all other bells and whistles, or you tone down the graphics to some degree, to see FPS counter reaching 3-digits numbers.
Well, ASUS ROG STRIX SCAR 17 SE, managed to handle both ultra graphics and high framerate at the same time. Yes, DLSS comes in handy sometimes, but that's impressive nevertheless.
To test the capabilities of ROG STRIX SCAR 17 SE, I've decided to refresh the list of games with some popular and new titles (at least for Xbox Game Pass), and here's what I've found out:
Persona 5 Royal
While the title itself is hardly new (the original game was released in 2016), it took Atlus 6 years to finally bring it to something other than Playstation. And thankfully it landed on Xbox Game Pass day one on all the platforms.
Long gone are the days when console ports were a buggy mess from day one. Persona's settings offer us the best possible graphics settings at a native resolution right from the start… Along with a 120 FPS limit. Let's see if we're gonna be able to hit it…
And… Game run at 120 FPS stable throughout the whole run. It's hardly a demanding title, even with the highest graphics settings possible, but the game's art style does not require one to crank up the graphics to enjoy the story and colorful fights. So this one is an easy win for the ROG STRIX SCAR 17 SE.
GTA V
Speaking of easy wins and old titles. GTA V was released 9 years ago for Xbox 360 & PlayStation 3, but its humor and gameplay are still addictive. So why don't we try to run it on ROG STRIX SCAR 17 SE? In my opinion, it should run as smoothly as Persona 5 Royal, if not smoother.
So without further ado, I've set up the highest possible settings, and the laptop's native resolution to see the game in all its glory.
Both the prologue and benchmark demonstrated triple-digit FPS, topping at 120 FPS at times. All while the game looks as best as possible, given its age. However, when we jump into the open world of Los Santos – the FPS dropped below 100, mostly hovering around 90 FPS. It's not deal-breaking, but I've expected the aging game to run much smoother.
Need For Speed: Heat
What if I'll try something brighter and faster by design? Let's say the latest (for now) Need For Speed title. All-in-all I got bored with Forza Horizon, and the neon-glowing Miami-inspired city is somewhat reminiscent of the laptop's design.
Settings-wise, I'm again aiming for all-Ultra settings. Despite tons of lights, NFS: Heat does not offer Ray Tracing options, but you're unlikely to notice any lighting effects at high speed, and (hopefully) high framerate, so let's give it a shot.
And, what can I say, the game looks gorgeous! Where it lacks in gameplay and car controls it wins in style: a neon-filled vibrant city never looked that great on my Xbox Series S. It's also a clear win for ASUS in framerates: where Xbox struggles to maintain 30 FPS while showing some muddy textures, ROG STRIX SCAR 17 SE stays above 110 FPS mark, even in the most intense moments, when cops, opponents, and even rain is against you in the race.
Control
But we're up to an even better visual treat. Remedy's Control is still an amazing graphics benchmark for any system. If there's any advanced visual tech available: you name it and Control surely has it.
Nvidia used Control as a demonstration of what its Ray Tracing technology is capable of. So it's obvious that Ray Tracing was one of the first settings that I enabled. Another one was Nvidia's DLSS because ray tracing comes with a huge performance penalty, and I want to maintain a high FPS as well. All while keeping other graphics settings at high or close to a high level.
With all that, my first run of Control was not that successful: while graphics were jaw-dropping (even with DLSS), the framerate hovered around 60 FPS and the whole game was stuttering. However, when switching Ray tracing from high to medium – I received an almost 2-fold increase in FPS and responsiveness. At 100+ FPS it was me who was lagging all the time.
All that with almost no downgrading in graphics. I hardly noticed any difference between medium and high Ray-Tracing settings, and simply enjoyed the game.
Deathloop
But what I enjoyed the most is another former PlayStation exclusive. After Prey (2016), I became a huge fan of Arkane Studios' work, and Deathloop is just another masterpiece with outstanding visual style and amazing performance, even on my underperforming console. But how it will act on a top-notch gaming machine?
For the graphics settings I've used the same approach as with Control in this title: almost all settings on Very High or Ultra, Ray Tracing enabled, and slight help from Nvidia DLSS (with Quality preset).
With these settings – oh boy, this game looks gorgeous. A clever combination of the visual style with the raw power of RTX 3080 Ti makes this game a must-play. The FPS counter never dropped lower than 114 FPS, and the gameplay was smooth and responsive.
In fact, even after finishing all the tests, I found myself casually playing Deathloop just for fun, without the need to watch at the FPS counter, tampering with the settings, and recording the gameplay. Even the fan noise didn't ruin the experience for me… But more on this in the next section.
Recommended reading:
You Can Use ASUS ROG STRIX SCAR 17 SE Without Headphones
Although an ASUS representative clearly stated to me that they recommend using headphones when ROG STRIX SCAR 17 SE is under load – headphones are not required. The laptop is almost silent when you browse the web or do any other light tasks, and it doesn't sound like a turbine when you're playing games.
I must admit that the previously tested Acer Predator Helios 300 was less noisy when playing games, but ASUS wins from the cooling perspective: where Acer laptops get uncomfortably warm, ASUS remains cool and comfortable to touch.
That's especially true for the keyboard: it feels like ROG STRIX SCAR 17 SE uses some sort of active cooling around the keyboard, because every time I touch it during gaming sessions, I felt the light breeze at the palm of my hands.
After all, I prefer noisier fans to burned hands. Especially when there are speakers to battle the noise. The ones on ASUS are pretty loud to accompany a gaming session or watch some YouTube videos.
However, they are definitely not tuned to play music, especially bass-heavy tunes. I understand that playing music is not the main purpose of this laptop but you kinda expect richer sound from a big and pricey 17" laptop.
And there are some other things that this laptop still can do, but you expecting more.
Read also:
You Can Take ASUS ROG STRIX SCAR 17 SE for a LAN Party…
I can even say more: this laptop was designed to bring it to a LAN party. Because it packs huge productivity in a relatively small and light package… Wait, I understand that it's still a big and thick 17" gaming laptop, but in this case, looks are deceptive.
I had great fun asking my wife and her friends to hold a laptop for a while, and seeing their impressed faces when they realise that it weights less than they expected. In fact, it weighs just 500 grams more than Acer Predator Helios 300, which is a 15" laptop. And given that extra display area, the weight is distributed better across the chassis and you can lift it easily.
But ASUS didn't expect you to carry it with your hands – and that's where a backpack comes in handy. Despite having only one compartment, it features a zipper for quick access to the area with the laptop. So you're always ready to quickly jump into a game… Because that's not quite a laptop for productivity tasks.
… but You Can't Take It To Work
While a bigger screen with a bigger resolution and higher refresh rate is good for productivity as it's good for gaming, and that smaller 100W USB-C power brick was definitely put in the box for tasks like this, a few things held me back from using ROG STRIX SCAR 17 for productivity.
I'll start with the obvious, which is battery life. If you're like me forget to switch off productivity mode in the settings and decide to work on a battery – you'd better keep that charger close. In productivity mode with maximum screen brightness, the battery will be drained in 1 hour and 40 minutes. Thankfully with 330W brick it fully charges for around the same time.
When properly put in ECO mode the big laptop lives noticeably more: after 3 hours of writing this very review and watching some YouTube videos I had 48% of the battery. So you can expect 2-3 hours more of battery life in this mode. Good enough, but I'd suggest having a charging station nearby if you want to survive a blackout with ROG STRIX SCAR 17 SE.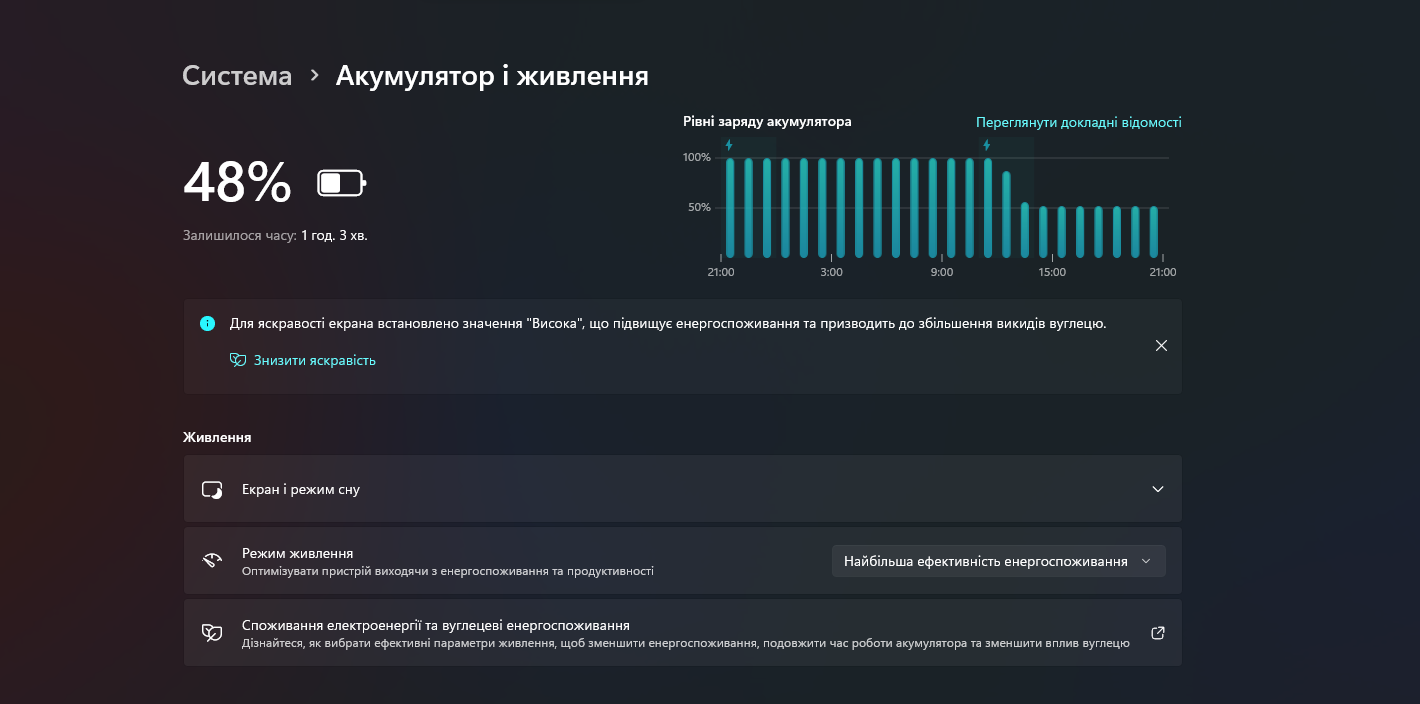 But what still puzzles me – is why ASUS decided to ditch the web camera in this laptop. Yes, ASUS ROG STRIX SCAR 17 SE is a gaming-first laptop, but we're 2 years into the hybrid/remote working era, where the camera became mandatory and ASUS still sells an external webcam as an accessory for a $4000 laptop…
You can also use your smartphone as an external webcam, but it doesn't work as smoothly as the Continuity Camera on macOS Ventura: the quality is bad, and the delay is huge. So if you're willing to use this laptop not just for games but for work as well – the webcam is the No. 1 accessory.
So you've learned what this new ASUS laptop can and not quite can do, and the question arises…
Read also:
Is ASUS ROG STRIX SCAR 17 SE Worth It?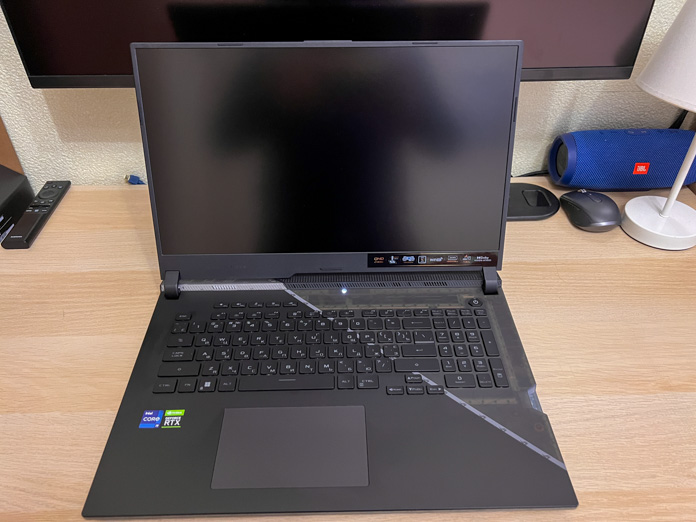 What we are looking at is an incomparable laptop. There's nothing quite like it in terms of productivity and gaming performance, even the price of more than $4000 is not that frightening, considering that less productive laptops cost almost the same.
Yes, you can build your own setup for a price like this. It will even include a monitor, peripherals, and a webcam (yes, its absence bothers me). But even with a Mini-ITX case, it won't be as compact and elegant as ROG STRIX SCAR 17 SE.
The best comparison here is a sports car: this is not the best option for the daily commute, or a shopping day in the mall, it may be not the best all-rounder car overall, but people just can't get their eyes out off it, and it absolutely shines on the track
ASUS ROG STRIX SCAR 17 SE is a sports car – it draws attention and crushes other laptops when it comes to game performance. And while it's not suitable for your daily working routine, there's no lack of fans of this game-only approach. After all, this top-spec laptop, just like the limited edition Lamborghini or Ferrari is already sold out, at least in Ukraine.
Recommended reading
You can also help Ukraine fight with Russian occupants via Savelife or via an official page of the National Bank of Ukraine.