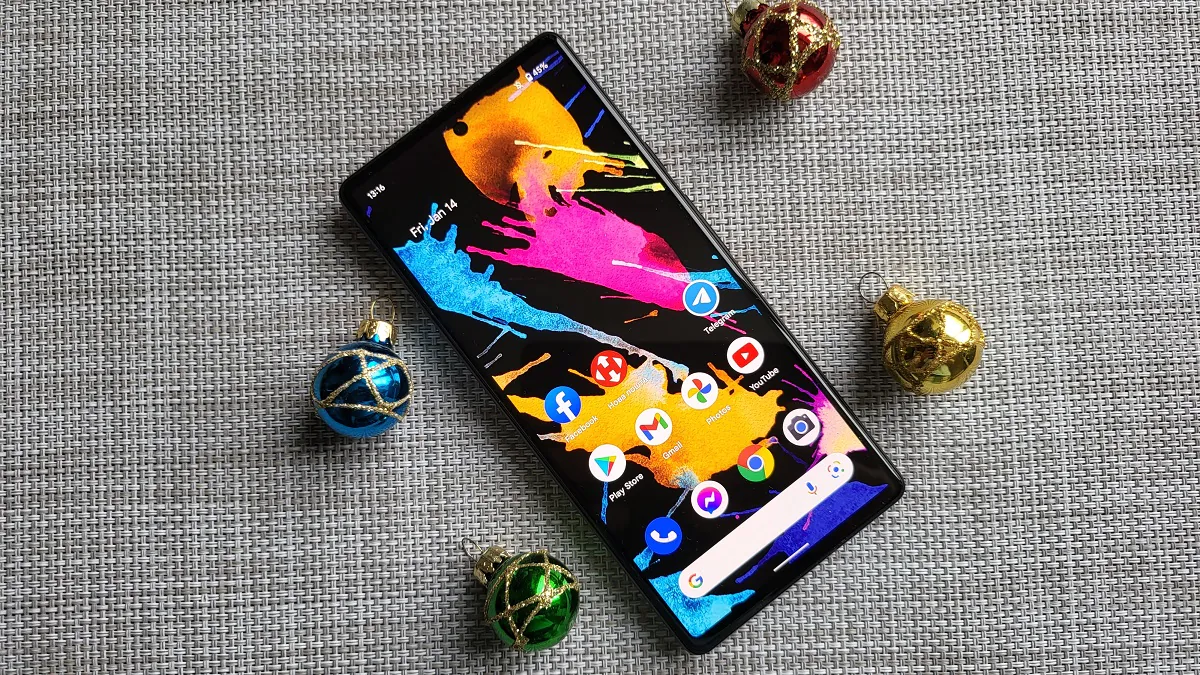 It just so happens that I've never tested Google's Pixel smartphones before. I borrowed it for a few days from friends and acquaintances, being curious to see what the IT giant had come up with, but nothing more. And finally, the Pixel smartphone came to me for a full-fledged test. Let's see what happens. Is the Google Pixel 6 the revelation we've been promised?
A bit of history
The Android operating system has been with us since 2008, and this year we saw its new version, marked with the number 12, which makes many changes to the appearance, management settings or user privacy. From the very beginning, Android is characterized by its openness, for which some love it, others hate it, and some don't care (they have an iPhone). This openness allows various manufacturers to do almost anything they want with the system, adapting it to their image using their own user interface extensions.
For example, Samsung and its One UI, formerly known as TouchWiz. I know this isn't news to you, but what am I getting at? If you want to try or use the latest version of Android in its purest form, you don't have many options: you can boy either Google's Pixel phones or Nokia or Motorola smartphones.
Google Pixel smartphones were first released in 2016, and I dare say Google probably never intended them as a mass smartphone. No one denies that Google has tried and is trying again to compete with flagship smartphones from Samsung, Huawei, Xiaomi or Apple. But I want to say that the American company has always considered its smartphones as a technical exercise.
Pixel has always been interesting to watch because each generation was different. If you look at the Samsung Galaxy S or iPhone series, you will most likely always recognize them at a glance. For generations, they have had some clear identifiers. Pixel has never stood out in anything special.
I can't tell if it's right or not. But it gives Google more room to experiment. Dimensions, materials, color. In recent years, the Pixel has been characterized by interesting pastel colors and a power button that differs in color from the rest of the phone.
Read also: Huawei nova 9 review: phone that could have been hit
Pixel 6 and Pixel 6 Pro are ready for a fight
Google has high hopes for its new flagship Pixel 6 and 6 Pro. Perhaps someone will be surprised by my words, but last year's Pixel 5 brought a lot of disappointment and discontent of fans. It seemed that Google decided to take a breather. After all, their smartphone was not a flagship in the truest sense of the word. Those who expected to see the best Qualcomm chipset, a telephoto lens or excellent speakers in the new device were probably disappointed. But on the other hand, the smartphone was significantly cheaper than the Pixel 4. However, it is worth recognizing that the Pixel 5 managed to maintain its compact size, excellent build quality and a good main camera.
Everyone was looking forward to the announcement of the new Google Pixel 6. And their expectations were met. This year, the American giant decided to go a completely different way. It introduced the flagship Google Pixel 6 and Google Pixel 6 Pro, which boast not only a great design, but also their own Google Tensor SoC, a new Android 12 and a brand new main camera. But are they worth the price>
The Pixel 6 vs the Pixel 6 Pro
Before we go specifically to the Pixel 6, let's deal with perhaps the most common question. What is the difference between Pixel 6 and Pixel 6 Pro? Let's start with the most noticeable.
Sizes and colors. The Pixel 6 is slightly smaller. Let me remind you that it has a 6.4 display, and the larger Pro is 6.7. The smaller smartphone has thicker bezels around the display, so its height is only 7 mm less and its width is only 2 mm. At first, looking at the official photos, I thought that the Pixel 6 Pro would be noticeably larger, but when I picked them both up, I found that the difference in size between them is hardly perceptible.
Display. There are many differences here, and some of them are obvious at first glance, for example, the size and rounded edges. However, you will notice other differences only when you turn on the phones. The Pixel 6 Pro has a Quad HD+ resolution, unlike the Pixel 6's Full HD+. The "Junior" received a refresh rate of 90 Hz, and the Pixel 6 Pro has an LTPO display with a variable frequency of up to 120 Hz. In fact, this difference may not be obvious to someone.
If we consider the design of the devices, then the differences are also noticeable here – a matte back panel on the Pixel 6 and a glossy one on the Pixel 6 Pro. In both cases, it is an aluminum edge and glass in front and back. The rest of the materials are the same, and I will tell you about them later. The Pixel 6 comes in black, green and orange, and is always a combination of two shades of the same color. The flagship in the Pro version is available in black, silver and gold colors.
Both smartphones have a giant camera module on the back. The Pixel 6 Pro is equipped with a 48-megapixel telephoto lens with an aperture of f/3.5. The Pixel 6 has a combination of a main 50-megapixel sensor with an ultra-wide lens and a 12-megapixel sensor. The selfie camera also has differences. 8 megapixels with an 84° viewing angle for the Pixel 6 and 11 megapixels with a 94° viewing angle for the Pixel 6 Pro. Simply put, the Pixel 6 Pro gets you a wider picture.
The internals differs only minimally. In both cases, you will get a new Tensor chip from Google. The Pixel 6 gets 8 GB of RAM, and the Pixel 6 Pro gets 12 GB of RAM, both models have 128 GB of storage. However, you can also buy a smaller model with up to 256 GB, and a larger one up to 512 GB. The Pixel 6 Pro also got a slightly larger battery – 5003 mAh versus 4614 mAh.
And that's it. Although, at first glance, there are many differences, but in fact they are minimal. The choice is mainly determined by what colors you like, whether you want a larger or smaller smartphone and how important the hardware is for you. The price difference between them is $200, which seems a little strange.
If anyone is interested, here is a comparative table of characteristics.
| | Google Pixel 6 | Google Pixel 6 Pro |
| --- | --- | --- |
| Price | $699 | $899 |
| Body color | Stormy Black, Kinda Coral, Sorta Seafoam | Stormy Black, Cloudy White, Sorta Sunny |
| Display | 6.4 inches (1080 × 2400 pixels, 411 dpi) | 6.7 inches (1440 × 3120 pixels, 512 dpi) |
| Refresh Rate | up to 90 Hz | up to 120 Hz |
| Processor | Google Tensor with Titan M2 | Google Tensor with Titan M2 |
| RAM | 8 GB | 12 GB |
| Built-in memory | 128 GB | 256 GB | 128GB | 256GB | 512GB |
| Rear cameras | 50 MP wide-angle (f/1.85), 12 MP ultra-wide-angle (f/2.2) | 50 MP wide-angle (f/1.85), 12 MP ultra-wide-angle (f/2.2), 48 MP telephoto (f/3.5) |
| Zoom | 7x Digital Super Res | 4x Optical and 20x Digital Super Res |
| Front-facing camera | 8 MP (f/2.0), 84° viewing angle | 11.1 MP (f/2.2), 94° viewing angle |
| Video | Rear: 4K and 1080p (both up to 60 fps), Front: 1080p @ 30 fps | Rear: 4K and 1080p (both up to 60 fps), Front: 4K at 30 fps, 1080p at up to 60 fps |
| Authentication | Fingerprint unlock with an in-display sensor | Fingerprint unlock with an in-display sensor |
| Battery | 4614 mAh battery | 5003 mAh battery |
| Special features | 5G Sub-6 Support, Wi-Fi 6E, 30W Fast Charging, Magic Eraser, Motion Mode, Real Tone, Face Unblur, Cinematic Pan, IP68 Dust and Water Protection, Gorilla Glass Victus (Front), Gorilla Glass 6 (Rear) | 5G Sub-6 and mm, Wave support, Wi-Fi 6E, Ultra-Wideband Access, 30W Fast Charging, Magic Eraser, Motion Mode, Real Tone, Face Unblur, Cinematic Pan, IP68 Dust and Water Protection, Gorilla Glass Victus (Front and Rear) |
| Overall dimensions | 158.6×74.8×8.9 mm | 163.9×75.9×8.9 mm |
| Weight | 207 g | 210 g |
Buy Google Pixel 6 or 6 Pro on Amazon
What's in the box
When Apple introduced the iPhone 12 last year and decided for the first time not to supply customers with a charging adapter, a huge wave of criticism broke out. But in January, Samsung followed suit, and then some other manufacturers followed Apple's example as well. So a year later, this solution suddenly became almost standard.
So, the Pixel 6 received a smaller box than the previous generation, and inside you will find only a smartphone, a USB Type-C charging cable, a USB Type-C to USB Type-A adapter, a SIM eject tool, and brochures. You should buy a charging adapter yourself, or you can use charging adapters that you probably already have at home. In previous years, there was also a sticker with the hashtag #teampixel. Unfortunately, it's not there either.
Read also: OPPO Find N review and user experience
New design and great build quality
Google surprised everyone and revealed the design of the Pixel 6 smartphones a few months before the fall presentation of the Pixel Fall Launch, at which the Pixel 6 and Pixel 6 Pro were presented. But I suspect that the company chose this strategy in order for users to get at least a little used to such a design, and it would not look too weird at the event. And so the emotions subsided, and everyone was waiting for the opportunity to actually see the new product from Google. But personally, I liked the Pixel 6 design, and I can confirm that the phone looks much better than on the official renderers. In some ways it may remind you of smartphones from other manufacturers, but it more or less looks unique, which really distinguishes the Pixel from the rest of the market.
The quality of execution is also great. The front panel is covered with Gorilla Glass Victus protective glass, and the back is covered with Gorilla Glass 6.
At the back we find, perhaps, the most controversial part of the design – the camera module. It is stretched over the entire width of the smartphone, although there are only two sensors in it. On the other hand, thanks to this, it does not wobble on the table, which is rare today.
I had a pretty interesting Pixel 6 color on my test. The back panel looks very original – a brighter orange stripe above the camera module and a delicate light orange rest with a branded "G" in the center.
The front panel is flat with a 6.4-inch display. On the upper end there is an elongated hole for headphones and a speaker. Just below, at the top edge of the screen, is a selfie camera.
This is a solution that I'm so used to in smartphones that I almost don't notice this notch, no matter what device I'm holding.
All sides of the smartphone are painted black, they are matte, regardless of the color of the back panel. Quite stylish and practical. On the left side, except for the antennas and a retractable slot for the nanoSIM card (alas, there is no support for microSD memory cards) there's nothing interesting.
On the right you will find the power button and the paired volume button. By the way, the volume button and the power button have been swapped (the volume control is lower), which is quite unusual for Android devices. This is unusual, and for the first few days I stubbornly turned down the volume instead of locking my smartphone. In my opinion, not a very good solution, given the dimensions of the device.
At the bottom there is a USB Type-C port and two other holes for stereo speakers, which are located on different sides. Antenna strips are placed around the perimeter of the side faces, but they are almost invisible.
Google Pixel smartphones (especially models 4a and 5) have always been praised for their compact size. For example, some of my colleagues still think that Google Pixel 5 is one of the most beautiful Android phones. However, for some reason Google decided to change its strategy. The new Pixel 6 is a really big device. Blindfolded, it's easy to confuse it with something like the Xiaomi 11T Pro or the Samsung Galaxy S21 Plus.
Although, perhaps, only the original camera module will give it away. For good or bad, I leave it up to you, but in my opinion, the Pixel has lost its personality a bit. Although the build quality is excellent. You realize that you have an excellent flagship device in your hands, made of high-quality materials.
Of course, there is IP68 certification. The stereo speakers here are clearly the best among all Pixel smartphones. The sound is well balanced, there is no shortage of bass and surprisingly strong midrange. I was pleasantly surprised by the result.
Read also: TECNO CAMON 18 Premier review: Gimbal stabilizer and 5x zoom in mid-ranger?
The Google Pixel 6 display
Unlike its older brother, the Pixel 6 has received a display that can be described as average, perhaps slightly above average. It seems to be all right. But if you look at competitors from Samsung or Apple, then their displays, at least if you compare the characteristics, are a little more interesting.
Let me remind you that the model received a 6.4-inch flat OLED panel with a resolution of Full HD+ (2400 × 1080 pixels), a refresh rate of 90 Hz, which is adaptive and can be reduced to 60 Hz if necessary, and support for HDR10+.
The display, as already mentioned, is covered with a durable Gorilla Glass Victus protective glass and is great for everyday use, watching videos or playing games. Unlike smartphones from other manufacturers, the Pixel 6 does not have a protective film, obviously, it is implied that the Gorilla Glass Victus should provide sufficient protection.
In principle, there is no fault with the display as such, it is quite nimble and has a natural color reproduction, as is customary with Pixel. Even in direct sunlight, the display is perfectly readable due to its high brightness, and in the dark it can be completely muted so as not to hurt the eyes.
To be honest, in a sense I was glad that the smaller model is more traditional and it still has a flat screen, unlike the more expensive Pro model. The image quality has only benefited from this. Although for this price you can get smartphones with a better (and faster) display, such as the already mentioned Xiaomi 11T (Pro) or the OnePlus 9.
But… the fingerprint scanner is built into the display. It is an optical scanner, not an ultrasonic one, like the latest Samsung. By itself, this already means that it will be slower, but in Google's device it is even slower than competitors using similar technology.
I often had problems unlocking my smartphone. Sometimes there wasn't enough time and I just entered the PIN code. It's a little annoying, especially when you're used to the fast scanner in the Huawei Mate 40 Pro.
I also need to note the thicker bezels around the screen and the generally angular design of the Pixel 6. Although I like this angularity. Nostalgia, I guess.
Read also: How to use Google services on Huawei smartphones and tablets in 2021
Hardware and Performance
A feature of the Pixel 6 and Pixel 6 Pro is the so-called Tensor SoC. Instead of relying on a chip from Qualcomm or MediaTek, Google decided to develop its processor on its own. It offers eight cores – two high-performance Cortex-X1 cores (max 2.8 GHz), two Cortex-A76 cores (max 2.25 GHz) and four efficient Cortex-A55 cores. In addition, the processor itself is manufactured by Samsung using a 5-nm process technology. Some experts claim that it is a recycled Exynos.
The Mali-G78 MP20 chip is responsible for graphics performance, which is assisted by 8 GB of RAM and 128 GB of storage. In addition, the smartphone also has an ultra-low power consumption Titan M2 security chip, which protects user data. In terms of overall performance, Tensor can be considered a successful flagship chipset.
According to Google, the processor performance should be about 80% higher than that of the Pixel 5. In Geekbench 5, Pixel 6 was able to improve its single-core performance by 77%, and multi-core performance is almost 83% higher. A direct comparison with other chips also shows that Google SoC is more than good.
Might I remind you that Tensors are used in mathematics to compare vectors with a numerical value. However, the inspiration for the SoC name also probably comes from the TensorFlow framework developed by the Google Deep Learning team. The focus here is on machine learning, which also plays an important role in Google SoC.
In practice, in the Geekbench 5 benchmark, the smartphone scored 1049 points per core, and in the multicore test scored 2789 points. Compared to the Pixel 5, the increase is quite obvious (599 points per core, 1625 points in the multi-core test), but the top phones with the Qualcomm Snapdragon 888 (Plus) chipset are still ahead. However, in terms of graphics performance, it has surpassed most of its competitors, which indicates that Google is on the right track.
Thanks to a new set of chips (or machine learning), Google can provide camera features such as motion mode, face blurring, much better video output, as well as other settings such as automatic text recognition. Google just did what it could, and the result was a perfect combination of hardware and software. The phone is very fast, the animation is smooth, and if you want to play games, the new Tensor will be a great helper here too.
Heavy games, such as Genshin Impact, Call of Duty Mobile or Fortnite, run without problems with with the highest settings and fps. But the best part is that the smartphone does not overheat. As for connectivity, there is, of course, support for 5G, Wi-Fi 6E, Bluetooth 5.2 and NFC for mobile payments. They also did not forget about eSIM and Dual SIM, there will definitely be no problems with this. Another highlight is the stereo speakers, which not only provide pleasant surround sound, but also score points with high volume — it's just wonderful that such small drivers can already be created these days.
Read also: Samsung Galaxy Z Fold3 5G review: Addictive foldable smartphone
Software: Android 12 with Material You
The Google Pixel 6 is the first smartphone based on Android 12. It has a the new Material You design language, which is one of the biggest (and most noticeable) changes over the past few years. The new Material You design language is a hyper-personalized approach to the appearance of apps and other UI elements that adapt to users. Google wants to gradually implement it into all its applications, services, operating systems, home smart user interfaces and more.
The Dynamic Color feature adjusts the colors of your system, such as icons, the notification bar, and even the keyboard, according to the wallpaper you have installed. Personally, I really like this element, although I don't think it's that important. Just a nice addition, however, this is not what it's worth buying a new Pixel for.
The new Google operating system contains several interesting new features. The main thing here is Material You, and on the other hand, the improved security and data protection. In particular, a small green symbol in the upper right corner of the screen contributes to privacy control. It always appears when apps access the microphone or camera. In the so-called privacy panel you can also check to the minute which application used which sensors and when.
However, in addition to all these innovations, Pixel smartphones have another very important advantage: software updates. Google's own smartphones were not only the first to receive a new version of Android, but also, thanks to Google's transition to the Tensor chipset, the Pixel 6 (6 Pro) they will also be provided with security updates for a full five years (until October 2026). Android version updates should be available for both smartphones by October 2024, which may be enough even for Android 15.
Now a little bit about personal impressions about the "clean" Android 12. The settings menu has been redesigned, as well as the notification curtain and quick access to the controls in it. The new rounded tiles do not suit me at all and, in my opinion, this is an extra waste of space. Some complain that the Wi-Fi switch is now hidden in the Internet tile, and if you want to turn off Wi-Fi, now you need to do it in two clicks. It doesn't seem like a problem to me, but I understand that for those who control Wi-Fi several times a day, this may be an extra complication.
Google widgets have also been redesigned, and it's worth admitting that they look much better and finally fit the system as a whole. Just to clarify: this change also affected application widgets such as Google Drive, Maps, YouTube and others.
In general, I perceive the changes in Android 12 positively, including those related to privacy management.
Battery life
The Google Pixel 6 received a 4612 mAh battery, which is even more than the Pixel 5, which has a 4080 mAh battery. I was very curious about the test result in terms of battery life, taking into account even greater capacity and the Tensor chipset.
When I first set up my smartphone, I charged it to 100% at about 14:00, and the next day at the same time I still had about 28% of the capacity. At the same time, I installed a bunch of applications, tried to take photos, record videos, and constantly browsed web pages, social networks, etc. From this, we can conclude that the battery life is pretty good, although I expected it to be even better. I checked the running time using the PC Mark Work 3.0 battery test with a fixed screen brightness of 300 nits, 90 Hz and activated WLAN and GPS. Pixel 6 worked for 9 hours and 51 minutes.
When you use your smartphone very intensively, with the 90 Hz mode turned on and the brightness to the maximum, then it will still work from morning to evening. In the case of normal use, you can count on a day and a half. For this reason, I decided not to include this aspect in the pros or cons, it's just a matter of what you expect from the operation of your smartphone. If you need quite a lot of energy for the next few hours, then you can turn on the Super Battery Saver mode, which suspends most applications and notifications and leaves only the most necessary ones that you can determine yourself.
As for the charging speed, Google claims support for 30W wired and 21W wireless charging, although in fact everything is a little different. Charging is very slow. And I already know where the error occurred. Android Management has discovered why the Pixel 6 isn't actually charging as fast as it was supposed to. Charging from 0 to 50% takes about half an hour, which is perfectly normal, but when this limit is reached, strange things begin to happen.
After reaching 62%, the charging power is reduced to 15 watts, at 75% to 12 watts, and after reaching 85%, the power is reduced to an incredible 2.5 watts, up to full charge. So to charge your smartphone from 0 to 100%, you will need more than two hours, which is a lot. What bothers me the most is that the charging is gradually slowing down and it cannot be turned off.
| Charge level | Time to charge, min |
| --- | --- |
| 10% █ ░ ░ ░ ░ ░ ░ ░ ░ ░ | 9 |
| 20% █ █ ░ ░ ░ ░ ░ ░ ░ ░ | 15 |
| 30% █ █ █ ░ ░ ░ ░ ░ ░ ░ | 23 |
| 40% █ █ █ █ ░ ░ ░ ░ ░ ░ | 30 |
| 50% █ █ █ █ █ ░ ░ ░ ░ ░ | 38 |
| 60% █ █ █ █ █ █ ░ ░ ░ ░ | 56 |
| 70% █ █ █ █ █ █ █ ░ ░ ░ | 72 |
| 80% █ █ █ █ █ █ █ █ ░ ░ | 89 |
| 90% █ █ █ █ █ █ █ █ █ ░ | 102 |
| 100% █ █ █ █ █ █ █ █ █ █ | 126 |
Great cameras
From Google Pixel users primarily expect high-quality photos, improved camera functions and various features. In the Pixel 6, Google is finally replacing the outdated 12-megapixel main sensor with a large 50-megapixel sensor (1/1.31″, f/1.85, OIS, laser autofocus). There is also a 12 MP ultra-wide-angle camera (f/2.2 aperture).
The Pixel 6 Pro also boasts a 48 MP telephoto lens with 4x optical periscope zoom (f/3.5, OIS). The Google Pixel 6 has an 8-megapixel front camera with an aperture of f/2.2 and a viewing angle of 114° for selfies.
There are also several interesting software features, including, for example, Magic Eraser (automatic recognition of "extra objects" in the image) and Motion Mode with two effects. With Real Tone, Google has also developed a feature for natural skin tones. And the Face Unblur function allows you to record faces more clearly by combining two images – from the main sensor and an ultra-wide-angle sensor.
Compared to the previous Pixel, this is a big step forward, the images are more detailed (although they have a resolution of 12.5 megapixels), no excessive saturation, good color accuracy. I was once again convinced that other cameras can improve your photos, and the Pixel 6 will make them as believable as possible.
Pixel smartphones have always been good at photography. Although the hardware of their camera has never been particularly interesting. Google has been holding onto 12-megapixel sensors for many years, and we've been waiting for a second lens. But what was missing in hardware, Google usually made up for in software and photo processing. There were times when Apple and Samsung could only envy Pixel photos, for example, in low-light conditions. Or, do you remember what a rush it was when astrophotography first appeared?
It's not that the Pixel 5 or Pixel 4 had bad cameras, but their competitors started to get ahead. After all, just a 12-megapixel chip, and especially in the case of the Pixel 5 which has a below-average processor, was not the right combination. The Pixel 6 is a different league. The new Tensor chip has enough power for fast photo processing and can work with features such as Magic Eraser, which I mentioned above.
Add to this a 50-megapixel main chip with 1.2-micron pixels, which produces photos with a resolution of 12.5 megapixels. This brand new chip is complemented by optical stabilization and laser autofocus.
The Pixel 6 also got a pretty solid wide-angle lens with a 12 MP chip with larger pixels compared to the previous generation, 1.25 microns compared to 1, and unfortunately only with fixed focus. On top of that, a powerful LED flash and a pretty good combination make the Pixel one of the best on the market.
Google can also be proud of Super Res Zoom, which, logically, is also based on software. In fact, this is a classic 7x digital zoom.
Thanks to the Tensor chipset, video has also been improved, which can be recorded in 4K resolution at 60 frames per second.
PHOTO AND VIDEO IN FULL RESOLUTION
Pixel 6 Issues and Upgrades
I decided specifically to write a little bit about this at the end. To be honest, on the eve of testing the Pixel 6, I read a lot that they have constant problems. For example, there is a flickering display, random calls to contacts. The fingerprint reader has a problem due to the slow response time. Some users have also experienced a shutdown of the fingerprint scanner when the charge level got low.
As for the operation of the fingerprint scanner, there are problems with it. Still, it is slow, sometimes it just does not respond to touch. Although I didn't have any problems with everything else. I had two updates during my testing, so in other words, Google managed to stabilize the Pixel 6. The good news is that most problems can be solved with software updates.
Read also:
Should you buy the Google Pixel 6?
I asked myself this question during the entire testing period, but I never formulated a clear answer. Of course, the Google Pixel 6 is a very interesting flagship smartphone that can both pleasantly surprise and upset.
With the Pixel 6 and the Pixel 6 Pro, Google finally managed to release two flagship smartphones. Both devices stand out with a unique design. Whether you like the design or not, no one can say that the new pair does not look original.
The new Tensor SoC, of course, does not set any performance records, but it does not lag far behind competitors from Qualcomm and Samsung, and also has sufficient performance in everyday use. In addition, the built-in Tensor Processing Unit (TPU) brings some artificial intelligence functions to the smartphone duo. This has also become possible in combination with Android 12, which, as is typical for the Pixel, does not use an additional shell. However, the main advantage is five years of security updates until October 2024, which is outstanding for Android smartphones.
The Pixel 6 provides a very decent battery life, the smartphone is good for the whole day, or even more. However, the device takes quite a long time to charge, which is quite unusual, given the flagship status of the device. Still, Adaptive Charging helps.
However, Google is finally adding powerful software with a sensor. This provides a really high quality camera and overall very good photos. Also, do not forget about the wide-angle camera and a large number of features from Google.
Who is the Pixel 6 for? First of all, the device is intended for Pixel fans, but also for those who want to have a smartphone running on "pure" Android 12. The price of $699 also contributes to this choice, which is very, very acceptable for a modern flagship. Add to this its excellent photographic capabilities, exclusive software functions and very good display quality, and you've got yourself an excellent smartphone, which is also unlike any other.
Pros
unique design with good build quality
bright, high-quality 90 Hz OLED display
good stereo speakers
the IP68 standard
graphic performance of the Tensor chip
Android 12 with years of software support
very high camera quality
decent battery life
reasonable price
Cons
a relatively slow fingerprint sensor
slow charge times
large dimensions (for some)
not officially sold in many countries
Where to buy
Subscribe to our accounts: