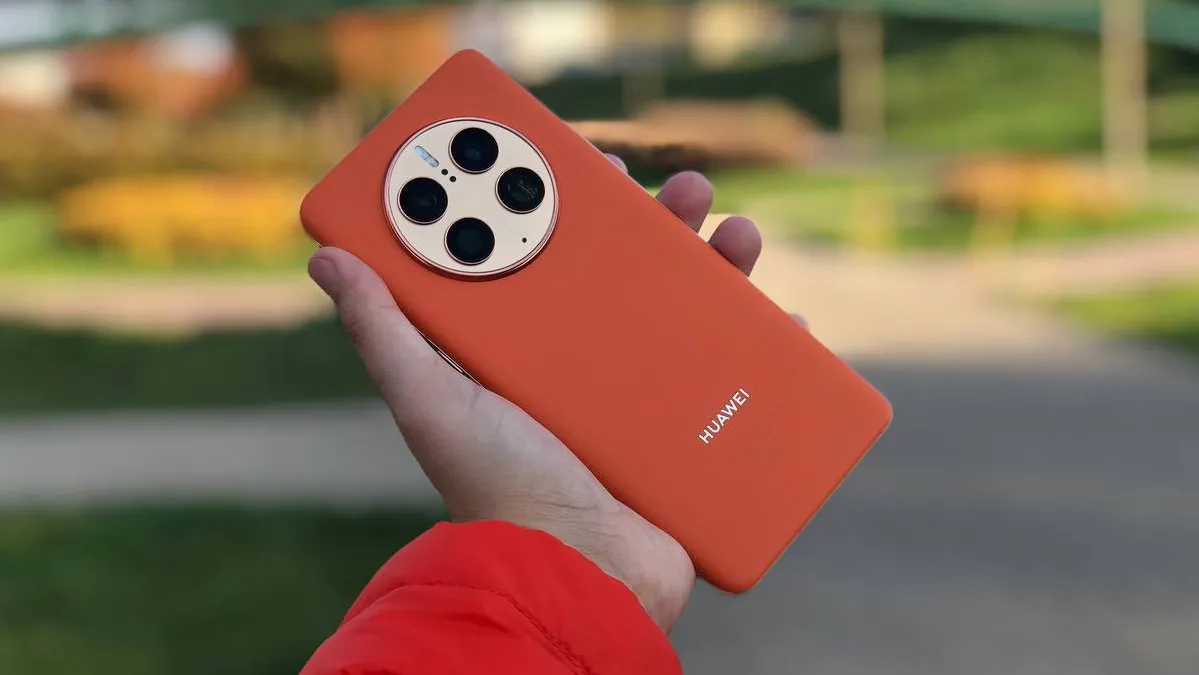 Flagship smartphones have always been distinguished by a special design – and Huawei is no exception. Today we will find out what a smartphone with a very unusual design, the Huawei Mate 50 Pro, has to offer its customers and whether it was really worth adding so many cameras.
Delivery set, positioning and price
The Mate 50 Pro comes with a transparent case, a USB Type-C charging cable and a power supply. It is very cool here, with a maximum power of 66 W and the ability to fast charge, which we will talk about later.
The positioning of this model is quite simple – a top device with very cool cameras. The manufacturer puts great emphasis on them and this will not escape our attention during the review. According to this description, the price of the smartphone is also impressive: ~$1275 is a strong claim for the premium segment in the competition against the brand new iPhone 14.
Design
The appearance of Mate 50 Pro continues the tradition of previous models – to stand out and surprise. But if last time a large circle contained a roundel of cameras, this time all four camera modules were placed in the middle in a neat bunch. Well, now there are optics for all needs. And this is cool from a functional point of view, but very unusual from a visual point of view. A bit more, and it will be not a smartphone, but a nightmare of a trypophobe.
By the way, speaking of nightmares. The smartphone came to me for testing on the eve of Halloween, so it fits perfectly into the entourage of festive pumpkins. The rich orange-mustard color of the back is a very bright solution.
It is styled as leather, but to the touch you immediately feel that it is clearly not leather, and the color is too bright for a leather product. But I liked the color and stylistic solution of the back itself. The only remark is that this orange color is not in harmony with the golden edging along the contour of the smartphone. As for me, nothing better than the combination of gold and black has not been invented yet. All other colors do not look so contrast and status.
There are also silver and black versions of this model on sale, so fans of more classic color solutions will have something to choose from. Although I will immediately spoiler – black and silver versions are somewhat weaker in terms of features.
The placement of functional elements in Huawei Mate 50 Pro is not quite standard. The SIM card tray is placed at the bottom. I must admit, I like it even more than the standard side location, because in this way the left side was left blank.
In addition to the SIM slot, there is a microphone, a Type C connector for charging and a speaker at the bottom. By the way, this is almost the only thing that the Mate 50 Pro does not have at maximum – there is only one dedicated speaker, for the stereo effect the earpiece speaker is used. But in general, if you watch movies on your smartphone, you will most likely use earphones.
On the top there is an additional microphone and an IR port, which is suitable for using a smartphone as a universal remote control.
There is a dual volume control button and a power button on the right side. Another plus for its design goes to a thin orange stripe on it that harmonizes with the color of the back and combines them into a single stylistic composition.
To keep all this beauty intact for as long as possible, the display is covered with Kunlun Glass. It's like Gorilla Glass, only cooler. Even a special five-star certificate from the Swiss company SGS was received, confirming the perfect passing of drop tests. But again – this is only in the orange version.
By the way, Huawei Mate 50 Pro is also protected from dust and unexpected water procedures. It has IP68 certification, and the orange model can be immersed 6 meters in water. At such moments, you understand that the bright color will be especially useful to focus attention on your device and not accidentally lose it under water.
The fingerprint scanner is hidden under the glass at the bottom of the display. Therefore, you will have several options to set up secure unlocking of your smartphone – with a pin code, fingerprint or face recognition.
Display of Huawei Mate 50 Pro
The Mate 50 Pro display is frankly cool in all respects. The first thing I liked is that it flows so neatly to the edges of the case. At the same time, the angle of inclination is optimal, as if it were not a side panel, but a little more than a regular flat smartphone. It feels as if you hold the screen in your hands, the entire width of the device. And at the same time, this bend does not interfere with the control of the smartphone and does not cause accidental presses on the controls.
The resolution here is high – 2616×1212. Considering that we are dealing with a giant 6.74-inch diagonal screen, this is absolutely the right choice. In addition, the OLED matrix is used here, which today is the coolest solution for any digital device whether it is a smartphone, laptop or monitor. Thanks to this matrix technology, the image is clear, bright, contrasty, it looks very realistic and attractive. Add a refresh rate of 120 Hz and we get a reference flagship display. It is pleasant to watch videos on YouTube, read news on the Internet, communicate in social networks, play games with detailed graphics. In general, everything that concerns the visual perception of information is at the highest level here.
By the way, if you are accustomed to editing photos and videos on a smartphone, then I have good news for you – in addition to the fact that there is a 10-bit matrix with DCI-P3 and sRGB support, the deviation of delta E color accuracy here is less than 2, so this display can be attributed to semi-professional. So all content makers for Insta and TikTok can use this smartphone as the main working tool.
It's also nice that the company cares not only about the brightness of the picture and ppi, but also about the eyesight of users. So, flicker elimination technology was added here, which reduces the strain on the eyes. After all, in modern conditions, a smartphone can compete with a laptop in the amount of time spent at the screen. Therefore, the availability of technology that will take more care of your eyes is perhaps not the primary, but very nice feature of the device.
And one more aspect regarding the appearance of the display is the notch with the bezel and sensors. Since here we have this functional black rectangle, for aesthetic reasons, you can adjust the appearance of the top strip next to it so that this notch is not so striking. In this case, the areas on the same line with the cutout will remain informative. In my opinion, the solution is somewhat compromise (remove that notch altogether, I believe you can do it!), but much better than most competitors.
Read also: Huawei Mate XS 2 Folding Smartphone Review: Two Weeks With A Miracle Of Technology
Cameras
I think the cameras of Huawei Mate 50 Pro deserve a separate review, but we'll have to somehow get together and talk briefly about all the available features here and now.
The set of modules is as follows:
main camrea 50 MP (f/1.4 ~ f/4.0, OIS)
telephoto lens 64 MP (f/3.5, OIS)
wide-angle lens 13 MP (f/2.2)
front camera 13 MP (f/2.2)
The main camera can take pictures in a maximum resolution of 8192×6144. In addition, it is possible to save photos in RAW format, which further gives you more space for editing pictures without losing quality. Note that for this you will need to switch to PRO mode.
You can see the originals of all photos taken with this smartphone here.
The telephoto lens allows you to zoom in on objects without losing quality. When zooming in, the digital zoom is activated, but the results are still impressive. Just imagine that there is an option of 100x digital zoom! It is clear that in this mode this periscope produces a very blurred picture, but you can still see, for example, the name of the store or see a bird on a tree. We are not going to talk about spying on neighbors, because we are all adults and understand that it is not ok. And we are talking about extremes, more adequate 10-fold zoom is much more rational and justified, and the image looks really good.
As is usual for most smartphones, one of the camera modules is wide-angle. And although it is usually somewhat weaker than the main module, here everything is fine with this: during the day the pictures were clear, saturated and contrast. For comparison, on the left is a picture taken with the main camera, and on the right with the wide-angle camera:
At night, of course, the quality of shooting drops a little, but still the pictures remain of decent quality. In general, the main camera is better for shooting at night, and now I will tell you why.
In addition, you can choose from several night shooting scenarios with the ability to conveniently control it: light traces of cars, drawing with light, a mode for shooting water and astrophotography. I really wanted to check the last point myself, but the autumn weather prevented this experiment.
My experience with drawing with light proved that this is a cool topic. If you get a little tricky, you can achieve really cool results without an expensive professional camera, and using only this smartphone. And as for drawing trajectories, it's a special thrill that you see the picture in real time. Most of all, I liked that you can not just set the absolute values of the shutter speed in advance; for example, 5 seconds, but adjust the desired duration by choosing the moment of shooting completion.
However, I should note an important thing – all night modes require you to have some kind of a tripod. Because all my experiments with shooting with long exposure from my hands failed, although I have a lot of experience in photography and can hold the camera still enough. What is enough during the day is absolutely not enough for this kind of photo experiments at night. Therefore, a monopod or tripod will help you.
Wide-angle lens due to the presence of autofocus allows you to shoot macro from a distance of about 3-4 cm. When you get close to the subject, the camera automatically switches to super macro mode, which sometimes helps and sometimes hinders. In general, you can switch to super macro manually in the list of additional shooting modes.
The camera interface has other shooting modes in quick access – Photo, Video, Portrait, PRO, Aperture and others.
I will tell you about the Aperture mode. In the first case, you can choose the aperture value from 1.4 physical or 0.5 digital, and change this value in the gallery after the shooting. But if you just want to get access to the detailed shooting settings, including the aperture value, then go to PRO mode.
The promising "More" hides other shooting options – slomo, panorama, time-lapse, photo with stickers, document scanning, dual shooting with the main and front cameras, story wizard (creates a video for a few seconds with different templates), snapshot (action photo, for sports events, for example).
In the top panel there are also icons to turn on AI Lens mode (detecting the content of the photo), activate intelligent photo enhancement (AI will detect the scene and somehow tweak the settings, but I did not notice any difference), quickly turn on the flash and go to the general camera settings.
There are no complaints about the video quality either, good clarity and color reproduction at the maximum resolution of 4K at 60 fps.
The front camera has a resolution of 13 megapixels. It has a good viewing angle, photos are clear and sharp, with adequate color reproduction and good autofocus. If it is completely dark indoors or outdoors, the front camera will automatically turn on the super-backlight which is a wide white frame on the screen with maximum brightness. And to be honest, I'm not thrilled with this thing – yes, you can be visible, but, most likely, the way you look in the photo will not satisfy you very much.
Huawei Mate 50 Pro software
The smartphone runs on Android 12 with EMUI 13 shell. To be honest, Huawei's shell reminded me of iOS, but in some ways it is even more thoughtful and stylish than Apple's operating system.
The only question that may arise when choosing a Huawei smartphone is how to do without Google services. But I want to assure you, no special problems will arise! There is similar software for video, music, cloud services, navigation, etc. However, sometimes with advertising, which is a little annoying, but you can get by.
The AppGallery software catalog is full of useful applications (banks, taxis, deliveries). Applications that are not available can be installed as .apk through the same AppGallery, you don't even have to go far.
If you need Google utilities, no problem. Install free Gspace, which imitates another smartphone and allows you to run Gmail, YouTube, Maps, Drive, Photos, Google Docs, etc. Google Wallet cannot be imitated, but applications with support for contactless payments or bank applications will come to the rescue.
In short, there are no critical differences in the process of using the smartphone from the analogue with Google services. Only, as I said, the appearance is perhaps even more attractive and functional. For example, there are several convenient interface features.
Most of all I liked the ability to conveniently manage folders with shortcuts on the screen: with a long press you can choose in which form to display the folder, either compactly (the size of a single shortcut) or expanded (the size of a widget), with the ability to see all the nested shortcuts and quickly launch them. With my love for organization and the crazy amount of apps I have installed, this is just a dream!
Huawei Mate 50 Pro paid great attention to the security of your data. In addition to the standard fingerprint scanner and face recognition, other ways of cybersecurity have been added here. Thus, you can scan your smartphone for existing dangers, the smartphone automatically updates virus databases to quickly detect malware. You can also choose to encrypt your data and organize hidden files and folders so that confidential information remains so in any case.
Performance
The performance of Huawei Mate 50 Pro is expectedly high, as we are dealing with a flagship. The new Qualcom Snapdragon 8+ Gen 1 chip is installed here. It has eight cores – four energy-efficient Cortex-A510 cores with a clock frequency of 2.0 GHz, and the rest are designed for peak loads – three Cortex-A710 cores with a frequency of 2.75 GHz and one Cortex-X2 with a frequency of 3.2 GHz. This combination allows the smartphone on the one hand to easily perform complex tasks, such as heavy games or editing videos for TikTok on a smartphone, and at other times to easily perform routine tasks, such as communication in instant messengers without unnecessary use of battery power.
Speaking of games, the Adreno 730 graphics chip guarantees consistently high fps and you will be able to fully enjoy the immersion in the game since you remember the screen here. Gaming on this smartphone is one of the practical and effective use cases.
In addition to this cool "heart", the smartphone received 8 GB of RAM which is not the maximum amount, but quite enough for fast operation of all applications without freezes. And do not forget that the most voracious application – Google Chrome – is not here, so the RAM should be enough for everyone else.
But the size of the permanent memory depends on the version and you will get 512 GB in the orange version, but the black and silver versions will have more modest 256 GB. There is also an option to add an nm memory card, but due to the specific format and high price, I don't know if everyone will use this feature.
Read also: Huawei P50 Pro review: fantastic flagship that no one will buy
Battery life
I must admit that I was pleasantly surprised by the battery life of Huawei Mate 50 Pro.
First, even with the usual intensive use, I could not completely discharge the smartphone during the day to zero, and this is a remarkable indicator in the modern world. By the way, the battery test confirmed my opinion about the impressive abilities of the gadget.
It seems to me that the intelligent display settings management system plays a significant role here – it adjusts the resolution and refresh rate according to the user's tasks. Indeed, usually a 2K display with 120 Hz refresh rate consumes even a capacious battery in half a day of intensive use of a smartphone. So once again bravo to those who developed the software part of this miracle of technology.
Second, Huawei Mate 50 Pro was fully charged in half an hour with its original charger! This is really Super Charge in real life, so I strongly recommend using the bundled power supply to recharge your smartphone. Even despite the high battery capacity of 4700 mAh, just half an hour – and the smartphone is back in service for the whole day. A real salvation in modern rolling blackouts, when you do not know when the light will appear and for how long.
By the way, the smartphone also supports wireless charging, so fans of wireless solutions will be obviously pleased with this convenient detail.
Conclusions
If we analyze as a whole, Huawei Mate 50 Pro is an extraordinary smartphone. Its futuristic design may seem controversial, but its functionality is definitely admirable!
This smartphone boasts one of the best displays on the market today, which additionally wins bonus points for its rounded shape, which improves the ergonomics of the smartphone and creates an infinity display effect.
In terms of mobile photography, Huawei Mate 50 Pro is not only one of the best, but perhaps really the best smartphone you can find today. Because everything has been combined here – high-quality optics with optical stabilization, a good set of modules, the use of very high-quality matrices in these modules, in addition to to all this comes a very convenient and detailed camera interface with great possibilities of fine tuning.
Also, the smartphone impresses with its autonomy and fast charging. At the same time, the performance of the smartphone is not lost at all as the most modern processor and a well-thought-out system make Mate 50 Pro a really cool device for both ordinary and hardcore users.
The only things that may raise some questions are the high price and the specific design of the camera unit. And if the first is not a disadvantage, but just a statement of the fact that you have to pay for the whole premium set, the second is just a matter of taste, on the third day of use I got used to the appearance of this orange handsome fellow.
Huawei Mate 50 Pro is the case when you really regret that you have to return devices from reviews.
Read also:
You can also help Ukraine fight with Russian occupants via Savelife or via an official page of the National Bank of Ukraine.