In mid-February of 2022, we had time to get acquainted with two smartphones of the young but ambitious Infinix brand. As we found out during the hands-on of the HOT 11S NFC and SMART 6 models, the brand knows how to make inexpensive devices with good specs and powerful enough SoCs for the segment. Today we will review Infinix HOT 12 Play NFC in detail and find out what this new budget phone can offer.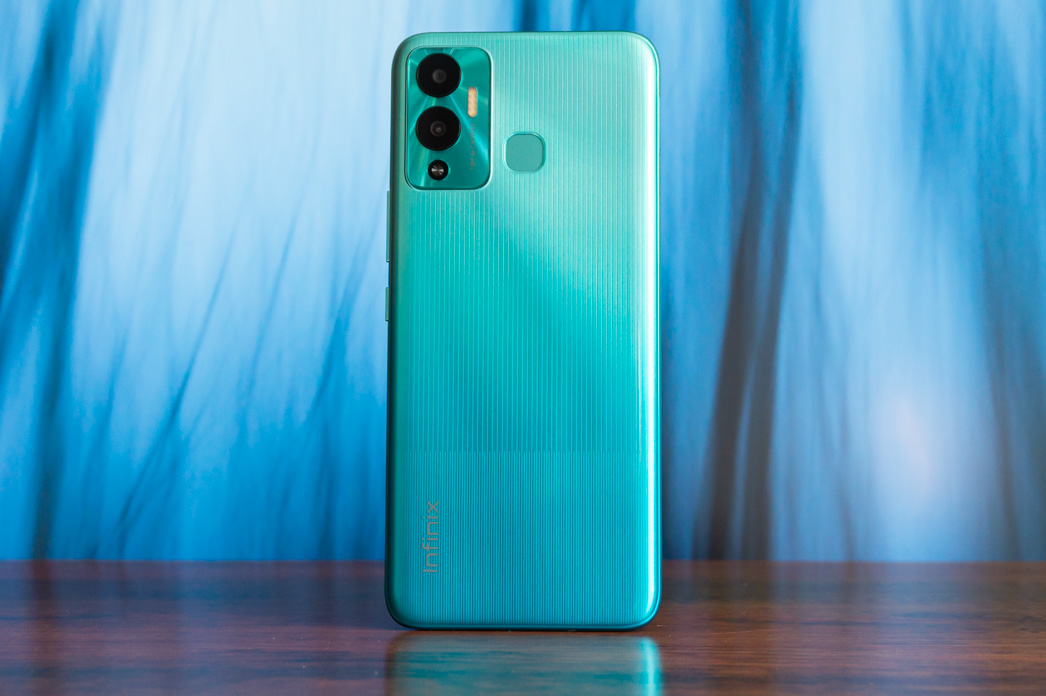 Infinix HOT 12 Play NFC Specs
Display: 6.82″, IPS LCD, 1612×720 pixels, 20:9 aspect ratio, 259 ppi, 90 Hz refresh rate, 180 Hz touch sampling
Chipset: Unisoc Tiger T610, 12 nm, 8-core, 2 Cortex-A75 cores, up to 1.8 GHz, 6 Cortex-A55 cores up to 1.8 GHz
Graphics processor: Mali-G52 MP2
RAM: 4 GB, LPDDR4X
Storage: 64 GB, eMMC 5.1
MicroSD card slot: up to 512 GB
Connectivity: 4G, Wi-Fi 5, Bluetooth 5.0, GPS (A-GPS), NFC
Main camera: dual, 13 MP wide, f/1.8, 1/3.1″, 1.12µm, AF; AI module
Front camera: 8 MP, f/2.0, FF
Battery: 6000 mAh
Charging: 10 W wired
OS: Android 11 with XOS 10.0 skin
Dimensions: 170.5×77.6×8.3 mm
Weight: 195 g
Price and positioning
Despite the fact that in general Infinix HOT 12 Play NFC exists in several modifications with different amounts of RAM/Storage, in Ukraine it is available only in one basic modification with 4 GB of RAM and 64 GB of storage. As we found out in our first hands-on with the brand, the HOT series from Infinix includes budget smartphones, and HOT 12 Play NFC is exactly what it is – a budget smartphone. Phone's local price is 5,799 UAH, or approximately $159, which is quite inexpensive. And now let's find out in detail what this new product can offer a potential buyer for such money.
What's in box?
The smartphone comes in a medium-sized cardboard box, decorated in a bright branded green color with black accents. The contents of the box are on the one hand standard, but at the same time, there is everything you need. In addition to the Infinix HOT 12 Play NFC, inside you can find: a 10 W power adapter, a USB Type-A to Type-C cable, a plastic protective case, a SIM-card removal tool and various accompanying documentation. There's also a protective film on the screen out of the box, which is always a good addition.
The protective case, as I already mentioned, is plastic and covers the back, right and left sides, as well as the corners of the smartphone. That is, the upper and lower edges of the device remain open. At the same time, the case is not as simple as, for example, in the  Infinix SMART 6. The case has matte finish, and on the back, a relatively large vertical glossy inscription FUTURE NOW is visible. However, the case itself is quite thin, so theoretically it is not very durable.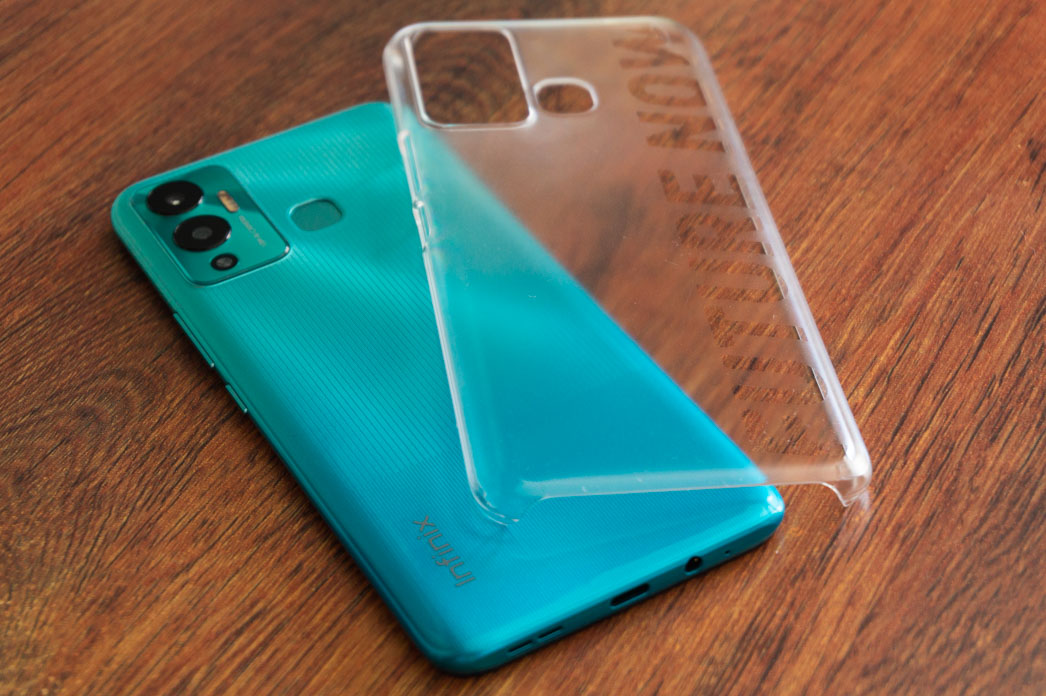 Design, materials and build quality
In general, the design of the smartphone is largely the same as in HOT 11S NFC, however, you may notice some minor differences. They can even be called pleasant, although there are controversial moments, of course. In any case, the smartphone looks modern and, let's say, more interesting than some competitors from the same price range. It combines a lot of trendy design solutions that are usually found in smartphones of a higher level. So the design of Infinix HOT 12 Play NFC can be called one of its advantages, in my opinion.
The front panel of the phone looks very modern. Yes, the frames may not be the thinnest, but let's not forget that this is an inexpensive smartphone. However, the front camera is cut right into the screen, and is also in the center. It is more pleasant than when the camera is in the left or right corner. And obviously, looks refreshing, compared to tear-drop notch still found in the smartphones of this price category. Otherwise, there is nothing special: the diameter of the camera hole is not the most compact, the top and bottom frames are wider than the sides, especially the bottom chin.
The back panel is interesting in several ways. Firstly, thin vertical lines pattern runs along the entire back. Secondly, the pattern is changing from top to the bottom of the phone's back. And lower third of the phone looks slightly different than the top. It is worth noting that this is not the same as what we saw in the Infinix HOT 11S NFC. Such a design move clearly makes the smartphone visually more interesting.
The camera unit looks quite stylish for an inexpensive smartphone. It is a narrow glass rectangle with rounded corners, on which there are two large camera holes, one small decorative one, a flash and inscriptions with camera specs. Plus, it has its own unique pattern – circles spreading from the wide-angle camera module.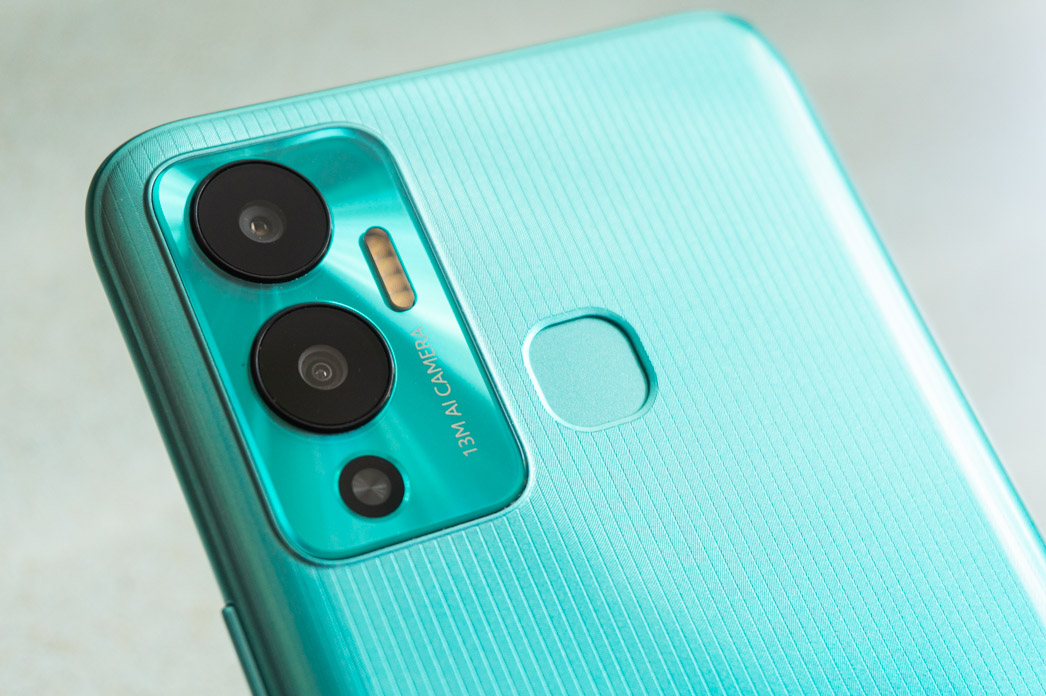 As you might have noticed, my smartphone sample has an unusual green color. It is called Daylight Green and, among other things, it has a light gradient effect. The upper part of the case is lighter, while the lower part is already slightly darkened. In addition to this option, the brand offers three more colors to choose from: Racing Black, Horizon Blue and Champagne Gold bronze. All of them, judging by the images, have the same gradient effect and shimmer in the light in the same way.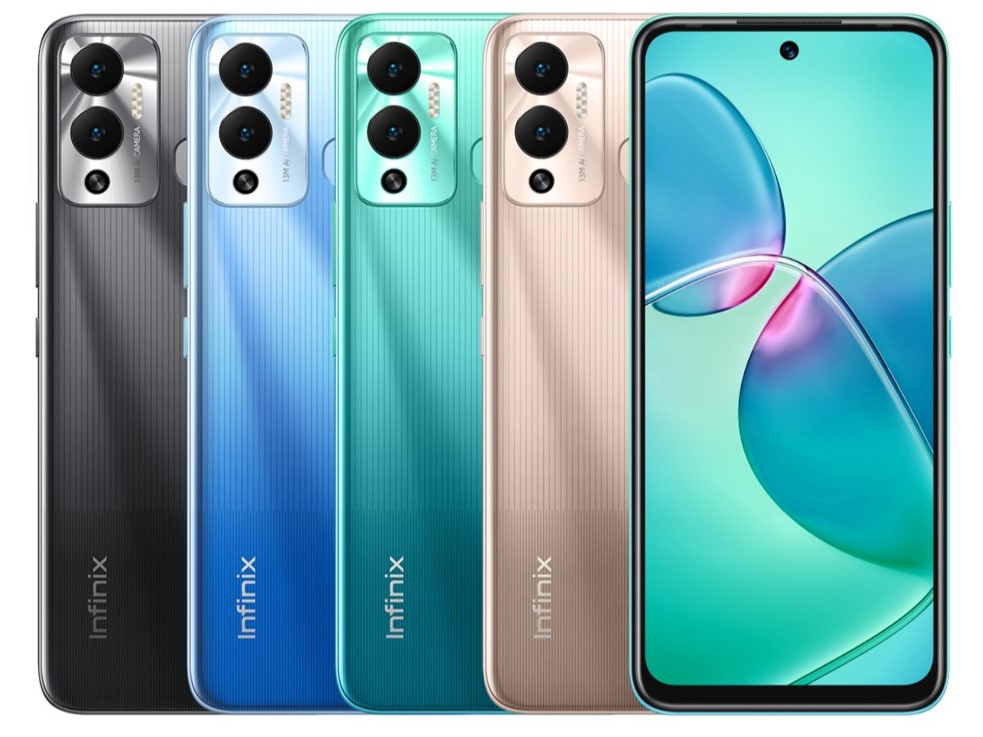 Smartphone's body is made of plastic, the frame and the back are uniform and have a glossy finish. But despite this, it's hard to leave the fingerprints on it. At least they are not visible on the light-colored body of the phone. The front is, of course, glass with a protective film on it. The assembled smartphone is quite high-quality, I would even say – excellent, for its class. It does not make any weird sounds when you try to bend it or squeeze it, and of course there are no problems with the build during normal operation of the phone.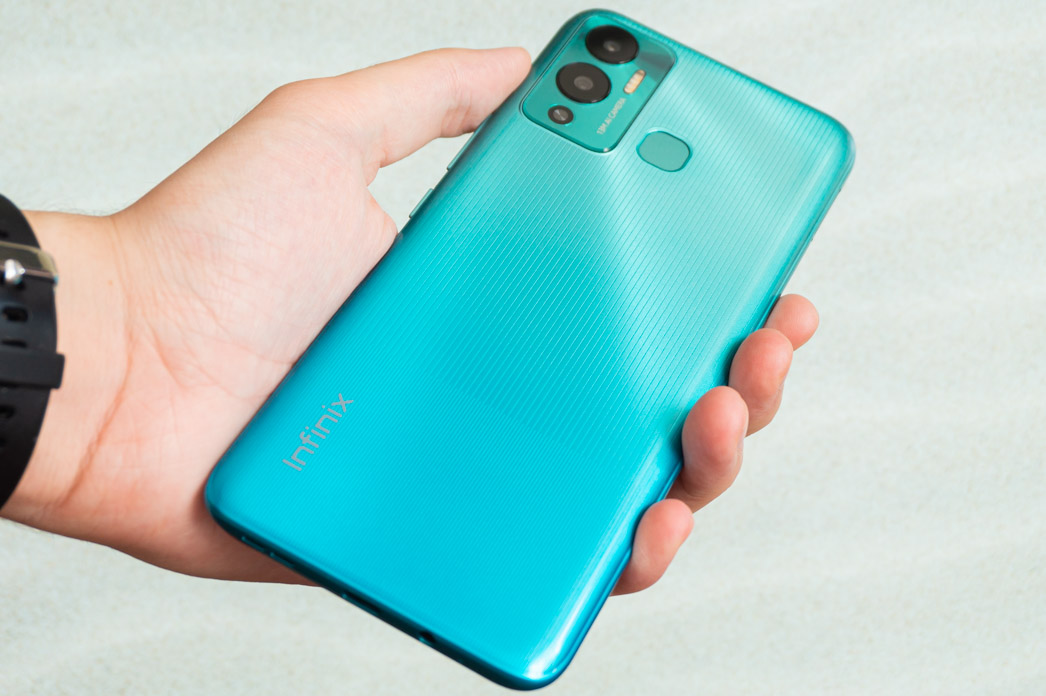 Recommended reading: Poco F4 GT Review: It's Not Only About Gaming
Buttons and elements location
Selfie-camera, as we said earlier is at the top and center of the screen in a cut out, above it – a slot for the conversational speaker. To the right of the grid of the latter, the proximity and illumination sensors are located, and even more: to the right of them is the frontal flash. It can be used to illuminate your face when taking a selfie, and it also lights up when your smartphone is charging. But at the same time, unfortunately, it cannot be used as a notification light, and there is no dedicated LED for this task.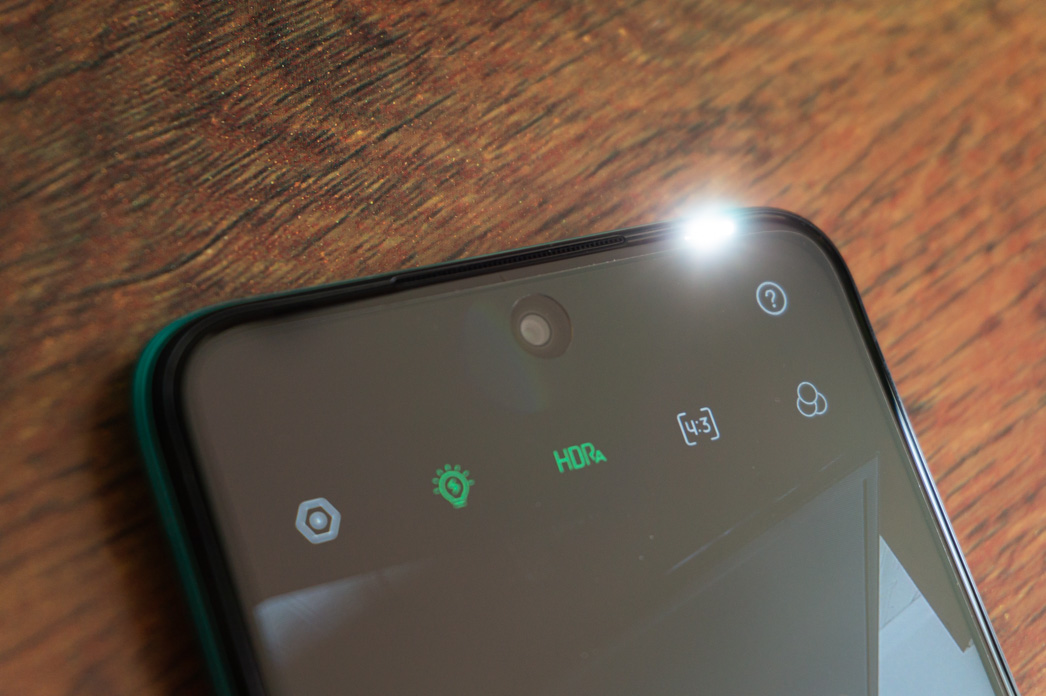 On the right side of the smartphone are the power button and volume rocker. On the left, there is a full-fledged slot for two nanoSIM cards and a microSD card. Despite the lack of moisture protection in the smartphone, the card slot is additionally protected by a rubberized seal.
The top side of the smartphone is completely empty, and the rest of the usual elements are on the bottom side. These are: multimedia speaker grill, a USB Type-C port, a 3.5 mm audio jack and the main (and only) microphone.
On the back panel, in the upper left corner, we see a rectangular block with two cameras and a flash, next to which the fingerprint scanner is located. At the bottom, only the inscription Infinix is placed vertically without other official inscriptions and markings.
Ergonomics
Infinix HOT 12 Play NFC is, without exaggeration, a large smartphone with a display as large as 6.8 inches. It may seem that it is not much larger than the 6.4-6.5-inch smartphones we are used to, but it is really large. Phone dimensions are 170.5×77.6×8.3 mm, and the weight is 195 g. There is only one more thing to add – it is impossible to use the smartphone normally with one hand, simply pick the phone up and reach the elements at the top of the screen. You have to either use the other hand, move your fingers and change the normal grip, or resort to one-hand use mode. There is such a mode here, you can turn it on in the notification shade.
As for the location of the physical control keys on the side, they are placed at a normal, comfortable height. Not too low, but not too high either. There is absolutely no need to reach for them, except a little bit for the volume up button in some situations, but nothing critical. What many will definitely have difficulties with is using the fingerprint sensor on the back. It is located too high and even with long fingers it is not very easy to reach it. If it was moved lower by at least half a centimeter, it would be easier. Or if it was combined with the power button, which would've been even better.
Of course, the dimensions cannot be attributed to the shortcomings of the device. We are living in a huge smartphone screens world, and Infinix HOT 12 Play NFC just follows the trend with its enormous screen. So in terms of ergonomics, the fingerprint scanner can be the most confusing. You will definitely have to get used to its location. Otherwise, it is more or less normal: the edges of the back are rounded, the body itself is not very slippery, and the mass is usual for such a size.
Recommended reading: realme 9 Pro+ Review: Sturdy Middle with Curious Design
Infinix HOT 12 Play NFC Screen
The Infinix HOT 12 Play NFC screen has the following specs: 6.82″, IPS LCD panel with HD+ resolution (1612×720 pixels) and a pixel density of 259 ppi, and an aspect ratio of 20:9. Moreover, the smartphone screen has 90Hz refresh rate and 180Hz touch sampling rate.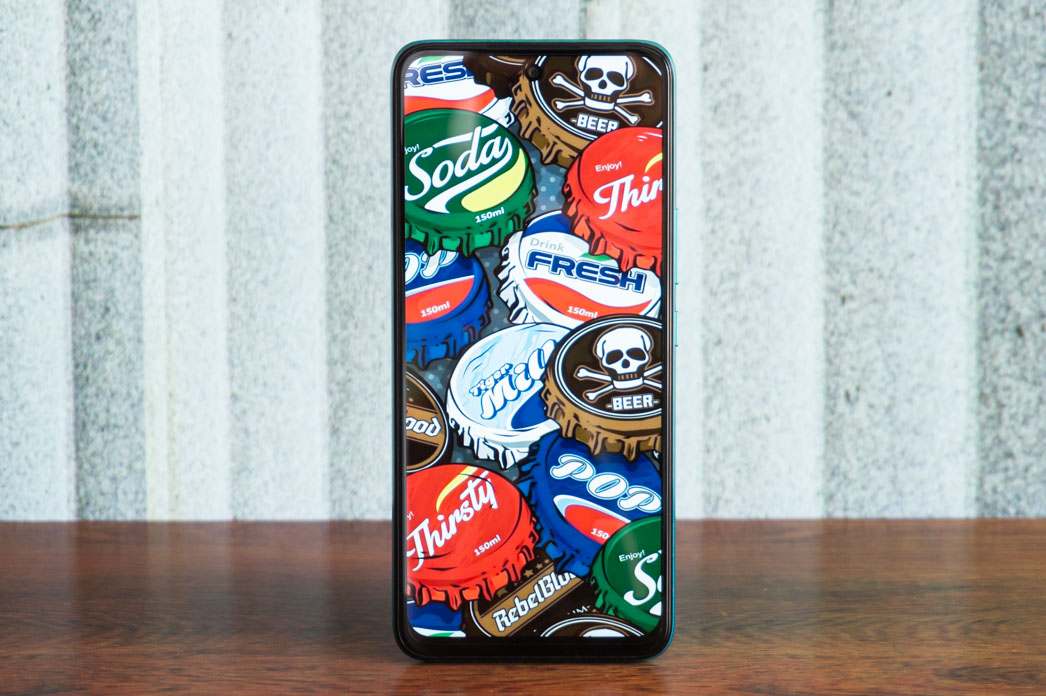 What can be said about such a combination? It is worth highlighting two main features of the display: a large diagonal and high refresh rate. These are really two of its key features that can tip the scales in favor of this new phone. Competitors rarely sport any of these features, so that's a success for Infinix.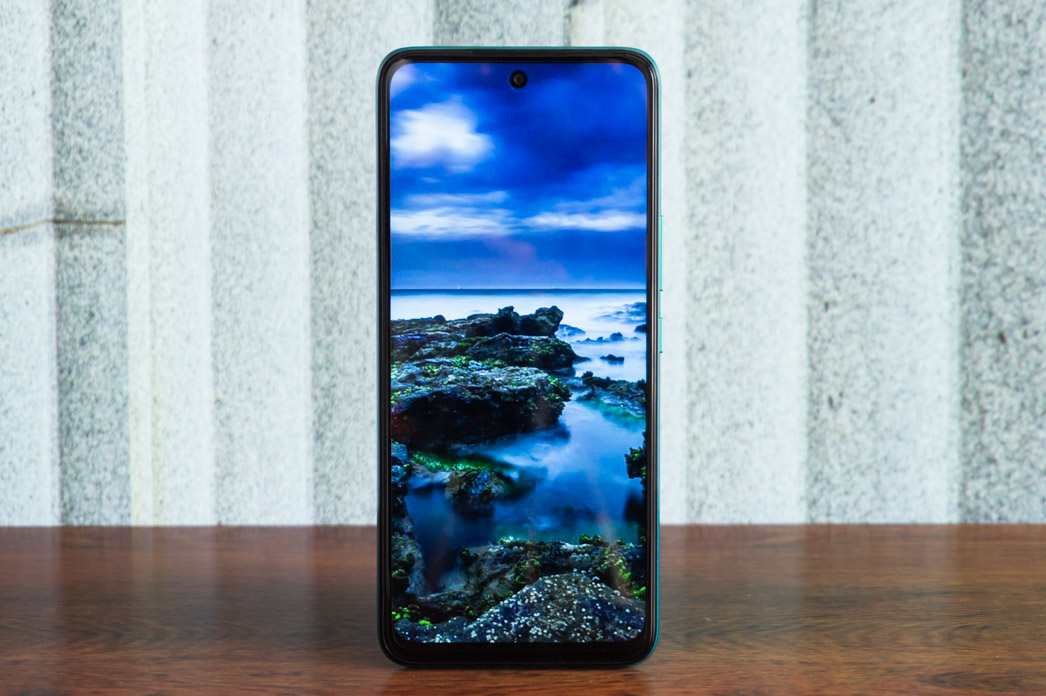 Although the screen cannot be called perfect either. The resolution for such a diagonal, for example, is not very high. If you look hard at the small elements of the interface (icons, text), you can notice that their clarity is not high enough. But at a normal distance, everything looks OK and in real everyday use there is simply nothing to complain about, especially if you are undemanding and not used to high pixel density. But it would also be wrong not to mention it.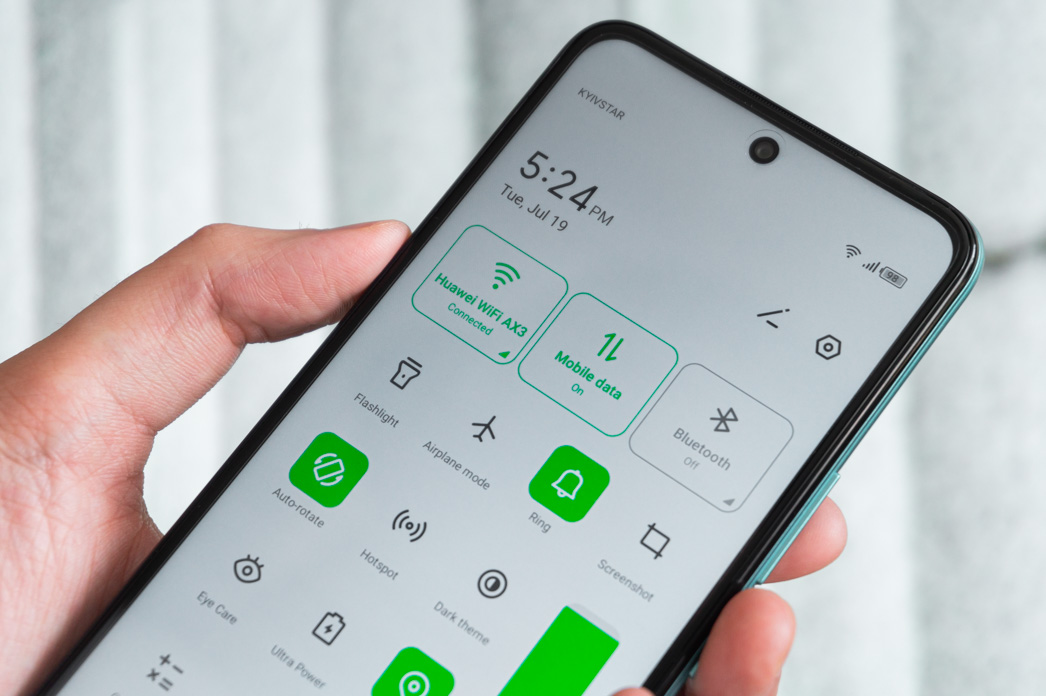 The picture quality will satisfy an undemanding user. The reserve of brightness is quite enough to use the smartphone indoors or in the shade on the street, but not under direct sunlight. The color rendition is close to natural, not oversaturated, but it cannot be adjusted with regular means. Viewing angles are normal for the class: with linear deviations, the image simply becomes a little warmer, but with diagonal deviations, as always, dark tones fade.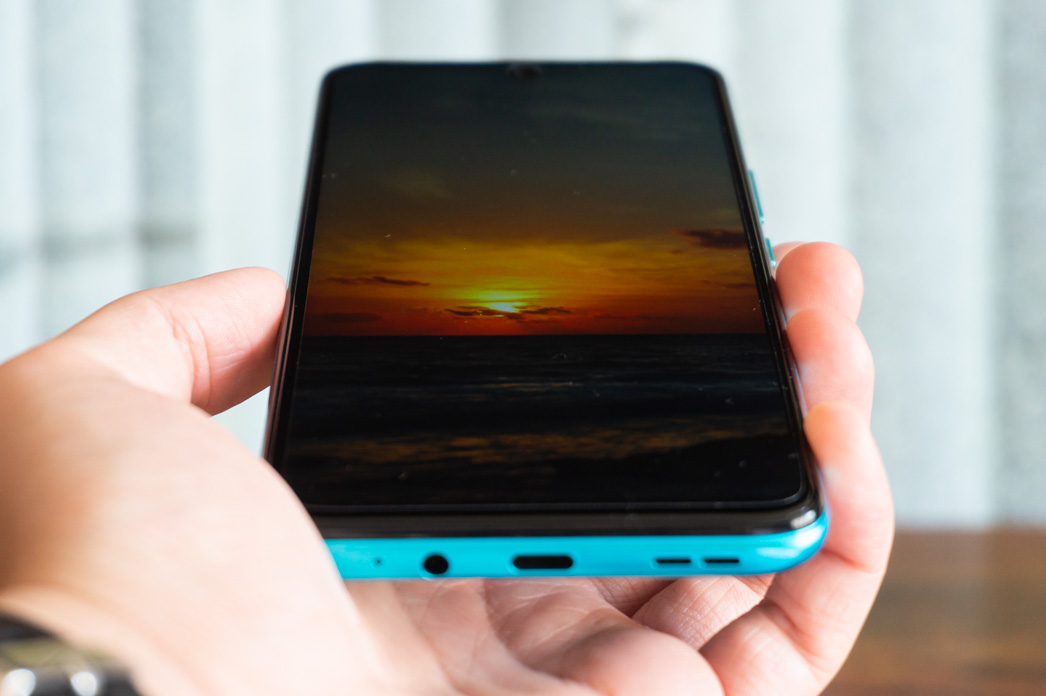 Regarding the refresh rate, things get quite interesting. In the options, the user can choose one of three modes: automatic adjustment, 60 Hz and 90 Hz. The interesting thing is that when the forced 90 Hz mode is selected, the smartphone interface is not always smooth. It seems that the system frame rate drops sharply and one gets the impression that all animations are "slowing down". What this is related to is unclear, but you can fix it by simply turning screen off and on. When the automatic mode is selected, there is no such problem, at least I haven't noticed it. Perhaps this nuance will be corrected with some OTA software update of the device.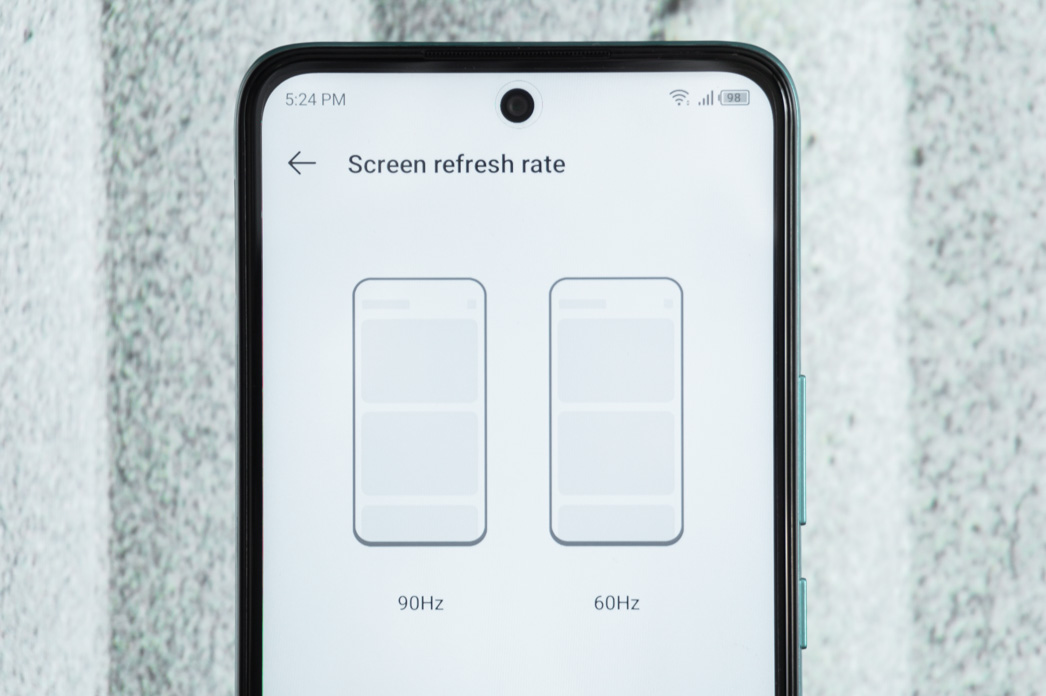 You can choose automatic mode for everyday use, taking into account the described nuance. But also consider that only the home screen and some minimal part of the apps will be displayed at 90 Hz, while the bulk of them will be displayed at 60 Hz, including even the settings menu. So see for yourself here – either 90 Hz in most applications and the likelihood of such unpleasant nuances, or 60 Hz with a rare transition to 90 Hz, but with a stable smooth interface and animations. Well, or classic 60 Hz, as an option.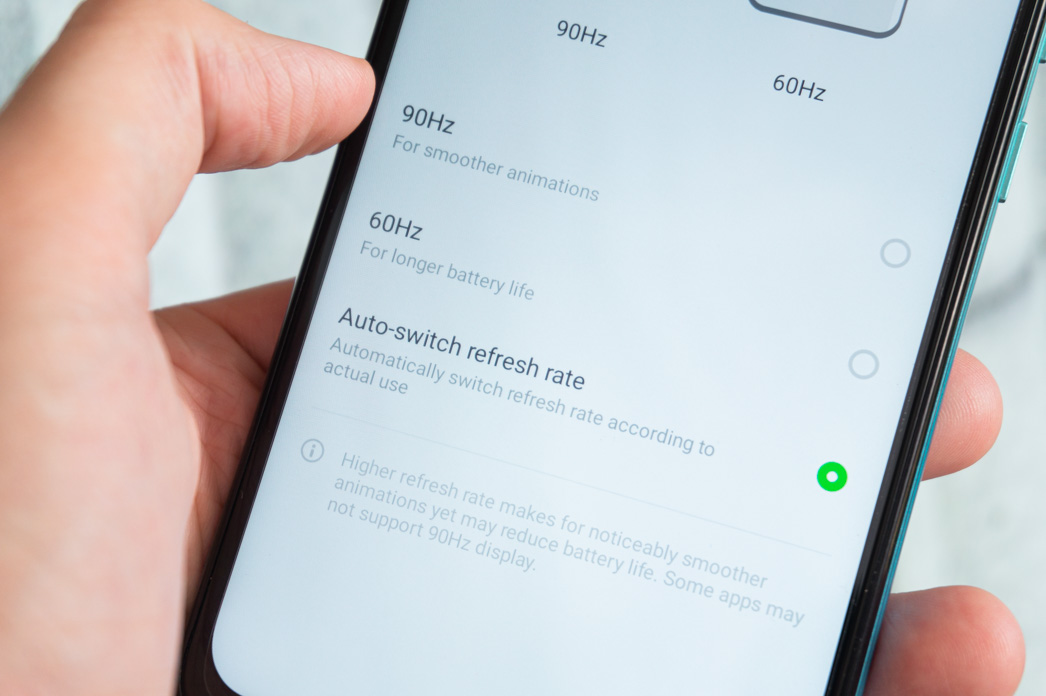 In addition to changing the refresh rate, in the screen settings, you can change the wallpaper, turn on the dark mode (scheduled or from sunset to dawn), turn on adaptive brightness, set the time to turn off the screen during inactivity, turn on eye care mode (also on a schedule or from sunset to dawn), choose the font size, activate the "In Pocket" mode to prevent accidental touches, auto-rotation of the screen, configure the display of messages/text on the lock screen, and enable the display of network speed in the status bar.
Infinix HOT 12 Play NFC - Display Settings
Recommended reading: realme 9i Review: For Whom Is This Budget Phone?
Infinix HOT 12 Play NFC Performance
Infinix HOT 12 Play NFC received an entry-level SoC – Unisoc Tiger T610. This is a 12 nm chipset, which includes 8 cores divided into two clusters: two Cortex-A75 cores with a clock frequency of up to 1.8 GHz, 6 Cortex-A55 cores with a clock frequency of up to 1.8 GHz. Graphics is handled by the Mali-G52 MP2 GPU. Such hardware provides a normal level of performance for this class of smartphones – no more, no less. In the tests, the results are appropriate, and the performance of the SoC cores under load decreases by a maximum of 12% in 15 minutes.
Infinix HOT 12 Play NFC - Benchmarks
The smartphone exists in several modifications: with 4 or 6 GB of RAM, but as I mentioned earlier, only one basic version is officially available on the Ukrainian market. The memory type is LPDDR4X in any case, and one of the features of the smartphone is called MemFusion or a RAM expansion at the expense of storage. For the version with 4 GB of RAM, 3 GB expansion is available, i.e. up to 7 GB in total, and for the more expansive modification with 6 GB – 5 GB expansion is available, i.e. up to 11 GB of RAM in total. This option is included in the smartphone settings and it is clear that it needs a sufficient amount of free storage. It is not necessary to expand to all 3 GB, you can also choose between 1 GB or 2 GB expansion.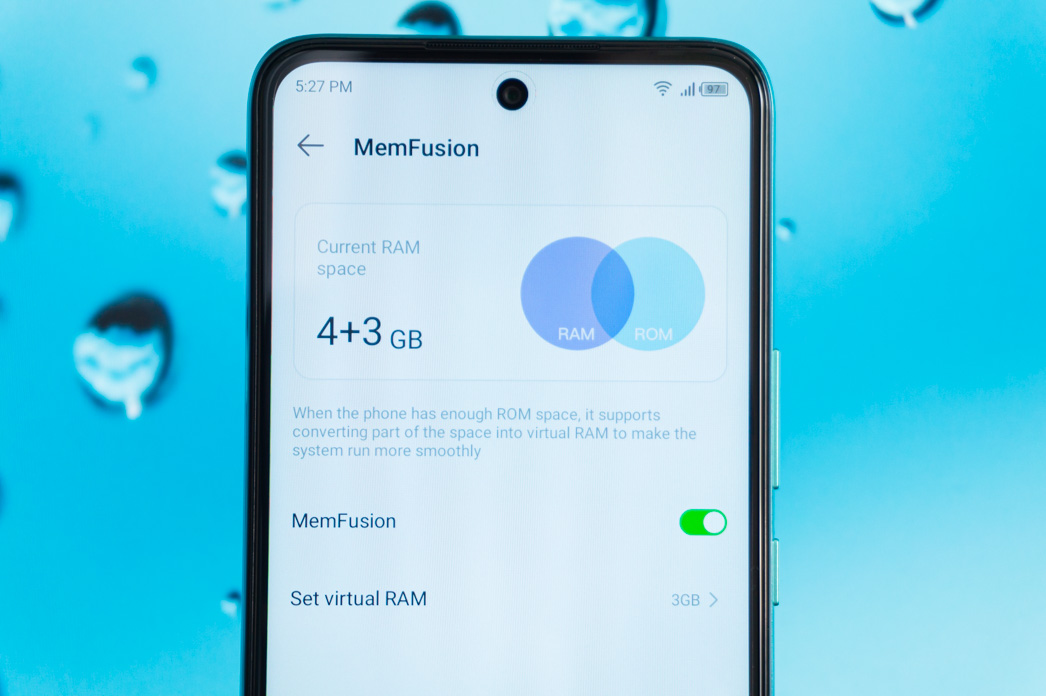 Storage in our basic version is 64 GB, and in the more expansive configuration – 128 GB. Memory type – eMMC 5.1. For a 64GB, 49.91GB is available for the user, but the storage capacity can be expanded by a microSD card up to 512GB. Let me remind you that the MicroSD slot is dedicated and the user does not have to choose between a second SIM card or a memory card. You can place both at the same time – that's good.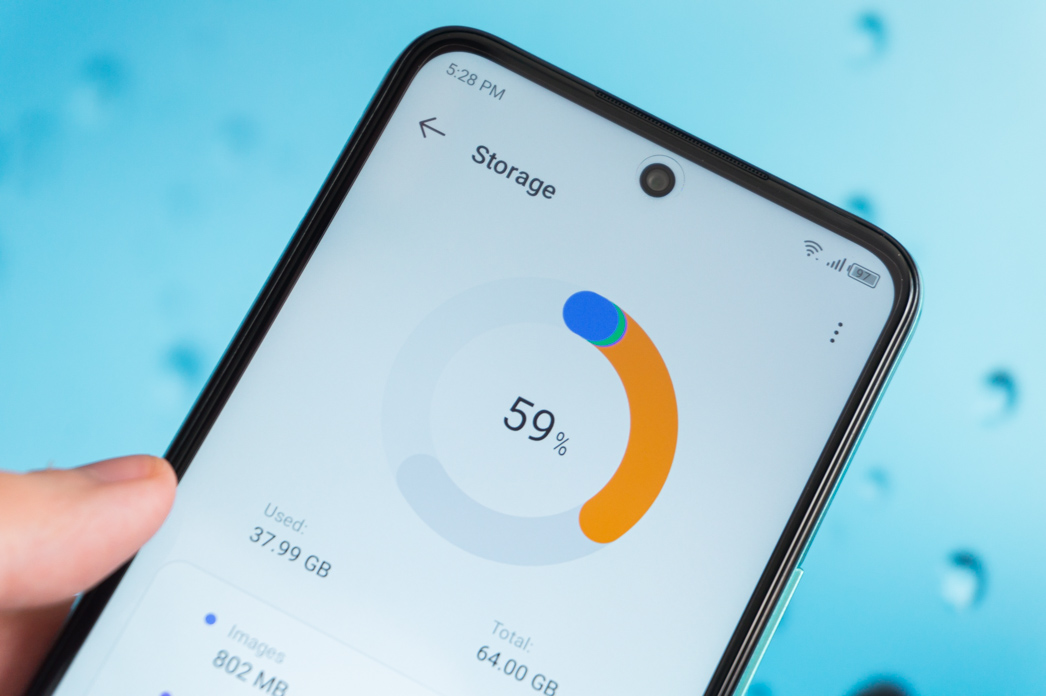 The smartphone works quite normally, generally speaking. It loads apps pretty fast, in the apps themselves, everything is also good to a greater extent. But I will clarify once again that at this stage there are nuances with the overall smoothness, when permanent 90 Hz refresh rate is on, which may make the smartphone look sluggish. But in reality, this is not the case, and the best way to make sure of this is to switch to a dynamic refresh rate.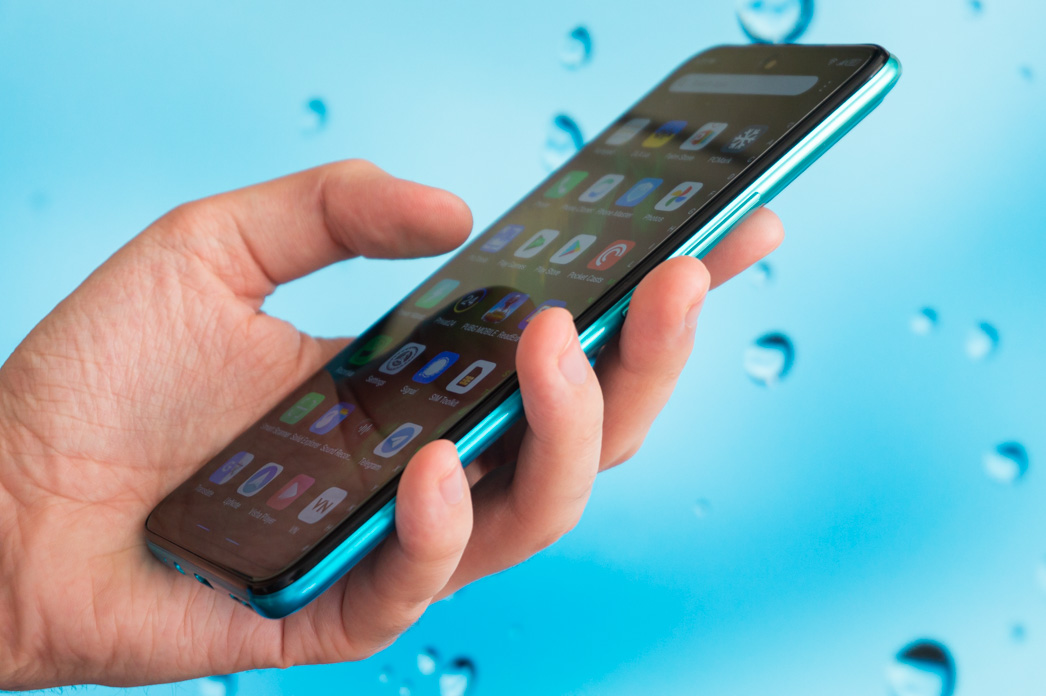 In games, its performance is at the standard level for a budget smartphone. It allows you to run almost any game, but in modern demanding projects you should not expect high graphics presets or high FPS. Basically, graphic parameters will be limited to medium (rarely low) settings, and some effects will not be available for activation. There are no problems with simple games, however. Below are examples from several resource-intensive projects with average FPS and graphics settings used.
Call of Duty: Mobile – medium graphics settings, real-time shadows enabled, Frontline mode ~59 FPS; "Battle Royale" ~38 FPS
PUBG Mobile – High graphics settings with 2x antialiasing and shadows, ~30 FPS
Shadowgun Legends – Medium graphics settings, 60 FPS cap, ~59 FPS
Infinix HOT 12 Play NFC Cameras
There are two modules in the main camera unit of the Infinix HOT 12 Play NFC. The first is the wide-angle module with a resolution of 13 MP, f/1.8 aperture, 1/3.1″ sensor size and 1.12 µm pixel. In addition, the module is equipped with a classic autofocus system. The second module is the so-called auxiliary AI module, which is designed to blur the background and/or optimize scenes according to shooting conditions.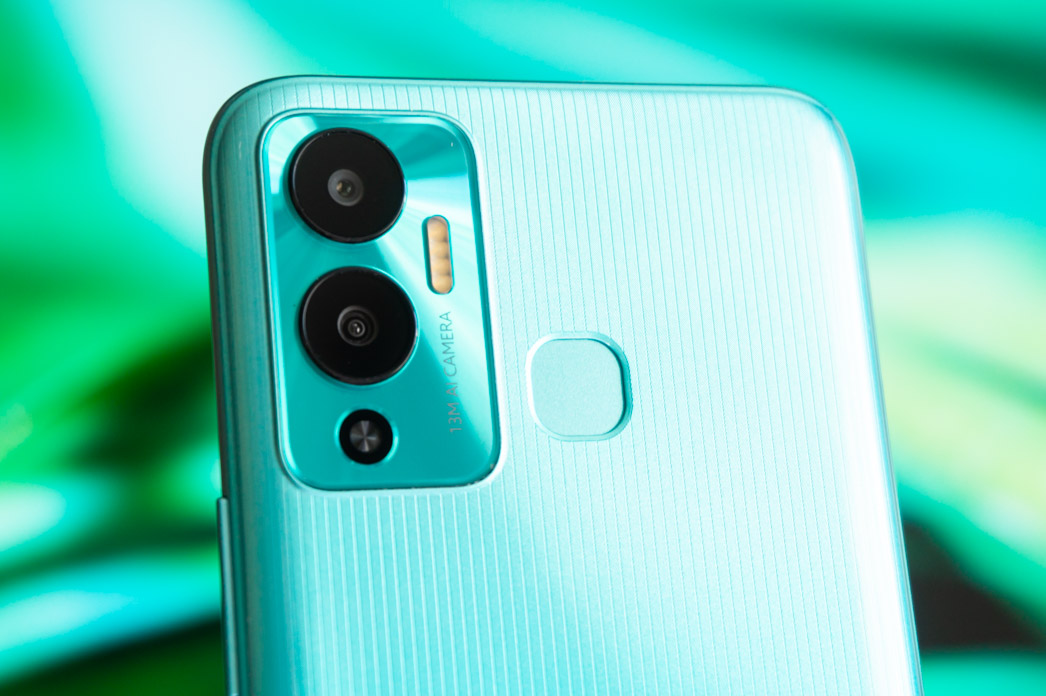 The smartphone shoots no worse and no better than its competitors, just at a similar level. That is, you should not expect any remarkable results from its camera. Focusing is not very fast, the dynamic range is not very wide, due to which some dips in the shadows are noticeable. Smartphone also couldn't handle complex scenes. Colors are mostly fine, during the day the photos are detailed enough, but in low light photos get noticeably worse.
The main camera can record video with the maximum resolution of Full HD (1920×1080) at 30 FPS. There is no electronic stabilization, the color rendering is a bit dull, the autofocus is also not very fast. Video quality might be acceptable for a personal archive of undemanding user, but no more. For social media it is simply not enough.
The front camera module is 8 MP with f/2.0 aperture and fixed focus (FF). The quality in general can be rated as average: sometimes there is not enough detail, somewhere the dynamic range is narrow, and some colors are sometimes too contrasting. Front camera is  capable to shoot in Full HD (1920×1080) with 30 FPS, just like the main one. In terms of quality, predictably, nothing special – as with all smartphones in this segment.
The camera app has an expanded set of shooting modes: photo, video, slow motion, beauty, portrait, AR shooting, panorama, documents, timelapse. There are built-in filters, a timer, a grid. You can shoot by touching the screen or touching the fingerprint sensor. The manufacturer also anticipated that not all functions of the camera app will be reachable with one hand. That's why there's single-hand control option just for the camera app. On the camera screen, you can swipe down and all the elements on top will move right to the center of the screen.
Infinix HOT 12 Play NFC - Camera UI
Recommended reading: Moto G82 5G review: inexpensive smartphone with OIS and AMOLED
Methods of phone unlocking
There are all the usual biometric methods of unlocking, that is, fingerprint sensor and facial recognition. The fingerprint sensor, as mentioned earlier, is located on the back, and quite high, so it is not so easy to use. But with regard to its performance, I have no complains. This is an excellent capacitive fingerprint scanner: it almost always works from the first try, and unlocking is lightning fast most of the time. It's really nice to use as it works great, but the location is definitely requires some training. I think it will be possible to get used to it over time, but still.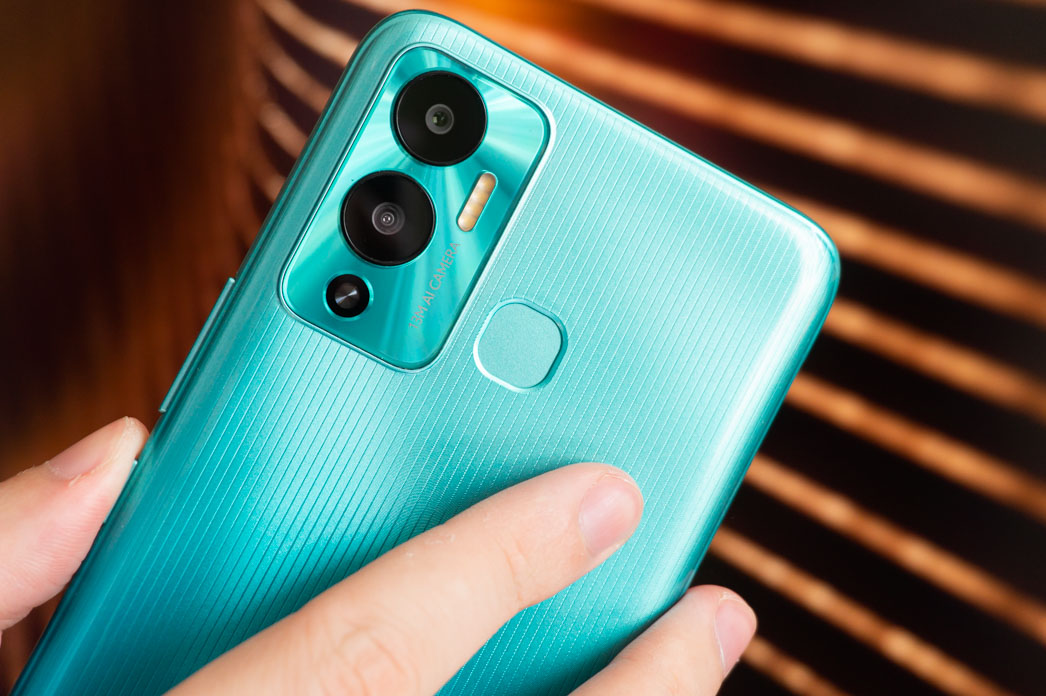 In addition to its main function, the scanner can be used for other tasks. For example, one touch on it can turn off the alarm clock or accept an incoming call, not to mention the protection of applications and the Xhide function, when by scanning a certain finger, you can immediately launch the selected application.
The phone's face unlock is a bit slower than the fingerprint scanner. The difference is small, but noticeable. The method itself works in almost any lighting conditions and even in complete darkness if the corresponding option is activated. However, your face will be illuminated by the screen, and not by the front flash.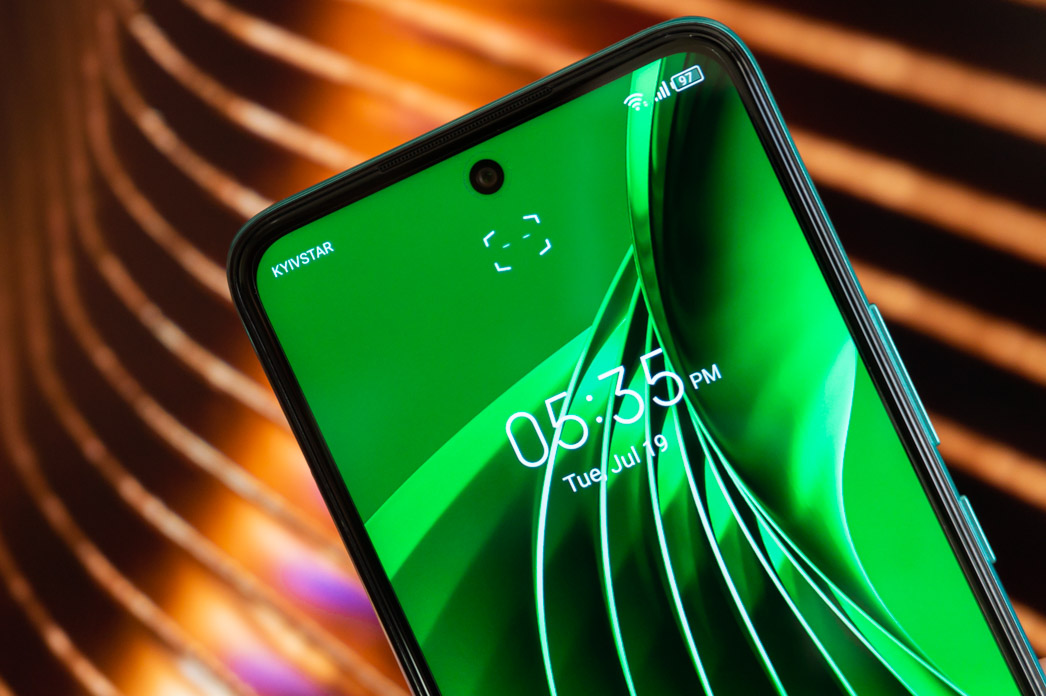 You can activate the screen illumination in the options menu, There you can also choose what to do when the phone is unlocked among the 3 options. You can go directly to the Home screen or open application without any extra actions – the easiest and fastest method. You can also stay on the lock screen and swipe up every time after successful recognition, or a swipe up on the screen can trigger face recognition. Everyone can choose the most convenient option for themselves, which, of course, is always welcome.
Infinix HOT 12 Play NFC battery life
The battery in the Infinix HOT 12 Play NFC is quite large – 6000 mAh. It may seem that this is not a lot for a smartphone with such a big screen, but in fact it is more than enough. Moreover, the smartphone itself does not look like a brick. Big, yes, but not thick and of an acceptable weight for a device with such a battery.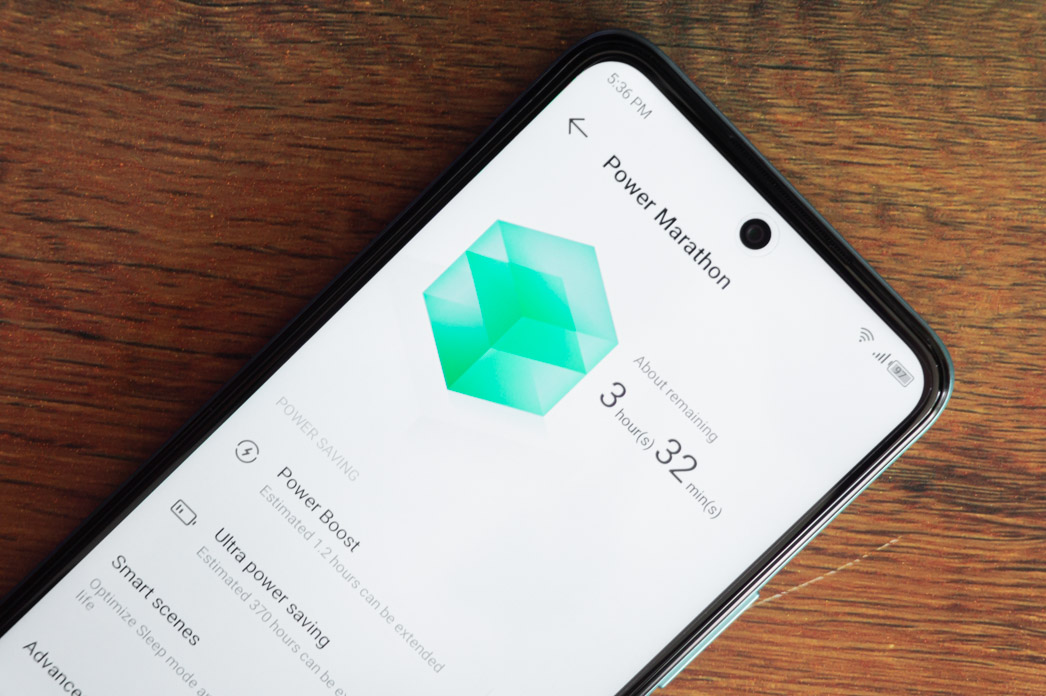 It works on a single charge, admittedly, for a very long time. In normal use without games, it can easily operate for a couple of days. On average, battery life was 48-50 hours with 13-14 hours of active display. And this was quite active use, with 90 Hz on. Cool, isn't it? Sure thing, because only a few smartphones are able to provide two full days of battery life. And if you use it less actively, it will last even longer. The potential here is amazing, hands down. There are no questions about the battery life of the Infinix HOT 12 Play NFC at all – it turns out to be very long lasting.
In the battery benchmark of PCMark Work 3.0, the smartphone also shows a great result, and with the maximum brightness of the screen, and with a forced 90 Hz refresh rate, it gives an impressive 11 hours and 7 minutes. This is, for a second, one of the best indicators among all smartphones that I have come across in recent years.
It is clear that the battery of such a capacity will not be charged very quickly. Moreover, the smartphone comes with an ordinary 10W power adapter. And by modern standards, of course, the Infinix HOT 12 Play NFC charges for quite a long time, but on the other hand, this is a common story in the budget segment. Yes, charging from 15% to 100% takes more than 3 hours. Below are detailed measurements with a periodicity of 30 minutes:
00:00 — 15%
00:30 — 31%
01:00 — 47%
01:30 — 64%
02:00 — 80%
02:30 — 94%
03:05 — 100%
Sound and connectivity
The conversational speaker is ordinary in terms of quality, but the volume is enough for conversations in a not very noisy environment. There's only a single multimedia speaker and there's nothing to write home about it's quality. Enough for notification sounds and ringtones, but not for listening to music. The frequency range is limited, the maximum volume is slightly higher than average, and the overall volume is minimal. Nothing special,  although there are a couple of DTS presets and an equalizer, but they do not fundamentally change the situation. It is possible and even necessary to do better, but don't expect a miracle.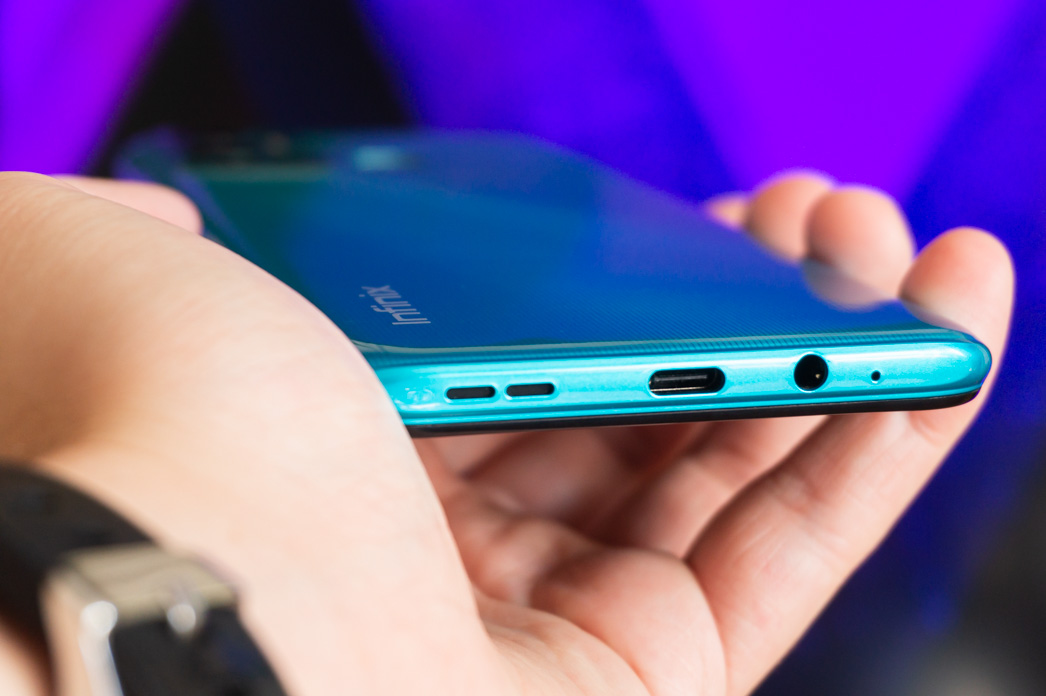 These options have a much stronger effect when wearing the headphones. In general, the sound in the headphones is good and with a decent volume. But it can be made even better if you use the settings. There are four modes in total: smart, music, video, game. In all modes, except the first, additional volume settings are available (wide, front, traditional), and you can also strengthen bass, vocals, high frequencies. If you want – use these options separately or all together. In addition, there is a five-band equalizer, but without presets.
And all the above effects and settings are available for both the main speaker and the headphones. I checked both wired and wireless headphones – they all sound as they should. The settings work with any type of connection, which is also very nice.
The smartphone supports 4G network and is equipped with a dual-band Wi-Fi 5 module with 5 GHz support, as well as Bluetooth 5.0, GPS (A-GPS) and, importantly, an NFC module. Which you might've guesed already, based on the name of the phone. All connectivity methods work well, including the popular contactless payments.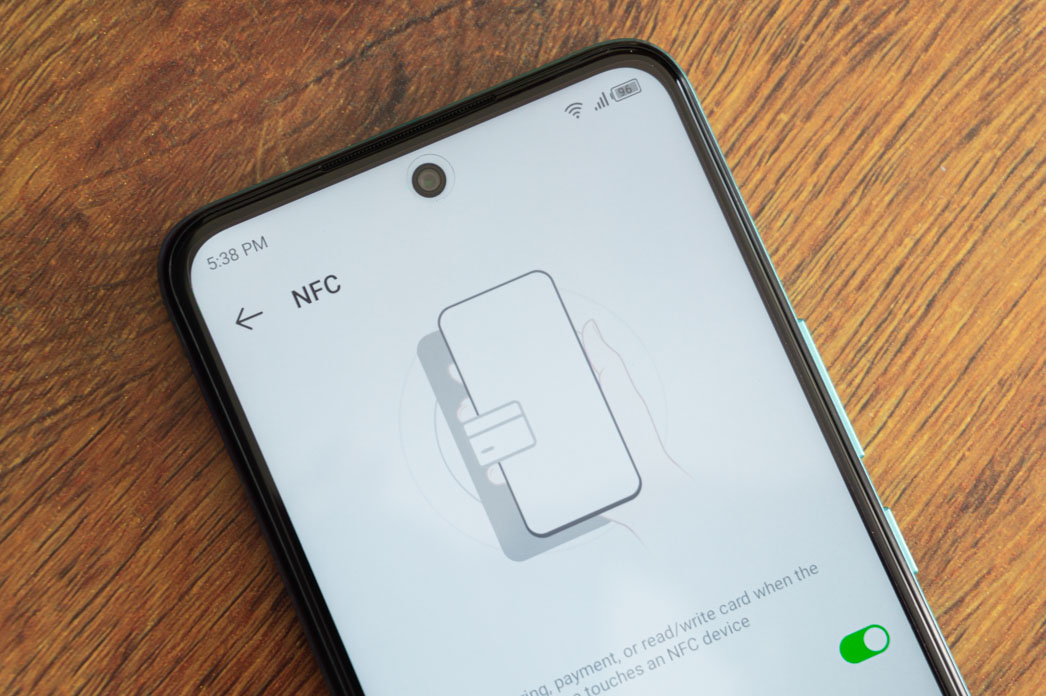 Read also: Tecno CPE TR210 and Tecno TR118 Portable Routers Review
Software
Smartphone's OS is based on Android 11 with XOS 10.0 UI. It looks good and offers many different features. Of course, some part of them will not be useful to everyone, but anyone will be able to find something useful.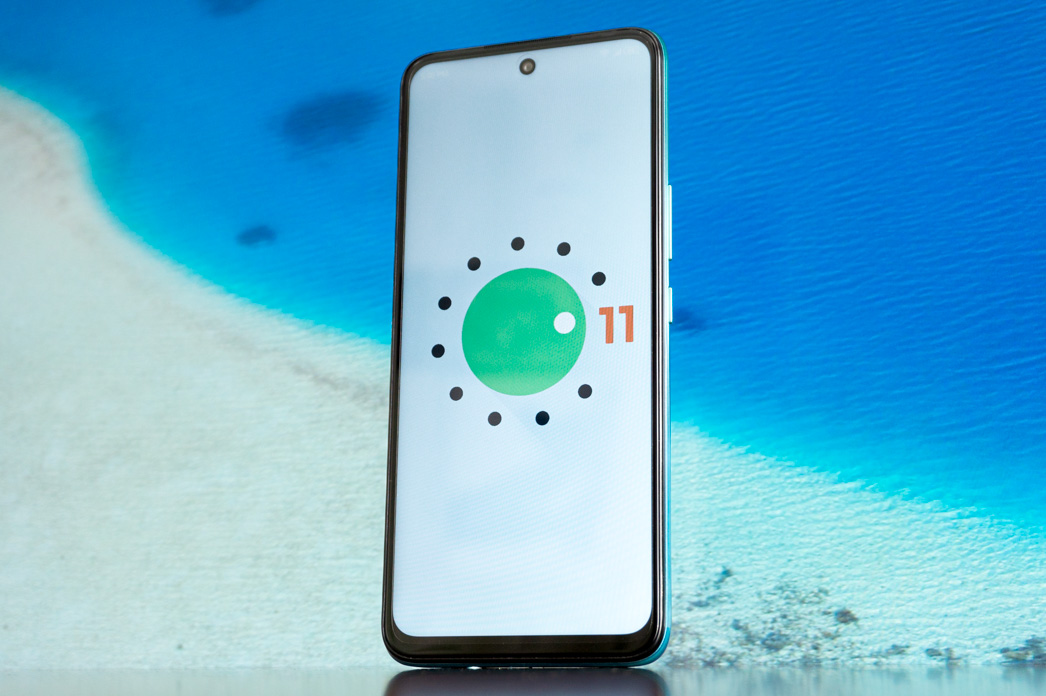 There is an AI assistant with smart scenes and "smart" acceleration, the previously mentioned MemFusion (or SWAP), a sidebar for quick access to selected tools and programs, a whole set of Social Turbo functions for WhatsApp, gaming mode with useful options and much more, including a fairly large set of gestures and other actions.
Infinix HOT 12 Play NFC - XOS 10.0
There is also a set of proprietary system apps, along with those from Google. For example: caller, notes, gallery, calculator, clock – from the brand, but the calendar and messages – from Google. By the way, the built-in caller even has a conversation recorder — and this is a function that many people need. It can be turned on manually with the appropriate button in the caller UI, by touching the fingerprint scanner, or automatically for each call.
The phone comes with many third-party apps preinstalled, but not all of them can be uninstalled or disabled. I would like to have such an opportunity, of course. Other nuances of the UI, include only incorrect translation of some menus and notifications. Otherwise, the experience is pretty usual.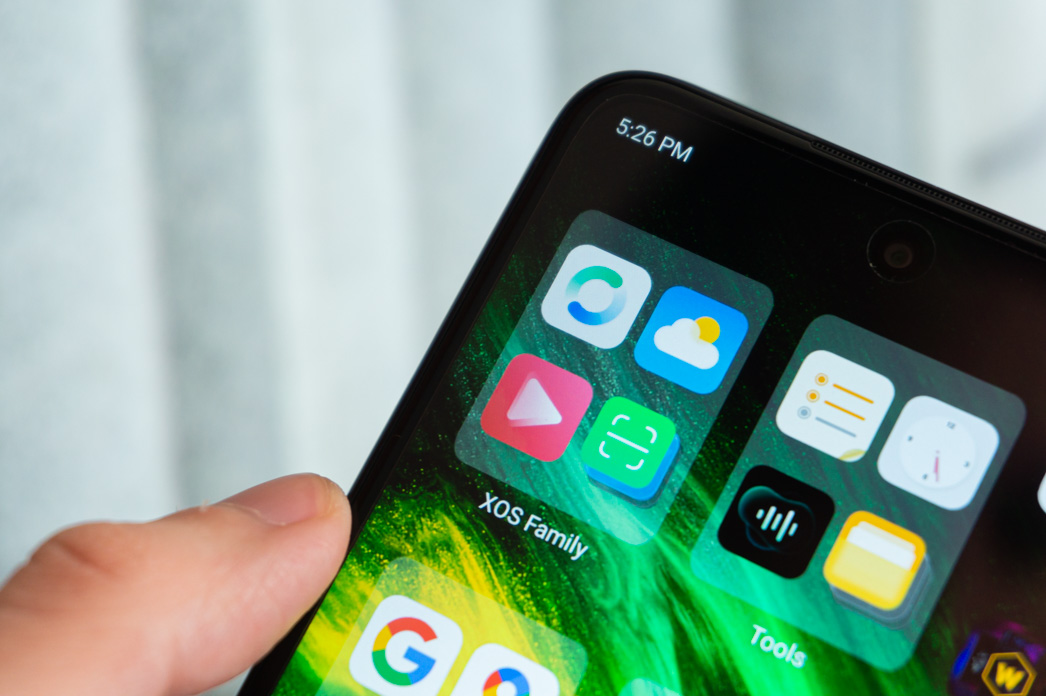 Although the Magic Button option in the game hub can be singled out as really unusual. It allows you to assign in-game actions to the physical volume control buttons. That is, to place such virtual buttons in the right places of the game interface and press them through the corresponding volume key presses. Something like an alternative to the triggers on the body, which are found in some gaming smartphones. In shooters, you can assign the volume up button to the fire button, for example. Not everyone needs it, of course, but the opportunity is definitely interesting.
Verdict
Infinix HOT 12 Play NFC is an interesting budget smartphone that really has a lot to offer in its class. It has a pleasant modern design and excellent assembly, a large display with high refresh rate, a decent level of performance, which is complemented by the RAM expansion option at the expense of storage. But one of its strongest points, beyond any doubt, is its amazing battery life. In addition, the smartphone has many other nice things, such as NFC and a number of unusual software features.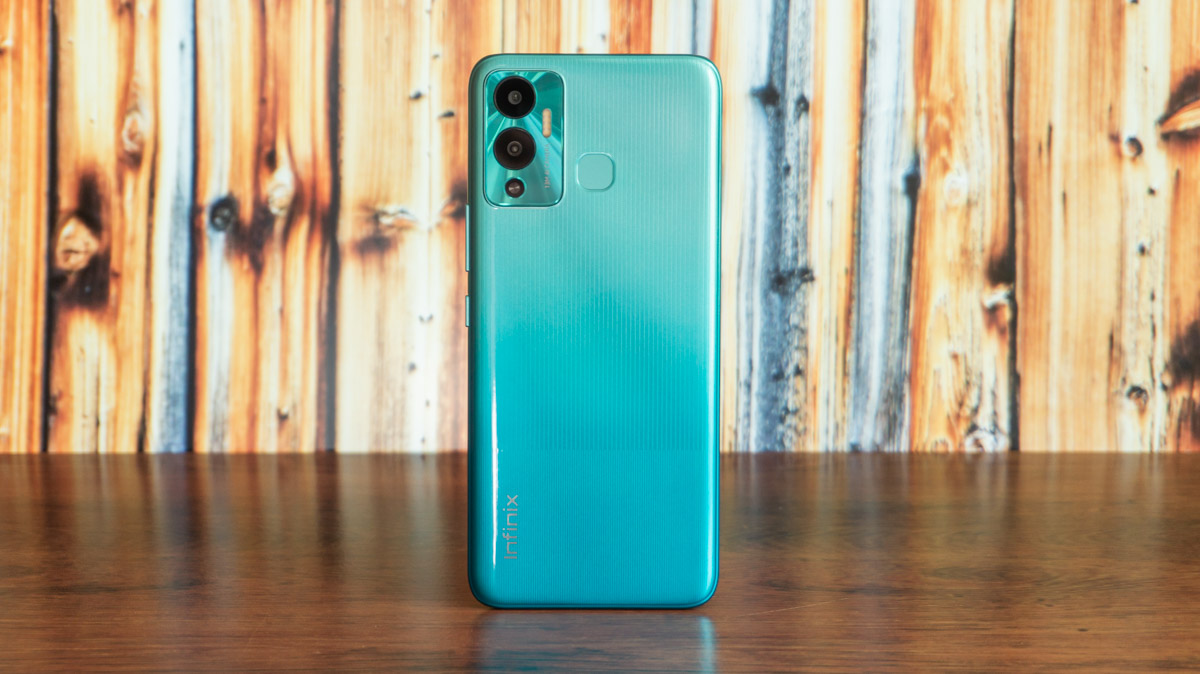 Where it is not very strong is in photo and video capabilities. The fingerprint scanner works great, but you have to reach out for it due to its location. Plus there are nuances with software localization and a bug with forced 90 Hz, which, however, the manufacturer may fix in the near future. And yes, it is a good option for those who need a budget smartphone with a large display and excellent battery life.
Read also:
You can also help Ukraine fight with Russian occupants via Savelife or via an official page of the National Bank of Ukraine.