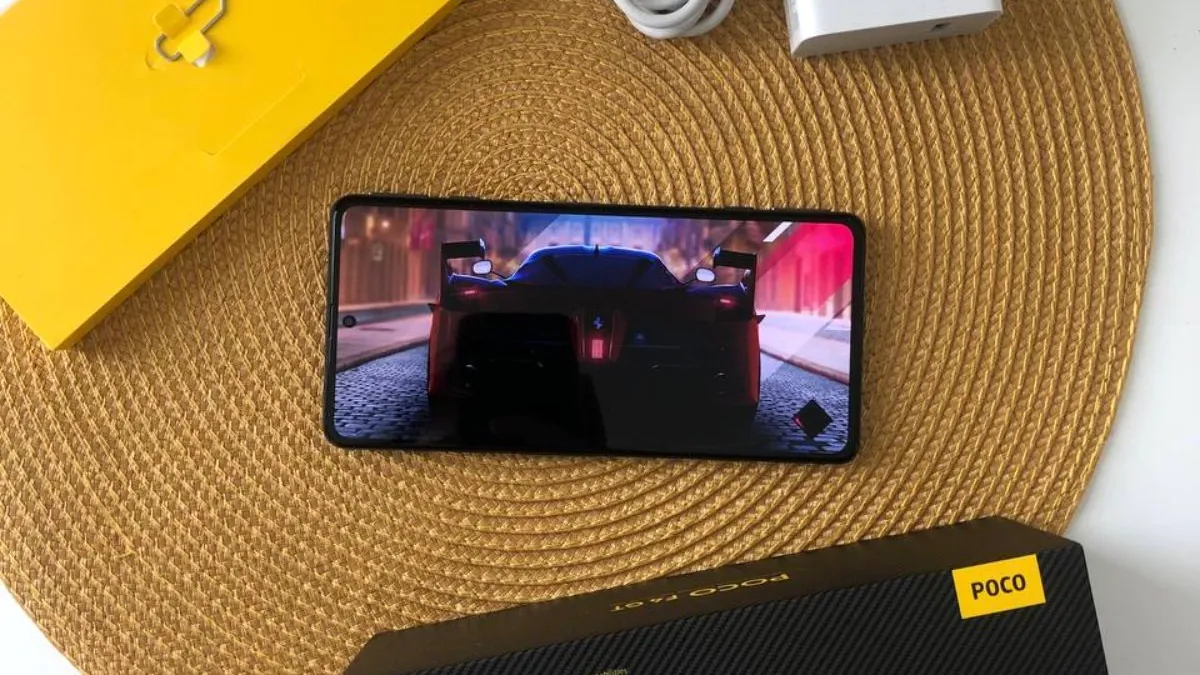 In Xiaomi's product portfolio, the POCO line stands out with powerful, productive smartphones, often with a game focus. This is exactly what our today's test object is – POCO F4 GT.
Market positioning and price
POCO F4 GT is  clearly a gamer's choice, and this is already noticeable from the appearance. Attention is drawn to the general design of the model, the specific location of the speakers, which is convenient for games, as well as the retractable buttons. In normal time, they are embedded in the case, and when you plan to start a game session – like a cowboy, you can 'unholster' your game weapon with two clicks.
Under the hood, the stuffing is also more than impressive – a gaming display with a refresh rate of 120 Hz, a powerful processor of the new generation and a significant amount of RAM – up to 12 GB.
It is clear that the manufacturer wanted to put an appropriate price tag on such a powerful device, about $600 for the 8/128 GB version and $700 for the top 12/256 GB set. However, if you compare it with competitors with similar system performance, the price seems to be quite marketable. And given the capabilities of the smartphone, it is more than justified.
Specifications of Poco F4 GT
Display: 6,67″,  AMOLED matrix, resolution 2400×1080 pixels, ratio 20:9, pixel density 395 ppi, 800 nits, 120 Hz refresh rate, HDR10+, color gamut DCI-P3, Delta
Chipset: Qualcomm Kryo CPU, up to 3.0 GHz, 4 nm, 8-core
GPU: Qualcomm Adreno GPU
RAM: 8/12 GB, LPDDR5
Storage memory: 128/256 GB, UFS 3.1
Wireless networks: 5G, Wi-Fi 6, Bluetooth 5.1 (A2DP, LE), GPS (A-GPS, GLONASS, GALILEO, BDS), NFC
Main camera: triple, wide angle lens Sony IMX686 64 MP, f/1.9, 1/1.73″, 0.8µm; ultra wide angle lens 8 MP, f/2.2, macro module 2 MP, f/2.4
Front camera: 20 MP, f/2.4
Battery: 4700 mAh
Charging: fast wired 120 W
OS: Android 12 with MIUI 13 shell
Dimensions: 162,5×76,7×8,5 mm
Weight: 210 g
Delivery set
The delivery set of the smartphone is standard, nothing extra. The only thing that attracts attention is the power supply unit – in terms of its dimensions, it rather resembles its laptop counterparts. And this is not done for nothing, since its power is 120 W. It takes less than half an hour to quickly charge a smartphone with such a large battery.
The power supply comes complete with a meter-long USB Type-A/Type-C cable, a key for removing the card slot and a manual. I note that the cable is not quite ordinary, but with an L-shaped plug. This is done specifically so that you can comfortably use the smartphone either reading or playing your favorite games on it even while charging.
Design, materials and assembly
As I said at the beginning, the design of the smartphone is dynamic, aggressive and gamer-oriented. There are not many color solutions for this model – classic black Stealth Black, silver Knight Silver and Cyber Yellow. We tested the black version as the most practical. But if I were to choose a smartphone for myself, I would rather choose a bright color option, as the designers have chosen a very stylish color.
The rear camera unit protrudes above the body. There is an inscription on it – Freezing speediest, but it is not completely clear what is it supposed to mean. Most likely, the manufacturer wanted to hint at the lightning-fast operation of the cameras when capturing the moment, but I did not notice any special modes or other technical tricks. However, we will talk about cameras separately.
It is also noteworthy that the camera unit has placed a greeting for gamers – a little RGB lighting, which, as you know, makes everything better. This 'X-factor' backlight works for incoming calls and messages, and, obviously, in games. Although I have a question about the last one: who is this backlight for when you are all in the game? But the main thing is that they still brought a drop of RGB.
From the front, the smartphone looks as good as expected – minimal bezels on all sides and a neat cut-out for the front panel at the top in the center. The front panel is covered with Gorilla Glass Victus protective glass, which reliably protects the display from scratches and traces of use. The fingerprints practically do not remainon the glass, and if they do become noticeable, they are easily erased with a soft cloth.
As for the dimensions of the smartphone, we have a typical modern top-segment smartphone with a large 6.67-inch screen. At the same time, it is quite thin, so holding it, even in one hand, is convenient, and in a horizontal orientation, suitable for games, it is absolutely excellent.
Read also: Motorola Moto Edge 30 Pro review: is it really flagship?
The side aluminum frames give the smartphone a sense of status and look great. The arrangement of functional elements on the body is standard. On the front, above the front camera, there is a slot for the speaker, next to which there is a light sensor. There is also a proximity sensor, but of a new generation — virtual, works without problems.
In the middle of the right side is the power button, which has a built-in fingerprint scanner. At the same time, the user can choose unlocking the smartphone by facial recognition.
The game buttons are also placed on this face. When they are not in use, you can easily hide them in the case with the help of special levers. But should you want to turn your smartphone into a portable console, you can switch the levers to the gaming position with a light movement of your finger, and the buttons will pop out with a light click. They stand out just enough to make it convenient to use them in the game. In general, there is no urgent need to hide them in the case every time, as they do not particularly affect the classic user experience.
On the left side of the phone there is a volume control button and a SIM card slot. Two of them are supported at once, nano-SIM format, they work in dual stand-by mode. Support for memory cards was not introduced in this model, but the built-in storage is enough – the models come with 128 and 256 GB of available memory. There is also a dedicated microphone on the side, which will come in handy for communicating with teammates during games.
One of the two stereo speakers is located on the upper end, the other is located below. A USB Type-C port is also located at the bottom.
Display of POCO F4 GT
The display in a gaming smartphone is almost as important as the stuffing. The quality of the gaming experience directly depends on how it will look to the user. And POCO F4 GT has something to please gamers – the 6.67-inch AMOLED display has a FHD+ resolution (2400×1080 pixels) and a refresh rate of 120 Hz.
This combination can be called good manners for flagship devices today. A screen with a large diagonal requires such a resolution that the picture is not broken into individual pixels. Regarding the refresh rate, it is enough to simply turn on the smartphone and start using even the usual settings interface to appreciate the smoothness of scrolling and transitions. Needless to say that 120 Hz help to fully immerse yourself in what is happening in dynamic scenes in games! I will also note that the user is offered only two modes to choose from: powerful 120 Hz, or classic and more energy-efficient 60 Hz.
An excellent picture is provided by HDR10+ support and a high maximum brightness of 800 nits. With such characteristics, all scenes in games will be rich, contrasting and hyper-realistic. Let's not forget that AMOLED displays boast very wide viewing angles. So, no matter how you hold your smartphone, color distortion will be minimal.
The color rendering of the display is adjusted by changing the selected mode, or it can automatically adapt to the content being viewed. At the same time, the deviation of the accuracy of the Delta E color rendering is only about 0.3. For your understanding, monitors with Delta E 0.2 are considered suitable for professional editing of visual content. Plus, it provides full coverage of the DCI-P3 color standard, which is used in video content – movies, games, etc. That is, the POCO F4 GT display is perfect for those who plan to shoot blogs or content for TikTok on it, as well as edit it directly on a smartphone.
The settings include changing the system theme (light/dark), reading mode, a color scheme with three profiles and the ability to adjust the color temperature. The Always On Display function can be configured separately — displaying the clock, date, and messages on the screen that is turned off.
Performance of POCO F4 GT
The top smartphone must have the top hardware, so the developers equipped the F4 GT with the latest technology. The smartphone will receive the first Qualcomm chip, developed according to the 4-nm process, as well as a new generation graphics processor. It is pleasing that with the expected increase in productivity, thanks to more energy-efficient technologies, there was practically no increase in energy consumption.
To make sure that all games are played as smoothly as possible, and that you don't have to limit yourself inapplications running in bakground, there is a new generation of LPDDR5 RAM on board – 8 or 12 GB, depending on the model. Internal memory options are 128 GB or 256 GB, type UFS 3.1. We tested the 12/256GB version.
Benchmark test results:
Geekbench: single core –1183, multi core – 3432

3DMark Wild Life Extreme: 2450
In games, the smartphone behaved well, producing a decent fps at high graphics settings. However, due to its high power and lack of any external cooling system, like in the new ASUS ROG Phone smartphones, the smartphone felt considerably warm after long games or during intensive stress tests. This affects not only the comfort of use, but unfortunately, it also leads to throttling of the processor and, as a result, a drop in performance.
Read also: ASUS ROG Phone 5 Review: King of the Hill
Cameras of POCO F4 GT
The main module by default takes pictures at a resolution of 12 MP, and in good conditions they are good: clear, sometimes even very sharp, but with natural color reproduction. 64MP shooting is available via a dedicated mode in the camera app. The camera application is standard, as for MIUI, and offers the user the following shooting modes: photo, video, portrait mode, manual, night, 64 MP, video clip, panorama, documents, vlog, slow motion, timelapse, long exposure and dual video.
It is possible to choose pro-mode in the camera interface, where the user has access to the main shooting settings – focus, exposure, aperture and shutter speed, as well as the camera – normal or wide-angle. In general, this is a useful mode for shooting in difficult conditions or to achieve a certain effect in the photo, for example, at night with blurred lights or low-key portrait photography. Under normal conditions, the intelligent camera system selects the settings quite precisely to obtain the highest quality pictures.
You can see examples of pictures in original quality here
The ultra-wide-angle module shoots at an angle of 120°, and the quality of the shots from it does not differ much from those made by the main module. Of course, it captures fewer details, and more digital noise appears in the shadows. During the day on the street, where such a module is most in demand, it shoots quite well.
The camera for macro is the most primitive 2 MP module without autofocus, and it seemed to me to be the weakest and most irrational element in the entire smartphone. Photos taken with it are quite grainy due to the low resolution, and the focusing distance does not justify the presence of a separate camera – the same digital zoom on the main camera can help take similar pictures.
The 20 MP front camera with an aperture of f/2.4 takes decent pictures, and in portrait mode it also creates excellent background blur. I had no issues with the quality of face detection and separation from the background.
Battery life of POCO F4 GT
The battery is significant – at 4700 mAh, which is not surprising for a smartphone with such characteristics. I've been using an F4 GT with a dark system theme that's always active without the Always On Display feature, but with a 120 Hz refresh rate. With normal daily use without games, it lasted for two days. Of course, the games consumed the battery very quickly – and after 3-4 sessions in PUBG in the evening, the smartphone still had to be charged.
And by the way, here is a pleasant surprise – I was very pleased with the charging speed. In this case, we are dealing with a successful symbiosis of Quick Charge 3+, a two-cell battery and a 120 W power supply, which allows you to charge a smartphone in a record half an hour. I did not manage to charge within 17 minutes claimed by the manufacturer, but my conditions were not laboratory ones either – a working radio module, Wi-Fi, messengers with messages. Therefore, such a result seems even more impressive.
Sound and communication
The conversation speaker copes well with its functions – there is enough volume reserve and the interlocutor can be heard perfectly. But the multimedia speakers here are a hidden gem. Let's start with the fact that due to their location, they provide the user with stereo sound at maximum. The sound is balanced, without much distortion in any direction, except that the bass is a little more than usual. But perhaps this effect is achieved because each speaker has two functional elements – a mid-range speaker and a subwoofer. They are good for watching movies, playing games, and listening to music.
Read also: HUAWEI FreeBuds Pro 2 TWS Earphones Review: Love At First Touch
By the way, you can listen to music on this smartphone even in the highest quality and be sure of the accuracy of reproduction – this is confirmed by the Hi-Res Audio and Hi-Res Audio Wireless certificates. In a word, I recommend connecting them with high-quality headphones so that both accessories in tandem immerse you in your audiophile paradise.
Everything is fine with networks and wireless modules. The smartphone is capable of working with 5G networks. The Wi-Fi module supports the most advanced Wi-Fi 6 connection protocol. Its improved operation with multiple devices connected in parallel, wider data transmission channel and increased data transmission speed can provide you with advantages in games and comfort in work. In addition, the POCO F4 GT has another improvement of working with Wi-Fi networks during games, although not obvious at first glance. Inside is a built-in antenna, located in such a way as to catch the signal as effectively as possible in a horizontal position.
Also, among wireless modules, I would like to note the presence on board of Bluetooth 5.1 (A2DP, LE), GPS, A-GPS, GLONASS, GALILEO, BDS, NFC for contactless payment and quick connection of other devices. Among the pleasant bonuses, the engineers did not forget about the IR port for controlling household appliances and smart devices in the house.
Software of POCO F4 GT
The Android 12 version with an updated version of the proprietary MIUI 13 shell is used as the operating system. You can read more about the features of this shell in the POCO X4 Pro 5G review.
The application catalog in MIUI for Poco automatically divides all content into categories – communication, entertainment, photos, utilities, business, new. You can edit or disable categories. New applications are not installed on the screen, but fall into the general list.
In general, everything is pretty standard – a double 'curtain' that is divided into a list of messages and quick settings, many themes, icons, wallpapers, convenient gestures.
There are also a lot of pre-installed applications, many of which duplicate stock Android, in particular, gallery, music, video and others. However, everything remains at the user's choice, so even application advertising integrated into the interface can be turned off if desired.
Traditionally, there are two methods of unlocking: a fingerprint scanner and unlocking by facial recognition. Thanks to the successful location of the fingerprint scanner in the power button, I used this method. To me, such a solution seemed much more convenient than the sensors built into the display, because the finger itself rests on the power button and you do not have to go across the smartphone, which, given its considerable dimensions, is quite appropriate.
Face ID lovers will be able to use facial recognition unlocking without any problems. Everything works quickly and in almost any conditions, with the exception, perhaps, of complete darkness.
Conclusions
All in all, the POCO F4 GT as a gaming smartphone has been successful. It has an excellent high-resolution screen, a powerful processor and graphics core, a decent amount of RAM, a capacious battery with super-fast charging, and they didn't even forget about RGB lighting. But, as always, there are certain compromises, in this case it is overheating and throttling at high loads.
What I liked even more than the F4 GT's gaming features were its versatile features that competitors often don't emphasize in gaming devices. Quite good cameras are installed here, the display has an excellent color rendering, and the connected wireless headphones  reveal their capabilities and produce a great sound of your favorite tracks thanks to a good audio chip and extra technologies. Add to this a competitive price tag, and we get a very interesting option for purchase.
Where to buy
Read also:
You can also help Ukraine fight with Russian occupants via Savelife or via an official page of the National Bank of Ukraine.