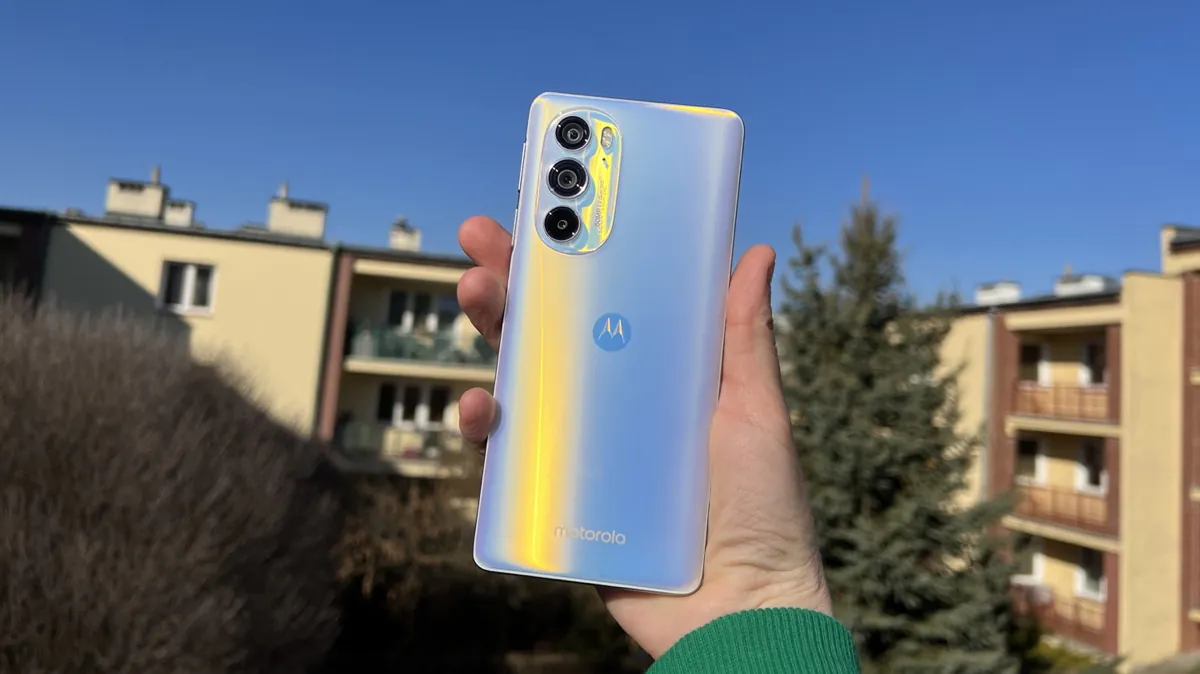 We got acquainted with the Moto Edge 20 series not so long ago – in September-October of last year. However, the new Edge 30 models did not keep themselves waiting at all. At the end of February, the Motorola Edge 30 Pro was announced with a top-end Qualcomm Snapdragon 8 Gen 1 processor. The usual Edge 30 based on the Snapdragon 778G + chipset is rumored to see the light of day very soon. We have been familiarizing ourselves with the Motorola Edge 30 Pro in the editorial for quite a long time and are ready to share the results of our test!
Specifications of

Motorola

Edge 30 Pro
Screen: OLED, 6.7", 2400×1080, ratio 20:9, refresh rate 144 GHz,

HDR10+

Processor:

Qualcomm Snapdragon 8 Gen 1, 4 nm,

1×3.00 GHz Cortex-X2 & 3×2.50 GHz Cortex-A710 & 4×1.80 GHz Cortex-A510

Video accelerator: Adreno

730

Memory: 12 GB RAM LPDDR5, 256 GB UFS 3.1 storage

Battery: 4800 mAh, TurboPower 38 W fast charge,  15 W wireless charge, reverse wireless charge

.

Main camera: 50 MP, f/1.8, 1.0 μm, PDAF, optical stabilization + 50 MP wide angle, f/2.2, 114˚ + 2 MP depth sensor

Front camera: 60 Мп, f/2.2, 0.61µm

Data transfer: LTE, 5G (n1/3/5/7/8/20/28/38/40/41/66/77/78), NFC, Wi-Fi 6 (a/b/g/n/ac/ax 2.4 + 5 GHz), Bluetooth 5.2, GPS (A-GPS, LTEPP, SUP

L, GLONASS, Galileo, magnet compass), USB Type-C compatible with DisplayPort 1.4,  ReadyFor mode

OS: Android 12

Dimensions and weight: 163,1×76,0×8,8 mm, 196 g

Price: around $890
As you can see, the model turned out to be far from the most affordable. It has the latest and most powerful Snapdragon processor, plenty of memory, high screen refresh rates, and Motorola also bets on cameras. Although, when compared with last year's Edge 20 Pro, the cameras have become simpler (fewer megapixels, the periscope lens is gone). But wireless charging appeared and the battery capacity increased slightly. Well, there is the flagship processor, of course, which the Edge 20 Pro lacked so much.
The Motorola Edge 30 Pro is currently 'the only child' in the new lineup, which is expected to include the regular Edge 30 with a simpler processor and the Edge 30 Ultra with a likely more powerful battery. Among the 'almost flagships' of moto, we can also recall the G200 model, which we tested at the beginning of the year, it costs less, as it received last year's Snapdragon 888+ chipset, IPS screen, less memory and slightly weaker cameras.
Well, let's get acquainted with the new product and find out if the new Motorola is worth the money.
Read also: Moto Edge 20 Pro review – Not so Pro
What's in the box?
In the box with the phone you will find a common set – a 68W charger, a USB to USB Type-C cable, a silicone case, a SIM needle, and documentation.
The cover is pleasant, with matte sidewalls, edges around the screen and cameras.
There will be another version complete with a case-stand and an advanced stylus, $50 more expensive, but it has not yet entered the market.
Motorola Edge 30 supports PC connection in Ready For desktop mode. And  in both wired and wireless versions. However, if a USB-C to HDMI cable was included with  Edge 20 Pro, you will have to buy it separately for Edge 30. But  they could really include a  cable for such a price.
Design and ergonomics of Motorola Edge 30 Pro
In general, Edge 30 Pro is similar to Edge 20 Pro, except that the camera block is now rounded, like in the G-series.
The phone is quite large, but I think everyone is already used to it.
The front camera is built into the screen, the display bezels are narrow and even on all sides, the 'chin' does not stand out.
The most beautiful is, of course, the color scheme of the rear panel. We tested the Stardust White variant (and there is also a dark blue Cosmos Blue). In the light, it casts blue and yellow, looks unreal, especially in the sun! And at some angles, purple hues are also visible.
And even the cover does not really spoil all this beauty.
But what is not really impressive is the materials used. The frame looks metal, but it's plastic, and you understand it as soon as you take it in your hands. The back panel is Corning Gorilla Glass 5. The front panel is Corning Gorilla Glass 3 with an oleophobic coating.
The Fingerprints stay on the front glass, but they do not catch the eye (except when in the light). But the back is matte, so the prints on it are almost invisible.
The camera block is almost flush with the body, it looks elegant. And in general, although large, the device fits comfortably in the palm of your hand.
All of a sudden, there are no keys on the left side of the smartphone! Prior to this, Moto models were equipped with useless (and often poorly placed) buttons for calling the Google Assistant, even without the ability to remap.
The right side has a two-position volume rocker (located too high), as well as a power/lock button, which has a built-in fingerprint sensor. A nearly $900 phone with an OLED screen could have had an on-screen scanner built in, which I think is more convenient.
However, the capacitive scanner in the side key is not so bad. Reading is fast and error-free. There is, of course, face recognition, but I prefer fingerprint unlock. The only drawback is that the key could still be placed lower in such a large phone, you have to reach for it.
There is another trick – double-tapping the lock key (not pressing, but only touching) brings up a custom menu with program icons for quick launch.
At the top sidewall of the smartphone there is only a microphone that performs the function of noise reduction. On the bottom there is another microphone, a Type-C connector, speaker holes and a slot for two SIM cards (there is no support for memory cards, but 256 GB should be enough for everyone). There is also no 3.5mm headphone jack. A strange trend now, most high-level models are stripped of it, but budget phones usually still have it.
The assembly of the smartphone is perfect. It is worth adding that the body of the Moto Edge 30 has a hydrophobic shell, it is not afraid of drops of water or rain accidentally falling on it.
Read also: Moto Edge 20 review: Why do we need flagships anyway?
Motorola Edge 30 Pro screen
With last year's Edge models, Motorola finally made the transition to OLED displays, and the 30 Series continues that effort. The quality of the 6.7-inch OLED matrix pleases, mostly due to support for HDR10 + technology and DCI-P3 color space. The picture is juicy, but at the same time it doesn't 'rip the eyes'. Viewing angles are maximum, without color distortion. Black depth is high. The image is very clear.
The screen of the Motorola Edge 30 Pro stands out with a 144Hz refresh rate. It's okay, but for a nearly $900 model, that's not something amazing, cheaper ones have it too. Of course, the picture is smooth, it immediately catches the eye. Three refresh rate modes are available – automatic (the phone will set itself depending on the application and charge level), 60 Hz or 144 Hz.
It is best to use the automatic option (the phone itself switches between 48, 60, 90 and 120 Hz), then you will not notice that the increased refresh rate wastes battery power. However, it is important to understand here that  you have a maximum of 120 Hz in automatic mode. Although  the difference from 144 Hz is not striking.
Automatic brightness adjustment works flawlessly. There is an option to adjust the color temperature (removes cold shades in the evening), a dark theme, three options for the saturation of shades and other familiar settings.
Readability in the sun is not bad, although the display fades a little. Standard brightness is about 485 nits, peak brightness is about 680, competitors have more.
Read also: Motorola Moto G200 review: Snapdragon 888+, 144 Hz and interesting design
Hardware and performance of Motorola Edge 30 Pro
The new model is powered by the most powerful processor in existence, the Snapdragon 8 Gen 1. With 12 GB of RAM, you can count on uncompromisingly high performance. Everything works perfectly quickly and smoothly – the interface, any applications, the most resource-demanding games.
Results of benchmark tests:
Geekbench: single core – 1120, multi core – 3566

AnTuTu: 934660

3DMark Wild Life: 7182 (average FPS: 43,0)

3DMark Wild Life Extreme: 2079 (average FPS: 12,5)
However, it should be noted that Qualcomm's new generation processor turned out to be as 'hot' as the previous 888th. The Edge 30 Pro got noticeably hot even with a light load and basic applications (I'm not talking about 3D games). However, it cannot be said that the heating so significant that you cannot hold the handset. You can, but it still heats up a lot. During the test, the phone warmed up twice so that it was unpleasant to hold it: once during a stress test, the other during charging.
The phone scored 62% stability in the popular 3DMark Wildlife stress test. Not much, but still good enough for a powerful model — most flagships show similar numbers. And in the processor throttling test, the result was at a level of 83%, which is even better. Other models based on Snapdragon 8 Gen 1 are less stable. I think in the case of Edge 30 Pro, we see the results of Motorola's work on the quality of the software and its clear connection with the hardware used. Moto has always proven itself to be more stable and performant than many of its competitors. I think the point here is also that the manufacturer focuses on the operation mode of the smartphone as a Ready For PC, which we will talk about later.
Here I also note that there are versions of the Motorola Edge 30 Pro 8/128 GB, 12/256 GB and 12/512 GB, but only 12/256 GB is officially available in Europe. There is no possibility of expanding the memory, but 256 GB should be enough for most.
I will add that recently the Moto shell has added a function of 'soft' expansion of RAM due to permanent memory. In the case of the Edge 30 Pro, you can add another 3 GB to 12 GB. Such a 'paging file' is not the fastest option, the phone has enough resources without it.
Read also: Motorola Moto G71 review: the best of the rest
Cameras of Motorola Edge 30 Pro
As I mentioned in the introduction, if compared to Edge 20 Pro, the camera set isn't that interesting. There is no periscope lens, and instead of an impressive 108 megapixels, we have a 50 megapixel module. However, happiness is not in megapixels (iPhones generally have 12 megapixels), but in the quality of optics, sensors and post-processing (which is perhaps the most important now).
Motorola Edge 30 Pro is equipped with two 50 megapixel cameras – main and wide-angle. There's also a 2MP auxiliary depth sensor to help blur the background. In general, it is not needed that much, the main cameras now coping with its task quite well, and the  software, apparently, was added 'for solidity'.
The main sensor, OmniVision OV50A, is very decent (same as in Huawei P50 Pro), this is a new generation of camera modules, with a large pixel size of 1.0µm. As always with Moto, pixel binning technology is used, so the image is more detailed, and the photo has 4 times less megapixels in reality (12.5 megapixels at the output). If desired, you can enable the original resolution in the settings, but there is no visibe difference. There is a phase autofocus and optical stabilization for the main module.
The wide-angle lens is Samsung JN1 (S5KJN1) with a viewing angle of 114 degrees. Pixel binning technology is also used here, and there is also autofocus, thanks to which the wide-angle camera allows you to take photos in macro mode.
Front camera is 60 MP OmniVision OV60A sensor, no autofocus.
Photos from the main camera are very good, although they do not leave the feeling of a truly flagship model, rather we have the 'flagship killer' level. Detail is perfect, dynamic range is excellent, color reproduction is outstanding, there were no errors in white balance or tint, saturation is decent.
ALL PICTURES FROM MOTO EDGE 30 PRO IN ORIGINAL RESOLUTION ARE HERE!
There is no telephoto lens, so zoom (up to 10x) can be used, but the quality will be very poor.
In low light, the quality of the resulting photos can be called acceptable for 'almost a flagship'. The smartphone captures enough light, but sometimes there are problems with clarity and sharpness.
There is also a night mode. However, more often than not, it brightens the pictures too much, so that they become fuzzy, with a lot of digital noise. Here is a comparison, photos taken in night mode, on the right.
The wide-angle is not bad, the photos are good, with decent contrast and dynamic range, the corners are almost not distorted. Below is a photo from a standard lens (left) compared to a photo from a wide-angle lens (right).
The wide-angle camera has autofocus, so it can take not only 'wide' shots, but also macro shots from a distance of 4-8 cm. The device really takes juicy and beautiful close-up shots.
The front camera is 60 MP, but pictures are saved in 15 MP for pixel binning and better quality. Selfies are excellent, clear and detailed.
Edge 30 Pro can record 8K video at 30 fps with the main module. There is also 4K at 30 fps. But for some reason, 4K at 60 fps is only available if you activate the 20:9 aspect ratio in the settings, and the video resolution will be strange – 3264×1468. Optical stabilization works when recording 4K, but is not available for 8K.
Video quality is decent overall, even at 8K resolution. Of course, not the sharpest video, not at the level of expensive flagships, but still decent: exposure, dynamic range and color reproduction are all right. But, apparently, the optical stabilizer is buggy (at least in the test copy), the video miraculously shows the moving parts of the lawn. Sample videos from the Edge 30 Pro are available here.
The Moto interface with Android 12 now resembles Pixel phones, but the camera app itself remains unchanged from the previous version. There is a Pro mode that gives you almost complete control over camera settings (such as white balance, ISO, autofocus, exposure and shutter speed), selective color (leaves one color in the photo), panorama, Live Photos, real-time filters, RAW format and so on.
Read also: 
Data transfer and Ready For mode
Everything is fine with data transfer. There are latest versions of Wi-Fi 6 and Bluetooth 5.2, NFC for payment in stores, 5G, as well as all geolocation services (GPS, AGPS, LTEPP, SUPL, Glonass, Galileo, Beidou). There is also a magnetic compass.
As I mentioned, Edge 30 Pro supports Ready For mode. I wrote about it in detail in the reviews of Moto Edge 20 and Edge 20 Pro. 'Ready For' is the mode of connecting a smartphone to a PC or monitor. The device acts as a portable computer and offers a special interface for work. In the 'Ready For' mode, the phone can be used as an alternative to a computer (there is a full desktop, separate windows), a game console, or use its camera and microphone for video conversations. You can connect a wireless mouse, keyboard, and even the smartphone itself can be used as a touchpad.
This mode exists in different variations depending on the model. Some devices support a wired connection, some only wireless, some (like last year's Edge 20 lite) only support the Ready For PC option, which allows you to use Ready For in a separate window in Windows OS.
Moto Edge 30 Pro as a top-level model has received all the features: wired 'Ready For', and wireless, and 'Ready For PC'. But the necessary cable is not included, so you have to fork out for it separately (you need USB-C MHL Alt HDMI or USB-C-to-C).
I will not describe the Ready For mode again here, since I have done this more than once. If you want details, I recommend that you refer to my Motorola Edge 20 Pro review, where PC connection modes are described in detail. Edge 30 Pro only changed the interface of the Ready For app to match the style of Android 12, but everything else is the same.
'Ready For' is an interesting feature that is rarely found in smartphones. As of alternatives, only Samsung Dex can be named, available only to flagships. At the same time, the function is thought out in detail and implemented well. There were no problems during the test, except for not the most convenient touch control. I will not say, however, that one cannot live without Ready For. But, perhaps, the ability to connect to a PC will come in handy for someone.
Read also:  Motorola Moto G60 review: Budget phone with 6000 mAh and 120 Hz!
Sound
The Motorola Edge 20 Pro was good for many, but I couldn't help but criticize it for its mono speaker. But the 'thirty' received stereo speakers. However, the solution is a compromise (although often encountered), the role of the second speaker is played by the earpiece above the screen. For this reason, the lower broadband speaker still stands out, but if you're not looking for faults, it's not critical.
Sound is loud and good quality. Previously, Moto smartphones had a built-in equalizer, but now it has been replaced by Dolby Atmos modes – music, movies, games, podcasts. And by default, the phone itself determines the nature of the audio and adjusts the sound.
In the sound settings, there is also the SI CrystalTalk function, which improves voice transmission during telephone conversations.
Software of Motorola Edge 30 Pro
The Edge 30 Pro runs under Android 12, the latest version of the OS from Google.
The look and feel of using the interface is as close as it could be to the 'clean' Android 12 that can be seen on Google Pixel smartphones. I suppose the operating system will be one of the decisive factors when choosing a phone for those users who cannot afford the Pixel (too expensive or not officially supplied).
The new quick settings interface and notification tab immediately catch the eye, this is one of the most striking visual changes in Android 12. The buttons are now rounded, and a separate screen is available for notifications, opened by tapping on quick settings.
Widgets have also been overhauled in Android 12. Their 'live' preview is now available in different sizes. An updated dynamic widget coloring based on the Material You engine is also supported – widgets adapt to the selected wallpaper.
There is another feature of Material You here – adjusting the theme, in particular, icons to wallpapers. However, it is disguised by a Moto-specific theme engine.
Android 12 puts a lot of emphasis on security and privacy. In particular, there is a new privacy control panel, where you can immediately find out which app is using the camera, speaker, location access, and so on. In the upper right corner of the screen, there are camera and microphone indicators that immediately let you know that you are being watched, as well as quick switches that allow you to restrict access to the camera and microphone. It is also possible to determine whether the application receives your exact coordinates or only an approximate location.
There are other less noticeable features of Android 12, for example, the Extra dim option (reducing the minimum display brightness, useful in complete darkness), window magnifier (enlarging part of the screen), the new power menu, improved PiP mode (picture in picture), the ability to create "long" screenshot with scrolling.
Some Android 12 innovations didn't make it to the Edge 30 Pro. For example, automatic rotation based on face recognition (to make sure the screen does not rotate when you are lying on your side, everyone is familiar with this issue), copying data from application to application through the task manager and searching by the contents of the phone from the application list.
However, Moto has a lot of its own features that Google does not offer its users. They are all grouped in the Moto Features app. There are interesting design themes, gesture control (many interesting things, for example, turning on the flashlight by double-shaking the phone, activating the camera by double-turning the wrist, taking a screenshot by touching the screen with three fingers, silent mode by turning the smartphone screen down, etc.) and other chips (active display if you are looking at it, the option to split the screen into two parts, the ability to launch applications in a separate window during the game and other tweaks for gamers).
There is an analogue of AoD – time and notifications on the lock screen with the ability to quickly preview them with a touch (Peek Display). This screen is activated by itself for a few seconds, if you pick up the device, and with a dark background and minimum brightness to save energy. By the way, if you didn't know, Motorola had this feature implemented long before other manufacturers like Samsung 'invented' full-fledged AoD. However, a full-fledged ALWAYS on display could be implemented in a smartphone with an OLED screen, but for some reason Motorola did not pay attention to this.
Read also: Motorola Moto G31 review: affordable OLED smartphone
Battery life
Motorola Edge 30 Pro is equipped with a 4800 mAh battery. Better than the Edge 20 Pro with 4500 mAh, but still falls short of the G-series gold standard of 5000 mAh.
The Snapdragon 8 Gen 1 processor can hardly be called power-effective, the refresh rate of 144 Hz also does not take care of the charge. So the results of battery life tests are far from records. On average, the phone gets about 20 hours of phone calls, about 12 hours of web browsing at medium brightness and active 144Hz, and about 16 hours of video playback. On average, all this gives us about 7-8 hours of active use of the phone in various tasks with the screen on. If you switch to the automatic display refresh rate selection mode, these numbers will increase slightly.
You can't say that everything is bad with the battery – everything is ok, but not perfect. The phone lasts for a day, until late in the evening with active use, but you can hardly do without charging every night.
The novelty comes with a 68W TurboPower charger included. Charging is really fast, our tests showed that 30 minutes is enough for 85% of the charge, and for 100% it takes only 50 minutes to charge the phone.
The flagship feature that got to the Moto Edge 30 Pro is the ability to charge wirelessly (a decent 15W). And there is also reverse charging, that is, the phone itself can act as a charging pad for compatible devices – other phones, watches, headphones.
Read also: MOTO XT500+ headphones review: Better at home
Conclusions and competitors
The Motorola Edge 30 Pro looks interesting, but overall it's a bit odd. It's still not a flagship. But the smartphone has bright features like a top-end chipset, 12 GB of RAM and 256 GB of ROM, 144 Hz OLED screen, wireless charging, 68 W fast charging. At the same time, the phone 'out of the box' runs on fresh Android 12, almost 'clean' – without unnecessary add-ons and shells. And the joint work of hardware and software is at its best: the phone proved to be very stable. It is worth noting the operating mode a la PC – Ready For. It is not going to be necessary for everyone, but for some it might come in handy.
You expect outstanding cameras from the $890 model, but in this regard, Motorola has taken the path of simplification – there is no telephoto, the number of megapixels is not impressive, video recording capabilities are limited. The battery could have more capacity given the powerful processor and high refresh rate display. There is a water-repellent coating of the case (IP52 standard – it can only withstand drops of water, without immersion), but, again, for such money, full-fledged waterproof protection would be appropriate. The body frame is plastic – I would like to see metal in an expensive 'flagship', the device does not feel like a premium model.
It's important to talk about what competitors are available and whether you can buy something better for ~$890. After all, this is not such a small amount. Having paid quite a bit, you can even buy an iPhone 13. Of course, it also lacks a telephoto lens, but it makes better pictures, especially in the dark. The iPhone screen is smaller and has a lower refresh rate. But there is full IP68 protection. Well, in general, of course, the choice between an Android smartphone and an iPhone is, first of all, a very choice of OS, a personal and holistic matter.
Another alternative is the Samsung Galaxy S22. It has a better set of cameras, and the quality of pictures is more interesting. And moisture protection is full IP68. However, the screen is much smaller, and there is also less memory – 8/128 GB (other options are more expensive). But it has its own alternative to 'Ready For'.
In the same price category 'somewhat more expensive', there is the new flagship Xiaomi 12 in the 8/256 GB version. It has excellent cameras (a universal set – telephoto, wide angle and main module) with advanced video recording functions, the same top-end Snapdragon, 120 Hz AMOLED display (Moto also has a maximum of 120 in automatic mode) with outstanding peak brightness. In terms of dimensions, the model is slightly smaller than the hero of the review, so it's not really a 'shovel'. 50W wireless charging is also supported.
There is the realme GT 2 Pro is on sale for the same money as the Edge 20 Pro. It also has a lot of memory, the same top processor, 5000 mAh battery, 3216×1440 high-resolution AMOLED display, an adequate set of cameras. But realme's shell is still not for everyone's liking.
And there is the ASUS ZenFone 8 16/256GB that costs a little cheaper than the Edge 20 Pro. Already with 16 GB of RAM! With a screen of 5.92 inches, this is one of the smallest smartphones today, so the option is more likely for lovers of compactness. The model is based on last year's and still quite productive Snapdragon 888 and is equipped with a 120 Hz AMOLED screen. There is no telephoto lens either, and the battery capacity is only 4000 mAh, but it was difficult to fit more into a compact body.
The Galaxy S21 FE and Xiaomi 11T Pro are also quite interesting alternatives, although these are not quite competitors, as they cost ~$250 less. However, the fact remains that in order to get a powerful smartphone with a good display and decent cameras now, it is not at all necessary to pay 800-900 dollars.
Did you like Motorola Edge 30 Pro?
Read also: 
You can also help Ukraine fight with Russian occupants via Savelife or via an official page of the National Bank of Ukraine.